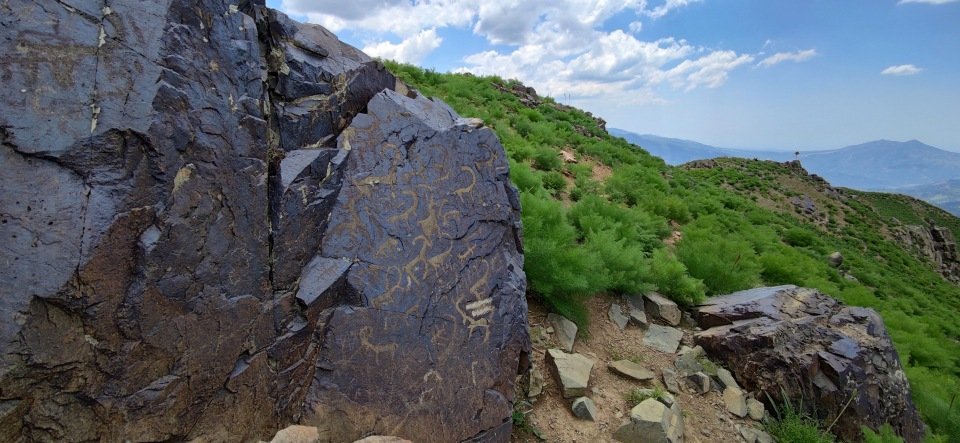 Hello! Today I would like to talk about a trip to the Beldersay petroglyphs, sometimes they are also called Kumbel petroglyphs because they are located on the Kumbel Pass. The history of Uzbekistan is very interesting and still very rich (despite the efforts of some officials and some tourists) - here is possible to find almost anything - traces of dinosaurs, sites of Neanderthals, Buddhist temples, ancient Greek settlements and a lot of other things. Our officials of all stripes love to be proud of a rich history, unfortunately they do not know how and do not really want to protect it. Sometimes from some "restoration works" it becomes just scary. The buildings have stood for centuries and survived the wars intact but sometimes they cannot survive some of the "restorers".
In order not to die of boredom during self-isolation, I watched various interesting programs and video lectures on YouTube. Including lectures by the famous Russian anthropologist and popularizer of science Stanislav Drobyshevsky. By the way, who has not watched his video lecture yet, be sure to look. He is very interesting and with humor talks not only about anthropology, but also about the origin of life on the Earth.
I was so carried away by his lectures that I downloaded his books and decided to slightly increase my level of education in terms of anthropologists in general, and in the life of primitive people in modern Uzbekistan in particular. In Uzbekistan, we have several locations where petroglyphs of the Neolithic and Mesolithic epochs were discovered and some of them are located in relative proximity to Tashkent. In one of these locations, I headed this time.
As a regular customer, I turned to the team of Mysterious Uzbekistan with a request to organize a tour to the primitive people sites - so to, combine education with pleasure - and take a walk in nature and learn a little about life people inhabiting these places. And so, next Saturday we gathered in the old place, plunged into cars and hit the road.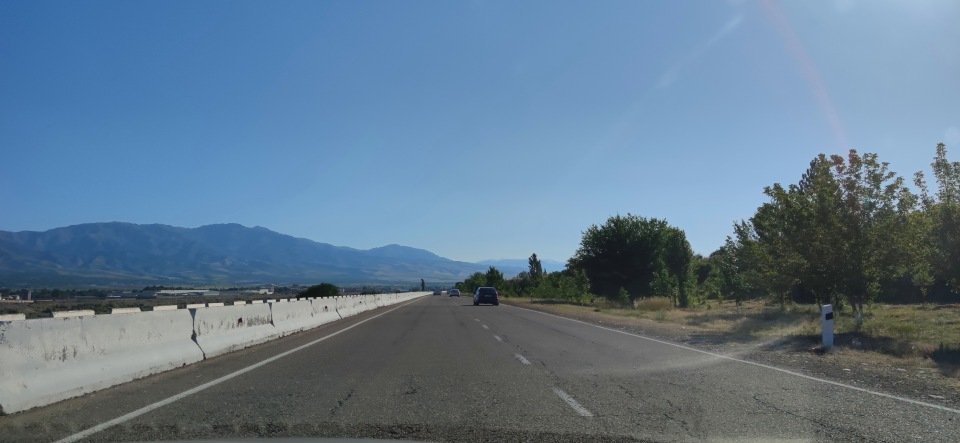 In the mountainous regions of the Tashkent region there are several locations with petroglyphs and the most famous are the petroglyphs near Khojikent, Beldersay and Karakiya-saya. I already wrote about the Khodjikent petroglyphs in one of my posts three years ago. They are the most easily accessible and are located right next to the highway. There are a lot of different cafes and restaurants nearby, and therefore the unfortunate petroglyphs are so corrupted by the inscriptions of modern vandals like "M + C = love." Of course, I'm happy for both M and C, and wish them all the best, but if it was so impatient to share their feelings with the world, then why not write it on some other stone instead of spoiling the picture thousands of years old?
Beldersay petroglyphs were a little luckier. They are located at an altitude of 2450 meters above sea level, eight kilometers from the popular recreation zone "Beldersay". Despite the fact that many mountaineering routes run past these petroglyphs, the path to them cannot be called very easy and pleasant, which scares off a significant part of tourists. Alias some modern lovers of cave art manage to get here.
Unfortunately, people who use the word "get out into the countryside" understand a picnic by the nearest river or mountain with barbecue, barbecue grills and alcohol drinks and leave mountains of rubbish and broken bottles after them. But, fortunately, there are more and more people who are going out for the sake of positive impressions, walking in the fresh air and admiring the surroundings and who are taking back both their own garbage and someone else's.
But something I became grouchy in old age :). Back to the petroglyphs. About an hour or a half after leaving Tashkent, we were already at the starting point of our campaign. Vigorously began to climb the slopes to the Kumbel Pass. On the way, I noticed a whitish spot in the sky. At first it seemed like a cloud - but no, it turned out to be the Moon, which had not yet set.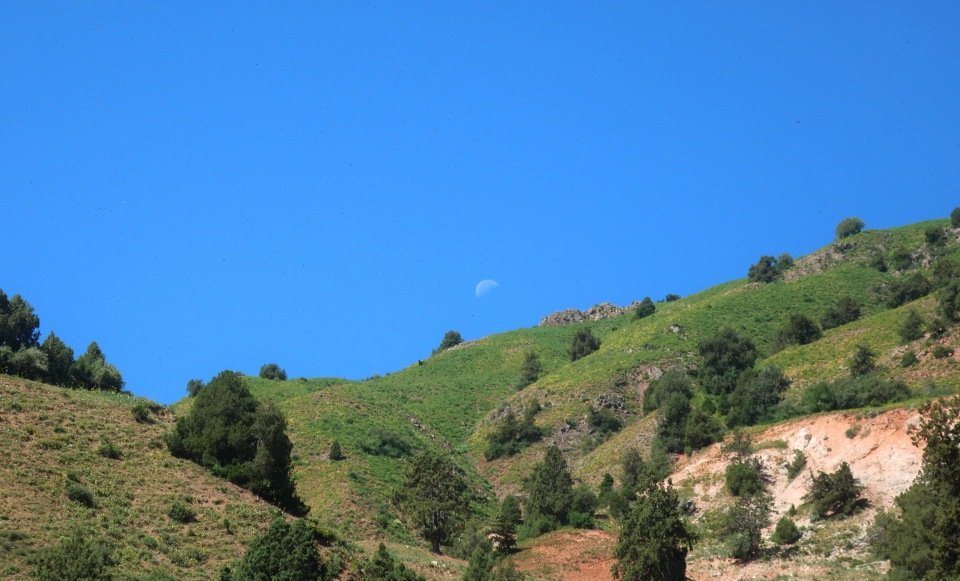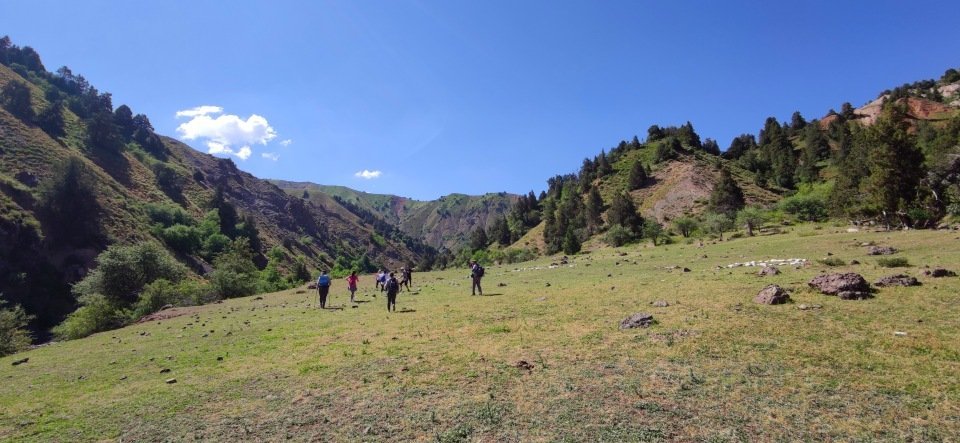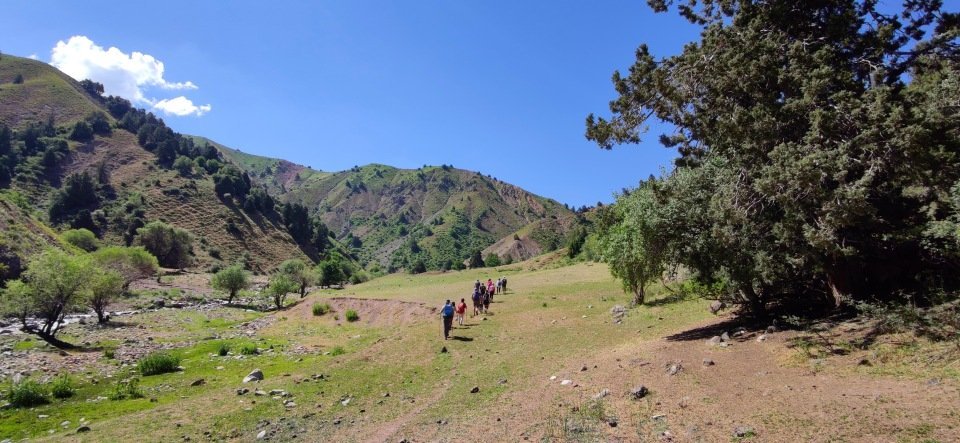 On the way, the guide showed us one of the ridges and said that it was called "sphincter". Its width at the top point is only about 40 or 50 cm, so the origin of the name becomes clear ...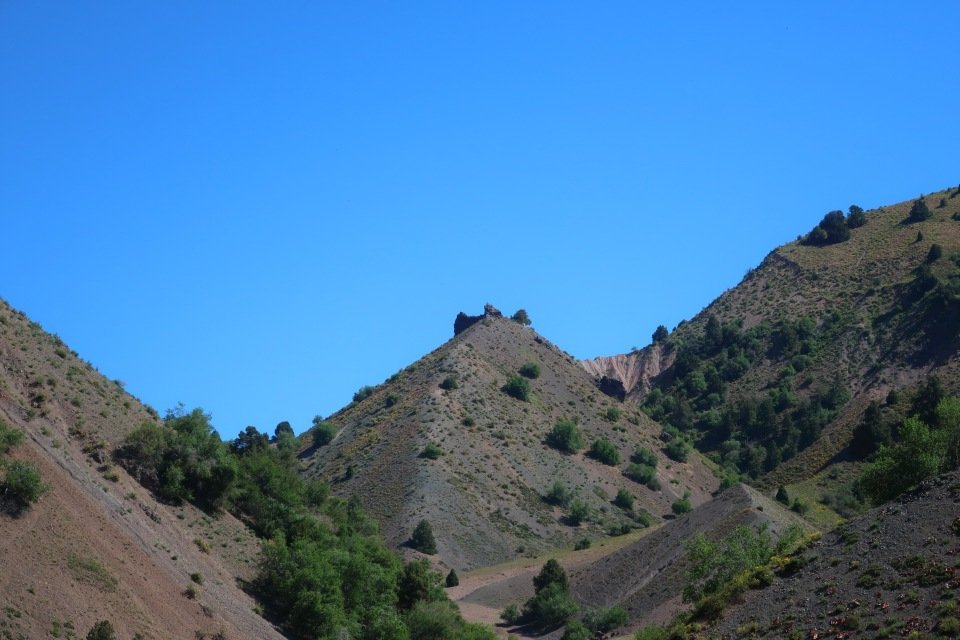 Along the way, a view of Greater Chimgan from an unusual angle for me was opened. My followers remember that last year I climbed this mountain twice. We walked along the West Ridge (it is on the left in the photo). This year I plan to still climb the warhead, but on new routes.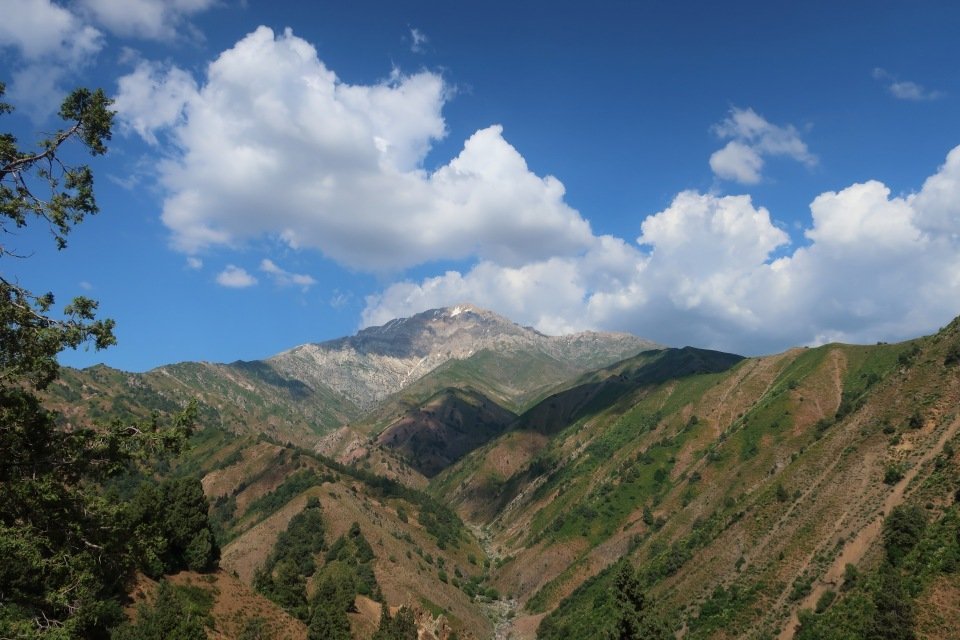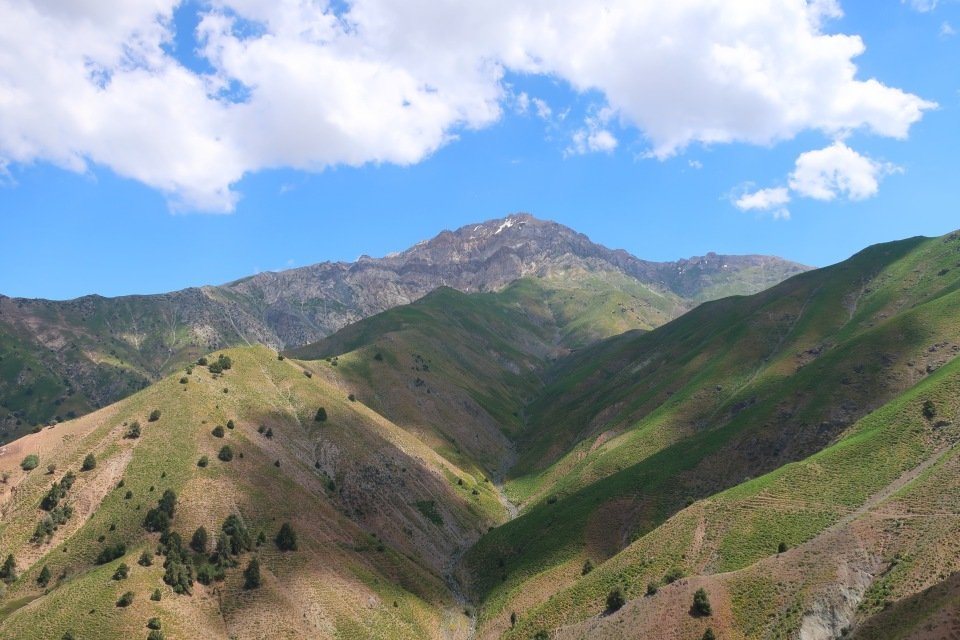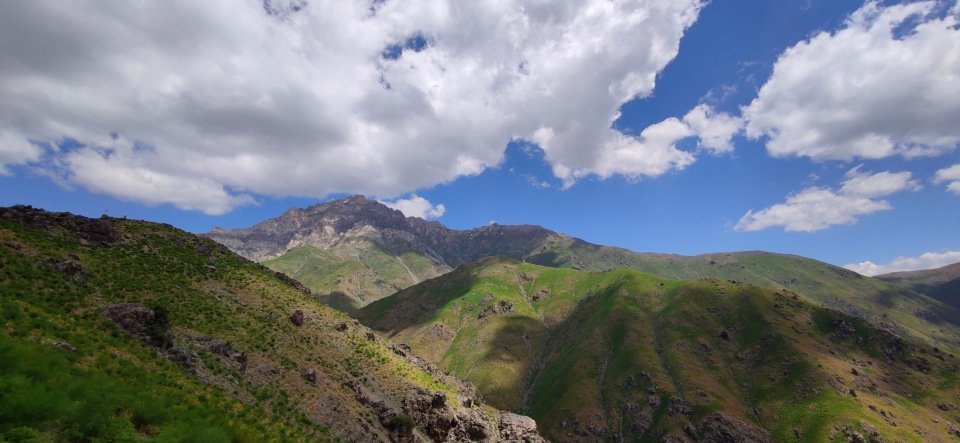 Soon we climbed one of the ridges, from where a wonderful view of the surrounding mountains opened.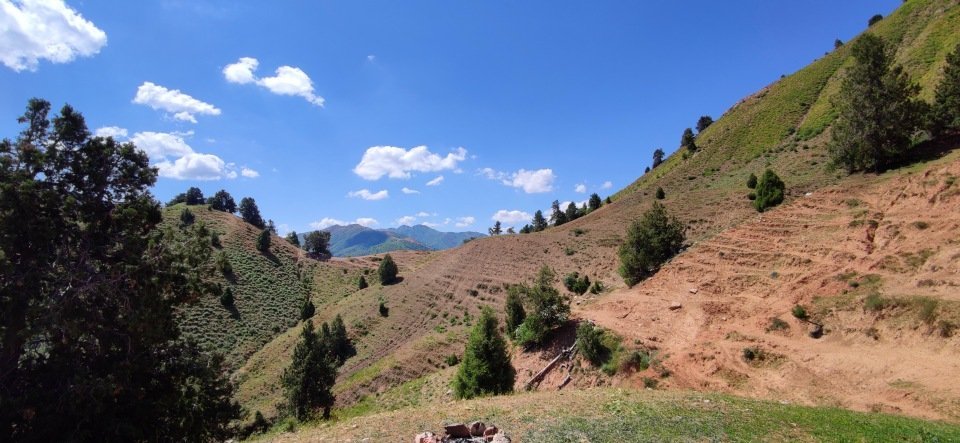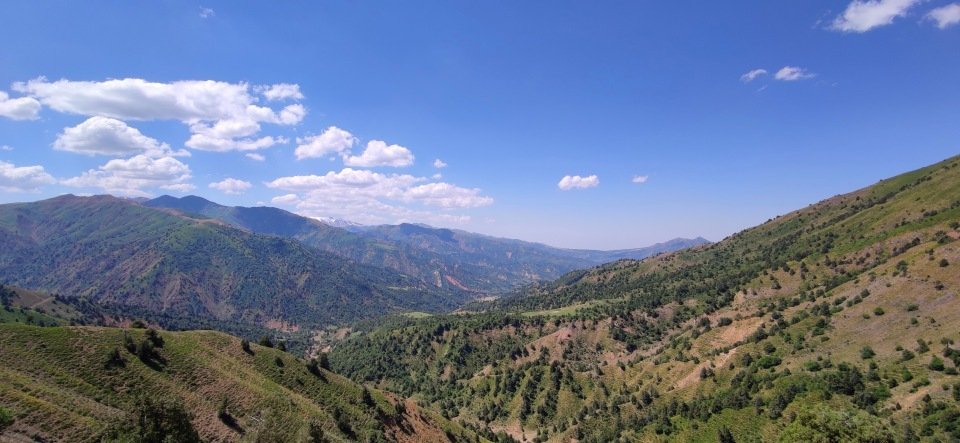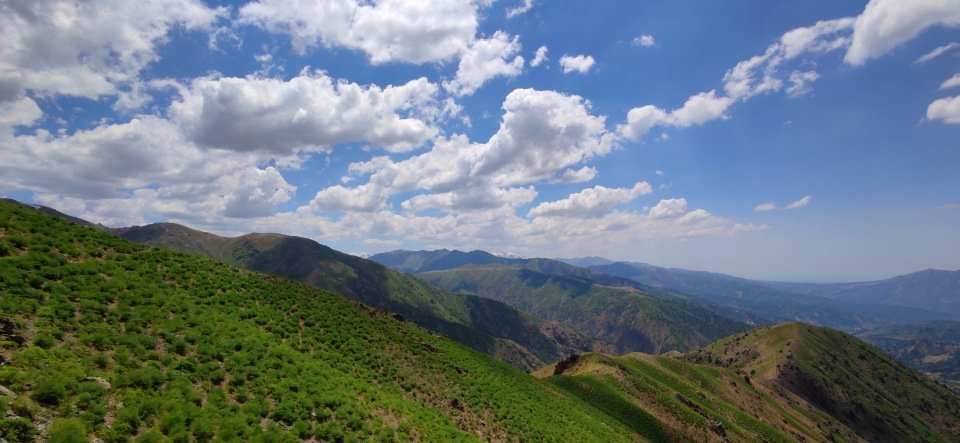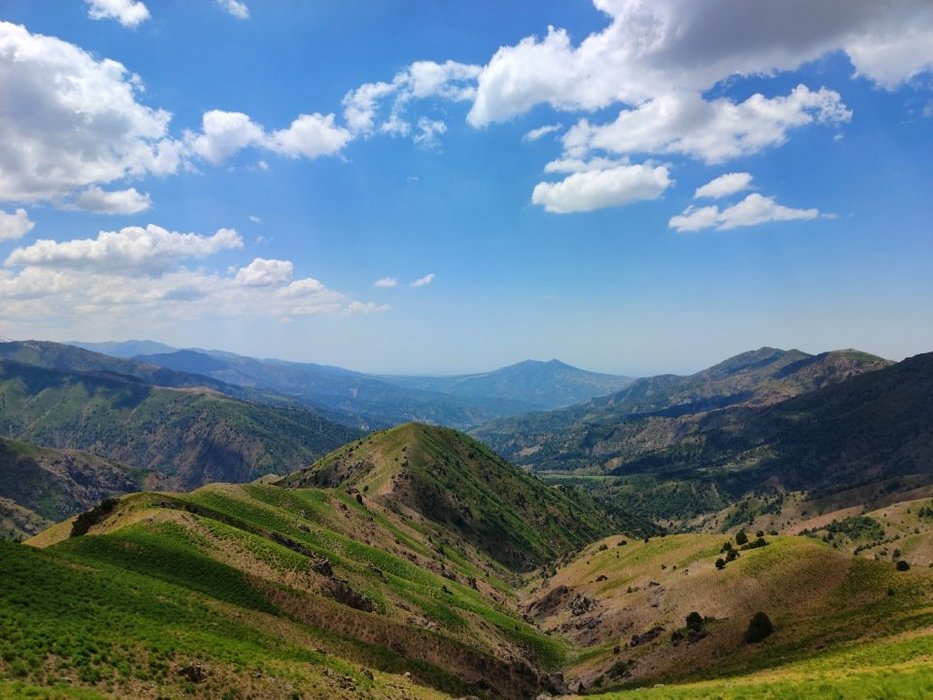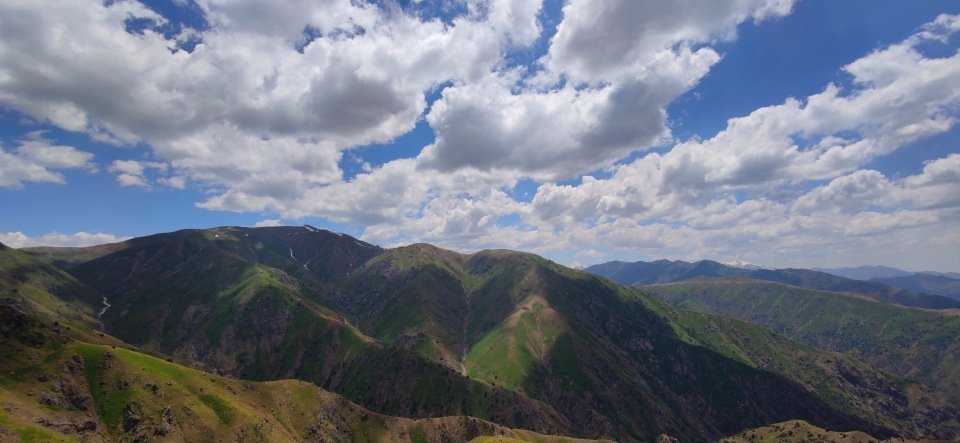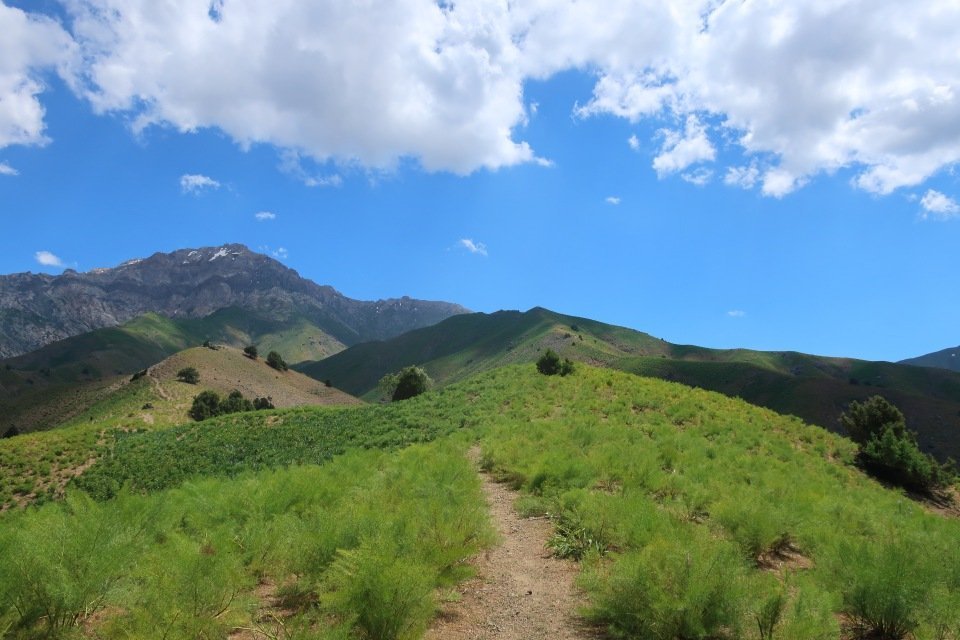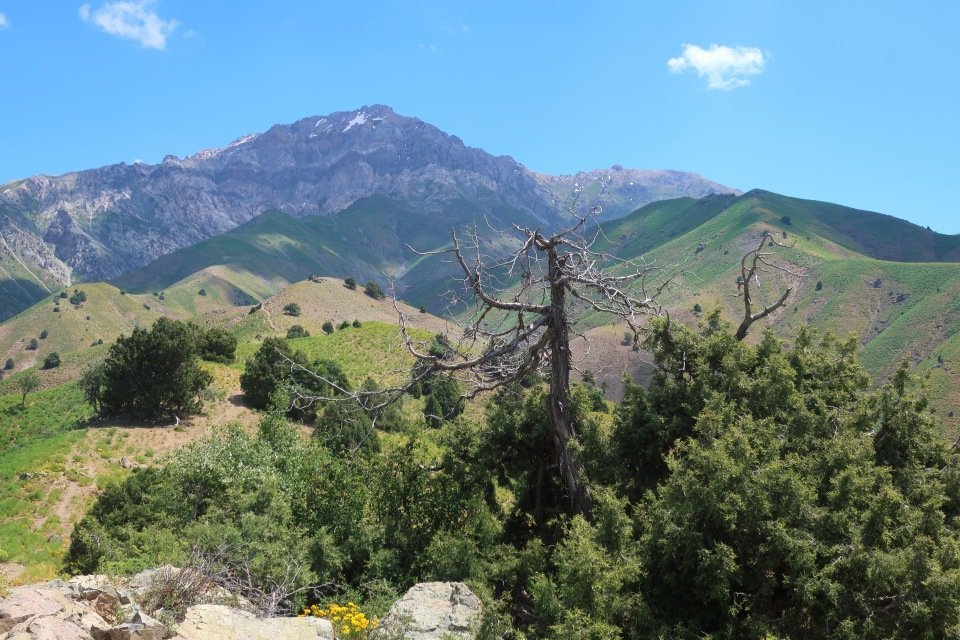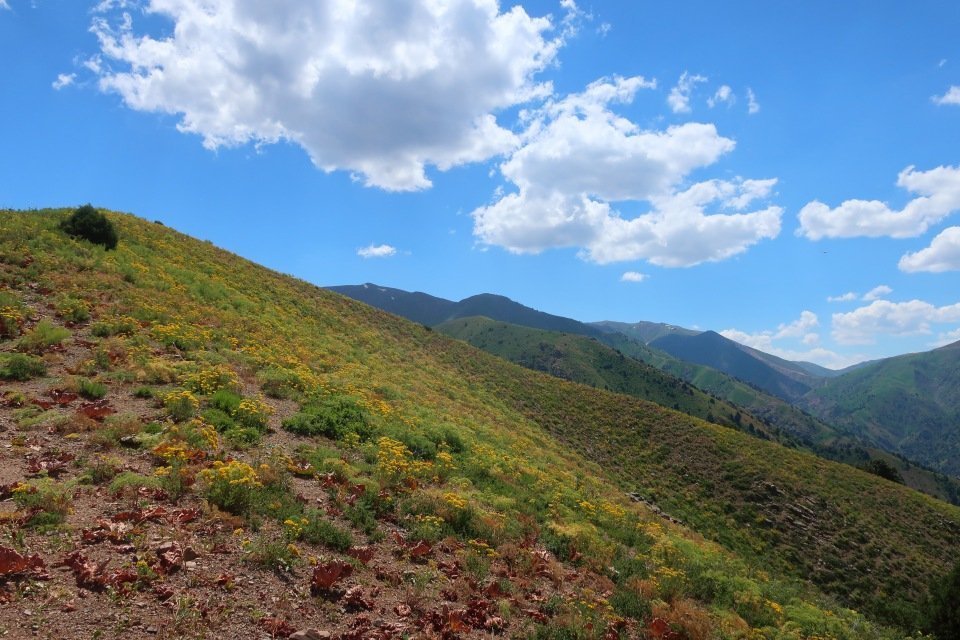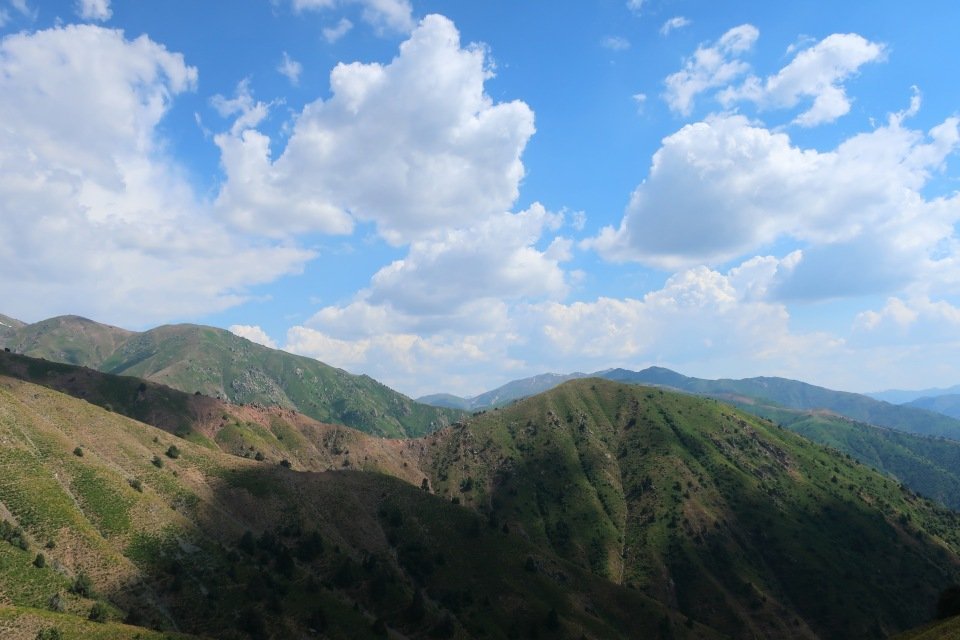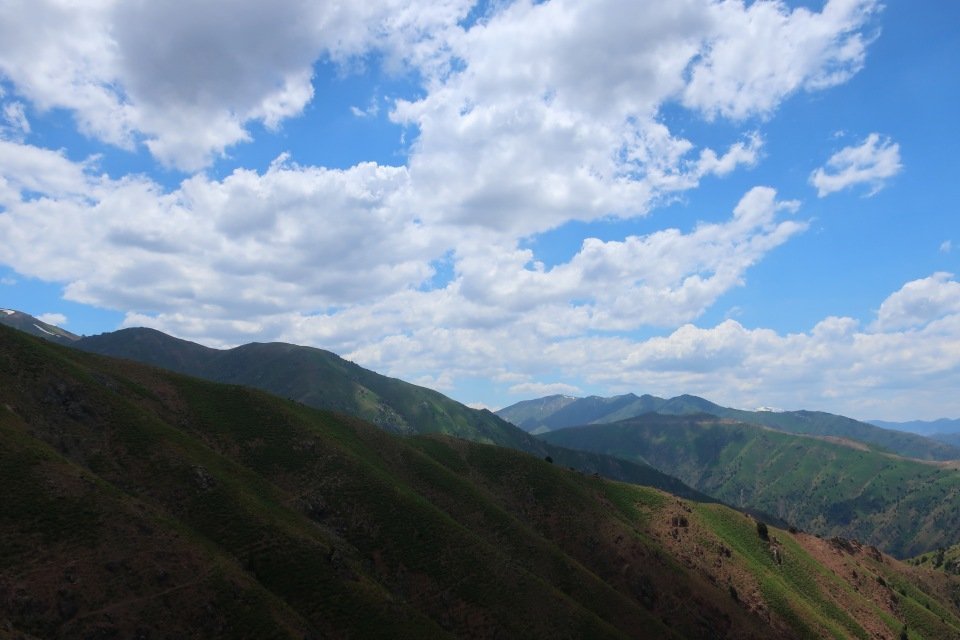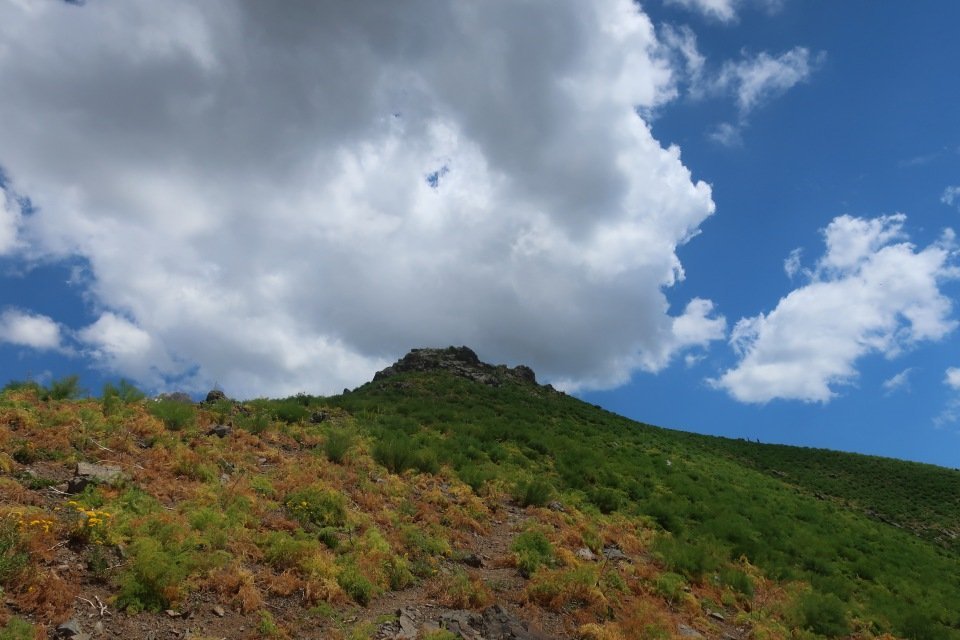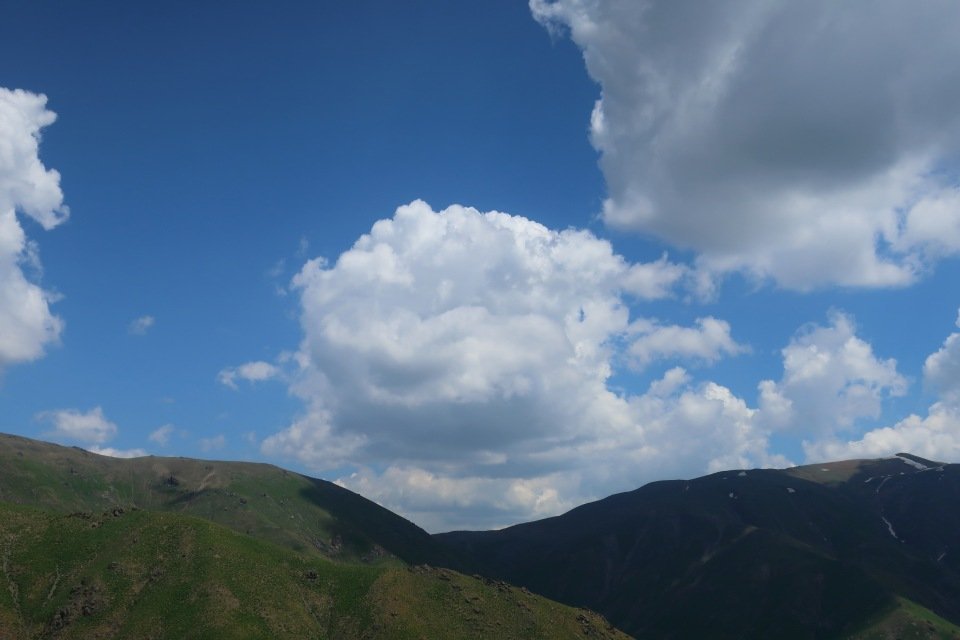 After that, we got to the so-called juniper tree of Genghis Khan. Allegedly, the famous Mongol commander was resting on this site, watching his countless troops conquer new territories for him. But this, of course, is just a legend. Genghis Khan personally did not get to Tashkent and certainly did not climb to petroglyphs.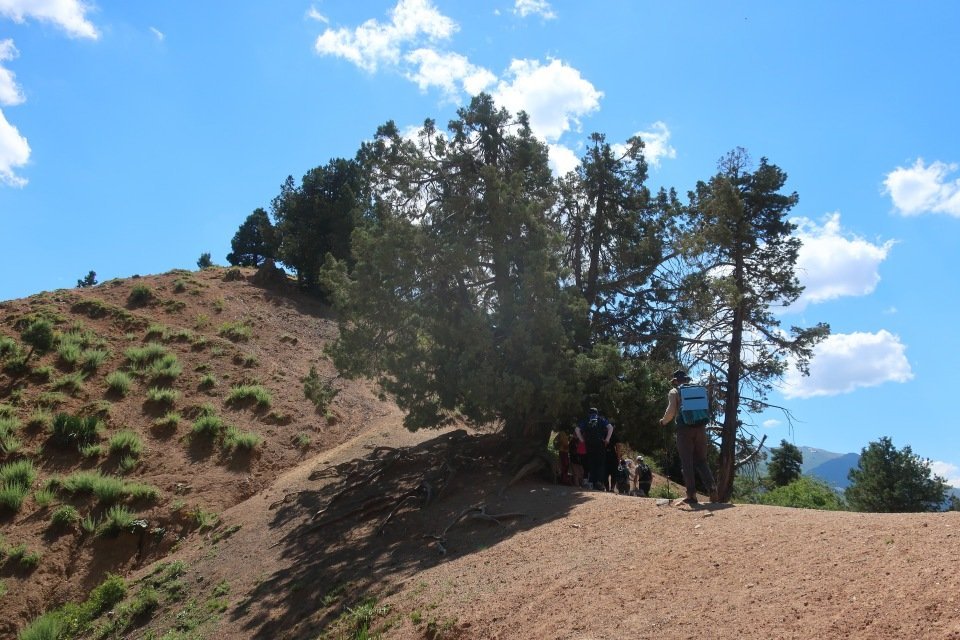 Eagles accompanied us all the way, both to the petroglyphs and back. Sometimes they descended so low that their shadows reflected on the ground. I will never tire of admiring these majestic birds soaring in the sky.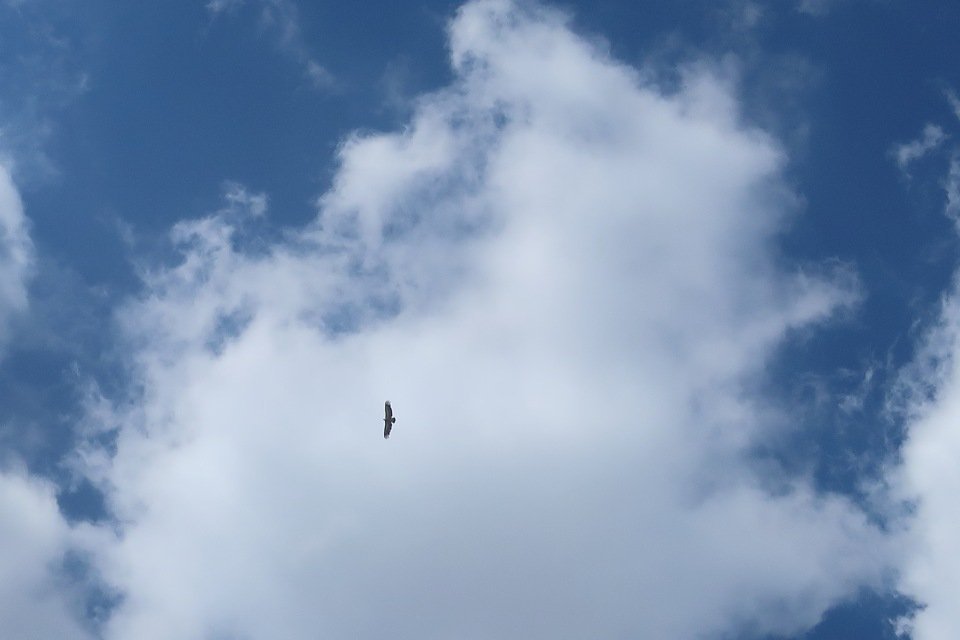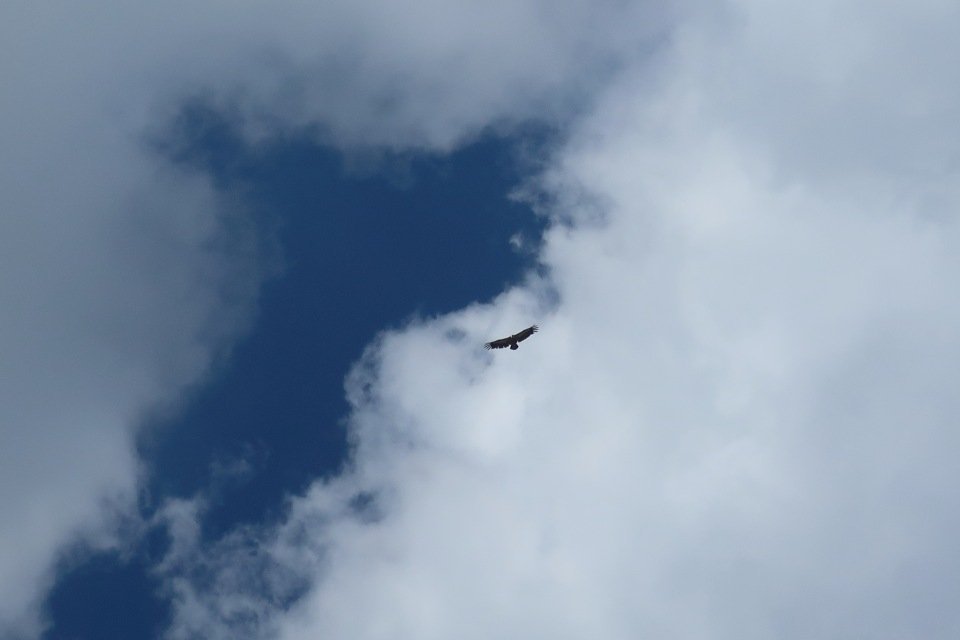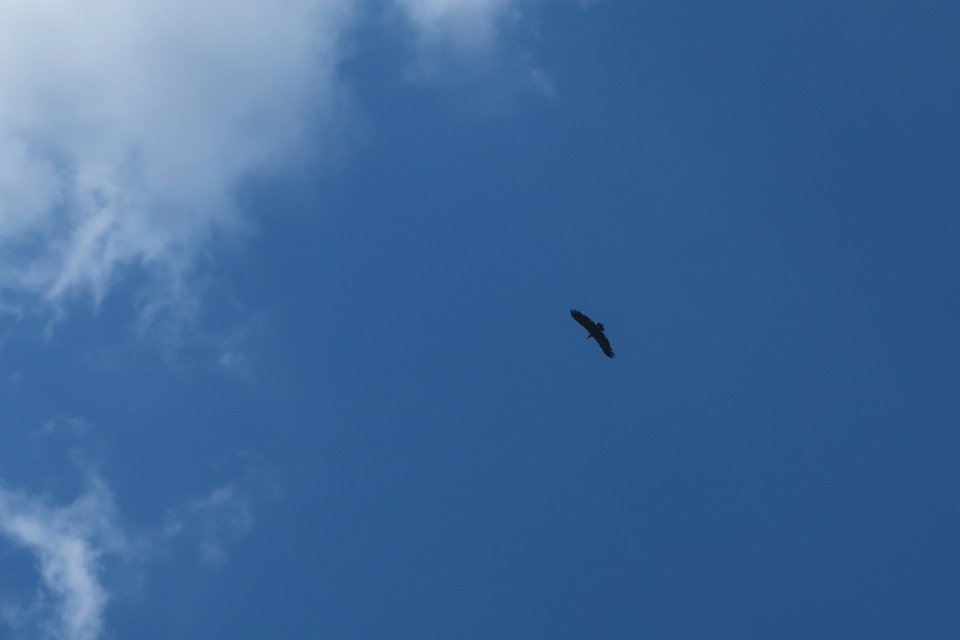 On the way, we ran across warning signs that this area is a protected facility.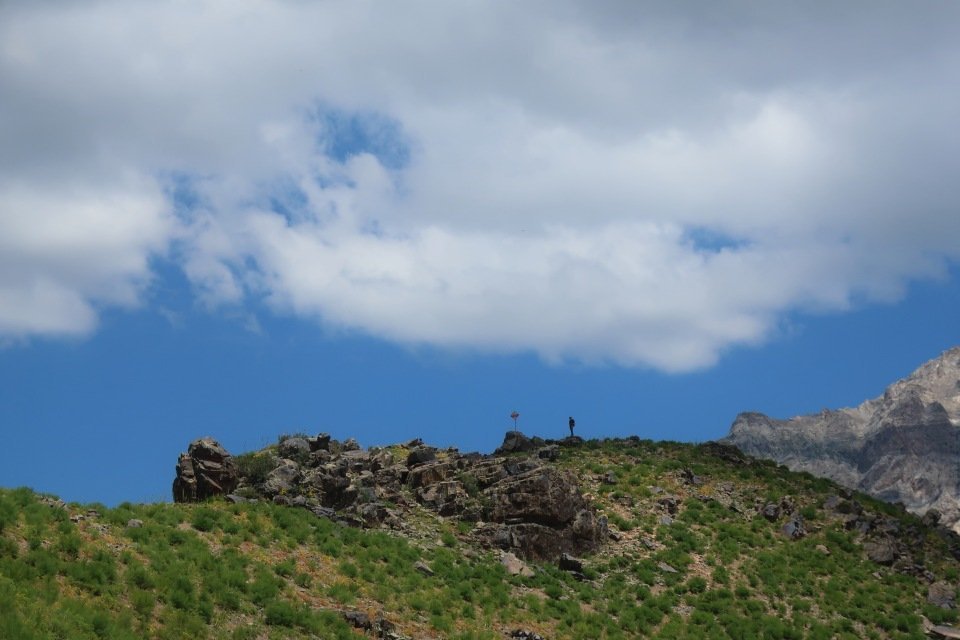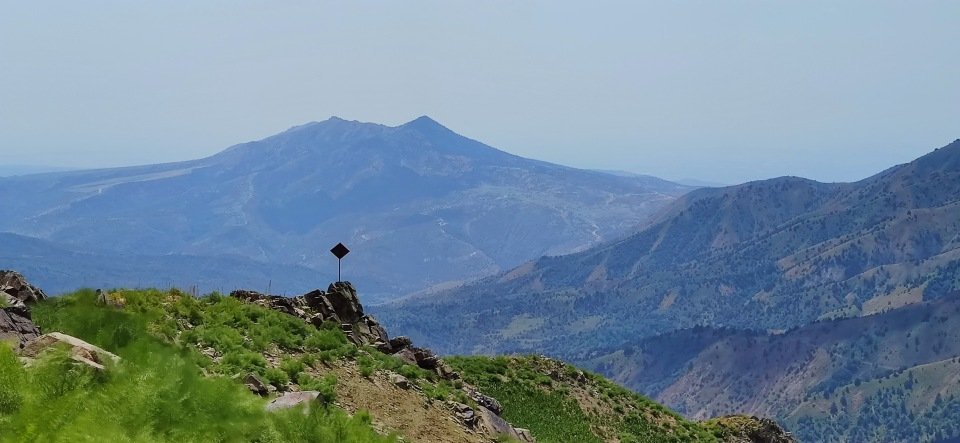 We climbed for a long time and soon climbed one of the hills, on which, finally, I saw the first petroglyphs as primitive people ...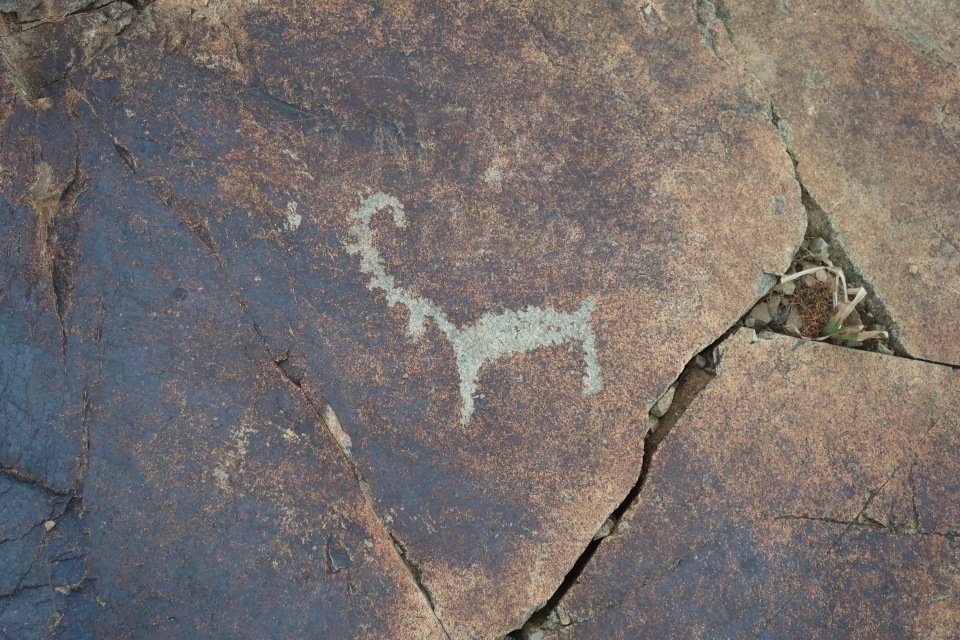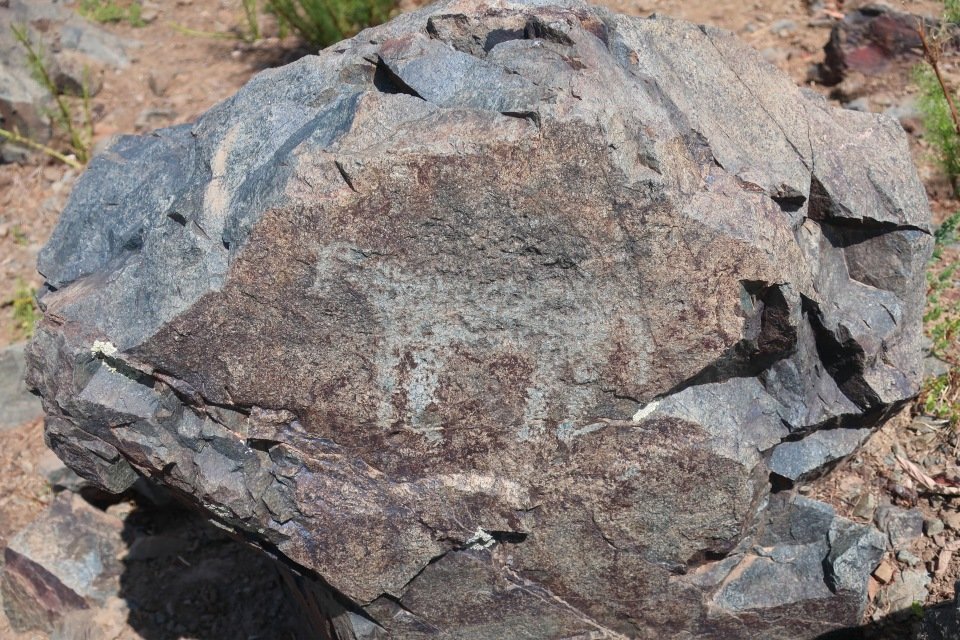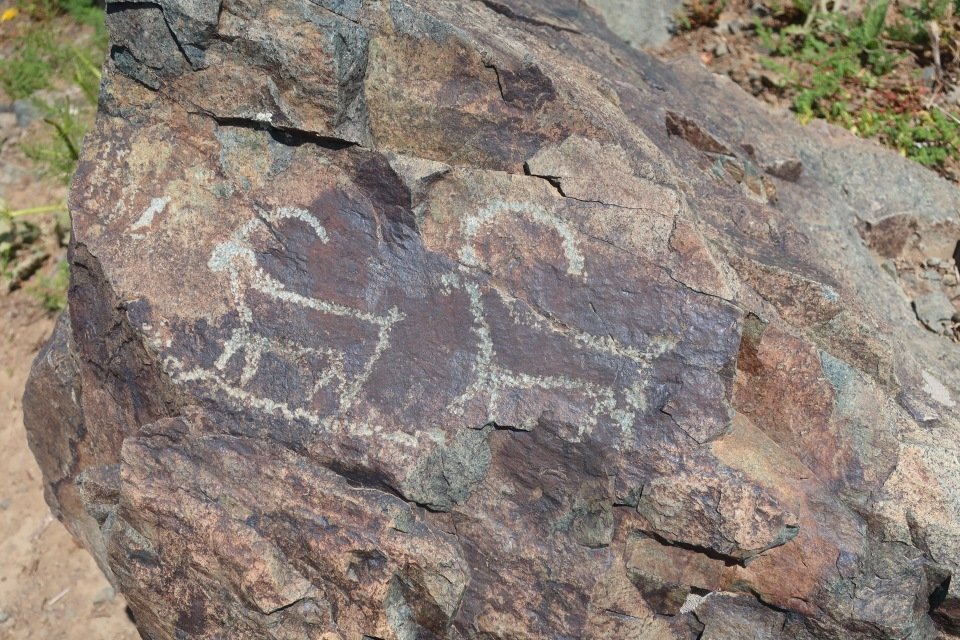 ... so are their descendants ...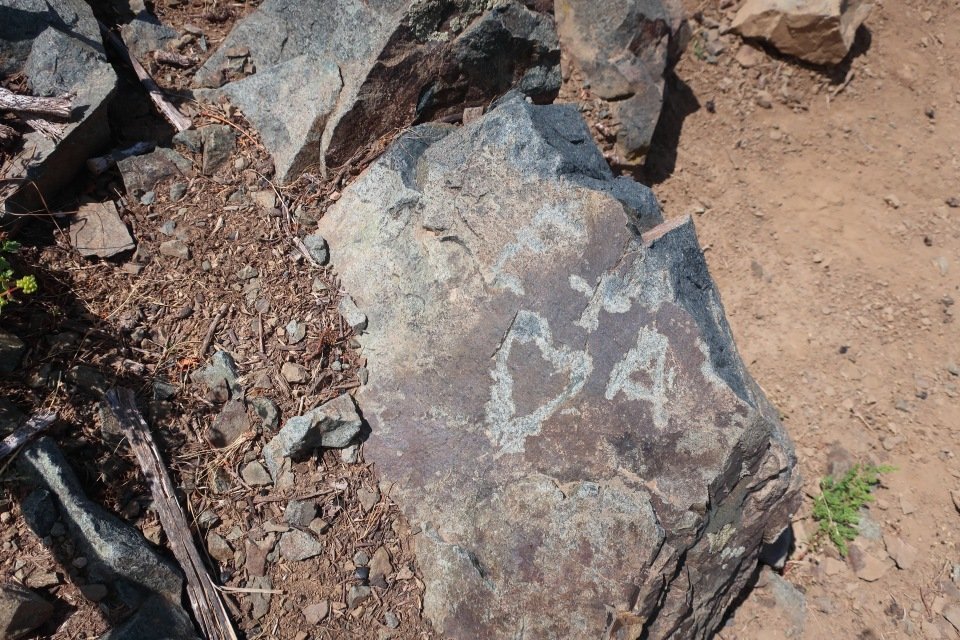 Below we saw one of the many flocks that the shepherds drove out to pasture.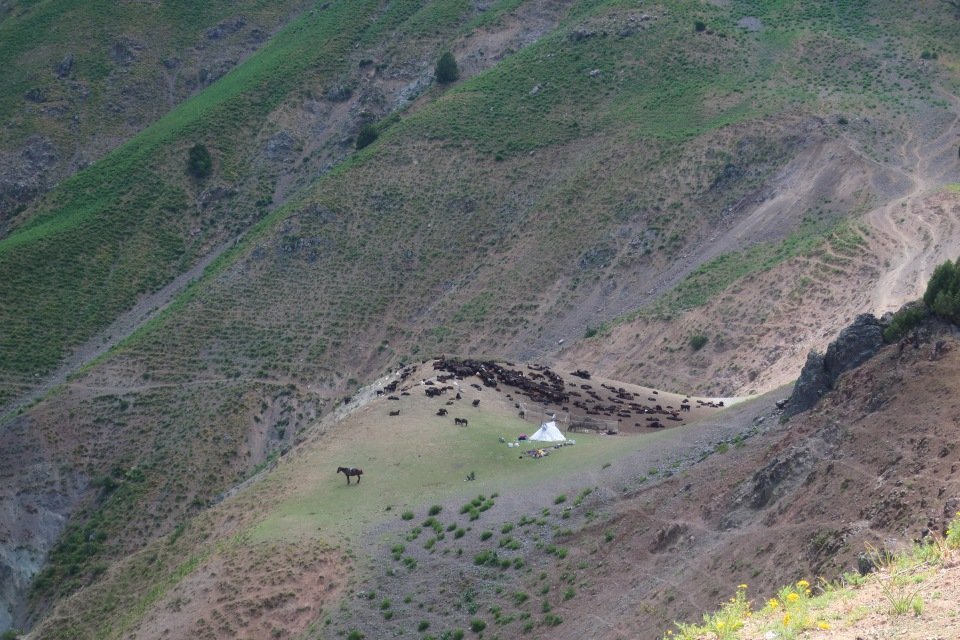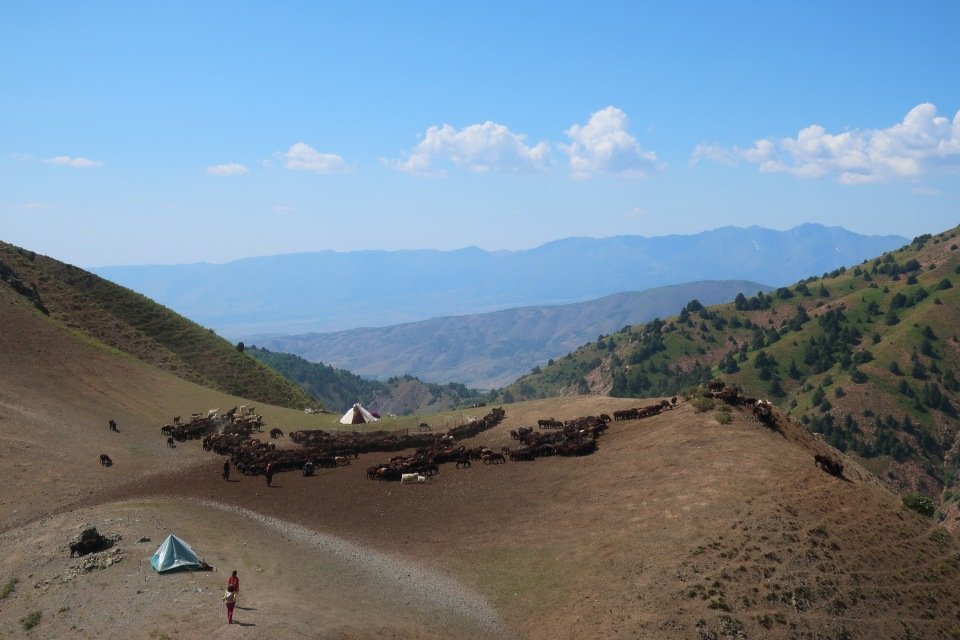 Passing by the shepherd's tent, we saw a little goatling tied to a peg. Seeing us, he jumped up and began to pose :).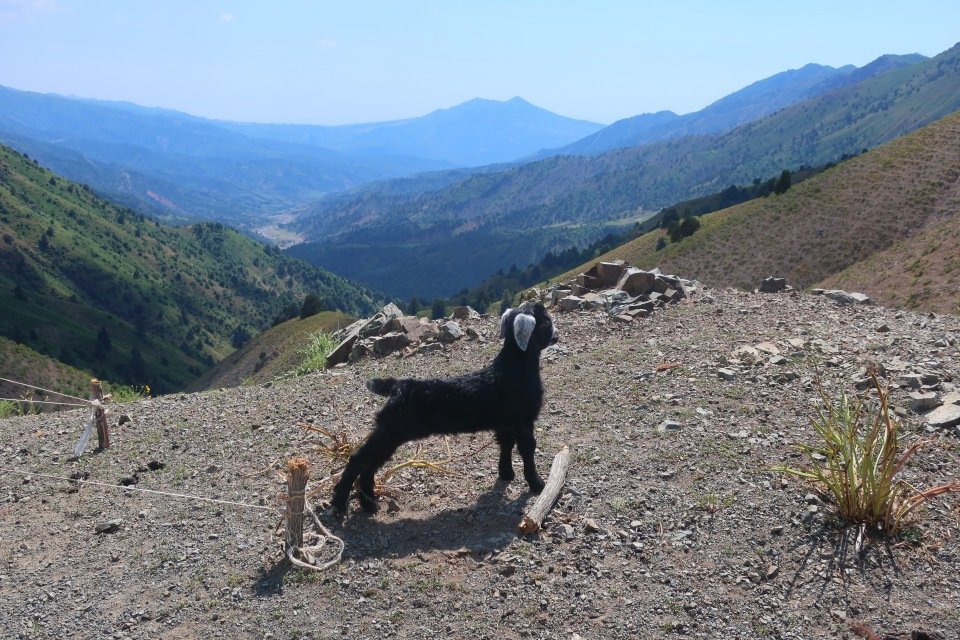 Bypassing the flock, we began to climb up to the end point of our campaign. Having made a little effort, they climbed to the top and saw black stones, mottled with drawings of mountain goats.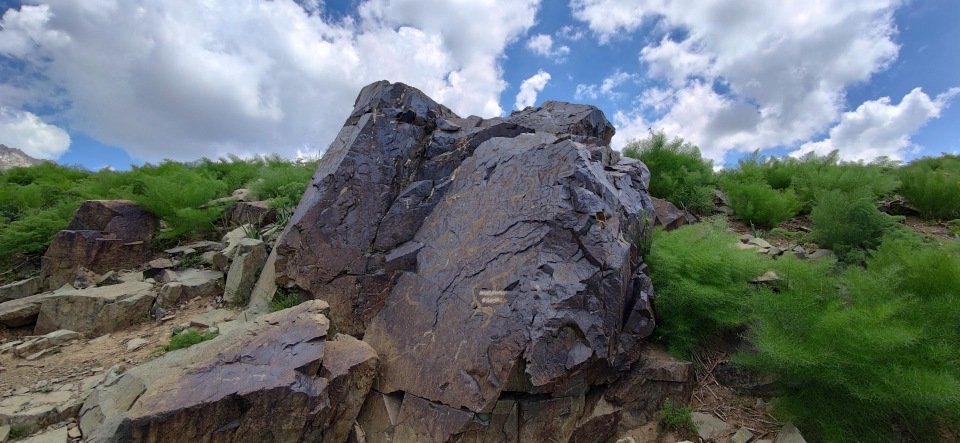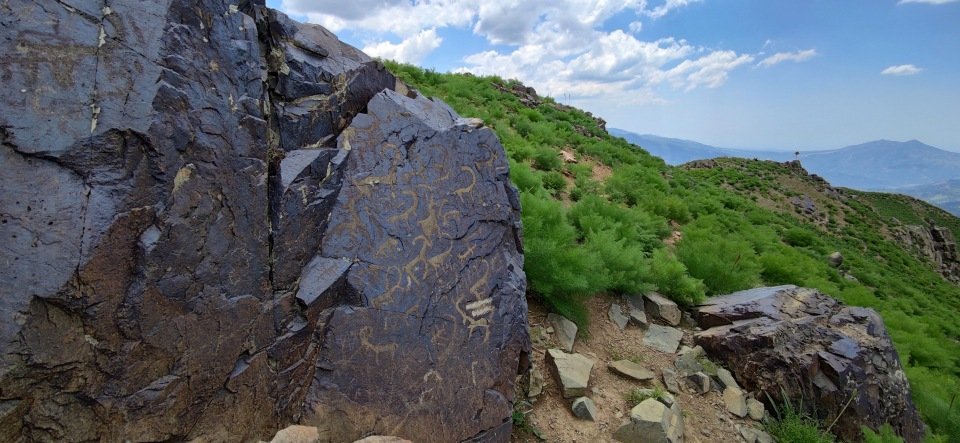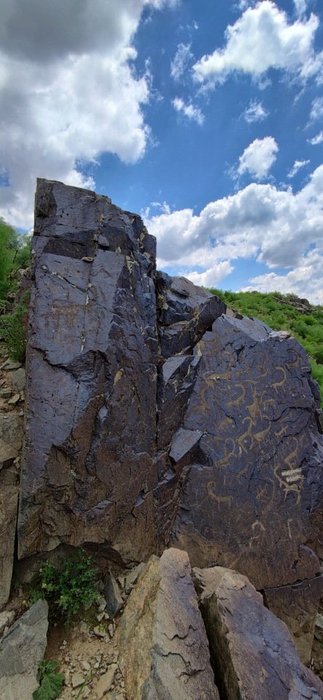 The age of these petroglyphs varies between 6 and 10 thousand years and they are attributed to the Neolithic era. Weather conditions affecting the safety of drawings make it difficult to determine their exact age. One thing is clear - these drawings still need to be studied and will be studied by specialists. And protect them from the vandals, who still manage to get here.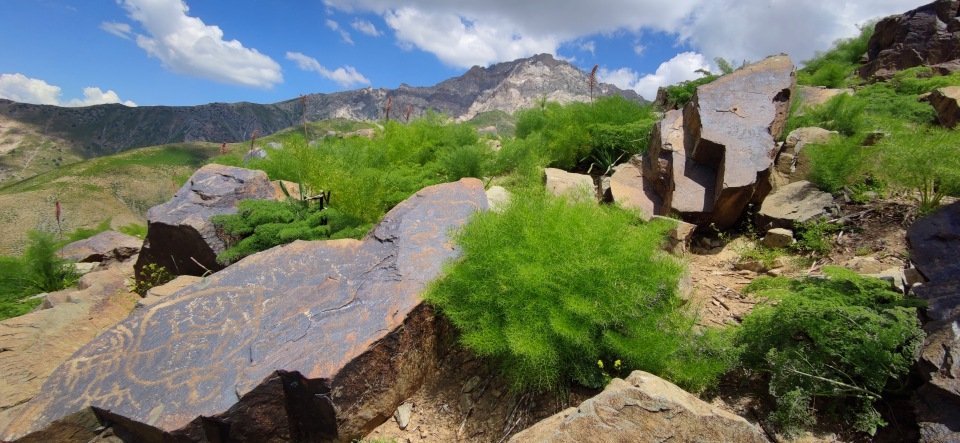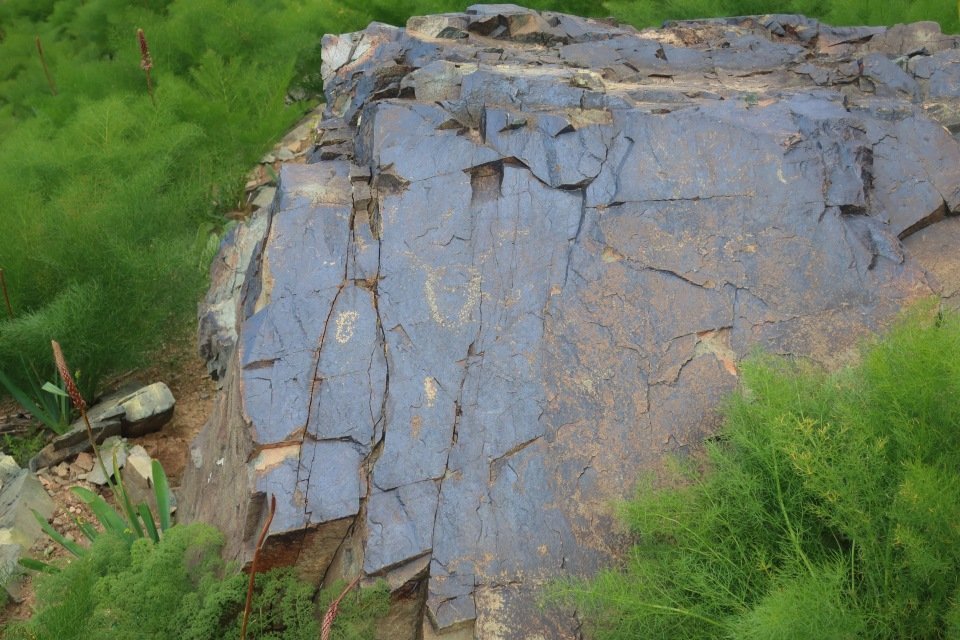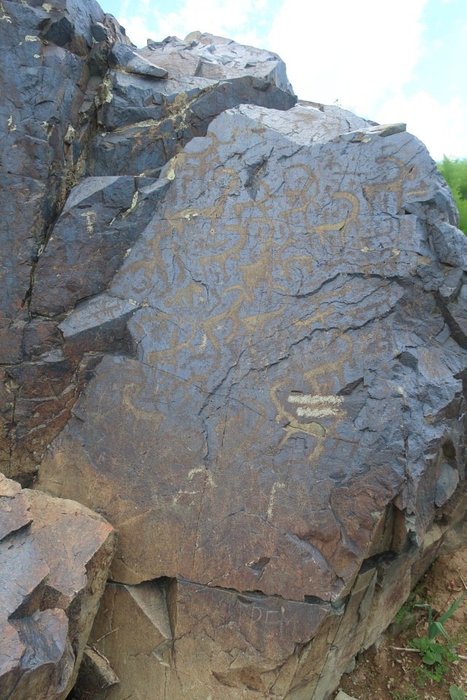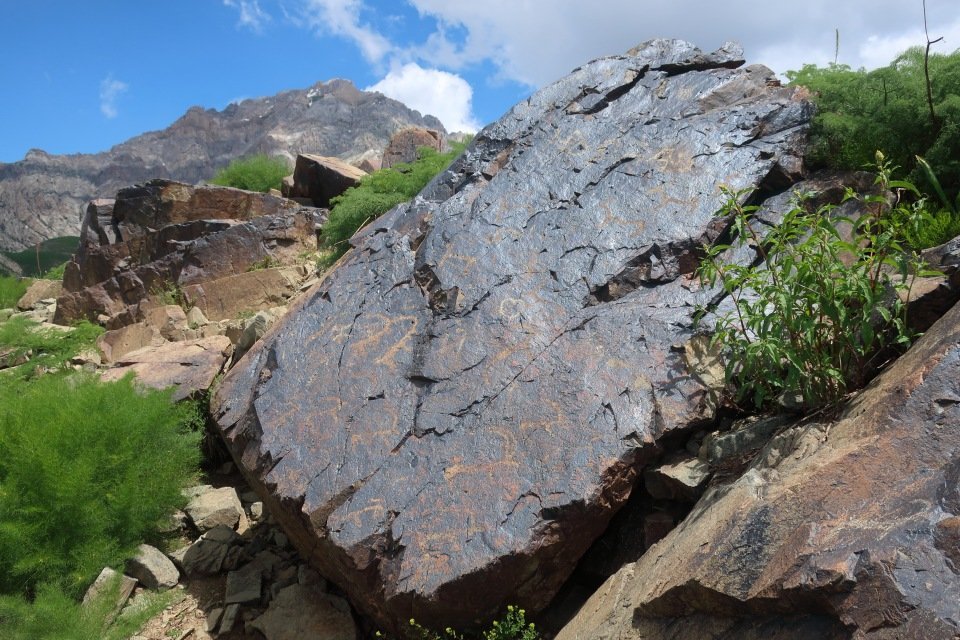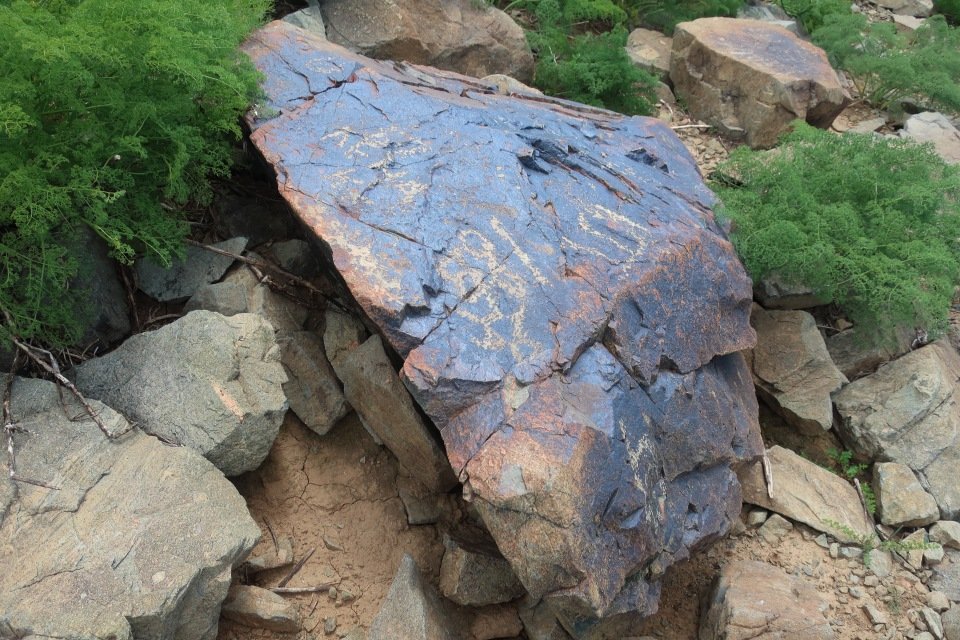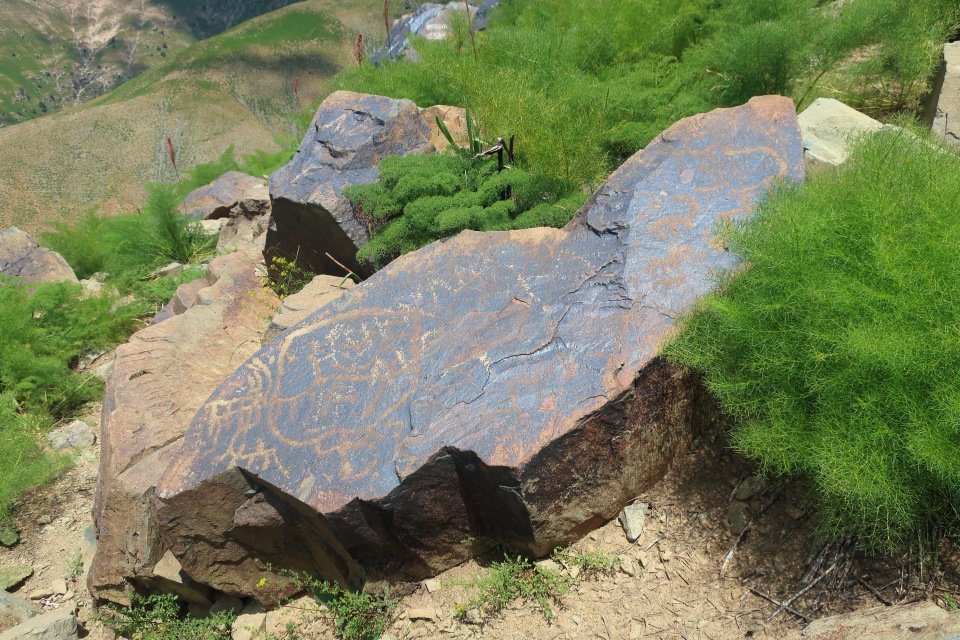 Having climbed enough on stones and photographed the primitive Instagram of our ancestors, we settled down for lunch. Having had lunch and a little rest, we walked back to the cars.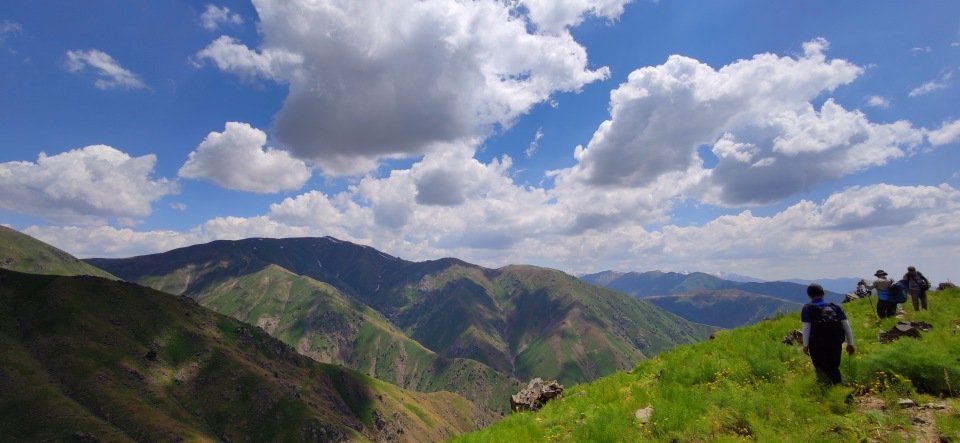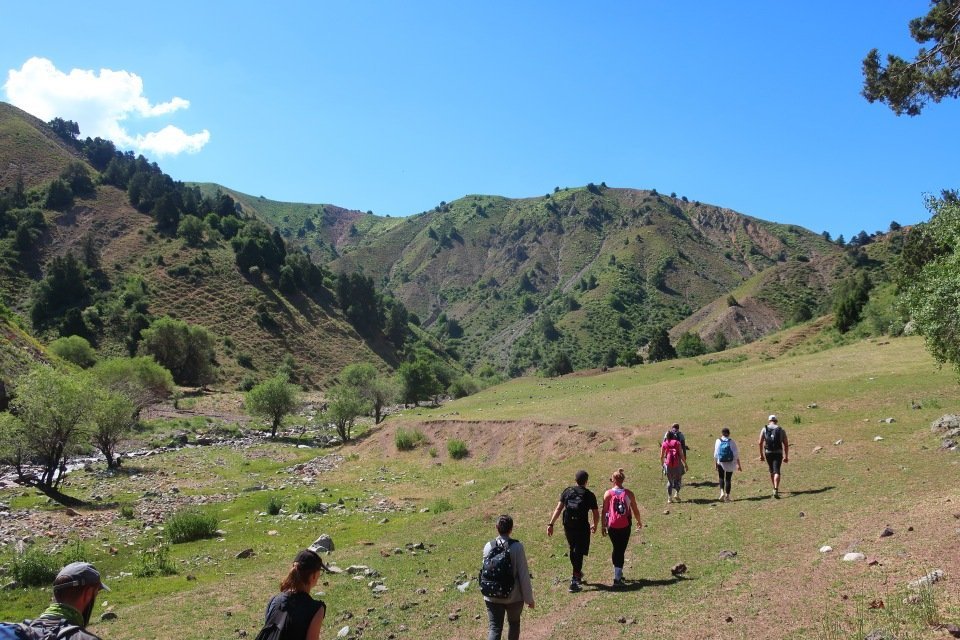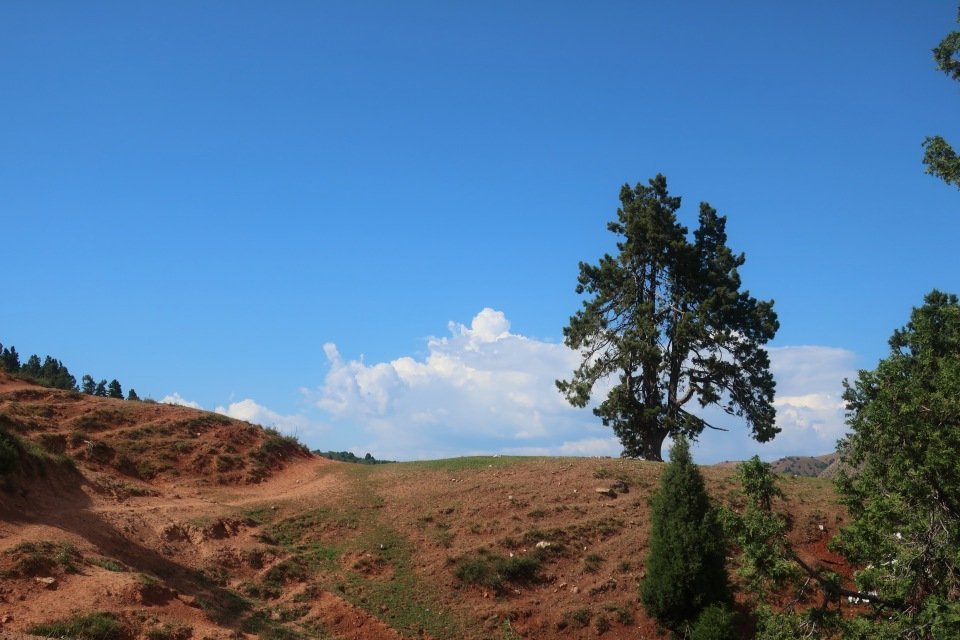 I was very interested to see the traces of primitive people. But I do not intend to limit myself to Beldersay petroglyphs only - I will ask Mysterious Uzbekistan to organize tours to other petroglyphs and camps of primitive people. If only government will not increase the quarantine measures again :).
In the next post I will tell how I wandered knee-deep in the water among the gorges and waterfalls of the rivulet with the interesting name "Ishak-kuprik-say" (which translates into Russian as "the stream at the Donkey Bridge")