Second half of 2nd day in Bangkok

This is what my first impression when I had a chance to step food in this massage land several years back, during a business trip in Hatyai. I believe the same electric cable setup across the whole country. It totally reminds me of the 80s back in my hometown Ipoh are having the very same setup.
泰国这里给我最深刻印象的就是,电缆。到处都是高挂着一大堆电缆。我还记得几年前第一次来到泰国合艾的时候也是一样,第一个印象深刻的就是一大堆电缆。这个情景令我想起了巴士年代的怡保,我的家乡也是一样到处挂着一大堆电缆。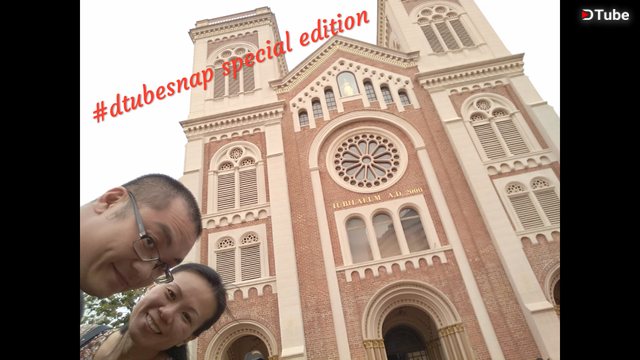 Here is the quick throwback of the church we visited. I made a snap video together with ex-girlfriend at the church. I'm kinda dive into fiddling with my phone and trying to get the video compile and totally forgotten to do data collection for the church. I think I will leave that part to LazyMom @francesaw to do it later when she finds the time to update her blog. If you're interested to see the video, you can try to click on the picture and it shall redirect you to the #dtube landing page, if not try these links
话说当时很兴奋,在教堂前面就拍视频了。还带着就情人一起拍了这一个双语视频和大家分享。当时我还忙着搞手机,想办法把视频弄好了要上传,都完全忘记了做资料收集。哪一方面的资料就只好等改天懒洋洋有空去更新她的博客时我们再来参考爸。如果想看这个视频可以直接点击上面的图,应该回自动带过去dTube 的页面。不过如果不行,请自行点击一下链接去看看吧。


So we took the BTS, Thai version of Metro from the nearby NaNa station and made a transit to get to Taksin station(Only if I know
@michaelcabiles
stays around here, could have call for a meetup before I head back to Sukhumvit). After that, we can use the bus to get to the church we wish to visit, but decided to take a walk since Google Map told us it's about few km away only. 我们乘搭泰国的高铁,从酒店的娜娜站出发转了车来到达鑫站。如果当时知道
@michaelcabiles
他住这里附近就好了,可以约出来喝杯茶打屁。我们来到这里的地铁站本来还需要转搭公交,可是查了一下其实走路也不会很远。想到要省钱,不如直接走好了,连车费都升起来了。

Surrounding the church area are missionary schools. According to the map, all these schools are supposed to link with the church, but somehow we can't crash into the school compound and make our way to the church. So it led us to one after another school before we finally make our way to the church.
不走还好,一走下去才发觉虽然教堂很近,可是因为教堂四周都被学校围绕着。我们找了很久都找不到进去,总不能直接闯进别人的校园到教堂去吧?结果只好一间又一件的学校一直攀过去直到找到为止。

According to limited understanding from Thai writing, this church was established in the 1800s and I had to resort to Wiki to find out the not so Thai information
here
.
据我对泰文有限公司的理解,这家教堂原定于1800开始的。结果,还是去投靠维基吧。
这里附上链接
,大家可以去参考一下。

Interior of the church are super marvelous. Think never in my life seen anything quite like this, old school, authentic roman catholic church. Apologize on the shaky cam but this is as far as I can capture. I wish I have a better camera to show you how cool those stain glass is.
教堂里面的装修非常庄严。我一辈子都没有见过这么美丽的教堂装修。虽然是老,但是这样才显得历史的在这教堂里面留下了岁月的记录。我手机的摄像头大概就只能拍到这个样子了。我多么想有一台超级武器给大家拍一些美丽的照骗。

Outside of the church has this monument standing there, supposed this is John Paul II ?
这个,应该就是罗马教皇约翰保罗二世吧?

This I believe is St. Peter(I think).
这个是圣人彼得?

We were sitting down eagerly waiting for the church to start their mass, according to the announcement board, they supposed to have a mass by 4pm. came this rough sounding monster appeared before my eyes, WOW! So proud to see a Malaysian made MPV made its way here to Bangkok. If I get a chance to ask the owner one question, it will be "Is your Campro engine leaking?".
根据网上的消息应该下午四点钟会有一次弥撒。当我还坐着等待弥撒开始时,忽然听到了熟悉的引擎咆哮声响,看到了这两马来西亚国产面包车,当时觉得自己很光荣。如果有机会问问当地车主对他们车子的心得,我有一个问题想问,"你们的宝腾引擎有没有漏油?"

As we waited long enough, decided to check out what's going on and why the church is not having a mass? The lights went off, and they're shutting down all the doors. From what I see here, looks like mass has been cancelled as they have done a wedding ceremony earlier that day? Take a look at the decorations.
当我们还聊天说地时,不经不觉已经过了弥撒时间,可是为什么还没开始呢?在回到教堂门口,发现灯关了,门口也在开始上锁了。看样子好像较早的时候可能友人进来办婚礼,所以今天弥撒取消了?看看椅子两旁的花?是不是很想香港电影,一堆新人步入教堂结为夫妻。

This looks like some pre-war buildings and according to the boards, this will soon be renovated as hotel. Can't wait to see that happen, who knows next time I will come and stay here! Currently, the second floor has been converted to an art museum. We did head up for a short visit, but I am too lazy to snap photo. I have a video recording the surrounding of that area, but I couldn't find it now.
这些屋子看起来好像是战前的建筑物。门框的牌写着这里将会改建成酒店。我是很想看一下这些古色古香的地方,多么希望捡来有机会来注意下这些古老的酒店。目前,这些老店的楼上正在做艺术展览。我没有特别拍很多照片,主要原因是因为我还在懒惰,不过当时有拍一个视频的,希望我没有一个不小心把它删了。

Here, LazyMom
@francesaw
on the link bridge. Take note that there's some hawker stall by the side road. Later we went there and took some quick bite as we're a little hungry.
这里看到懒洋洋在楼上形成了衣服可爱的奇景。注意到路边有小摊子卖吃的吗?等到懒洋洋下来了我们走了过去买了一些小食暂时充饥。


And we proceed to China Town with some friends together so we can split the food bill and able to eat more variety of food. Seriously, traffic in Bangkok is as horrible as Kuala Lumpur. By the map, it's only 5km away from where we stay, but it took the car who sent us there 45 minutes to get there.
然后我们打了车再和三五朋友外出去唐人街吃晚餐,主要是人多可以多点一些菜肴,账单也可以大家分开算不会太过肉疼。可是大家可以看看,泰国曼谷堵车的情况真不必吉隆坡逊色。看看地图,从酒店到唐人街才差不多五公里,但是坐车却做了45分钟才到。跑步说不定比车还快。

Once again, we had this spicy prawn instead of crab. The taste, is different. Chinese here in Thailand are no longer authentic Chinese. They have their own Thai names and they speak Thai. I thought since we're in China town, I could use my Chinese communication skill to deal with them, but it's a no deal cause they hardly understand me.
续第一天晚餐的辣椒螃蟹,今天来个辣椒大虾吧。事物的味道真的是不同。在泰国土生土长的泰国华裔,连名字都是泰国名了,没有中文名字的。而且他们都是用泰文交谈的。我本来想到来到唐人街总算可以发挥一下我所懂的中文,可是说了一大堆都没有人明白我在说什么。

Here, LazyMom
@francesaw
is finally grinning happily with her mango sticky rice shared with her few friends despite we just had some serious dinner. The girls went for further shopping for meat floss roll and other souvenir and I was busy checking out nice cars passing by. This marked the second day of my Bangkok trip.
最后,懒洋洋终于尝到了芒果糯米饭。点了一碟,然后几个人轮流吃一点免得吃太饱撑着。当晚几根女人去逛街买了很多肉松,肉丝和一大堆手信。而我,在路旁看看名牌车/跑车在街道上飞来飞去。就这样过完了曼谷之旅的第二天。
---
I would like to thank all my friends and family who has been supporting me. Feel free to leave me feedback by clicking below yellow banner. > 谢谢大家一直以来的支持和对我疼爱有加。如果方便,请你点击下图到我的个人资料网页为我留言请我吃星星哈。

CREATE YOUR OWN @REVIEWME PROFILE TO START EARNING CREDIBILITY STARS FROM THE COMMUNITY! CREATING YOUR PROFILE IS EASY! JUST FOLLOW THE STEPS HERE ☜(ˆ▿ˆc)
---
Posted from my blog with SteemPress : http://davidke20.vornix.blog/2018/11/25/first-bangkok-trip-with-ex-girlfriend-3-%e7%ac%ac%e4%b8%80%e6%ac%a1%e8%b7%9f%e6%97%a7%e6%83%85%e4%ba%ba%e5%8e%bb%e6%9b%bc%e8%b0%b7/
---