First of all, this photo weren't taken during my arrival to the hotel. I did this on the second day after they clean and make up the room. Not bad right, lemme go over and open up the curtain to let in some sunlight.
首先告诉大家,这些照骗不是第一天到达时拍的。如果我告诉你我刚到时太累没有理会太多直接衣服多了洗洗睡了你也不相信吧?这个是第二天收拾房间后回来拍的。我去拉开窗帘给一些阳光进来吧。
The bed is super soft with very good pillows. I'd say not for everyone, as I was so used to fibre beds. To me, it's a little too soft and I felt like I sunk myself and start sweating in the middle of the night. The bedside switches came with USB connectors, super handy. What's good about the hotel, the wall plug are mutli compatible type.
这床非常柔软,而且枕头也是超舒服的。不过话说回来,不是每个人都受得了这么软的床吖。对我这种贱骨头平时都躺纤维硬床的,感觉躺这么软的床好像整个人都沉进去了,半夜都睡到流汗了。床边的插槽是国际型号的,不管是哪国的都能插入。再说床两边都有USB槽,充电超方便了。
From the window, I can see the swimming pool. There's enough tend and some cages, looks very comfortable for people hangout there.
从窗口望下去就看到游泳池。池旁边有写亭子让住户舒服的躺下阳光浴,感觉非常舒适,大家也一定喜欢在这里逗留。
Here's the view. In Bangkok, there's enough high rise buildings. Across the street of Sukhumvit are number of hotels.
从这里可以看到曼谷很多高楼大厦。这整条街都是各式各样的酒店。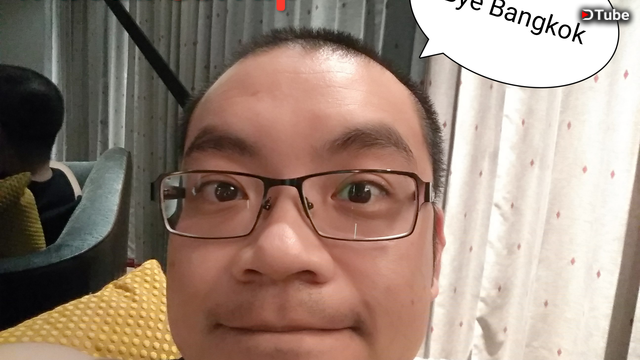 Here's the night view I took from the window if you like to see some video. If you can't get through the play button, hit the link below and you'll be redirect to my dtube landing page, so you can play the video from there.
以上是我晚上对着窗子拍的夜景。如果还没看又觉得我的脸不太难看,不妨进入看个究竟。如果打不开的话可以点击一下链接,会带你去dtube网站去。
▶️ DTube
▶️ IPFS
Let's seal the blind and shut the curtain. It's literally too warm in Bangkok. Here's the work table we spent time here. You wanna know what we did there? Ok. Too much imagination, with this counter in place, studying map and scrolling around the phones are really convenient.
先把窗帘布拉上,外面太亮了而却开着窗帘觉得热。这里有张办公桌,我和旧情人在着桌子上。。。呵呵。在想什么啦?!我是说在这里计划出哪里玩和看地图啦。超方便的。
Here's another part of the room with some couch. These couch are as comfortable as you seen. What did we did there? Well, I would again like to leave it to your imagination. Like drinking my white coffee I brought all the way from KL to Bangkok, did some reading and blogging here comfortably with my phone.
这里房间的另一边也是有一套沙发,非常舒服。我们在这沙发上干了啥?呵呵。你们想象力是否太丰富了,当然是喝我从吉隆坡带来的怡保白咖啡吖。这个沙发太舒服了,我几天在曼谷写的部落格几乎都是在这沙发上写的。
Toilet are marvelously nice. Facial wipe. Soup. Shampoo. Body shampoo. Lotion. Shaving cream. Shaver. Tooth paste. Tooth brush. Comb. I don't remember what I missed, probably things that I don't even use it.
洗澡间超级宽坦舒适,而且卫生装备都提供了。面纸,洗发水,沐浴露,润肤霜,剃须膏,剃刀,牙膏,牙刷,梳子,应有尽有。我想到的都有了,还有我没能列出来的都是我没用到的。
Bath tub is huge! Can stuff a pair of average size asian love birds in. Too bad I'm a little overweight right now, so I couldn't jump in.
这个巨型的浴缸简直可以丢一对亚洲身材的男女进去。可惜呀,我最近太胖了,如果我跳进去,浴缸的水都被挤出来了。所以,还是乖乖1去淋浴吧。
I only started to like the rain shower recently.
我都是最近才学会这种淋浴,比起花洒爽多了。
This is the shot I took from the swimming pool. From hwere can see the 6th floor where I stay. At the swimming pool floor is the gym room and a very nice pool side restaurant.
至于这一张照骗,是在游泳池网上拍的。从这里可以看到我们的房间呢。
Ok. Ex-girlfriend is having some fun time dealing with her phone.
看吧,旧情人坐在笼子里玩手机,可爱不。
Swimming pool is clean, and this place is kinda windy. Too bad I didn't manage to jump in during my entire stay.
这个阳台非常凉爽,泳池的水非常干净,看起来很清凉。可惜呀,住了几天都没有机会跳进去。
And the panoramic view is awesome.
全景望过去也是无话可说了。

Here's the official promotional video from YouTube. Hope you like it.
https://www.mercurebangkoksukhumvit11.com/
Mercure Bangkok Sukhumvit 11
18 Soi Sukhumvit 11 Sukhumvit Road Klongtoey Nua Wattana , 10110 Bangkok
Thailand
Tel: +66 (0) 2 120 8888
Fax:+ 66 (0) 120 8889
Email: [email protected]
---
I would like to thank all my friends and family who has been supporting me. Feel free to leave me feedback by clicking below yellow banner. > 谢谢大家一直以来的支持和对我疼爱有加。如果方便,请你点击下图到我的个人资料网页为我留言请我吃星星哈。

CREATE YOUR OWN @REVIEWME PROFILE TO START EARNING CREDIBILITY STARS FROM THE COMMUNITY! CREATING YOUR PROFILE IS EASY! JUST FOLLOW THE STEPS HERE ☜(ˆ▿ˆc)