I don't usually blog for business trip, but Bangkok is one of the must blog place as I have previously visited together with @francesaw, and this time with my colleagues and clients for a convention. It's more like a business trip, but it's free(nothing is free, everything has been charged under company expanses, which means part of my bonus being deducted from here), so I attended it regardless!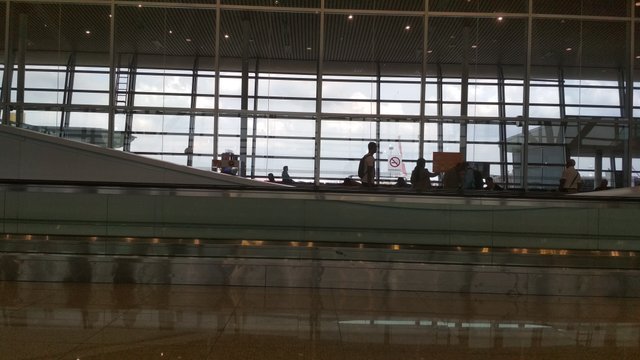 I think KLIA is one of the least old air port that I feel comfortable with. This time, I am boarding Thai airway, and the boarding gate located at the other side of the airport, hence we need to take a transit to get there.
---
Flying with Thai Airway to Bangkok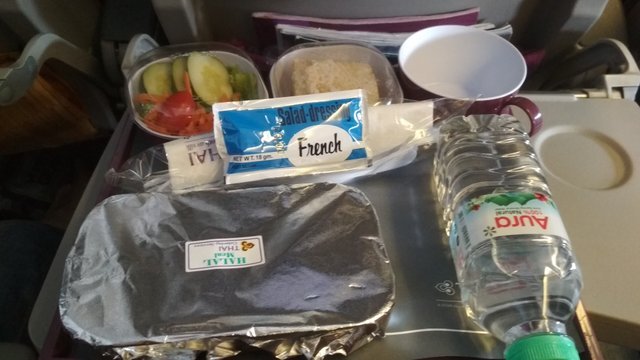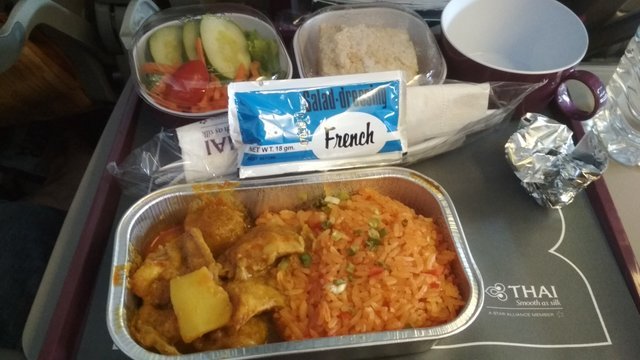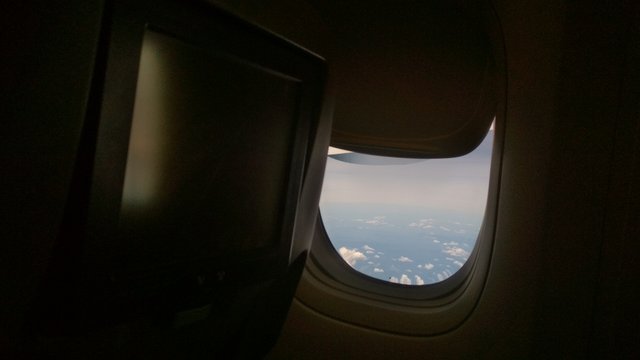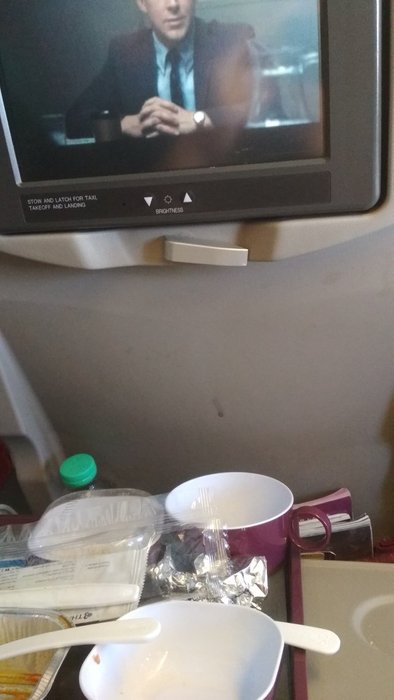 This is my first time flying with Thai Airway, the experience is somewhat different from what I used to be, MAS/Singapore airline/Air Asia? Plane is a little old, but generally they're clean. I do have some doubt originally when I was assigned to fly during this period, as there was some new 737 model went for a ditch and killed many. Fortunately, this is an AirBus, wait a minute, there's some Airbus went off the sky too. Nevertheless, take off was easy, food is marvelous, I'd say the pineapple fried rice taste even better than the nasi lemak from Air Asia, and ofcourse anyone time their food far better than MAS. Food tray served with one full portion of pineapple fried rice with curry chicken, a small portion of diced vegetable salad and a portion of pound cake. Salad was fresh, I did not even use the salad dressing and finished them all. The pound cake, I couldn't tell what exactly it was, but it has a light tangerine smell and the icing sugar on top of the cake serface melt on my upper lip whilst I was enjoying the cake, it almost did not blew my mind. I went => B L A N K <= for a brief moment before I realized I am actually watching a movie on the little screen. And time flies like an arrow, fruit flies like a banana. 3 hours journey feels like 1/2 hour only, and we see the run way, touch down was extremely smooth. I particularly enjoyed the "braking" of an aircraft. It feels like the eyeball is going to pop and the feeling of all the organs smashing infront of my rib cage.
---
In between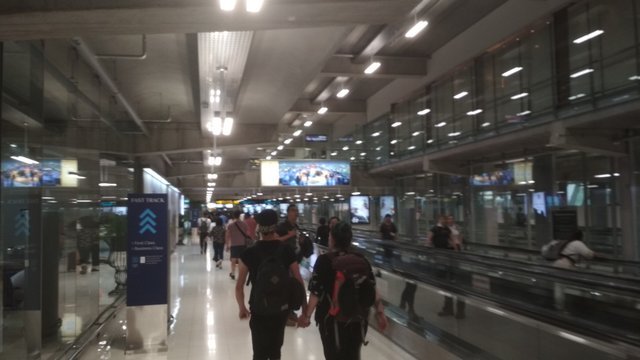 The very first moment I stepped off the plane, it was seriously unpleasant when I felt the heat came from the outside. During April, there were rumor saying the heat wave struck and killed several people due to heat stroke. Anyway, after stepping off the departure gate, the entire Suvarnabhumi Airport is very comfortable. The interior design of the airport is rather simple and clean.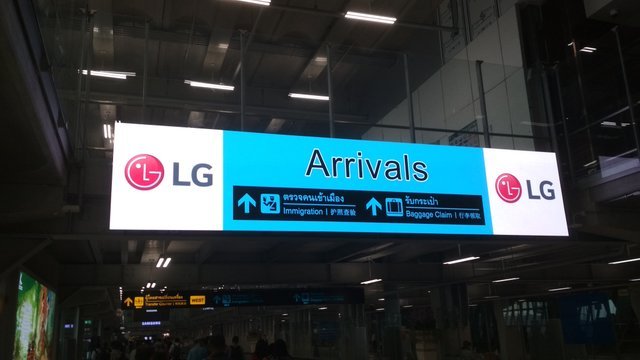 The very significant cyan Arrival signboard still looks the same as I was here half a year ago.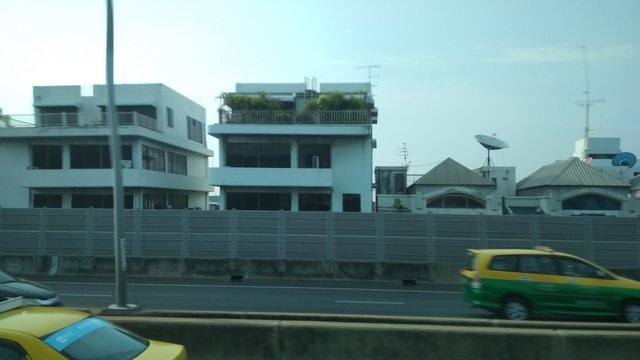 The last time I was here, I spent most of my time sleeping in the van, this time we have a tour guide in the tour bus, he can talk so loud to an extend I have trouble trying to sleep. So I spend time enjoying the scene from the outside instead.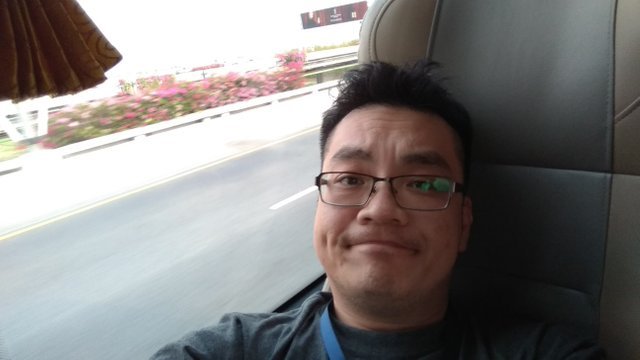 ---
River City Bangkok, Holy Rosary Church วัดแม่พระลูกประคำ (กาลหว่าร์)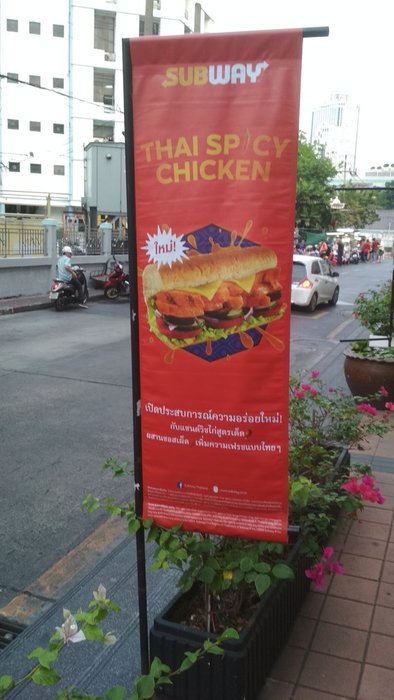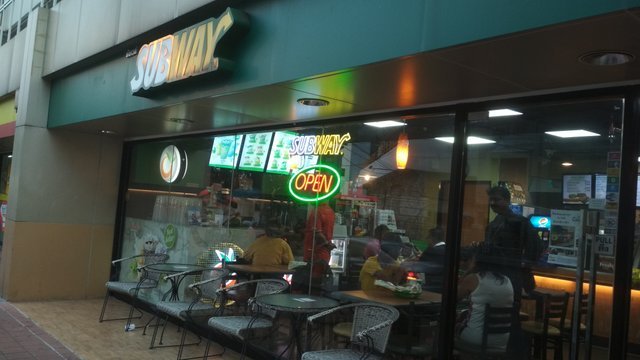 First, let me apologize for not having much photos of the River City, because I spent an hour walking there and couldn't find much attraction to snap photo for. And I ended up walking out of the shopping mall and go to the nearby surrounding and search for my own tourist attraction. After found out Thai version of spicy Subway, I was so tempting to try one, but thinking of later going to have river cruise dinner on the boat, so I passed. Came to this old church and I would like to invite
@archisteem
to have a look at this beautiful structure.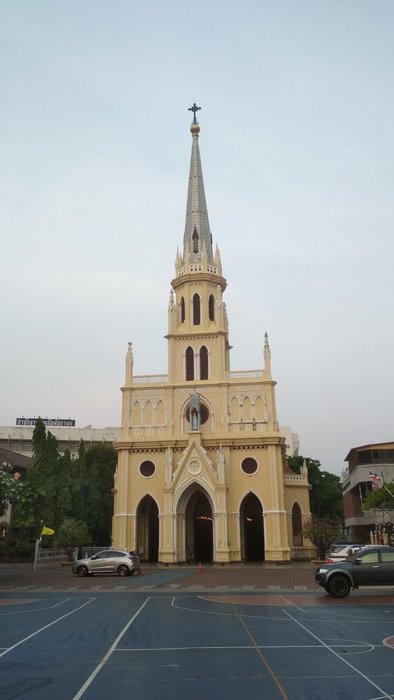 The Holy Rosary Church (Thai: วัดแม่พระลูกประคำ, pronounced [wát mɛ̂ː pʰráʔ lûːk prā.kʰām]), also known as Kalawar Church (โบสถ์กาลหว่าร์, [bòːt kāːlāwàː]; from Portuguese: Calvario), is a Roman Catholic church in Bangkok. It is located in Samphanthawong District, on the eastern bank of the Chao Phraya River. The history of the church dates to 1769, when a group of Portuguese Catholics resettled in the area after the fall of Ayutthaya; the current church building, in Gothic Revival style, was built in 1891–97 on the site of two previous structures.
Source from
Wikipedia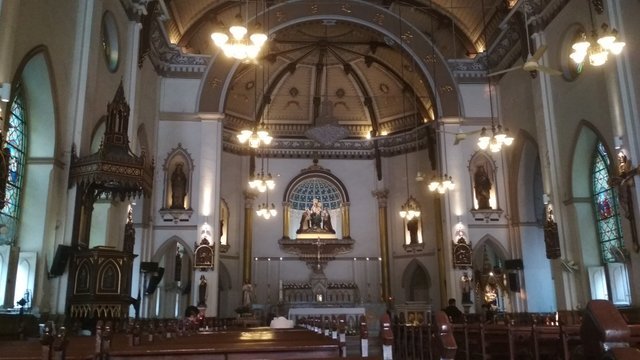 This century old church is very well maintained. None of the fan was turned on, not even the side wall fan, considering outside temperature hitting 38'C, and none of the people here are sweating. How do they do that?!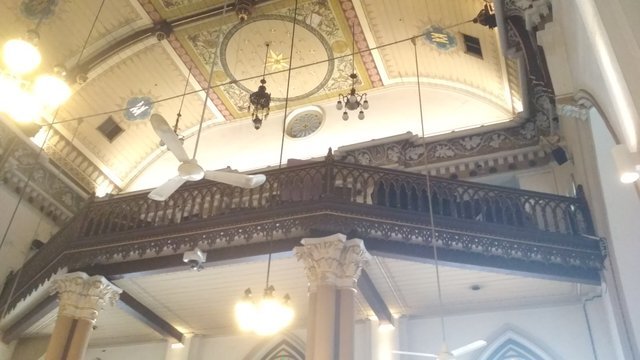 I tried to look for a proper technical name for this observatory stage, but I couldn't find any term. Some of the churches, if not all uses this stage to house their pipe organs and other musicians to be stationed here. Trust me, I've been to various churches, those churches who put their choirt team and musical instruments here the back of the building, the sound projection and resonating across the transept will make a huge reverb and the entire building will vibrate. I will come back to that on my next
#archisteem
write up of another chuch with more detail report.

I did a vertical panoramic shot for the roof, almost did not break my neck. It was very cool and I had to show you how beautiful it is. Sadly, my phone camera auto focal is way too weak for low light. As soon as I started panning, the roof area is slightly low light and the focus start to went out of the space. You'll just have to make do with this, or I suggest you to pay a visit to this beautiful place on your next vacation.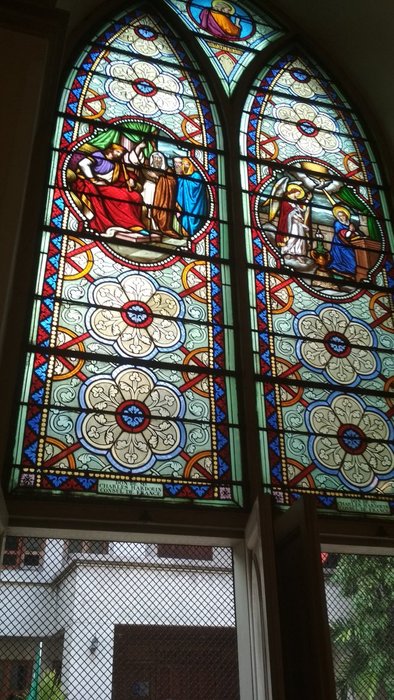 Is these stained glass also more than a century? I know nuts about art, but these stained glass are really attractive, and I can't helped starring at those red colored glass and made up of a piece of art work.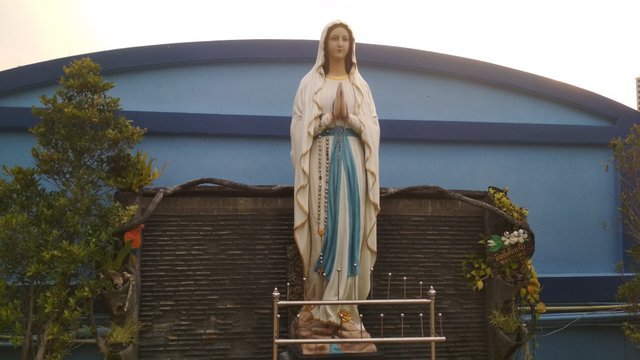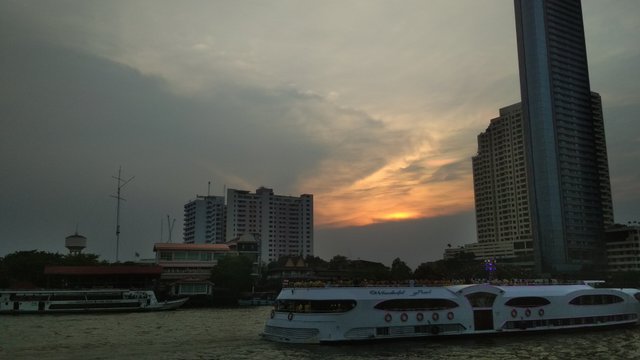 More photo of the surrounding and I realized it's about time to catch my boat for the river cruise. I have a video compilation uploaded, I will try to put a link at the end of this post. I did a lot of talking and vlogging in Cantonese, you may wanna skip all and jump to the church scene.
Church address as below:
987 Soi Wanit 2, Khwaeng Talat Noi, Khet Samphanthawong, Krung Thep Maha Nakhon 10100, Thailand
987 ซอย วานิช 2 แขวง ตลาดน้อย เขตสัมพันธวงศ์ กรุงเทพมหานคร 10100
https://goo.gl/maps/1u7aKrpUKi2X19mU9
---
Chao Phraya River Cruise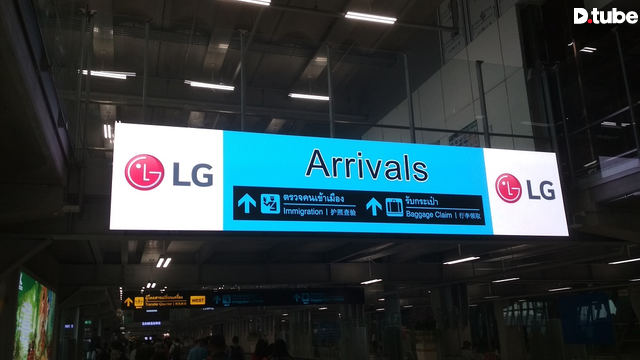 Basically, my phone camera aren't qualify for much low light photography. I did take some pictures, but all of them are blur and I wouldn't what did I shoot.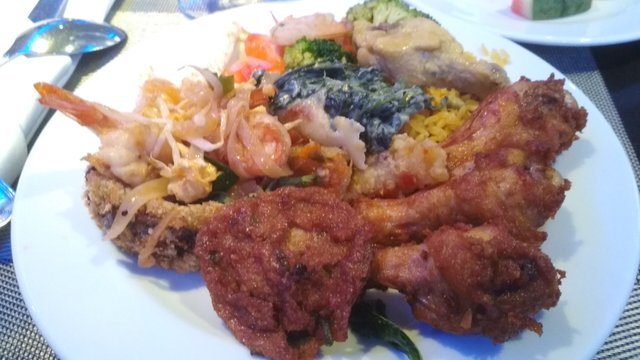 Food is marvelously good on the boat. The fried chicken is really tender and not too spicy. Frangrant of spices blast through my nose and I feel like having a short nosegasm, enjoying all kind of Thai dish on the boat. Rest of it, are very noisy and the band is trying their very best to entertain people on the boat.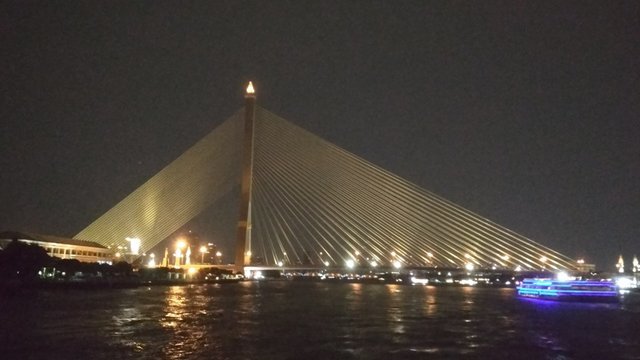 I tried to turn on HHT, now my phone finally can capture something in low light, but then the sky because grey. Tsk...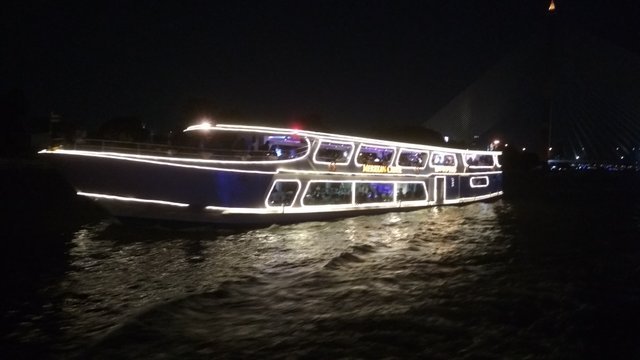 By the time I arrived to the hotel, it was already 11pm. I'm really low energy and my room mate has no where to be seen. Best part was, he left his wallet on the table and went out just like that. Amazing eh... To be continue
---
Posted from Steem中文社区 : http://cnstm.org/blog/2019/08/04/19172/
---