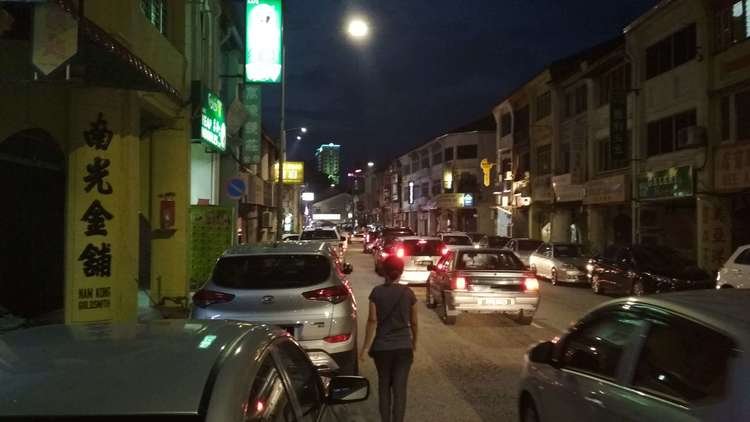 My personal food preference in Penang Island, is NOT always street food. But, the one in Chulia Street, is marvelous. Since Penang Island is not that big, many of good food are walking distance from another tourist spot. If you're driving, make sure you parked and walk a lot. If you're thinking of driving there and park to nearer spot, than I'm sorry to tell you, you'll be spending more time finding a parking spot than enjoying good food. Don't forget, these are real street food, you literally sitting on the street, cars driving past you rubbing your backside whilst you're eating. Freakishly exciting with the smell of exhaust fume!
Popiah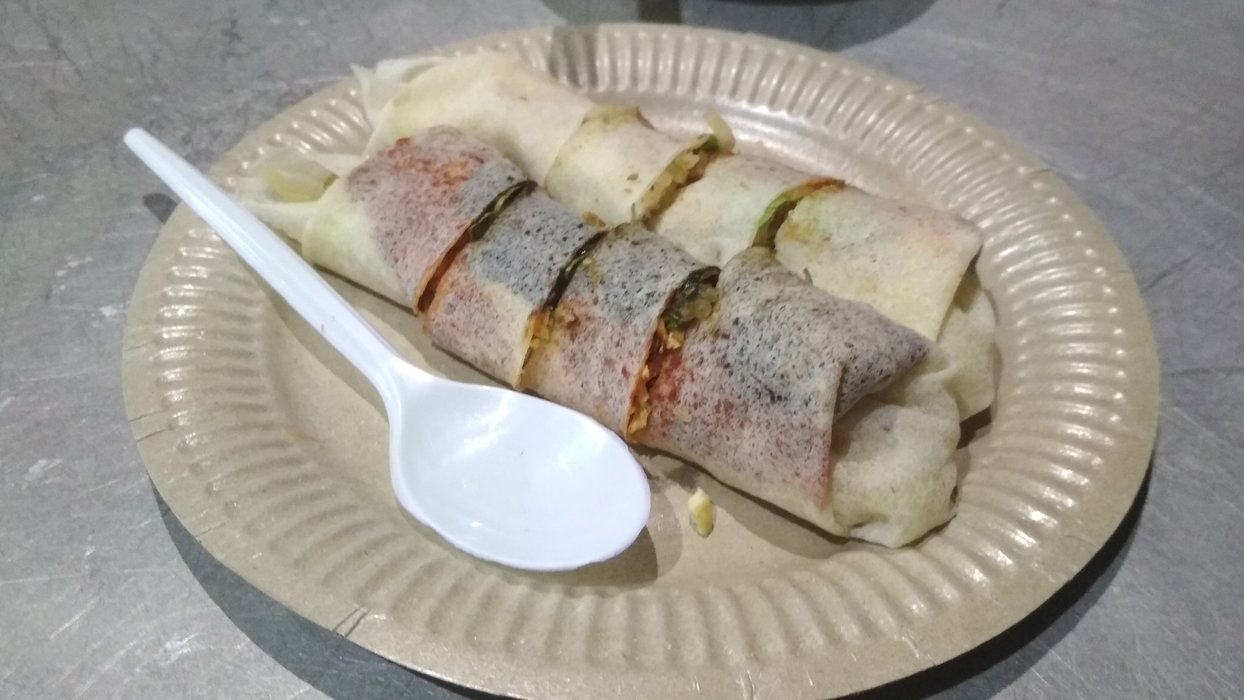 First of all, I think the Chinese version of vege wrap is just way too thin. It's like if you try to bite it, the whole stick of wrap will collapse and leave you a mess. Well, that's why we have chopstick. They chopped the wrap, make sure you use your chopstick to clamp it down and send them to your mouth. The portion being cut is rightfully for a mouthful. It has some spinach, chopped beancurd, beansprout, added with crunchy fried onions. Best of all, they have squid cracker added to beef up the body of this wraps. The wrap being spread with papaya gravy, and only in Penang, will have fermented shrimp essense and spread together. Notice the surface of the wrap has two tone? The bright red is papaya sauce, the dark brown is the prawn sauce.
Asam Laksa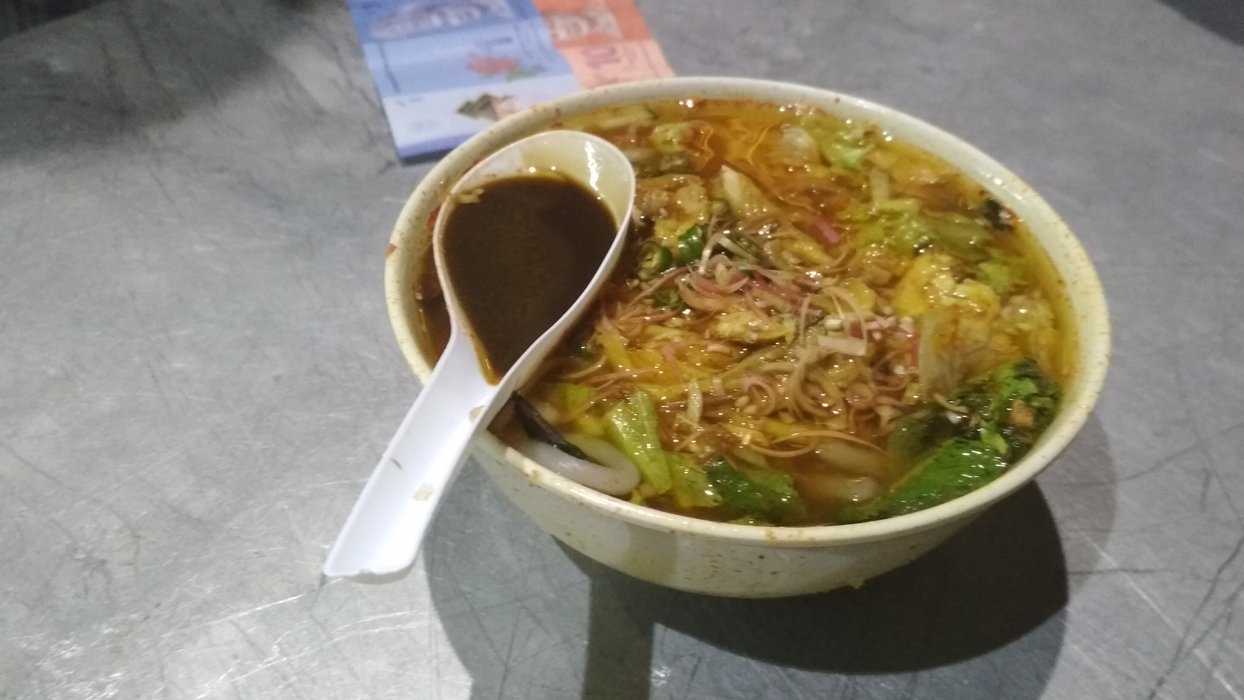 Asam Laksa is a kind of northern taste. This is usually the best with the Malay cooking, but in Penang, seriously you can't be a racist. Because you'll be missing out a lot if you look at the face and decided not to buy from them. It's a glass noodle soup with pineapple sweet and sour taste, blend with sardines and spicy chili. Once again, in Penang, can't live without prawn sauce, which pre-scope a spoonful for all customer.
![IMG_20190720_201108.jpg](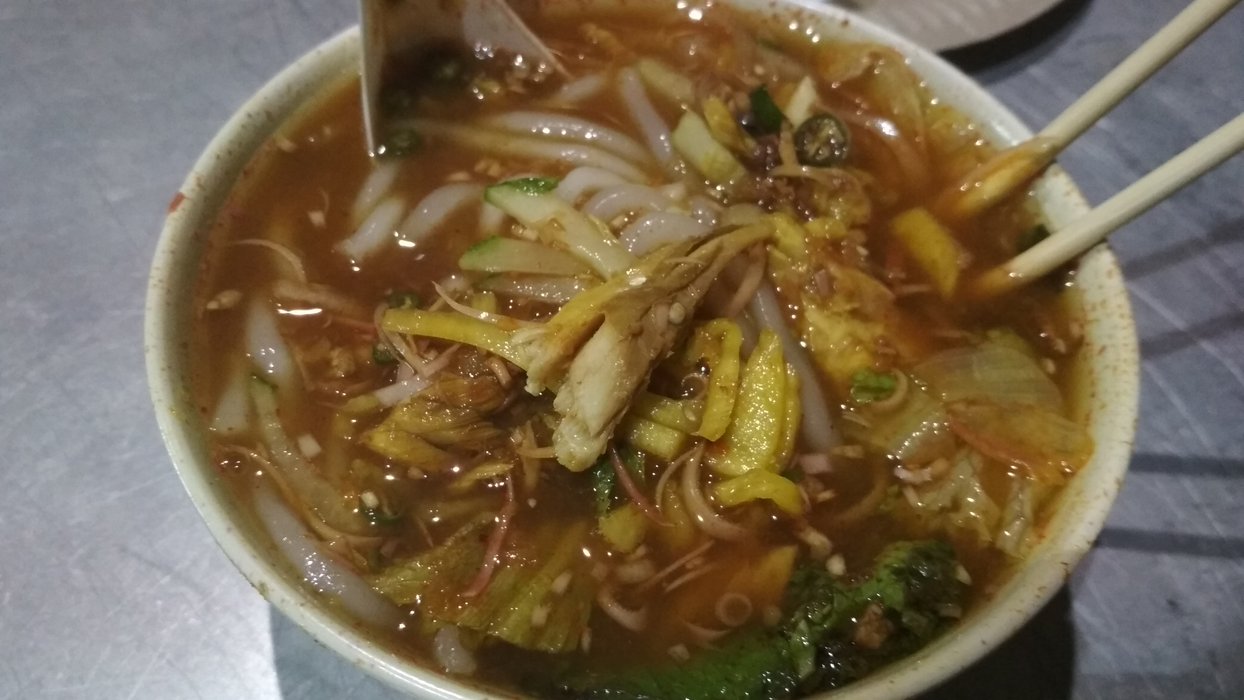 Take a look at that, it does have fish flesh in it! Take away my RM4.50, because in Kuala Lumpur, I will have to pay double to price to have this bowl of noodle.
Curry mee(noodle)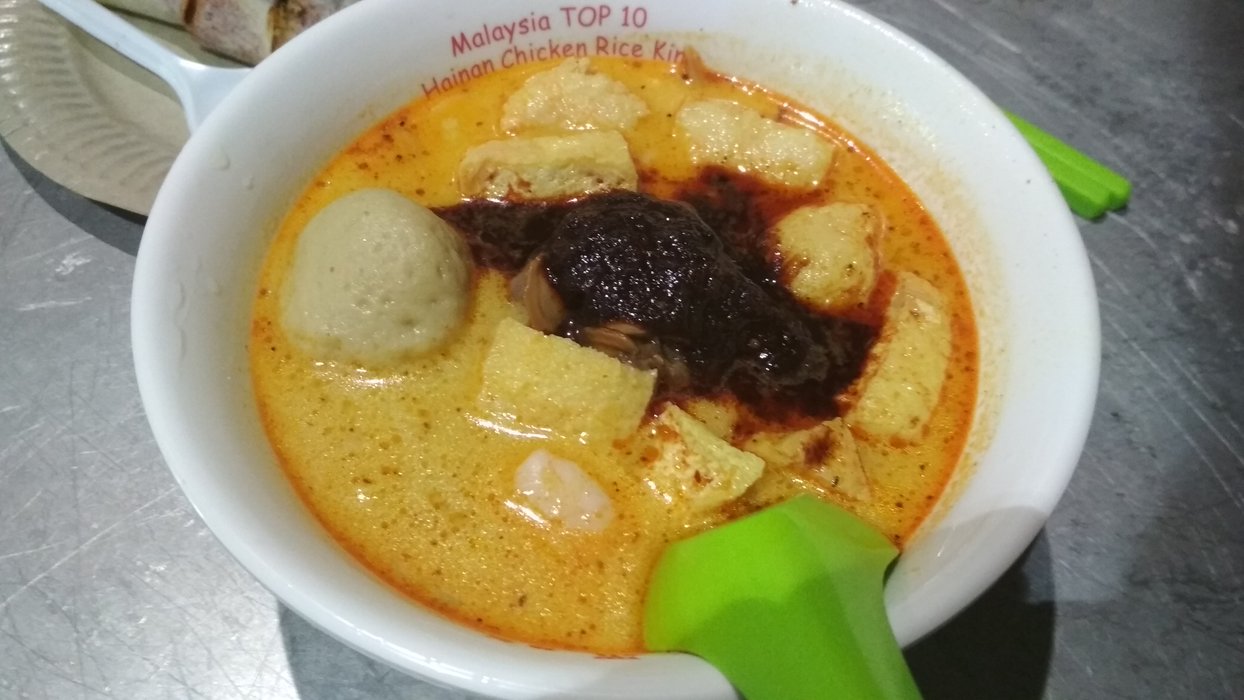 I heard of white Penang white curry very famous. I have no idea which is the original flavor, but I've been visiting Penang on a regular basis, I know for sure Penang does use a lot of coconut milk on their curry noodles. And due to that, their curry has always been bright yellow rather than fiery red. This is no difference than any other Penang curry noodle I had, but this one in Chulia Street is extremely famous.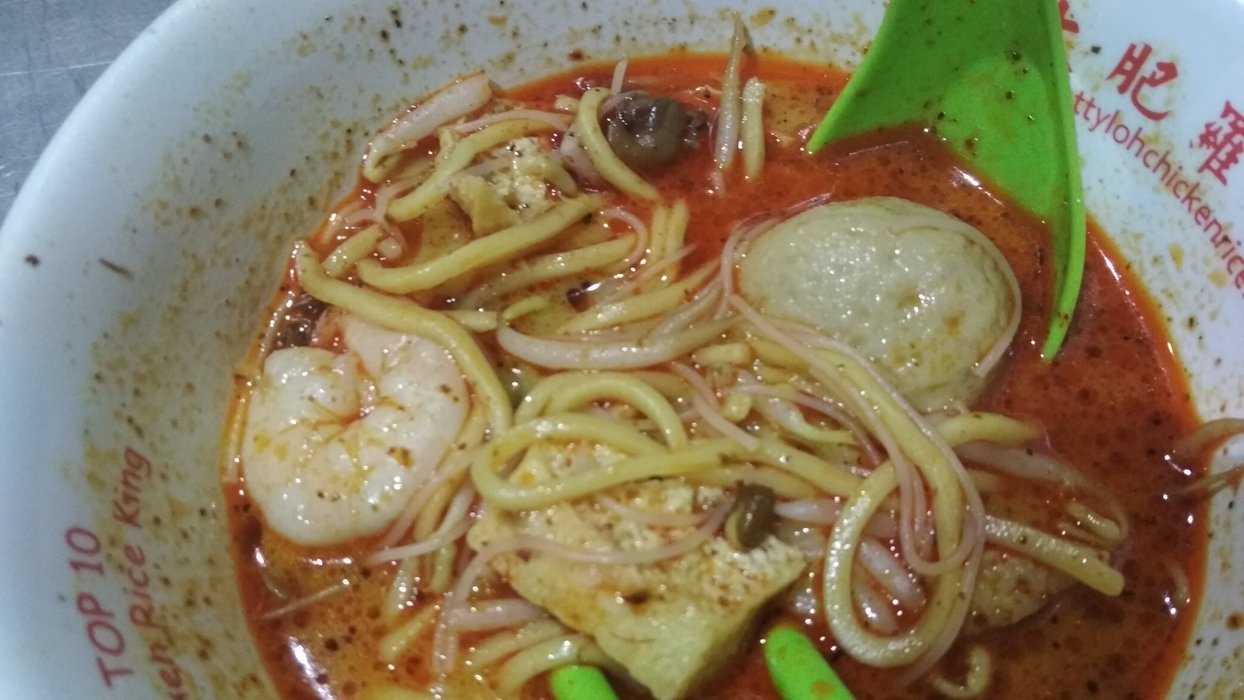 Once again, for RM4.50, how can you get a bowl of noodle with fishball, cockle, prawn and beancurd? This is like, super marvelously good. Notice the color is not so white anymore? Because we like to add more chili paste, to make the already spicy soup become exploding spicy. Pardon the bowl are actually introducing - FattyLohChickenRice, which is also Penang famous chicken rice shop. I've been there once like 20 over years ago, may be next time I should revisit and write a review about them. What I'm trying to say is, they just don't give a damn, use their "competitor" merchandised bowl to serve their customer. How amazing.
I am sorry I don't have the "environment" photo for you. One thing is, I've been overly busy trying to find a table, and once somebody walked off their table, I was literally jam my butt over there to avoid the seat being taken by others. But ofcourse, I'll have to deal with the dirty dishes left on the table whilst waiting for the hawker operator to come over and clean them for us. Ex-girlfriend
@francesaw
is a true team player in terms of my crazy life style. Thank God she can eat, and yet still not being a size of an elephant. To me, I don't mind even if she's a hippo, but you know girls when they're not happy with their body, then the boys will have to behave together.
---
I have no phone number for your contact, and there's no physical address for those street foot hawker. But you can try your luck, and it's like almost daily basis 6pm to 12am they operate there.
Lebuh Chulia, George Town, 10450 George Town, Pulau Pinang
---
Restaurant Information

Chulia Street Night Hawker


Lebuh Chulia, George Town, 10450 George Town, Pulau Pinang, Malaysia
---
Chulia Street(牛干冬-Gu Kan Tang) - Penang
This post participated in the Tasteem contest Street Food