Just before Jasper there is a hike we wanted to do. 'The five lake' hike is quite easy with no real steep or long elevation parts in it. We enjoyed the weather, saved a toy of a child out of the freezing water, and hiked some more and SUDDENLY... Huh (holding in our breaths) a young black bear jumped on our path barely 10 meters from us. He stopped, looked at us for 5-10 seconds and then ran away into the bushes. We were fine and started chuckling out of happiness. We had no bear spray, no bear bells and we were quiet for a couple of minutes wondering if we'd ever see a bear again. And there it was. No photos of the bear this time, just a cool story.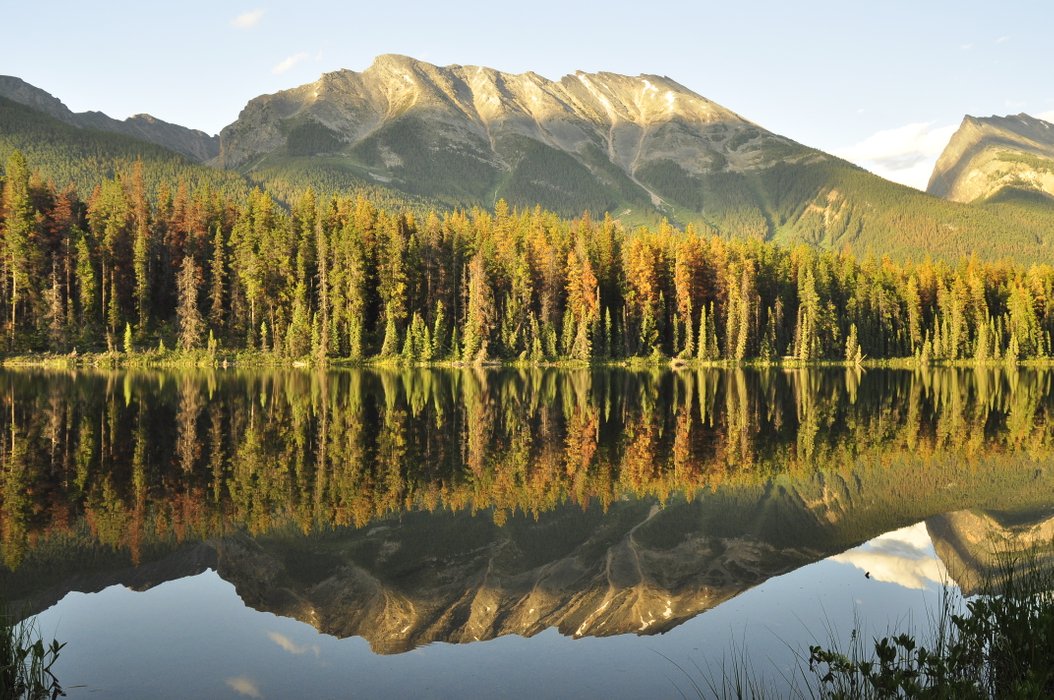 Our campsite view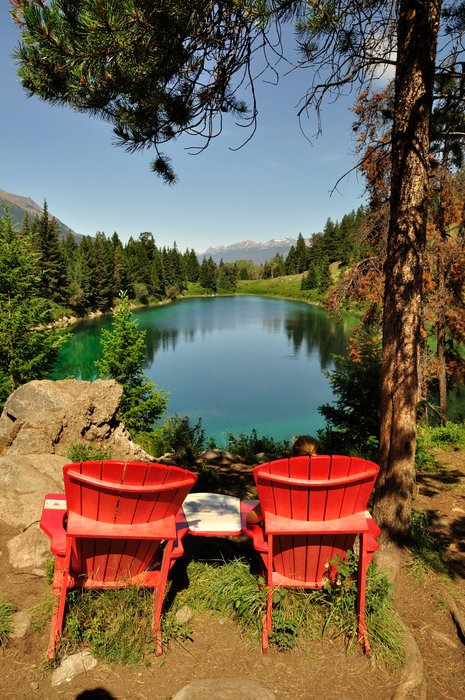 One out of five very clear lakes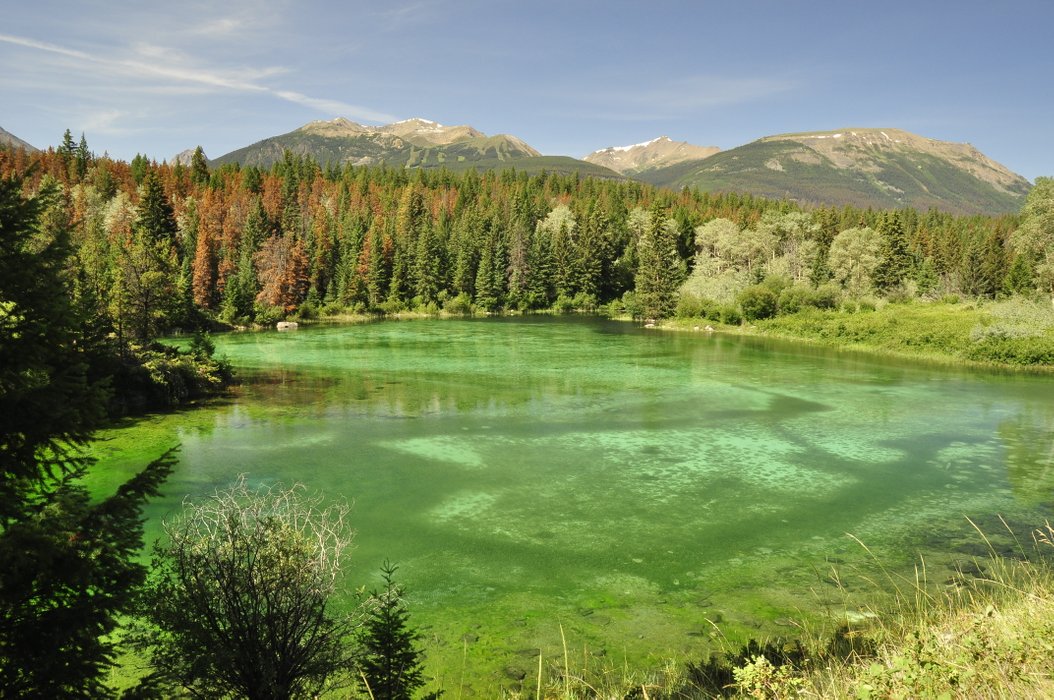 One out of five very clear lakes
National Park time
Finally, we made it to Jasper and no luck this time either. All campsites were booked and we had to stay on the overflow. This basically means, everybody who doesn't have a spot on a campsite is allowed to stay there for a couple of bucks. No worries, we are used to these circumstances and showers are overrated. 🚿
No just kidding, there are washrooms with showers included in town.
We liked Jasper a lot. It doesn't look as crowded as Banff does and it already showed an amazing scenery. Although the campsites were packed, there was plenty of room just outside of town. The only thing that can be annoying and amazing at the same time are the trains that don't seem to have schedules. For all my fellow Europians, trains in Canada are way different than in Holland. I'm talking about the non people transport trains. These trains are two hundred containers long, powered by two or three strong locomotives. Just a fun fact of something uncommon in Europe.
Also the weather was a lot better here. I know I have been complaining a little about the heat, but temperatures drop at night to a comfortable ten degrees Celsius. Perfect for our tender Europian skin and hearts. 😆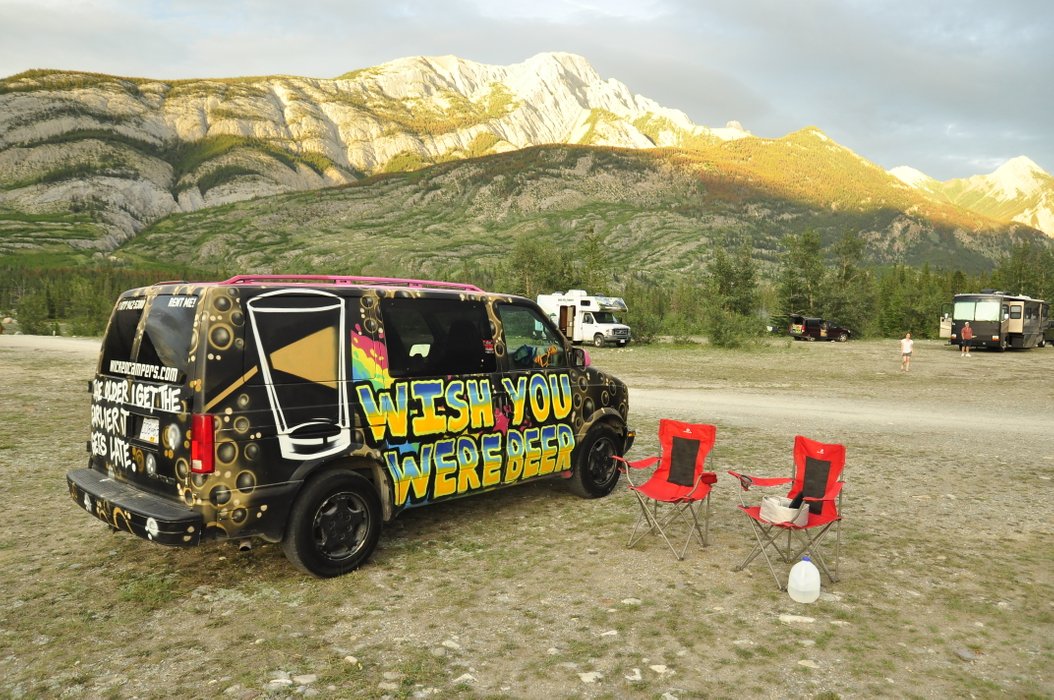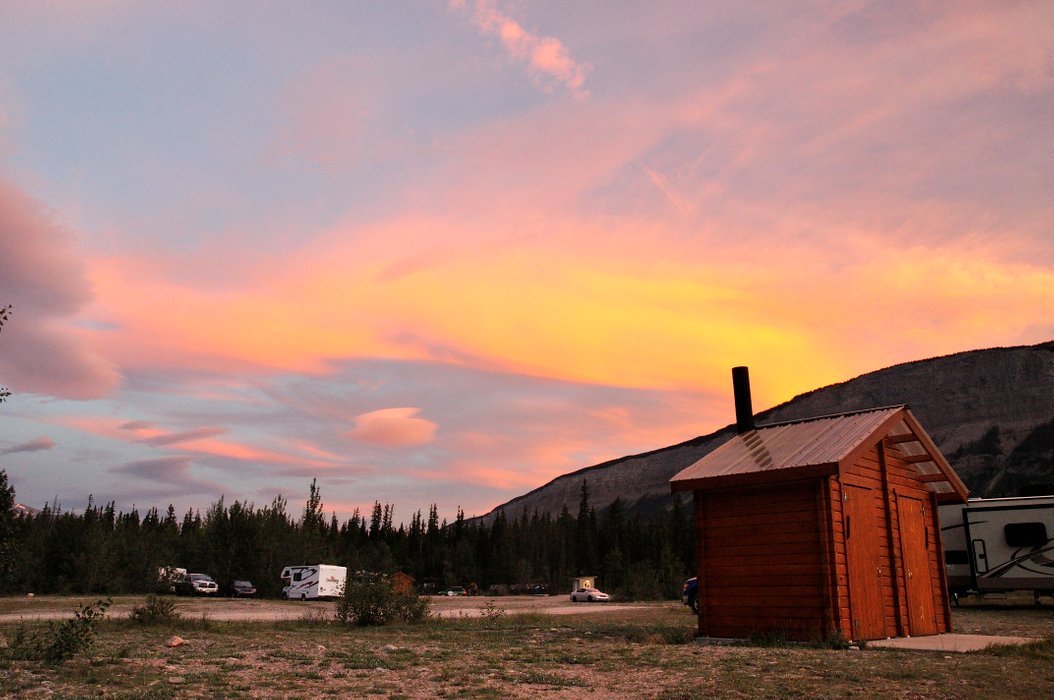 At the overflow
We asked the info enter what we could do. He showed us a few hikes on a map which are really interesting. Only problem was that temperatures has risen to 32°C. It was insanely hot and it killed the mood to do a hike. So the infocenterguy suggested jumping into a lake. There were two best options. Either Lake Anne or Lake Edith was both nice to swim in. We choose the last one and a few minutes later our voices were squealing from the cold water.
When I just reached the point of going under waist deep, my gf said "Hey look, is that a horse in the water?" just a hundred meter to our left a giant horse or so it seem, was picking the last berries from a tree, also waist deep. A better look taught us that this was an Elk. Elks are a bit smaller than a moose, but bigger than a horse. His antler gave away that this was a young male. Very cool to spot our first Elk in the water. Later we found maybe ten more, but absolutely not as awesome as this one.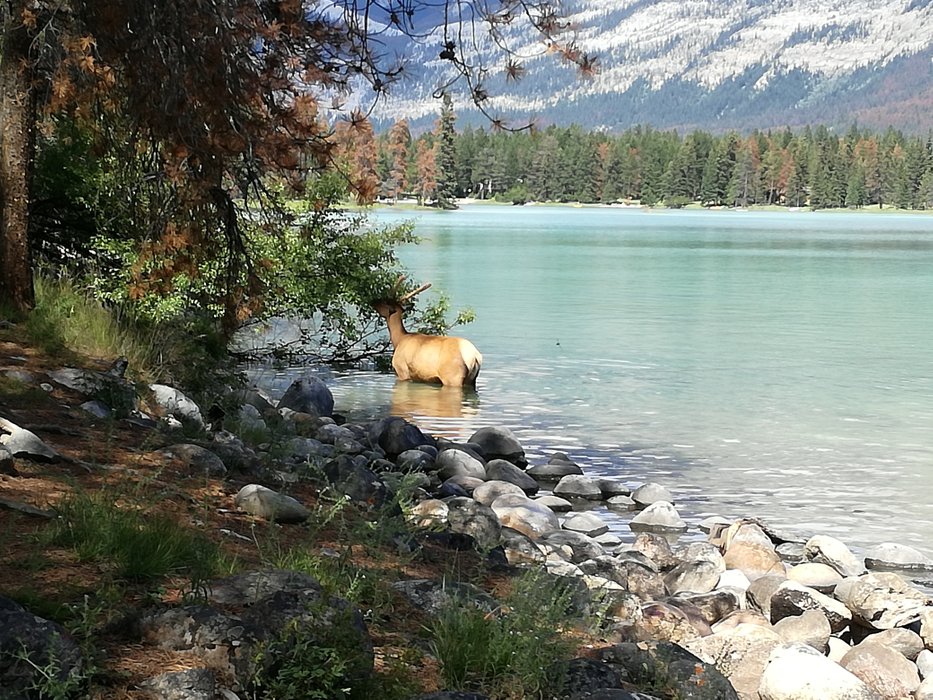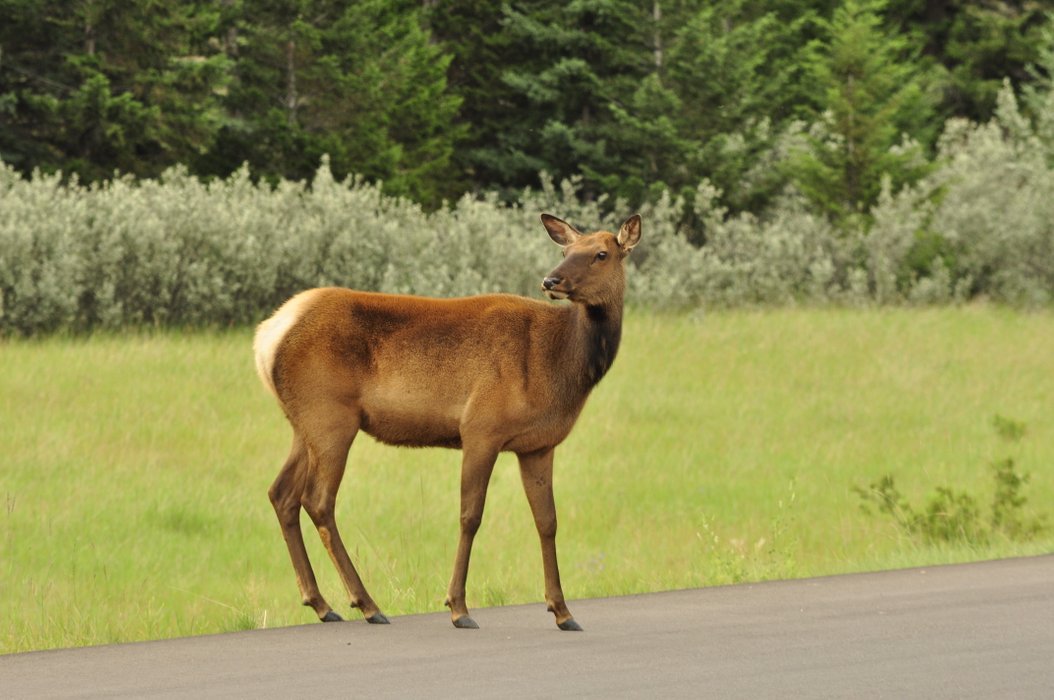 After a nice day of chilling at the lake we decided to go out for dinner. The Nachos as a starter isn't a good way to start your appetite. It was so much that I had troubles to finish my 6 rib spareribs. @Guchtere wouldn't be proud at me, I'm sure. Around the clock of 10 pm. we were heading back to our overflow just a few kilometres down south. This time it was me who was the great spotter. BEAR!! BEEAAR!!! I pulled over as safe as I could and we found our first brown bear. There was no way of going out the car, but luckily I bought my 300mm lens two weeks ago. How lucky we felt to spot our first brown bear and elk at the same day.
For some reason every awesome creature gets a name. Think of "Dave the Seal" in Iceland and "Bud the Camel" in Morocco!
This grizzly below is not a Dave, but more Vinny.
I want to know your best name for this bear! Please add in the comments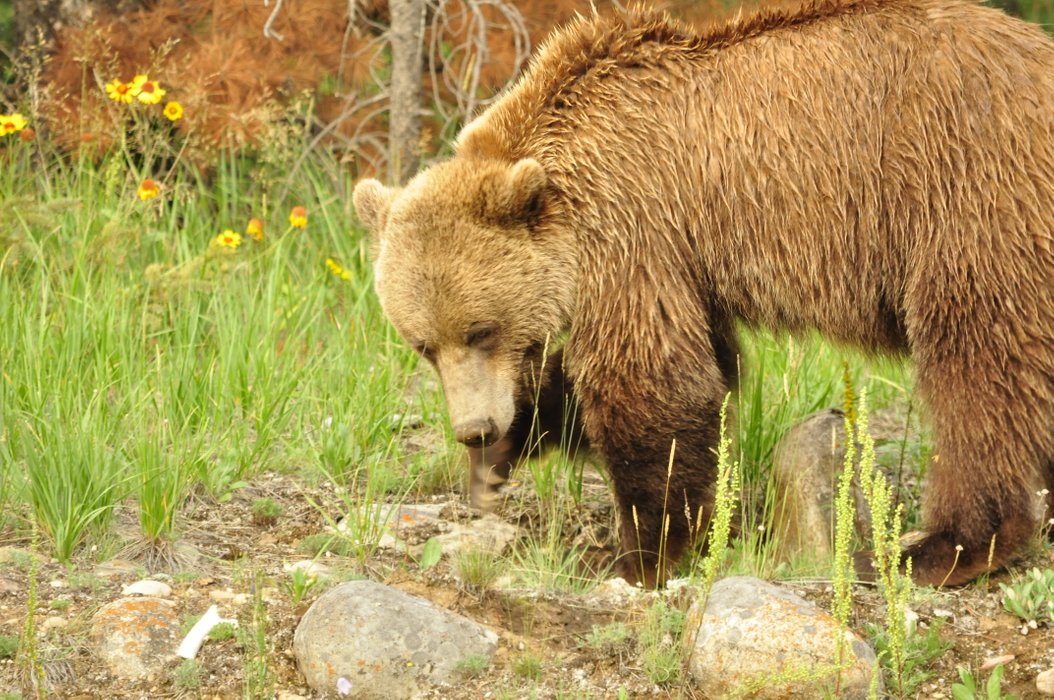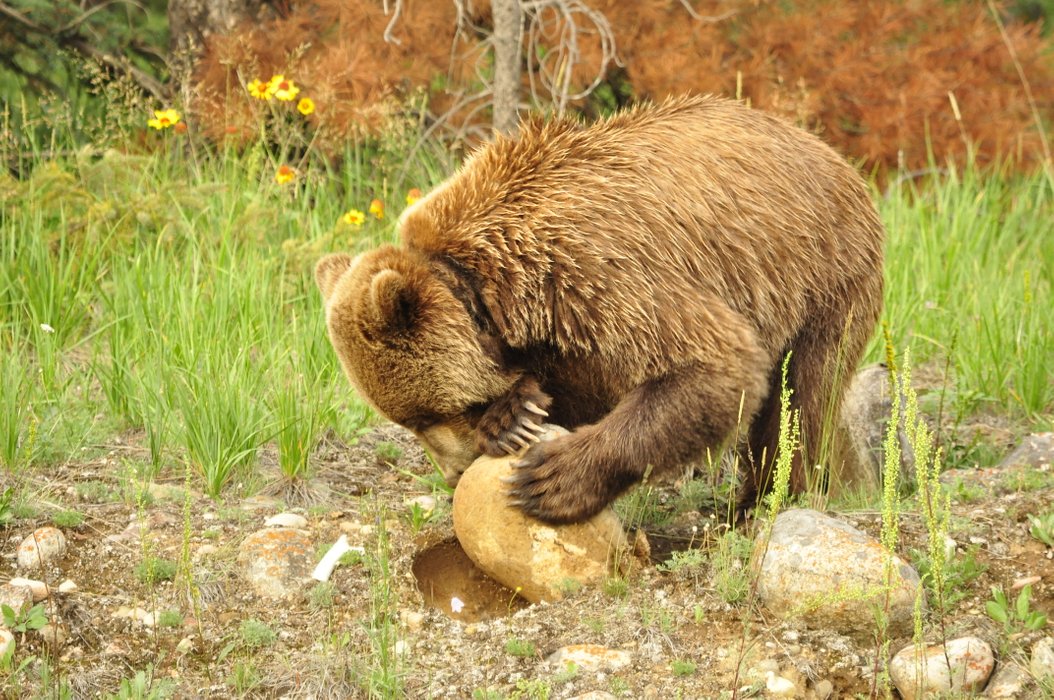 This was enough to put us fast asleep, because the next morning was hiking time.
Malaigne canyon
The awesome hike infocenterguy talked about was to Malaigne canyon. It basically is a rather small canyon going downhill with a river running through it. It has five bridges with spectacular view. There is an easy route given in blue and a longer route which is red. The short route goes downhill straight away and gives a perfect view on the first three bridges. The longer route passes the fifht bridge and gives an option to go even further to a sixth bridge. If you decide to go back, I recommend going back the same way as you went down. If you go up hill, it is kind of boring. The rest op the hike is beautiful, but when we were there it was bloody hot again. So, just a quick dip in the water below the fifht bridge and then back up to our van. I tried to take some photo's but to be honest with you, these photos are lacking in quality. The afternoon we spent at lake Edith again to rest some more. Unfortunately no elks this time but our day felt perfect anyway.
Next up, going west!

---
Thank you for taking time to read this. Leave a comment, resteem and upvote this post. It is highly appreciated.
Or check out my previous posts about Canada:
Canada Part 1: https://steemit.com/travelfeed/@dboontje/travel-van-life-is-wicked
Canada Part 2: https://steemit.com/travelfeed/@dboontje/travel-banff-national-park-and-it-s-lakes
Canada Part 3: https://steemit.com/travelfeed/@dboontje/travel-canda-jasper-national-park-wildlife