Many people know Val d'Isere in the French Alps as one of the best places for winter vacation. Countless ski trails and excellent connection with neighboring Tignes are the pure joy for all skiers. But, there is one side of Val d'Isere you probably do not know about. During summer, Val d'Isere changes from a ski resort and becomes a paradise for hikers and mountain bikers.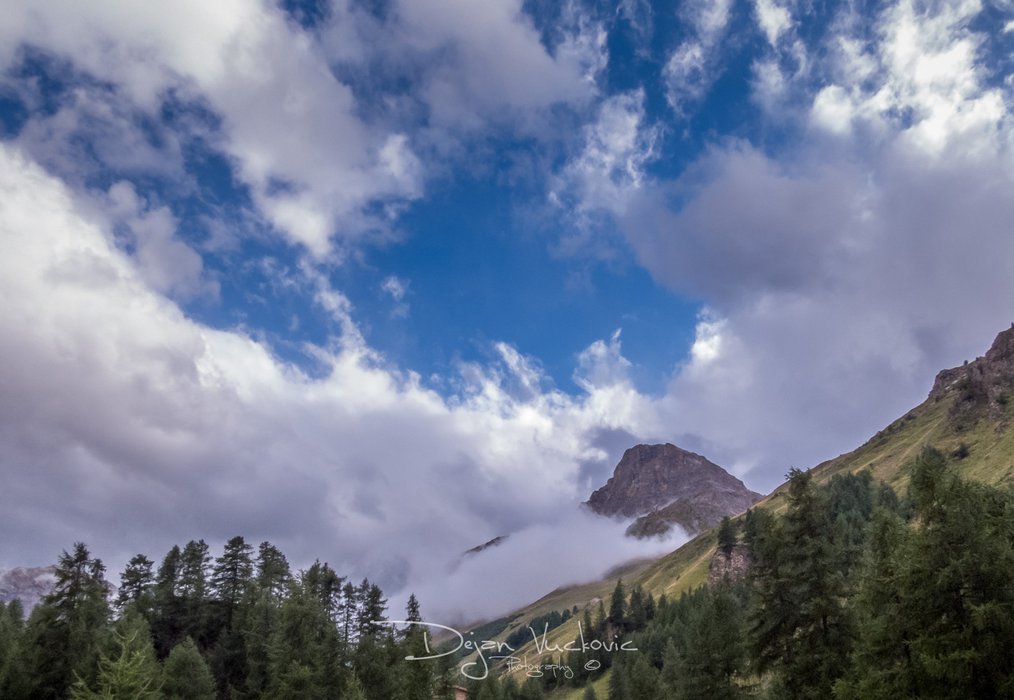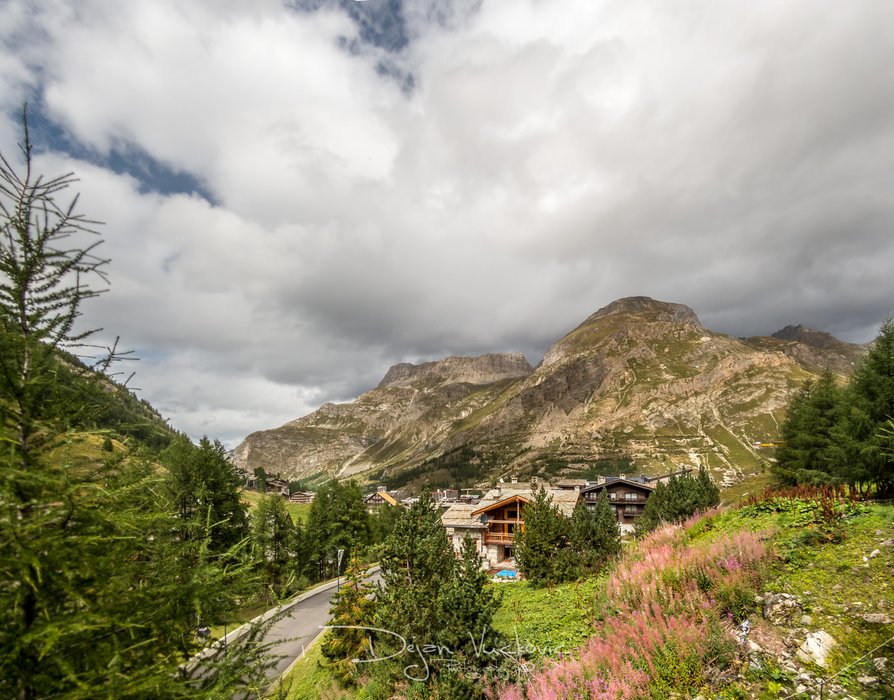 Ski trails are transformed to a bike park with more than 40 bike trails for every taste. You can even find more than ten trails designed for eBikes! How many bike parks can offer that? Not too many, trust me. If you are not into mountain biking or you just need a day off, hiking surrounding peaks is pure joy and unforgettable experience. If that is not enough, just next to Val d'Isere is the oldest National Park in whole France - Vanoise.
We went to Val d'Isere because of cycling. So, our first day in this beautiful town was, of course, biking from dawn to the dusk. Day two - kicking some dust too. Day three... guess what... we rode some bikes... On the evening of day three, I could not bear to jump one more drop, push pedal once more or even see a bike for another second. I needed something different. So I went for a little walk through Tête de Solaise, one of the mountains around Val d'Isere.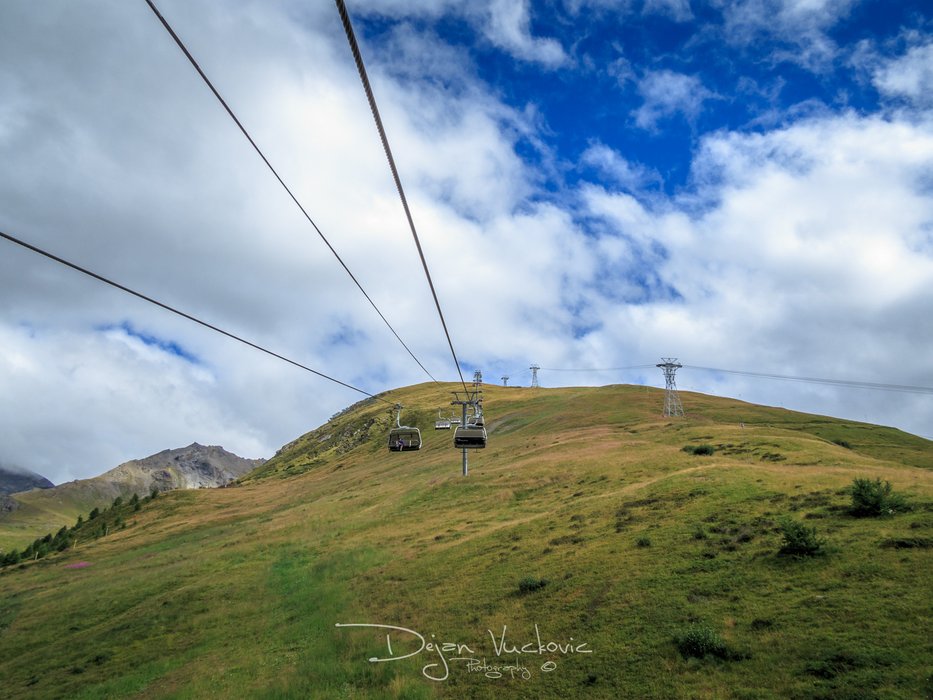 Val d'Isere is a small town. Located in Auvergne-Rhône-Alpes region in southeastern France, in my humble opinion, one of the most beautiful areas of the Alps, with the population of only 1500 people, it is a pure alpine paradise. The town itself is at an altitude of around 1800-1900 meters, and almost all surrounding peaks are above 3000 meters. Most of the hiking and biking trails are well above 2500 meters, which makes them a little bit harder, but climate is perfect even during hottest summer days.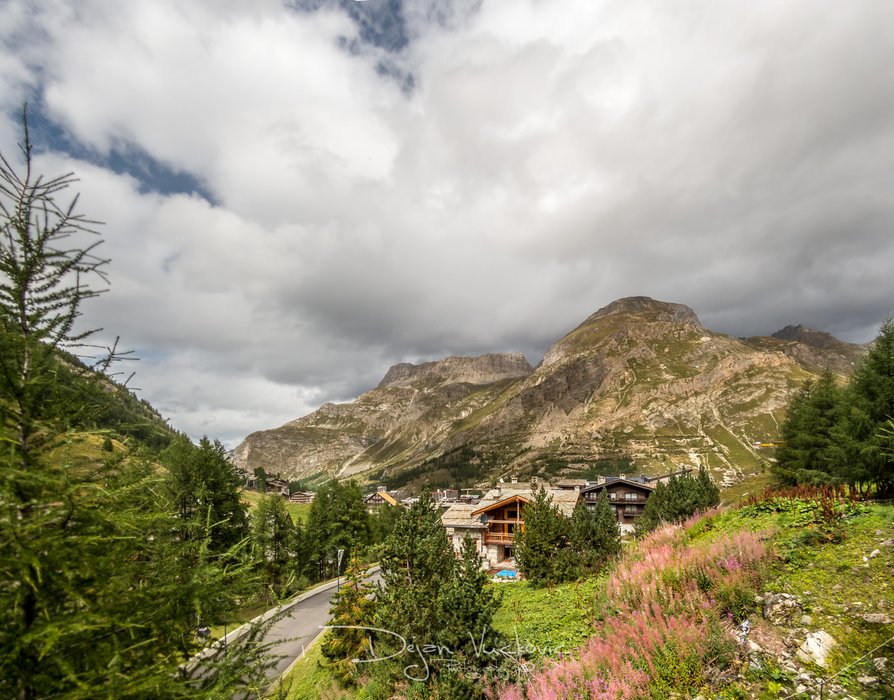 Tête de Solaise with 'only' 2528 meters is one of smallest peaks in the area, and one of easiest to reach. Not because it is smooth and its slopes are mild. Not at all. Some of the black track and many red ones are located on its slants. That damn mountain is very steep. The reason is simple - cable car works up to the late...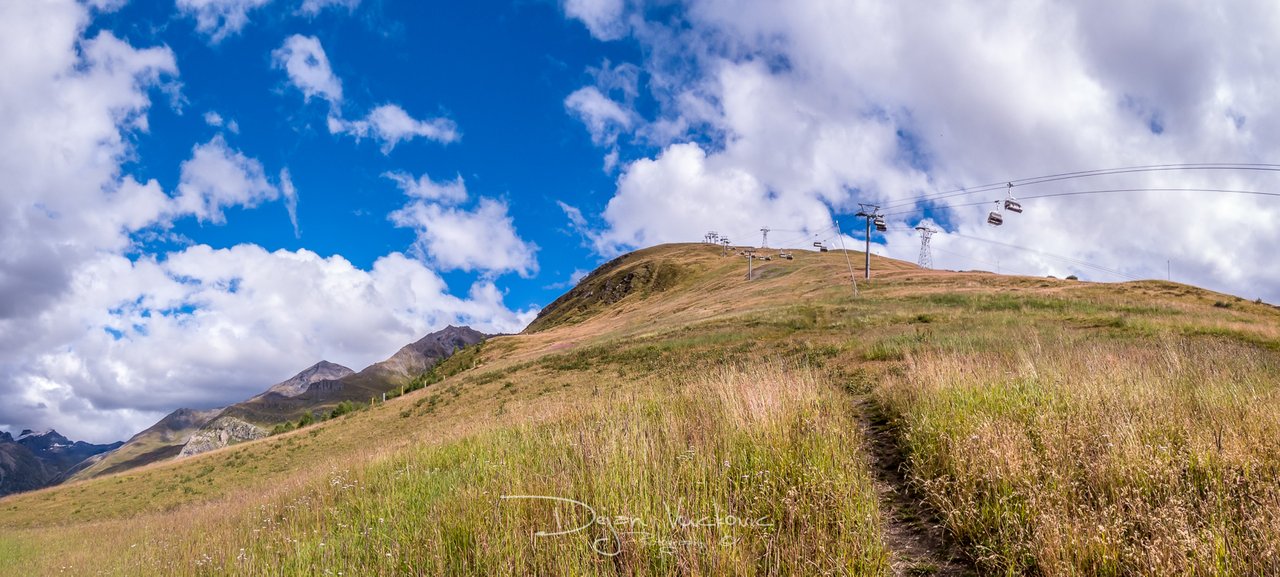 Let me give you one piece of advice at this point. Take it from the guy who climbed some of the highest peaks in Europe, rode bike thousands of miles across the world and hiked some of the hardest trails around: if you can get somewhere with a little help of technology - do it that way.

There will be moments when you will have to push and pull with all your strength, there will be moments when you wish you never started the damn trail and moments when you are going to gasp for air in desperate attempt to reach your goal. But, having a perfectly nice cable car, and not using it is just plain stupid. Especially when it is free as it was.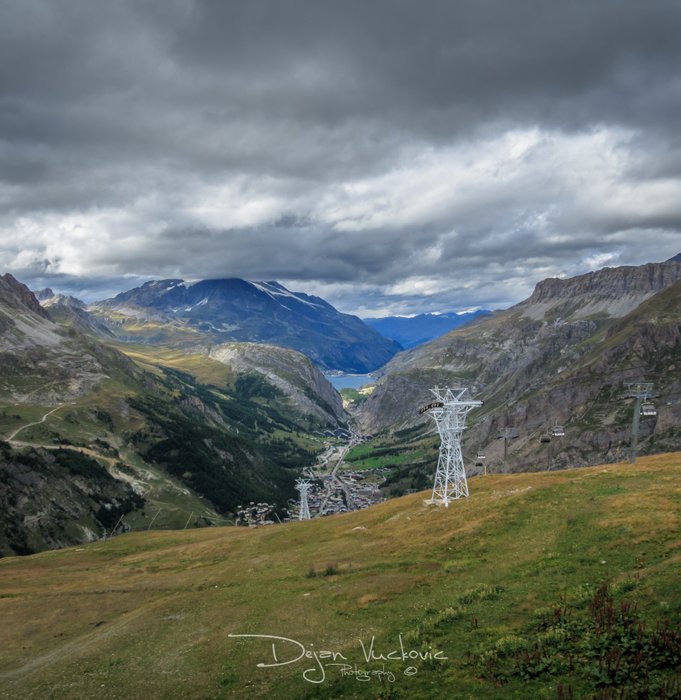 The ride is short, in 15-20 minutes you are at the top. There you can find a couple of surprises. Just a few minutes of walk will take you to one amazing alpine lake where you can enjoy the relaxed walk or even fishing. You can refresh in a small restaurant on the lake and also in another one at the end of the cable car. That one on the lake is better in my opinion, but I will leave the story about beautiful Lac de l'Ouillette for another post. It deserves it.

I didn't visit the lake that evening. The sunset was near, and I didn't have the death wish to hike unknown area during the dark. While descending to the Val d'Isere, I enjoyed some of the most beautiful views of this alpine town. And in the distance, at the very end of the valley, I had a perfect view of Lac du Chevril and the Tignes Dam between mountain slopes.

The Tignes Dam, also known as Chevril Dam, was the tallest dam in Europe at the time of its completion between 1948 and 1952. One more interesting fact about the Tignes Dam is that it is painted with the Olympian figure Hercules on its face. You cannot see it on those photos, but believe me - Hercules is there, painted as part of the celebration of the 1992 Winter Olympics Games.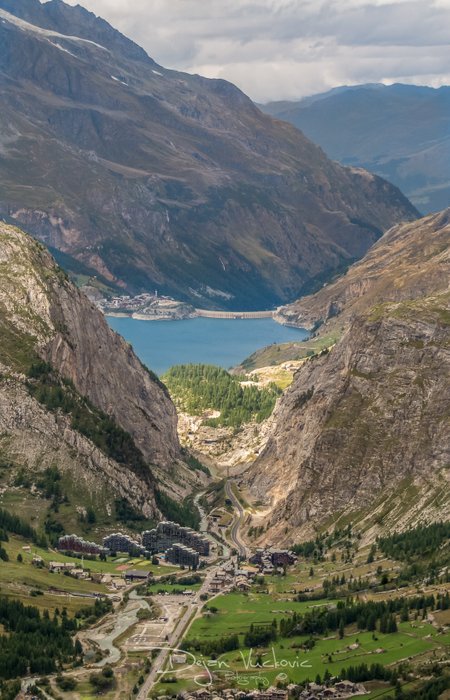 While approaching to Val d'Isere, I could only think about how much of this beautiful town and its nature remains undiscovered by those who only visit it during winter. The full beauty of the Savoie Alps is really visible during the summer when fields are green and beautiful meadows are full of flowers which makes ear smell like heaven. If you are tired of noisy summer and need some relaxation and quiet time, I cannot think better place than mountains. Val d'Isere sure looks like a place you must take into consideration when you are choosing where to go.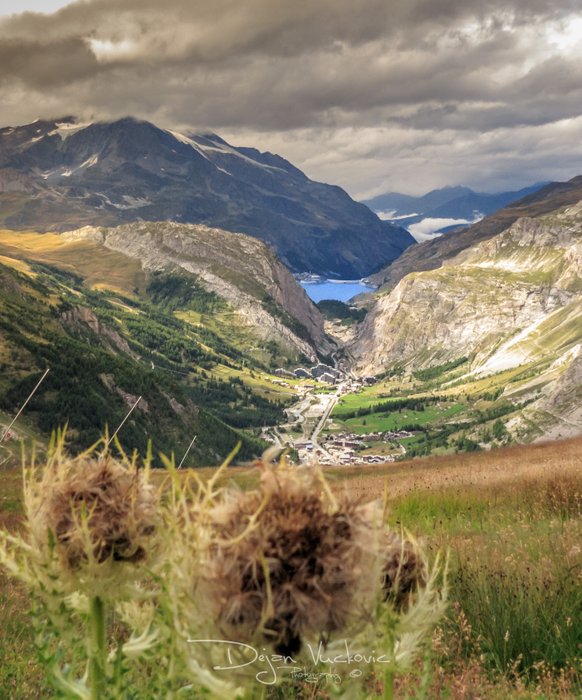 It is quiet, pampered, picturesque and beautiful. People are heartwarming and welcoming. Prices are affordable, and options for fulfilled vacation are countless. You can ride a bike, run, hike, climb mountains or even glaciers. You can play golf or ride a horse, doing some archery, relax in the spa or simply enjoy restaurants and coffee shops. And temperature at this altitude is more than pleasant even during hottest summer. In my opinion, a perfect place for a summer vacation.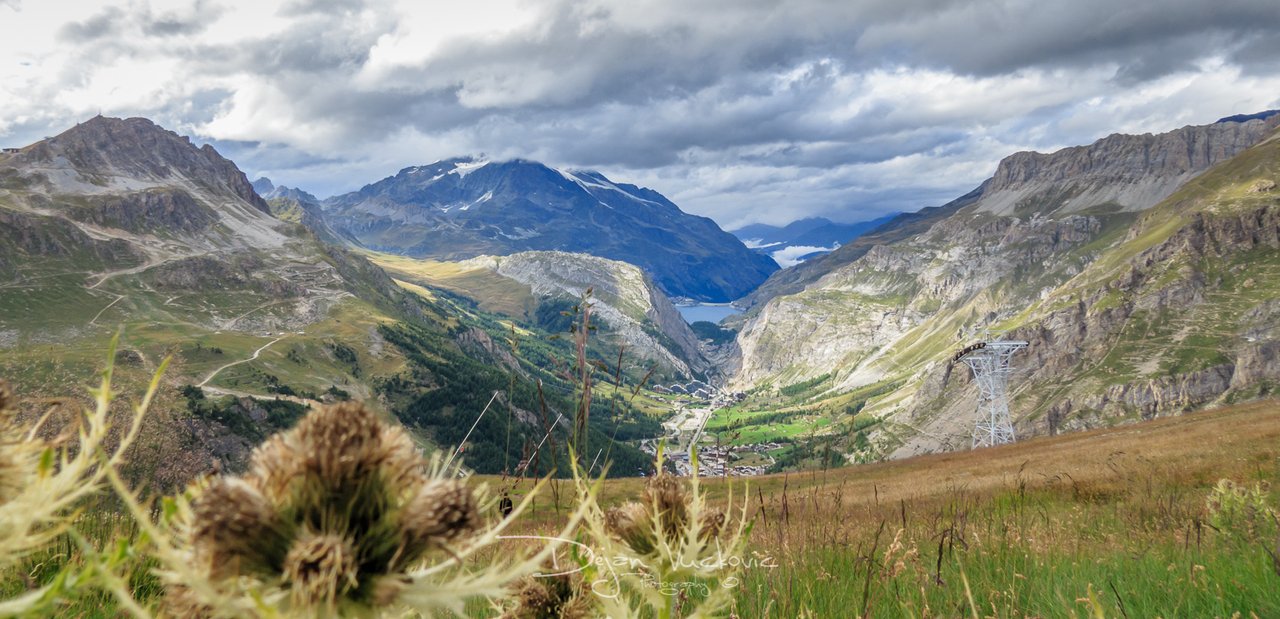 If you are into mountain biking, for sure think about Val d'Isere. This is the place which hosts some of the most important DH and AM competitions in the world. More than enough tracks in all disciplines and difficulty levels, five-ish lifts (it may be 10-ish, not really sure) and track tunned to perfection, combined with the grandiose view to Val d'Isere are something to enjoy and remember for whole life.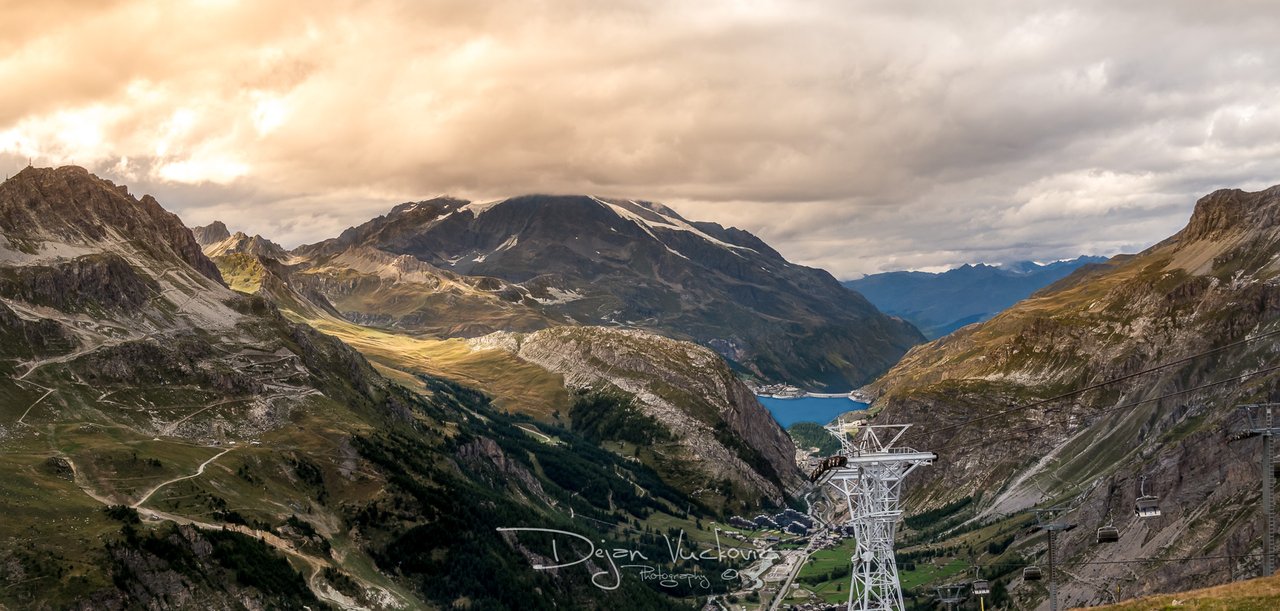 ---
Click on any photo to see it in full resolution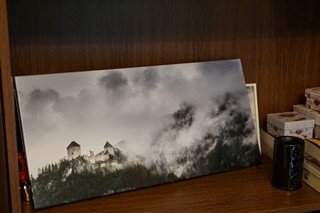 All images and text published in this post are my original work.

All photos are for sale for Steem at very affordable price.
You can order photos as full resolution digital copies, as fine prints in photo paper or as framed paintings.
For all available options contact me in comments or via discord.
---
This blog entry is part of My Travel Blog series
I have many more travel stories in my bag, so stay tuned.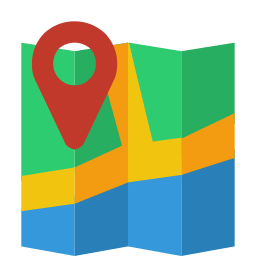 To see all entries featured on @SteemitWorldMap
click here to visit my author link
---