Time flies and I've realized that it's been ages since I've promised to show you the second part of Efteling. Life happens and I was busy with various things. I'm sure many of us want to finish certain tasks that they kept postponing during the year before the year ends. Well, I'm definitely one of those people. There is still quite a lot to do and I'm determined to finish everything before going to Slovakia for Christmas. I will be spending more than two weeks there and I am sure that I will gather a lot of material for my future posts as we plan to travel around if it's not going to be too much snow.
A friend of mine moved to The Netherlands last year. She has never visited any amusement park before and wasn't excited to go to Efteling when her boyfriend told her that he would like to show her around. She thought that it was just a funfair and preferred to stay at home as she was tired after a long week at work. At the end, he convinced her to go and when I talked to her I understood that she really enjoyed it. She told me that she knew she was wrong as soon as she saw the entrance. It is a big strange shaped building and it's clear that it's not an entrance to a small funfair.
I think I've talked enough and now we should start our tour!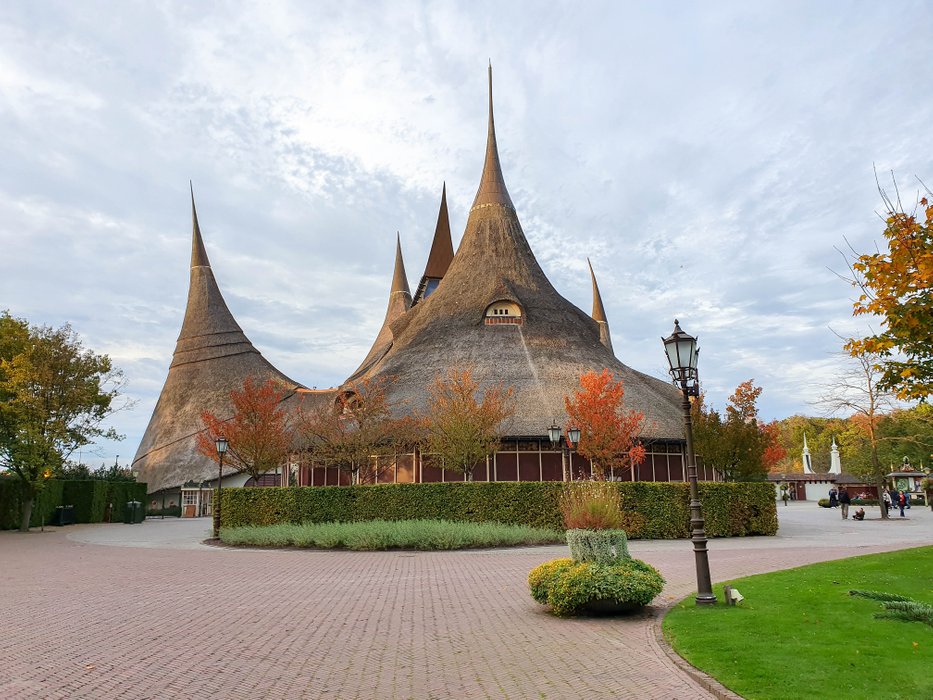 I like to explore Efteling by foot as you come across small things that you wouldn't see otherwise but I know that many people prefer to sit back and enjoy the train ride. This fairy tale train takes you across the amusement park and you can hop on or off anytime you want. I mean, of course you have to wait for the train to stop before hoping on or off 😊
I really like this photo with a sunbeam.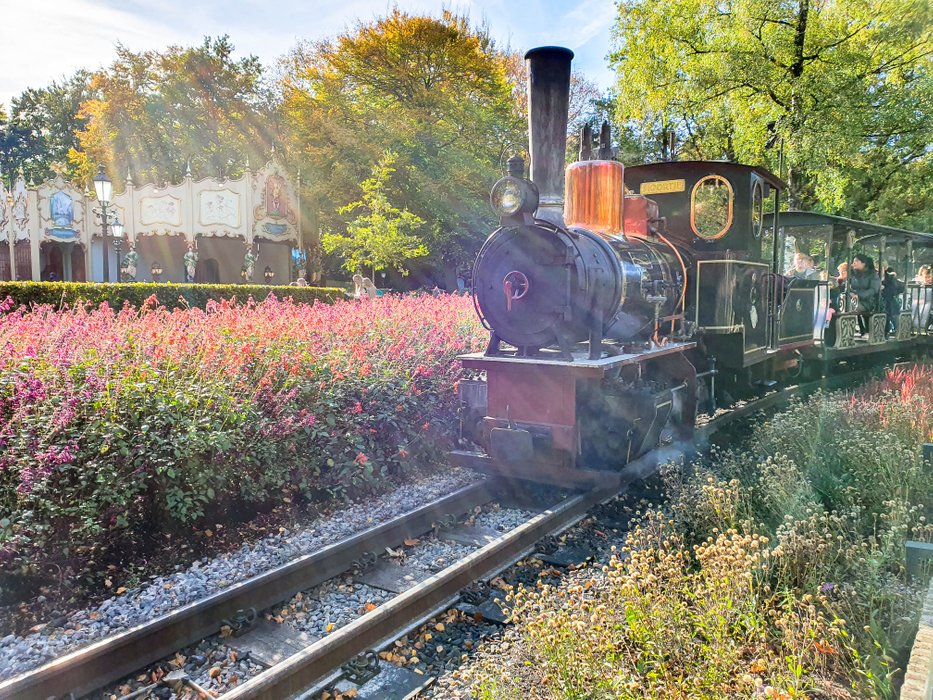 Last time, I've showed you various attractions inside and today I will take you to the fairy tale forest.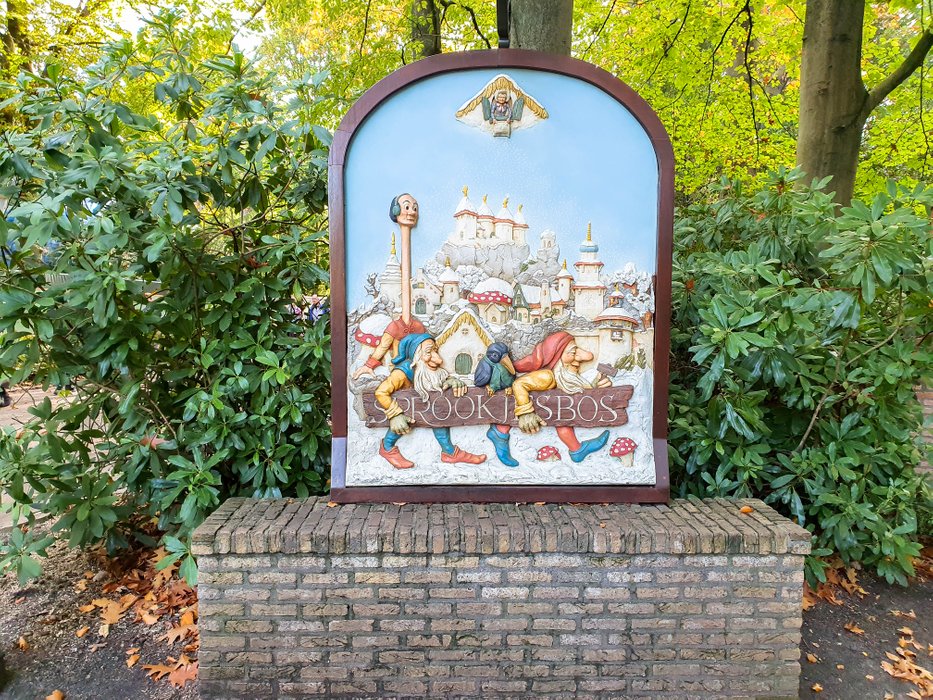 The gate is protected by a witch. You rather don't make her angry.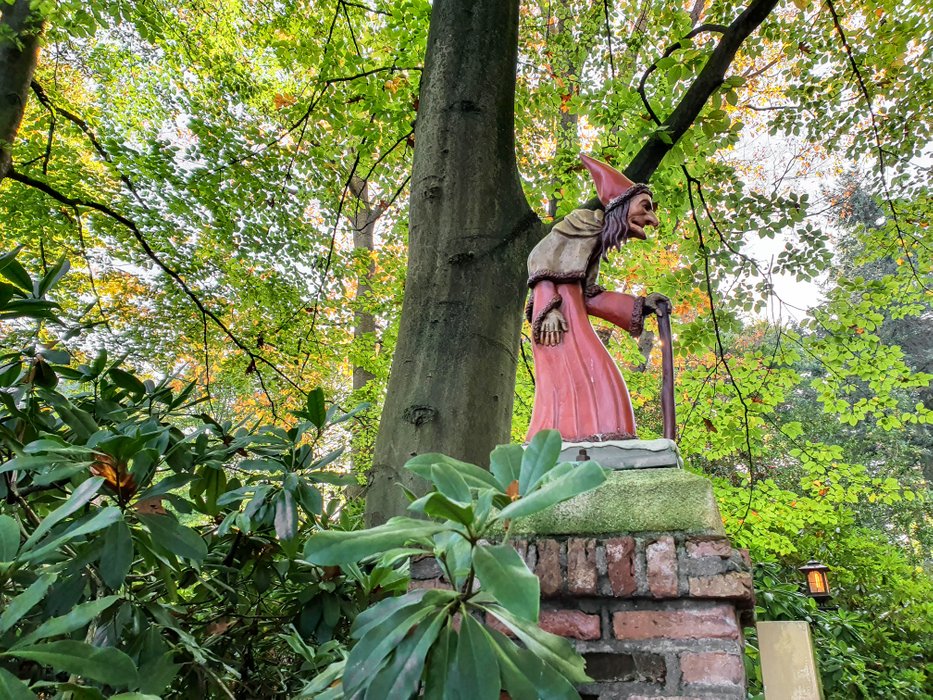 First, we will visit the Sleeping Beauty Castle.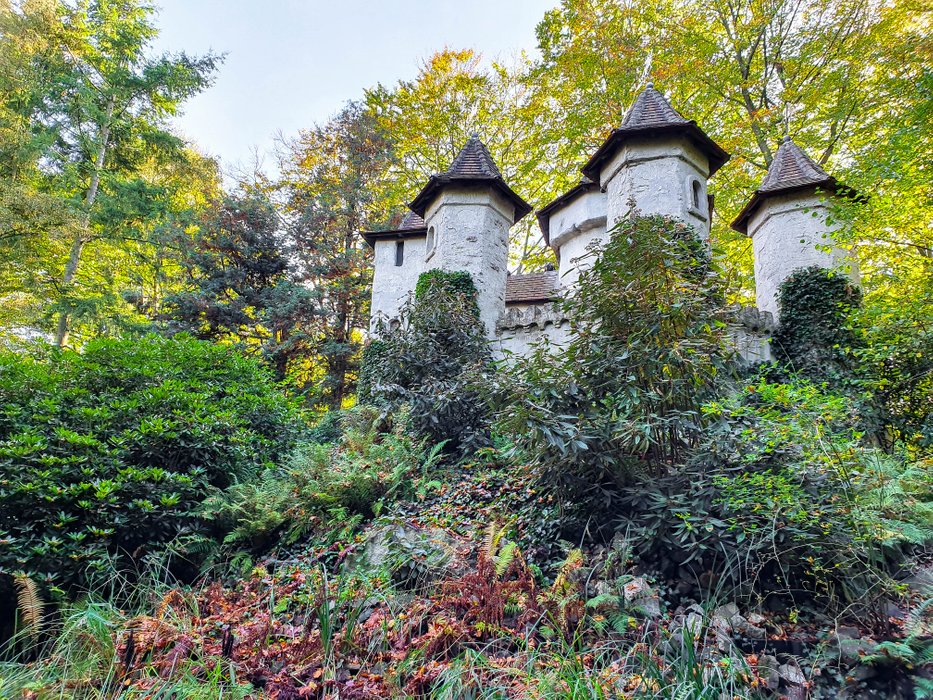 Everyone is asleep, even the guard. We don't want to wake them up while they wait for their prince, so we move on..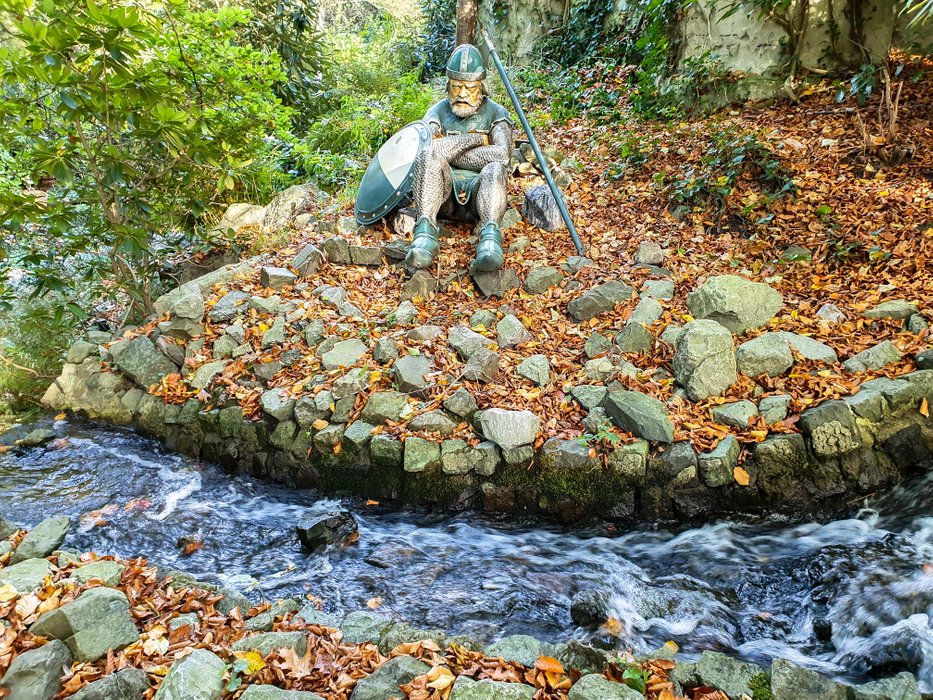 To the gnomes living in a mushroom house.. You can go inside and see how they live.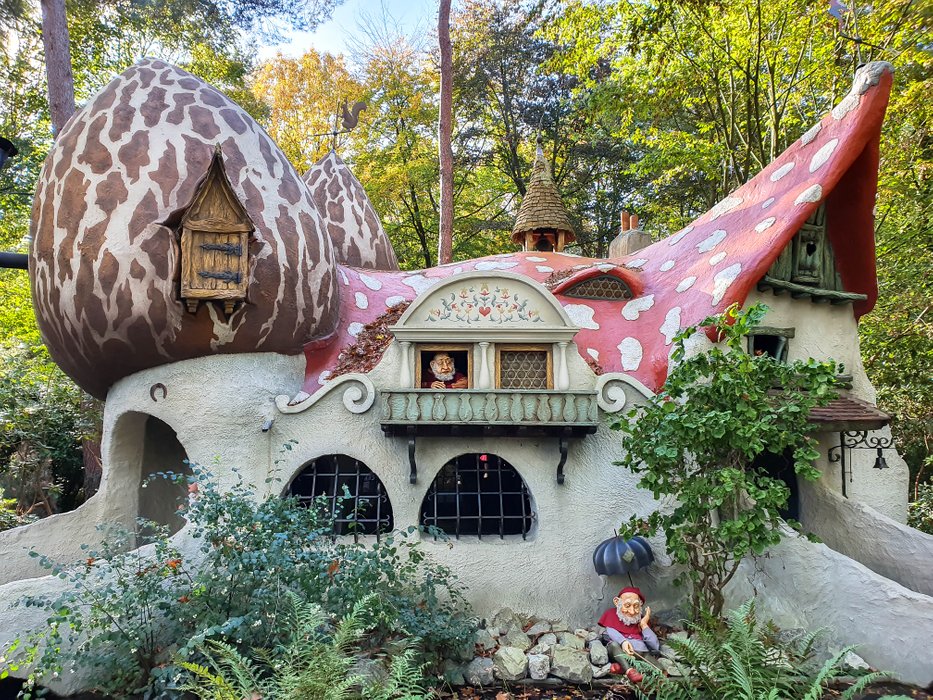 I thought that this guy was from Long, Broad and Sharpsigh which is a Bohemian fairy tale, but I was wrong. Apparently, he is the Long Neck from The six servants, a fairy tale by the Brothers Grimm. His neck goes up and down all day and kids are getting very excited when it's moving.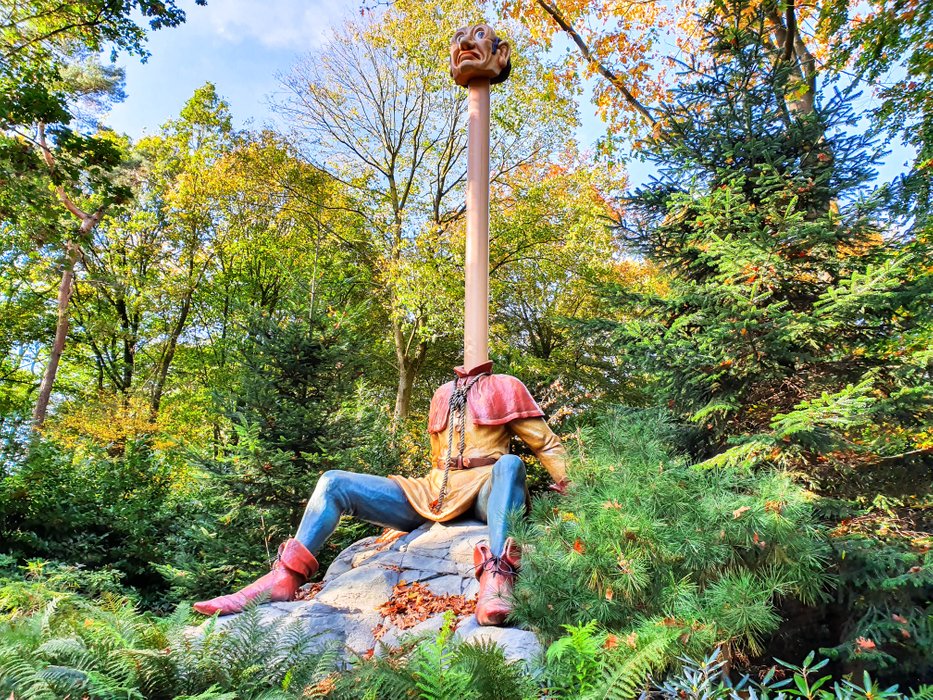 It is the first time that I've seen this grumpy fish. It's part of the fairy tale about Pinocchio. I've tried to remember this fish from the fairy tale but with no luck. Maybe there is another version in The Netherlands 😊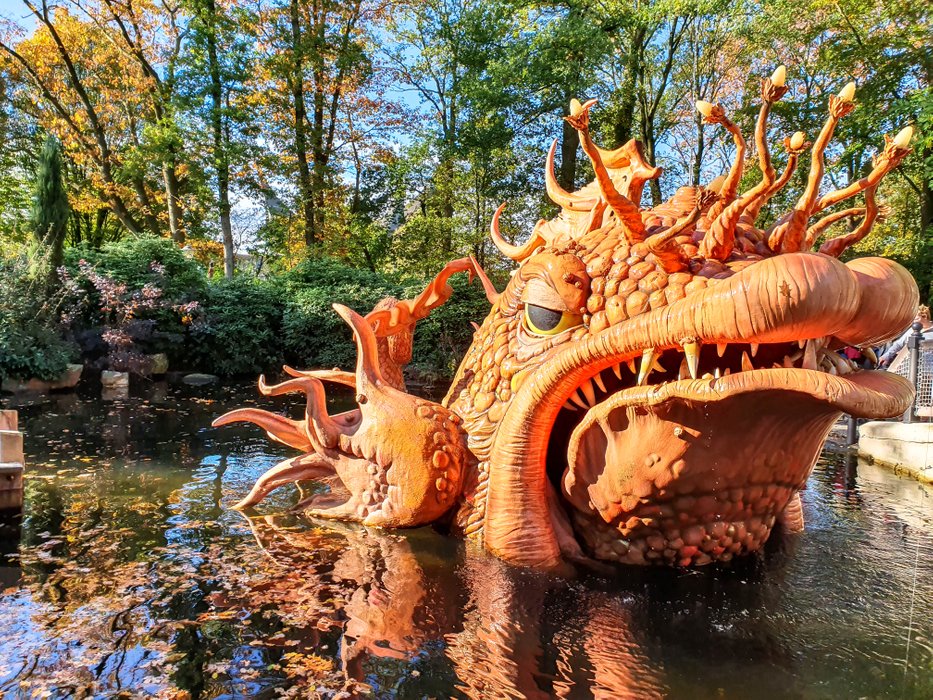 Do you remember the fairy tale about Hansel and Gretel by the Brothers Grimm? It even smelled there like gingerbread. Yum!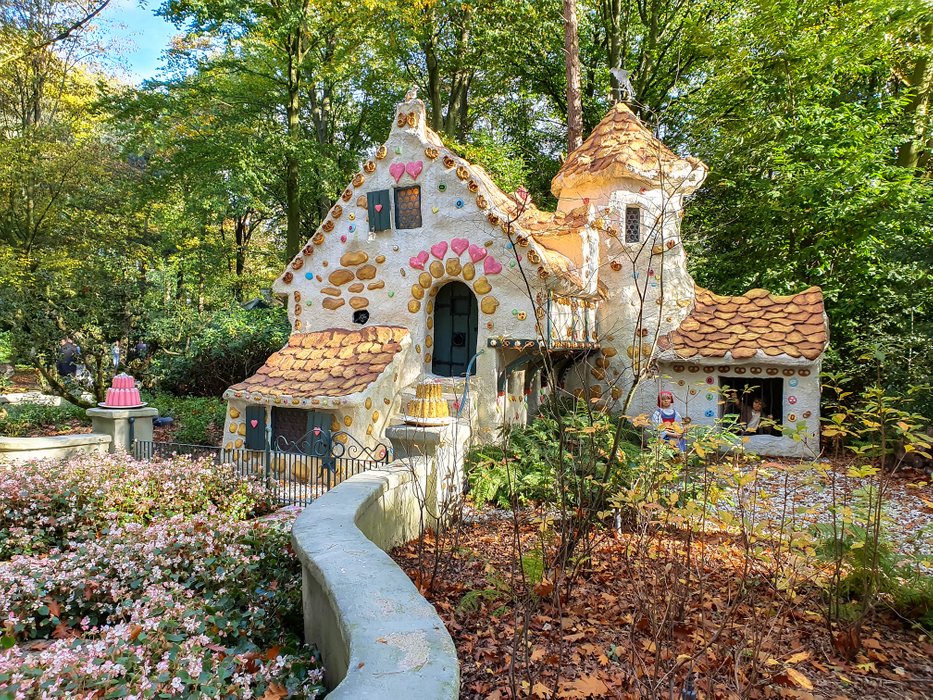 These guards make sure that all kids behave well.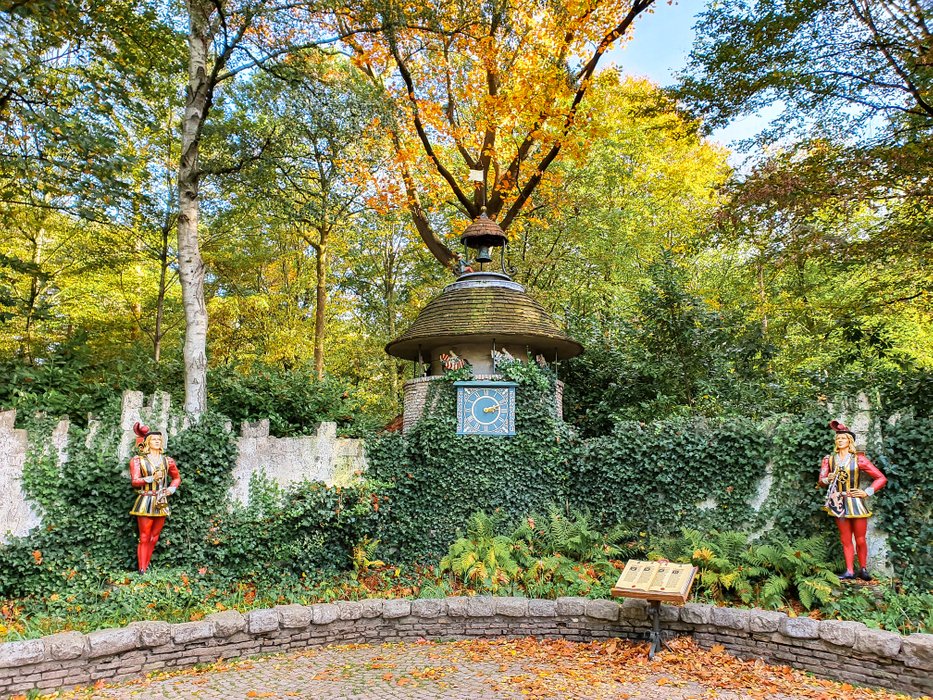 Tom Thumb is the smallest inhabitant of the fairy tale forest. He stole the Giant's boots when he was asleep and now, he can run so fast that even the giant can't catch him.
Can you see Tom stealing the boots? If you want to see him, you have to whisper 'Klein duimpje' and he will appear. But you have to watch carefully as you never know where he will be because he likes to hide from you.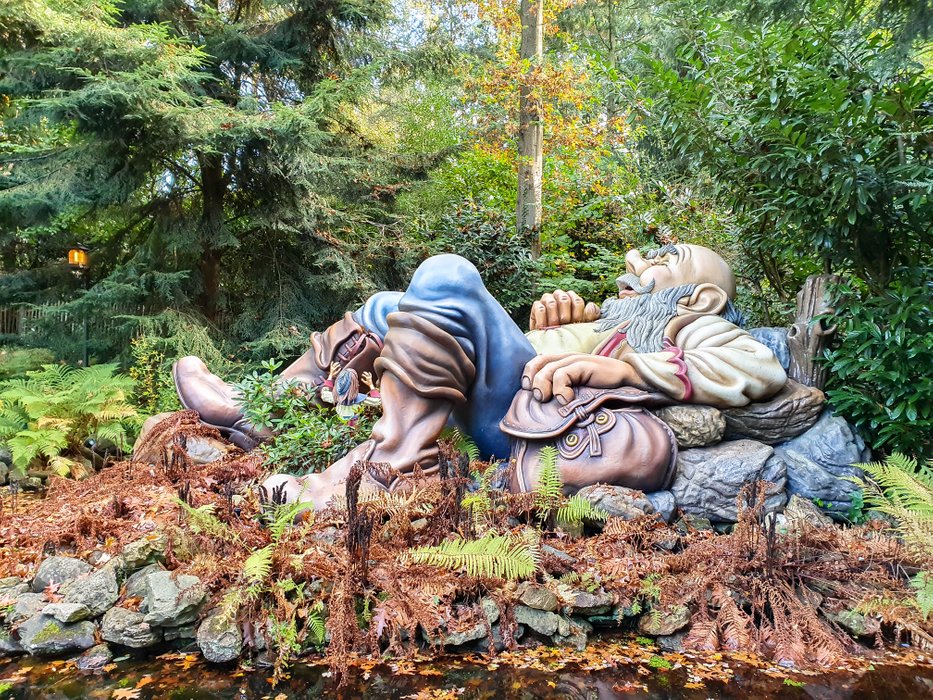 At first, I didn't notice that this tree would be any different than other trees. But then I saw the face and realize that it was moving!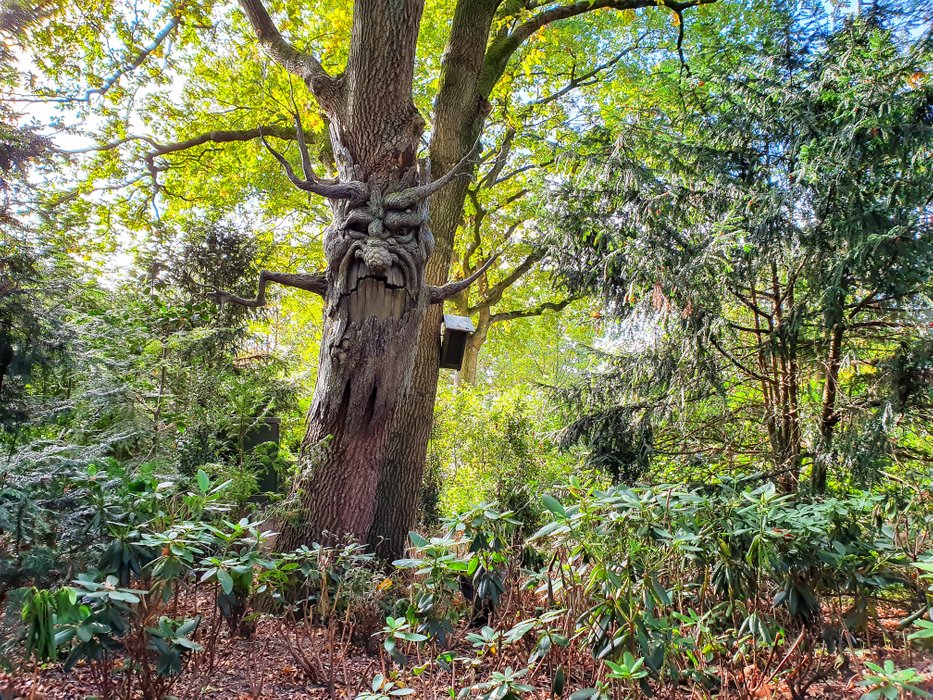 The Emperor's New Clothes by Danish author Hans Christian Andersen. The Emperor is fully dressed here but we saw him naked too! Kids were bursting into laughter.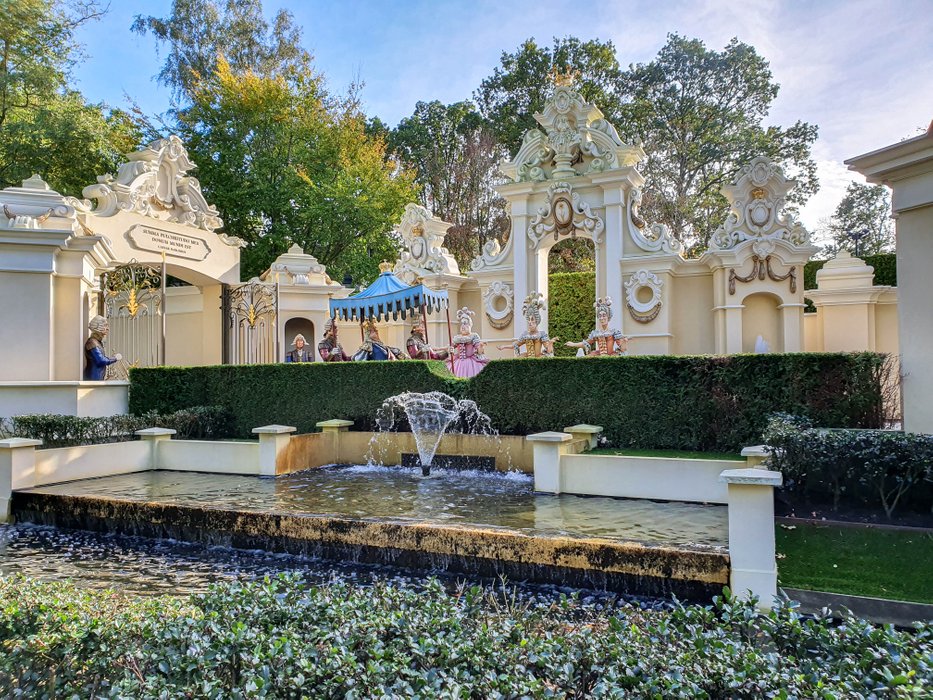 And before we go to the roller-coasters we can stay for a few minutes and listen to the wise tree telling us stories.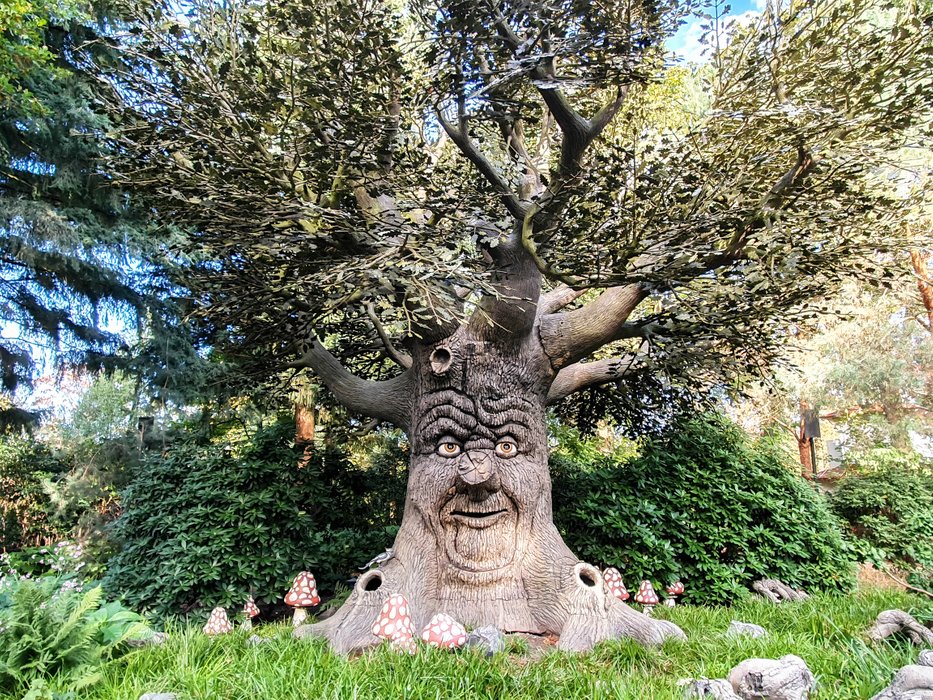 I am not a big fan of the roller-coasters but always let my husband convince me to go to at least one of them. This time I chose the Flying Dutchman which has a great story but is scary and runs directly in a lake and with my luck I always get wet. It was not different this time...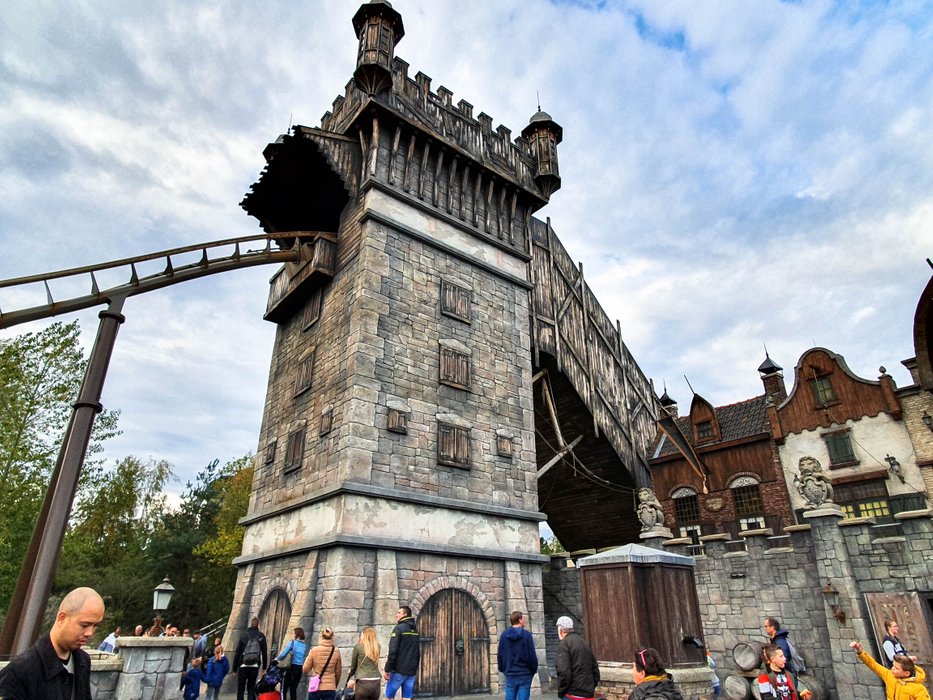 You go through a dark humid room, you hear water drops falling near you, the wind will take your breath away and then it comes. Your car climbs slowly up and flies down at speed which feels like you're going to fall out of the car. I kept screaming: I will kill you! And my husband knew it was addressed to him 😊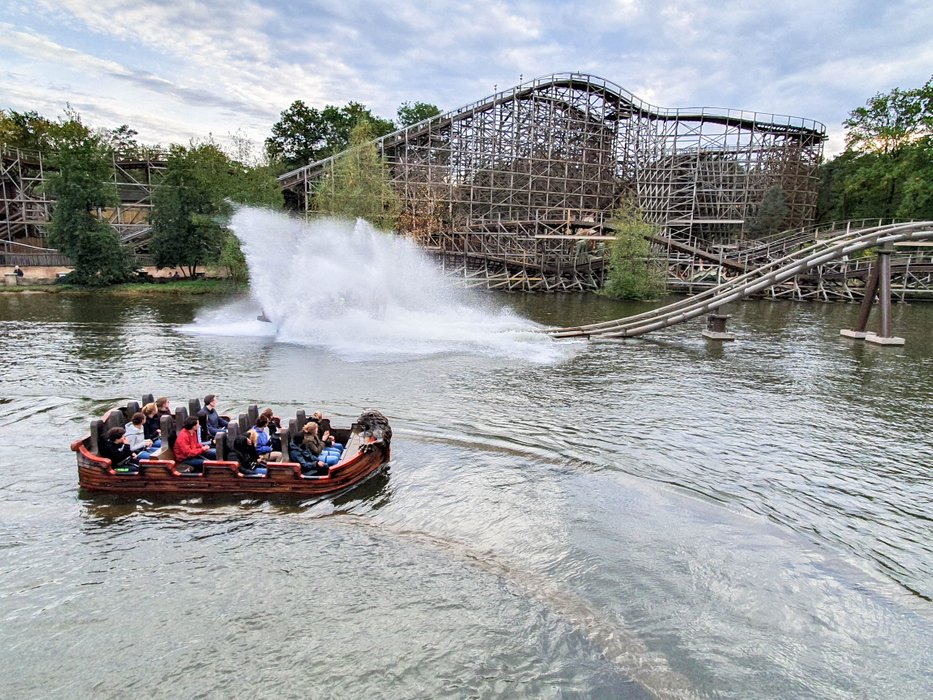 I had so much adrenaline that I suggested to try another roller-coaster. It was Baron 1898 and I regretted my decision as soon as the car was hanging on top of the roller-coaster and I had no idea when it will go down. This feeling is unbearable when you know that there is a 37.5 m free fall into the mine shaft at a speed of 90 km/h. But I survived!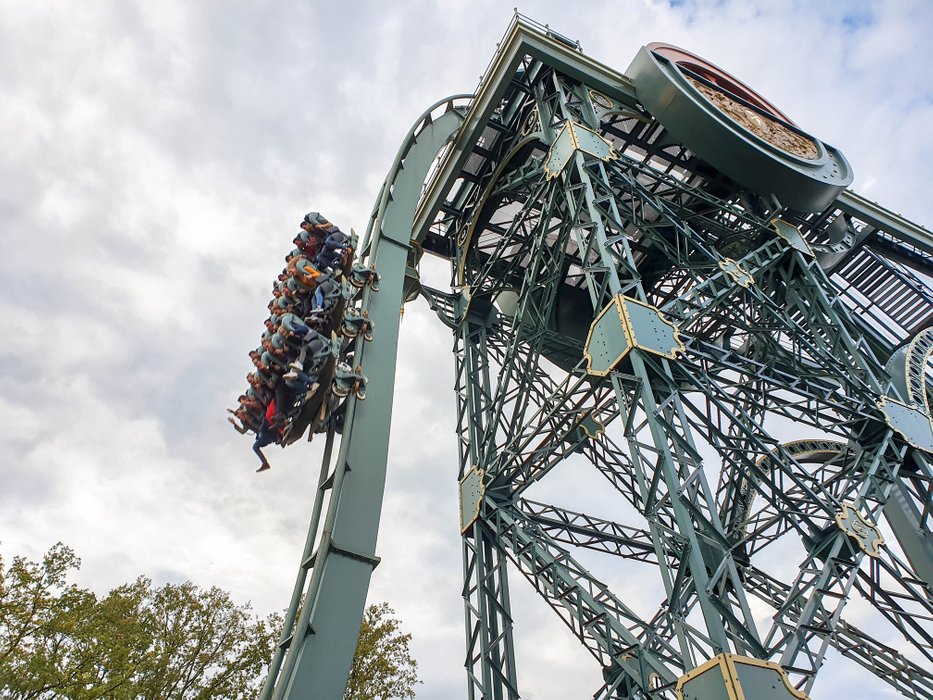 There are many more roller-coasters and other exciting attractions and I might show them to you another day when I'll dare to try them out.
Thank you for reading!
Cheers!
Martina