Prague's vegan scene is rapidly growing and every time I visit the city there are many new places with delicious food and friendly atmosphere.
Today, I'll show you my favorite places from my last visit of Prague at the end of November. I hope it will help you if you ever happen to be in this beautiful city of 100 towers 😊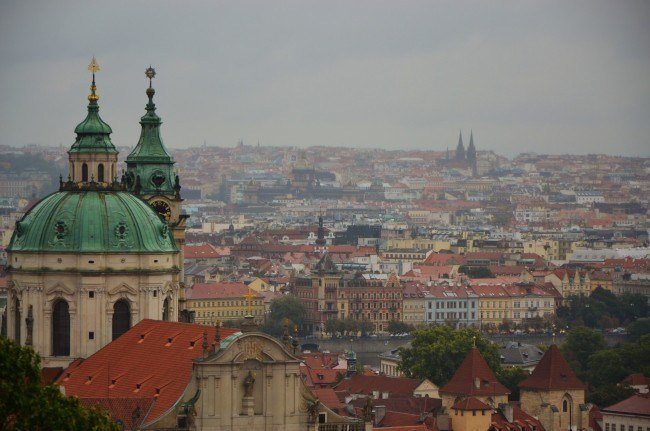 Waipawa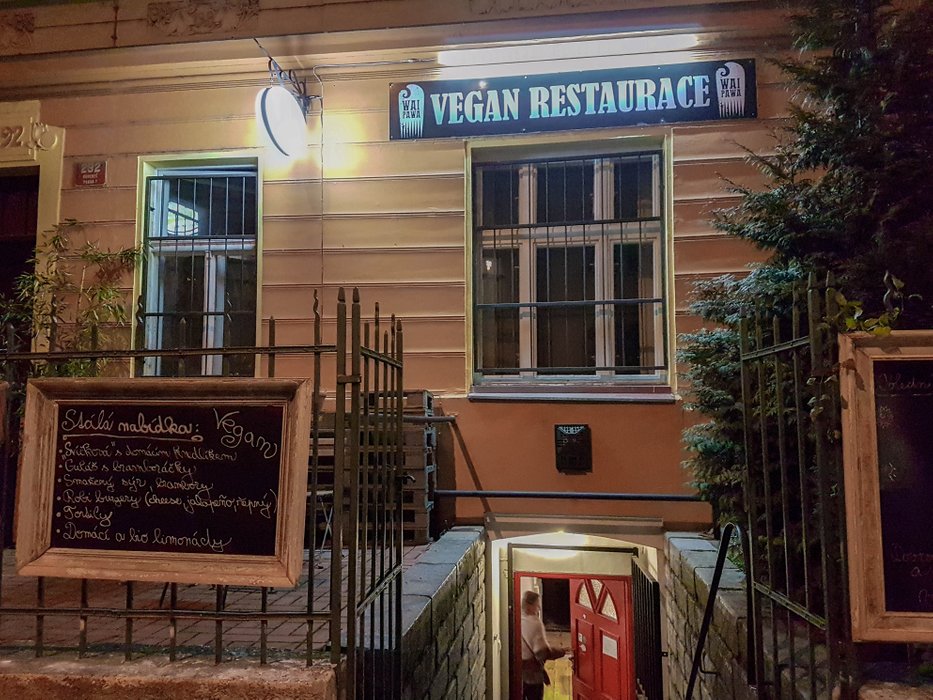 Waipawa has two vegan restaurants in Prague. We went to the one that is located at Šmeralova 12. It's open from Monday to Saturday, from 11:30 AM to 10 PM. The location is ideal if you're staying in the city center and you're looking for some restaurant in walking distance. It is a very nice walk as you will cross Letná Park which is overlooking Prague historic center and Vltava River just besides Prague Castle.
The restaurant is in the underground and it's quite small, so I would suggest to make a reservation in advance.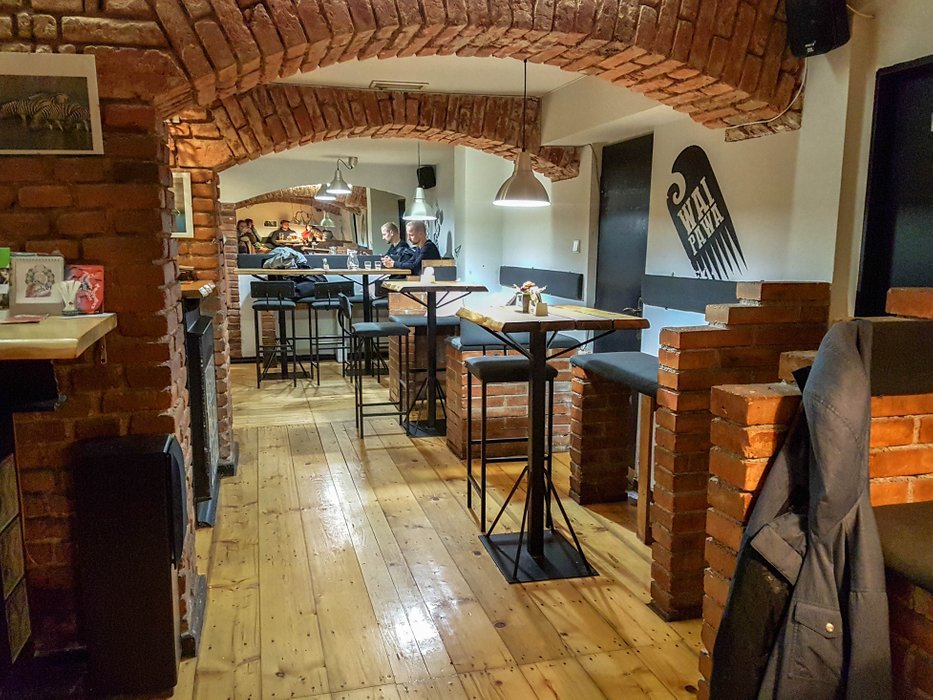 The interior looks nice for a few drinks with your friends but these high tables are in my opinion not very practical for dinner. We were lucky as we got a normal table behind the corner.
The waitress came with the menus as soon as we took our seats. The service was fast in general. The menu is not extensive but I like it better as it's easier to choose a meal.
They have 3 starters, 6 mains, 3 burgers and 2 tortillas. Food there is very cheap but I have noticed in most vegan places in Prague that the prices are very low. The most expensive meal in Waikawa was around 7 USD. I wish we had similar prices in Switzerland 😊
For starter I took pate made from onions and apples (CZK 60). It was served with raw red onion, pickles and a few pieces of bread. I was curious and skeptical at the same time as combination of onions and apples sound bizarre to me BUT let me tell you that this was the best pate that I've ever had!
For main course I took the most expensive meal of course 😊 In my defense, it was just a coincidence! It was tempeh in creamy sauce (CZK 155) served with baked potatoes and small side salad. It was delicious but a little too much of tempeh for me. It was very filling.
---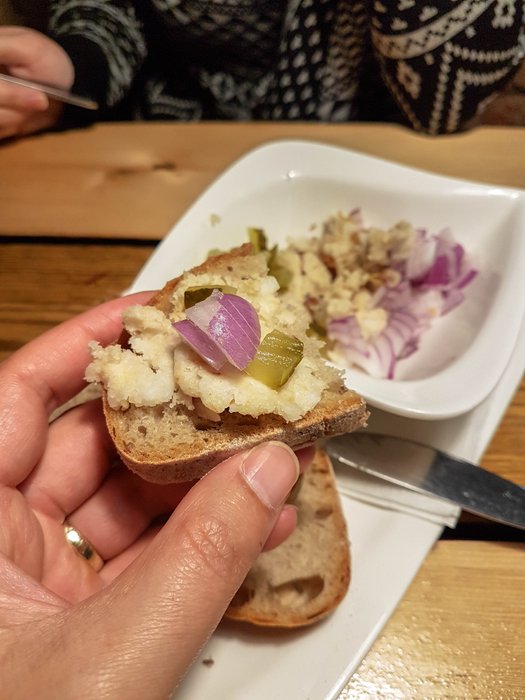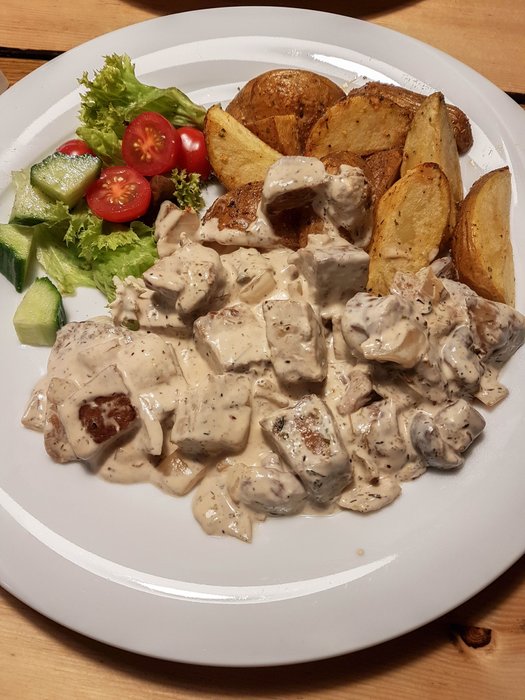 ---
Then we took salad with tomatoes, cucumber, tofu nuggets and beetroot (CZK 130). The salad was fresh and crunchy and the tofu nuggets were golden baked and crispy. Together with the dressing it was a great combination!
We also had to try their gyros tortilla (CZK 125). Tortilla was filled with gyros tofu, iceberg and tzatziki. It tasted exactly how we expected it - delicious!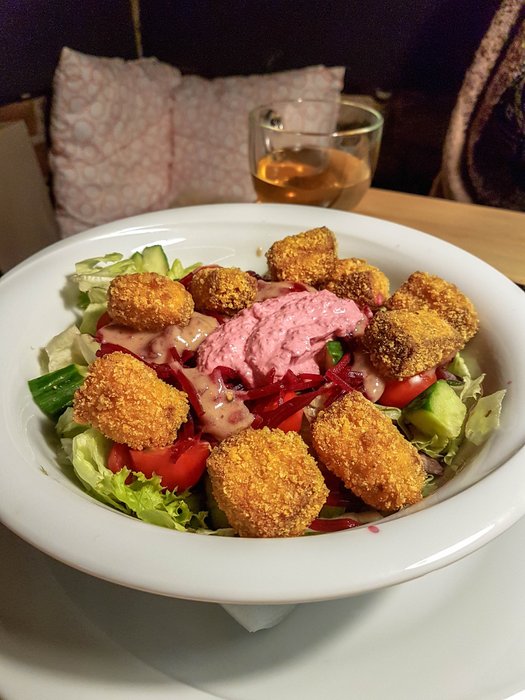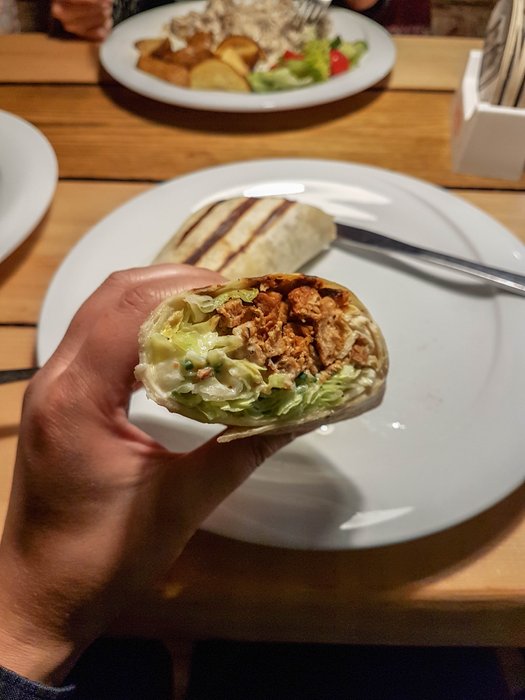 ---
We didn't have that much space in our bellies but those pancakes (CZK 80) on the menu were so tempting that we ordered them as well.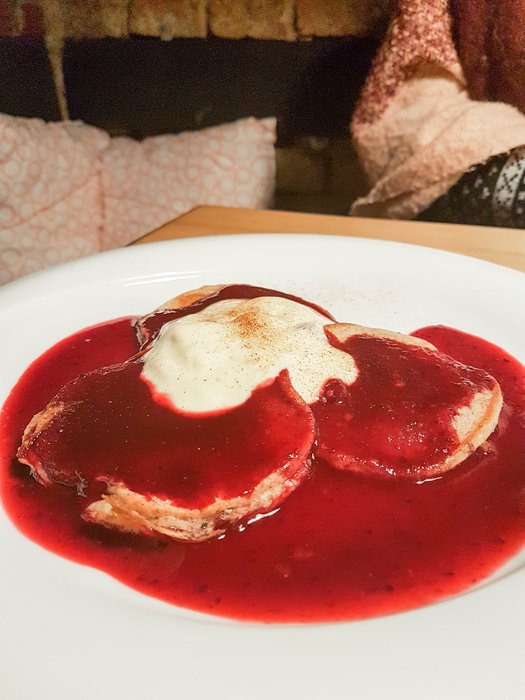 They were served with hot mixed berries sauce, tofu soft cheese and fresh basil. I think I ate the basil before I took the photo 😊
They were so good! The pancakes were fluffy, the sauce was not too sweet and not too sour and the tofu cheese gave you a very nice soothing feeling on your tongue.
I must say that Waikawa surprised us with their meals and their service. Everything was tasty and so cheap! The interior is not that cool but we quickly forgot about that as soon as we started to eat the pate 😊
And as it's walking distance to the city center we also had a nice walk after dinner. If you ever happen to be in Prague make sure to pay Waikawa a visit. You won't be disappointed.

Pastva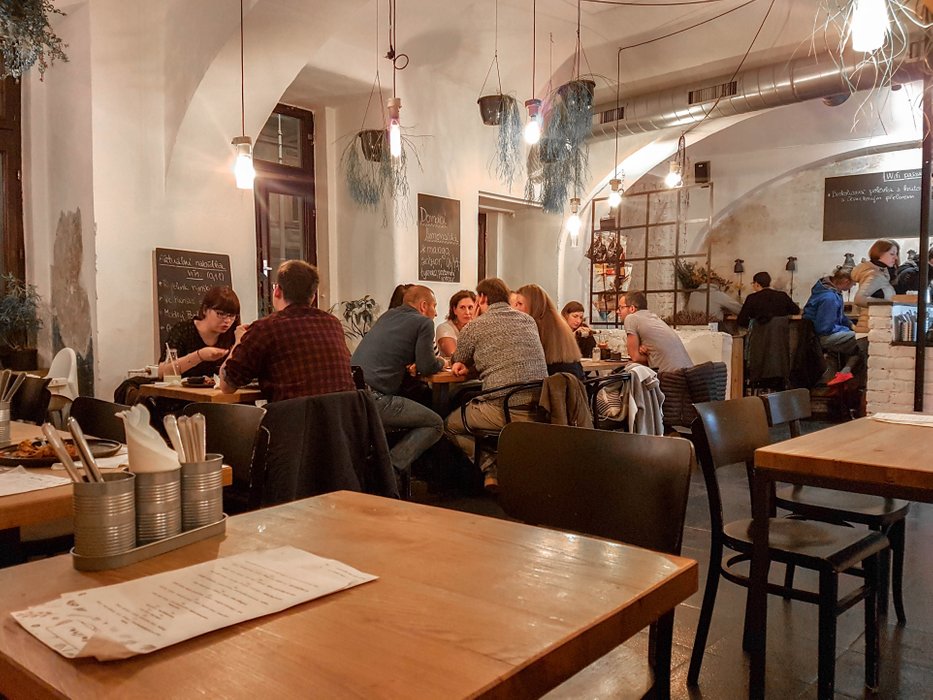 This was not the first time that I visited Pastva. It's a very cozy restaurant serving comfort food and it's a great place if you're very hungry.
It's located at Nádražní 102 and you can easily reach it by metro. It's about 100 meters from Anděl station. It's open from Monday to Saturday from 11 AM to 11 PM.
Their menu is changing every season and I'm sure that everyone would be able to find something to eat there as they always have some interesting options.
For starter they have variation of hummus (CZK 115), foie gras (CZK 120), sweet potato fries (CZK 60) or french fries (CZK 50).
I ordered variation of hummus. It was classic and beetroot hummus with chickpeas, olives, and small salad. There is not much to say about the taste as hummus is always good but the portion was way to big for one person. It's a great meal to share.
For main course they have 8 dishes (CZK 150 - 210). I ordered cauliflower steak with harissa, chickpeas, potato purée, tahini and lemon sauce (CZK 195). This was a great comfort meal! It was hearty with various textures and the taste was amazing. It was the perfect meal for cold autumn/winter evenings.
---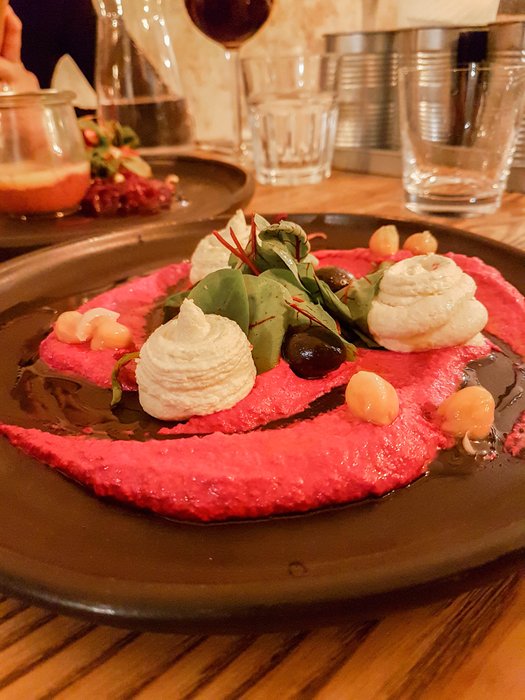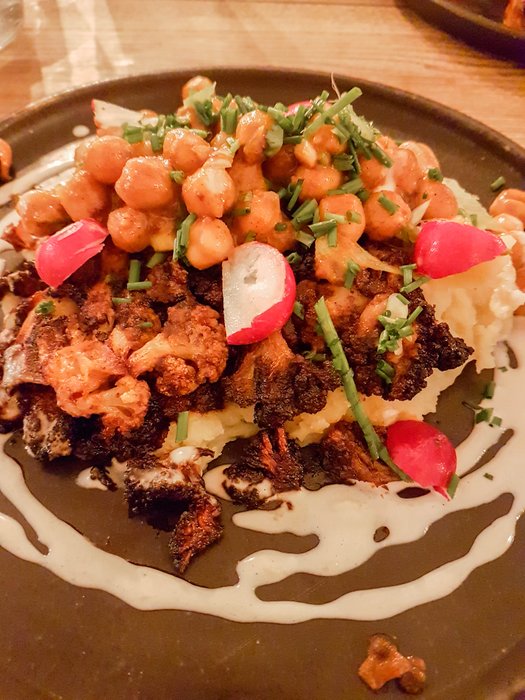 ---
My husband ordered Miso ramen (CZK 150). It was ramen noodles with cauliflower, shiitake, button mushrooms, pak choi and sprouts. It was nice but it missed some kick - it was not Asian enough. However, this is not an Asian restaurant so it was not that disappointing. It was a nice, satisfying dish.
My friend ordered baked sweet potato with spiced beluga lentils, roasted fennel and garlic mayo (CZK 195). The menu says 'baked sweet potato', so we were expecting 1 potato. But she got 3 big ones and couldn't finish the meal at the end. It was very filling in combination with such a big portion of lentils. The taste was very good. It's that kind of meal that you wish to eat when you have your cheating days 😊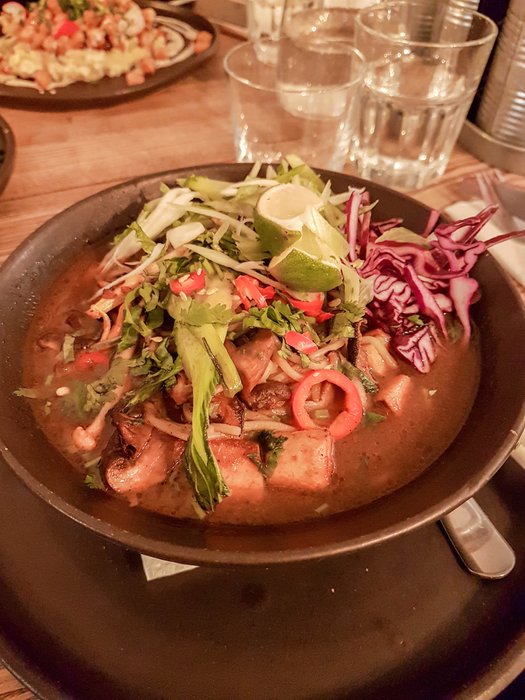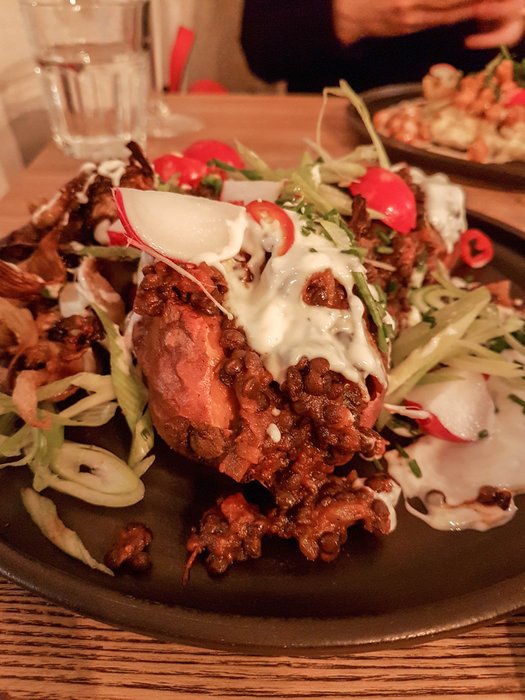 ---
This time Pastva didn't disappoint us but also didn't surprise us. We had nice time together but we didn't experience any food porn or explosion of taste. I would however still recommend the place as it's really cozy and you simply feel good there.

Moment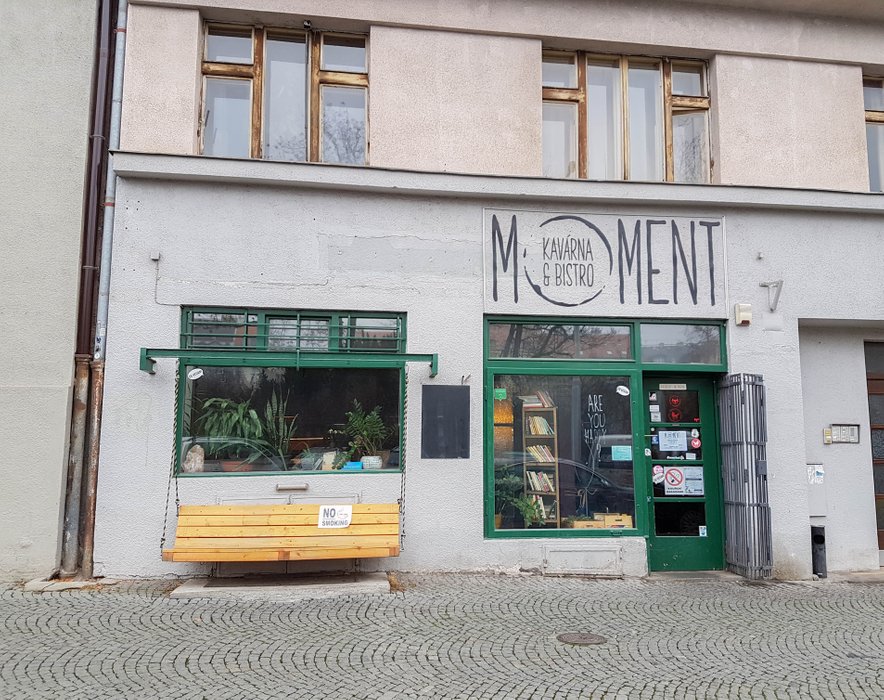 Moment is my favorite place in Prague. I've been there several times already and I will keep coming there whenever I will be in Prague. It is located at Slezská 62 and you can reach it by metro. It's about 200 meters from Jiřího z Poděbrad station. It's open every day from 9 AM to 10 PM.
As soon as you enter you feel like you were visiting your friends. It's cozy, stylish and waitresses are very friendly. They are happy to help you with your choice and they are also flexible if you want to do some adjustments to your meal.
They serve breakfast until 11:30 AM and then they serve snacks and 'all day' meals. For breakfast you can choose from pancakes (CZK 130), omelette (CZK 130), tofu scrambled eggs (CZK 135), wraps (CZK 130) or toasts (CZK 95).
For 'all day' meals and snacks they have various salads, soups, burgers, kebabs or bagels (CZK 50 - 150).
Everything is from local ingredients, freshly made and totally delicious!
I tried tofu scrambled eggs with coconut bacon, sausage, oyster mushrooms and small salad. It was amazing. Tofu was juicy and seasoned perfectly and I loved the salad! I'm not such a fan of vegan sausages and bacon in general but I enjoyed them as well.
My husband tried sandwich with tempeh, sprouts, carrot, romaine lettuce and mayo. Their bread is homemade and so good! He loved it and wanted to take another one but I convinced him to try something different 😊
---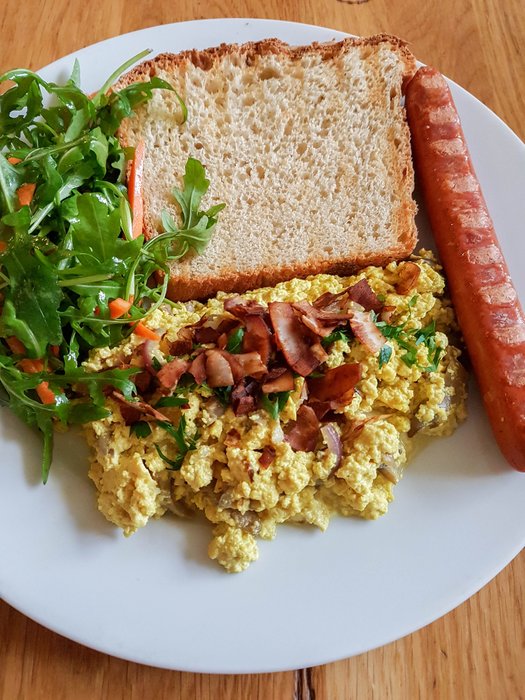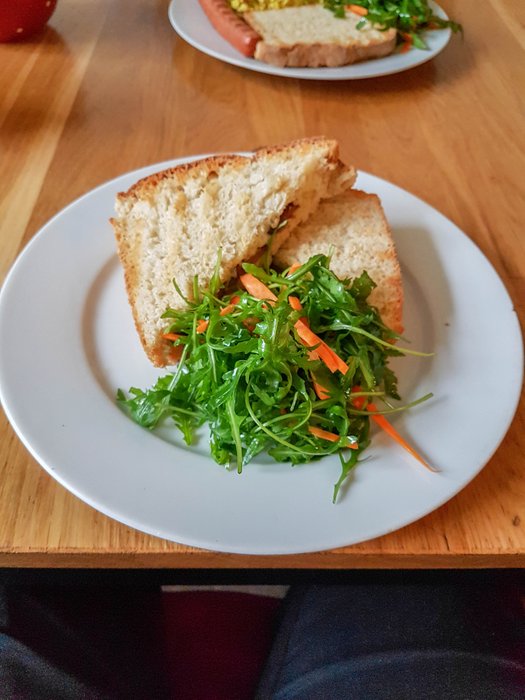 ---
Their pancakes are to die for! They serve them with fresh fruits, chocolate and whipped cream. I ordered them to share but at the end I ate them all 😊
We also tried omelette with chickpea flour, potatoes, mushrooms, onions, kale and tomatoes. It was very good but I don't really like chickpea flour so I prefer the scrambled tofu..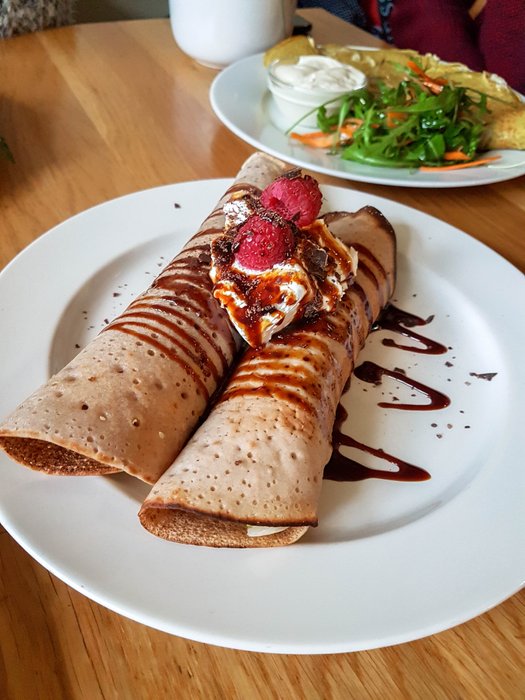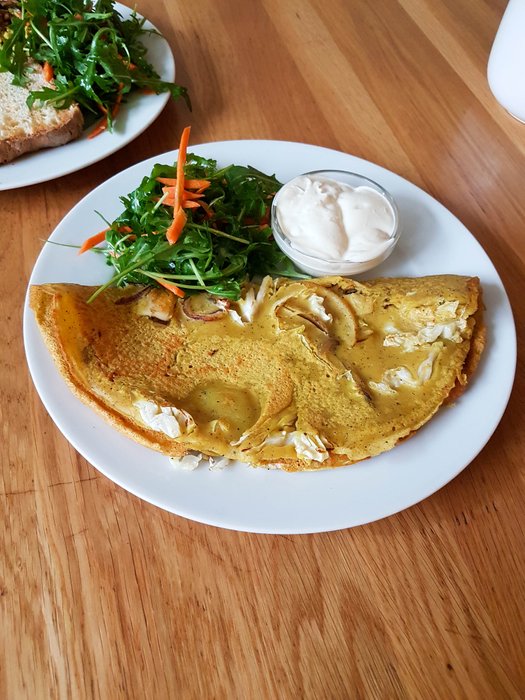 If you're in a hurry you can also get a take away. We went to Moment on our last day in Prague and as we loved their sandwiches we got a couple of them for our trip back to Switzerland. We ate them after a few hours and they were still perfectly fresh and not soaked at all!

There are many more vegan places in Prague but I hope that you enjoyed my short overview of the ones that I enjoyed during my last visit.
Thank you for reading!
Cheers,
Martina
PS: All photos are taken with my Samsung Galaxy S7.