I'm finally back with my Switzerland travel series! And I'm happy to show you one of my favorite places in this beautiful country - TALALPSEE.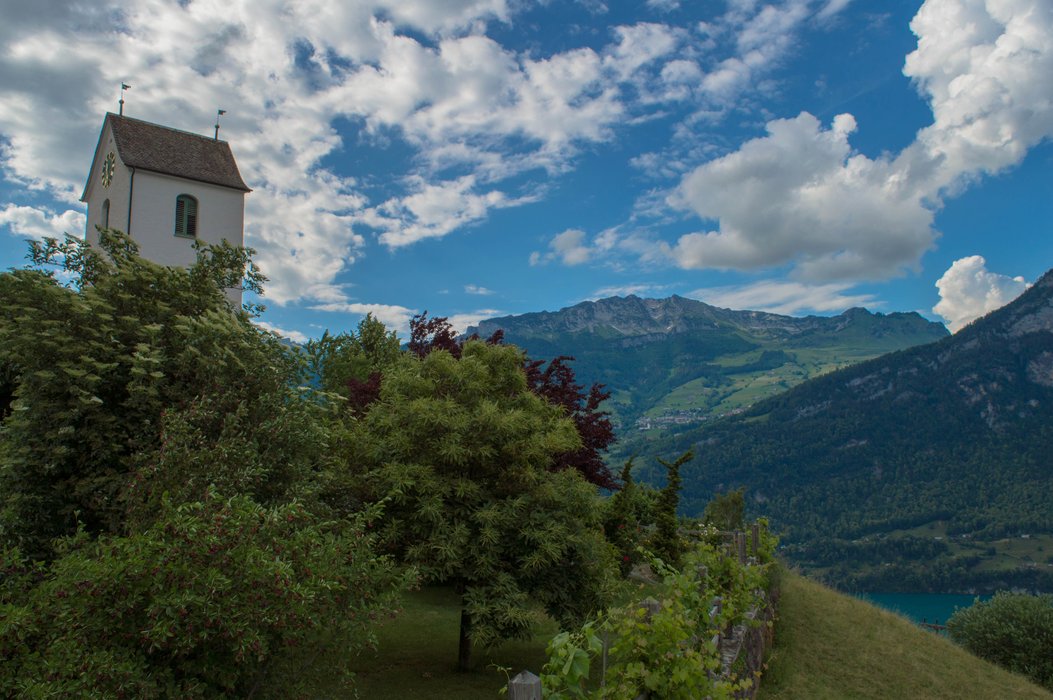 ISO 100 1/320 sec. f/10 20 mm
There are so many rainy and foggy days in Schaffhausen area. It is mainly because of the valley and the Rhine river. When it's cloudy for a few days we like to go to the mountains during the weekend as the weather there tends to be much better. And we love nature!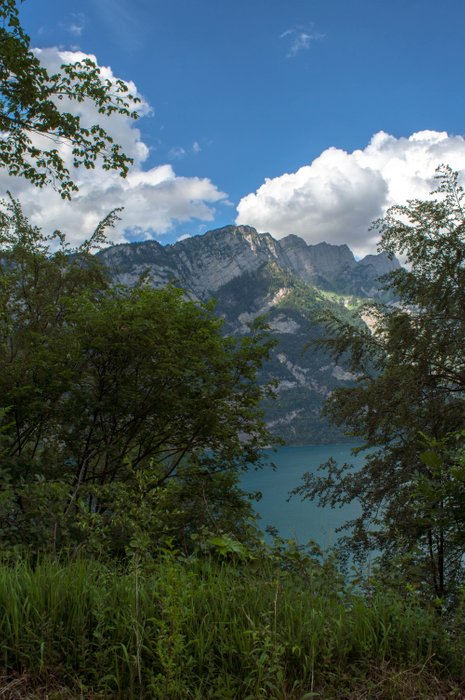 It takes us just a bit more than an hour to get there by car and we both love the area so even though we should be preparing for our vacation we decided to have a relaxing afternoon instead.
Talalpsee is a small mountain lake located in the Canton of Glarus. It lies at 1100 m and it is surrounded by majestic Alps.
On the way there we drive by Walensee with its blue colored water. We continue up the hill on a narrow road. There are places where only one car can fit on the road so if you happen to come across a car from the other direction one must reverse and drive back for a few meters. It's very scary as the path is narrow and there is a steep slope on the side. This is why I always let my husband drive there 😊
The views are breathtaking. The road in the hills is 7 km long and there are a few places where you can stop and take some pictures.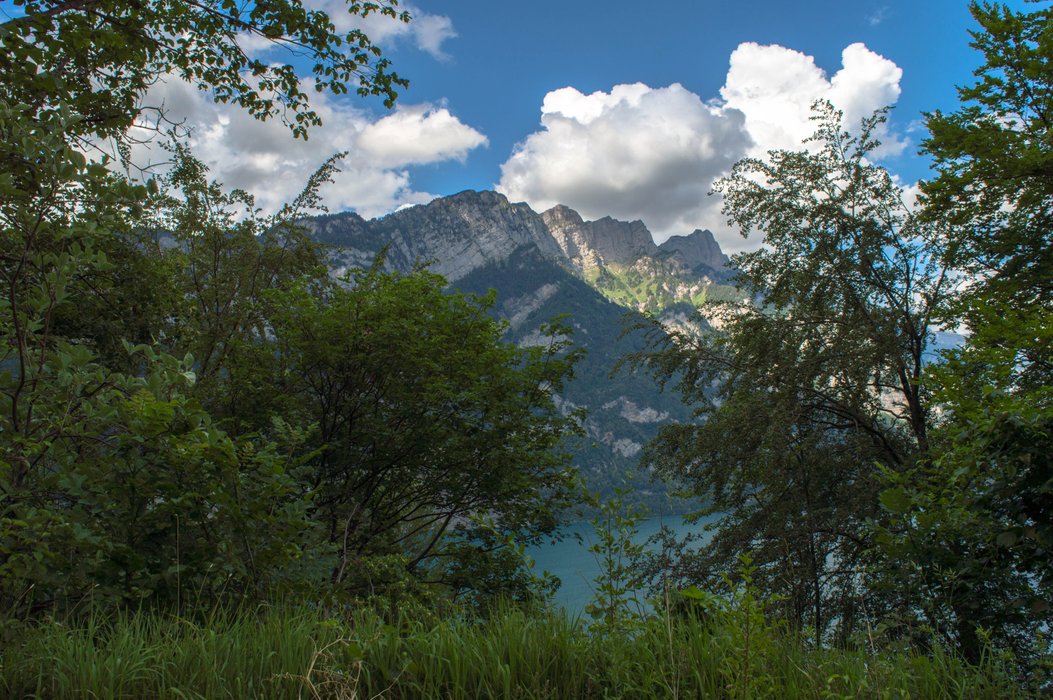 ISO 100 1/320 sec. f/10 18 mm
There were a few clouds and we hoped it wouldn't start raining.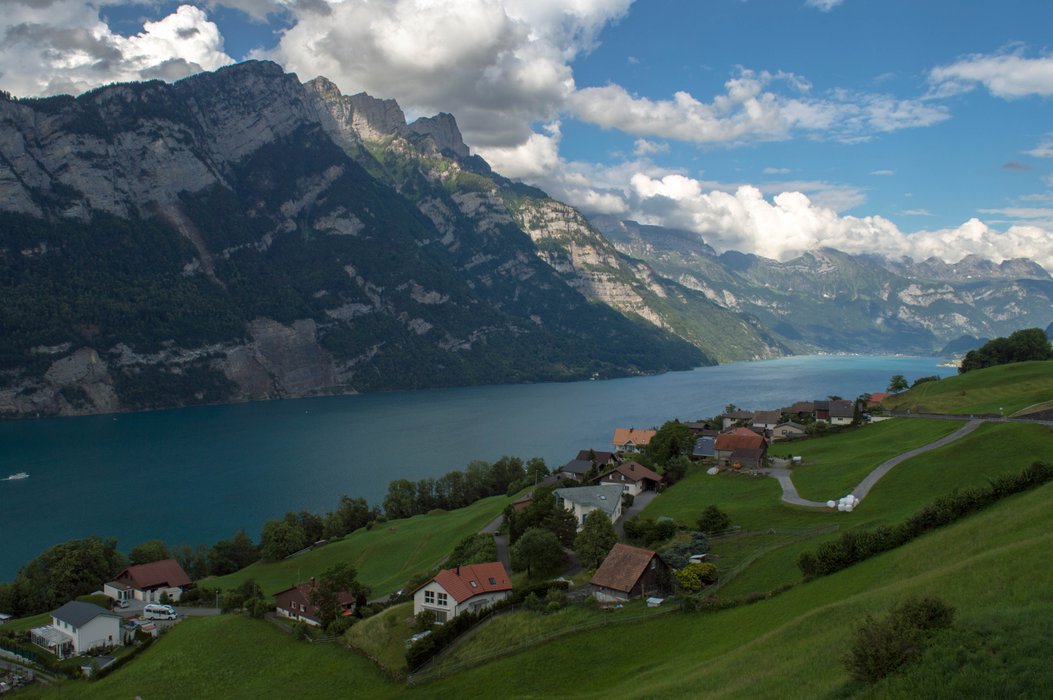 ISO 100 1/320 sec. f/10 20 mm
A small hut above the village - same direction, different elevation.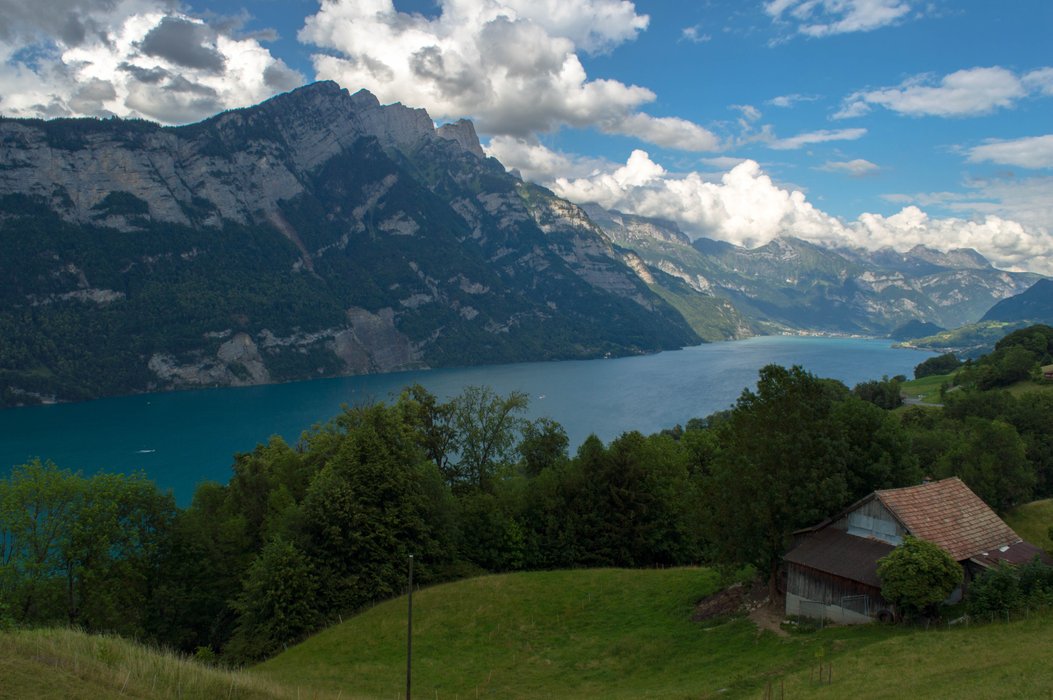 ISO 100 1/320 sec. f/10 18 mm
It's very common in Switzerland that the villages are built high up the mountains. Some places may only be accessible by cable car in the winter due to too much snow.
There are a few villages in the country that are completely car - free. It means that there is no road to get to the village and you can only get there by a cable car or by foot. If you happen to own a helicopter this would be an option too 😊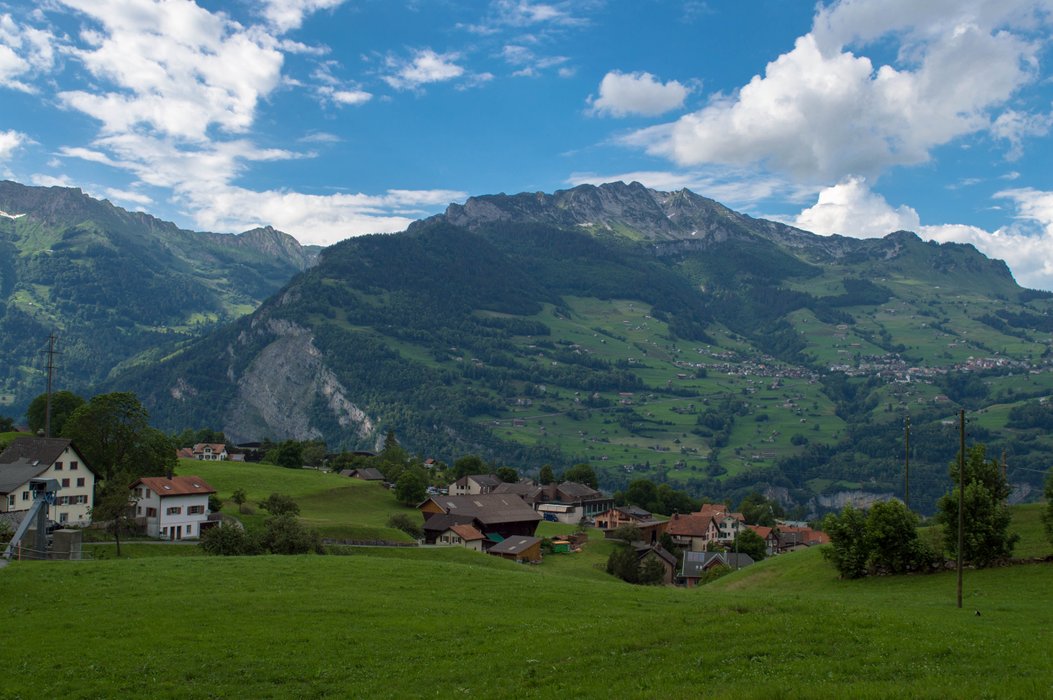 ISO 100 1/320 sec. f/10 26 mm
We are getting closer to the Talalpsee.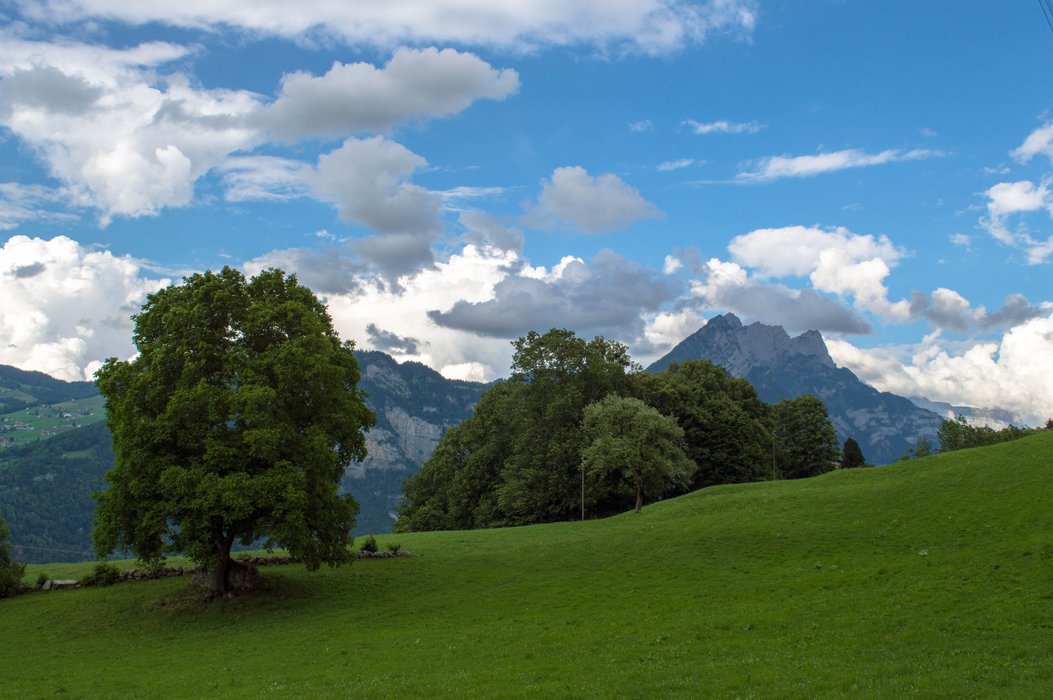 ISO 100 1/320 sec. f/10 23 mm
We have just approached the end of the road and now we have to walk to get to the lake. It's a very easy walk so I would not even call it a hike 😊 The area is very accessible even though it's deep in the mountains. You can either take a cable car or come by car.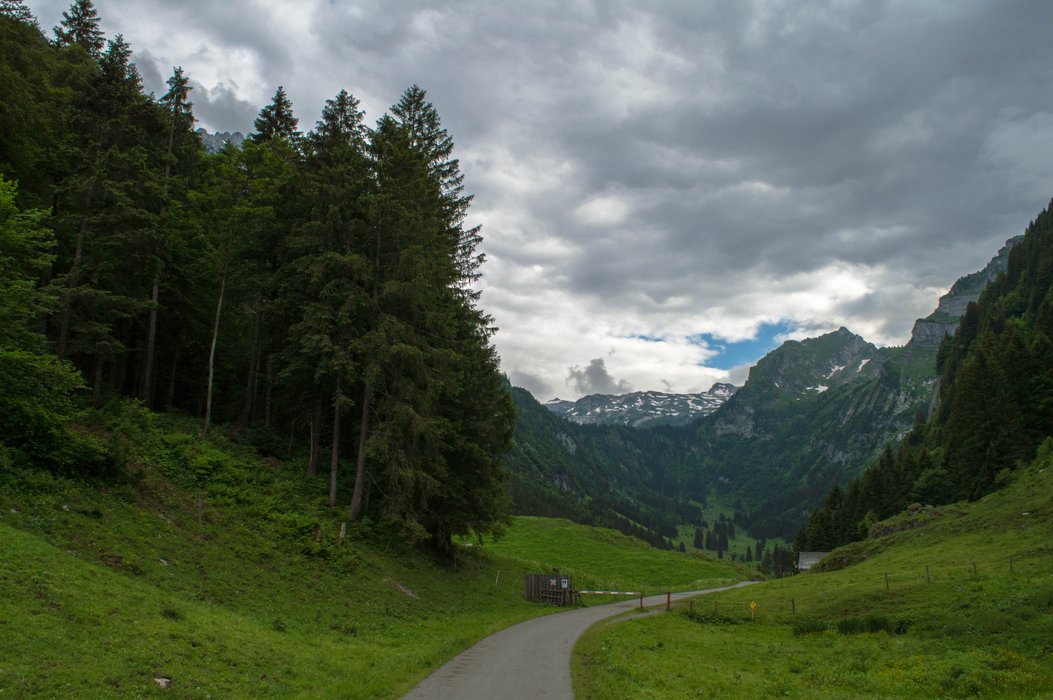 ISO 100 1/320 sec. f/10 18 mm
After a short walk we have reached the lake! We wanted to escape the rain in Schaffhausen but it looks like it will start raining here soon! The clouds are so grey! Hurry up!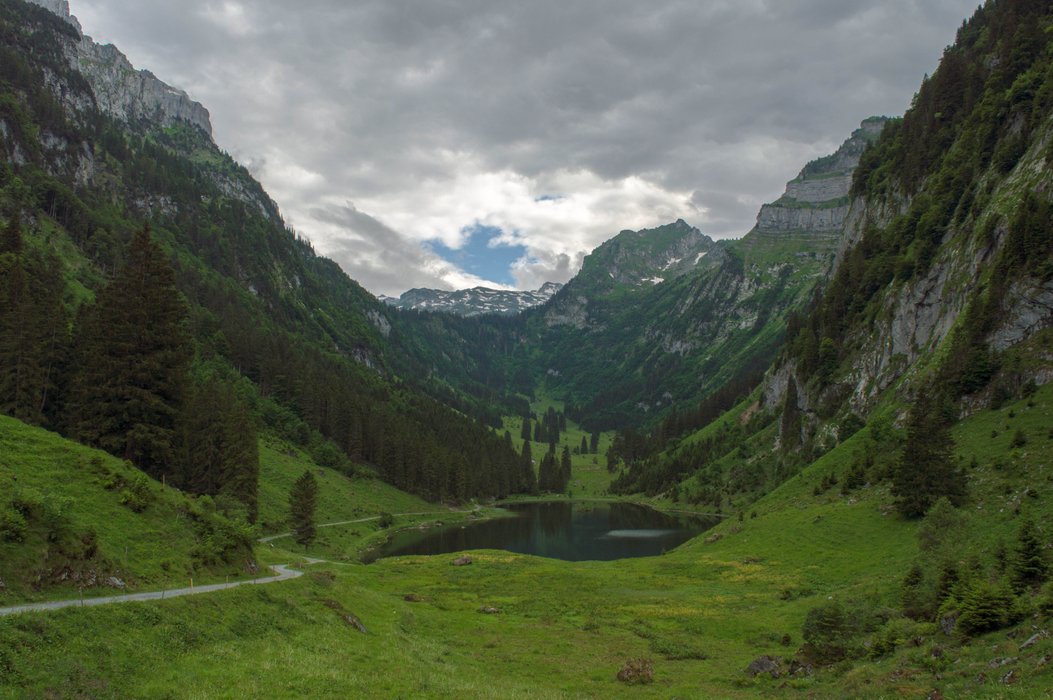 ISO 100 1/320 sec. f/10 18 mm
There are always many cows around. This time we didn't see them as we came quite late.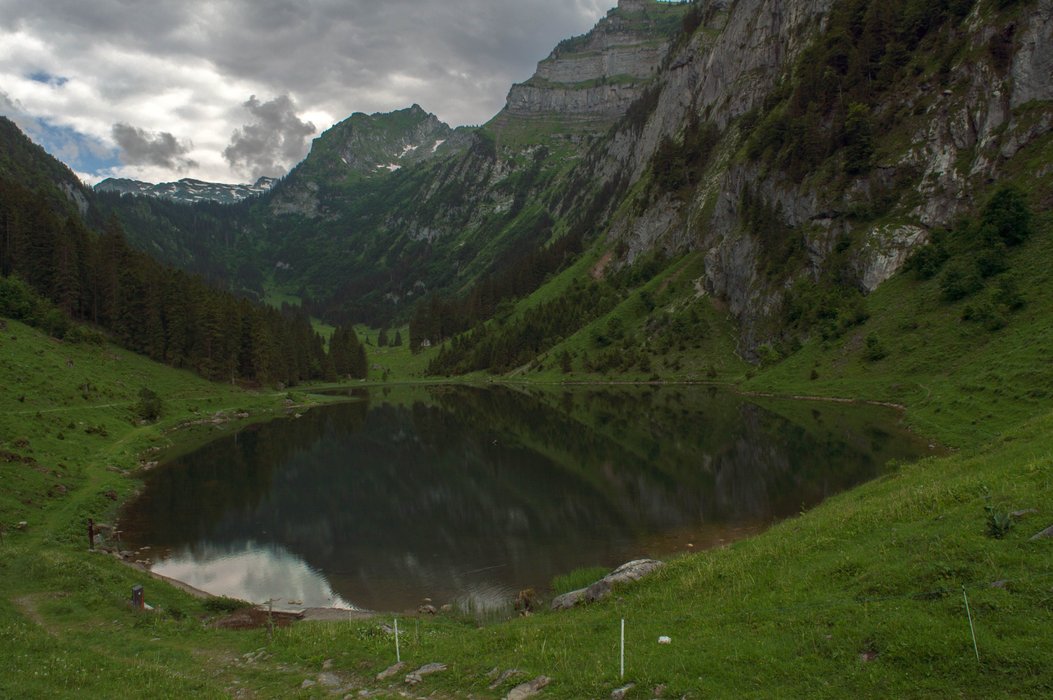 ISO 100 1/320 sec. f/10 18 mm
This 'road' is used by the farmer who lives on the other side of the lake. We are allowed to walk there but he is the only one allowed to drive there.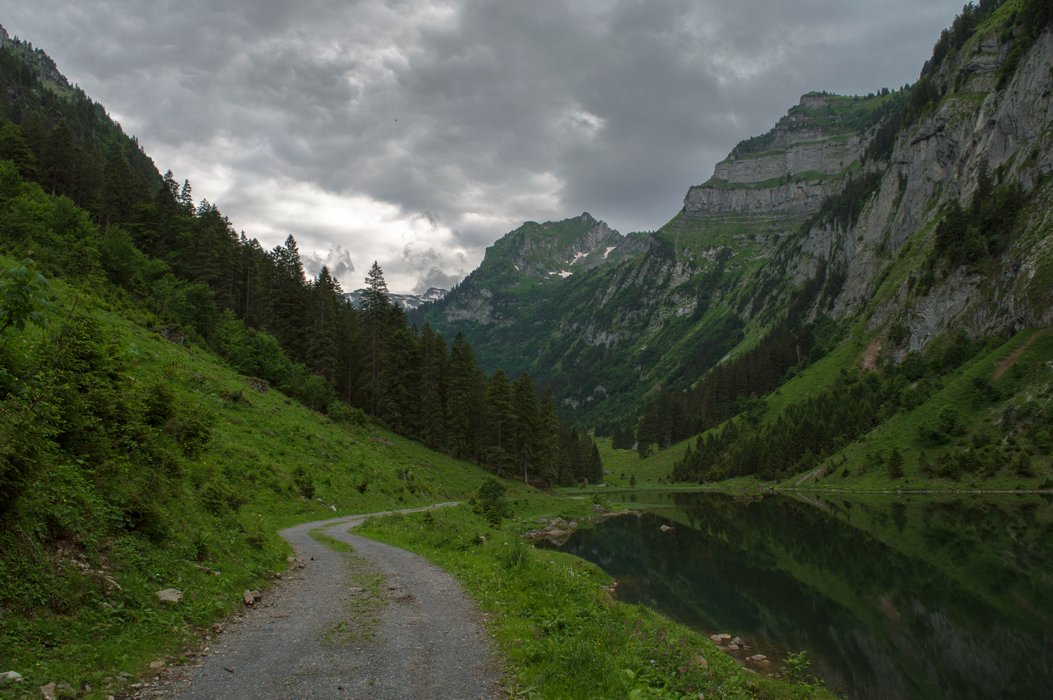 ISO 100 1/250 sec. f/8 18 mm
On the other side of the lake there is a small restaurant. They also have a few rooms if you drink too much and can't drive back the same day 😊 The restaurant is very cozy and the owner is very friendly. They serve some traditional meals with cheese or meat so we could only order some crisps but that was also fine. It was so nice to sit on a terrace and enjoy ourselves.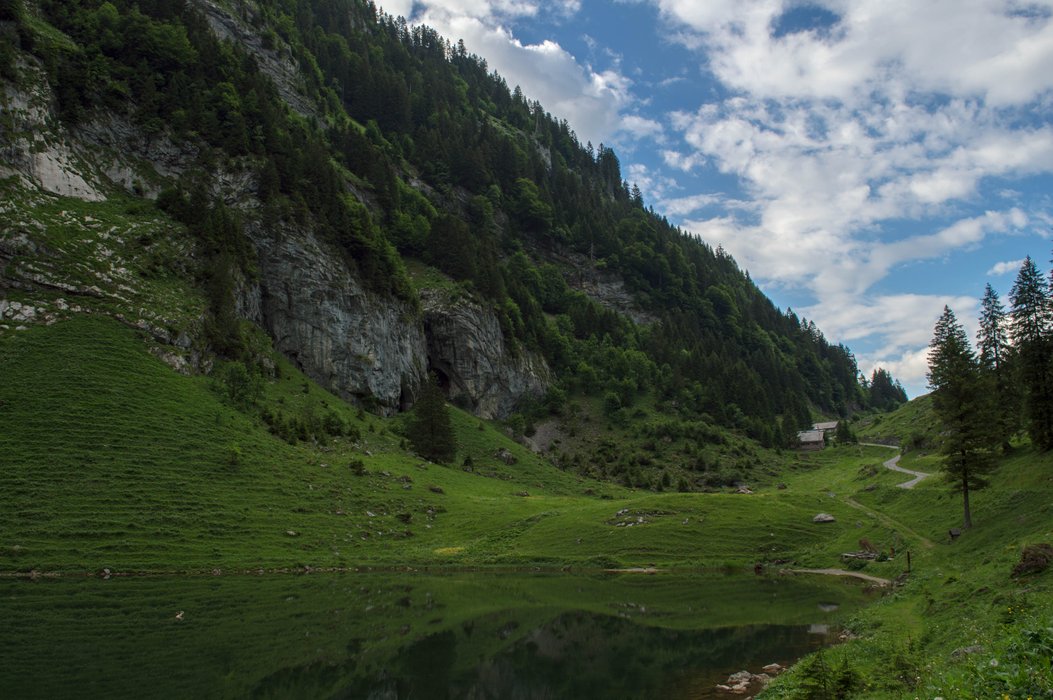 ISO 100 1/250 sec. f/8 20 mm
One lake and two completely different weather conditions at the same time.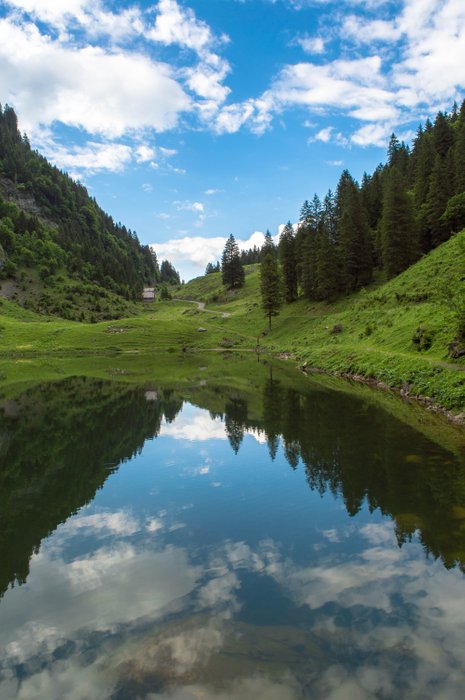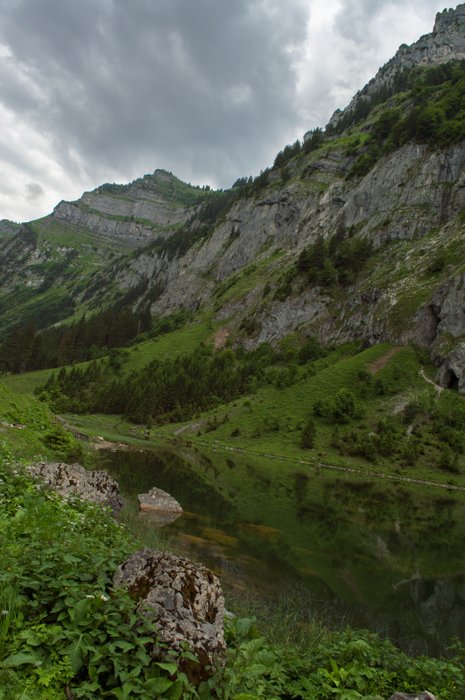 The clouds were quickly moving in our direction but the sun was still peeking through the clouds. We finished our beverages and started to walk back to the car. The walk turned into running after the rain started to pour down.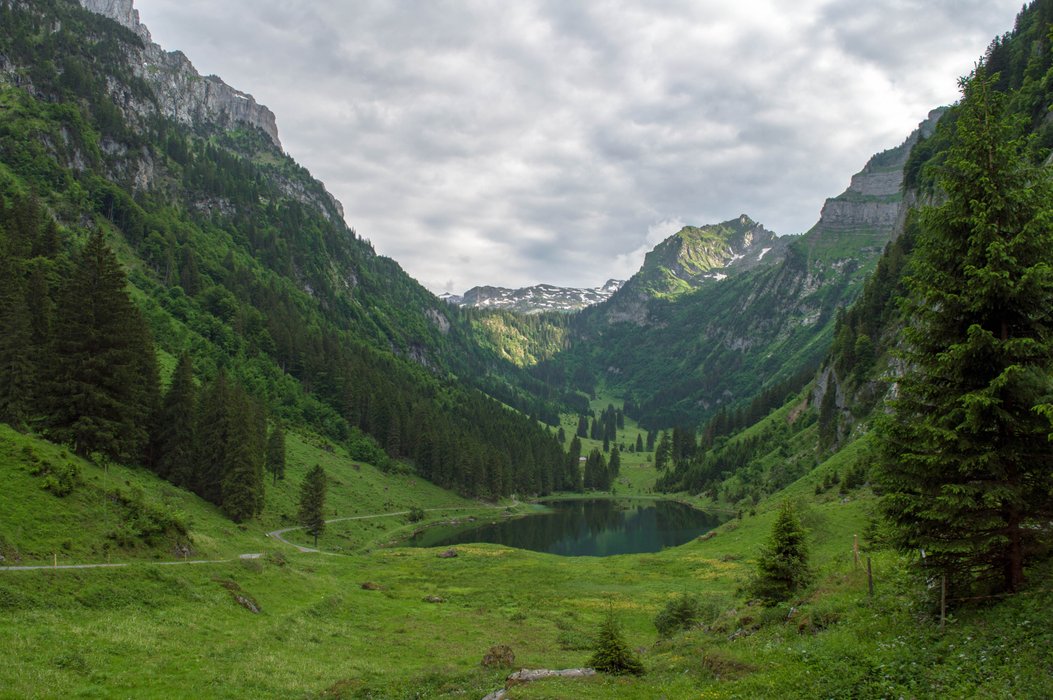 ISO 100 1/250 sec. f/8 18 mm
We were fast enough to reach the car before it started to rain heavily.
We had a great day and now we're ready to start packing for Mallorca!!

I hope you enjoyed another walk with me!
If you like my article feel free to upvote/resteem it or follow me.
All pictures are taken by my Nikon D3200 AF-S NIKKOR 18-55 mm 1:3.5-5.6 G II.
Thank you for reading!
Cheers,
Martina