Are you ready for another walk with me in the Swiss Alps?
I had a minor surgery planned this week and I knew that I won't be able to go to the mountains for a few weeks, so we decided to go there last Saturday (probably last time this year). You might have noticed that I'm not that active on Steemit this week. I'm taking some medication that makes me very tired, so I struggle to keep my eyes open 😊 It also takes me much longer than usually to put this post together as I have to take naps from time to time..
But let's focus on our walk now!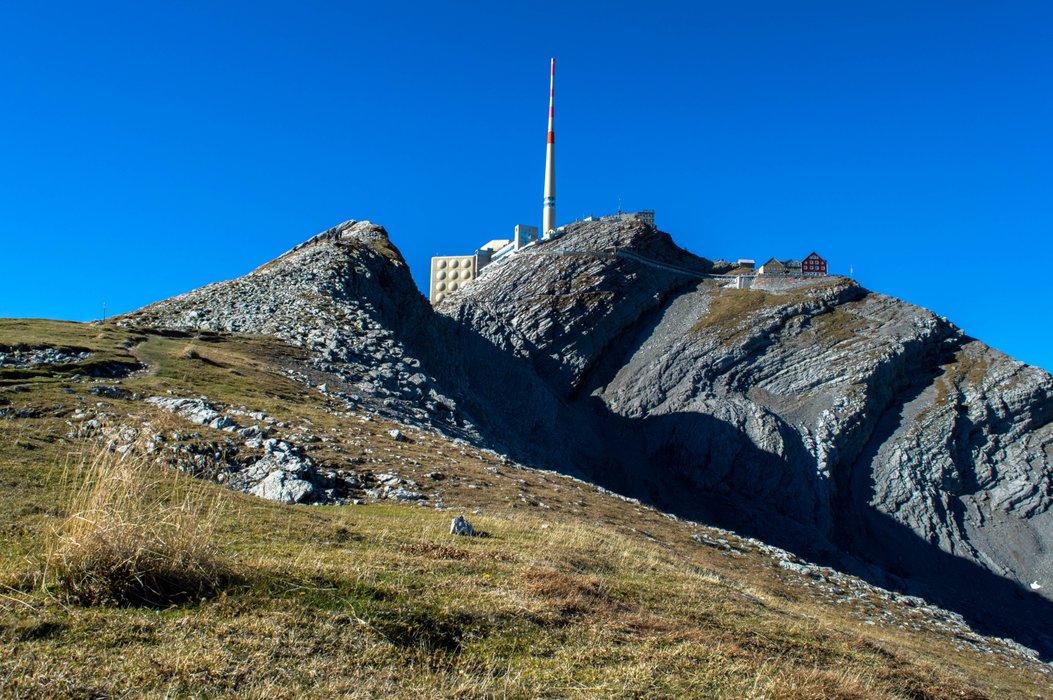 ISO 100 1/320 sec. f/10 18 mm

Säntis
Säntis is the highest mountain in the Alpstein massif of northeastern Switzerland and the landmark of the Lake Constance region. It's very popular and easily accessible by cable car Schwägalp–Säntis.
Located at the peak of the Säntis at 2,501.9 meters above sea level, there is a Transmission tower. The original tower from 1955 was renovated many times due to the harsh weather conditions. The tower was replaced in 1997.
There are many hiking trails with different difficulty grades, so everyone will be able to pick one.

It took us around one hour to get to Säntis. We live in a valley and enjoy the landscape becoming more hilly when we drive towards the Alps.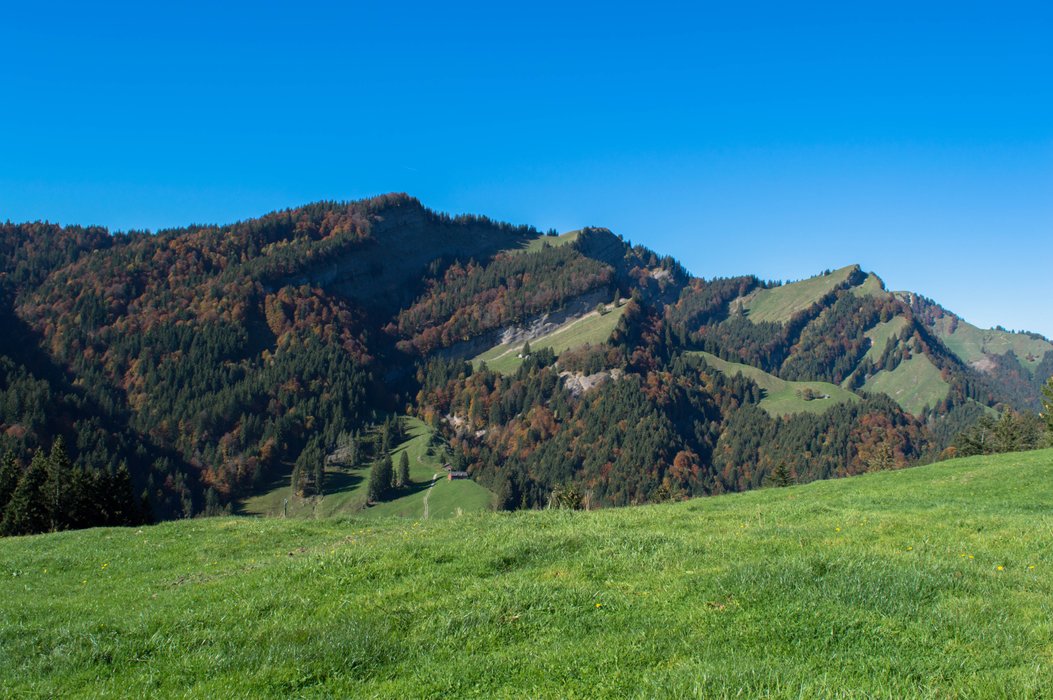 ISO 100 1/200 sec. f/9 18 mm
We are almost there..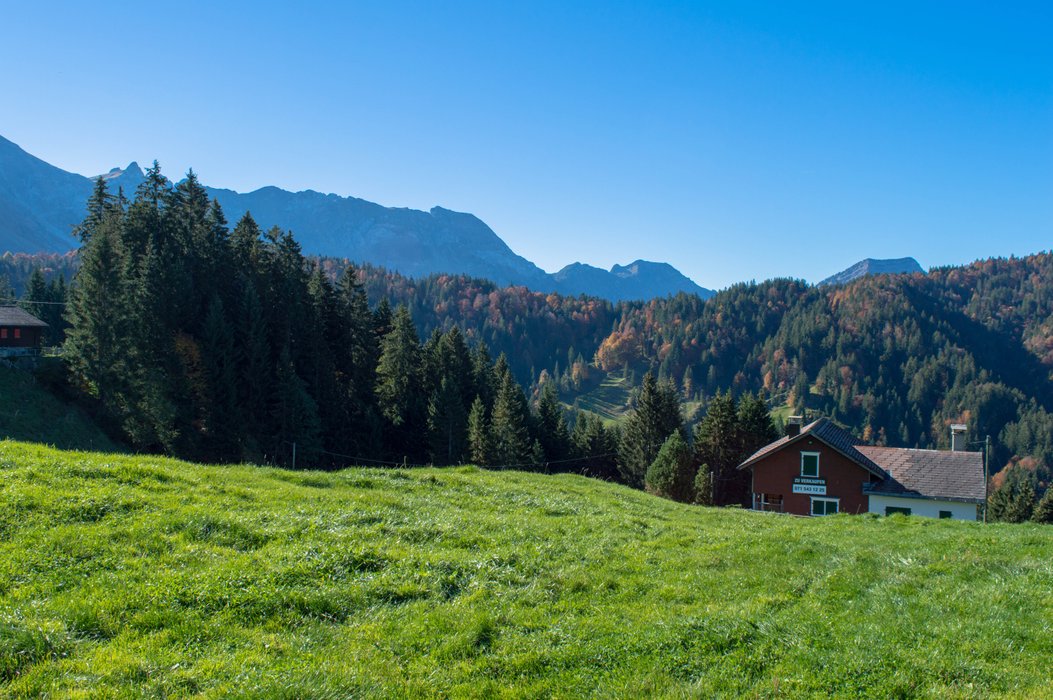 ISO 100 1/200 sec. f/9 18 mm
After we parked the car, we went for a short walk before going up to Säntis.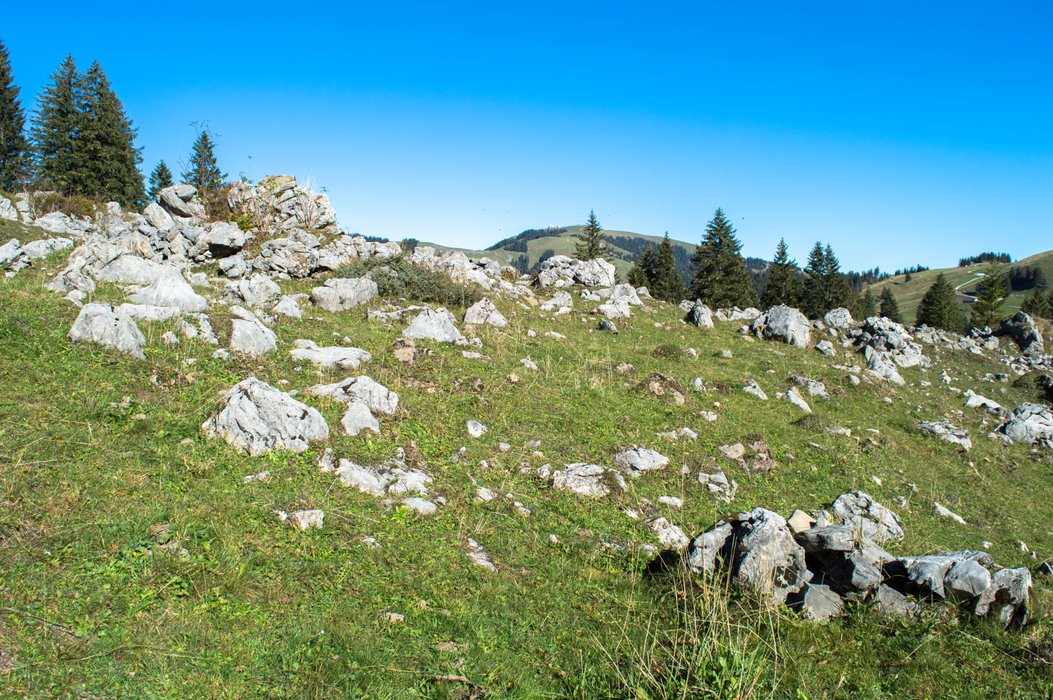 ISO 100 1/320 sec. f/9 18 mm
Here it is! This is where we go. Can you see the cable car? This cabin fits 85 people!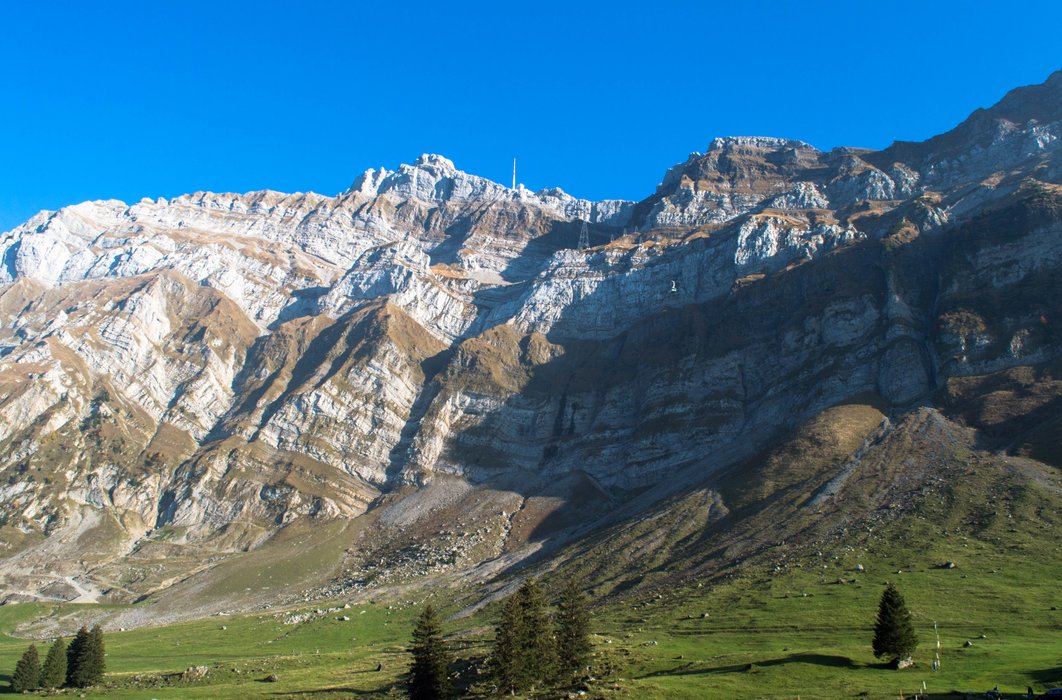 ISO 100 1/250 sec. f/10 18 mm
I'm not such a big fan of cable cars, but my desire to go hiking and enjoy the views was stronger than my fear. The ticket price is CHF 45 (ca $45). There are some discounts available and you can check them at the counter.
The ride takes 10 minutes and it is quite scary and beautiful at the same time.
The structure of Säntis is extremely interesting in terms of its geology. We can clearly see different layers from different periods.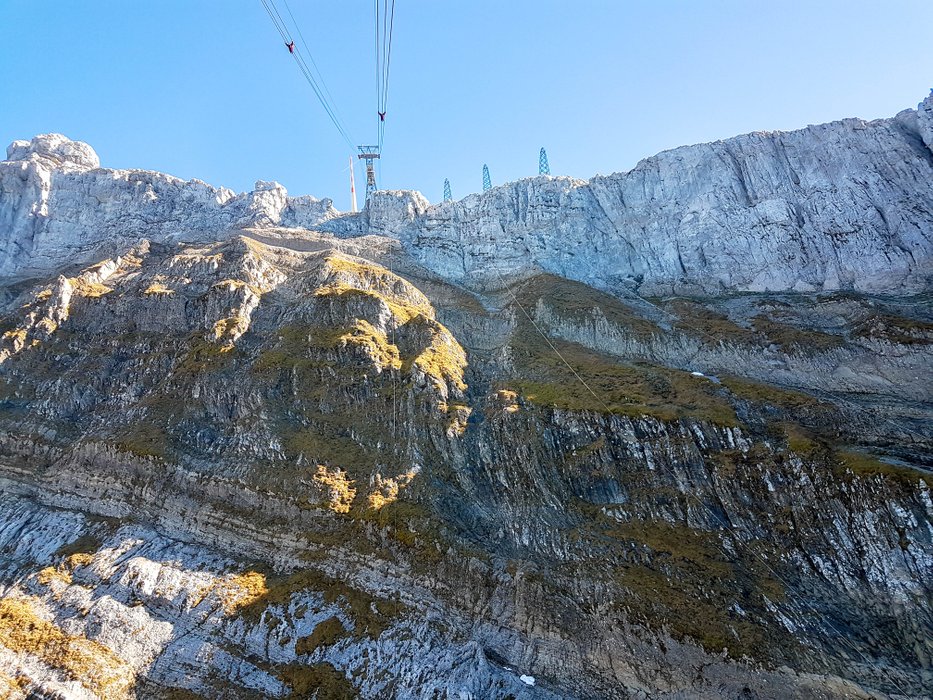 Samsung Galaxy S7
After 10 minutes (in my opinion it was several hours) I was the first one to get off the cabin. I could finally breath normally again. The first thing that I realized was the difference in temperature. In the valley it was 22 degrees Celsius, while on the mountain it was only 5 degrees Celsius. It was quite cold and windy, so we put on our jackets first.
I have forgotten about the ride and the temperature as soon as I saw this view. It was all worth it!
We can also see Churfirsten. This is a mountain range consisting of seven peaks in the canton of St. Gallen.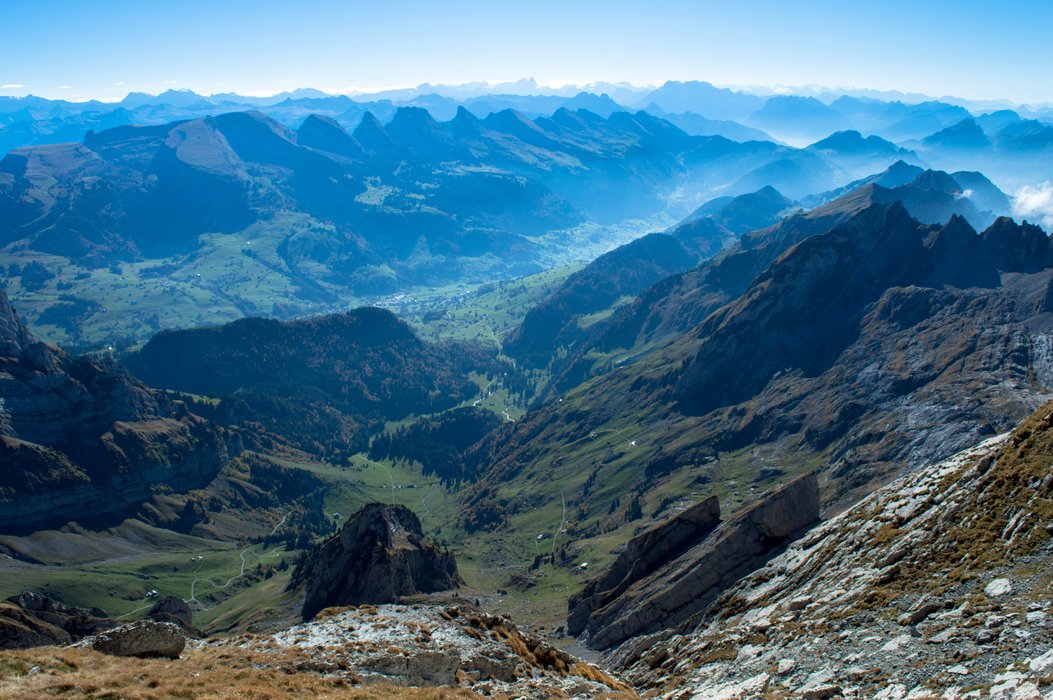 ISO 100 1/320 sec. f/10 18 mm
Let's start with walking around the platform..
There were some people who came up just to look around and have a meal with a view and then went down again. Not sure if this is the best use of the CHF 45 ride though 😊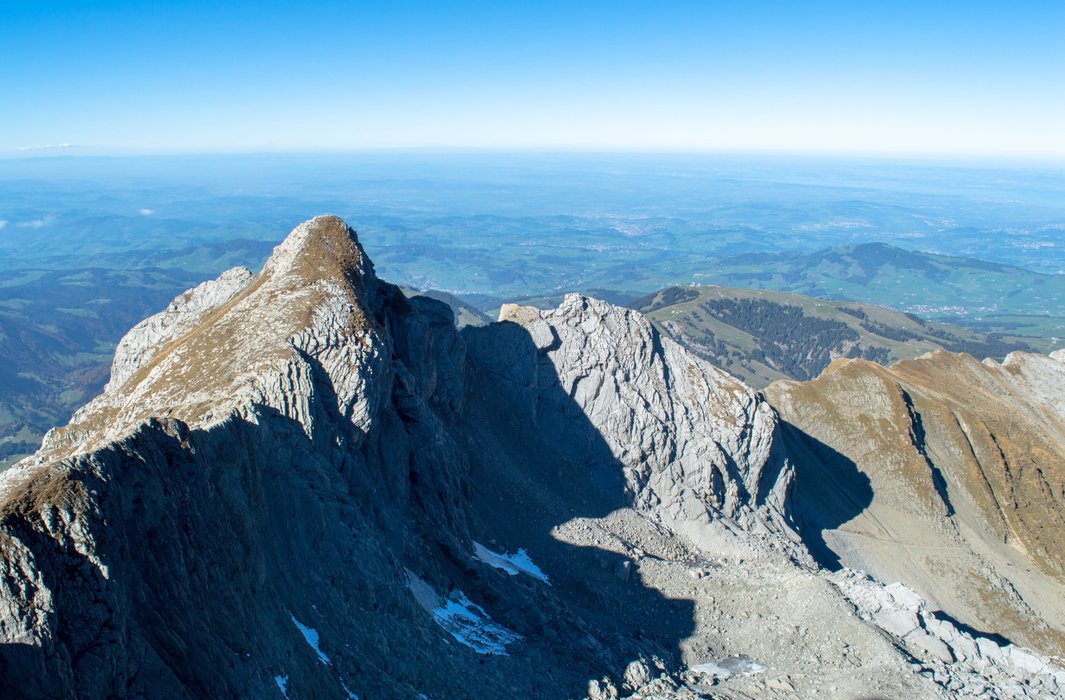 ISO 100 1/250 sec. f/10 18 mm
But it was not us! We will go to this mountain rim. We were told that I should manage to walk there even with my leg pain. Let's try it!
Once we get there we will see the Mount Altmann (on the left) and Wildhuser Schofberg (on the right) in the Alpstein Range in all their glory.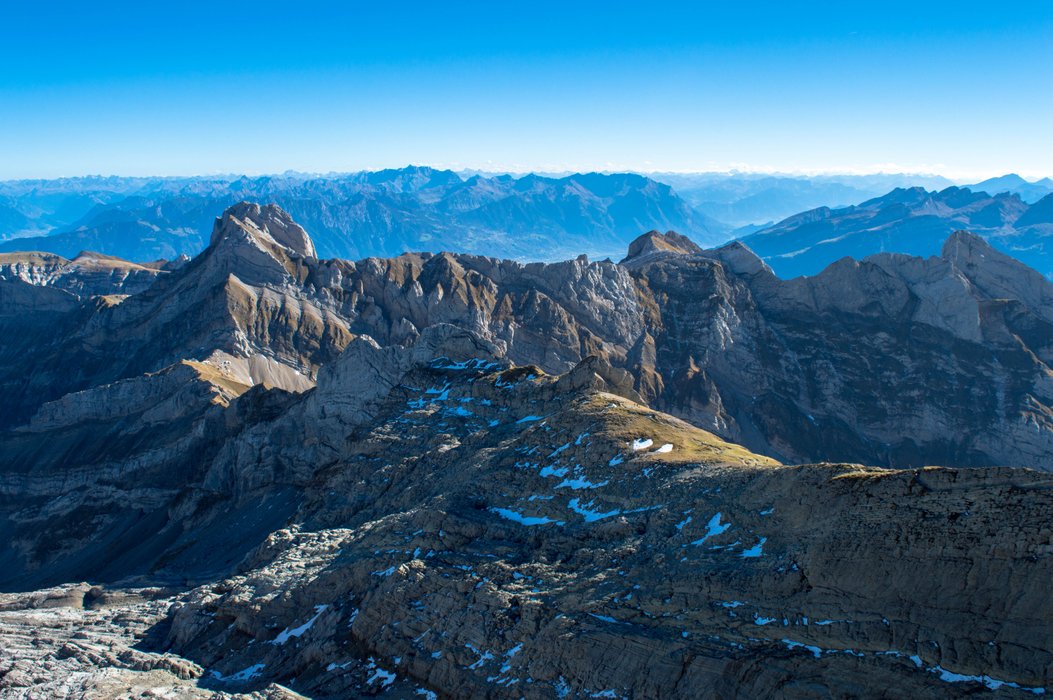 ISO 100 1/250 sec. f/10 18 mm
Our walk starts at the restaurant. Look at these stones. They are nicely put together to form some kind of statues. I wonder what happens when there is a strong wind as Säntis is known for its extreme weather conditions that are not typical for this region.
Let's walk around the restaurant to get to our hiking trail.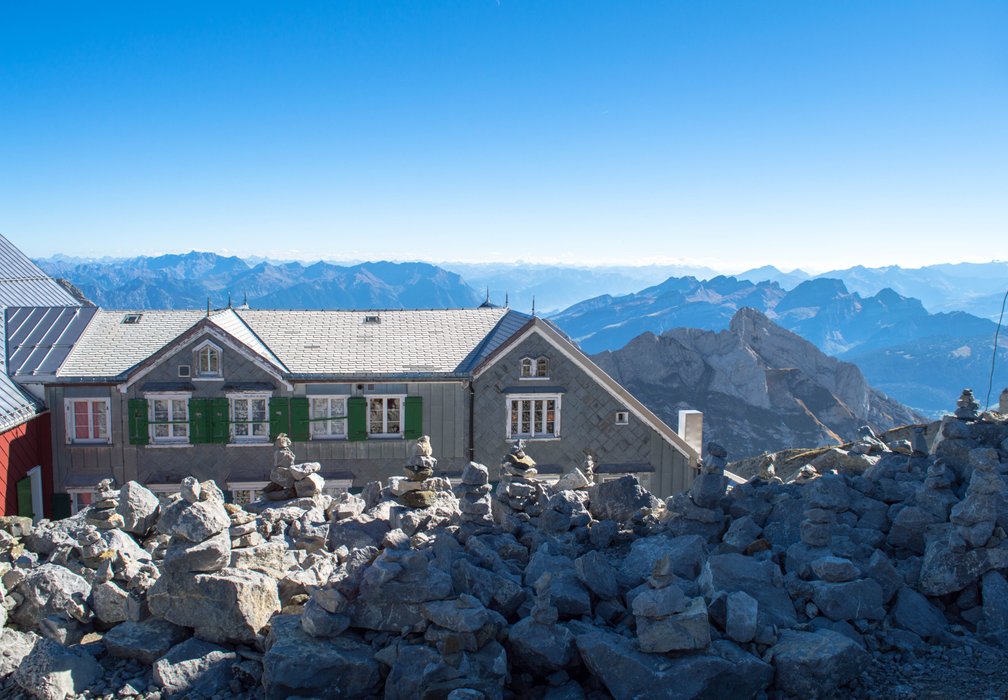 ISO 100 1/320 sec. f/8 18 mm
I hope you have good shoes as the trail looks rough. It is rather narrow as well so at some places we hoped that there won't be anyone coming from the opposite direction..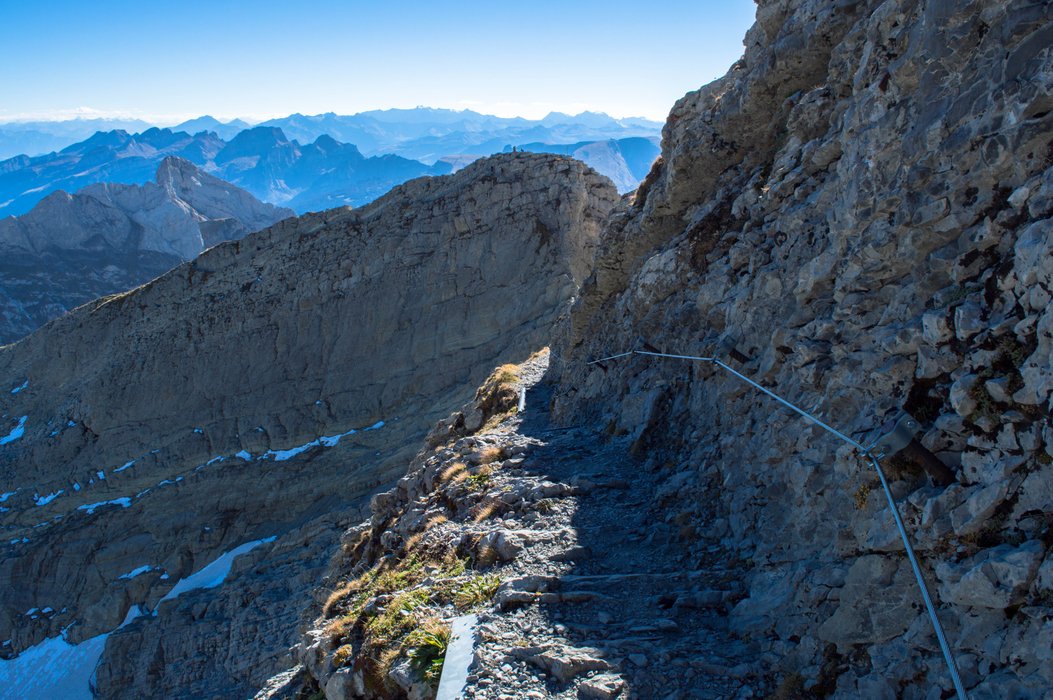 ISO 100 1/320 sec. f/9 18 mm
The path leads us down, then up to the top of this mountain and then down again. Wouldn't it be easier just to build the trail around the mountain?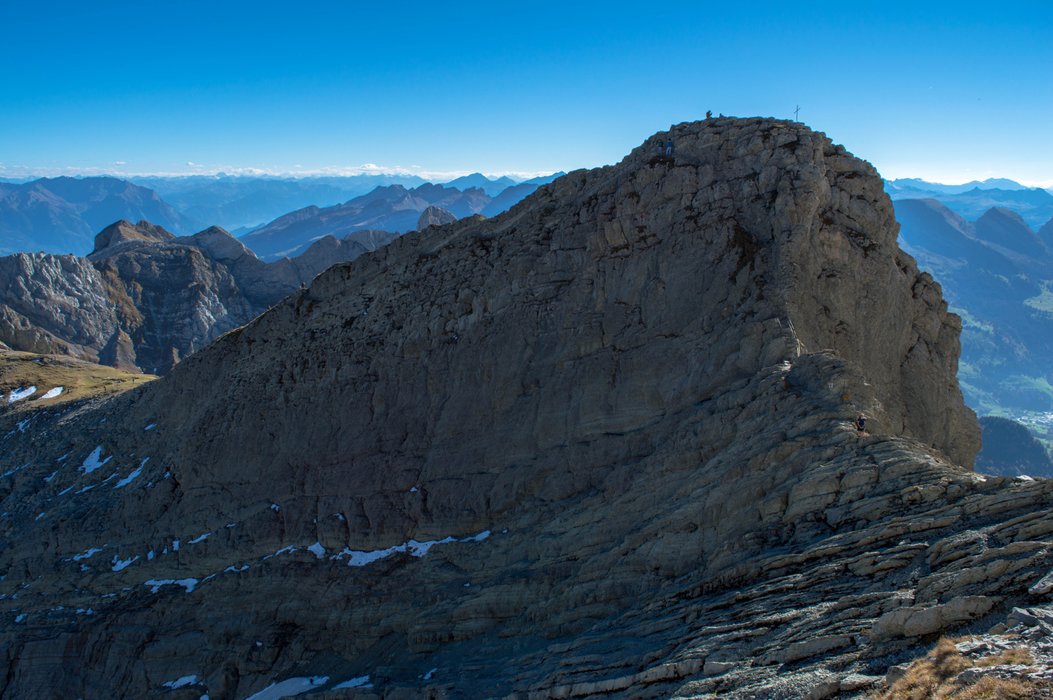 ISO 100 1/320 sec. f/9 18 mm
Let's stop for a minute and admire the surroundings before we go up..
Those teeth on the right are Silberplatten.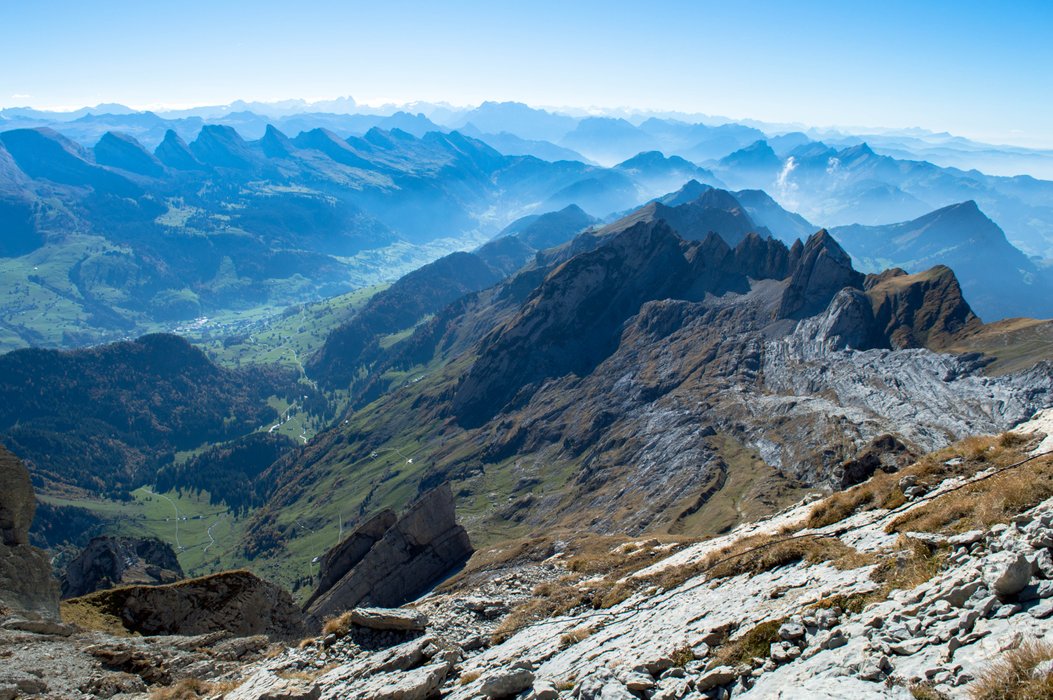 ISO 100 1/320 sec. f/9 18 mm
This is what it's called an easy trail over here 😊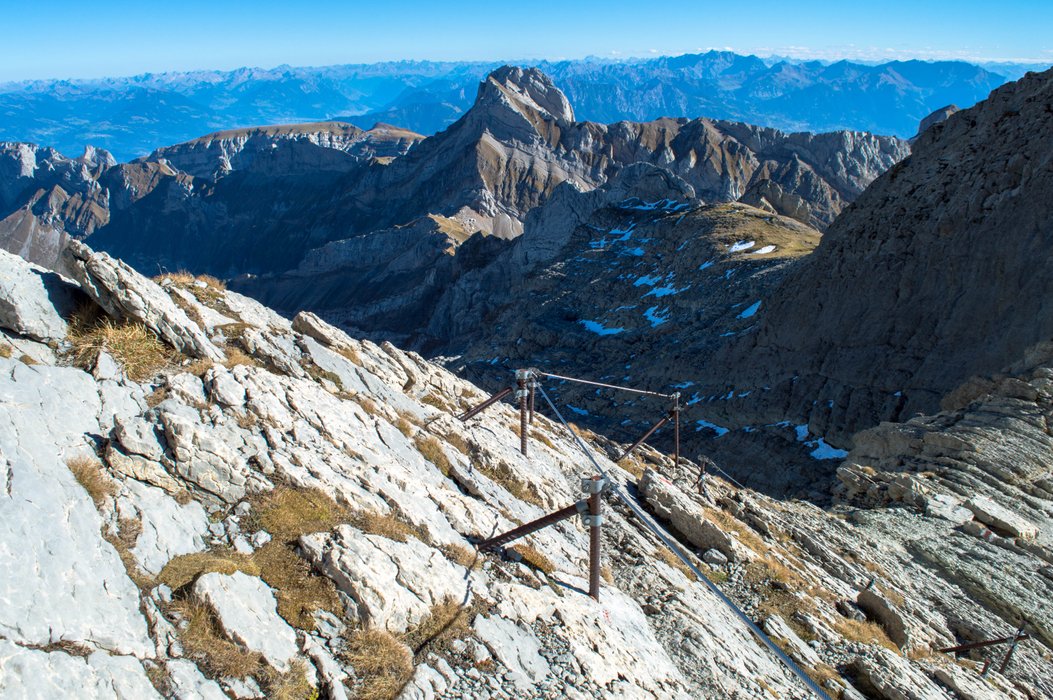 ISO 100 1/320 sec. f/9 18 mm
We can see the cross on the top already - almost there..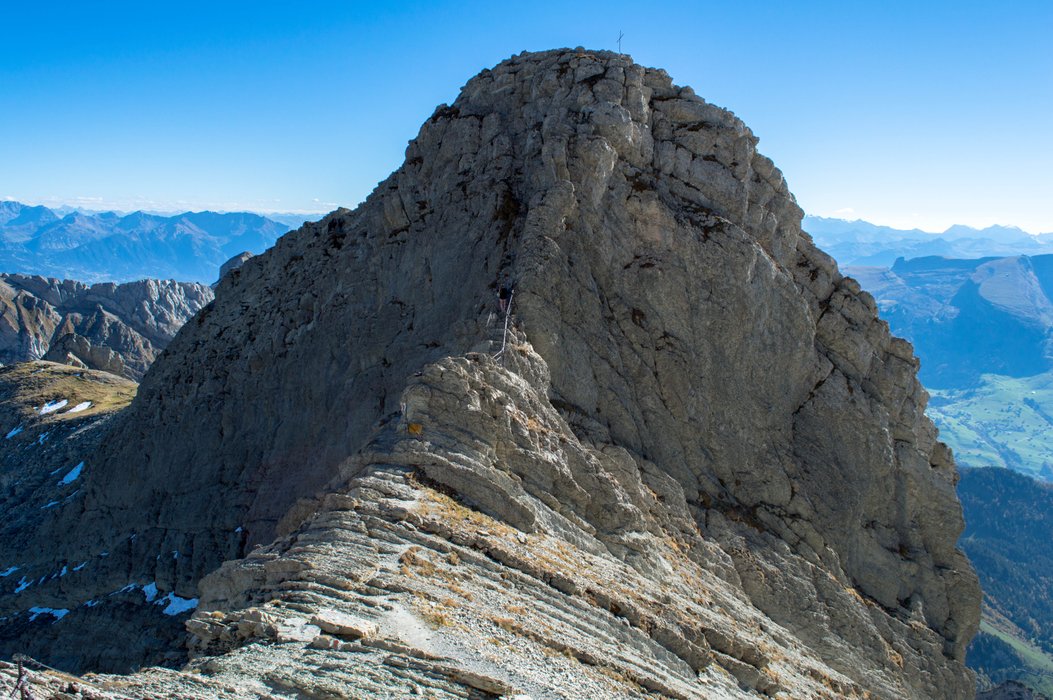 ISO 100 1/320 sec. f/9 18 mm
Getting closer.. Let me tell you that it was not easy.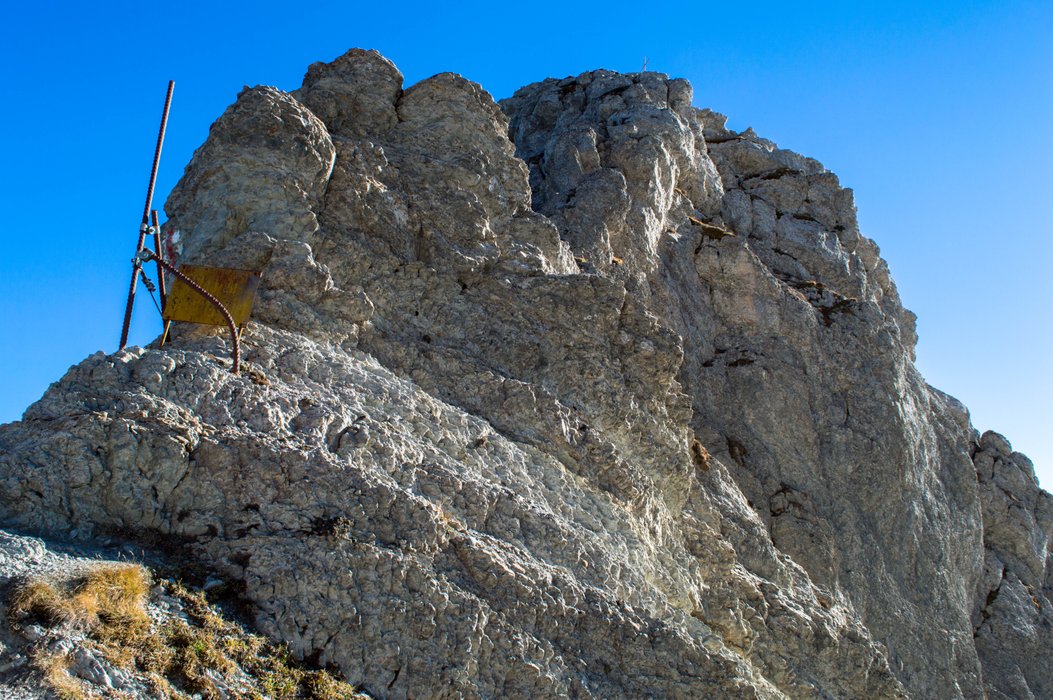 ISO 100 1/250 sec. f/9 18 mm
Before we reach the top we turn around to see how much we descended. To our surprise, it was not as much as we thought.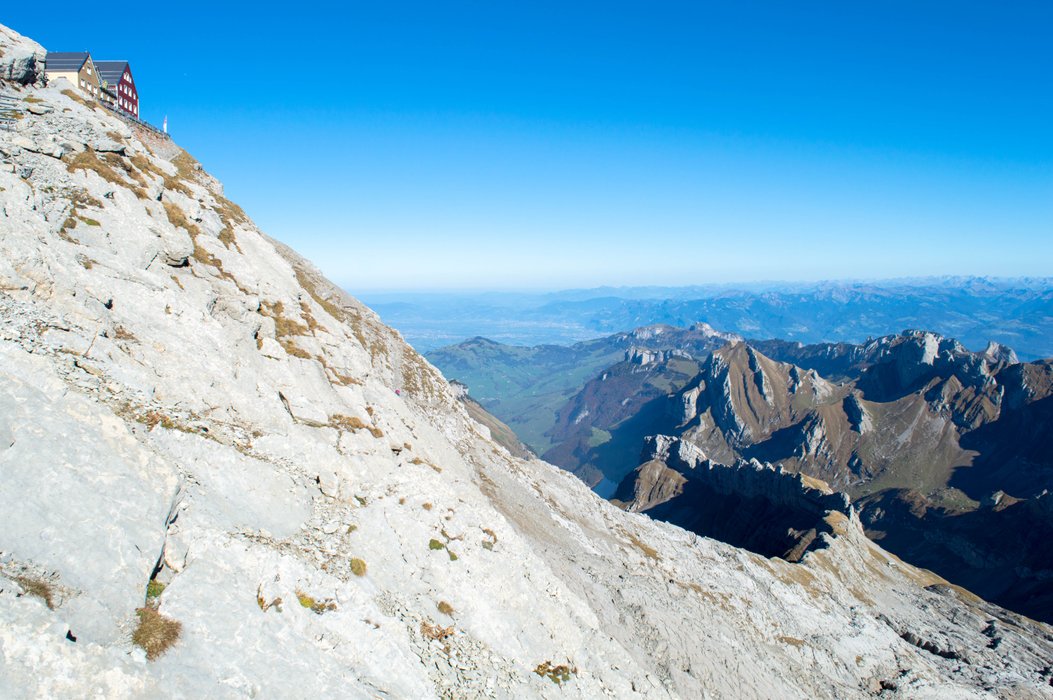 ISO 100 1/320 sec. f/10 18 mm
Hooray! We are finally in the middle of our hike. Look at this beauty!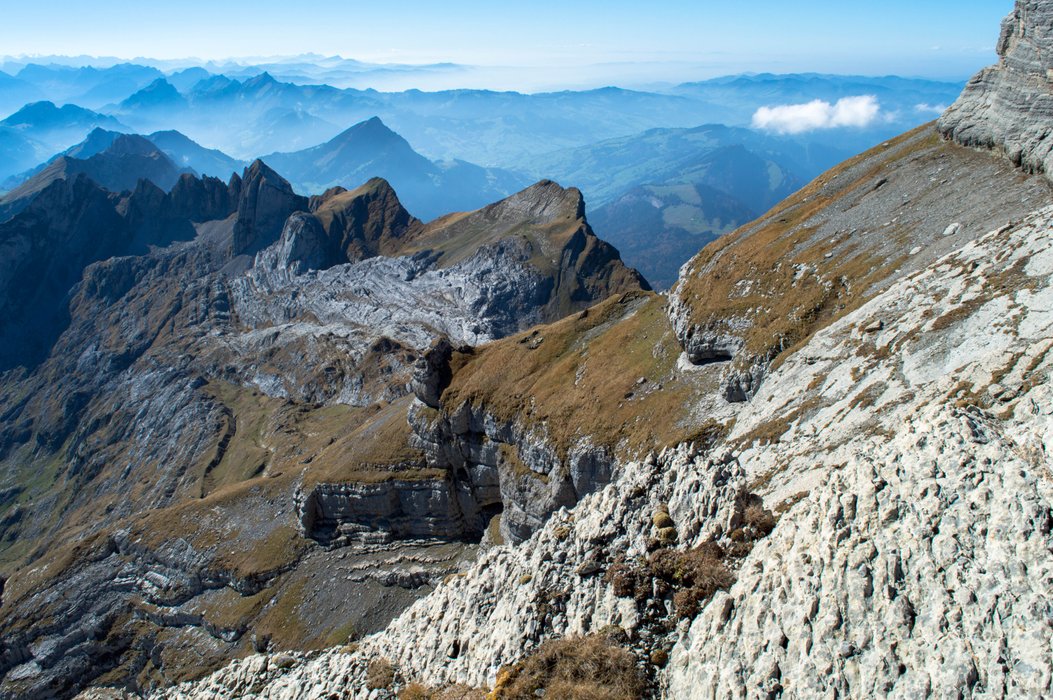 ISO 100 1/320 sec. f/10 18 mm
You can see the restaurant and the trail that we took.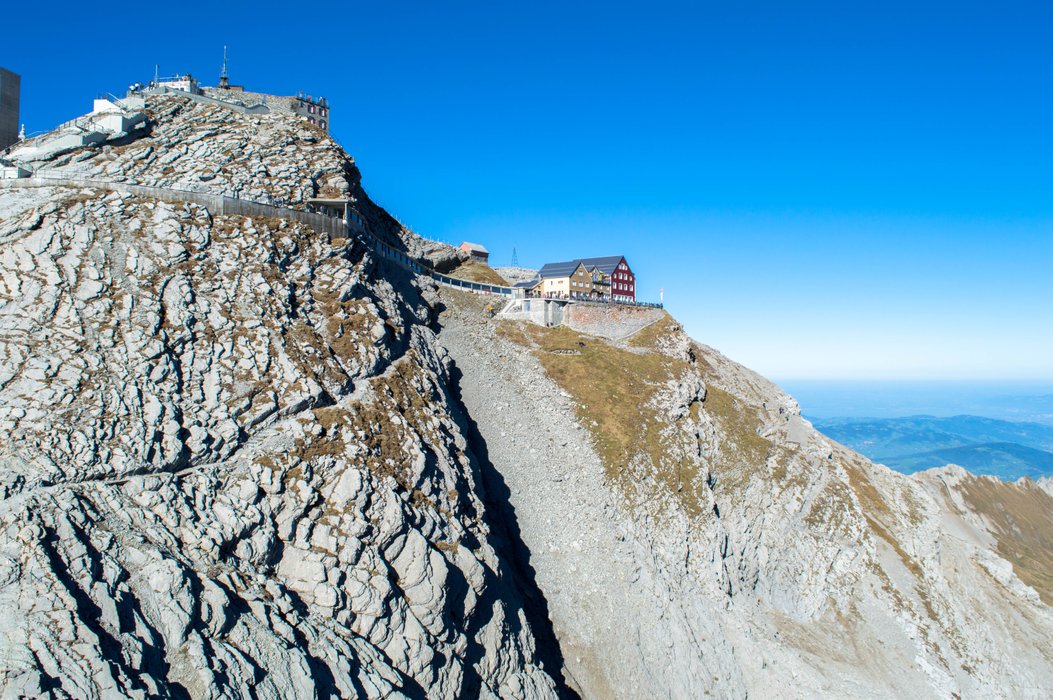 ISO 100 1/320 sec. f/9 18 mm
And now we will go down again 😊
Can you see the lake on the left? It's the Seealpsee and I'll take you there as well - just not today.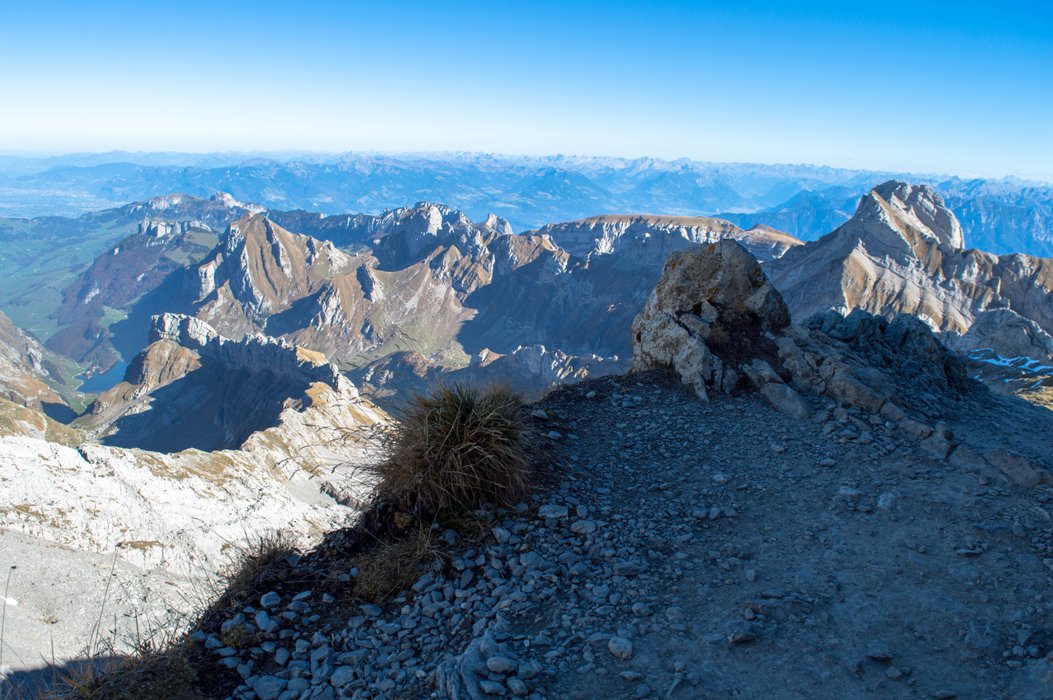 ISO 100 1/320 sec. f/9 18 mm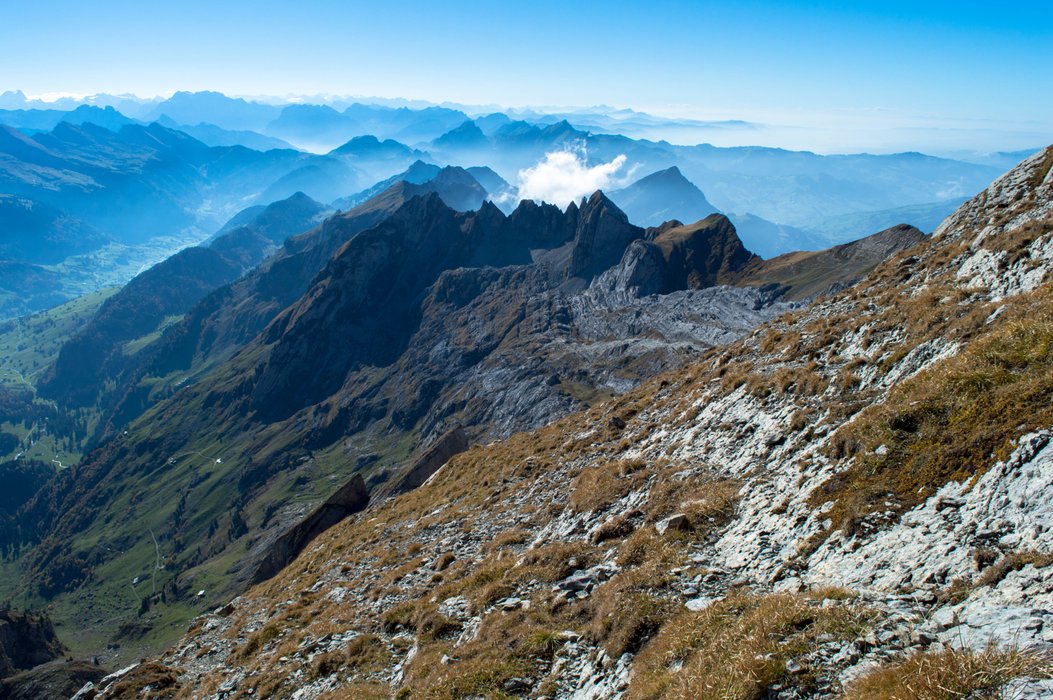 ISO 100 1/320 sec. f/10 18 mm
As we approach the mountain rid, the path becomes wider and easier to walk on.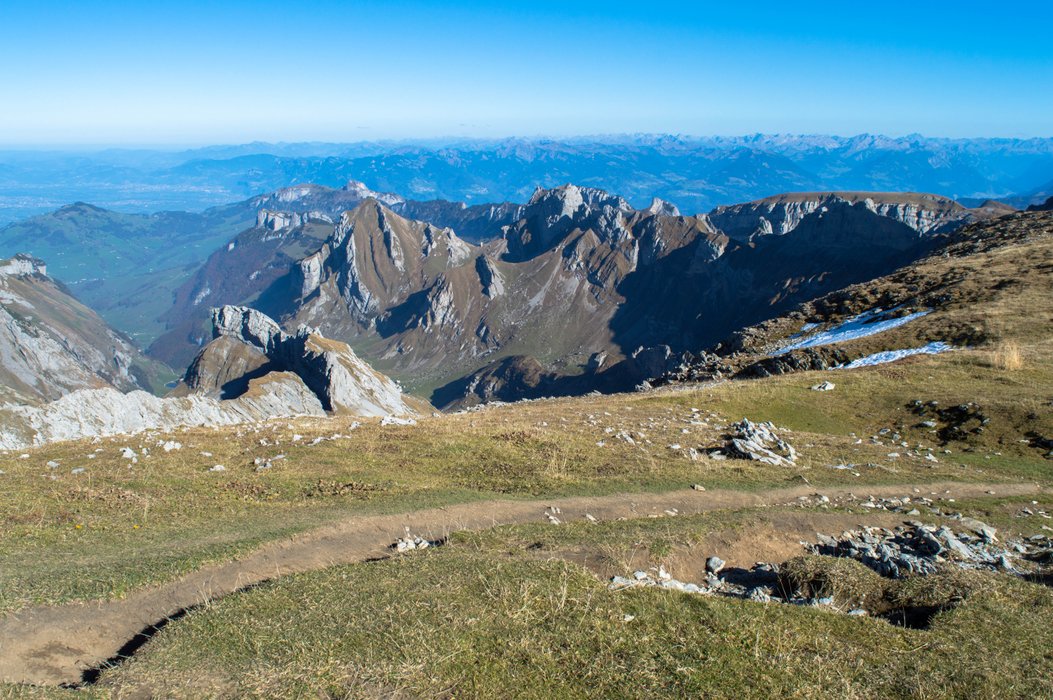 ISO 100 1/320 sec. f/10 22 mm
We can see far away..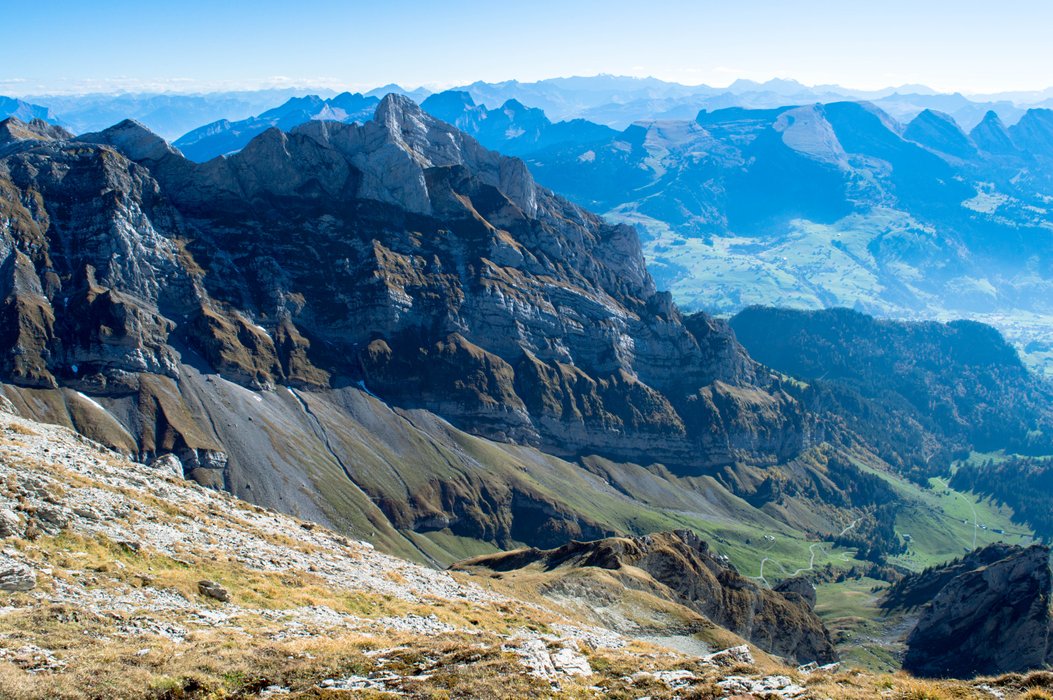 ISO 100 1/320 sec. f/10 18 mm
Can you spot that small statue?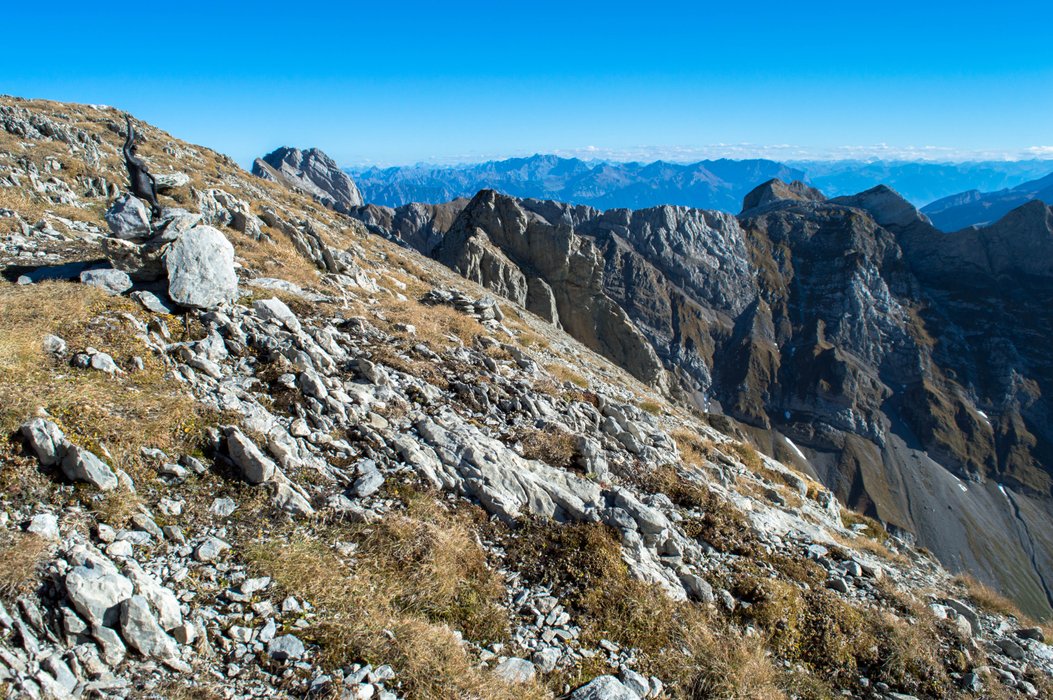 ISO 100 1/320 sec. f/10 18 mm
We are slowly coming to the end of our hike. The trail continues further down but my leg hurts so I have to go back. My conditions should be improved after the surgery, so I hope to continue this hike next year.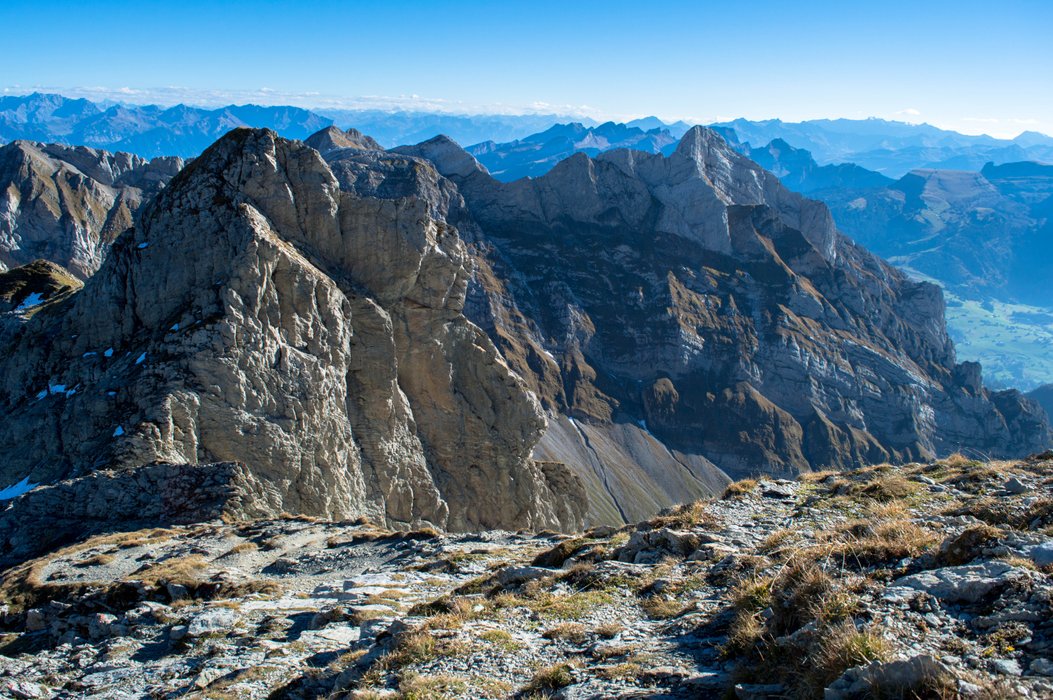 ISO 100 1/320 sec. f/9 18 mm
In total we walked around 8000 steps which doesn't seem a lot but it's more than enough on such a rough trail.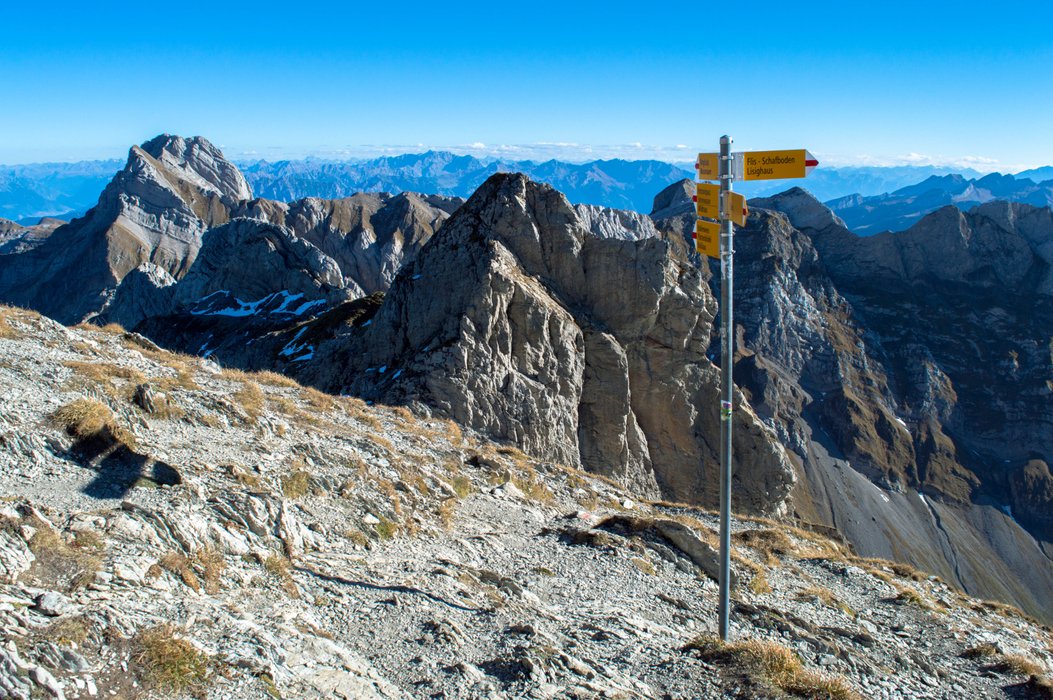 ISO 100 1/500 sec. f/9 18 mm

Yes, I know this is not an ideal backpack for mountains but it's my favorite one! 😊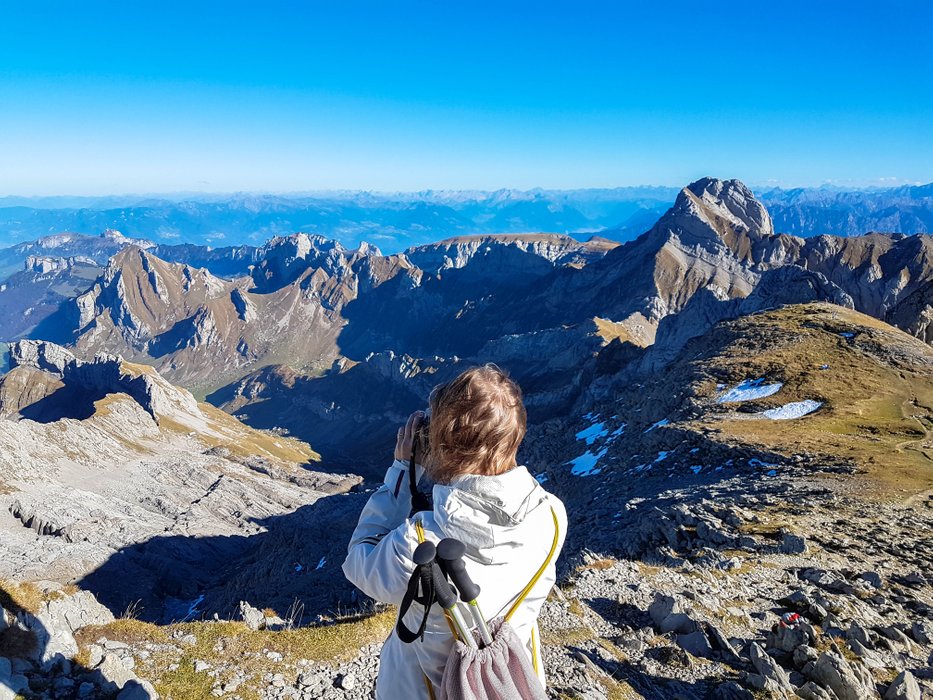 Samsung Galaxy S7
My pain was getting more and more annoying on the way back to the cable car.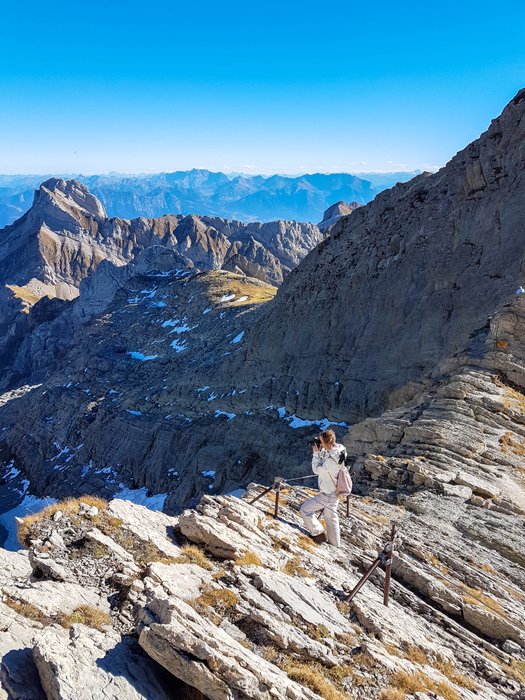 I didn't expect to be happy when I enter the cabin. On the way down I was more relaxed and those ten minutes actually took only ten minutes 😊
As usually, all photos are taken by my Nikon D3200 AF-S NIKKOR 18-55 mm 1:3.5-5.6 G II (except of the ones indicated in the text)
I hope you have enjoyed our hike!
Thank you for joining me!
Cheers,
Martina
I'm not sure how active I will be this week but I promise to answer all your comments.



Join us @steemitbloggers
Animation By @zord189