Are you ready for another trip with me in Mallorca? Fasten your seat belts as we're going to drive in mountains and the roads are curvy and narrow 😊 Are you asking where we're heading? Then continue reading 😊
There are too many places to see in Mallorca when you're only staying for one week. Even two weeks are not enough. All of these old villages and towns are so diverse and if you want to soak up their atmosphere you need to stay in each of them for at least a few hours. We didn't see as much as we wanted but we devoted one full day to the medieval city called Valldemossa.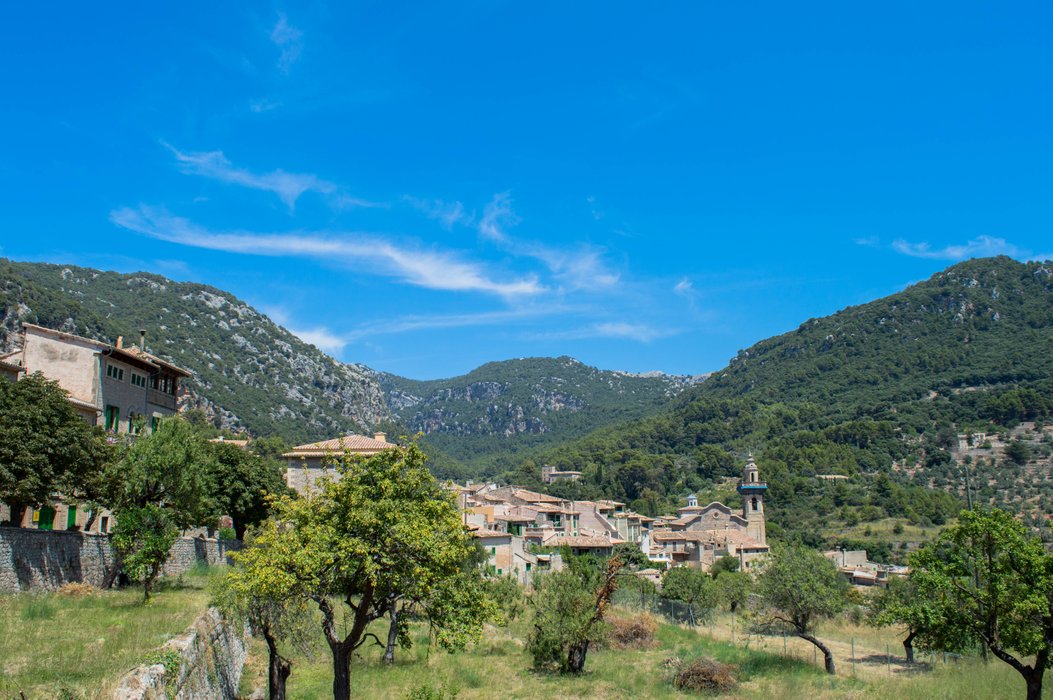 ISO 100 1/320 sec. f/9 18 mm

Valldemossa
Driving to Valldemossa is very adventurous as the town is located on the hilltop in The Serra de Tramuntana mountains. But trust me, you will not regret your decision to drive there. It is a hiking and biking paradise too.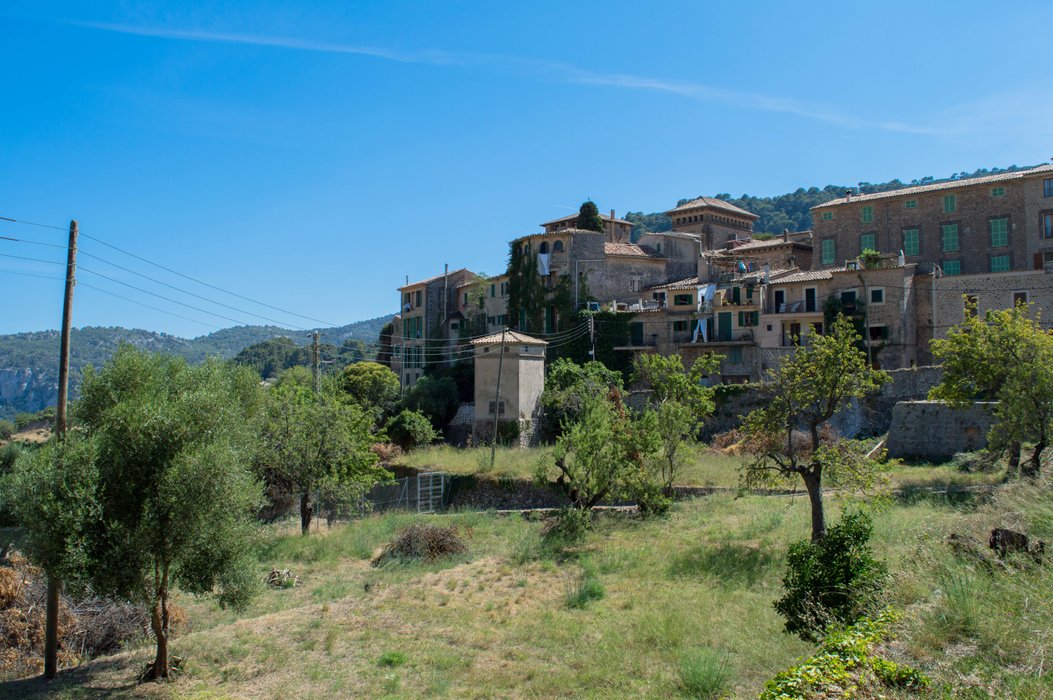 ISO 100 1/320 sec. f/9 18 mm
There are plenty of shops, boutiques and places to eat and drink. When we entered the city and I saw so many shops I thought there will be plenty of tourists around us and this is not what I enjoy to be honest. But we must have been very lucky here as there were just a few people.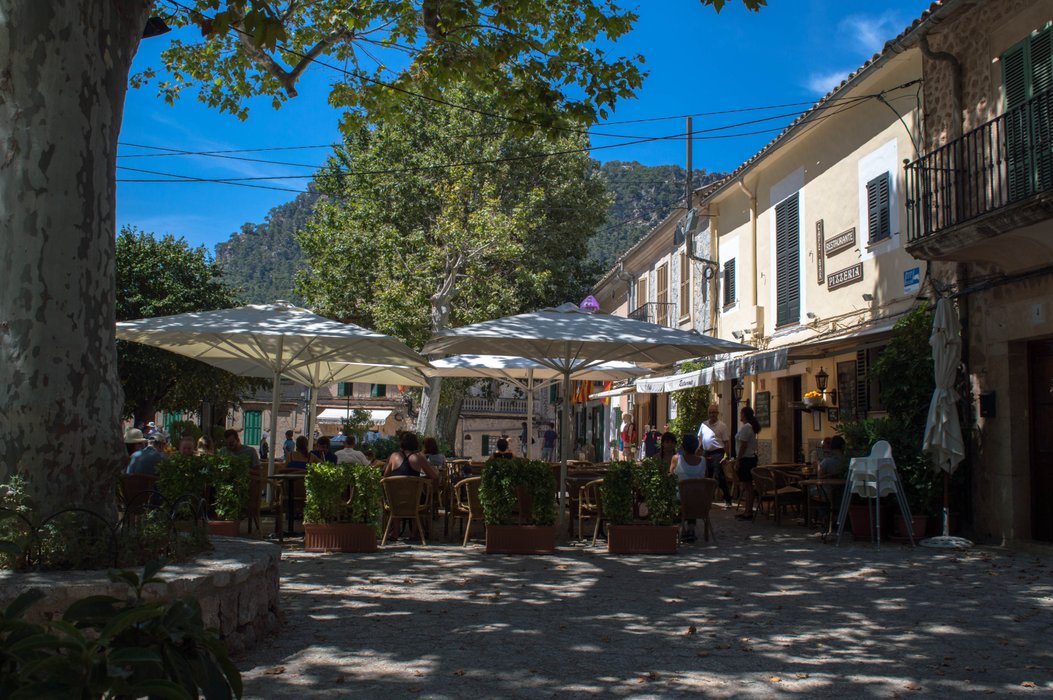 ISO 100 1/320 sec. f/9 22 mm
It's the highest town in Mallorca and as it's surrounded by mountains you will get to enjoy some beautiful views.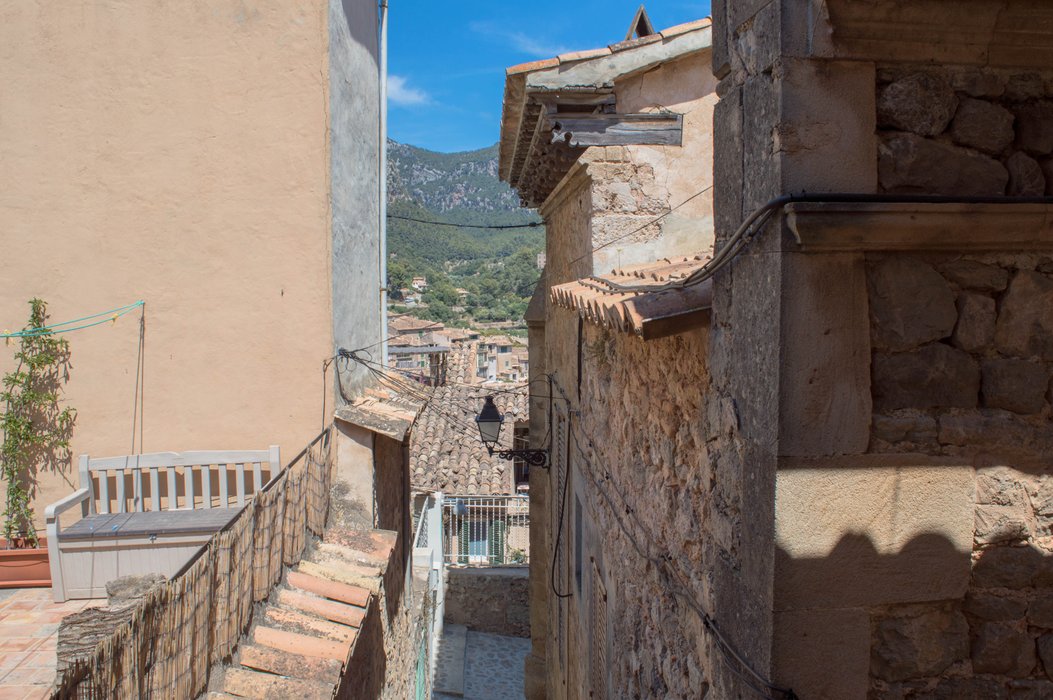 ISO 100 1/320 sec. f/9 18 mm
There is something that I love about towns here. The cobblestone streets and the Spanish architecture add up to their charm.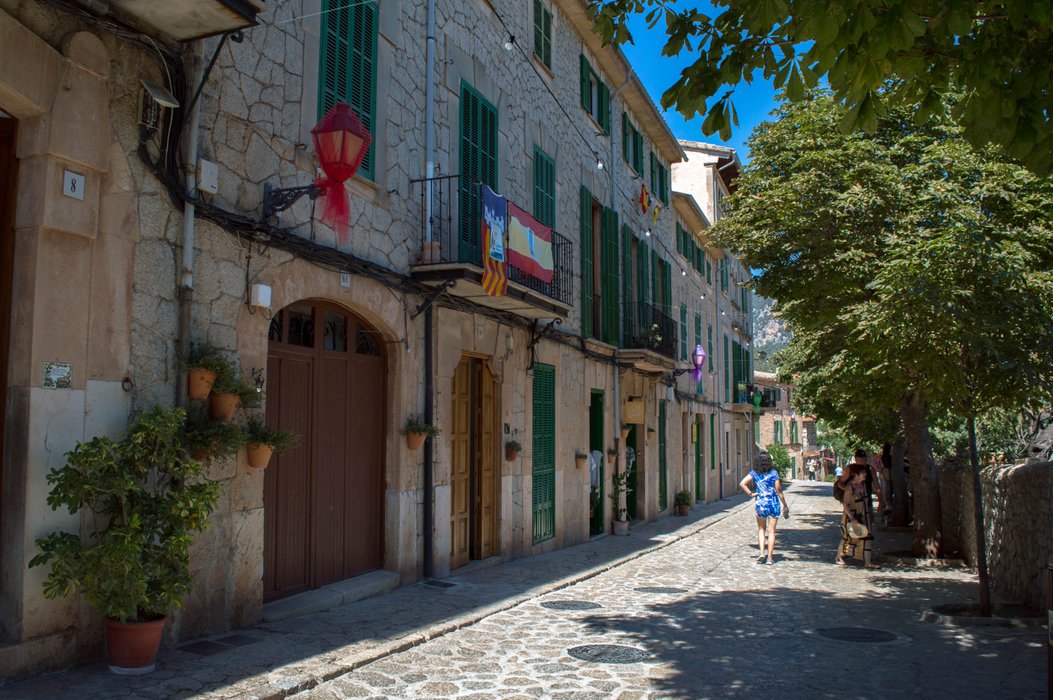 ISO 100 1/320 sec. f/9 18 mm
There are mountains wherever you look.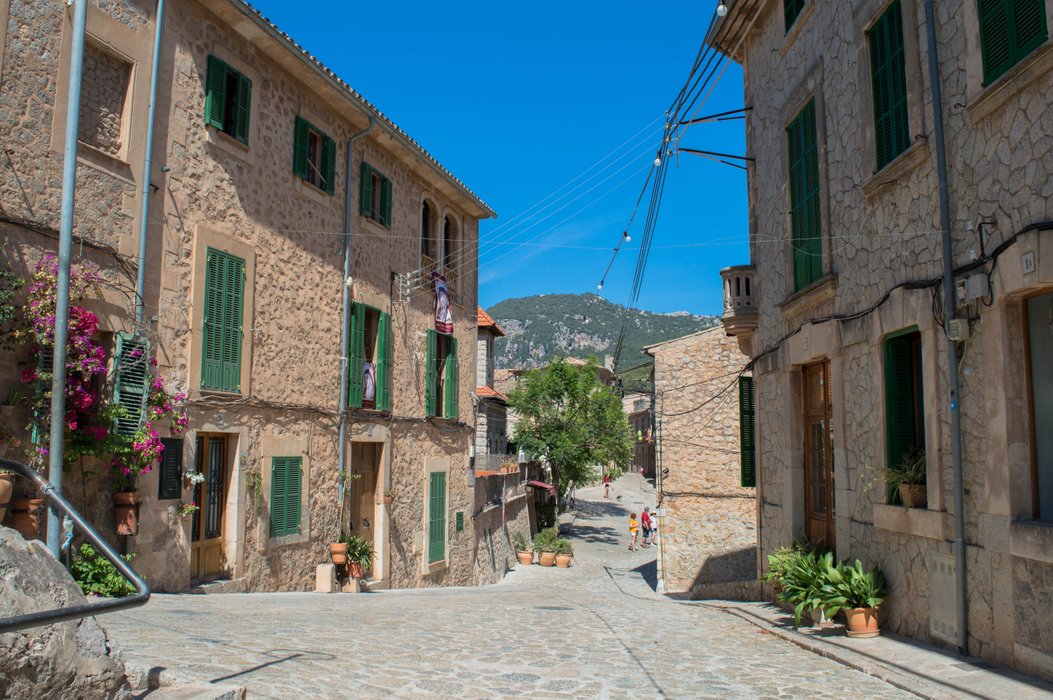 ISO 100 1/320 sec. f/9 18 mm
As the town is built on a hill get ready to climb up and down.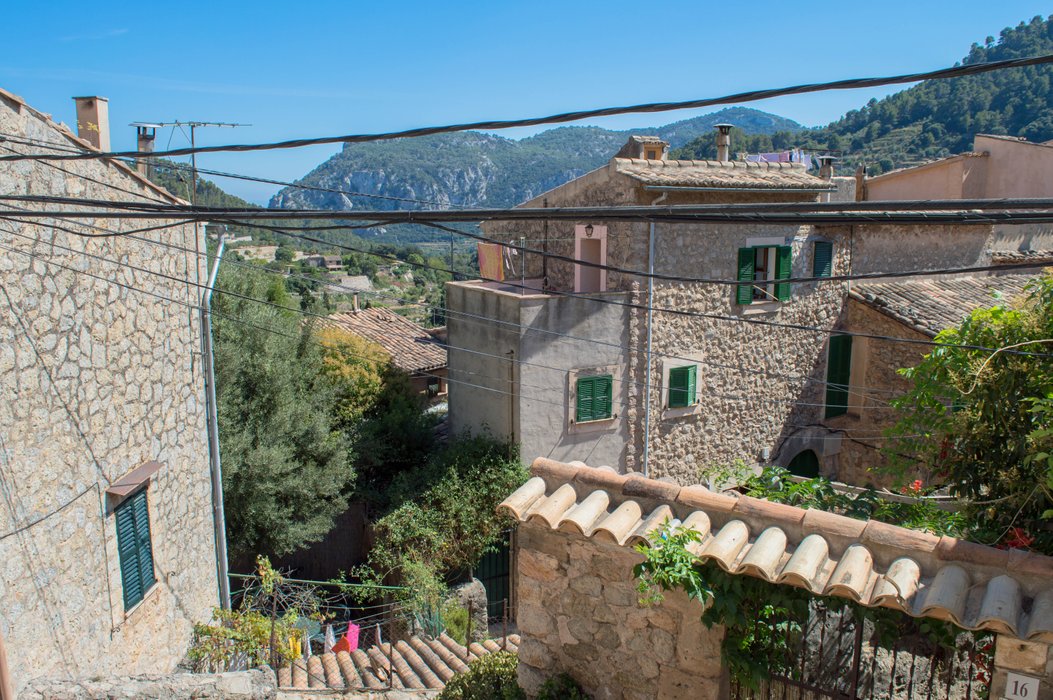 ISO 100 1/320 sec. f/9 18 mm
Valldemossa has a rich history but it is mostly known as the place where the Polish composer Frédéric Chopin and his lover, the French writer George Sand (don't get suspicious - George was a woman 😊), spent the winter of 1838, staying in their rented rooms in the monastery. They didn't have the best time as Chopin was very sick. Ms. Sand wrote a bitter book about her time there. The book was not very appreciated by the locals as they felt insulted but it gave the town a certain popularity.
There is also a museum in the monastery dedicated to them.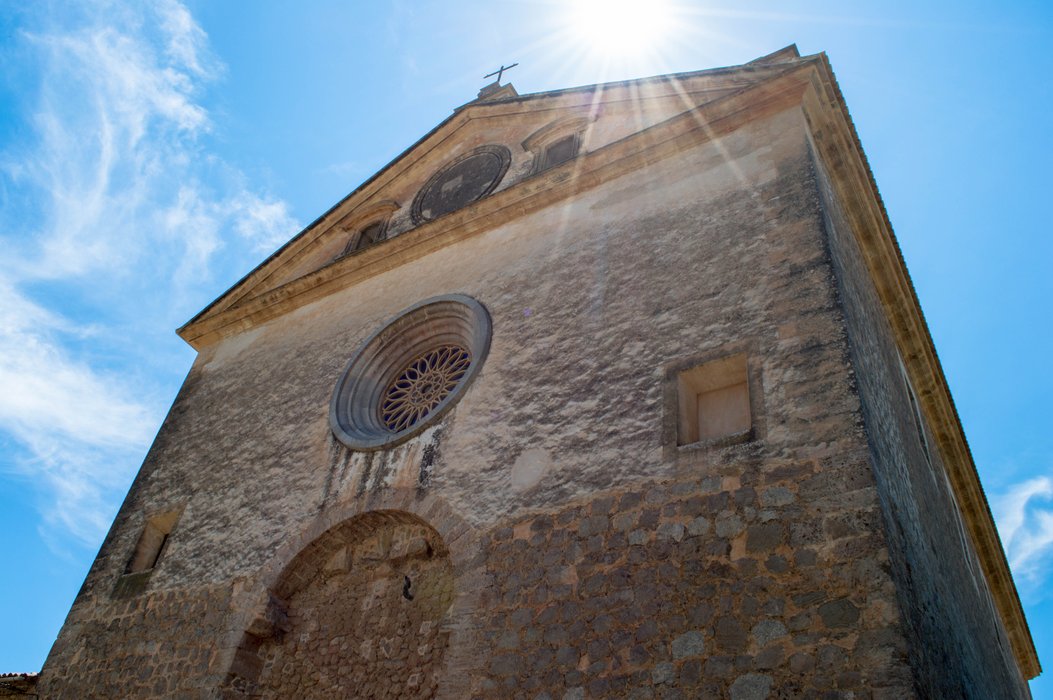 ISO 100 1/320 sec. f/9 18 mm
The monastery is in the back of the photo. As you can see it is the siesta time as there is just one person sitting on the terrace 😊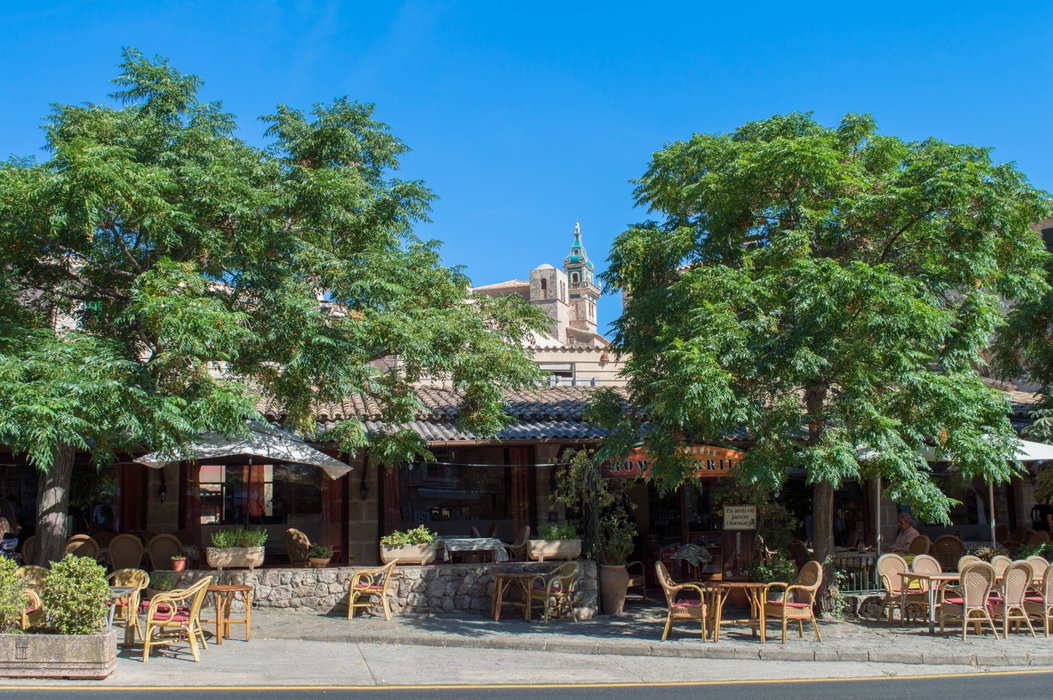 ISO 100 1/250 sec. f/9 24 mm

Santa Catalina Thomas and festivities
Valldemossa has a special meaning for locals as it is a birthplace of the island's only saint Santa Catalina Thomas. She is present everywhere in the town.
She was born in 1531 as Caterina Thomàs i Gallard. She was knows as a visionary. She saw visions of Saint Catherine of Alexandria, Saint Anthony of Padua and angels prophesying the future. She also had visions of struggle with the Devil who wanted to separate her from God's will. She died at the age of 43 and her body is kept in Palma.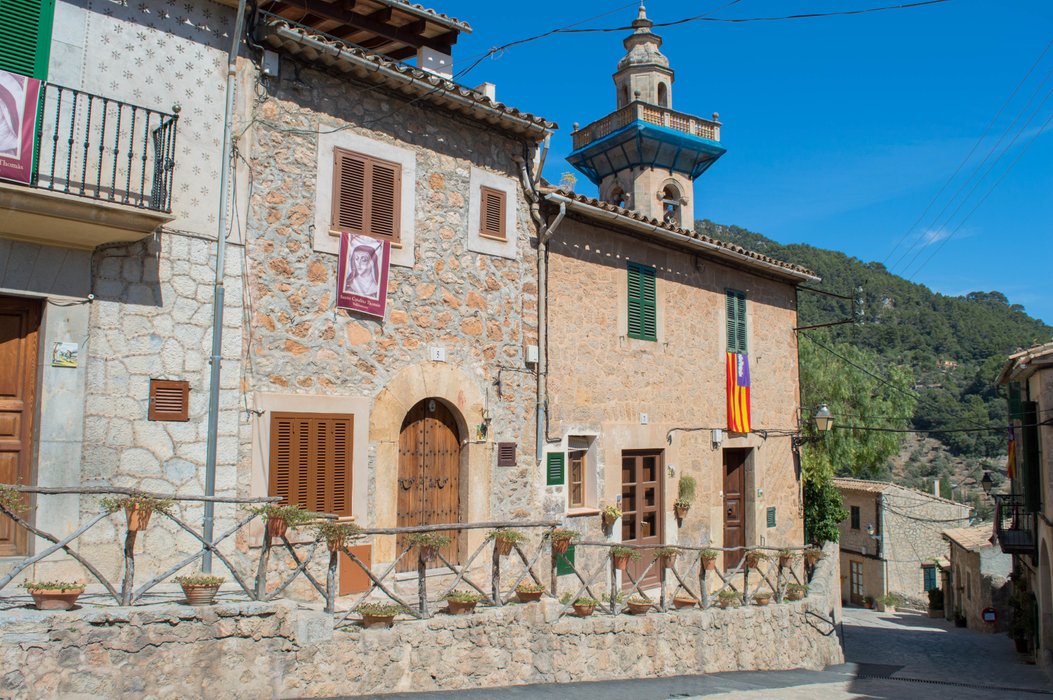 ISO 100 1/320 sec. f/9 18 mm
There is also a statue devoted to Santa Catalina Thomas. I loved the flowers covering one part of it!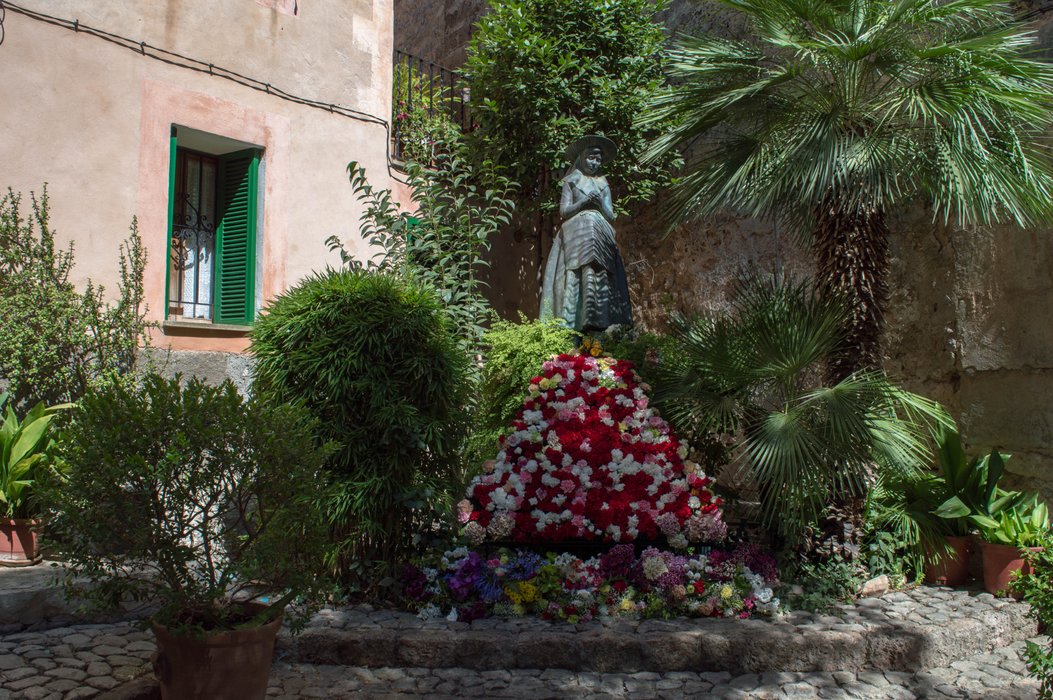 ISO 100 1/320 sec. f/9 20 mm
We came one day before the Patron saint festival (this festival is held in honor of Santa Catalina Thomas) and Valldemossa was getting ready for the festivities.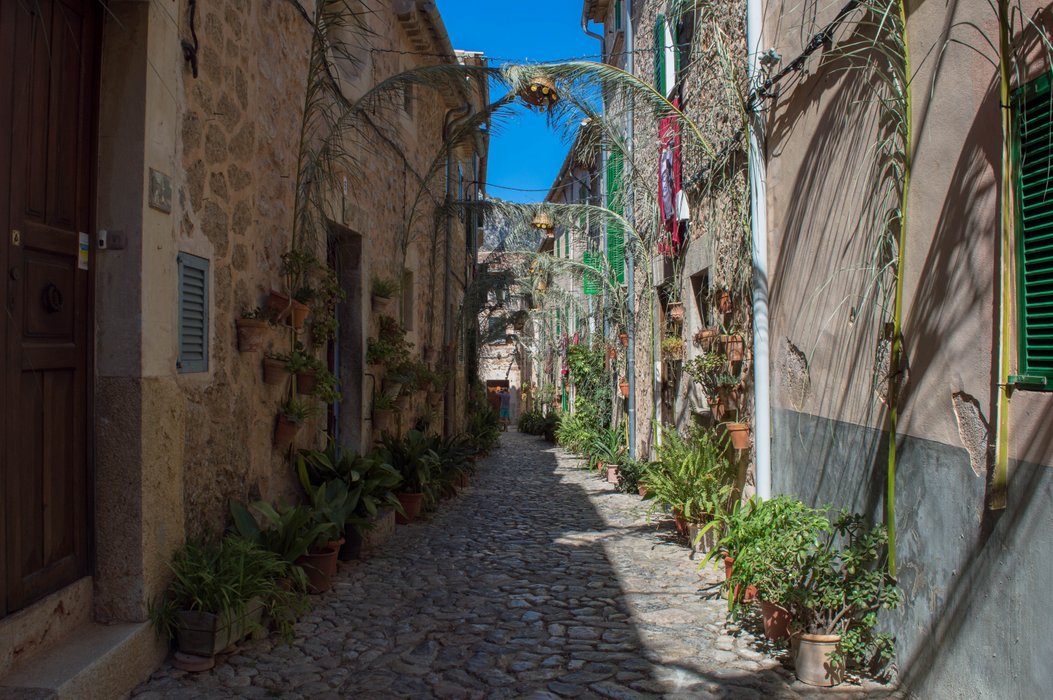 ISO 100 1/320 sec. f/9 18 mm
The church is dedicated to Saint Bartholomew but as many times in Mallorca we couldn't go inside as it seems that most of the churches are only opened just right before the holy mass and they close again right after the mass - at least this is our experience.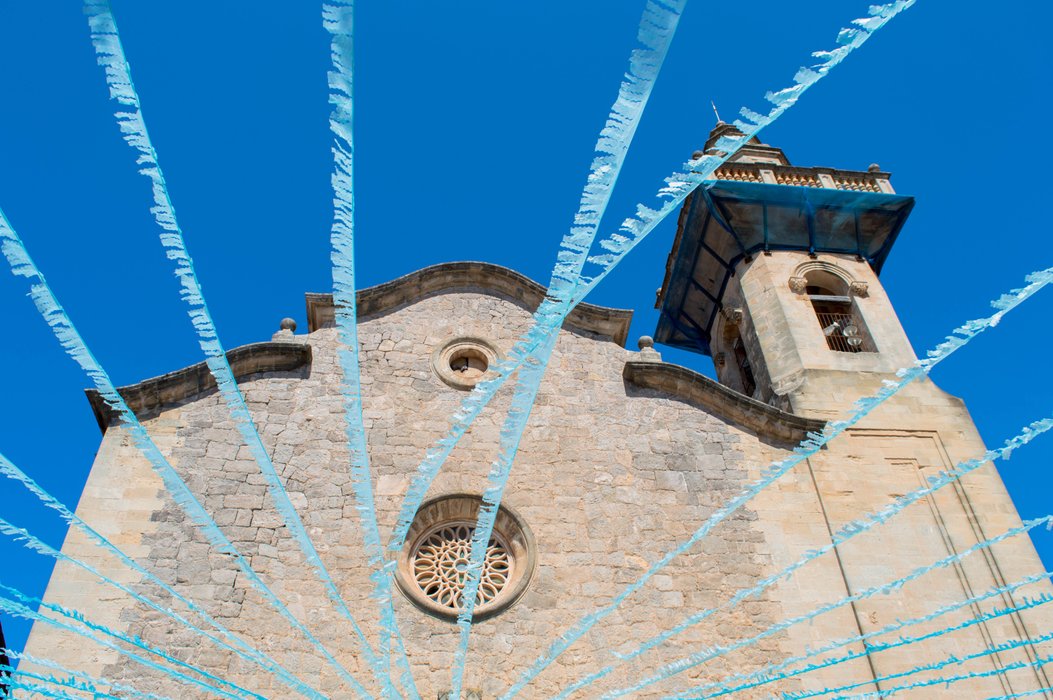 ISO 100 1/320 sec. f/9 18 mm
The decoration was so colorful and it was dancing in the strong wind. As it's located in the mountains and its streets are mostly narrow, Valldemossa is a very windy town.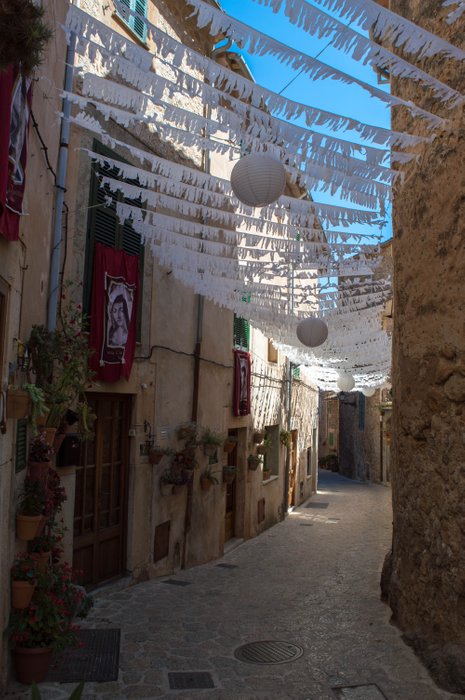 There was some decoration behind every corner. I've seen mainly three colors - blue, green and white. I think that similar patron festivities are held across the island as well as we've seen the same decoration in other towns and villages too. During this time you can enjoy some concerts, open-air dances, outdoor dinners, water activities or folklore shows.
I really liked the festive feeling even though the streets were deserted at that moment. We have seen just a few locals here and there. The Spanish (at least in small towns) take their siesta time very seriously.
From what we've seen I can say that in small towns most of the restaurants and shops are closed and there is almost no chance to get anything to eat or drink during this time. But we always carry a little snack and a bottle of water with us so no biggie 😊
As Valldemossa is a bit bigger we have found a small bistro where we got some refreshment. I love fresh orange juice in Spain! So sweet!
I'd like to show you a few more impressions of the decoration.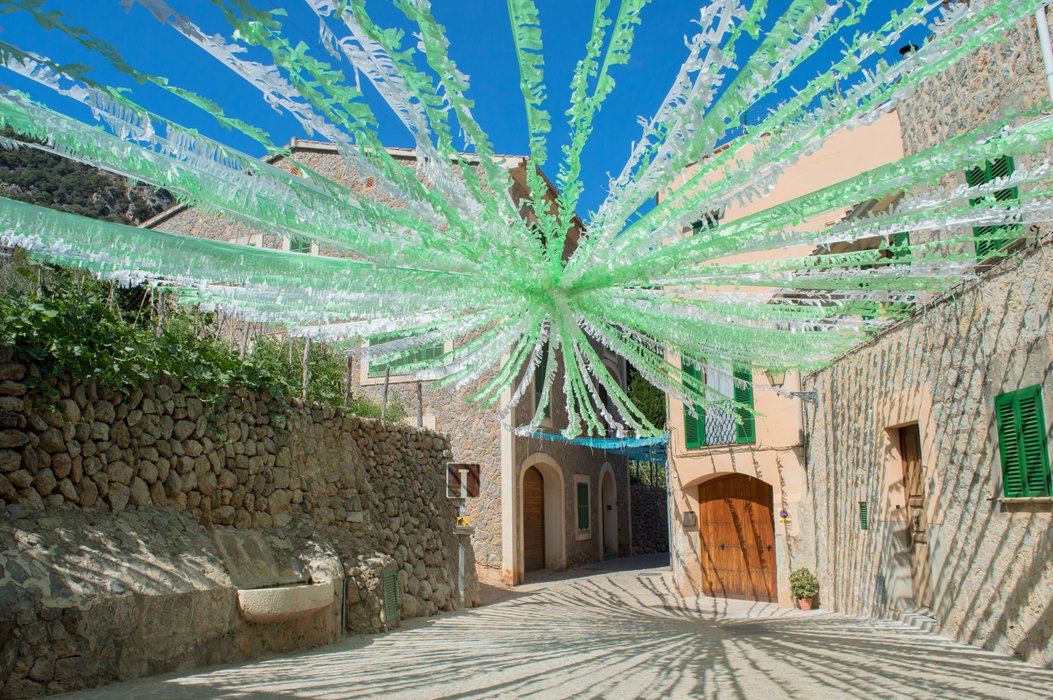 ISO 100 1/320 sec. f/9 18 mm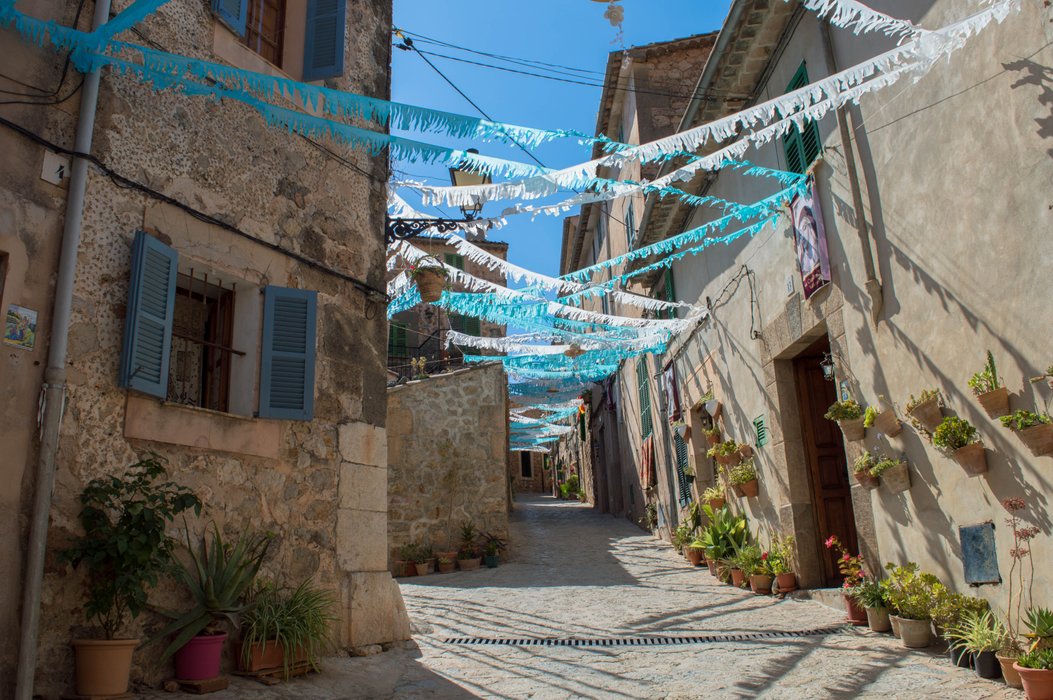 ISO 100 1/320 sec. f/9 18 mm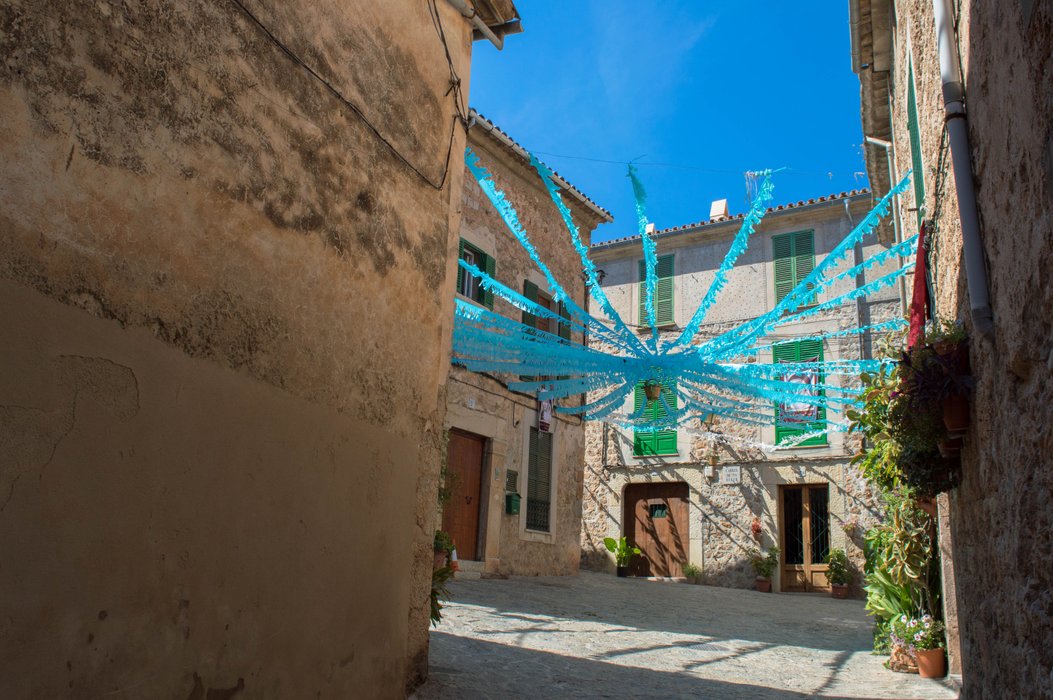 ISO 100 1/320 sec. f/9 18 mm

On the way back...
We took a different road on the way back (even worse than on the way here) and we got rewarded by some amazing views of the sea.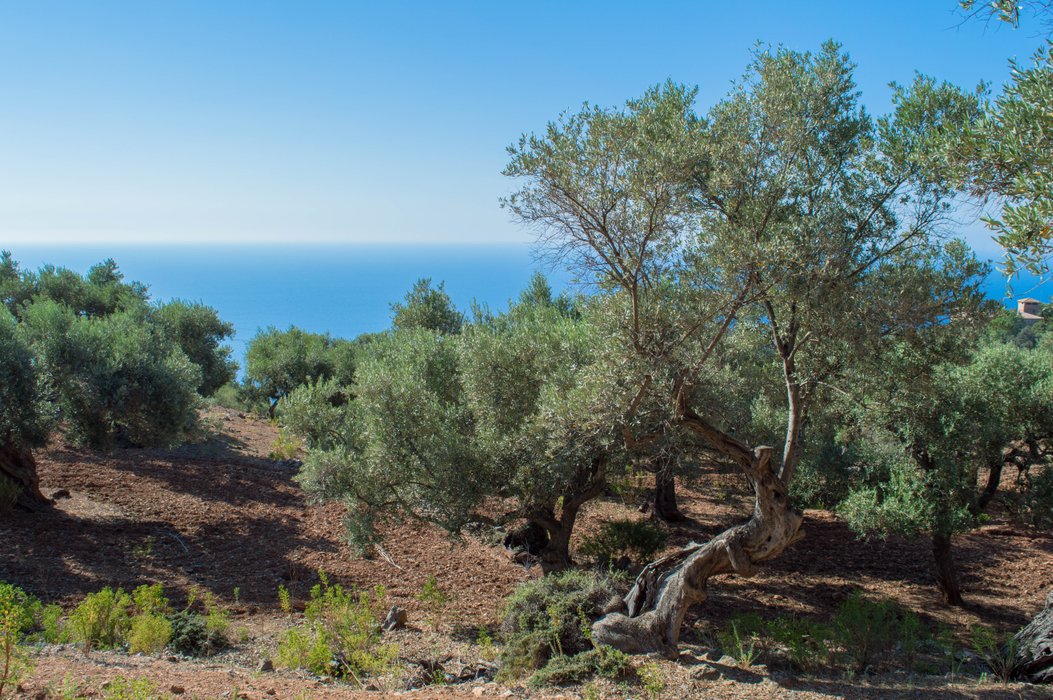 ISO 100 1/250 sec. f/9 20 mm
We tried to stop and take some photos whenever it was possible as the views were so nice. Well, it was not as often as I would wish but we will have to treasure some views only in our memories 😊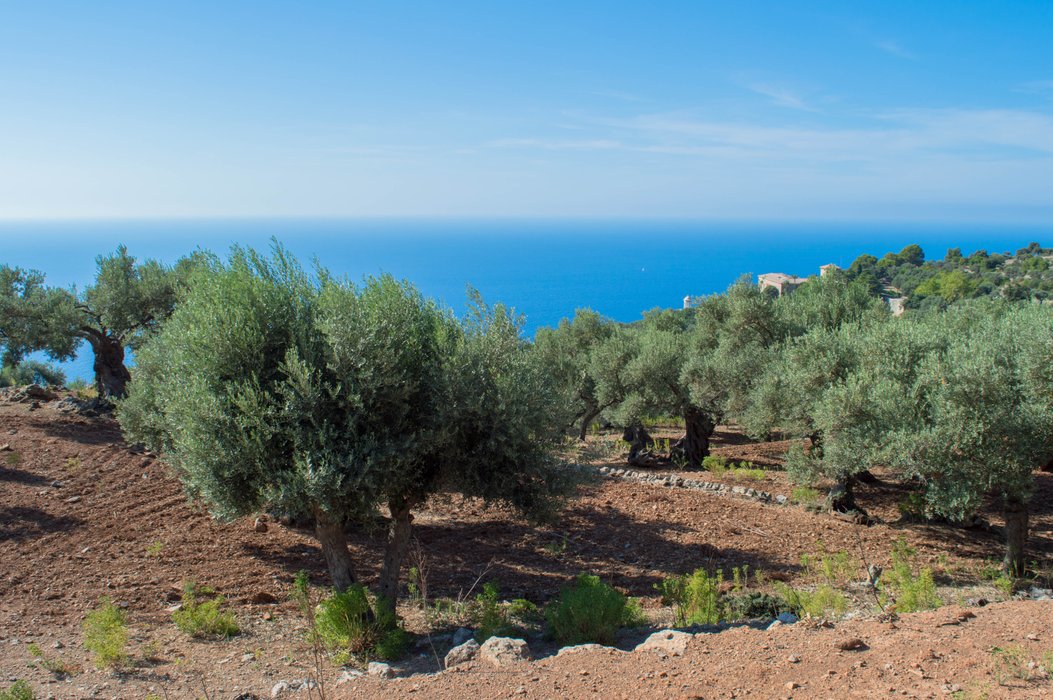 ISO 100 1/250 sec. f/9 20 mm
While trying not to get car sick I suddenly noticed a sign for a restaurant. That was such a blessing as I needed to take a break from driving! And it turned out to be a view point too! The restaurant is called Mirador de na foradada so follow the sign when you're on the way from Valldemossa in direction of Deia. The views from there are brilliant!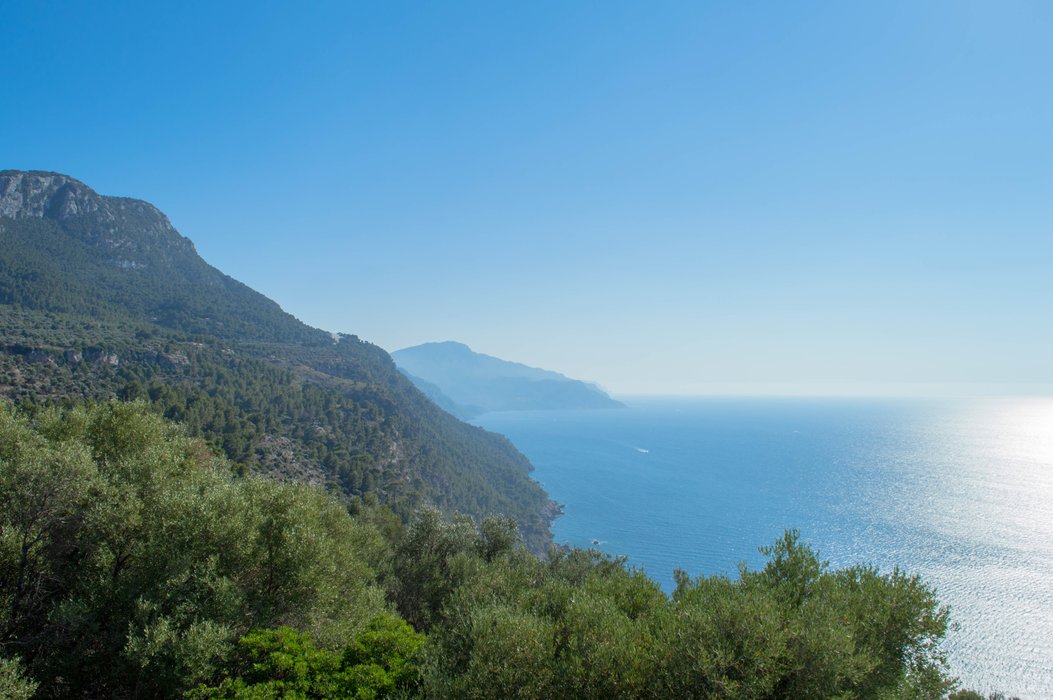 ISO 100 1/320 sec. f/9 18 mm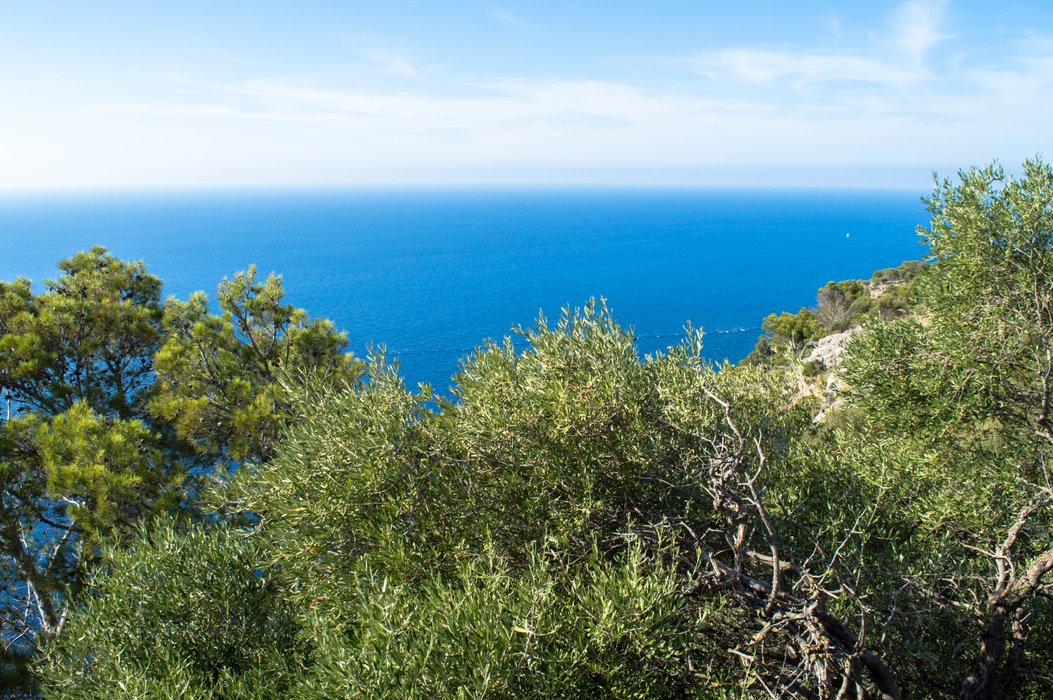 ISO 100 1/320 sec. f/9 18 mm
After we continued our drive we could still see the sea from a long distance.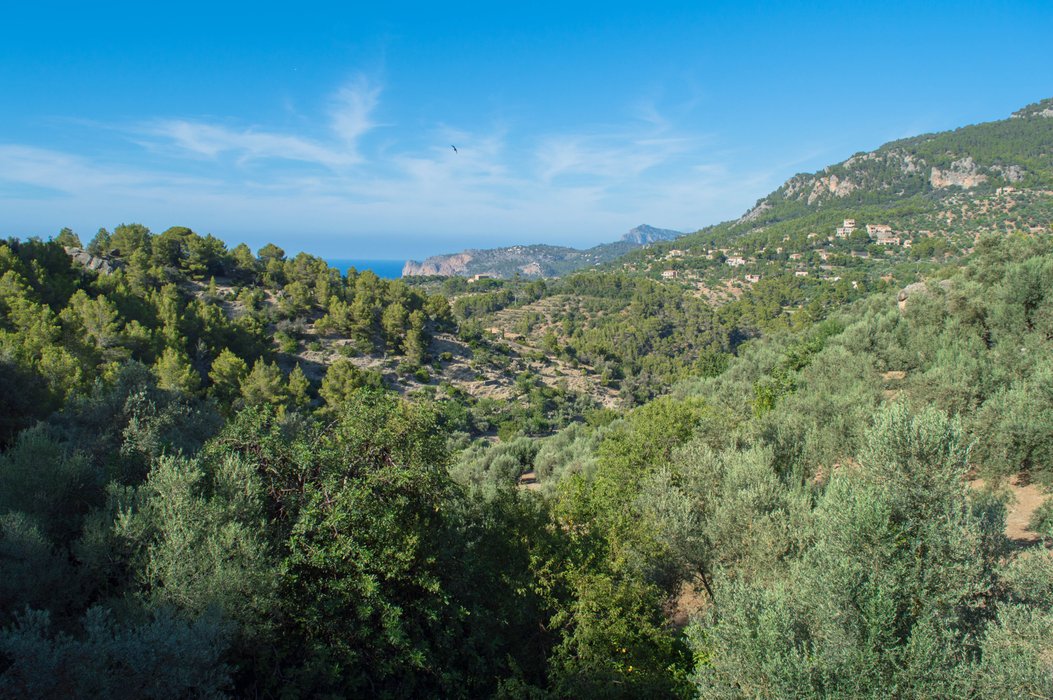 ISO 100 1/320 sec. f/9 18 mm
Lemon and orange trees are everywhere. The fruit is hanging just above your head and you're tempted to pick it up. At least I was 😊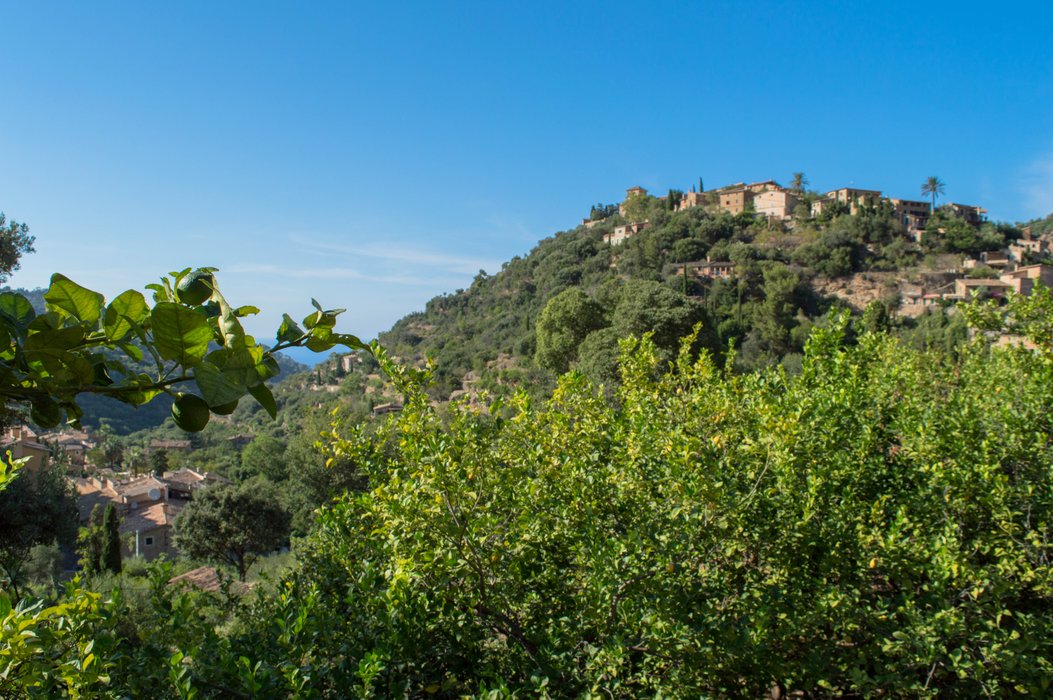 ISO 100 1/320 sec. f/9 18 mm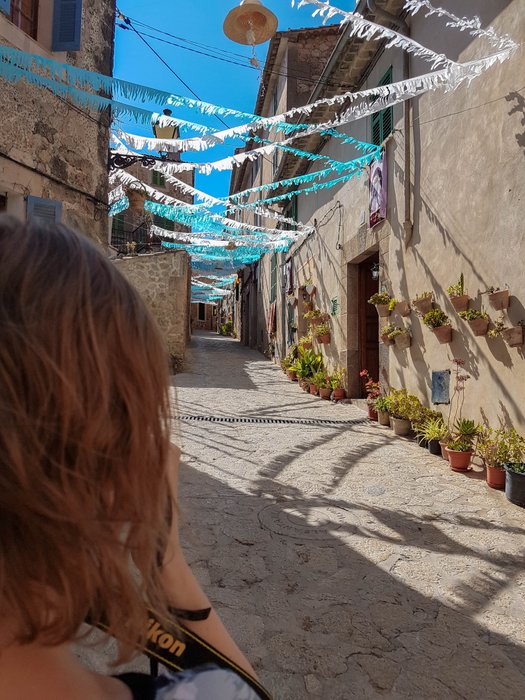 I'd like to finish this post with a photo of me taking photos 😊 My husband had this idea to capture me doing my favorite activity in the world! Now I have so many of them! I haven't shared any of them with you yet but I think it's a good idea.
I hope you have enjoyed another day with us in Mallorca.
If you like my article feel free to upvote/resteem it or follow me.
All pictures (except of the last one which was taken by Samsung Galaxy S7) are taken by my Nikon D3200 AF-S NIKKOR 18-55 mm 1:3.5-5.6 G II (except of the ones indicated in the article).
Thank you for reading!
Cheers,
Martina