Today I'll take you through the hottest day we had in Mallorca. All day we were on our way to the beach and we finally arrived there at 6 PM 😊 We went for a swim, had a drink and enjoyed this beautiful sunset.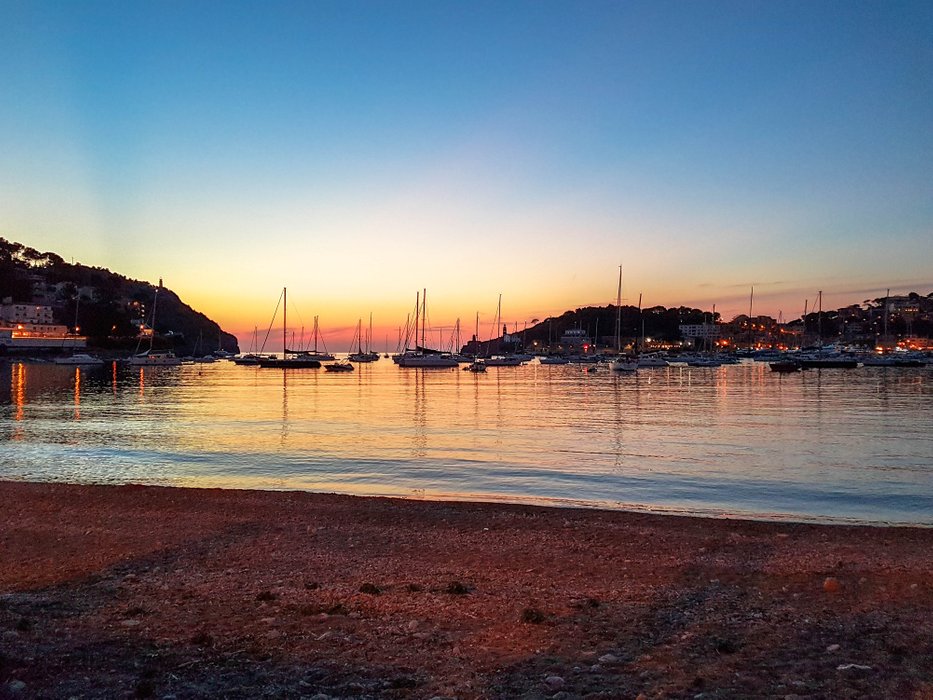 Samsung Galaxy S7
How come that we didn't get to the beach earlier? Let's start from the beginning..

Today we planned to go to Puerto de Sóller and enjoy a day on a beach. We wanted to make a quick stop in the town of Sóller before going there. Based on our calculations we should arrive on the beach at 1 PM. That was our plan - a good plan! But we usually have difficulties to stick to our plans 😊
On the way to Sóller we were driving through Bunyola. Look at this charming view! We couldn't just drive through this town without taking some pictures. And this is how our 'delay' started!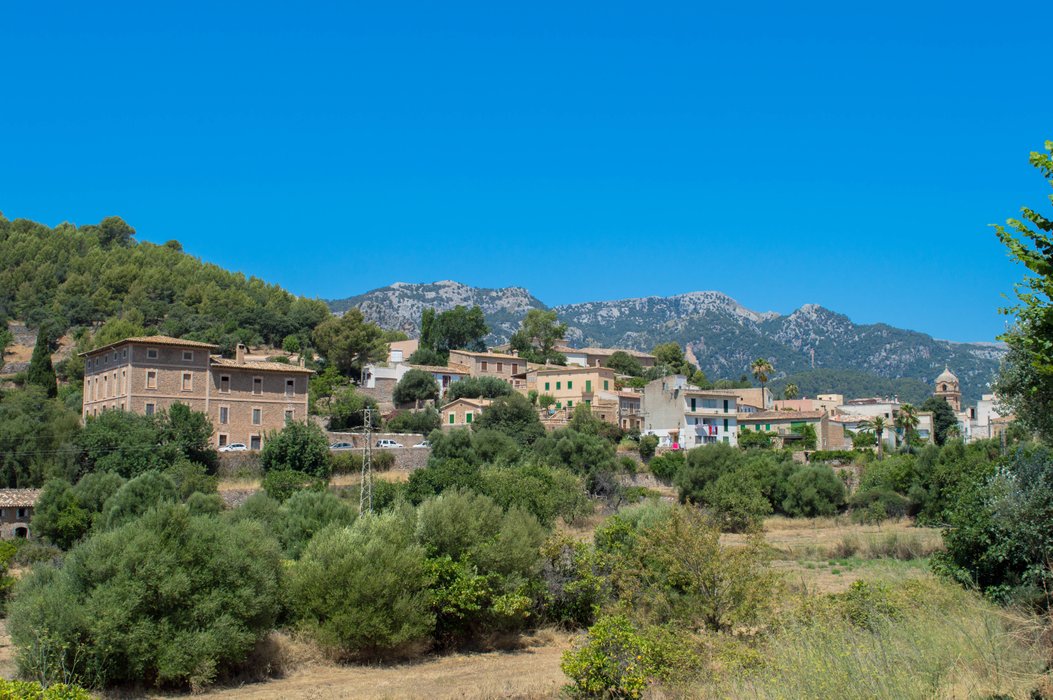 ISO 100 1/320 sec. f/10 26 mm
Bunyola
Bunyola is a very quiet, charming and traditional town that lies partly in the Sierra de Tramuntana mountains. The municipality of this town has ten mountains with the highest of these being Rateta at 1118 metres and the lowest being Puig de S´Estremera at 277 metres. It is truly a beautiful scenery.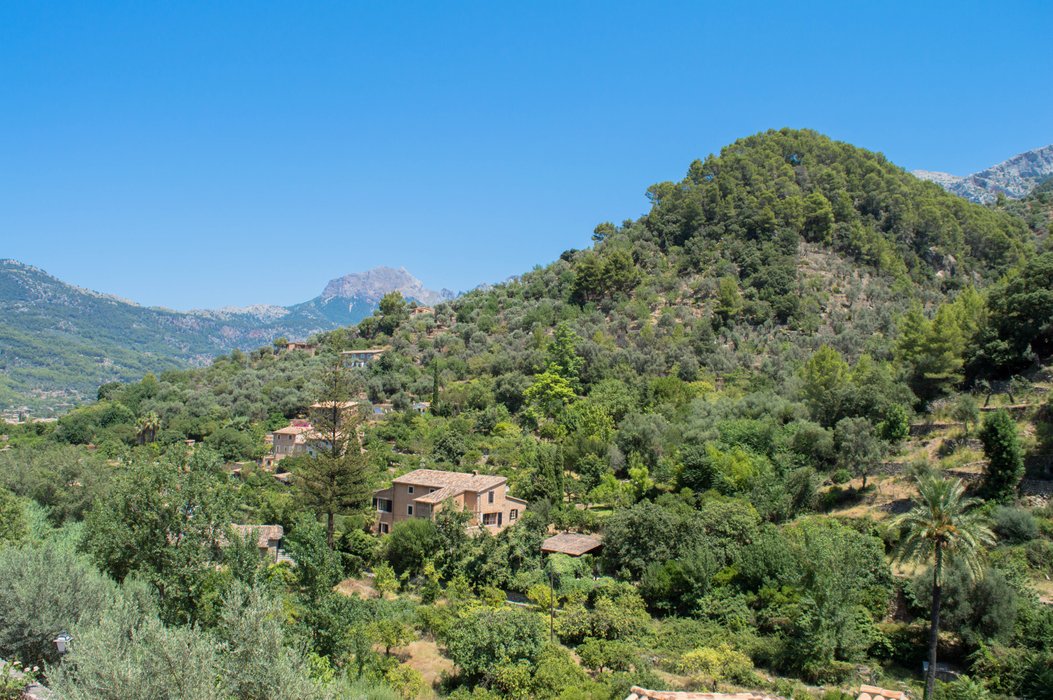 ISO 100 1/250 sec. f/9 18 mm
Bunyola doesn't really participate in tourist developments that have taken place throughout the rest of the island and is one of the few untouched Mallorcan villages that still exist.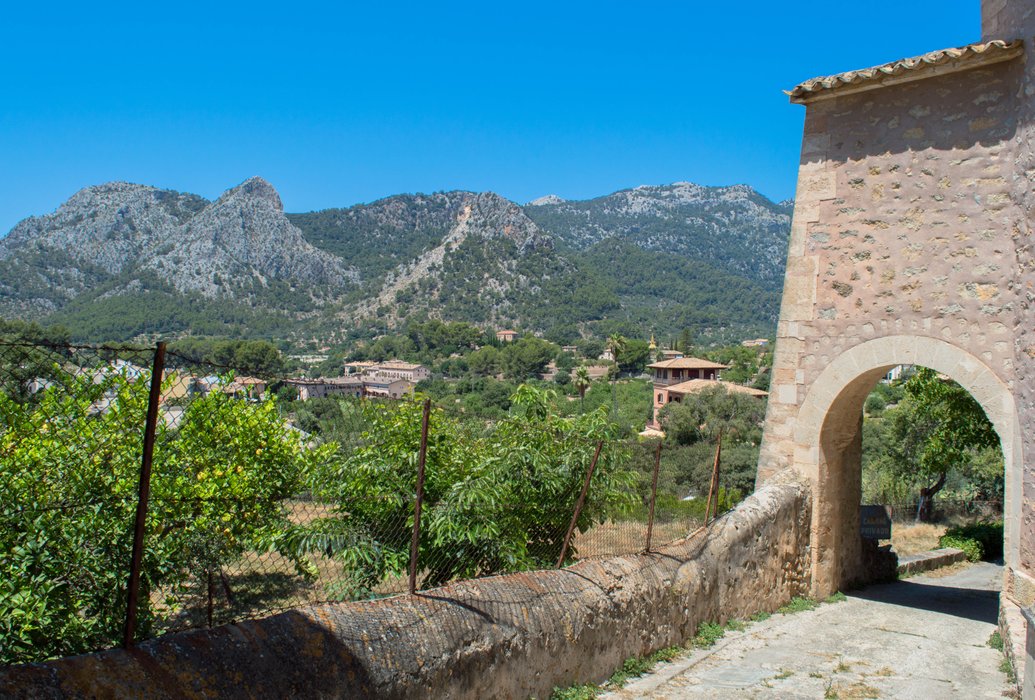 ISO 100 1/320 sec. f/10 18 mm
We parked our car on the top of the hill and walked back down to the city. I've noticed that the grass made its way through one of the stone stairs. The nature is so strong!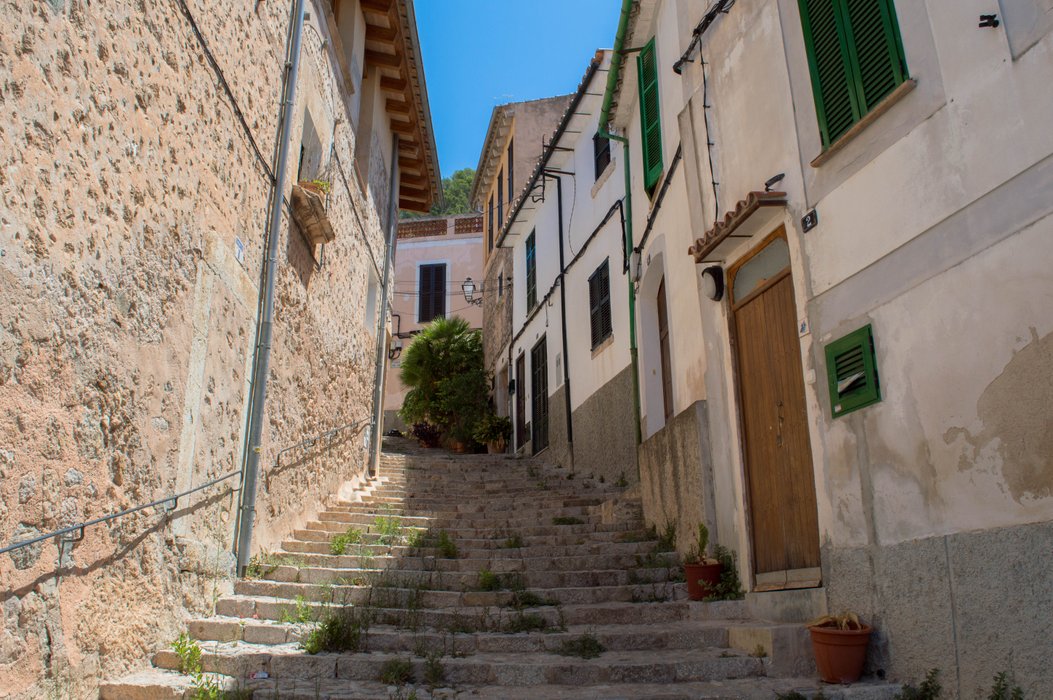 ISO 100 1/320 sec. f/10 18 mm
We were walking towards the main square with its few bars and shops. You can already see it in the back of the photo. Can you see the first open gate on the left?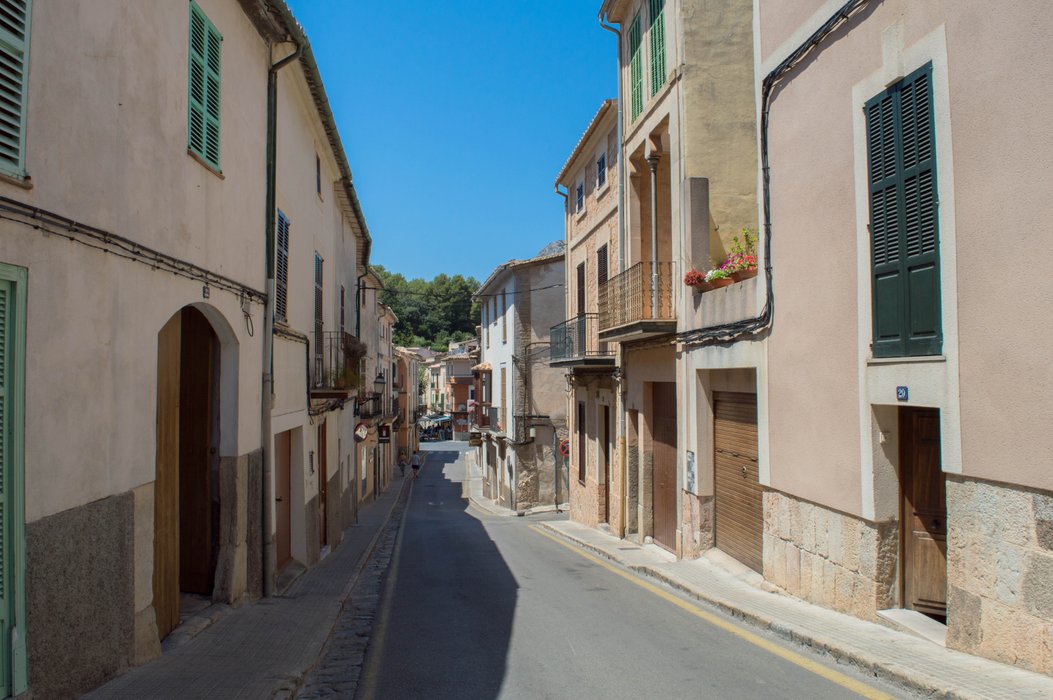 ISO 100 1/320 sec. f/11 18 mm
This is how it looks like inside - peeking through the gate 😊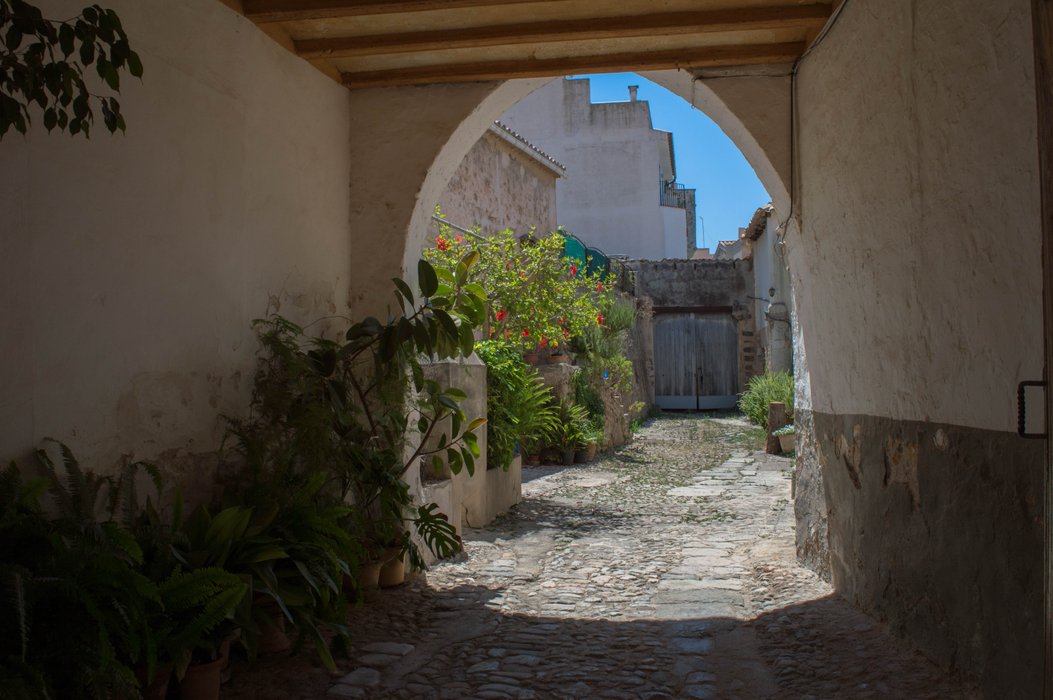 ISO 100 1/320 sec. f/10 18 mm
The main square is dominated by the baroque church of Saint Mateu.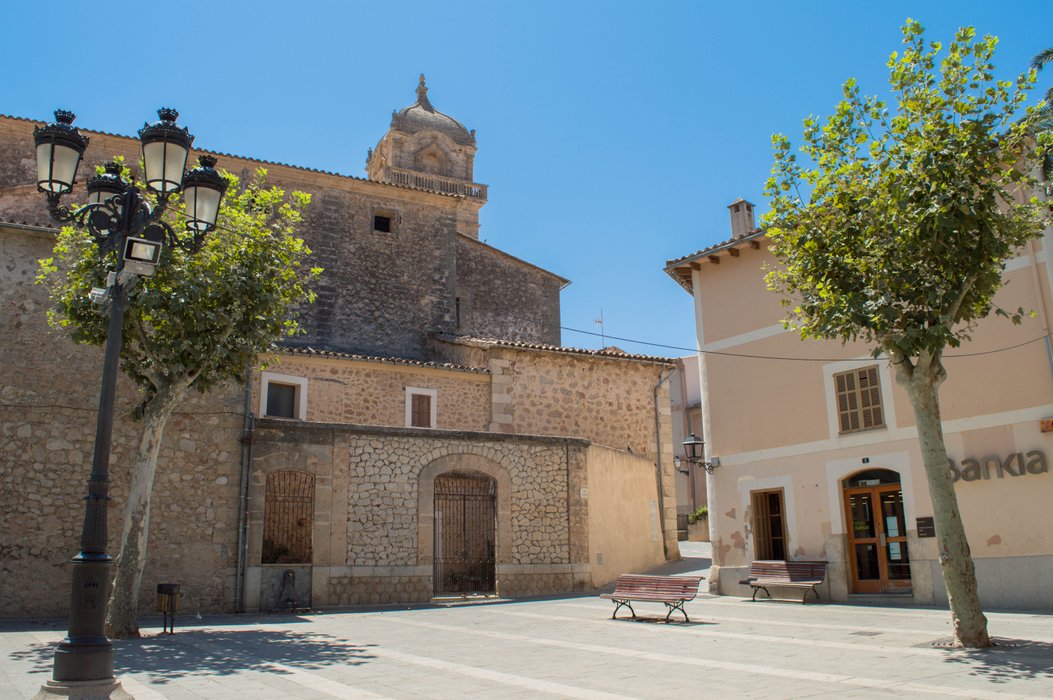 ISO 100 1/250 sec. f/9 18 mm
After our walk we sat down in one of the restaurants located on the main square and ordered some water. The waitress didn't understand us, went back inside and after a few seconds she came back followed by one customer who was supposed to translate. His English was not good either, but he helped us and we were able to order our beverages. It would be easier if she would learn a few phrases in English but at least we had some entertainment for free 😊
There was also a bus stop next to the main square. While we were sitting there (for about one hour) only one bus came to the town. Three people got off the bus and no one stepped into the bus. This is a very quiet place!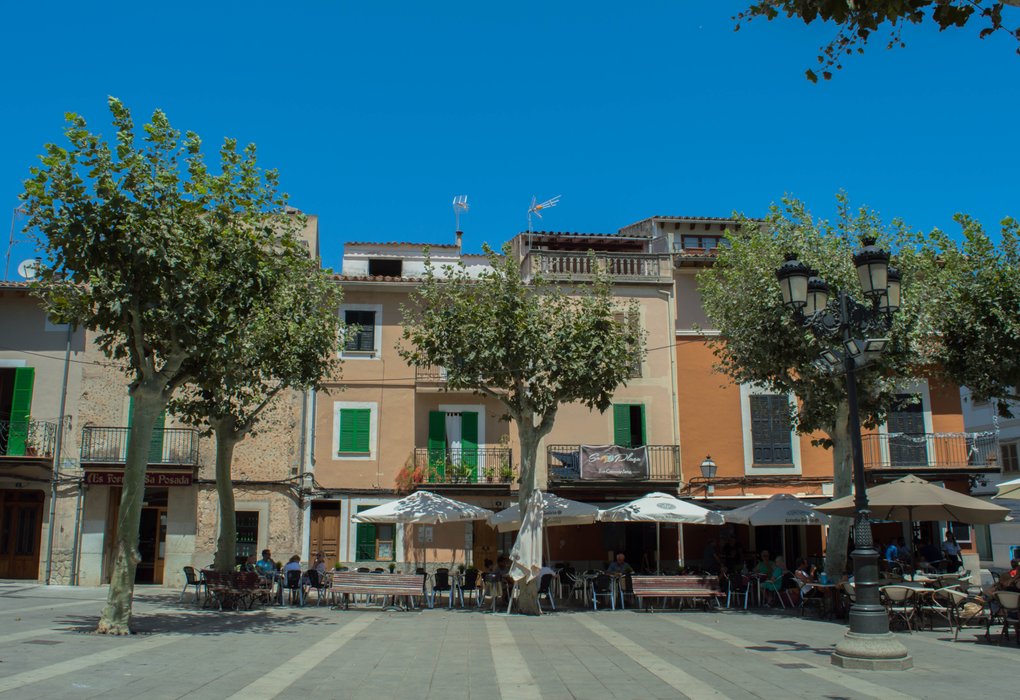 ISO 100 1/250 sec. f/11 18 mm
At the time when we were leaving Bunyola we were supposed to be already lying on the beach based on our initial plan. We both love the local atmosphere, so we were in no hurry and of course the sea would be still there later in the afternoon.

Sóller
Within 15 minutes we arrived in the town of Sóller. We were greeted by these sculptures.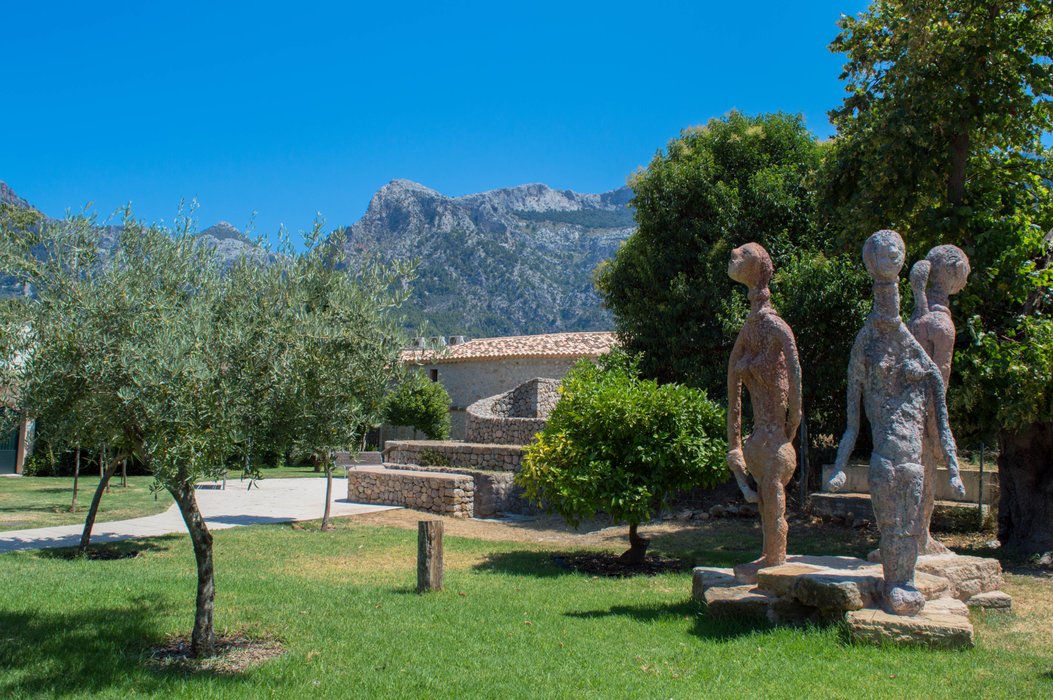 ISO 100 1/250 sec. f/9 18 mm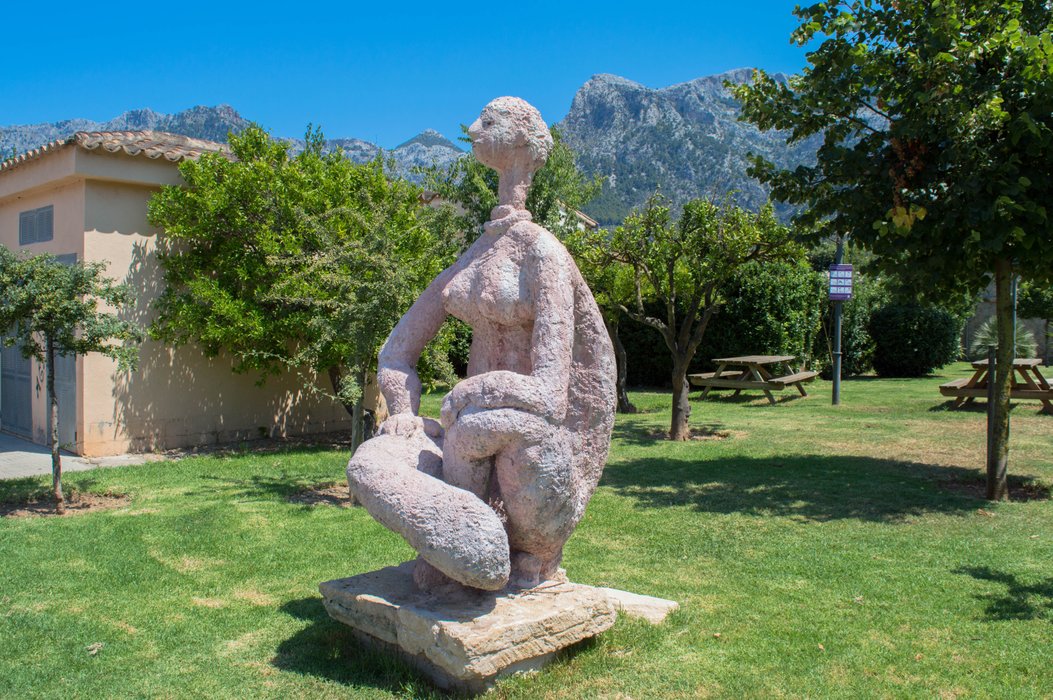 ISO 100 1/250 sec. f/9 18 mm
The parking is very close to the city center so it didn't take us too long to reach the main square - Plaza de la Constitución. Sóller is considered one of the most beautiful towns in Mallorca. And it was the busiest town that we visited there.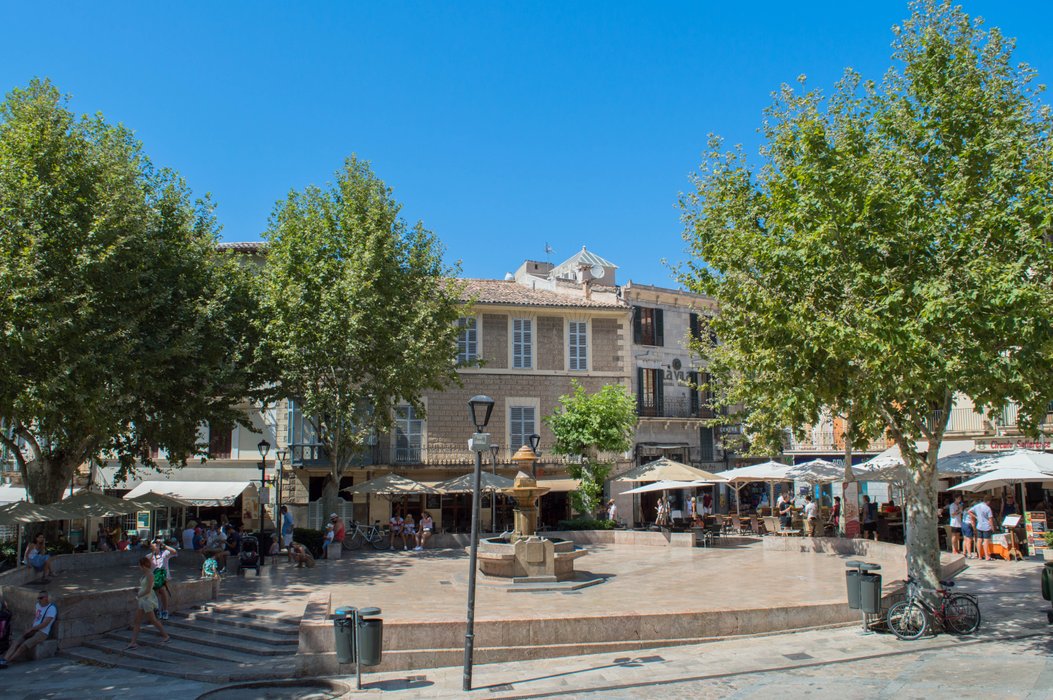 ISO 100 1/250 sec. f/9 18 mm
There is a vintage tram that is linking the town with the port. It clunks its way regularly through this splendid square.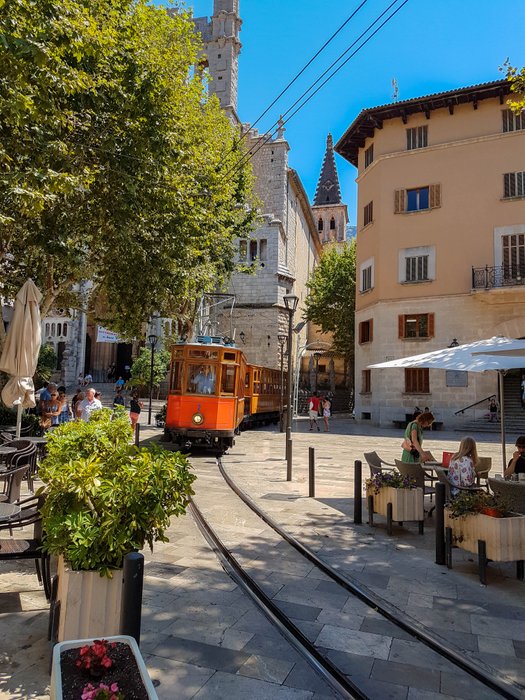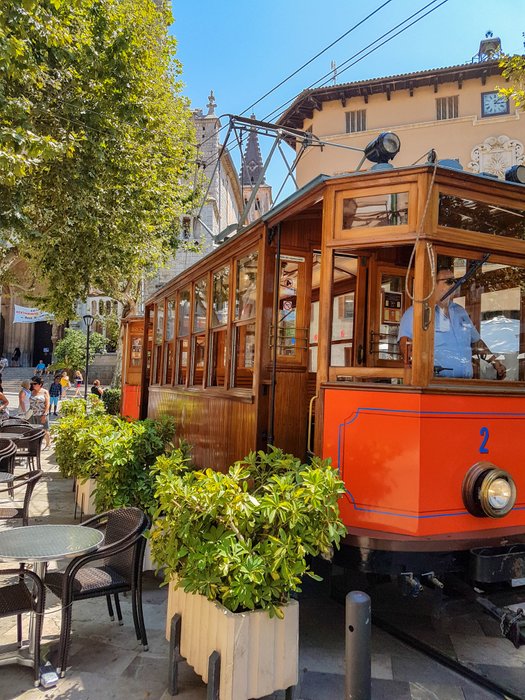 We didn't go for a ride as the waiting queue was way too long and mainly in the direct sunshine and we anyway prefer to walk around.
The beautiful main square Plaça Constitució is dominated by the Church of Sant Bartomeu.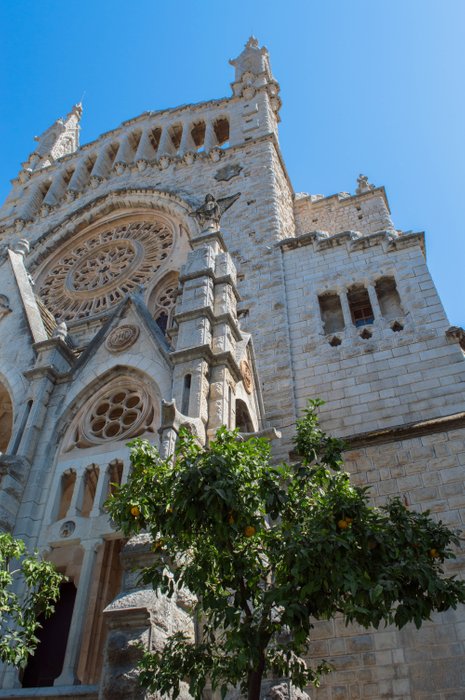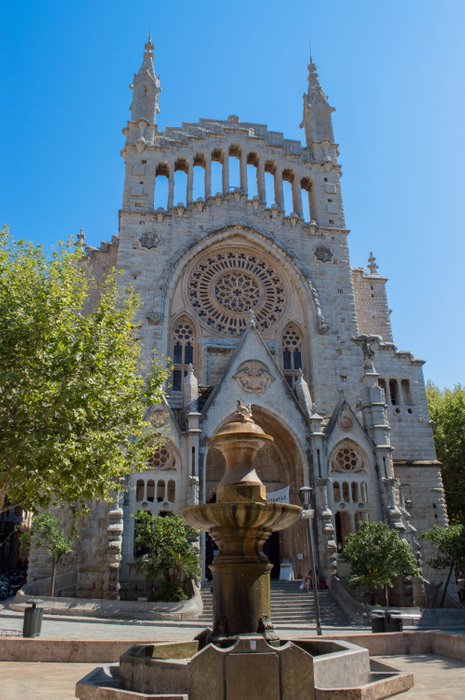 Its interior is beautiful but very dark! The entrance fee is EUR 1 and the collected funds are used for the reconstruction of the church.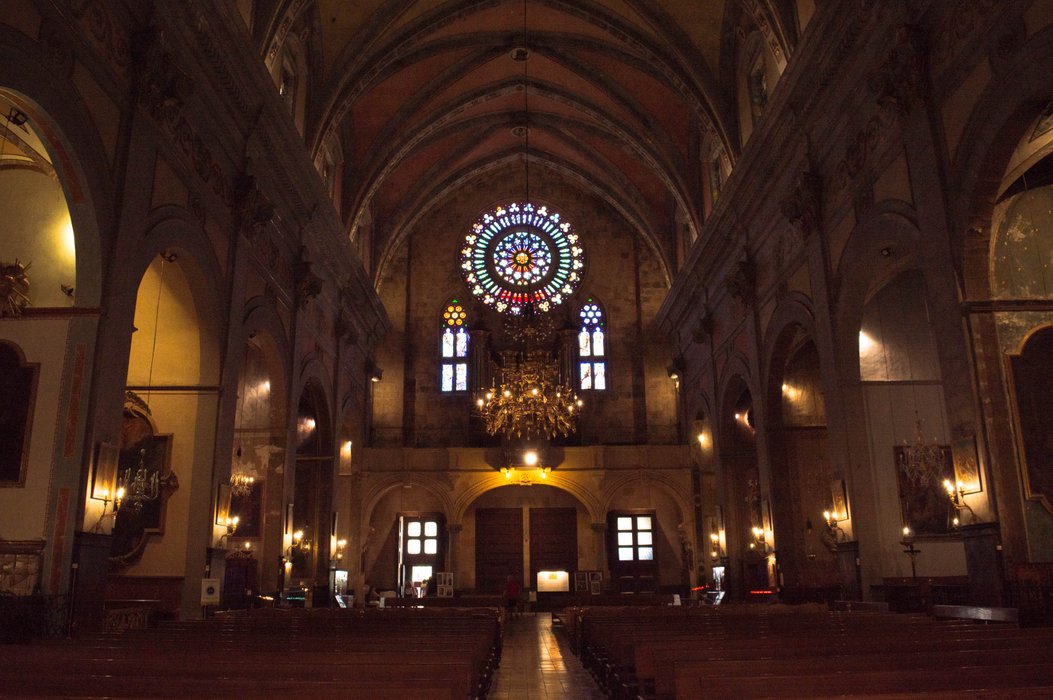 ISO 400 1/100 sec. f/6.3 18 mm
My favorite part was to walk towards the altar, and then turn for a view of the chandelier, organ and luminous rose window.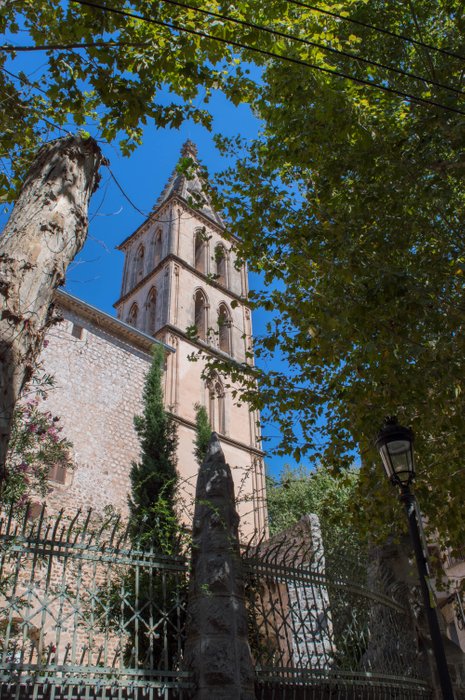 This is the church from the other side. It is one of the most impressive buildings that I've ever seen.
It was first built in the 13th century. A Baroque structure was added in the late 17th century and the modernist facade was created in 1904 by the architect Joan Rubió , an ex-pupil of Gaudi. Its Gothic interior has been preserved, but Rubió gave it a beautiful modernist facade.
Even if you are not religious it is worth a visit. The side chapels are very dark, but you still can admire their beauty. The high altar is magnificent. The interior is very surprising for such a small church. It looks like a small cathedral.
If you've been reading my posts then you know that we couldn't leave the town without exploring its streets and the church helped us to get back to the parking slot as we couldn't find our way. It is visible from all places across the town 😊
The narrow streets are lined with traditional style residential townhouses with the famous green Mallorcan shutters.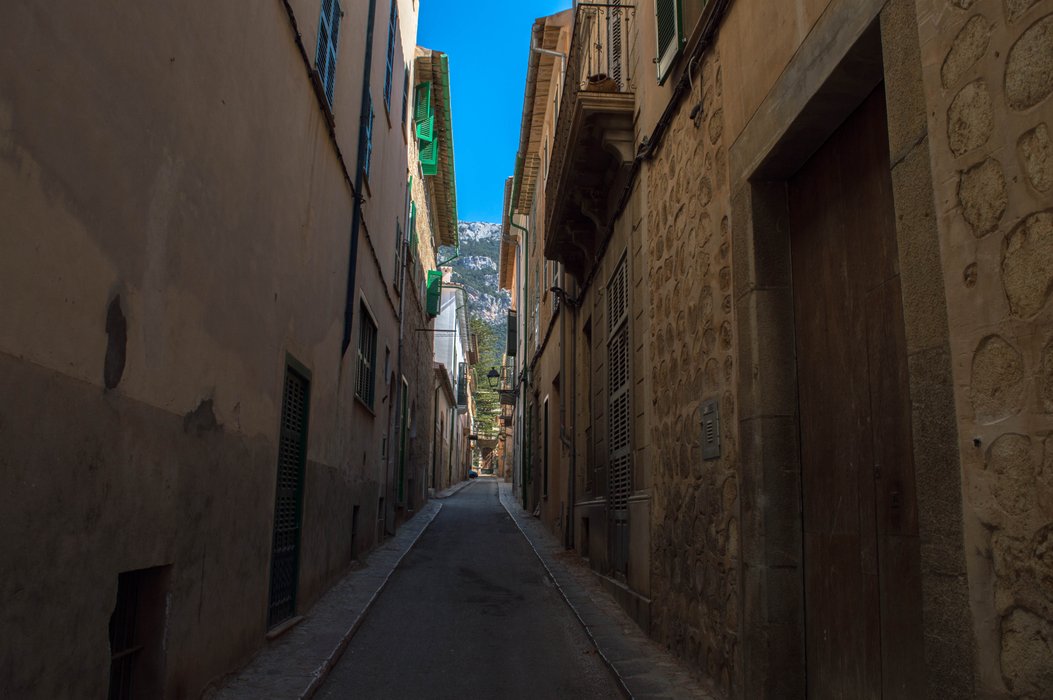 ISO 100 1/250 sec. f/8 18 mm
The streets of Sóller are so narrow that you would expect one - way traffic. Well this is not always the case. I wonder what you do when you come across another car here.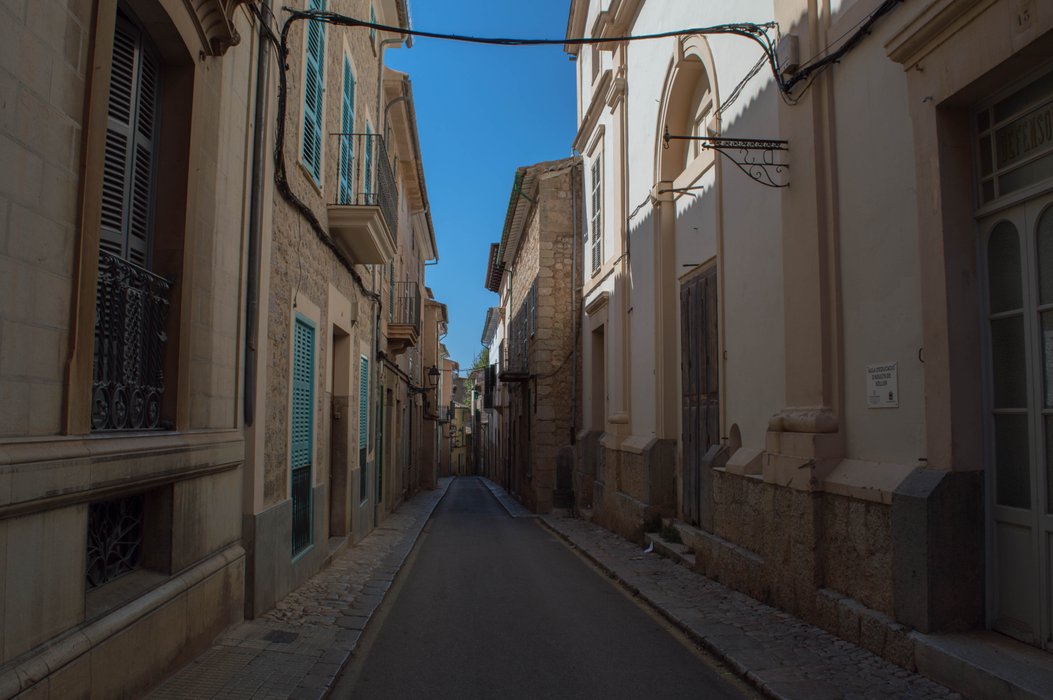 ISO 100 1/250 sec. f/9 18 mm
The wealth and beautiful architecture of Sóller and the surrounding area were built on the success of the local orange and lemon trees.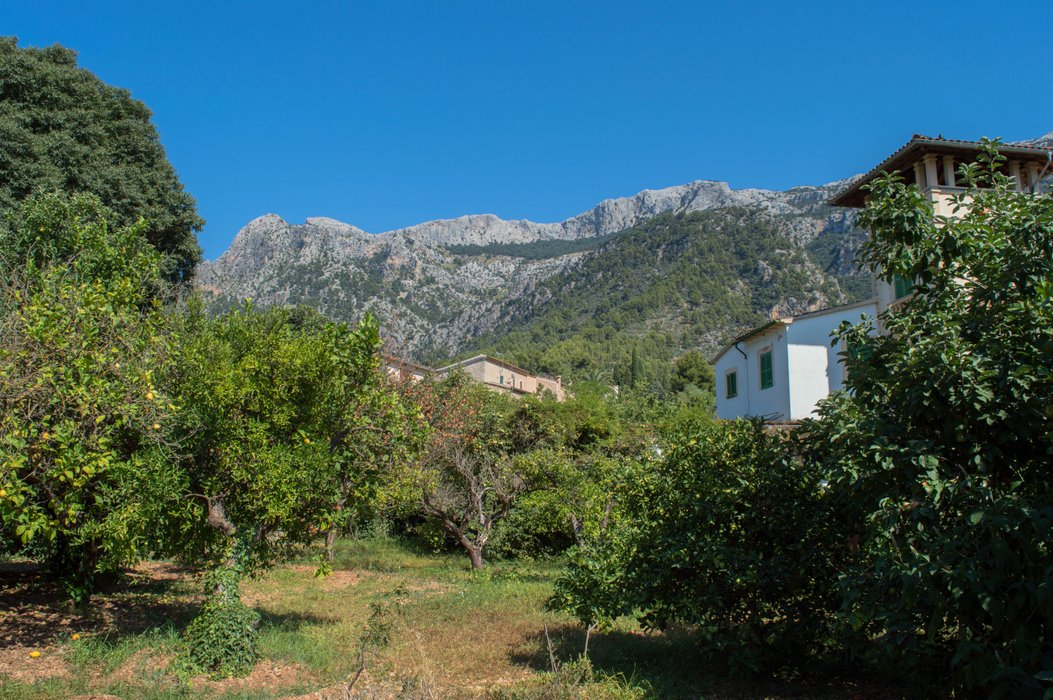 ISO 100 1/250 sec. f/9 18 mm
We wanted to get the best photos of the mountains around us so we walked and walked and walked until we realized that we were already on the way to a village next door! 😊 Time to turn around and go back!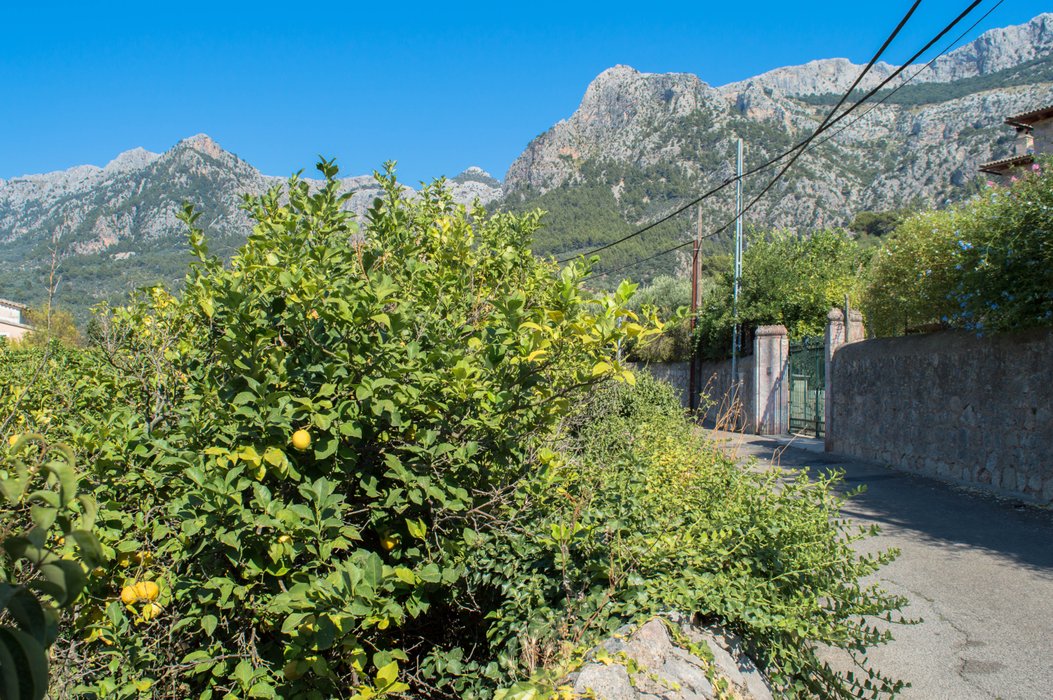 ISO 100 1/250 sec. f/9 18 mm
On the way back to the town.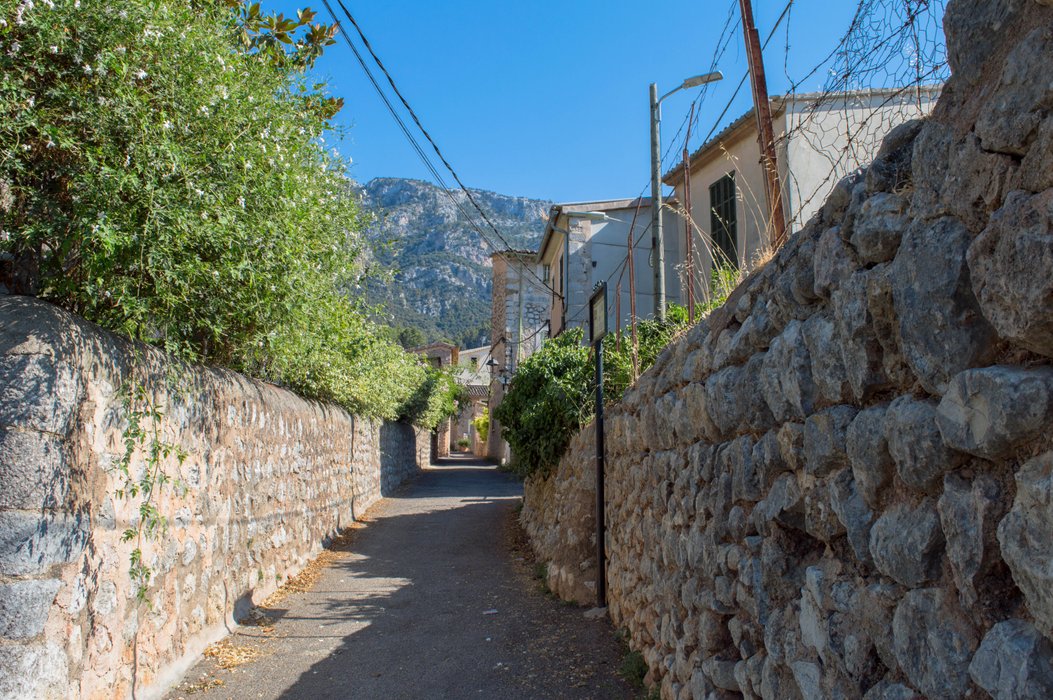 ISO 100 1/250 sec. f/9 18 mm
The nature in Mallorca is truly fascinating.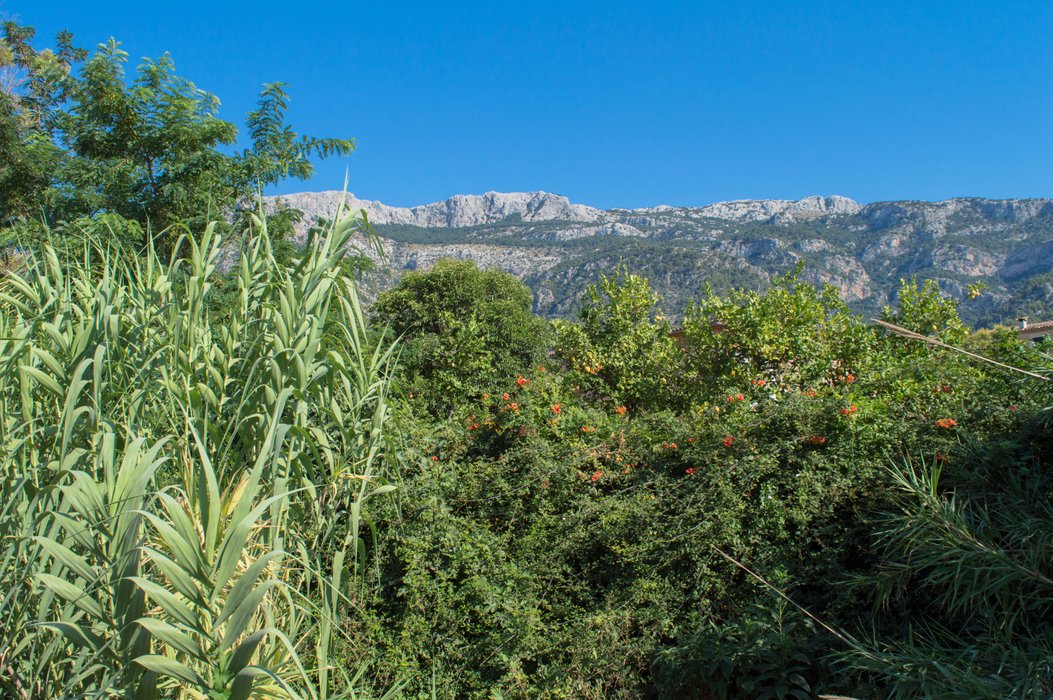 ISO 100 1/250 sec. f/9 18 mm
I would also like to grow a couple of palm trees like this in my backyard 😊 This bring back a memory that I have from the first day in Mallorca. We were walking to the beach and the street was lined with palm trees. Their leaves were regularly cut, and their form resembled pineapples. There was a couple with a girl that was about 3 years old. She kept saying: Daddy look, pineapple trees. He would say: No honey, these are palm trees. And it was like this all the time: Pineapple trees! No, palm trees! Pineapple trees! No, palm trees! I couldn't stop laughing. She was too cute 😊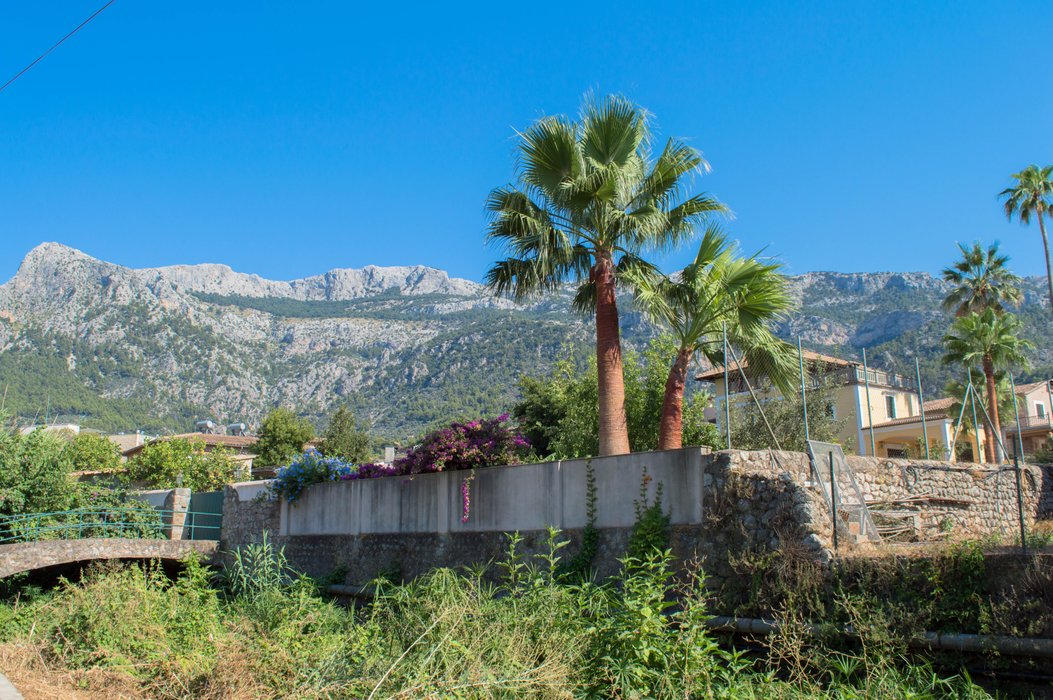 ISO 100 1/250 sec. f/9 18 mm
Here is another photo of me taking photos. I guess you know which photo it was, don't you? 😊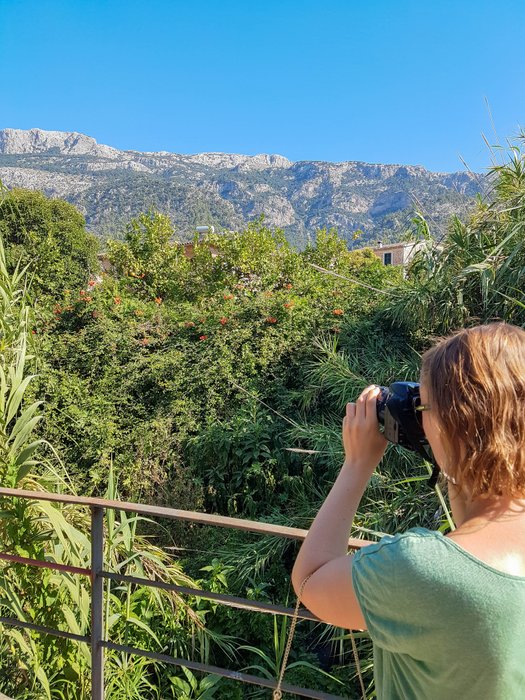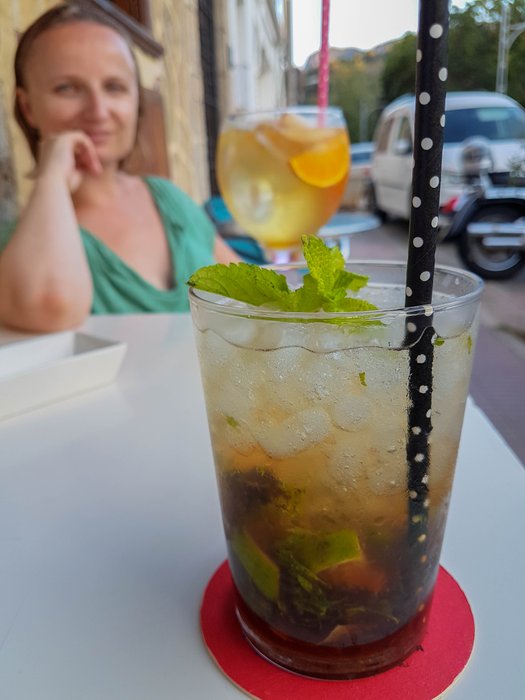 I'm so glad that the last photo is focusing on our well deserved cocktails at the end of the day! I was so tired I could barely keep my eyes open!

I hope you are not getting bored with our Mallorcan trips yet.
If you like my article feel free to upvote/resteem it or follow me.
All pictures (except of the last two photos which were taken by Samsung Galaxy S7) are taken by my Nikon D3200 AF-S NIKKOR 18-55 mm 1:3.5-5.6 G II
Thank you for reading!
Cheers,
Martina