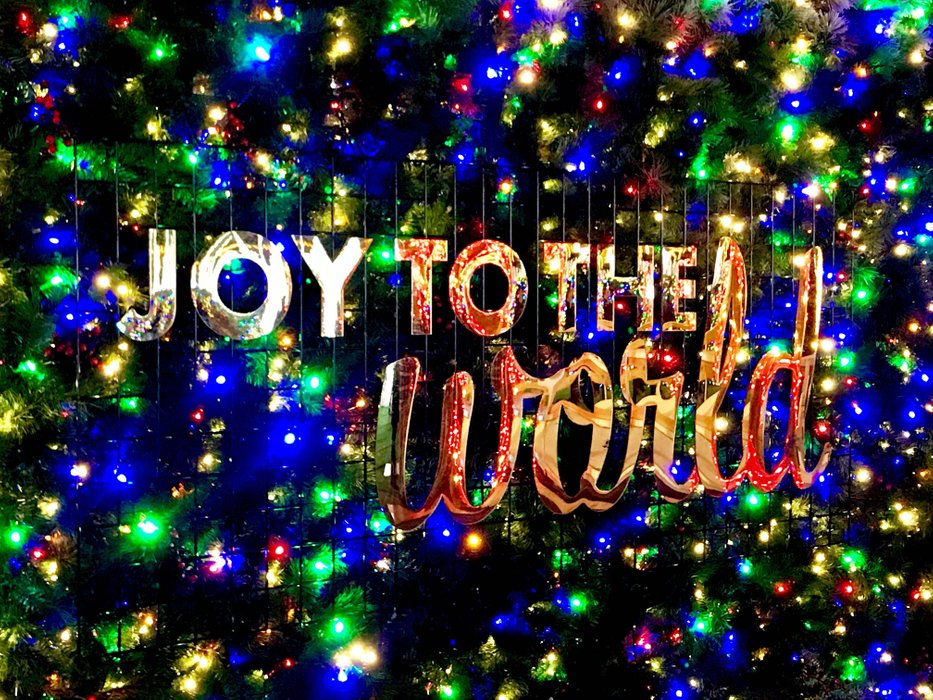 Or joy to Seattle at least. 😍
WOW!!!
Yesterday we went to Seattle's Safeco Field to check out THE MOST AMAZING Christmas light display I have ever seen!!!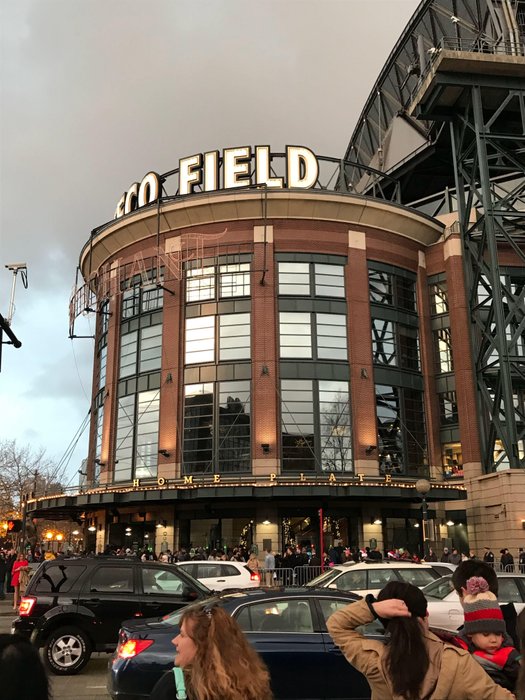 Safeco Field, home of Major League Baseball's Seattle Mariners. ⚾️
Feast your eyes on ENCHANT!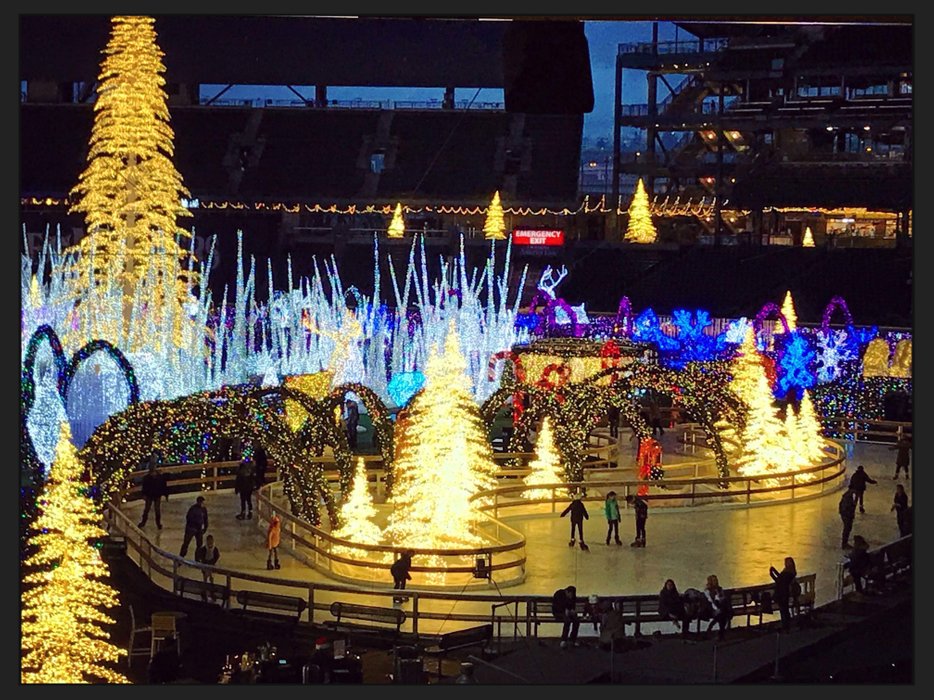 From baseball field to Christmas light forest! 🎄🎄🎄
Enchant is the brainchild of Vancouver, Canada based company Shine. Shine specializes in creating photo worthy experiences in public and retail spaces. Enchant is billed as the world's largest Christmas light maze. This year the experience is being held in both Seattle, WA and Arlington, TX.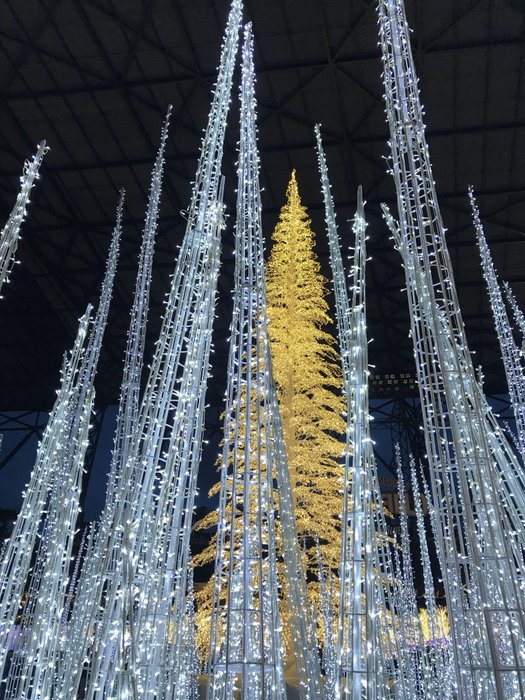 A forest of lights.
If you are near either of these locations....YOU MUST GO!!!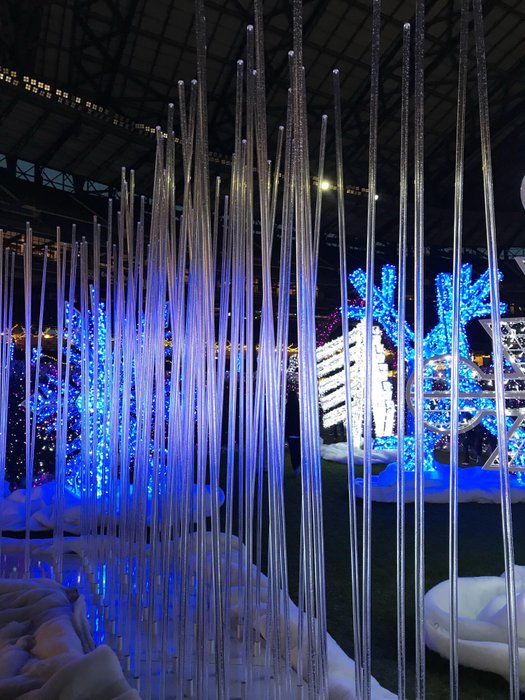 A frosty winter's night. ❄️
It was BREATHTAKING!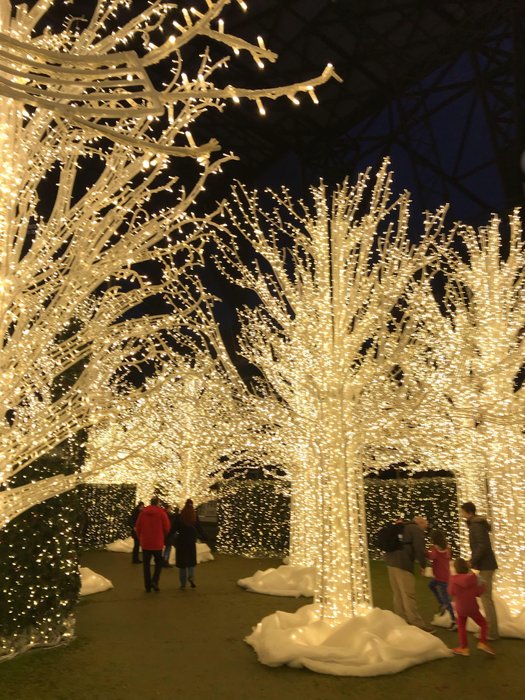 I loved this grove of trees.
And incredibly festive.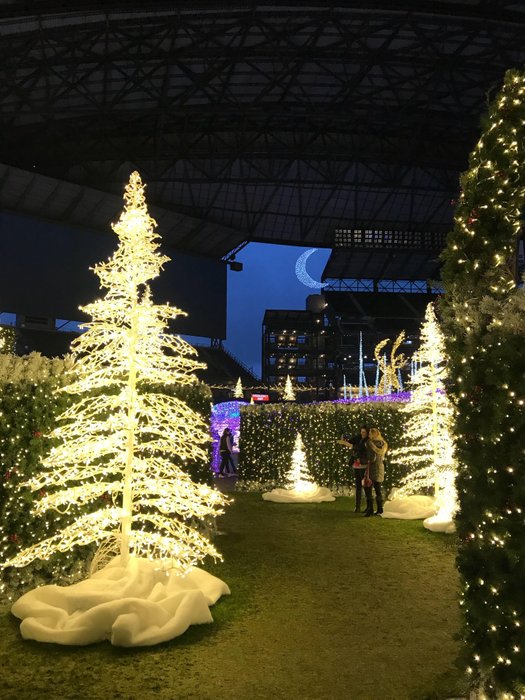 Heading deeper into the maze
---
But let's start from the beginning.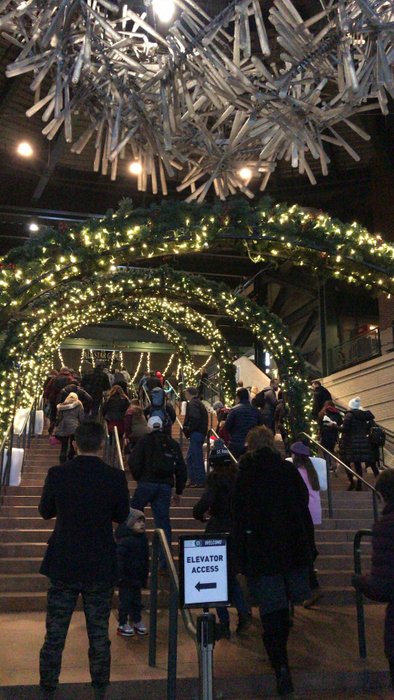 Entering Safeco the festiveness was immediately apparent.
Enchant began the day after Thanksgiving and runs through December 30th (excluding 11/26, 12/3, 12/10). They are even open ON CHRISTMAS! The event is open from 4-10pm or 4–11pm depending on the day of the week. Tickets are purchased by arrival time, but once you are inside you can stay until closing.
We arrived at 4pm.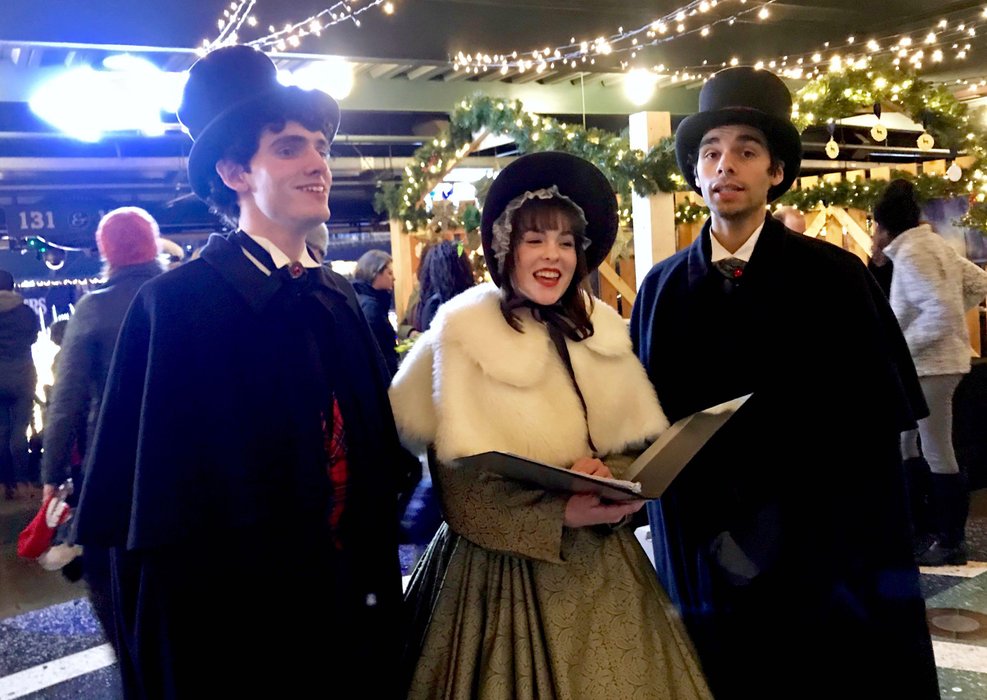 And were greeted by Victorian clad carolers.
The 200 level of the stadium is filled with a holiday market and food vendors. Market stalls offer everything from ornaments, to candles, to minerals, to puzzles. There are also special holiday beverages available including mulled wine, apple cider and spike hot chocolate.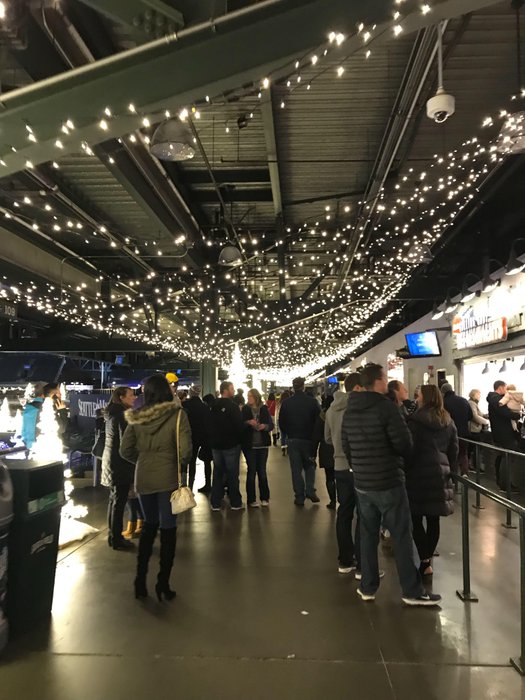 Walking through the market level.
Photos with Santa are also available on the market level. When we arrived the Santa line was already long , so we skipped our chance to meet the big guy. However, VIP tickets guarantee guests a visit with Santa and include a catered gourmet meal.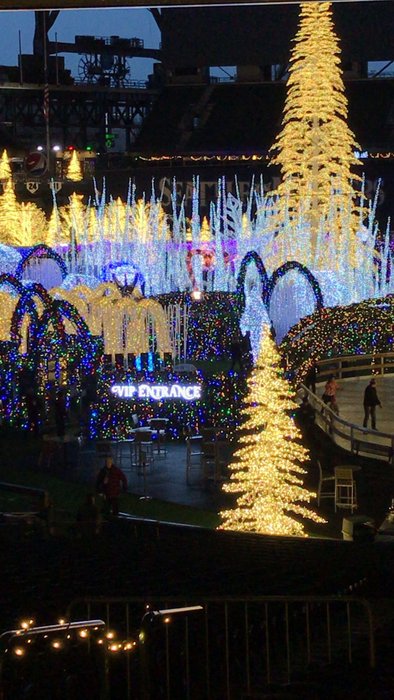 Our first views of the maze.
Strolling through the market visitors have an elevated view over the maze. It was amazing to see the baseball diamond converted into a dazzling display of holiday lights. 2.5 million lights are used in the attraction!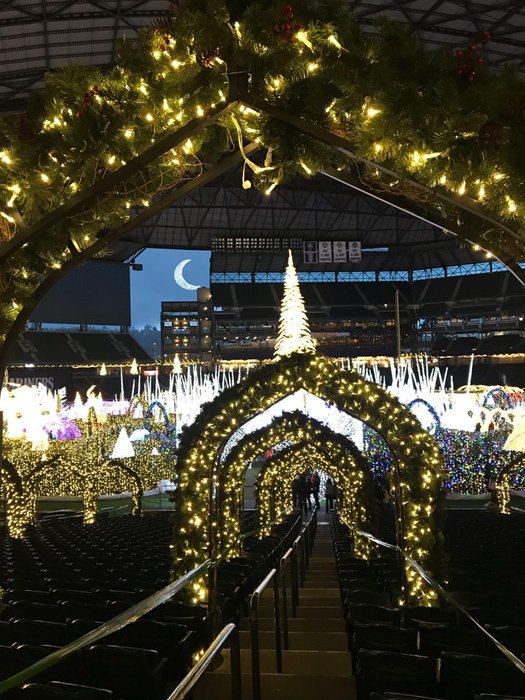 Pathways marked by light covered arches of greenery lead visitors down to the field.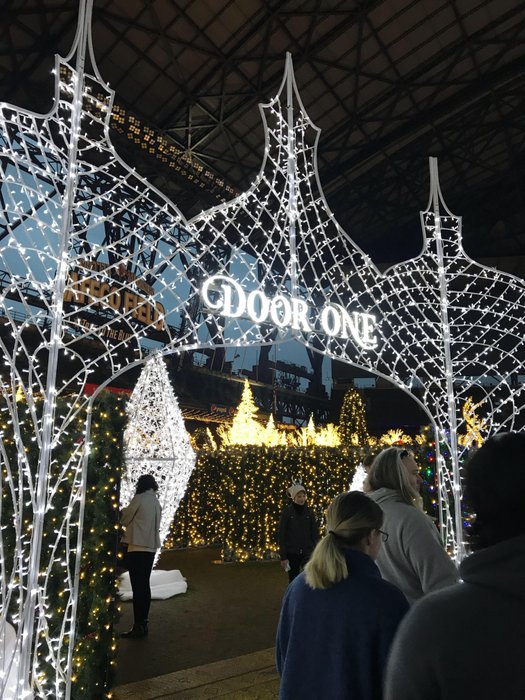 Visitors choose one of three "doors" to enter the maze. We chose door one.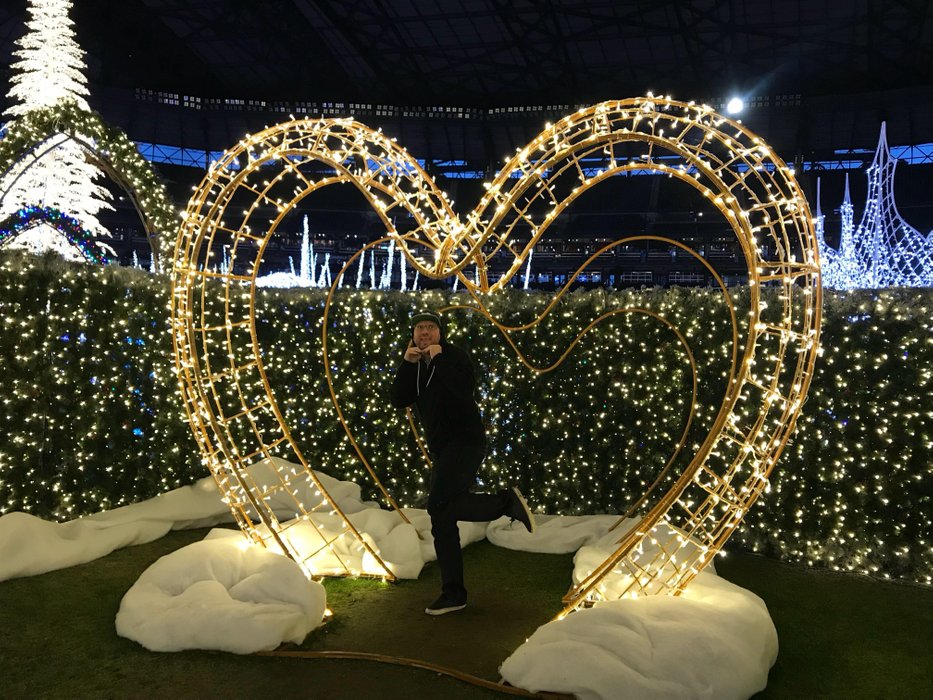 Hubs being cheesy. ☺️
According to the event's website, the premise of the maze is:
After a terrible snowstorm hits the North Pole, Santa wakes to find all of his reindeer are lost inside Enchant, a hidden pocket of visible magic. Come explore the world's largest Christmas light maze and help Santa find his nine missing reindeer in time to save Christmas.
With that in mind, each guest is given a map and scratch card as they enter the maze. The scratch card helps visitors keep track of the reindeer they find along the way. Stations are set up near each reindeer with a special coin to use on the scratch card.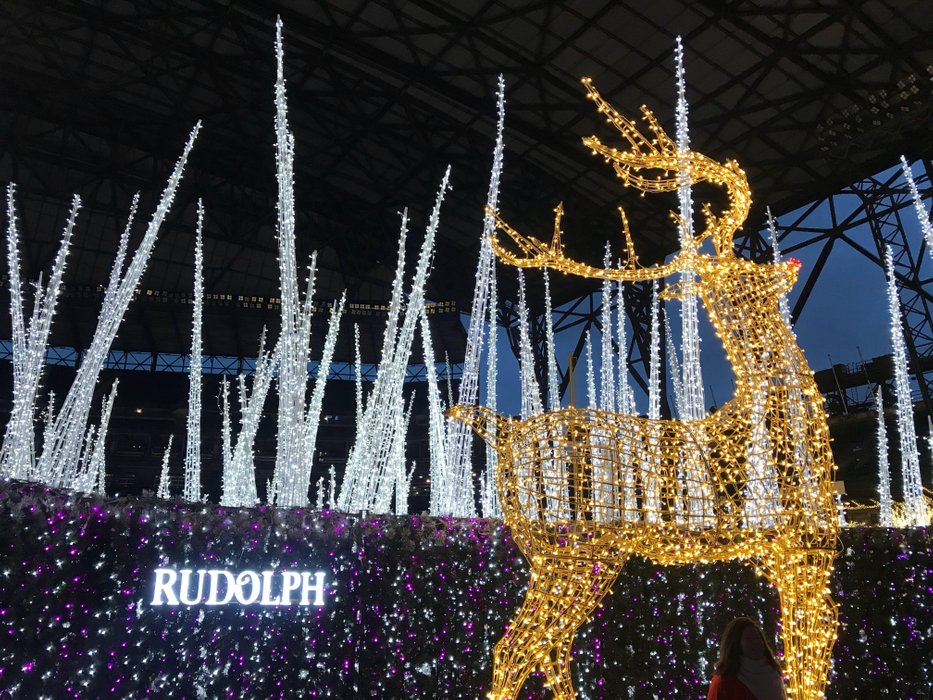 Rudolf spotted!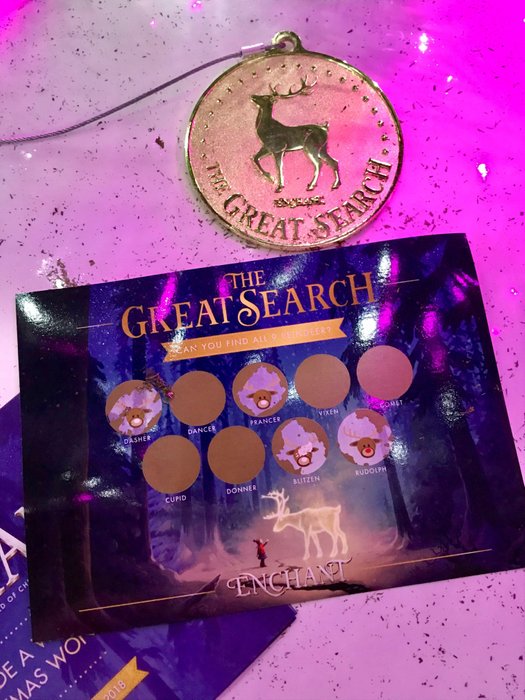 We found Cupid last.
Did I mention there is an iceskating rink? Skate rental is $10, or you can bring your own. Near the rink "snow" fell from the "sky". The rink winds it's way in a loop past giant candy canes and through lit arches.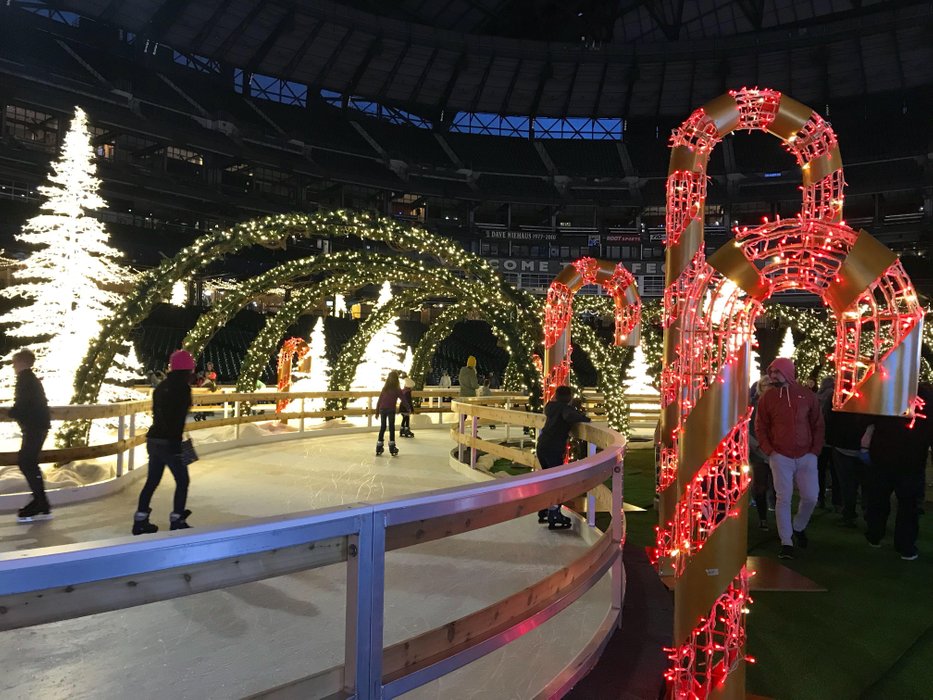 Skating!
Plethora of Pictures Time!!!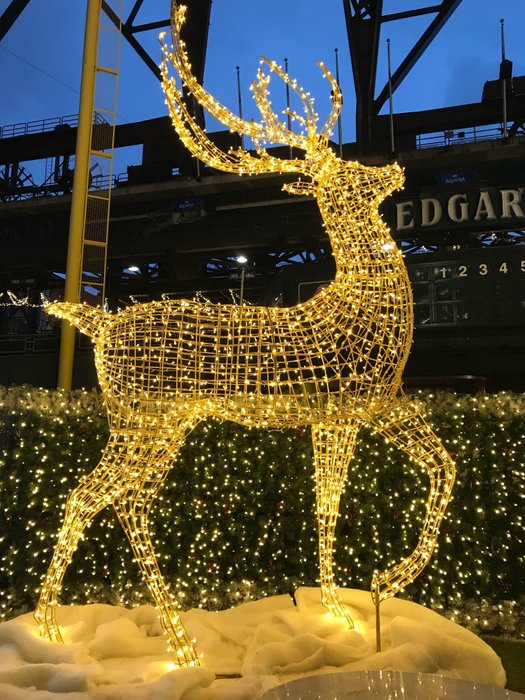 Another reindeer.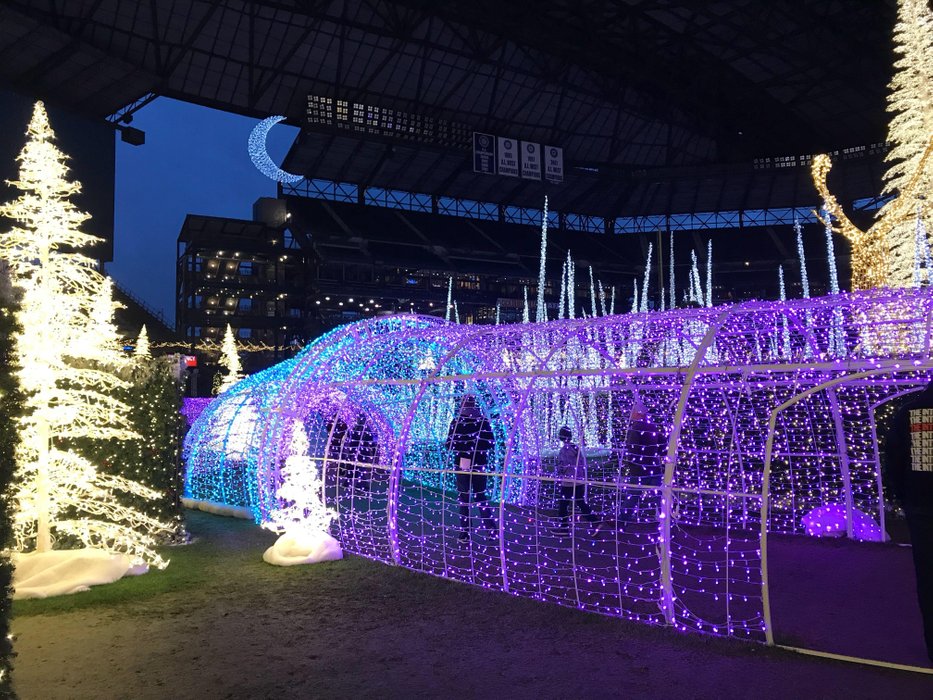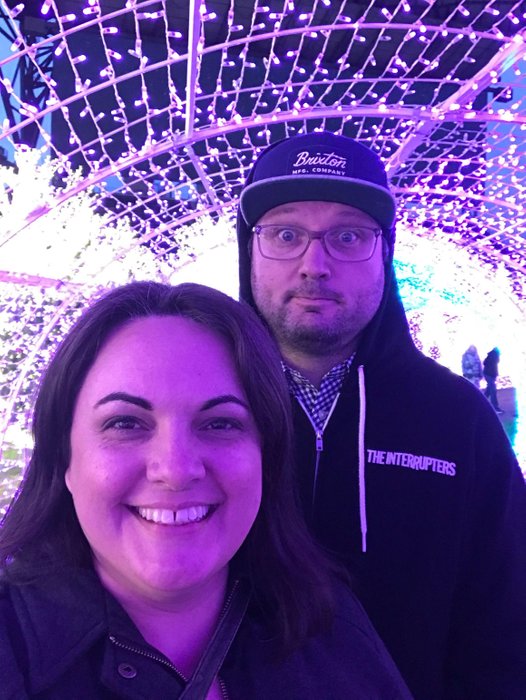 Me and the hubs... in the vortex of a purple tube. 💜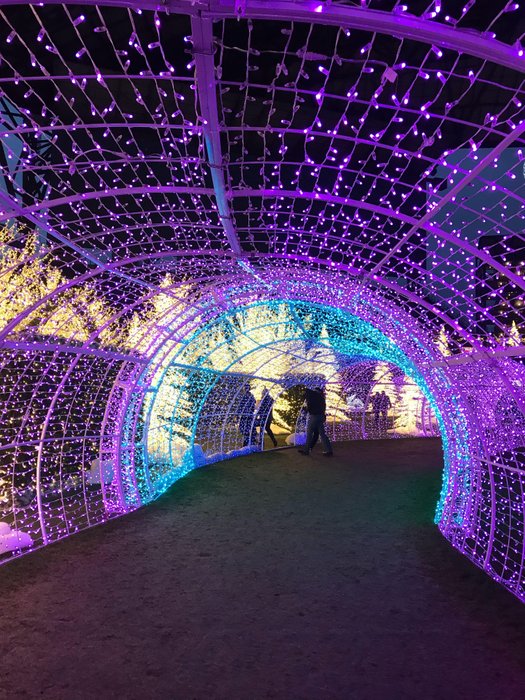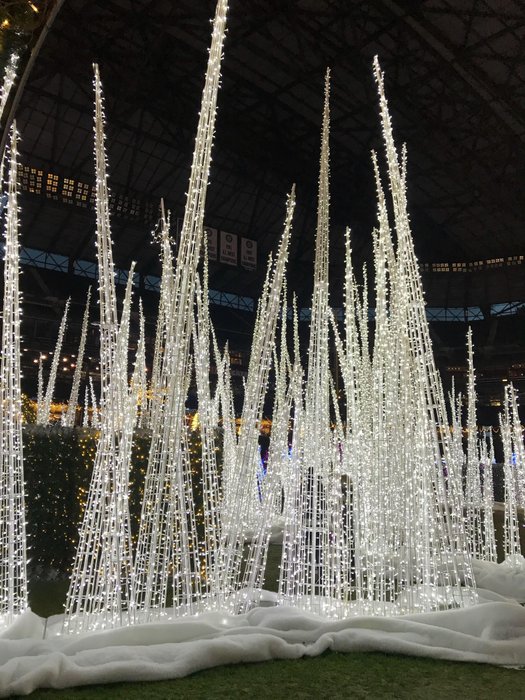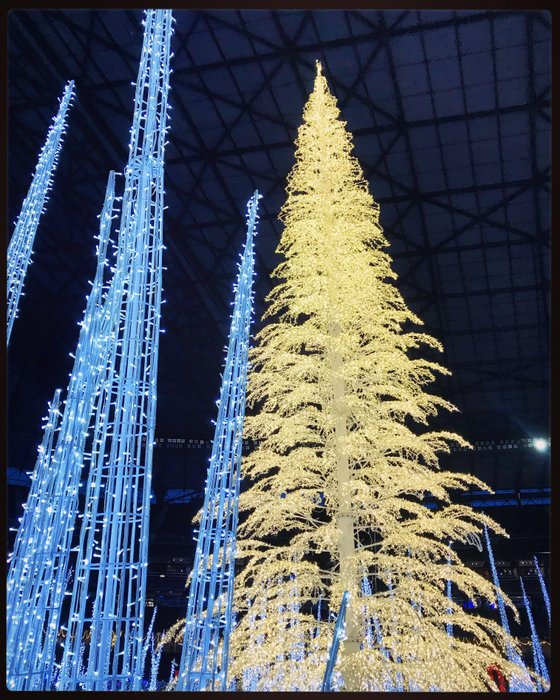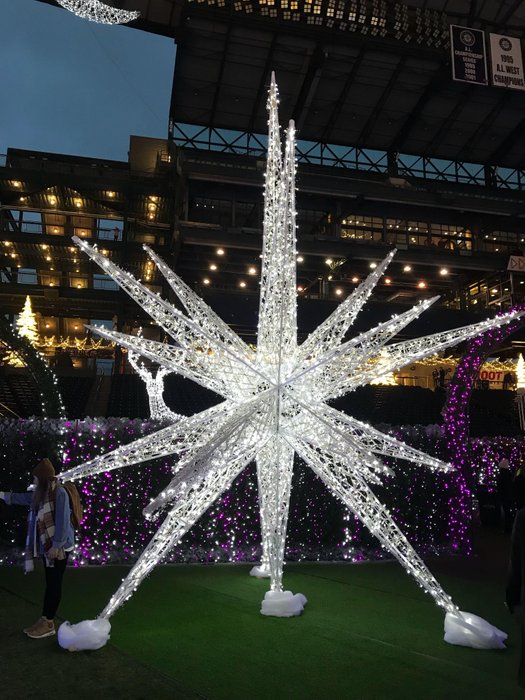 Has anyone else watched the Christopher Reeve Superman movies? This reminds of the little pod baby Superman rose through space during his escape from Krypton.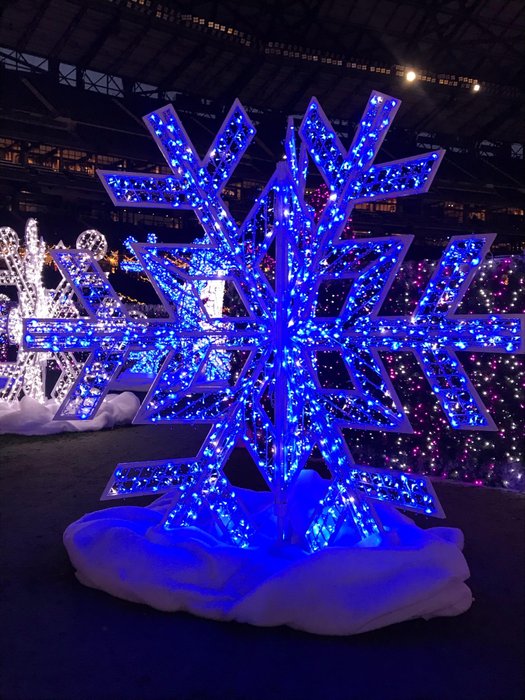 No red, green and gold here... just the Ivey cold colors of winter. Blue Christmas anyone? ❄️ 💙💜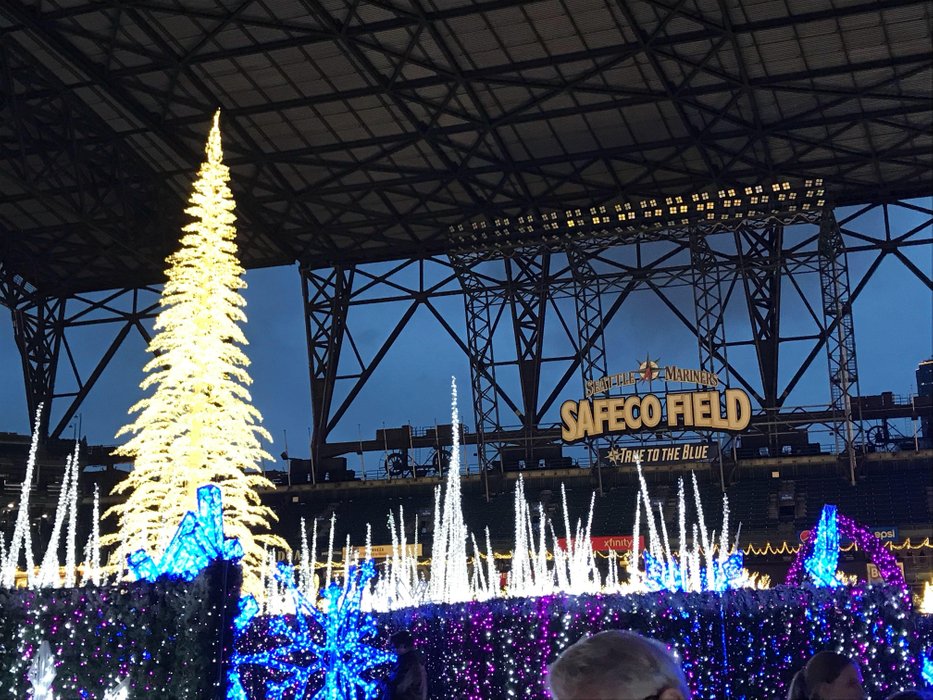 A few signs we were still in Safeco Field.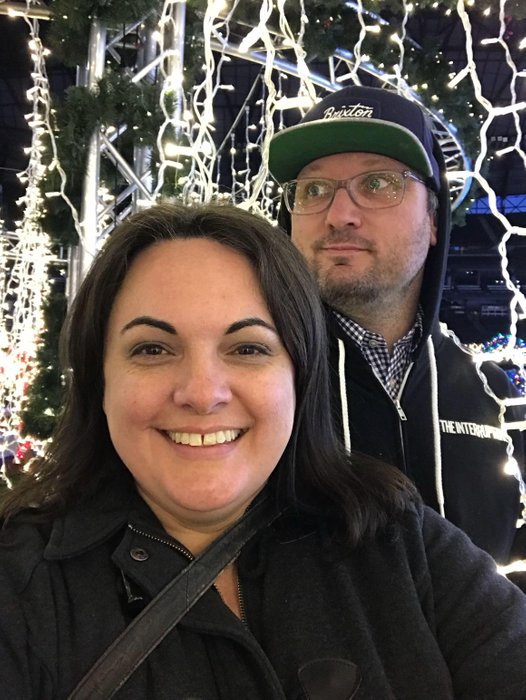 Walking through hundreds of hanging icicle lights.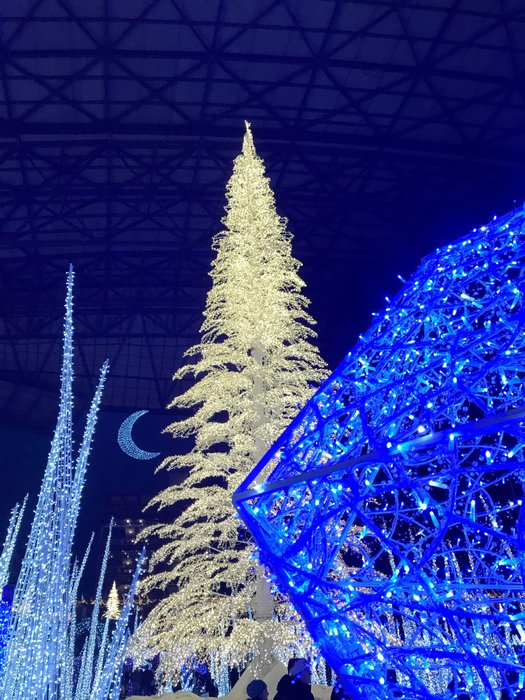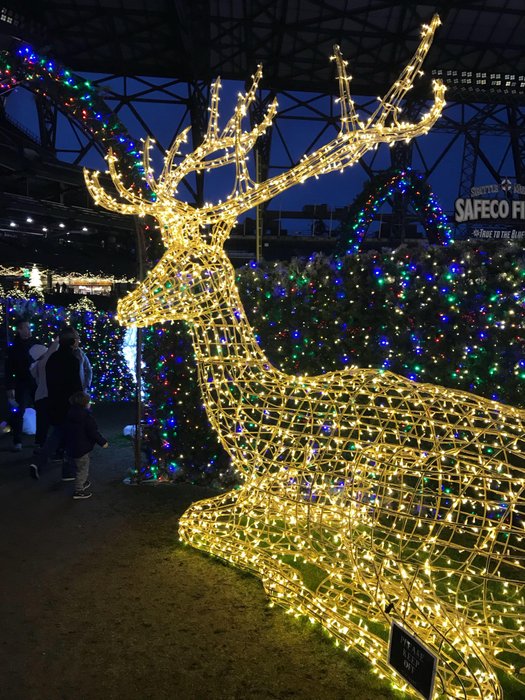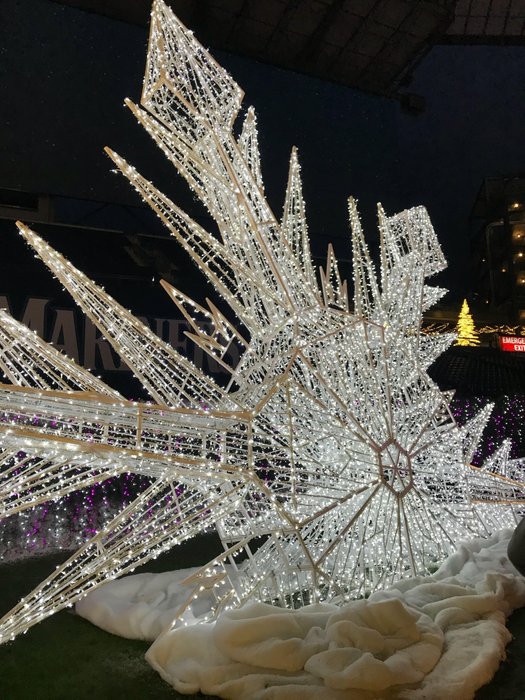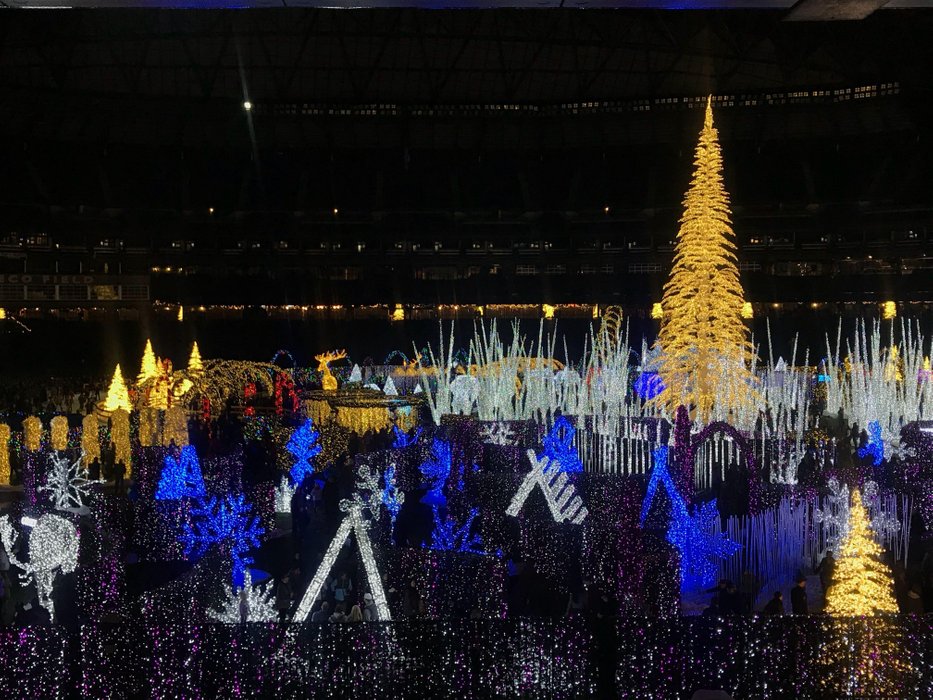 ---
As visitors exited the maze everyone was gifted a candy cane. Christmas music piped throughout the stadium adding to the cheer. Some nights there is also live entertainment.
Tickets for Enchant start at $20 per person. Special night have been set aside as singles nights and on two dates during the run visitors can bring their DOGS!!!
For more information visit the Enchant website
All photos taken by @dfinney December 1, 2018 on an iPhone 7.
---
Christmas song of the day: