Today is #MarketFriday an initiative by @dswigle to highlight market experiences from around the world.
Join me today as I explore Old Town San Diego located in beautiful Southern California.
---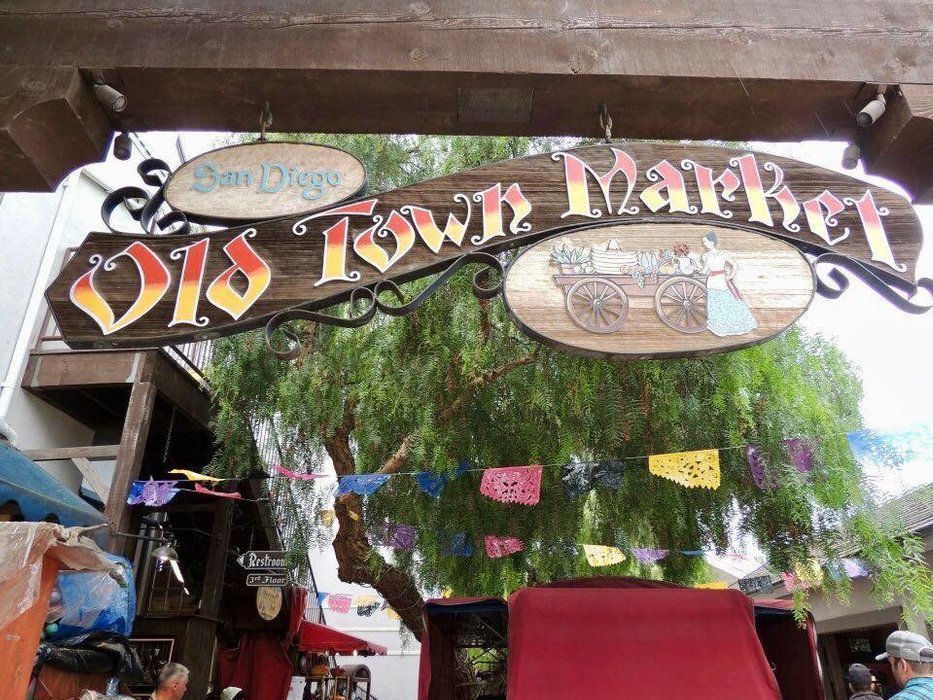 Old Town Market
Old Town San Diego is a neighborhood, historic site, museum and a shopping/dining district. It also marks the location of the first Spanish settlement in California. It is easy to spend hours here exploring shops, dining on delicious cuisine and soaking up the Mexican culture of the area.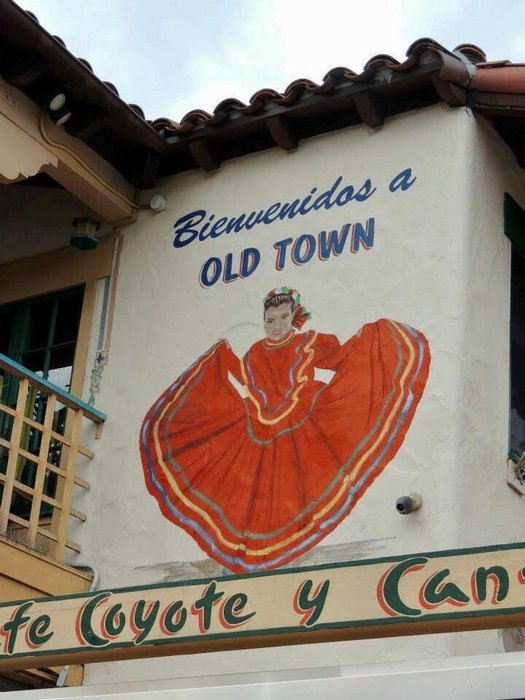 Bienvenidos... Welcome to Old Town.
The first European to come to this region was Spaniard Juan Rodriguez Cabrillo. He set sail from Mexico in 1542 to explore the western coast of America. Cabrillo is known as the discoverer of California as he was the first European to map many of the area's coastal features.
In 1769 fellow Spanish explorer, Gaspar de Portolá, led the first European overland expedition of California. He arrived in the area of Old Town San Diego the same year, establishing a presidio (fort) upon the lands of the Kumeyaay Native American tribe. Shortly there after the Franciscan friar, Father Junípero Serra, founded Mission San Diego de Acalá in the same area, thus solidifying European settlement of the region.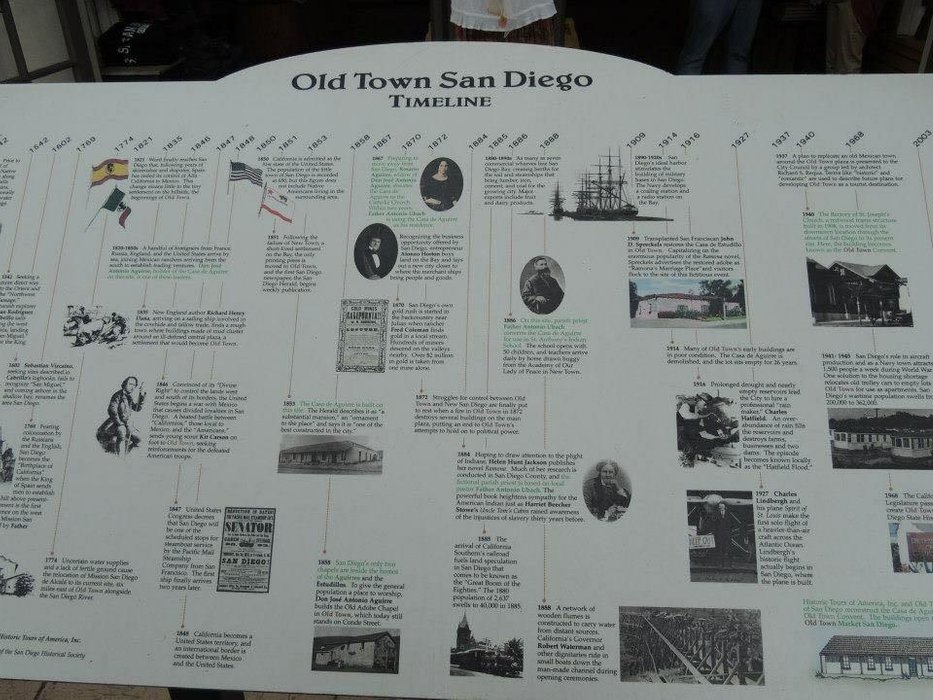 Timeline Old Town San Diego.
The Old Town San Diego State Historic Park was established in 1968. It sits at the location of the original Spanish settlement. Entry to the park is free and many historic buildings from the 1800's are available to explore.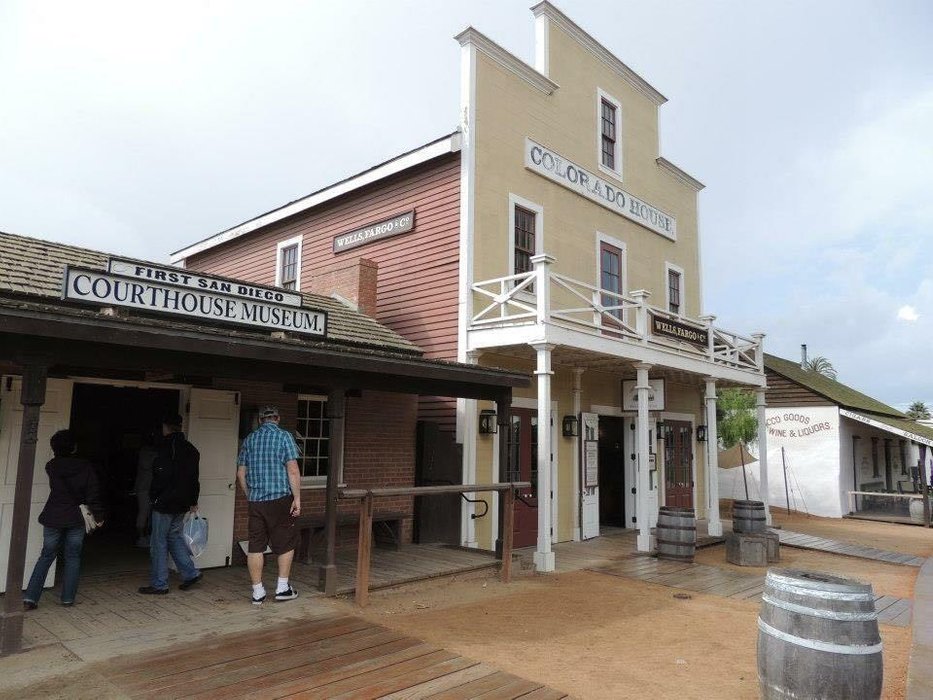 Two historic structures within the park, the courthouse museum and an early bank
Walking through old town is like going back in time to another country. Red tiled walk ways are lined with bougainvillea and cactus. The area's architecture has a distinctly south of the border vibe.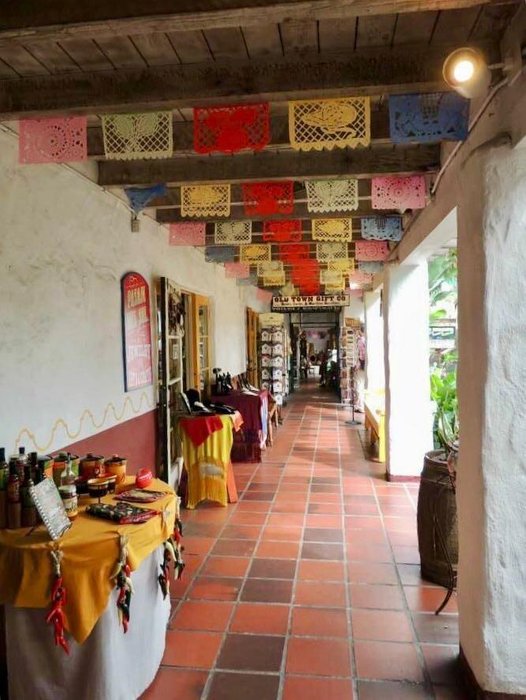 Papel picado hang from the walkways. This decorative craft is a style of Mexican Folk Art where colored tissue paper is cut into intricate designs.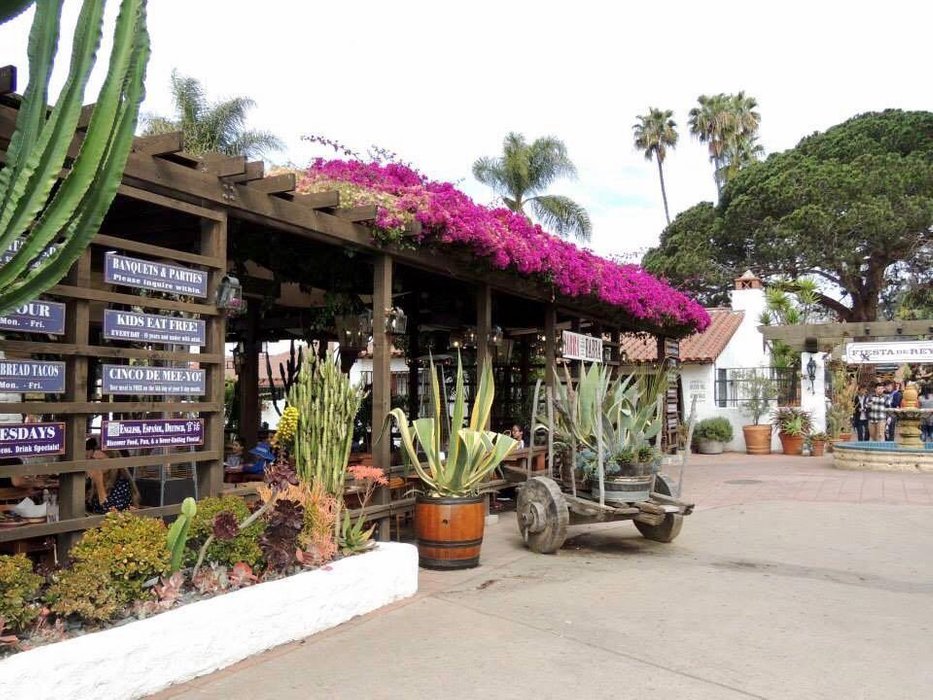 Some of the flowers and cacti scattered throughout Old Town.
As you stroll through old town there are hundreds of opportunities to shop for Mexican Folk Art. One can find pottery, clothing, jewelry, textiles and decorated Day of the Dead style skulls. Additionally, several shops sell Native American crafts as well as pieces from South America.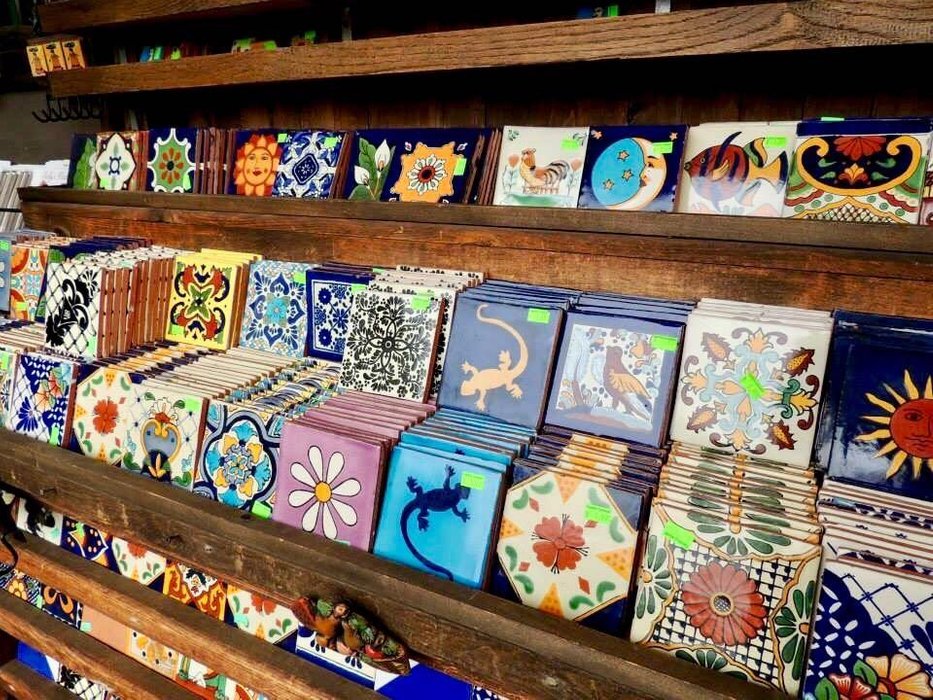 One shop sold tiles ranging from traditional to modern designs.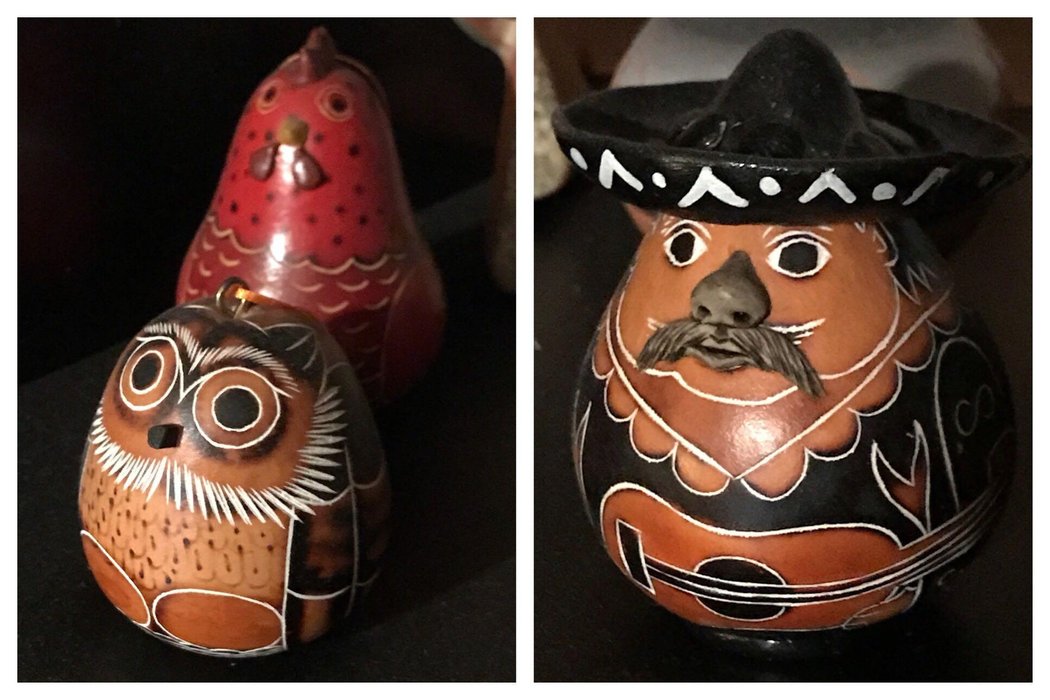 Some of my Old Town purchased. These are gourds that have been carved and painted to make beautiful little ornaments. Here we have a rooster, owl and a mariachi.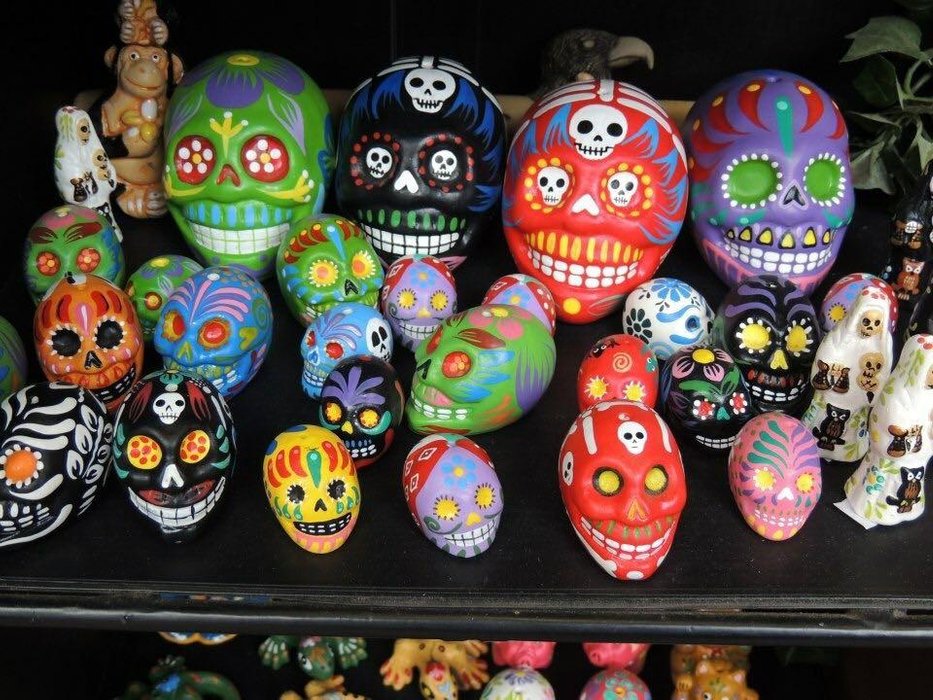 Hand painted colorful skulls in various sizes.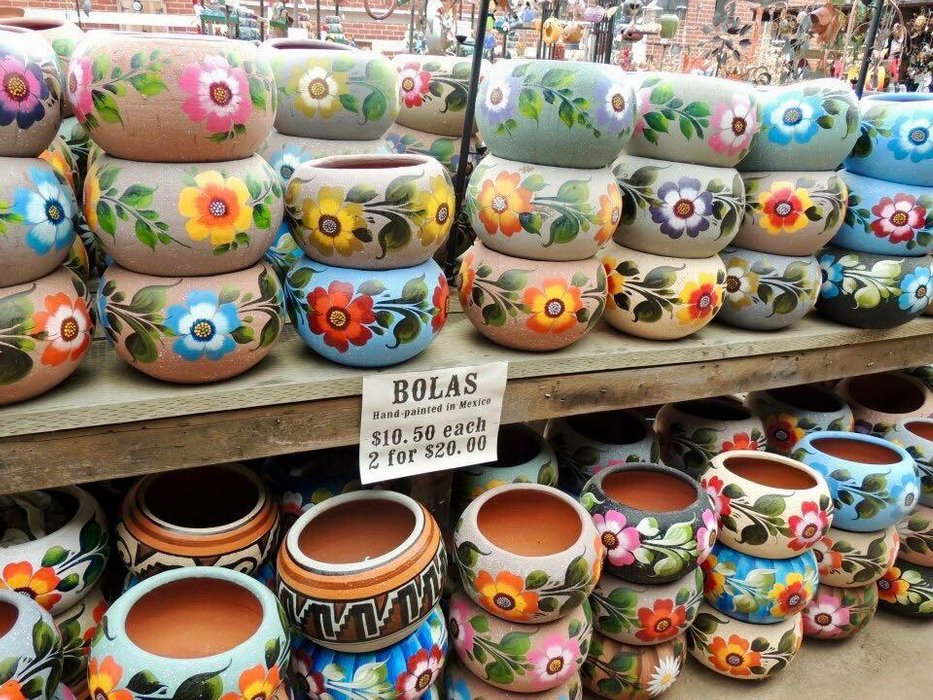 Bowls, also hand painted in Mexico and sold at one of Old Town's delightful shops.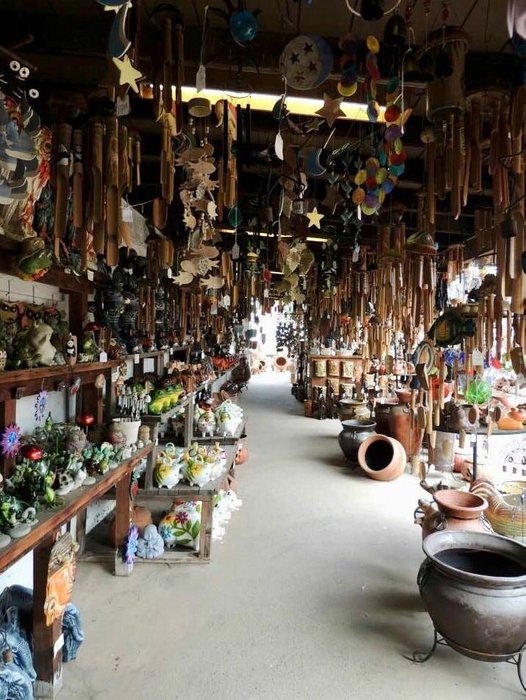 Walking through part of a local garden shop. Ceramics can be seen on the shelves while different styles of wind chimes hang overhead.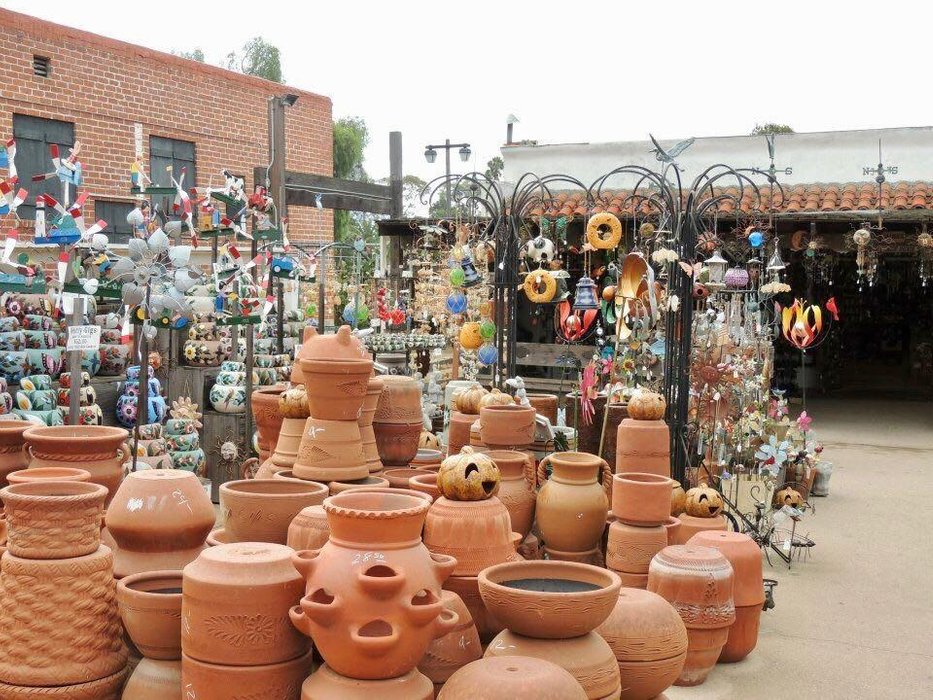 Another shop selling an assortment of Terra Cotta pots.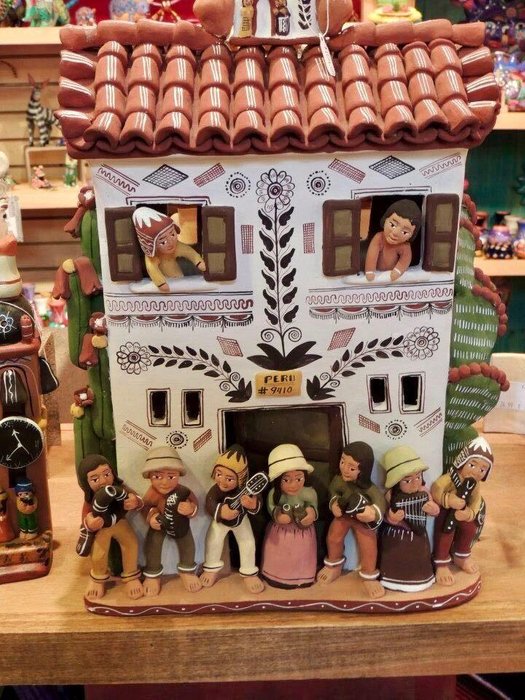 Ceramic featuring a Peruvian scene.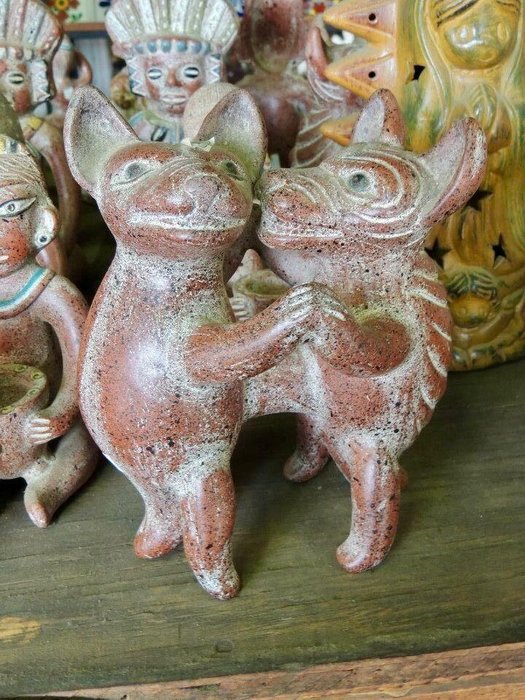 Not sure if these sculptures were dogs, wolves or cats, but they are adorable.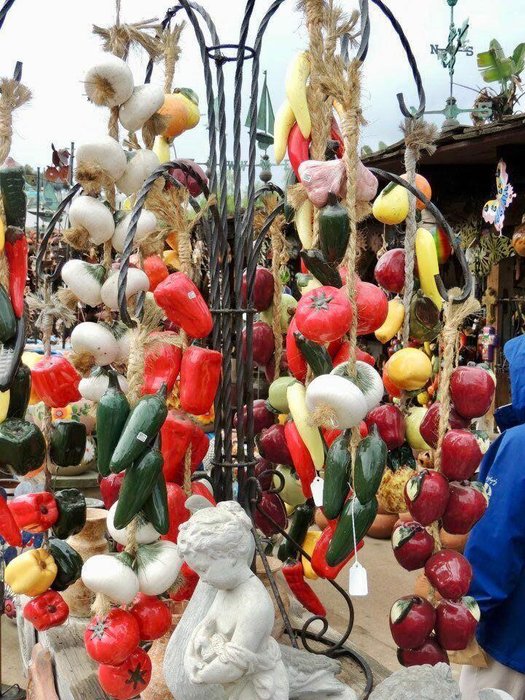 Decorative peppers, garlic and onions often hung on doors much like wreaths.
Throughout the year Old Town San Diego hosts entertainers and festivals. Most days mariachi musicians entertain visitors along with folklorico dancers. The area also hosts San Diego's Day of the Dead festival in early November.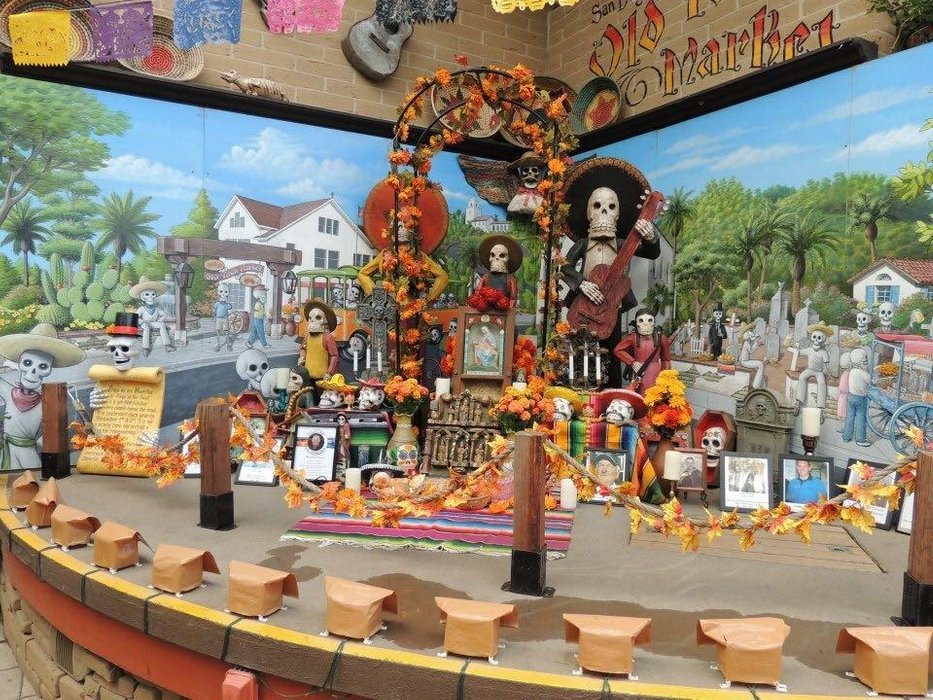 An ofrenda, which literally translates to offering, is an altar set up as part of Día de Muertos (Day of rhe Dead). These altars are placed to honor and celebrate relatives who have passed.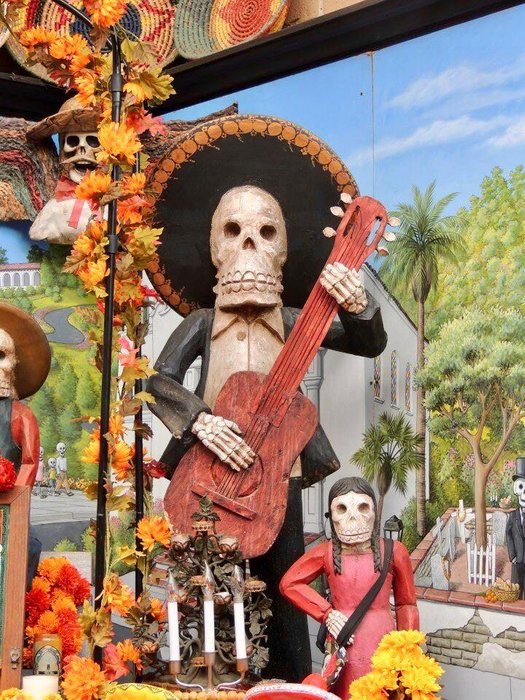 Closer look at the ofrenda.
After shopping and cultural explorations it is time to relax. What better way to enjoy the atmosphere than by dining outdoors at one of Old Town's many restaurants. While the area offers everything from Italian to sushi, I always choose Mexican when visiting Old Town.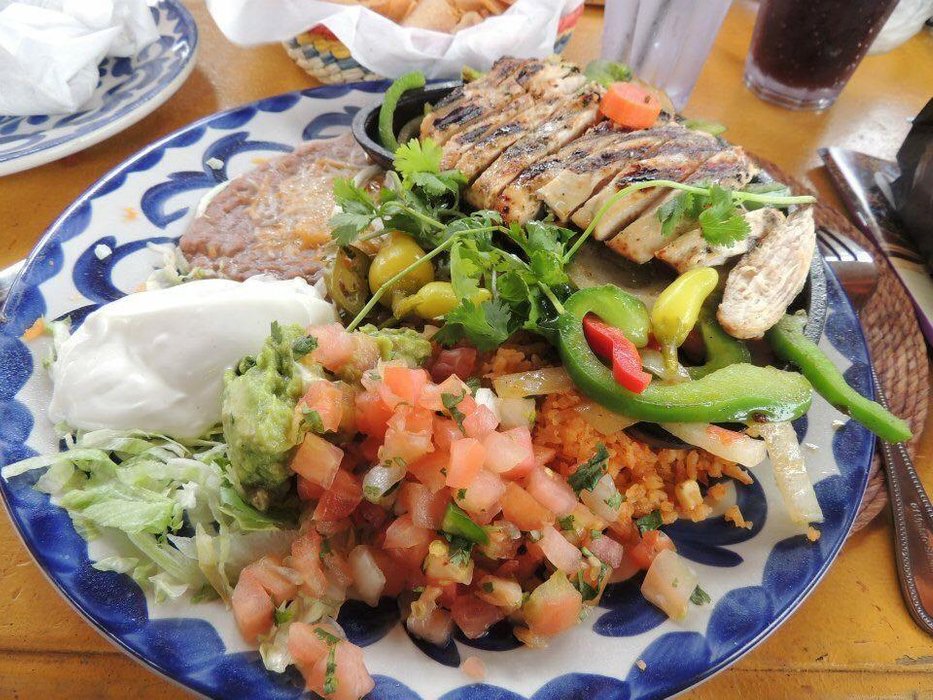 Fajitas 😍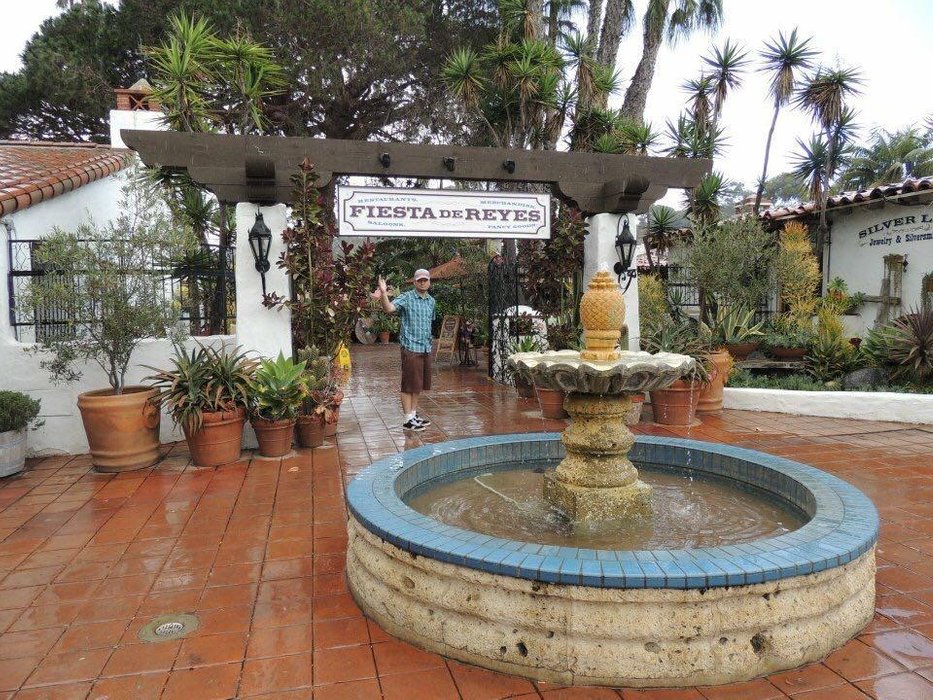 Courtyard view towards one of the dining establishments.
For more information on Old Town San Diego visit: Here.
---