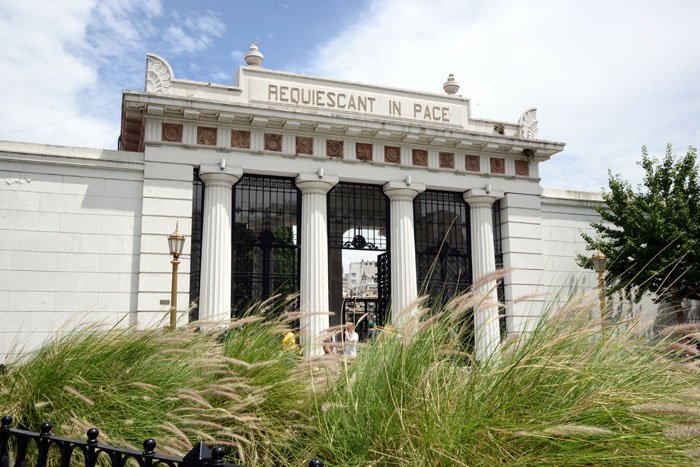 The cemetery, Cementerio de la Recoleta has to be one of the most beautiful cemeteries I have ever seen. It certainly has some extraordinary graveyards. It looks like a city within the city. A «city of the dead» within the city of the living. It has cobblestone streets lined with tombs. The place houses around 6.400 beautiful mausoleums. I thought an hour was enough, but realized I spend several hours wandering around through the streets. There are so many beautiful tombs. Lots of details to study. Some look like Gothic chapels. Others as Greek temples. The people burried here, are burried in style! Notable Argentinians are resting here. Among them are politicians, 26 Argentine presidents and army generals, among other prominent people.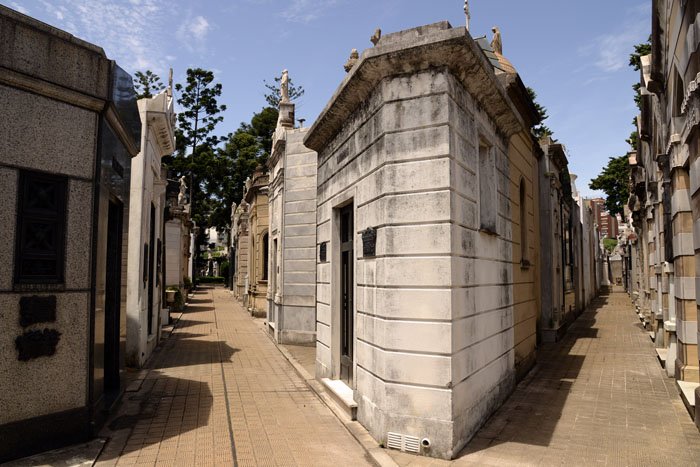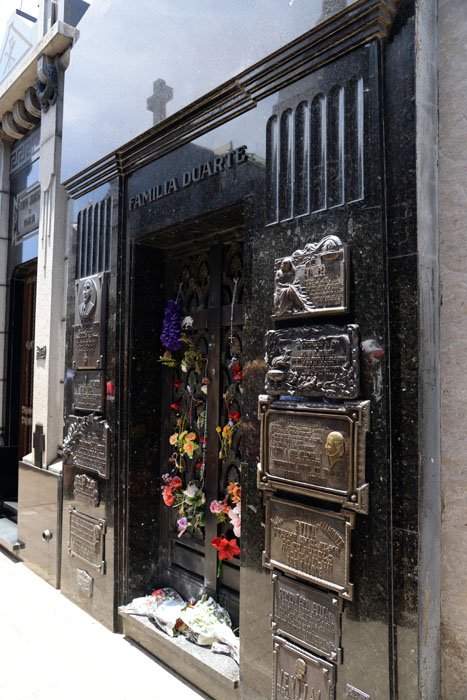 Evita / Duarte family mausoleum
The most famous person buried here, must be Argentinas beloved First Lady Eva Peron (Evita) Her mausoleum is popular. At her tomb there were lots of people all the time. Eva Peron (1919 – 1952) died of cancer. Three years after her death, her body was removed by the military because of the coup that deposed her husband, President Juan Peron. It took 20 years before it was returned to the Duarte familys mausoleum in this cemetery. Her crypt is five meters underground, well protected.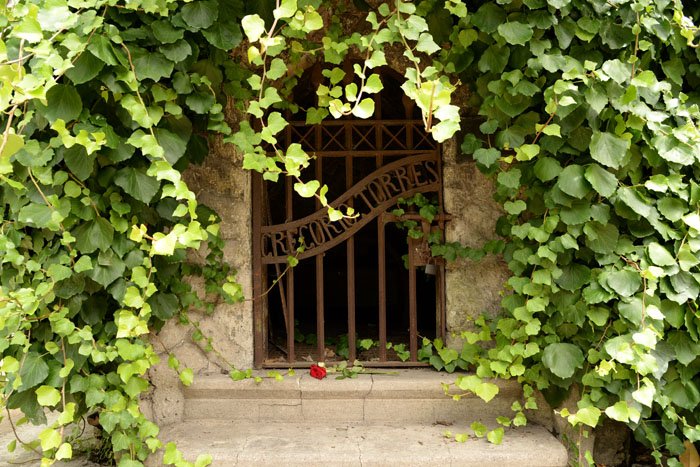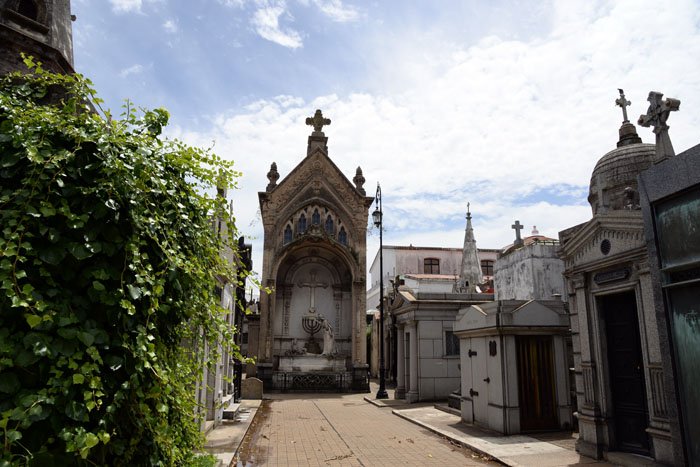 Family Dorrego-Ortiz Basualdo (1849-1920)
Monks came to this place in the 18th century. They were monks of the Order of the Recoletos who did leave the convent garden in 1822 and the ground here became the first public cemetery in Buenos Aires.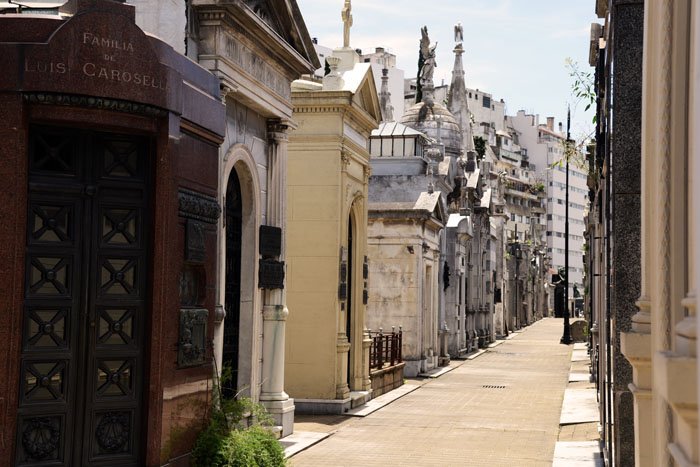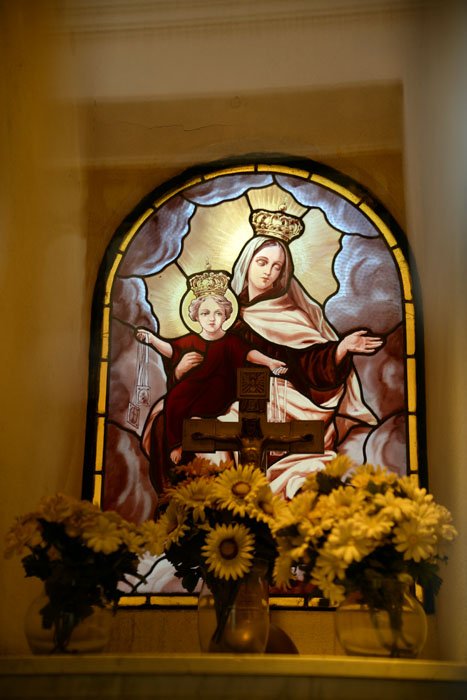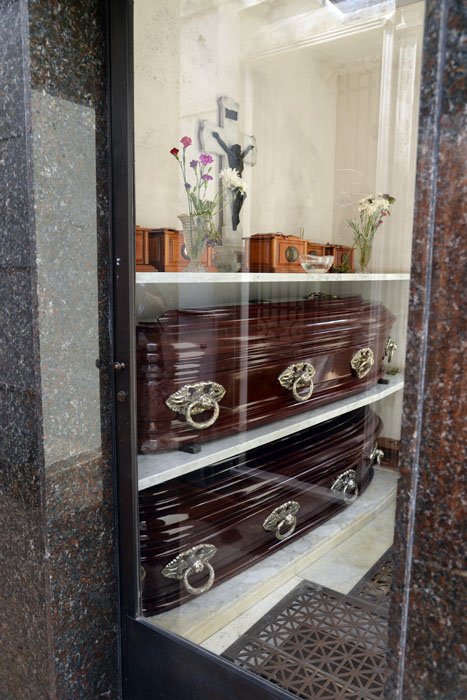 To me the most facinating experience was to be able to peek inside the crypts. Standing face to face with a dusty coffin in wood or marble, relics, photoes of the dead, flowers etc is quite an unusual experience.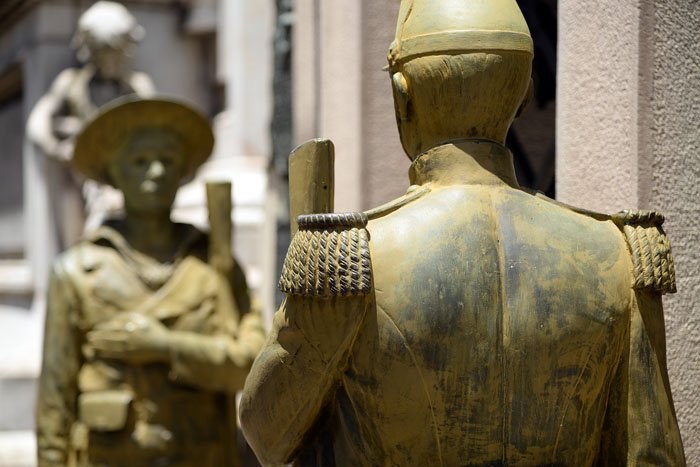 When in a cemetery, you almost automatically think of ghosts and stories of ghost haunting and other happenings that gives you the creep. Recoleta is noe exception. The cemetery also has its own ghost stories. One story the guide told us about, was the one of Rufina Cambecères, a 19 year old young women, who suddenly died in 1902. Just after her burrial, workers heard screams from her tomb. When oppened, they found scratch marks on her face and on the inside of the cascet. It was presumed that she had mistakenly thought to be dead, but was buried alive. No one knows what really happened. But according to the guide, this is only one of the legends of the cemetery.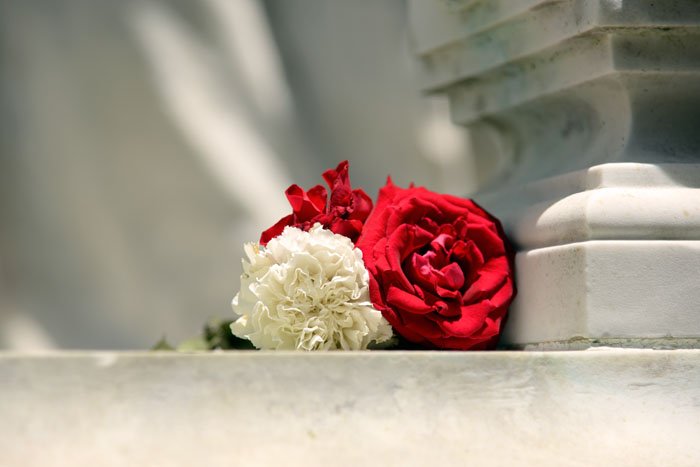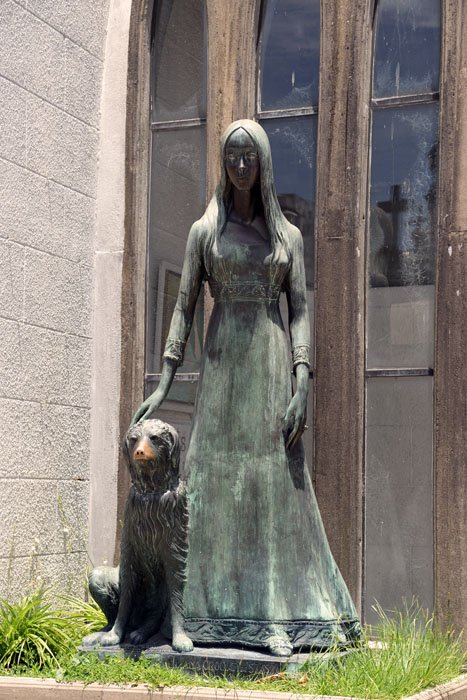 Liliana Crociati de Szaszak
Liliana Crociati de Szaszak (1944-1970) was killed by an avalanche in Austria. A life-size green bronze statue of Lilliana in her wedding dress sits by her tomb. After the death of her beloved dog, a bronze statue of the dog was added, with Lilliana's hand resting on the dog's head.
On this hour long free walking tour we learned not only the story of Rufina. There are more stories.... The cemetery is open every day from 8 am – 6pm. Entry is free. You can buy a map to guide you through and help you find the tombs you want to visit. Or you can join a free guided tour. The City of Dead is indeed a wonderful place..........
Right now I am in Argentina and for the next 7 weeks I will be traveling through Argentina and Chile. Next stop: Patagonia.
Please do follow if you want to keep up with my next travel story. Any upvotes or resteems are hugely appreciated!
Latest travel story, check out :
SOUTH AFRICA - wine tasting in stellenbosch
U.J
Kristiansand, Norway
All the photoes are mine, Ulla Jensen (flickr, Instagram and facebook)