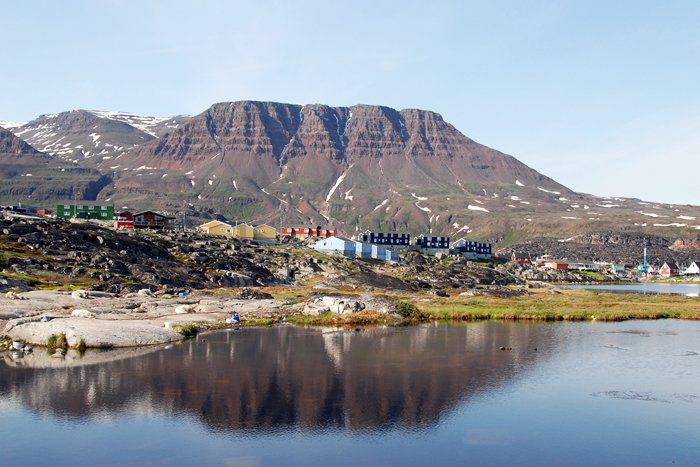 An island of intense green scenery, hot springs and steep basalt mountains. Completely different form the mainland. As I mentioned in my previous post 2 days ago, I continued my journey from Eqi Glacier to Disko island. When I planned my itinerary, I included Disko because of these contrasts to the rest of the country.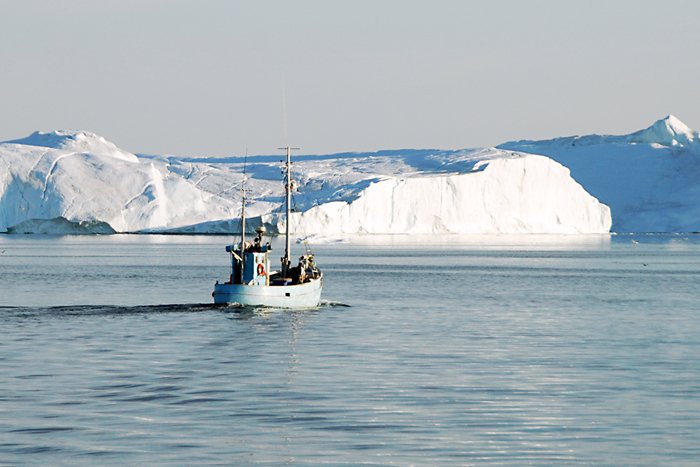 Boat tour to Disko island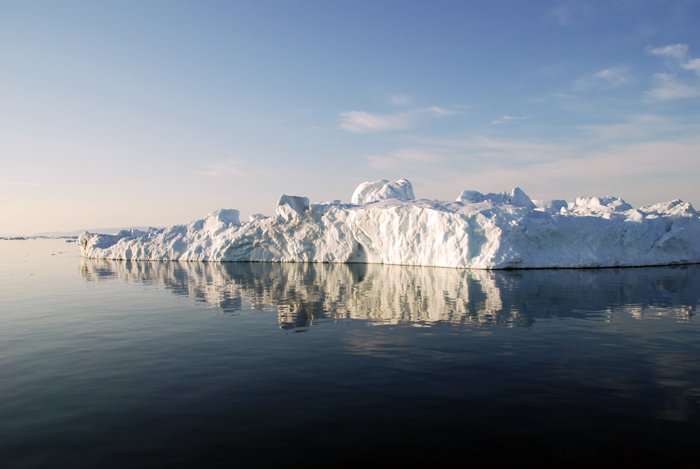 Disko Island is younger than the rest of Greenland and consists of dark, steep basalt mountains, an evidence of the island's volcanic origin. It is lush and green. Opposite the rest of Greenland, which is more barren. The reason for this is the hot springs (some 2000 ) that gives the landscape that intense green color. More than half of Greenlands plant species are found here, so far north. I chose to stay 4 days in Godhavn to be able to have enough time to do several different hikes.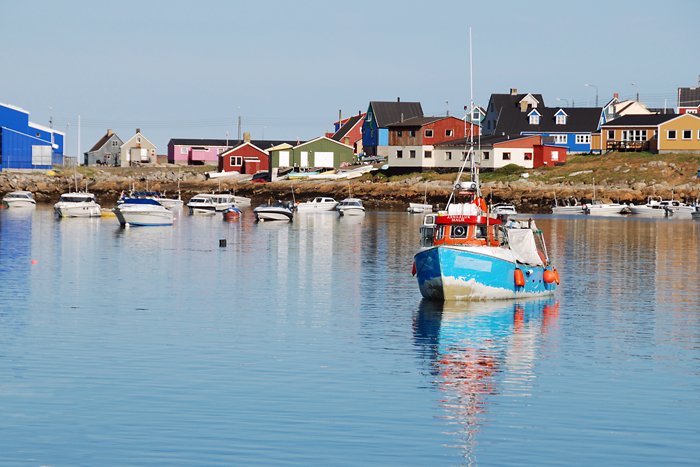 Godhavn
After a good nights sleep at hotel Arctic in Ilulissat, I started my boat trip to Disko island. From Ilulissat it is possible to see the island. It does not look that far away, but it did take 5 hours to get there. The boat is not big either. Again, I sat on deck enjoying the sun and watching icebergs, well dressed in wool and windprof jacket. We did see whales as well. Actually quite a few, but they were mostly too far away to get good photoes.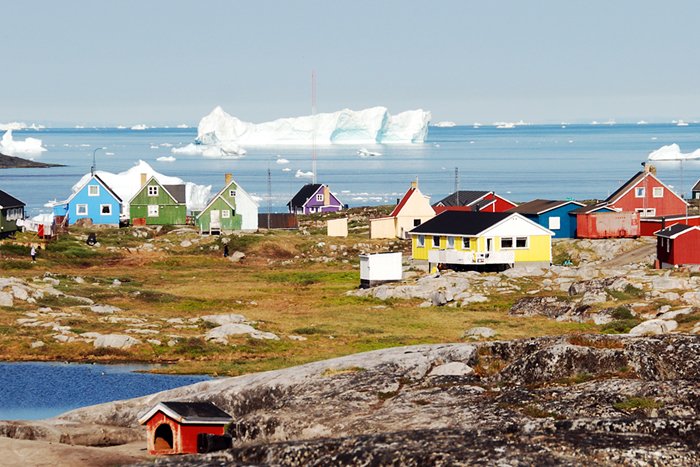 Godhavn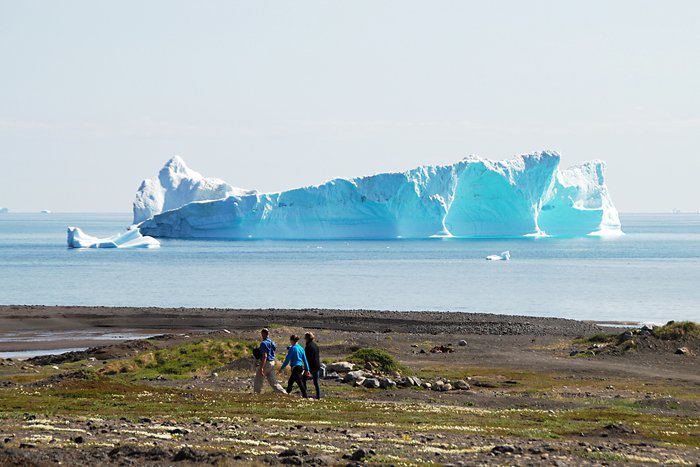 The icebergs here are coming from Kangia Icefjord in Ilulissat
The ship arrives at Godhavn or Qequetarsuaq - the Inuit name which means «The big island». It is a small place, but has a good natural harbour. From the quay it was only a short walk up to the hotel where I stayed – hotel Disko – which is not one building, but several buildings spread out. Close by there is a super market where everything you might need can be bought. The hotel has a kitchen and facilities for selfcatering. A stay here does not cost a lot if you choose selfcatering. Even the town is small it does have a small museum worth visiting. The best thing is to just walk around and enjoy the colorful wooden houses, the views of the mountains behind and all the sledgedogs on summer vacation (in July) There howls are heard just about everywhere and I am quite sure there are more dogs on Greenland than people!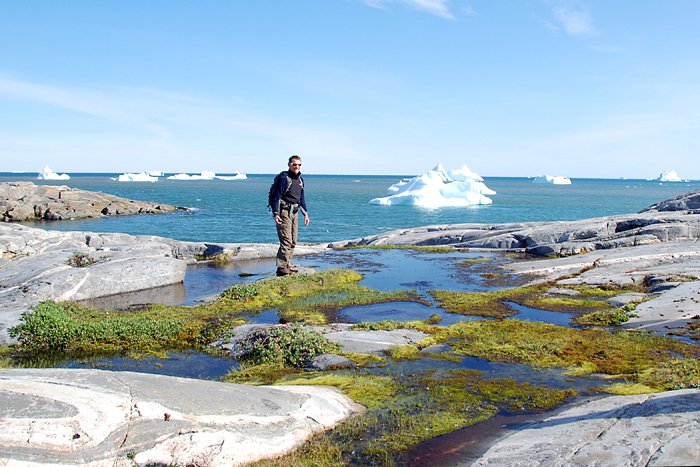 Hiking to the whale-spotting look-out point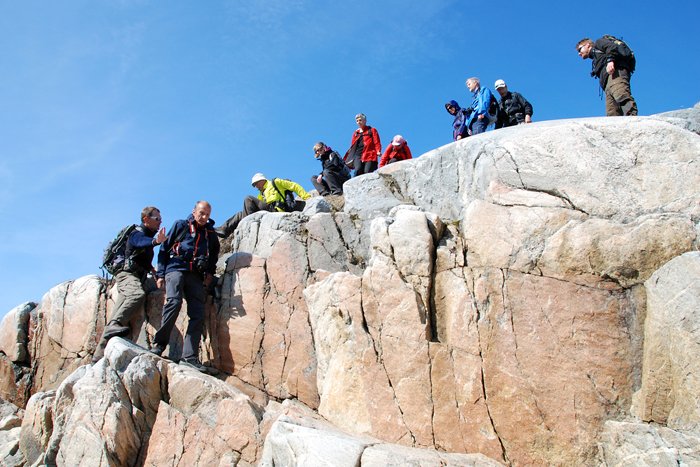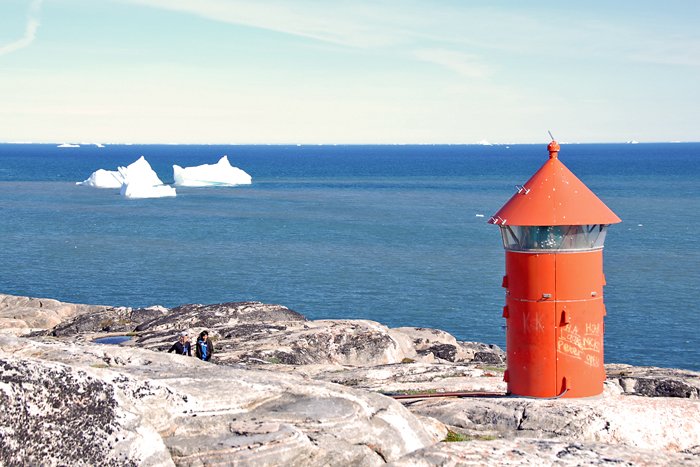 Lighthouse at the look-out point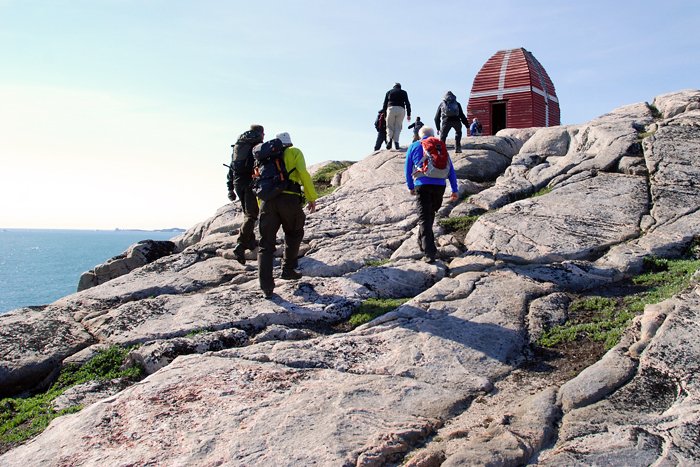 The whale-spotting look-out point
That same afternoon, I did a guided walk along the coast to «hvaludkiggeren» which means whale- spotting look-out point. This is a very rocky path. At times I felt we were climbing rather than walking! It was strenous even it was only a 2-3 hour walk. But it was lovely to sit at the look out point in the sun doing excactly what you are surposed to do at a whale-spotting look-out point. Spotting whales! According to the guide, many of the big whales passes the island here. That is why they have the look out point at this particular location. Since 1773 there has been a whaling station in Godhavn. At that time it was a very popular area for Dutsh and Danish whalers. And a big industri. To the locals whaling was important too. It meant meat on the table. Today there are restrictions on how many whales the locals are allowed to catch.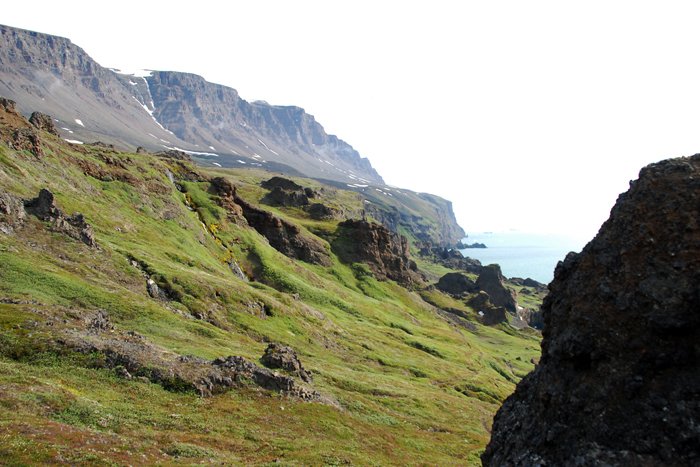 Hike to Kuanit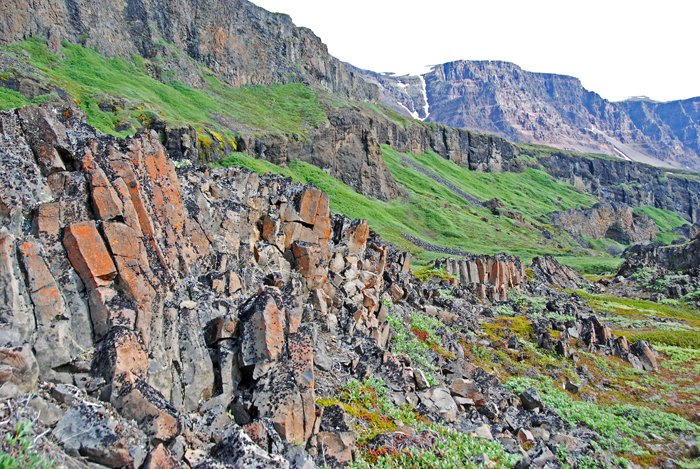 Basalt formaitions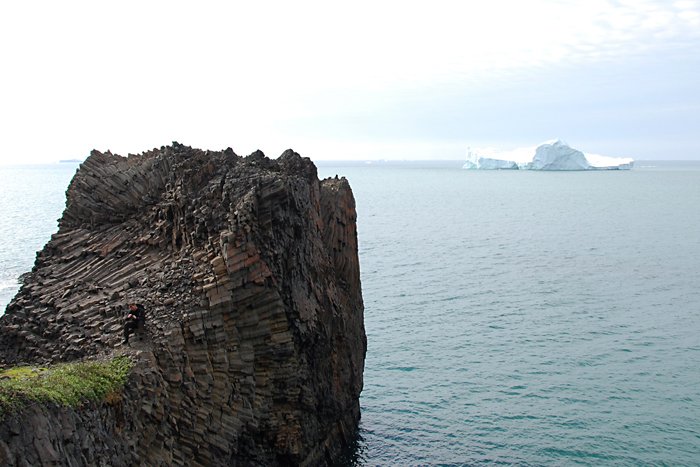 See the man sitting on the rock formations?
On my second day, I did a hike to Kuanit. This hike follows the coastline in the opposite direction than the day before. The trail runs along the steep basalt cliffs and through an intense green landscape. The name Kuanit means «kvan» which is the name of a herb used in greenlandic cooking and the local beer. It grows most willingly here, thanks to the hot springs. Kuanit is also an area of 15 -20 meters tall basalt rock formations. Most of them six-edged. They were formed by the lava after quick cooling. Amazing sight! The green coast offers real good hiking. The weather on that day was not clear and no bright sun, but still a good hike. It only takes a few hours. On the return I just satt high up on a cliff, watching the sea, spotting whales. I only saw one! Maybe I should have been more patient....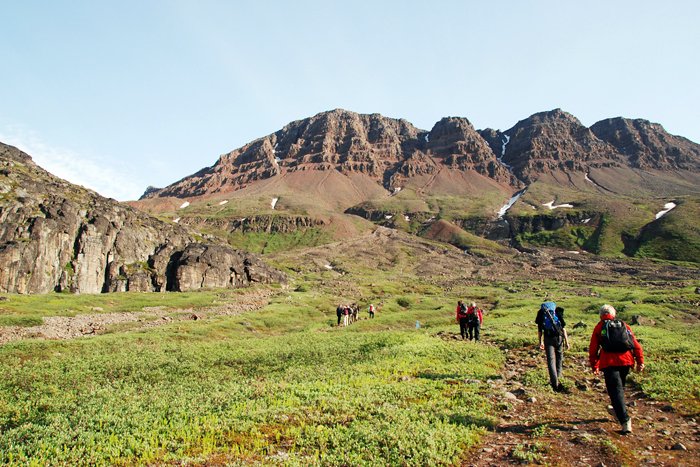 Hiking up the mountain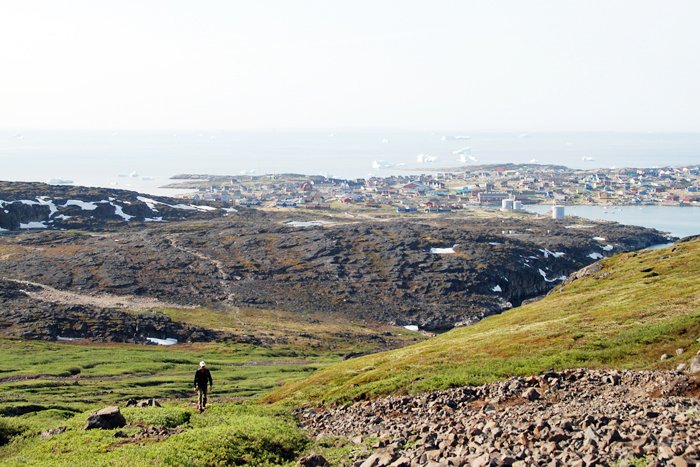 View of Godhavn
Next day I did a full day guided hike behind Godhavn up the steep mountain. This was also quite a strenous hike due to the steep 1000 meters ascention. The view of town though, got better all the time. This is also the trail to follow to the Lyngmarksbreen – a glacier. During the summer months,you can have a dogsledge ride for an hour. It depends on weather conditions and the condition of the glacial ice. It was not possible the day I went up. Still it was an eight hour hike. We were not back before dinner time. That night it did not take long before I went straight to sleep. But what a day. It was a great hike.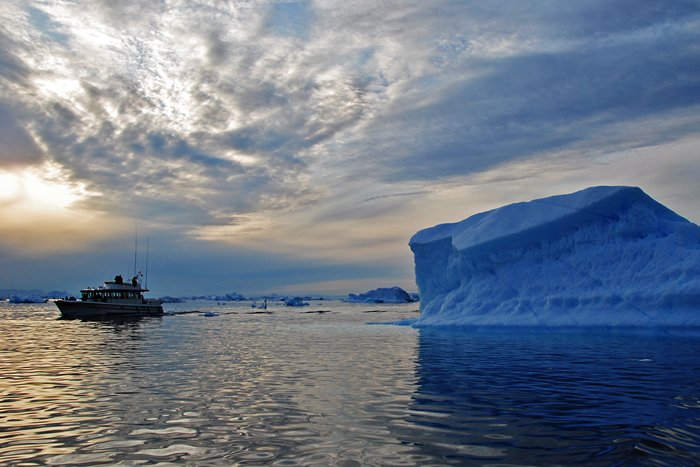 On the way to Ilulissat
Just as the glaciers on the mainland are affected by global warming, the same goes for the glaciers on Disko. Some have totaly disappeared. Only the moraine edge is left. By the end of my travels in Greenland I had achieved more knowledge and awareness of the effect global warming has on the vulnerable arctic nature.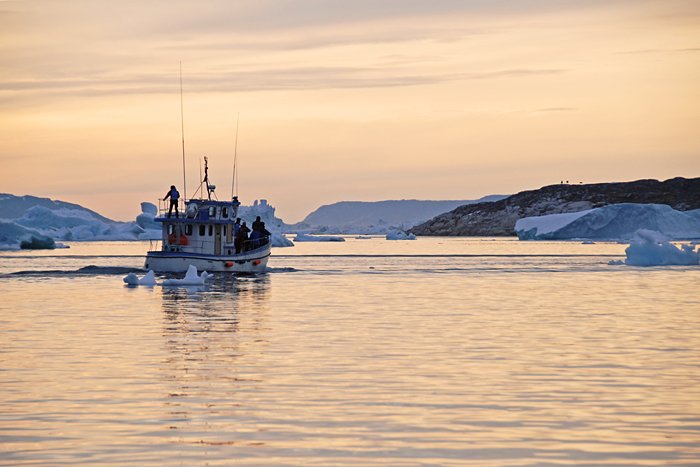 Almost back in Ilulissat
My visit came to an end. The departure from Disko was at 18 o'clock and because it took 5 hours the arrival time in Ilulissat was midnight. The last hour felt as another midnight sun boat tour. The light was slightly pink. What a beautiful way to end my journey to Greenland. It is a huge country and I only saw a fraction of it. Still it surpassed all my wildest fantasies.
For travel tips and organized tours and hikes, booking of boattickets etc. I recommend World of Greenland as a good place to start https://www.worldofgreenland.com/en/
My previous post is here: GREENLAND - a world of ice and snow (part 1)
Please do follow if you want to keep up with my next travel storie. Any upvotes or resteems are hugely appreciated!
Other travel stories, check out :
ILE AUX COCOS - an island in the sun (Roderique part 2)
THE ISLAND OF RODERIQUE - part 1 - a hidden gem in the indian ocean
From sunrise to sunset among the ancient temples of Bagan
AN ARCTIC ISLAND RETREAT – and one of the most extreme places
PORLWI BY NATURE – a cultural festival and a feast for the senses
«FOOD ON FOOT» - Street food in Hanoi
GHOSTTOWN – when people moved out, the sand moved in....
U.J
Kristiansand, Norway
All the photoes are mine, Ulla Jensen (flickr, Instagram and facebook)