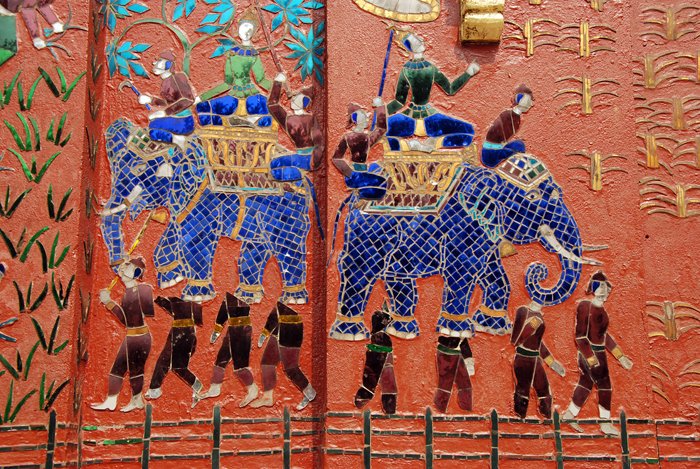 Laos is a country without access to the sea. It is a country with a long and complicated history. It became the most bombed country in history during the 1960 -70s. Even an agreement was signed in 1962 in Geneva to gaurantee neutrality and forbidding the presence of all foreign military personal. Long before that happend, the town Luang Prabang became the capital of the first Laotian kingdom of Lan Xang in 1353. Once elephants were so important that they formed the country's name. Lan Xang means Land of a Million Elephants. This kingdom was wealthy and influencial. It was the royal and religious capital right up until Vientiane became the capital in 1545. But internal conflicts in Lan Xang led to divisions and Luang Prabang came under French protectorate. I chose to stay in Luang Prabang and Vang Vieng.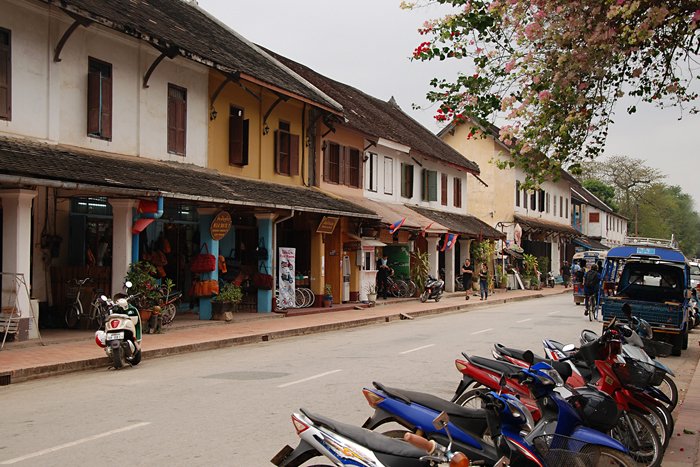 One of the main streets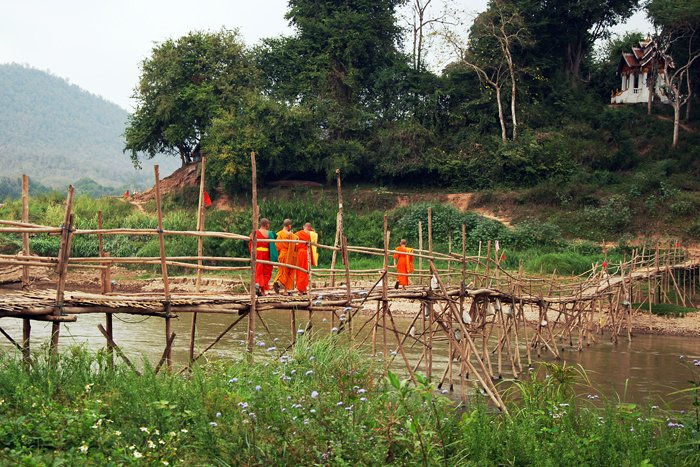 Bridge across Nam Khan river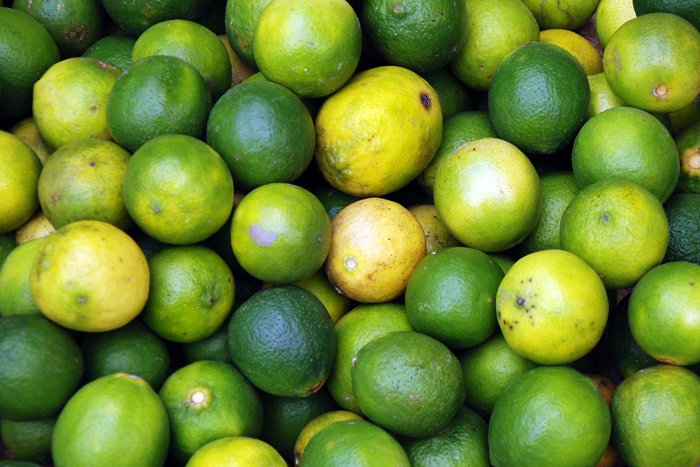 Luang Prabang is a charming town. Located between the Mekong and the Nam Khan rivers. This old town is a UNESCO World Heritage site and a real gem when it comes to atmosphere and exceptional architecture. It has a unique mix of traditional Lao wooden buildings and French colonial style architecture. In addition this rather small town has 33 Buddhist monasteries! It takes time to work your way along this trail of monasteries and temples, but totally worth it. They are among the most sophisticated Buddhist temples in Southeast Asia. This old and former Royal capital still remains the main center of Buddhist learning in Laos.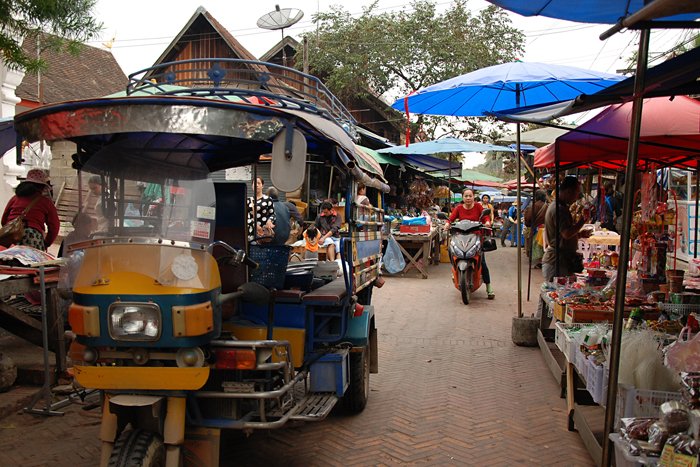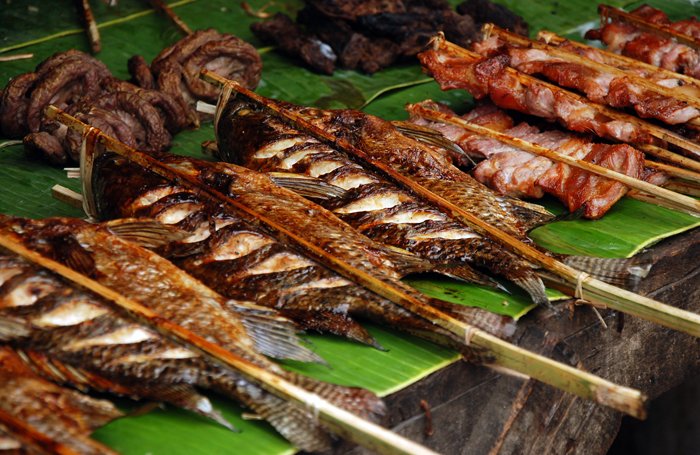 Freshly cooked food on the night-market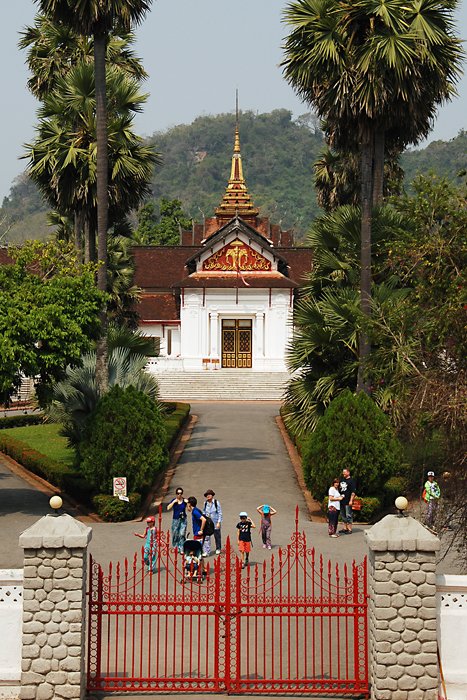 The former Royal Palace
The historic center is concentrated on the peninsula, which makes it easy to walk around. Luang Prabang has a slow, quiet pace that made me feel at home right away. The presence of saffron-clad monks, French colonial architecture and local food at the night market does give the town a charming atmosphere. Along Mekong there are lots of viewpoints from where one can watch the sunset. I also did that from the Phu Si hill in the center of town. It is an exceptional town simply because of having so many temples concentration in such a small place.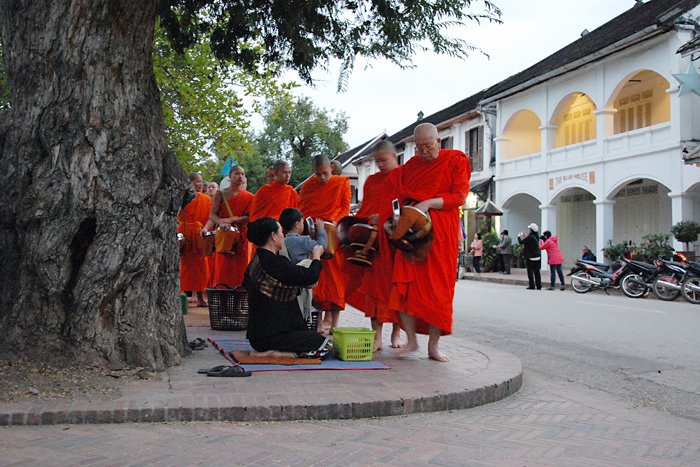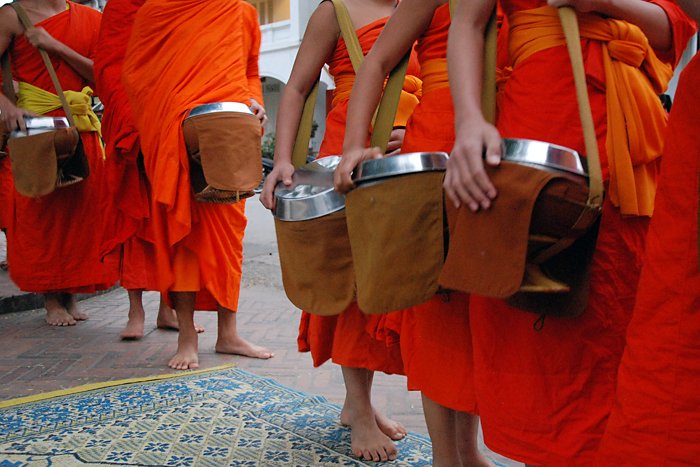 As the sun rises in Luang Prabang around 200 Buddhist monks depart from there temples to gather their daily meal. The tradition of alms gathering dates back to the 14th century. This ceremony is to many the highlight of their visit. At dawn I also found myself a spot to wait. The locals have to get up early to prepare food for the monks. They wait quietly by the roadside to give their gifts. There are certain etiquette to follow while watching this ceremony. To make sure I would not offend anyone, I asked the hotel for some instructions. It is a quiet, peaceful and spiritual ceremony. Unfortunately it has become a major tourist attraction. Many people do not show respect. I saw people walk up closely to take photos. Some even used flash!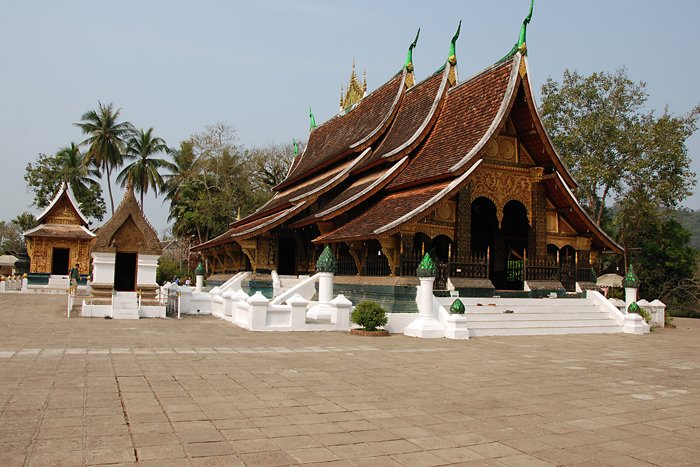 Wat Xieng Thong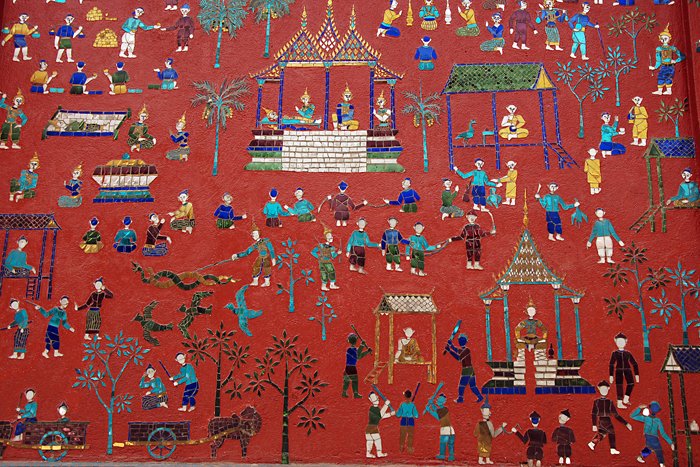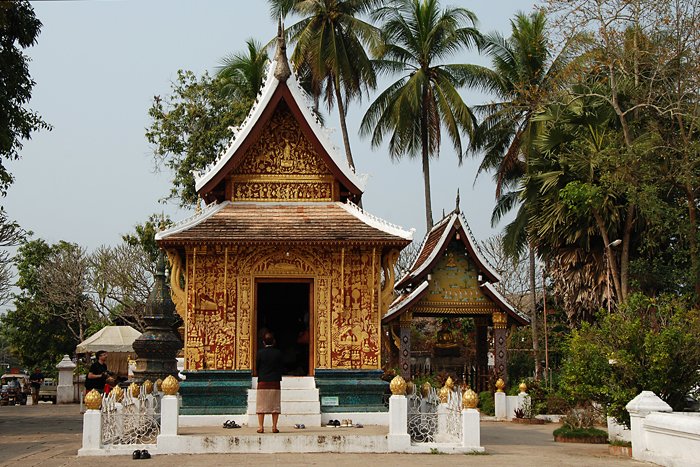 The Wat Xieng Thong - «monastery of the golden city» the most historically significant and most impressive temple in town. It was constructed in 1560 and because of the location by the river, it served as a gateway to town. The temple complex is large, consisting of more than 20 structures: pavilions, shrines, chapels etc., in addition to its gardens. A visit here was without doubt what made the deepest impression on me. Even it is the most visited, it still had a tranquil, peaceful atmosphere. There are so many small details to study on the buildings that time flies before you know it. The mosaics are absolutely exquisite.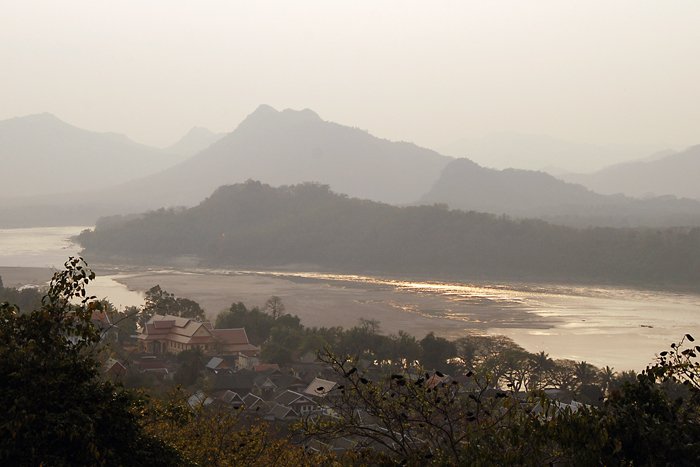 View of town from Phu Si Hill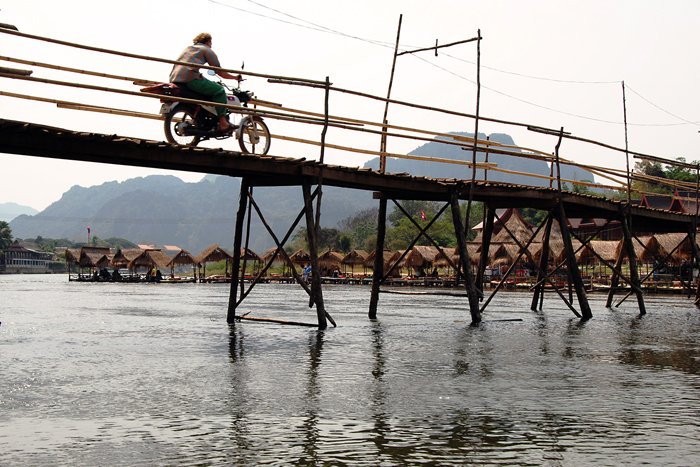 Not exactly the best infrastructure in Vang Vieng...
My journey continued on a 6 hours bus drive to the litle town of Vang Vieng. Situated by the river Nam Song right in the heart of a limestone karst landscape. The attraction here is the dramatic setting with the limestone cliffs as a stunning backdrop to the town. If Luang Prabang was about temples, history and early nights, Vang Vieng was the opposite. It is more of a party town for backpackers. But it has also become an adventure paradise full of activities as kayaking, rock climbing, hiking, exploring caves and floating on tubes, floating on tubes, which are inflated hoses from tractor tires.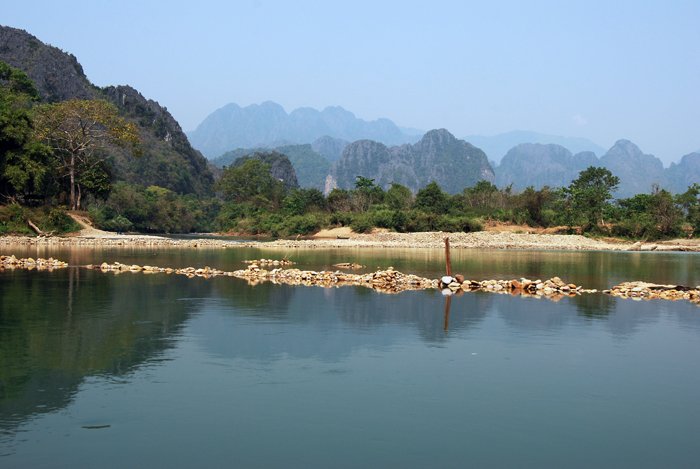 Boattrip on the Nam Song river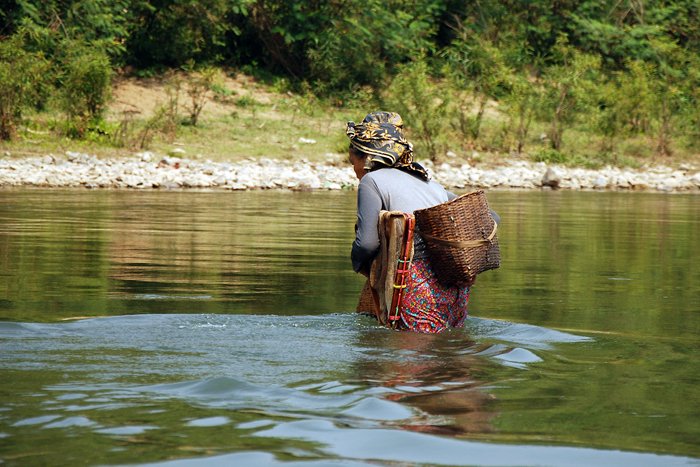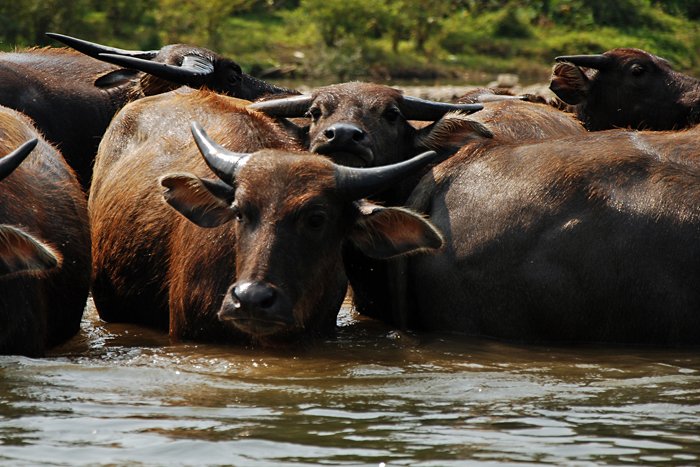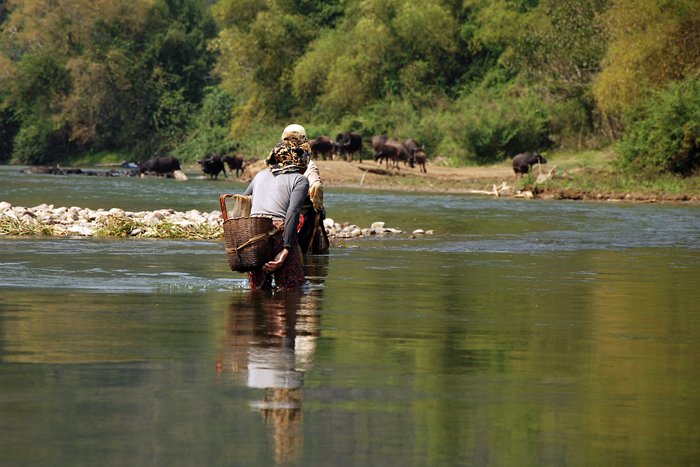 The best thing I did, was a half day boat trip on the river, sliding quietly down the river watching women collecting snails, locals walking by the river or looking after their cattle. I did rent a bicycle to be able to leave town to do some cave exploring too. I am not the adventures type doing the tubing...but to explore the countryside and relax somewhere along the river as the sun was setting, was enough for me.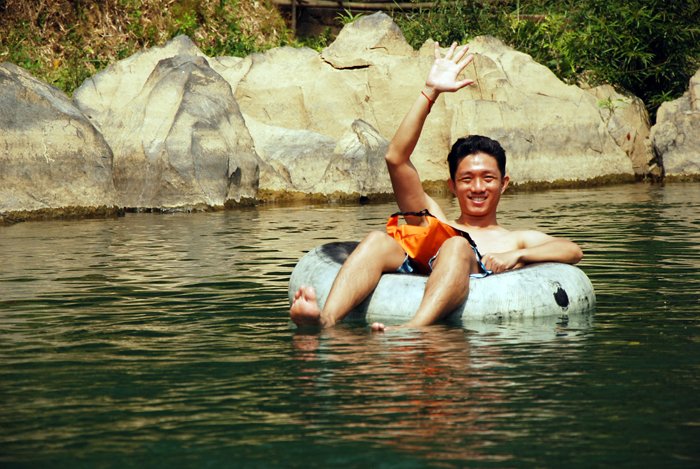 «Tubing»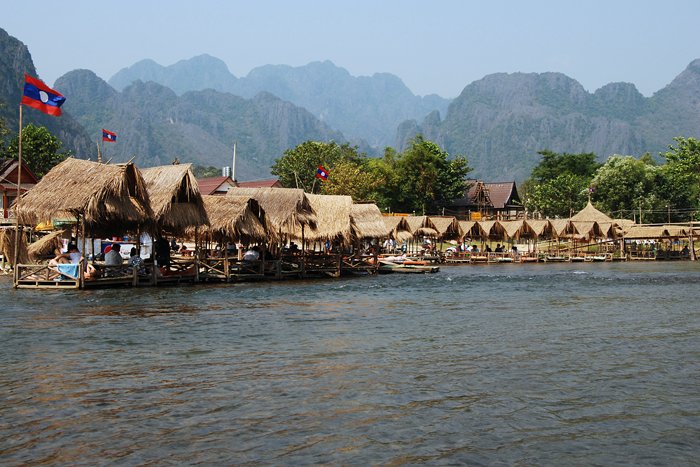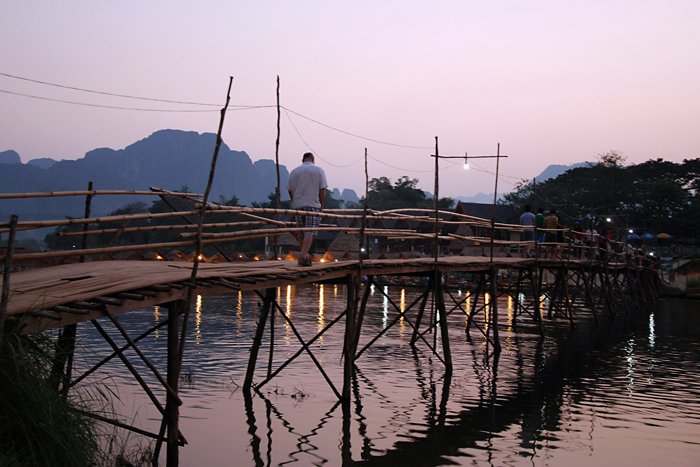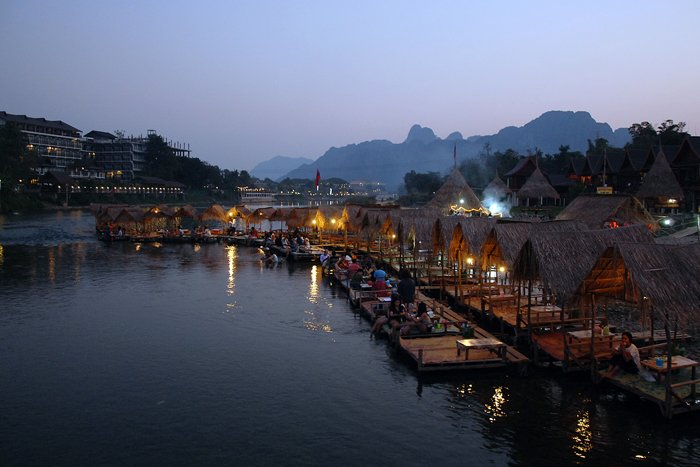 Somehow Vang Vieng still has that backpacker – hippie atmosphere. This litle town has an active nightlife. It is still possible to see cafees selling «happy» something (shake, pizza etc. ) but in this case, if you order a "something happy» your order will most likely have an extra ingredients like marijuana, opion or other drugs. I think the image of Vang Vieng is changing, with less focus on drugs and more on activities. It is a lovely place with a stunning landscape. Laos is a country full of surprises.
Please do follow if you want to keep up with my next travel story. Any upvotes or resteems are hugely appreciated!
Latest travel stories, check out :
SOUTH-AFRICA: The giraffe just silently went to the list of endangered species
U.J
Kristiansand, Norway
All the photoes are mine, Ulla Jensen (flickr, Instagram and facebook)