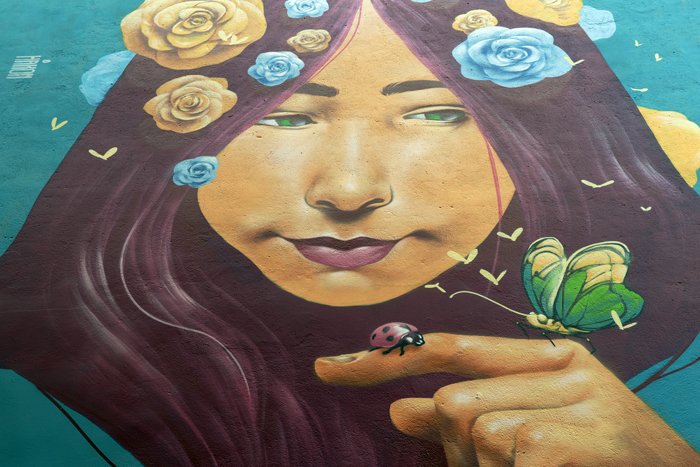 Before 2015 Kristiansand didn't have any street art, except for some illegal spraying that goes back to the years when it was illegal to spray paint on walls and the artists were unknown, due to that. Kristiansand is learning from Stavanger. In 2001 Stavanger was the host of the first street art festival in Norway. It is still the host of the annual NuArt Festival each year in september. Just a few years ago Kristiansand started to invite artists to town and created it's own street art festival called «Gatekunst» (meaning: street art). The 2017 «Gatekunst» Festival recieved a lot of positive response. It's not only about painting outdoor. It's also linked to museums, artists and business. Kristiansand municipality is very central to the facilitation. Both the mayor and the locals appreciate the street art that is beginning to develop. Street art and graffiti has had a positive impact on the reviving of our city.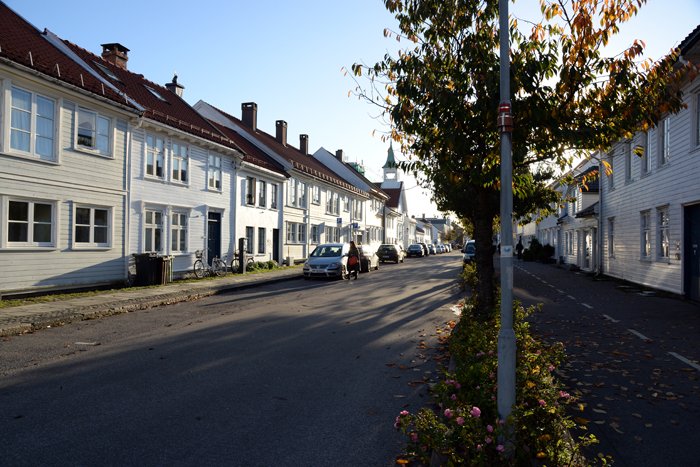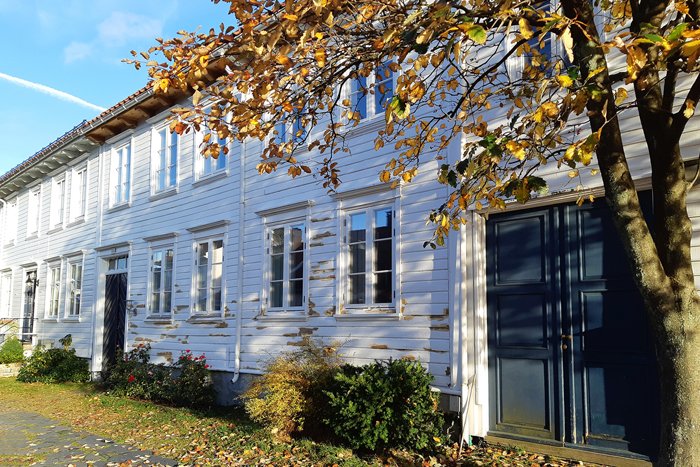 Old wooden houses in Kristiansand
Kristiansand is situated in southern Norway. Just like other cities along the coast, it has it's shares of old preserved wooden houses. The city was founded in the year 1641 by the Danish king Christian IV. ( At that time Norway was under Danish rule). The direct cause of the city's foundation was probably the need for a city with a harbor because of trade. At that time large quantities of lumber were exported from the surrounding area. The town plan was made over a strict route pattern and it's Norway's only consistently built Renaissance town. All the streets were equally wide and together they formed a quadrature of approx. 1 km. x 1 km. This city pattern has been practically unchanged until today. Only a small amount of the old wooden houses are still here. The harbor has been important for the city's development. In the early 1800s, it was home port to one of the world's largest fleets. Today it is a city with over 90,000 inhabitants and a rich cultural life, but now it looks like street art and graffiti have come to stay.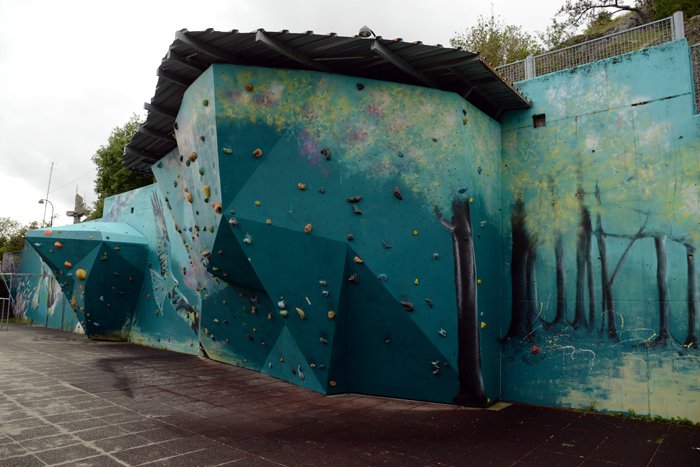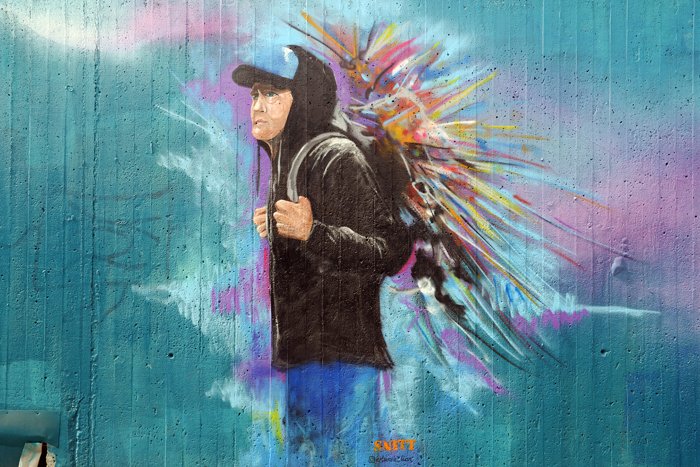 I will take you on a walk through «Kvadraturen» (the quardrature ). First stop will be the newest housing areas and the first area to get street art and graffiti.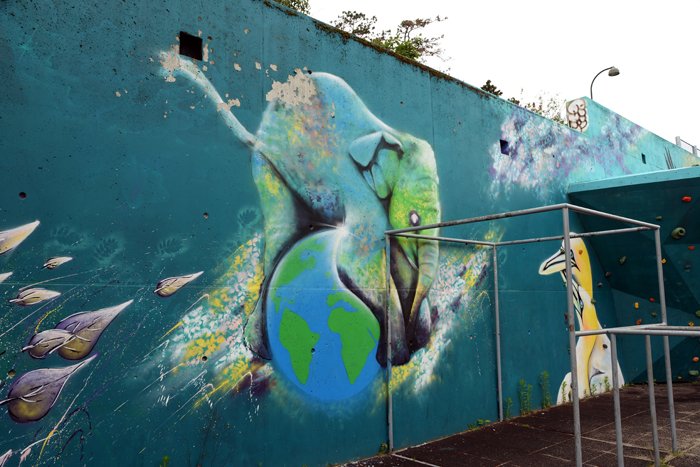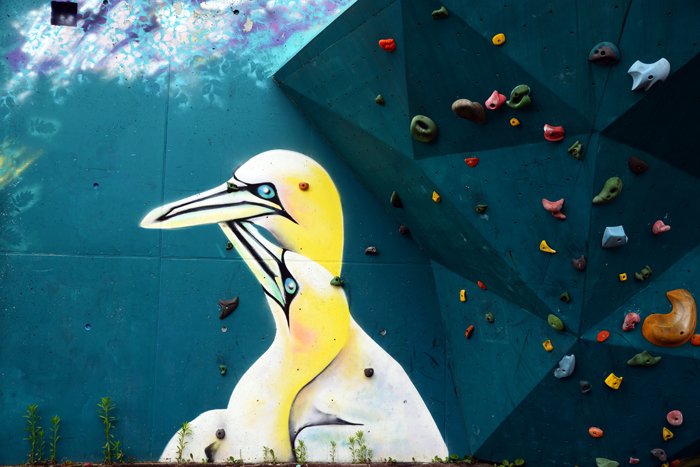 Nybyen housing estate has a playground with recreational areas with seating. Areas that were hardly ever in use have now become popular places to be. The playground in Nybyen is not just a playground anymore. It has become a place people meet. The idea was that the graffiti should be painted over after a year. Because the residents refused that all are still here.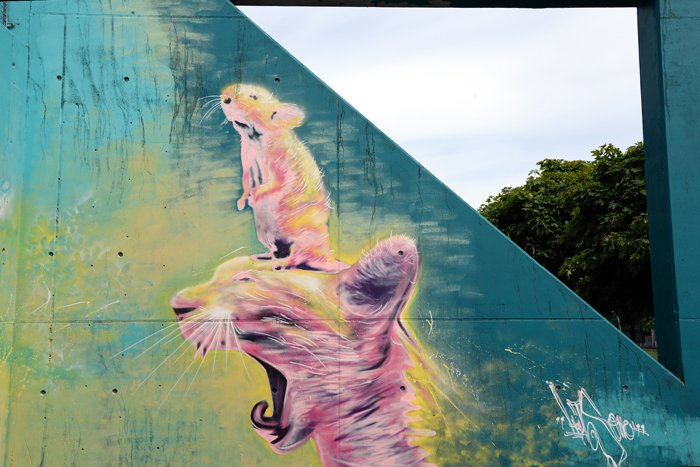 Project manager and artist Sedin Zunic has painted this. He had several artists with him: Håkon Andersen, Alf Solbakken and Ørjan Moen from Kristiansand, as well as Dot Dot Dot from Oslo.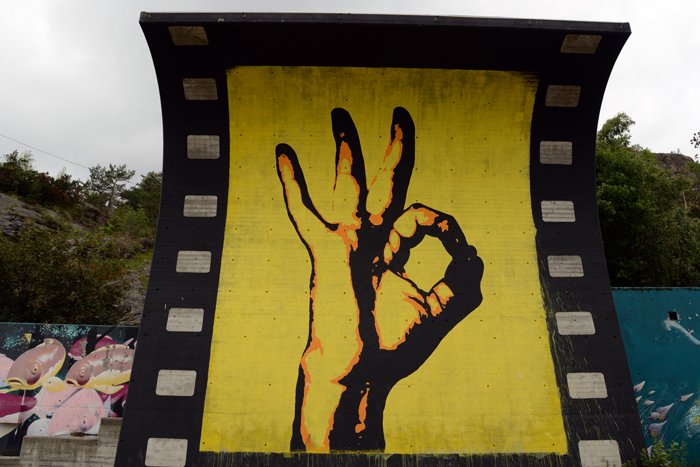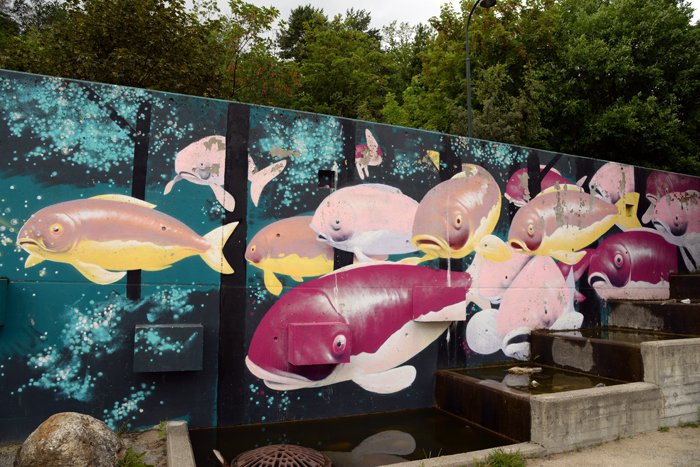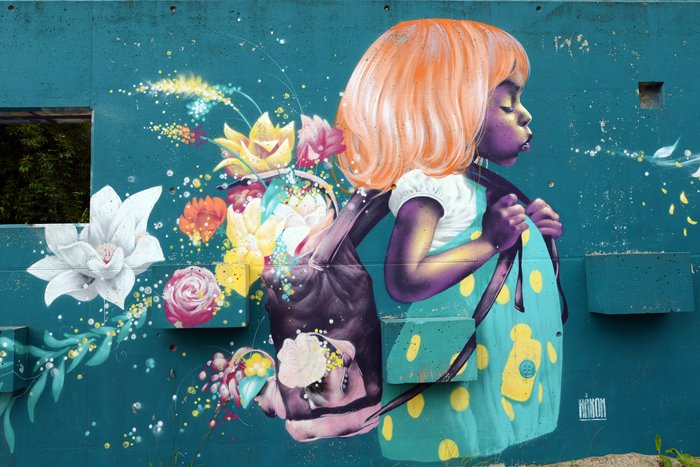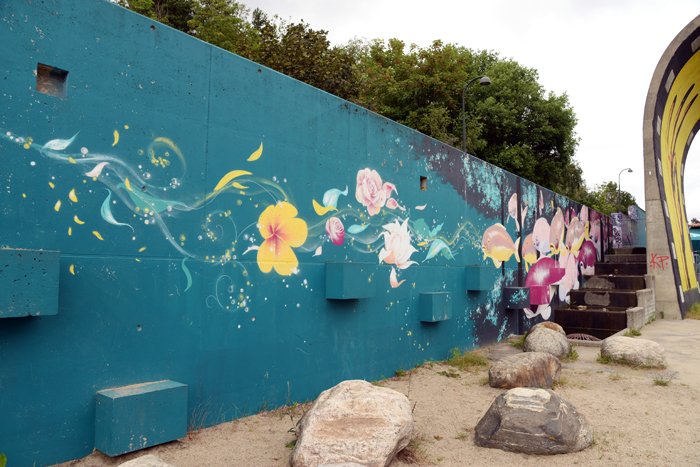 In connection with «Gadekunst «2017 the organizers announced for walls that could be used for decoration. I remember that the municipality needed the residents to provide walls and used social medias to get that message out to people. The response was surprisingly positive. It was the third edition of the festival and both local and international artists were invited.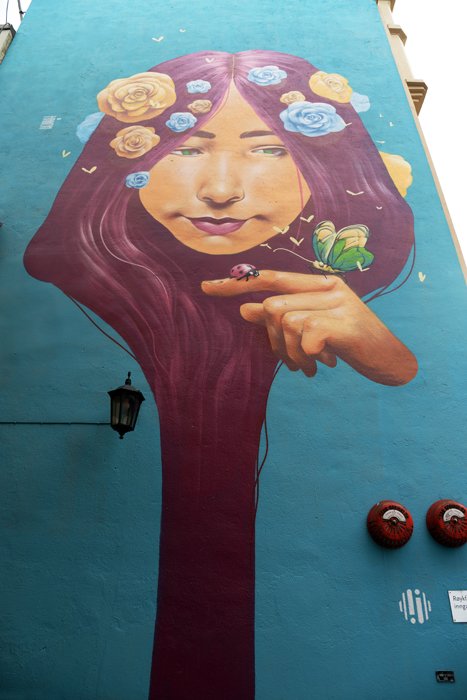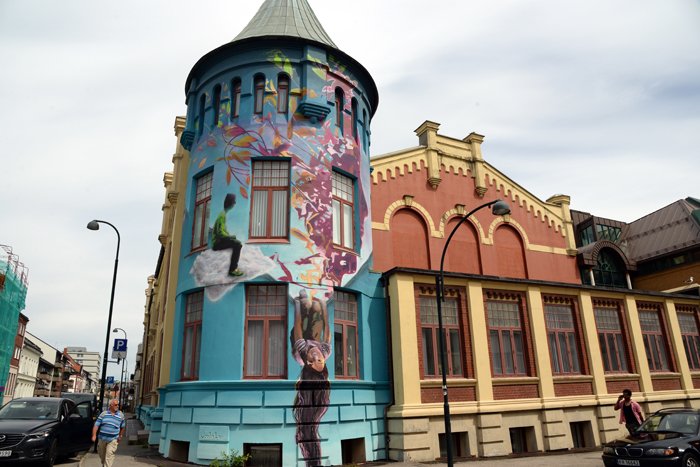 At the other end of «Kvadraturen» you will find this building. When the artist started his work many of the city's residents reacted with indignation. Some thought it was crazy to spray on this preserved old building. But when it was finished most people changed their opnion!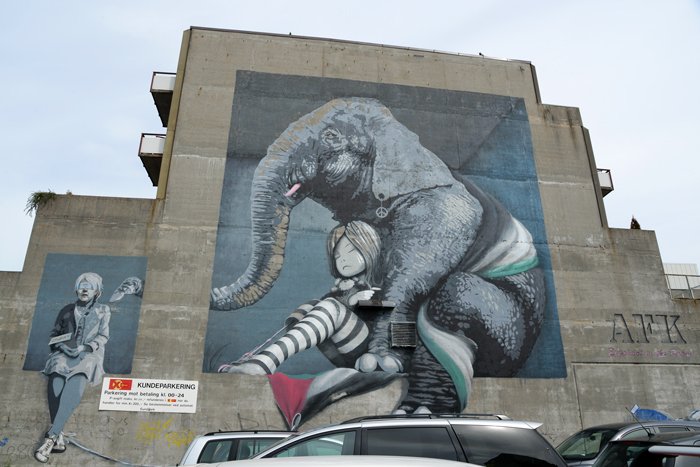 Last year this large mural was added to the street art scene. Painted by the Norwegian artist, known as AFK, but stays anonymous. He is best known for his political artwork. This piece he called "Elephant in the Room". The first time I saw it was at a distance and therefore I didn't see all the details. To understood the meaning you have to come close and get a good look at it to catch the polical message. Painted in june last year. Supposed to be here for one year, so it might soon be repainted.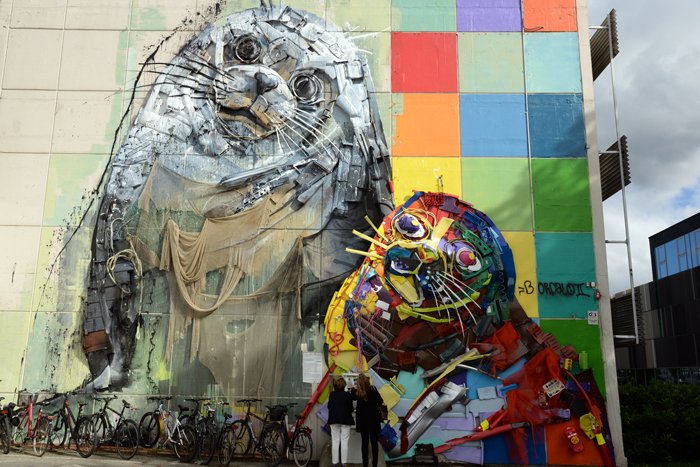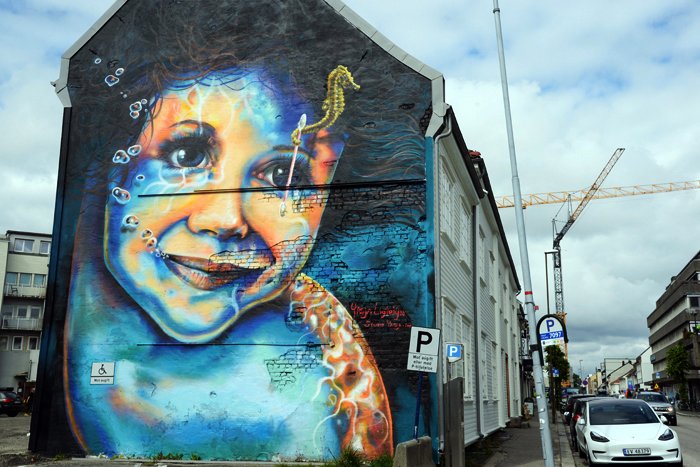 So far in 2019 we have got two new pieces. For more information about the artists check: STREET ART #37 – New pieces of art in Kristiansand
Other areas of town also has graffiti worth checking out. I will post some of those pieces later. Hope you have enjoyed the graffiti from Kristiansand.
Please do follow if you want to keep up with my next street art. Any upvotes or resteems are hugely appreciated!
Latest street art post, check out :
STREET ART #39 – Valparaiso (Chile) is the place to be

U.J
Kristiansand, Norway
All the photoes are mine, Ulla Jensen (flickr, Instagram and facebook)
Read about us? // Main page!
Latest content: Travel, Art, Food, Article, Poetry