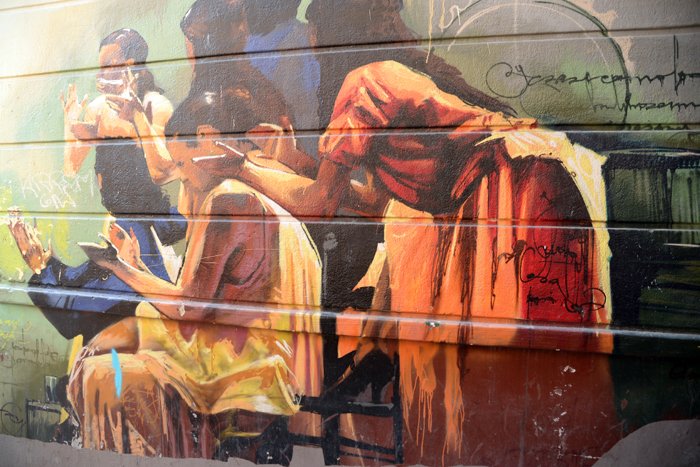 The world famous Alhambra and the Albaicín neighbourhood are probably the reason for most people to visit Granada. That was also why I wanted to include Granada on my one week trip to southern Spain. Second, I wanted to experience the famous street art scene, tapas and flamengo. Before I went to Spain, I knew Granada is rated among the top 10 street art cities in the world. Next to the visit to Alhambra my second priority was to check out the street art. It certainly didn't disapoint. I was captivated by the the amount of murals so beautifully done. We spend half a day walking in Realejo, without a map or guide. We knew that most of the work done by Raúl Ruiz was to be found here and did see many of his great works.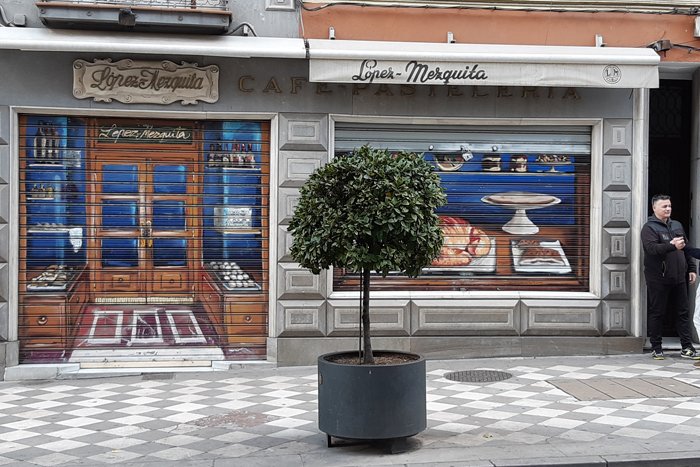 Most of Granada's street art is found in the old Jewish Quarter – the Realejo area. There are murals to be found in the old arab quarter – Albaicín as well. I did walk the narrow streets in that area, but did't come across much graffiti there. I must somehow have walked the wrong streets.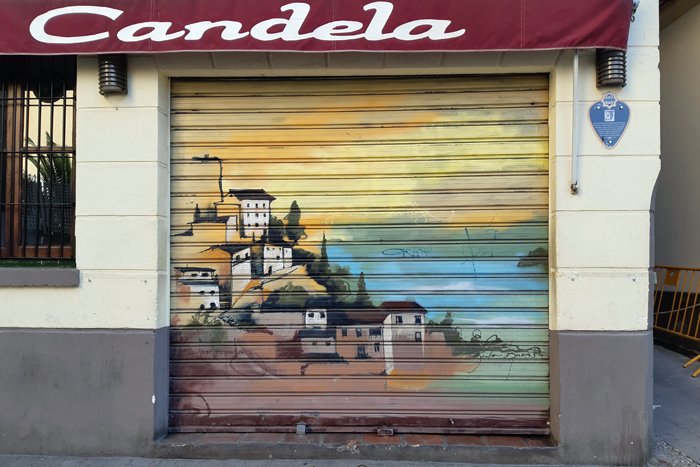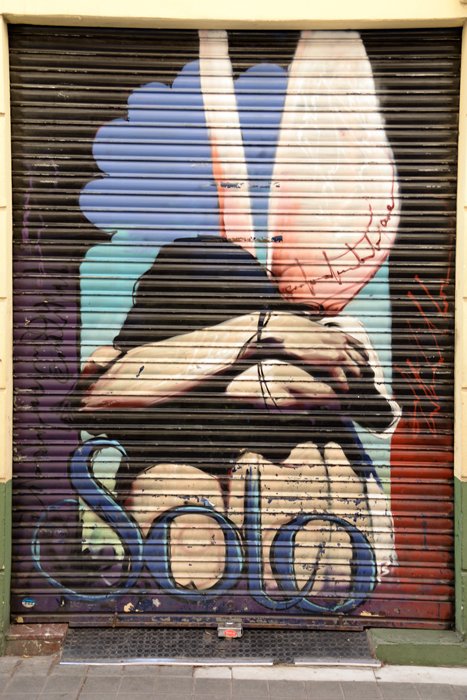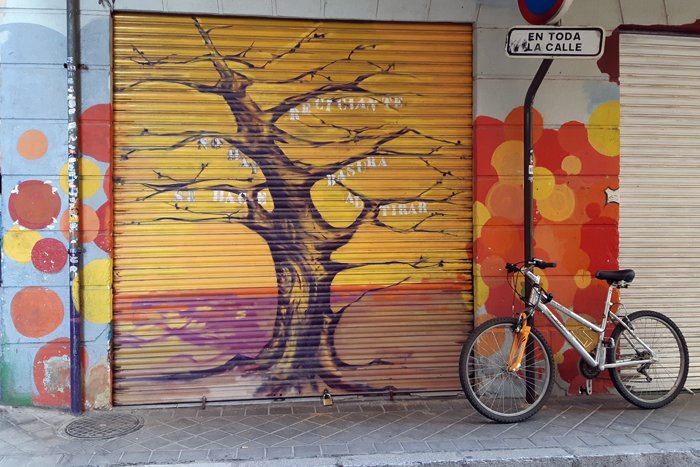 As soon as we started to walk into the Realejo, it didn't take long before we saw the first pieces of art, done on shutters on the shop fronts. At the time we left our hotel it was only around 9 o'clock in the morning, which ment many shops hadn't opened yet. We did take our time to look at them, as the shops wouldn't be open by the time we would return.
Realejo is the area which contains most murals done by the city's most prolific artist, Raúl Ruiz, known as «El Niño de las Pinturaz» («the child of paintings»). This is only a small selection.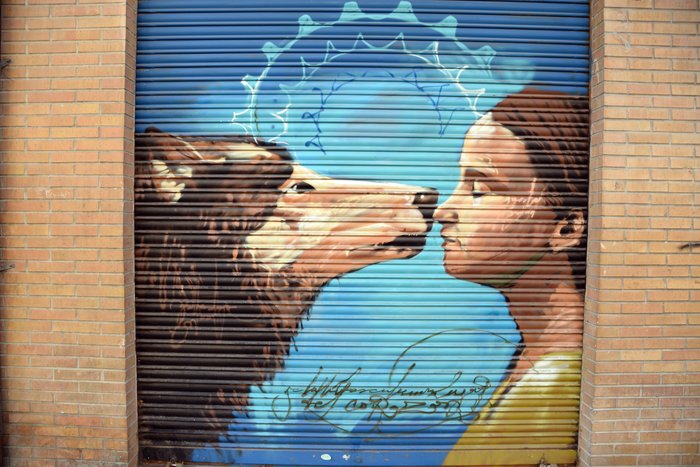 Usually they just look dull and grey / metallic, when shut. This shutter is beautifully painted by Ruiz.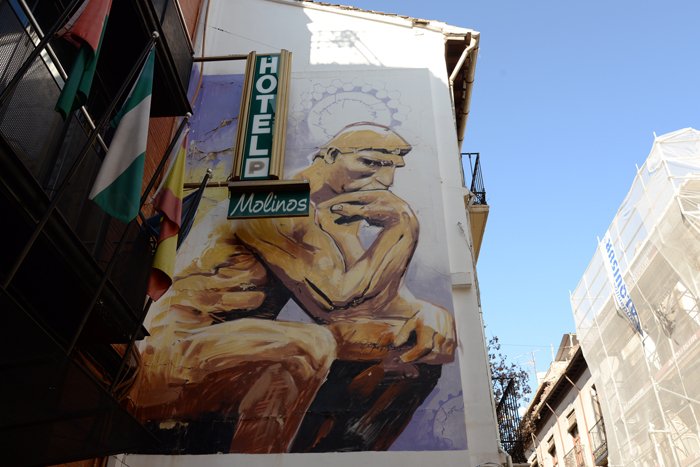 «The Thinker»
As we continued along the same street, the next mural turned up at hotel Molinos. This mural might be one of his most popular works. Inspired by Auguste Rodin's «The Thinker», this is how Ruiz portrays Rodin's sculpture done in bronze. Because of the way the nude man is sitting, deep in thought, the image is often used to represent philosophy. The muscles of the body look so real...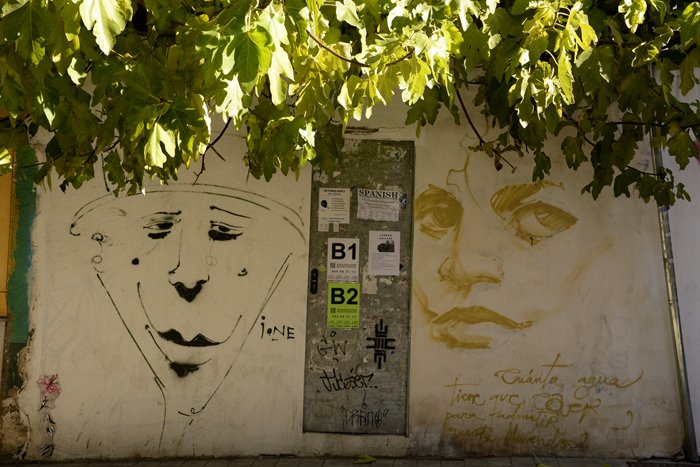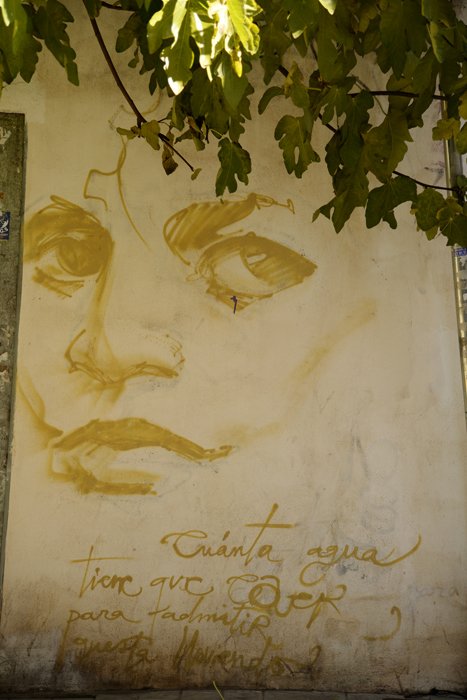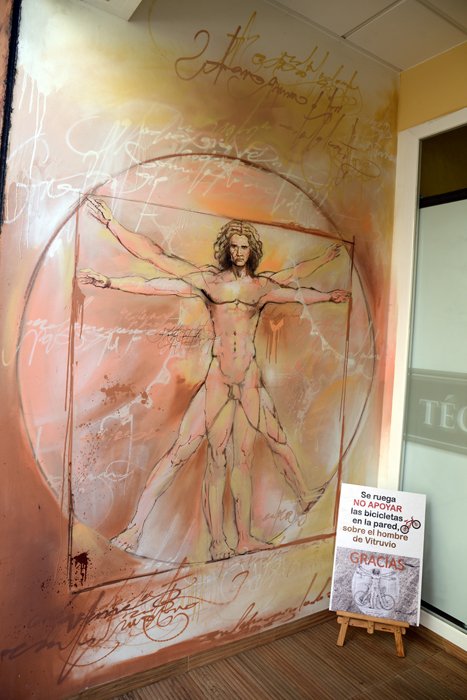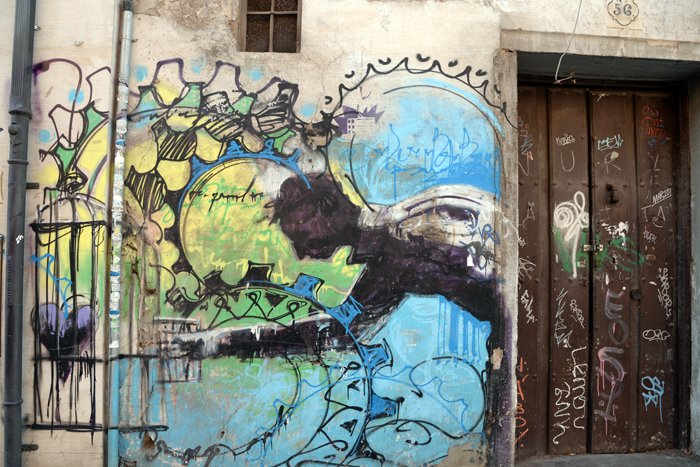 Raúl Ruiz also called ««El Niño de las Pinturaz» is an internationally well known graffiti- and award winning artist. He is often compared to London's famous artist Banksy. Many of his work is found in Realejo, which is where I believe he also has his home. His murals are easily recognized. Many of his paintings have some lettering that spell out some stanzas written on the murals.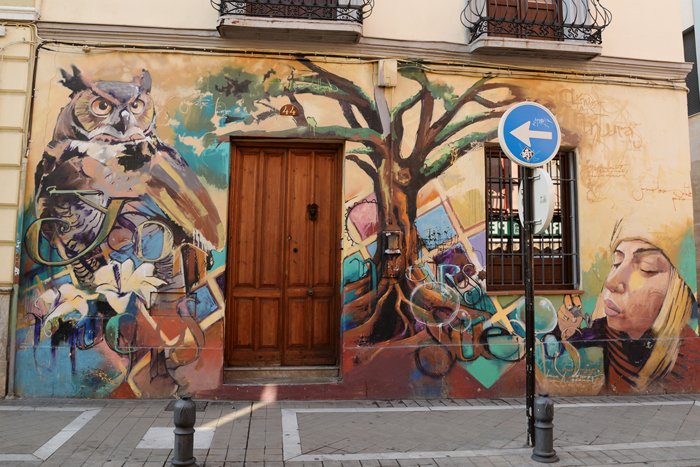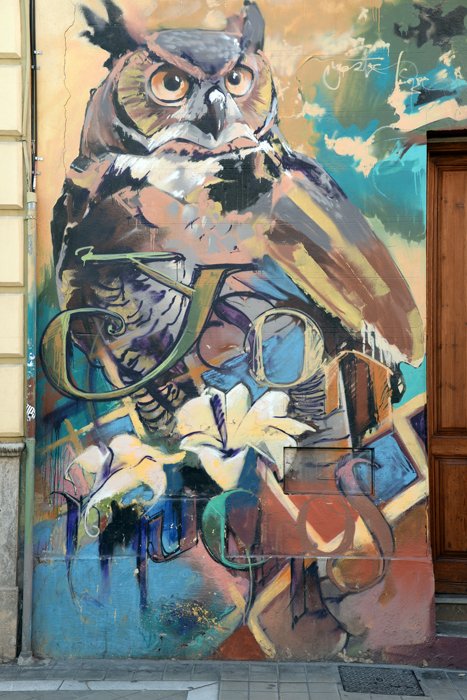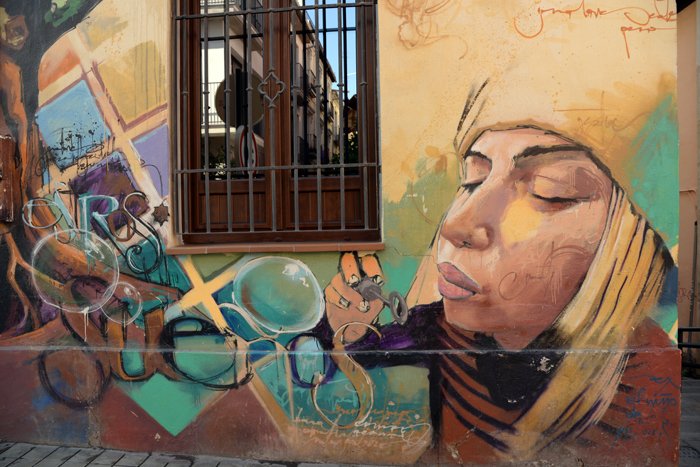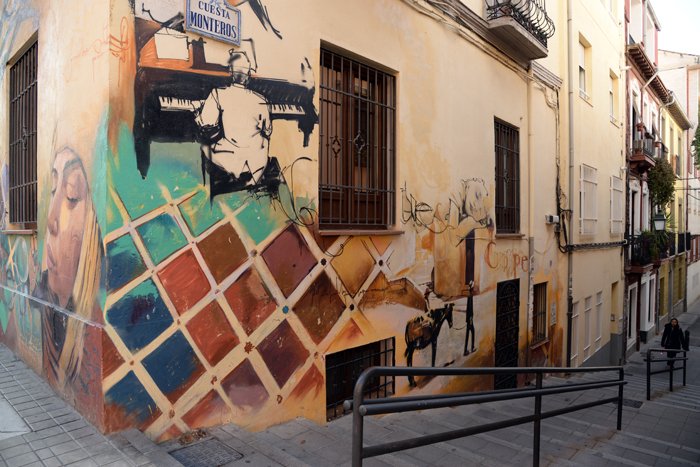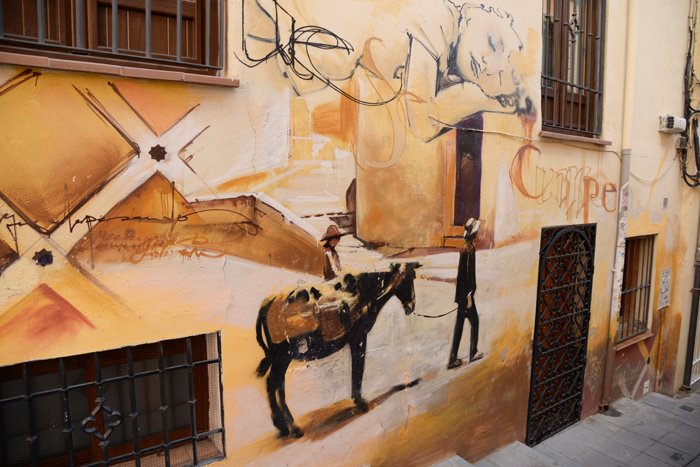 This is a large mural which covers the corner of this house.Starting with an owl and the woman blowing bubbles. When turning around the corner there is the piano player and the sleeping child and men with horses.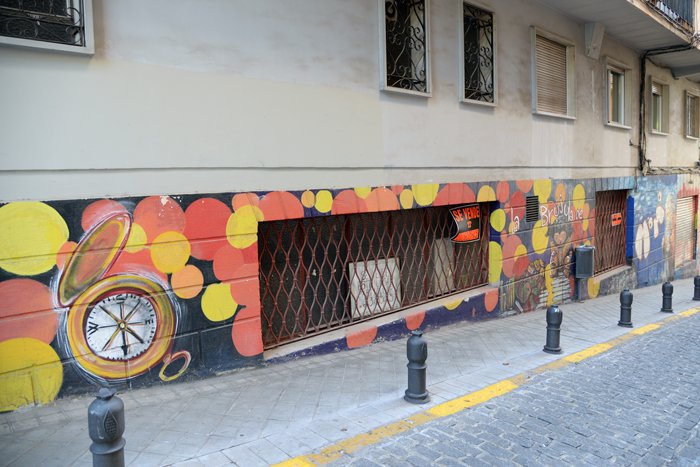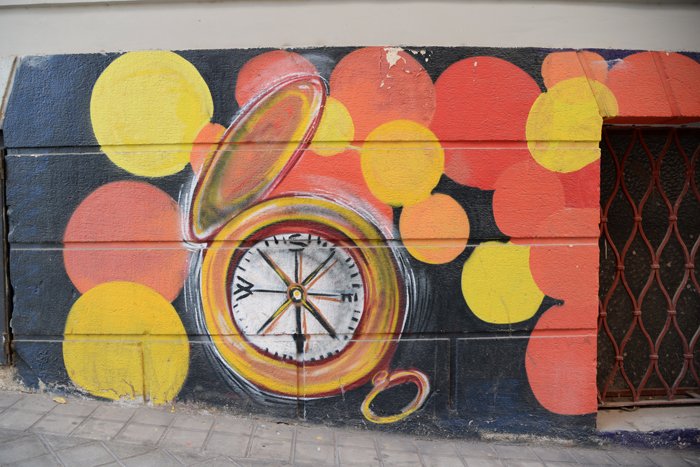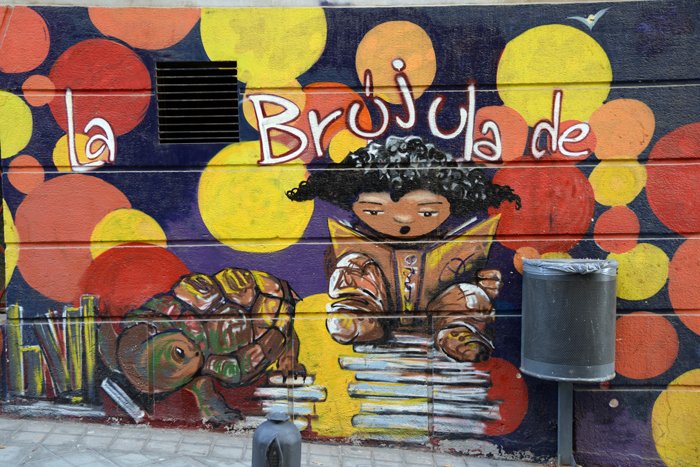 Another wall with a huge painting that follows the wall from one street and down to the next. I haven't managed to find out who the artists are.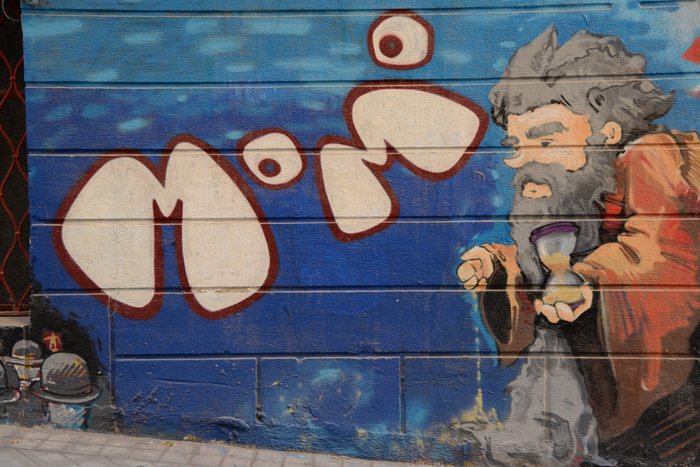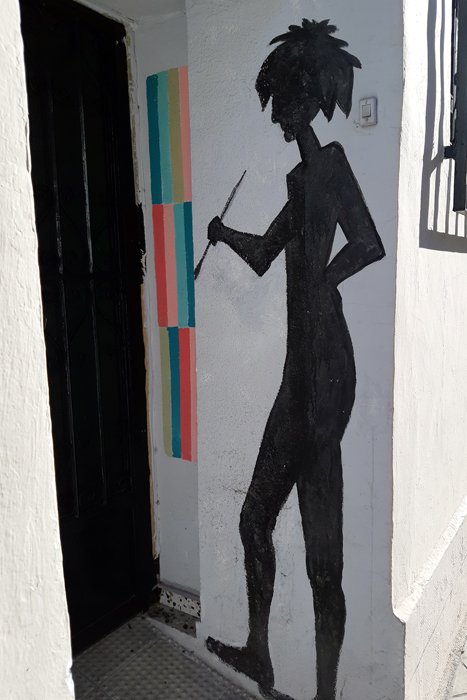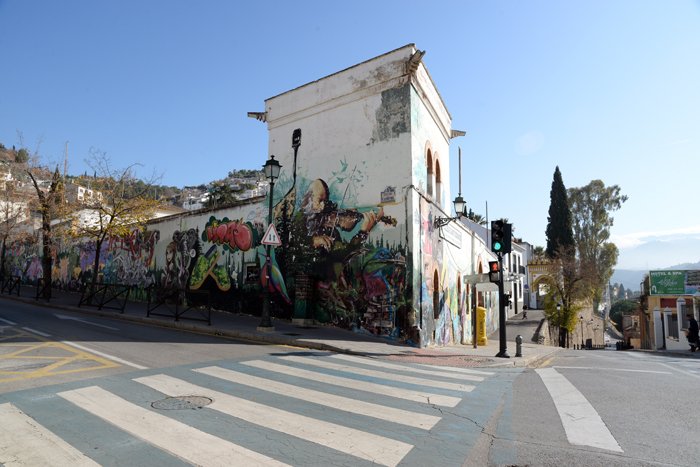 As we kept going along the same street, we came to the Colegio de Santo Domingo. The walls contains murals and graffiti along it's entire wall that surrounds the school. I will have to post them seperatly as I took more than 50 photos.
After half a day in Realejo I am in no doubt that this quarter contains some of the most incredible street art I have seen. This is only a very small collection. If I ever come back to Granada, I will definitly do a guided street art tour. I have a feeling I've missed a lot.
Please do follow if you want to keep up with my next street art. Any upvotes or resteems are hugely appreciated!
Latest street art post, check out :
A pair of eyes that see you as you pass.. w/Street art video (Stavanger, Norway)
U.J
Kristiansand, Norway
All the photoes are mine, Ulla Jensen (flickr, Instagram and facebook)
Read about us? // Main page!
Latest content: Travel, Art, Food, Article, Poetry