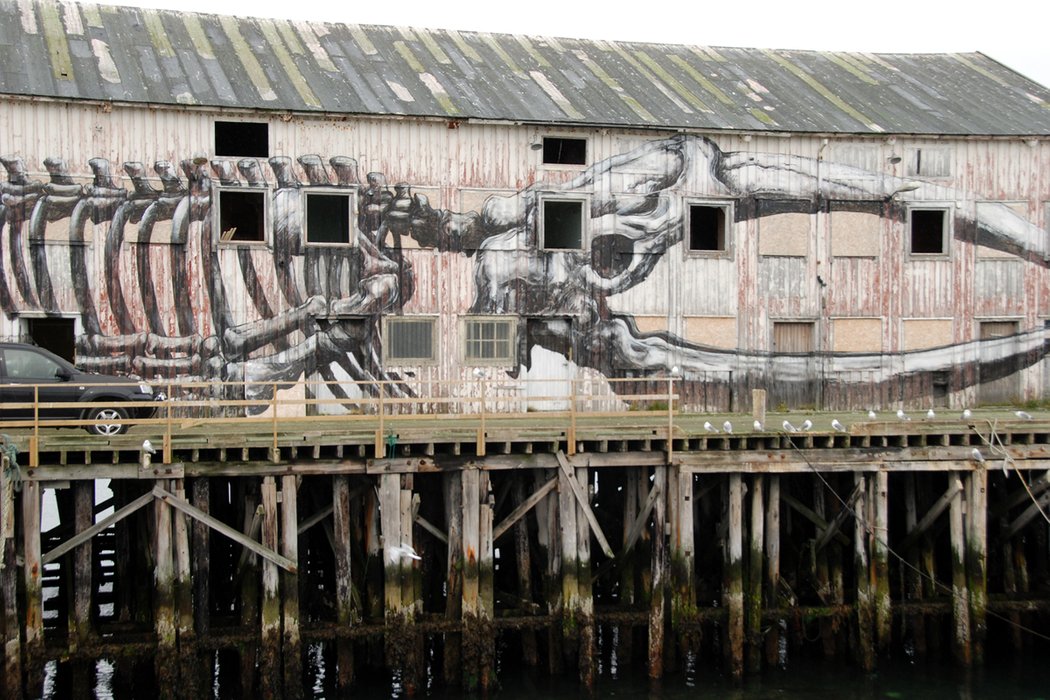 The street artist ROA is a muralist from Belgium, born in 1976 and known for his obsession for animals. He has brought animals like birds, rodents, fish and other animals back into the urban areas where these animals once used to live. Some of these animals are often skeletal or dead, which is said to reflect his pesimistic view of society. He has created hundreds of his large-scale murals in Europe, USA, Australia, Asia and Africa. I have been lucky to see some of the murals he has done in Europe.
ROA began his artistic career by painting on buildings in his hometown Ghent. He prefers to paint by using spray paint or acrylic paint and most of his work is done in black and white. He is a muralist with an obsession for animals. He uses native animals based on the location. When he goes to a location where he is going to do a painting and the place is filled with rats, he will paint rats. This technique makes him stand out. When you look closely you will see how he pays attention to detail.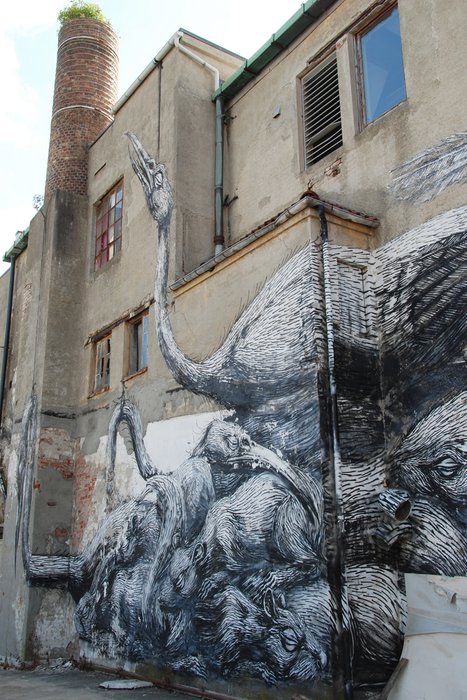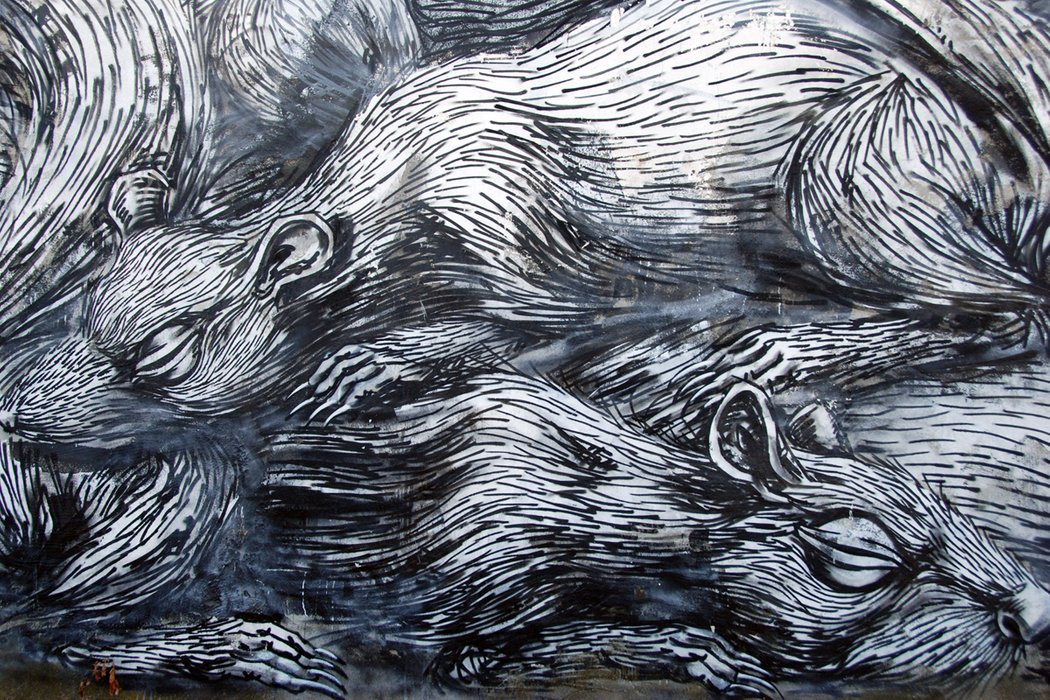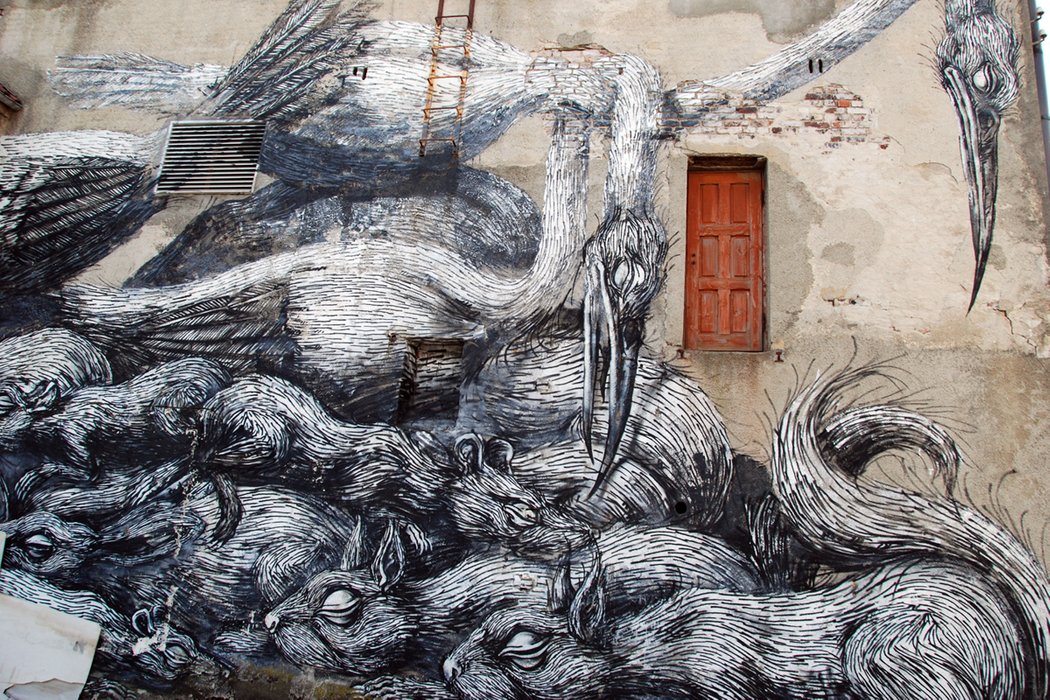 ROA is well-known for his animals placed in an urban context and an artist who likes the contrast between wild nature and the city. In Stavanger (Norway) he has done two murals. The one above is huge! I found it very difficult to get a photo of the whole painting, so I had to break it up into pieces. But unfortunatly it doesn't do justice to this amazing painting.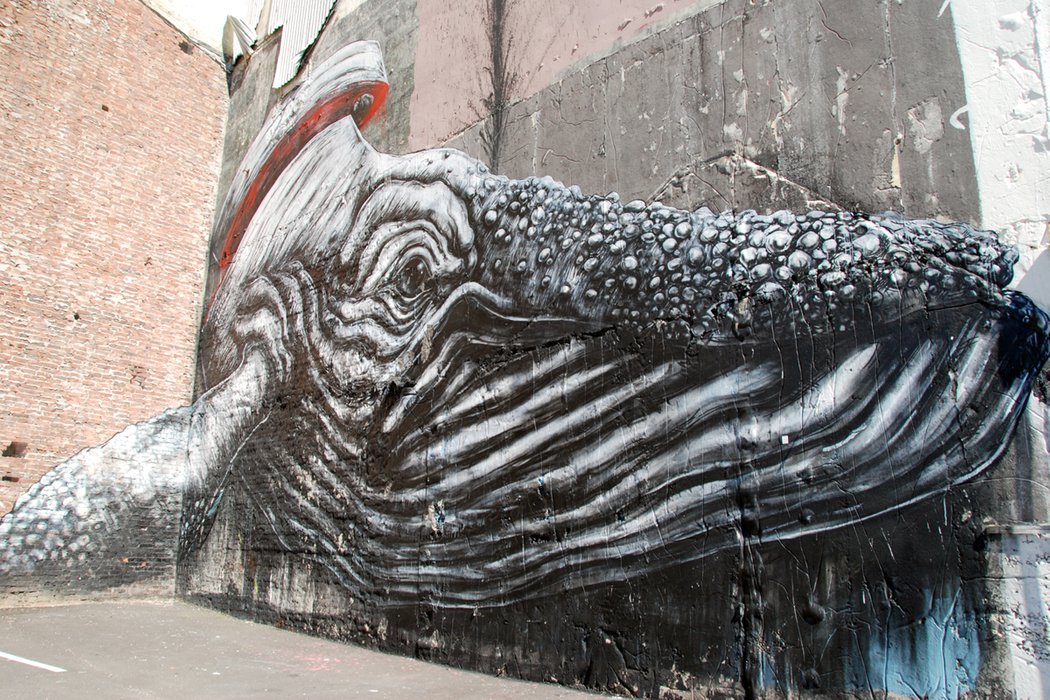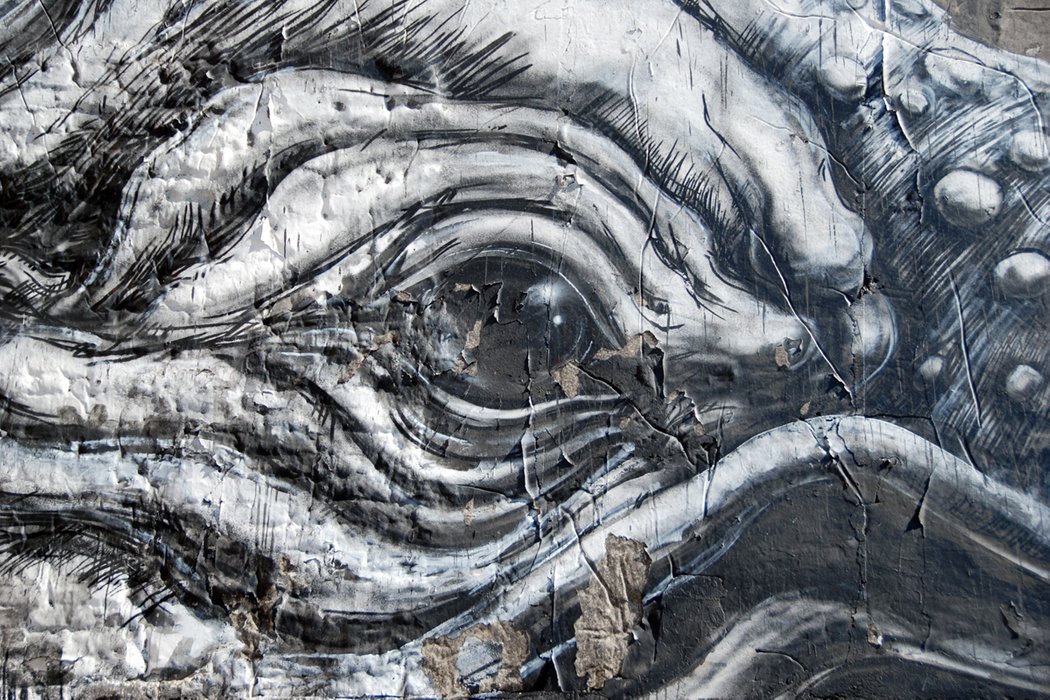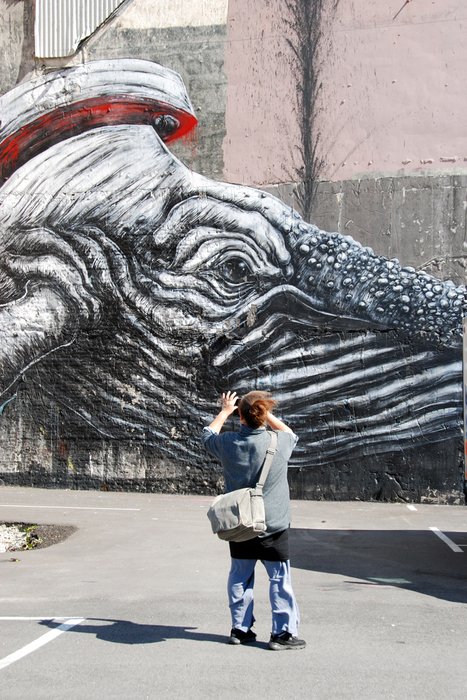 This whale is the second mural in Stavanger. It was paintd in 2013 when he was attending that years edition of the Nurart Street Art Festival. The festival has been held anually in Stavanger since 2001. Norway is still one of those countries hunting whales and with Stavanger situated by the Atlantic, I can see why a whale was a suitable choice.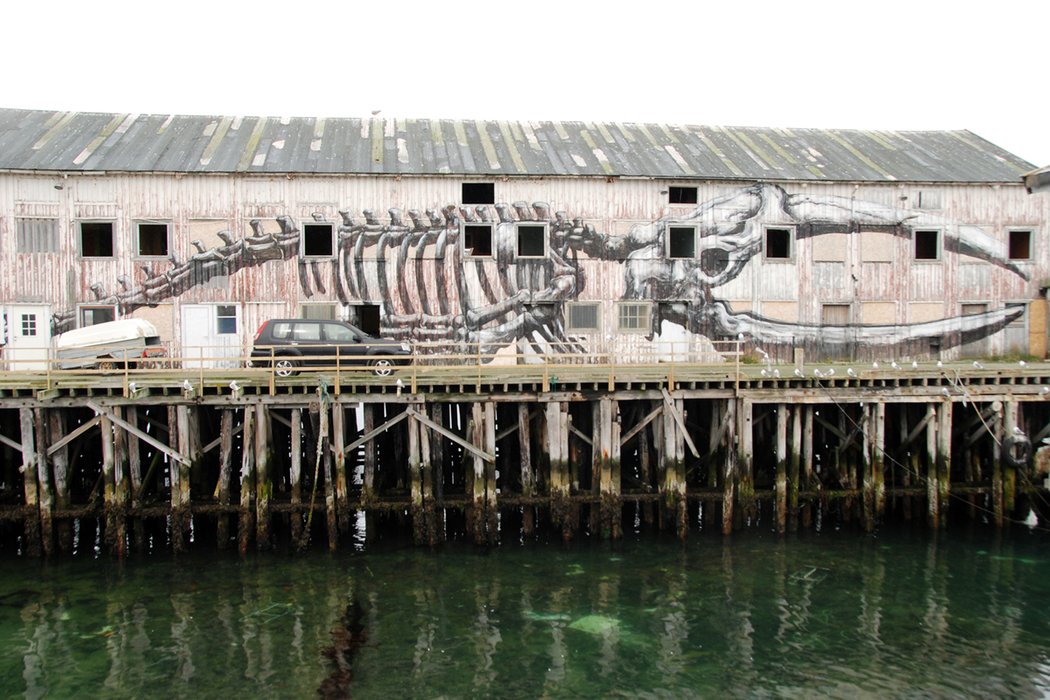 Another whale mural, but this time it's a skeleton. Whaling has been, and still is a hot topic in Norway. He painted this skeleton in Vardø (Norway) which is situated on an arctic island in the Barents Sea. It's the rich resources of the sea that have given people here a basis of life. In 2012 ROA painted this huge mural. He did that in connection with the street art project «Komafest» initiated by Norwegian street artist Pøbel. The project was part of a development strategy to highlight depopulation in the northern parts of the country and to restore Vardø. International street artists were invited to decorate some of the abandoned houses.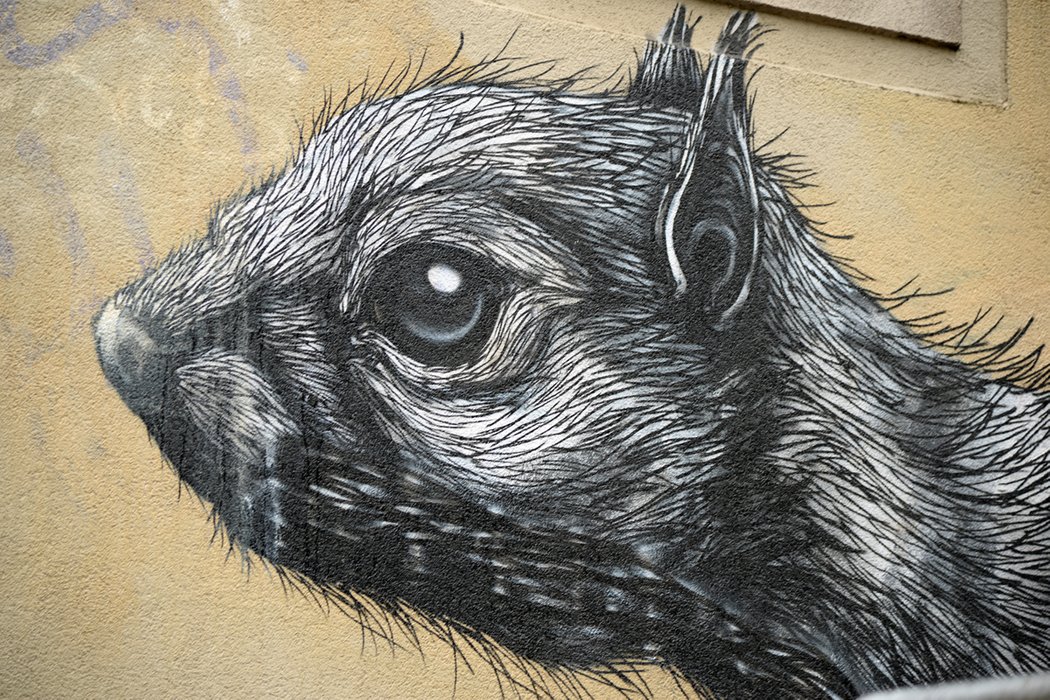 In 2015 Danish photographer Søren Solkær opened his Surface exhibition in Copenhagen (Denmark) featuring portraits of world famous street artists. He invited 6 of them to create murals in Copenhagen leading up to this exhibiton. Among these 6 artists is ROA. His mural is located right in the center of the city in the district of Vesterbro. This district has been the entertainment area which led to prostitution, crime and drugs. It still is the Red Light district, even though it's reputation has changed.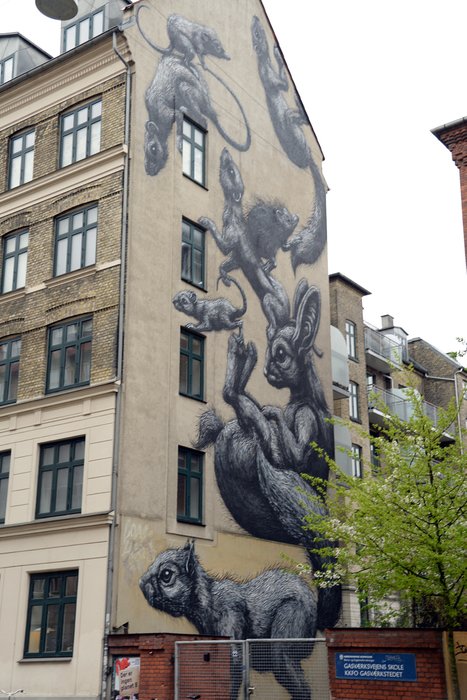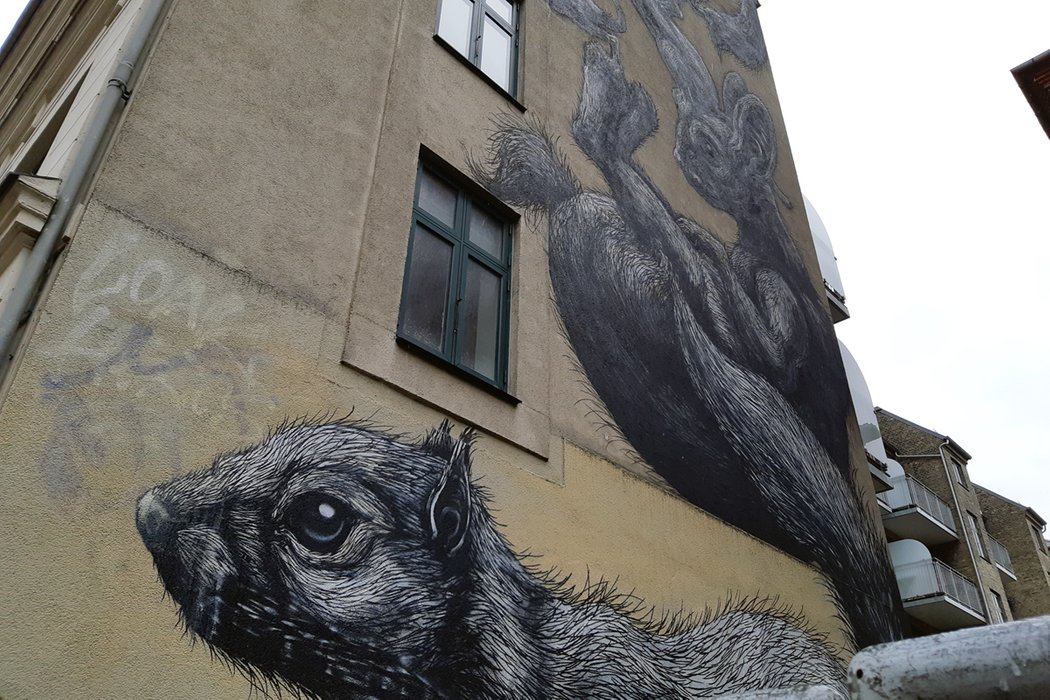 It wasn't easy to get photos since I had to stay in the street. There is a school here and the building with the mural is actually a safe-house for prostitutes.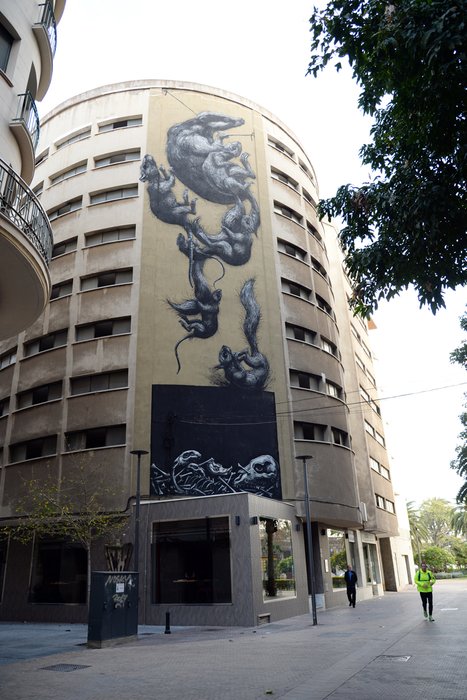 When I was in Malaga (Spain) in December last year it was such a pleasant suprise to see ROA represented. This mural is found in the district of Soho. Again a portrait of animals depicting both life and death. The animals barely set themselves apart from the bleak facades of the building. It's hard to see any positivity in the painting.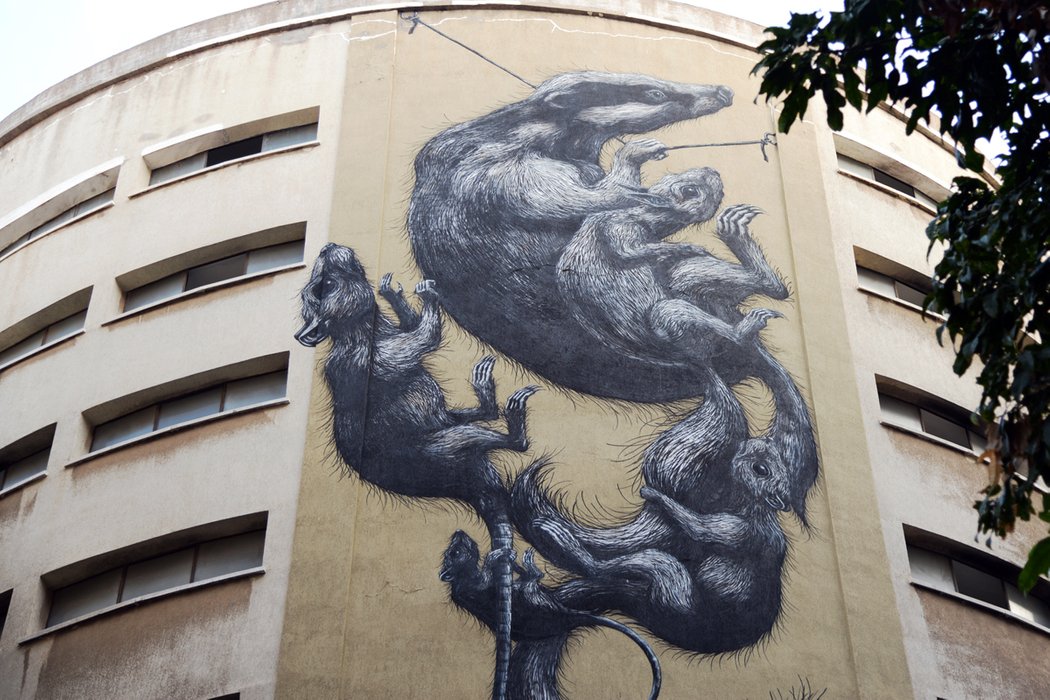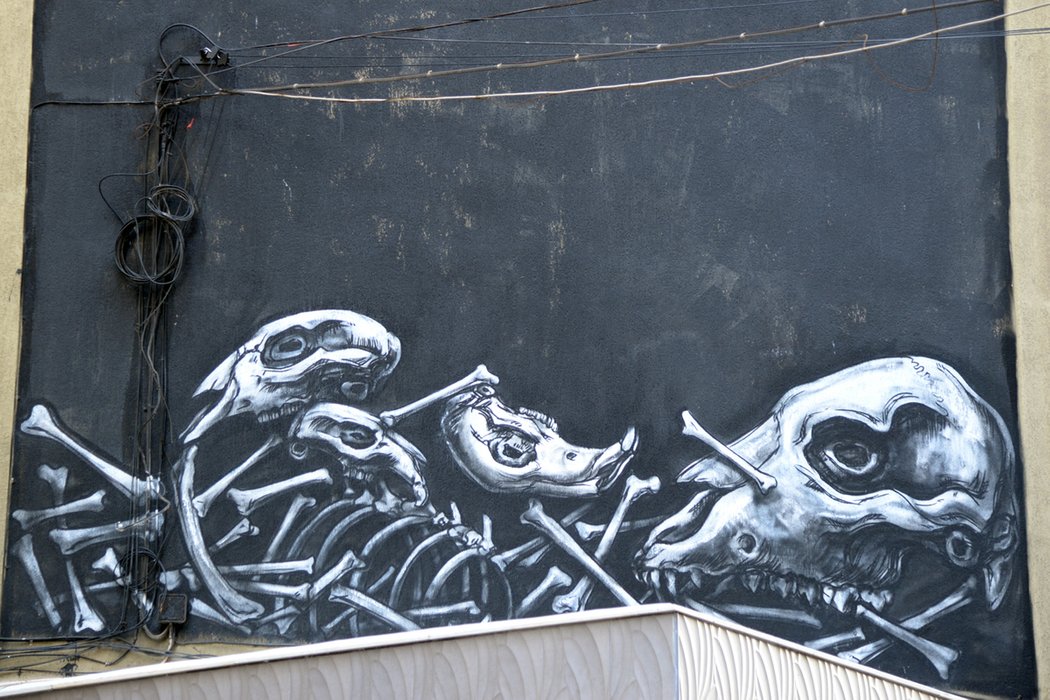 I don't know for sure, but he might have done this mural as part of a project called MAUS (Malaga Arte Urbano Soho) which was initiated in order to transform the run-down district of Soho. The goal was to create a vibrant art scene in this neighborhood. The effect of this initiative is that more and more people attend concerts, excibitions etc. Many well known street artists have contributed to Malagas amazing street art.
ROA forces us to reflect on the dismal of the future prospects. He is truely a great artist I hope to see more of in the future.
Sources and more infomation
https://streetartnews.net/2020/05/artist-retrospective-roa.html
https://streetartnews.net/2013/09/roa-new-mural-in-stavanger-norway.html
Please do follow if you want to keep up with my next street art. Any upvotes or resteems are hugely appreciated!
Latest street art post, check out :
STREET ART #65 – no limits to what an artist can use as a canvas (Kristiansand, Norway)
U.J
Kristiansand, Norway
All the photoes are mine, Ulla Jensen (flickr, Instagram and facebook)
Read about us? // Main page!
Latest content: Travel, Art, Food, Article, Poetry