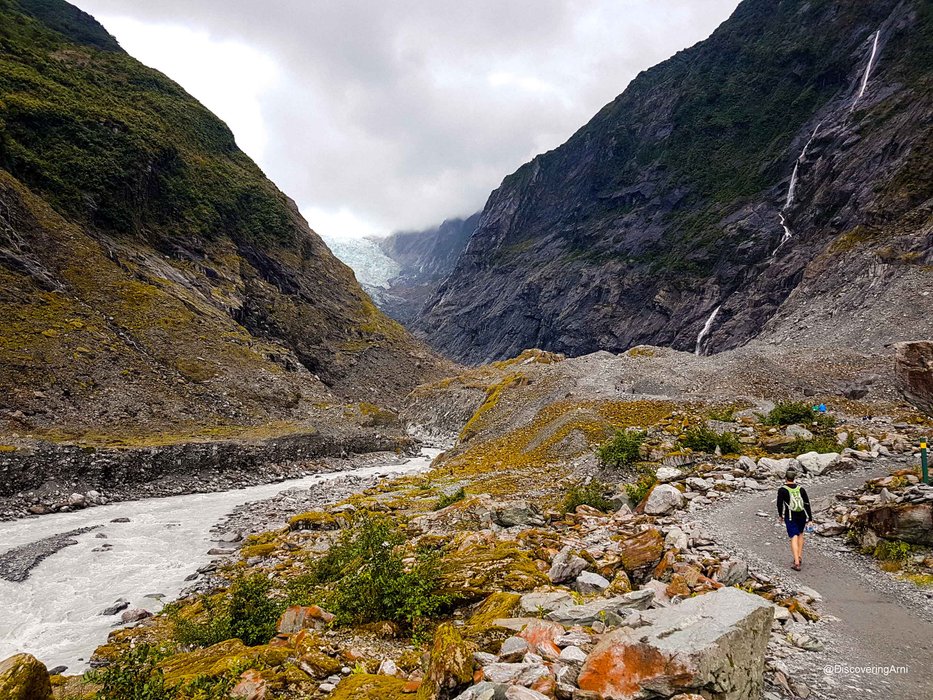 Glacier is a massive body of ice that slowly moves over land. I have never seen one before. It was the topic of the day after a mind blowing walk at Pancake Rocks and Blowholes. Our family bat mobile was back on the road on Day 15. The drive from Punakaiki to Franz Josef took us longer than 3 hours. Rain poured. Grey clouds descended and covered the mountaintops on the left hand side of the road. The sea on the right kept us company throughout the drive along State Highway 6 Kumara Junction Highway.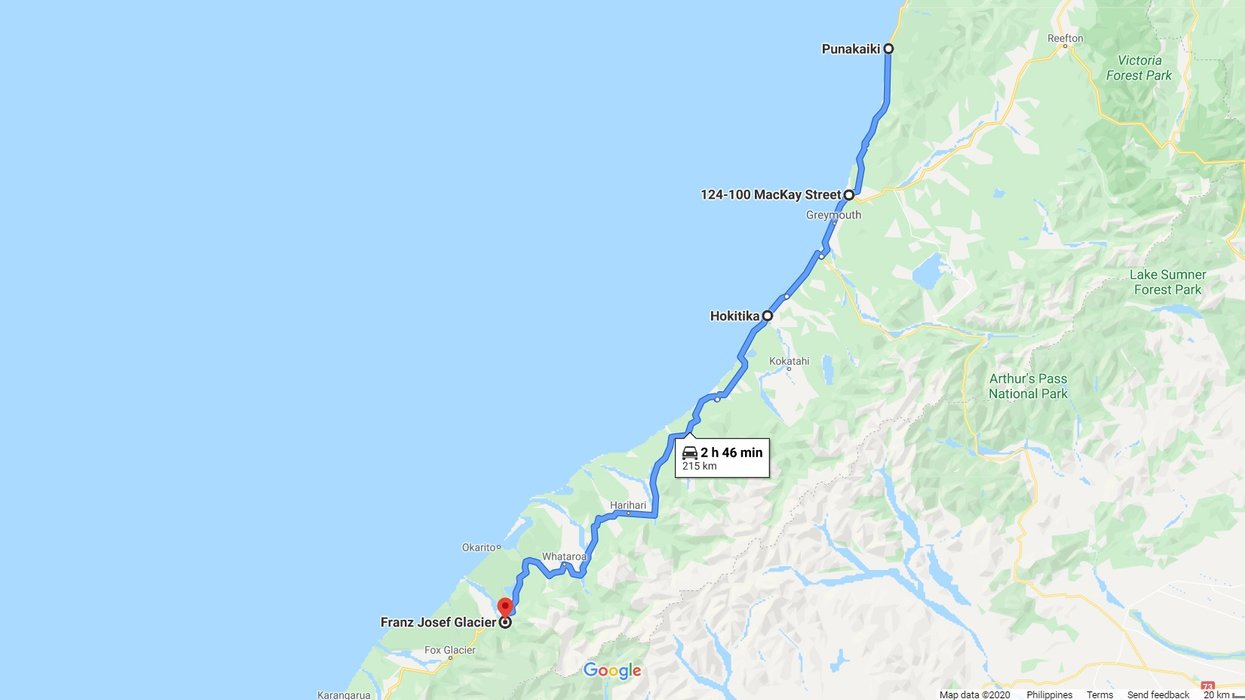 Greymouth
We stopped in Greymouth to refuel. Not for our car, but for our growling bellies. We searched for an inexpensive restaurant in a commercial zone on Mackay Street. The covered walkway provided immediate relief from the heavy drizzle as soon as we parked our car in front of Moroccan Grill and Bar. We sat at a large table where we stuffed ourselves with shared orders of mixed platters, salad bowls and wraps. After lunch, we strolled around the commercial district peering into shops. Since we had nothing planned, we had plenty of time. Our only goal that day was to reach our destination- Franz Josef.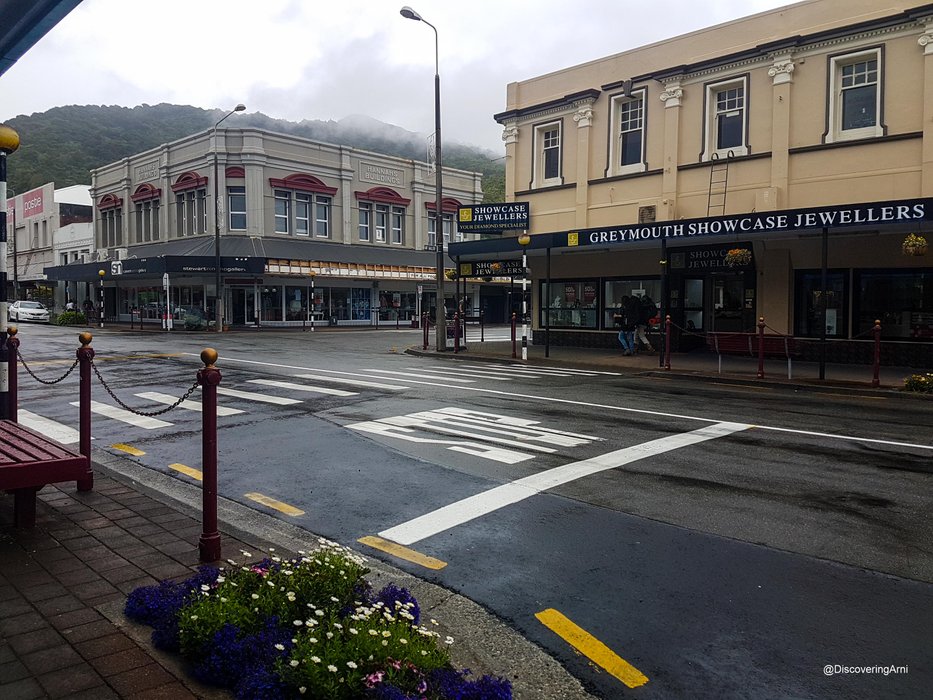 Greymouth is a town on the central west coast of New Zealand's South Island known for gold mining, jade-hunting and river floods. On the way, we spotted a signage to visit Point Elizabeth known for its 2-hour walk on a scenic reserve and old gold mining sites. After a hiking overload in the Abel Tasman, Tauranga Bay and Punakaiki the previous days, we took it easy and set our sights on the planned major hikes in the days to come.
Just before the parking ticket expired, I took over the wheels and drove.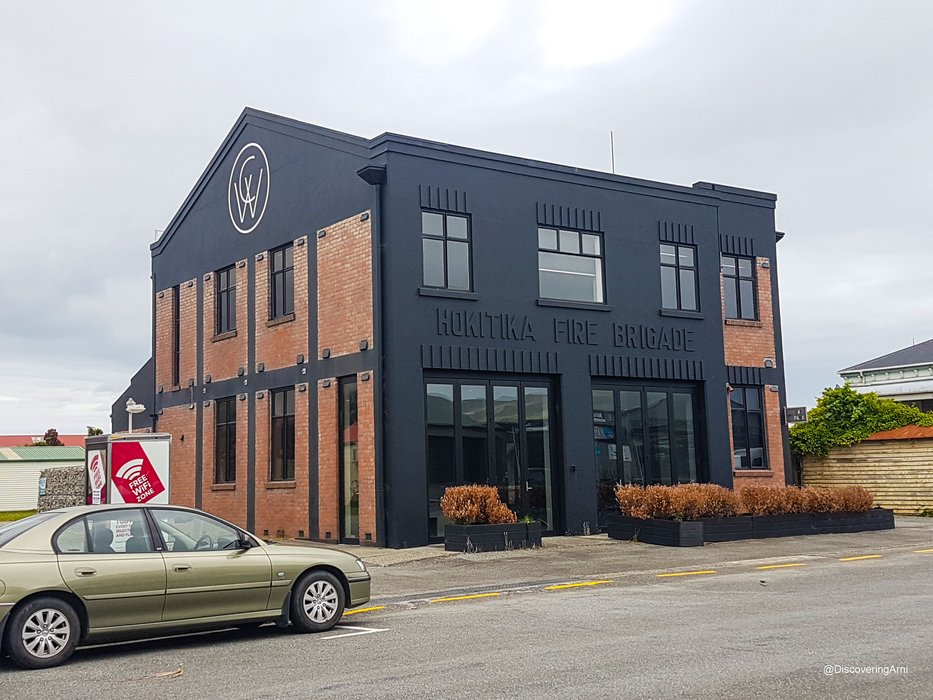 Hokitika
By the time we reached Hokitika, it was time to refuel the family bat mobile.
"Hokitika, tell me what's wrong!"
Out of nowhere, I suddenly belted out the popular Abba song inside the car that woke up the family. Yes, that was typically me. Hence the nickname Ally Mc Beal that I got in college. Oops, my bad for disrupting their nap.
Speaking of nicknames, Hokitika's called The Cool Little Town. Too bad we didn't stay long to find out.
Apparently, what I just said was a common phrase to describe this small town. -
"I wish we had stayed in Hokitika longer. "
We seized the opportunity to sight-see around the commercial district with the limited time we had. The town is known for watching sunsets at Tasman Bay, unwinding at Hokitika Beach, cycling through West Coast Wilderness Trail, visiting Hokitika Gorge, Lake Kaniere and Lake Mahinapua.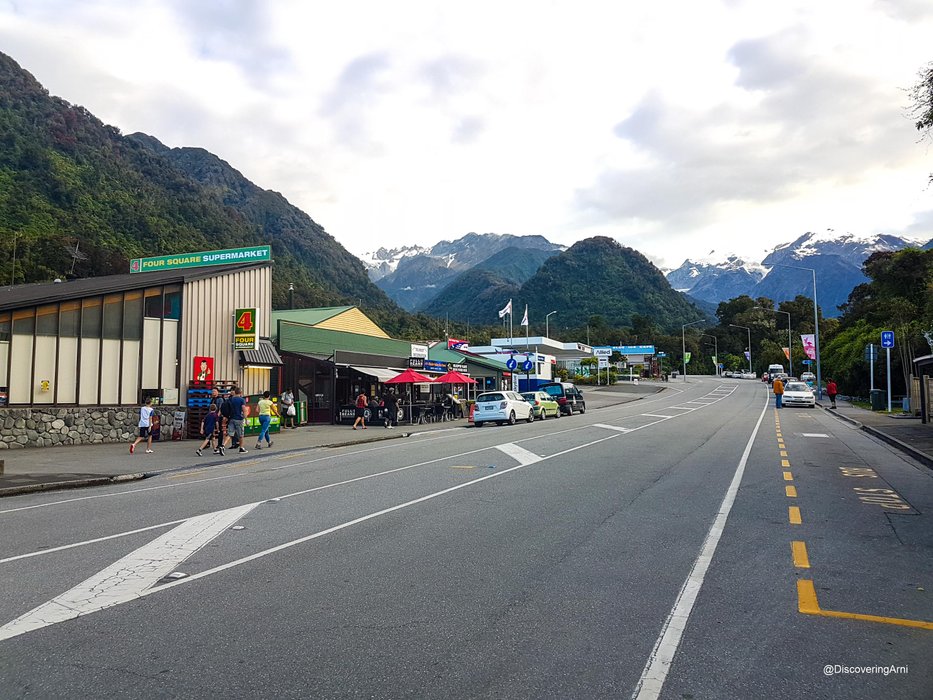 Franz Josef Glacier Township
By the end of the afternoon, we finally reached Franz Josef. The navigator failed. We took several missed turns, before we finally spotted our accommodation, Chateau Backpacker Lodge for that next two nights. It was tucked away in quiet Condon Street that was half residential and half populated by inns and hotels.
Thankfully, there was parking space. When check-in was done, I grabbed my camera and we set off to explore the small town on foot while the sun was still up. Sunlight streamed down towards the valley, while restaurants filled the streets with delicious aroma of different hot meals.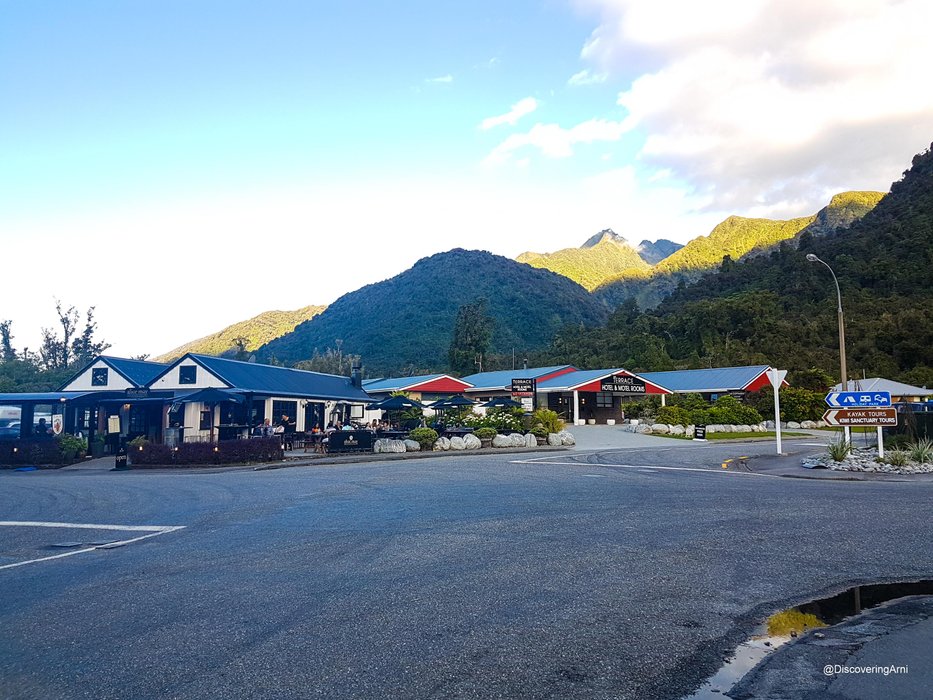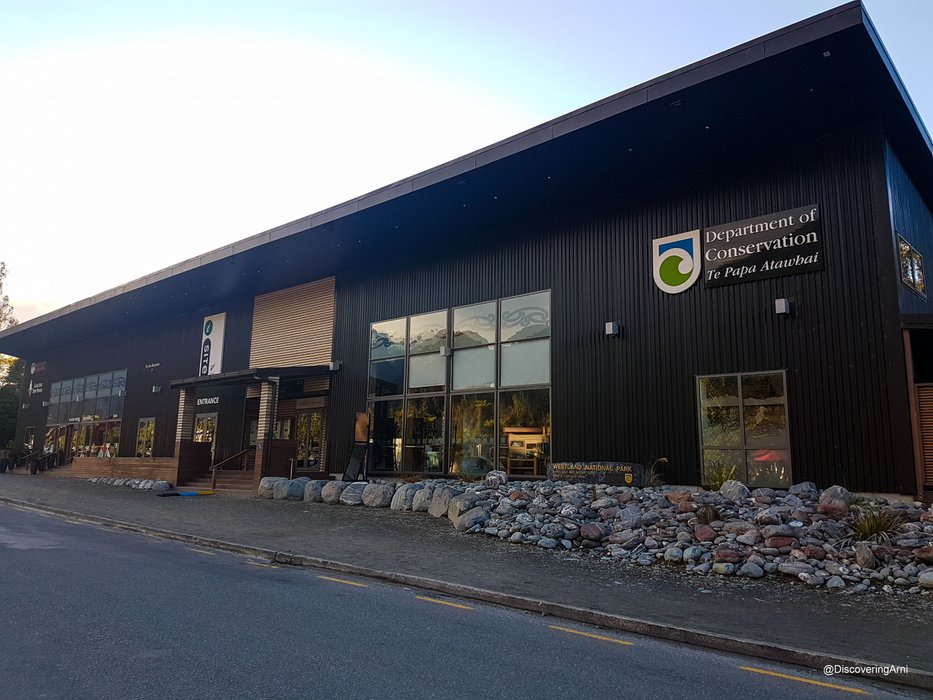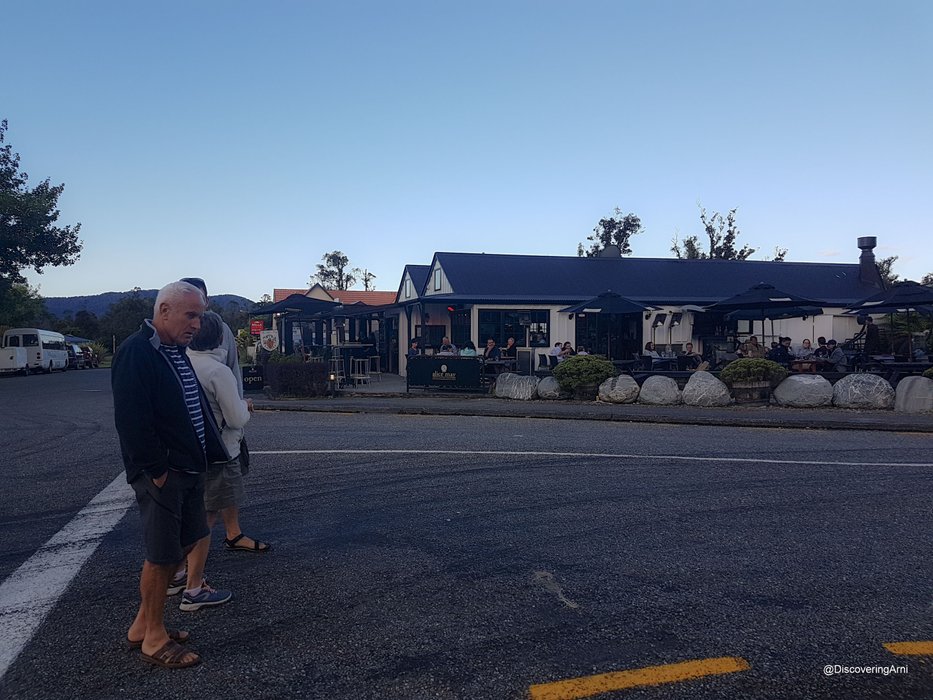 After we debated what to eat that evening, we watched tourists sip their pints of draft beer, while servers placed their orders in front of them. Yes, it was a perfect evening to dine al fresco, but our family had already spent the maximum meal allowance that day. Our backpacker lodge was serving free vegetable soup in the shared kitchen by 6 pm that evening. We headed back to prepare our home cooked meal of leftovers.
Day 16: We woke up early the next day to catch the buffet breakfast the backpacker lodge was serving. Bread and butter was the norm throughout the trip. So to have pancakes and other types of breakfast such as eggs and bacon was a welcoming change.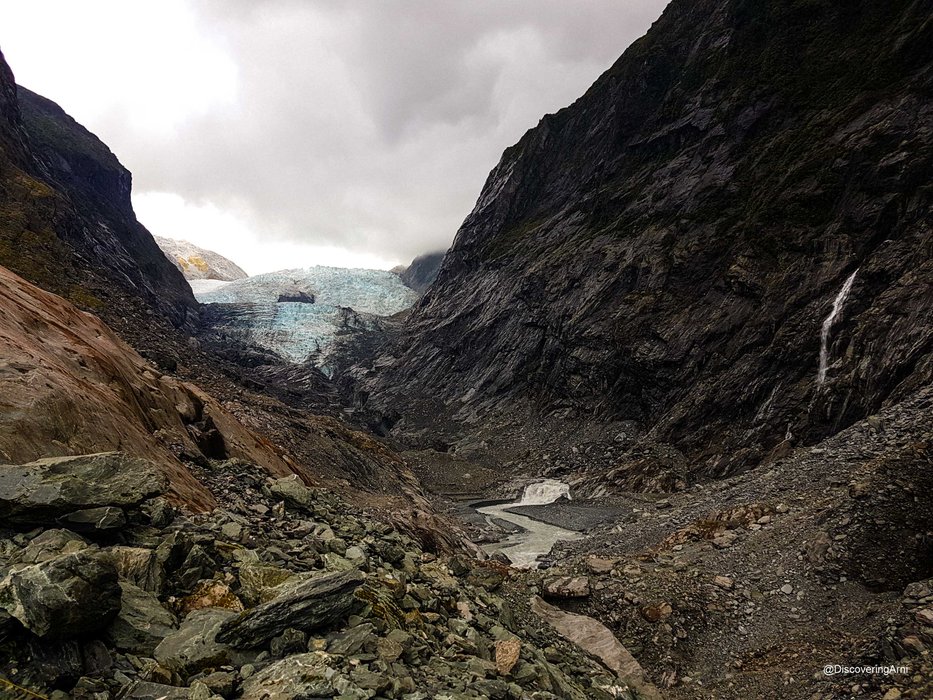 Glacier Scenic Flights and Heli-Hike Tours
Helicopters zipped past overhead. Heli-hike tours are popular among tourists who want to hike on the glaciers. There are Scenic Heli Flights for those who want to skip hiking altogether, but would like to soar above and capture the panoramic views of the Southern Alps, Fox Glacier, Franz Josef Glacier, Aoraki Mount Cook, and Tasman Sea.
@iamyohann hiked the glaciers with a group in 2001. He shared his adventure with us inside the family bat mobile on our way to Glacier Access Road. It was roughly 10 minutes drive (4.3 km) from Franz Josef Glacier township to the rugged looking carpark.
The helicopter tours were out of the question. We decided to hike it.
" I like to move it, move it " song played in my head.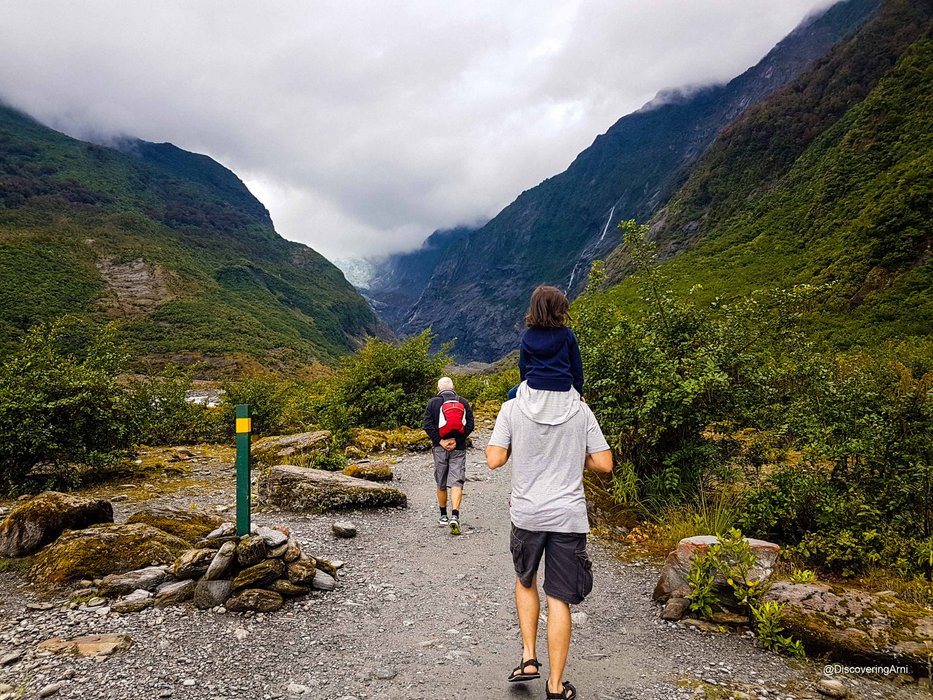 Hike to Franz Josef Glacier
Franz Josef Glacier Walk also known as Kā Roimata o Hine Hukatere Walk is a 5.4 kilometer walk with return via same track in a volatile landscape prone to ice collapse, flooding or landslides. Duration of the hike is 1 hour and 30 minutes.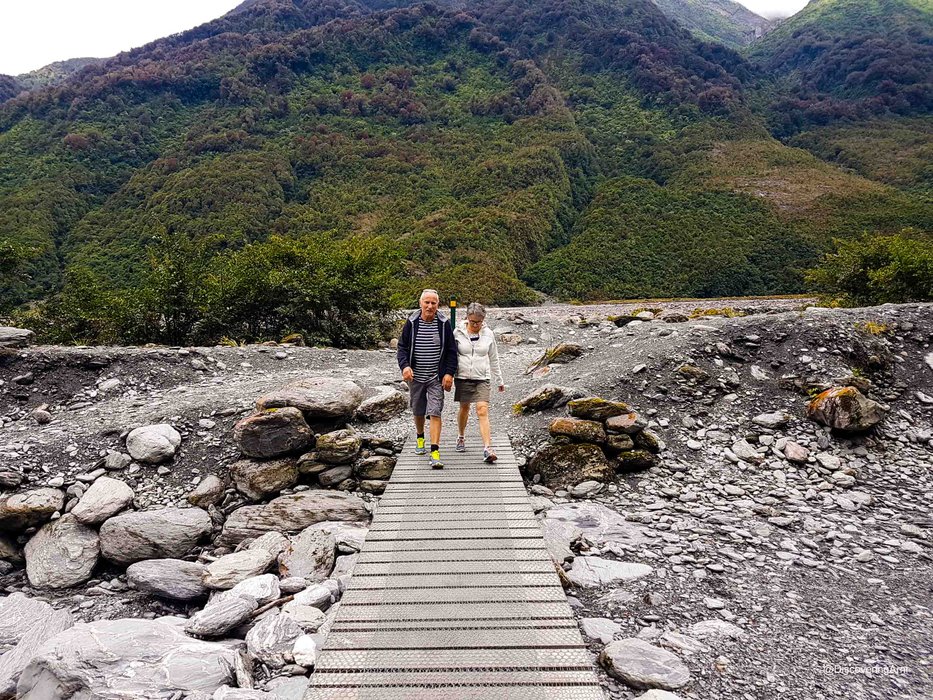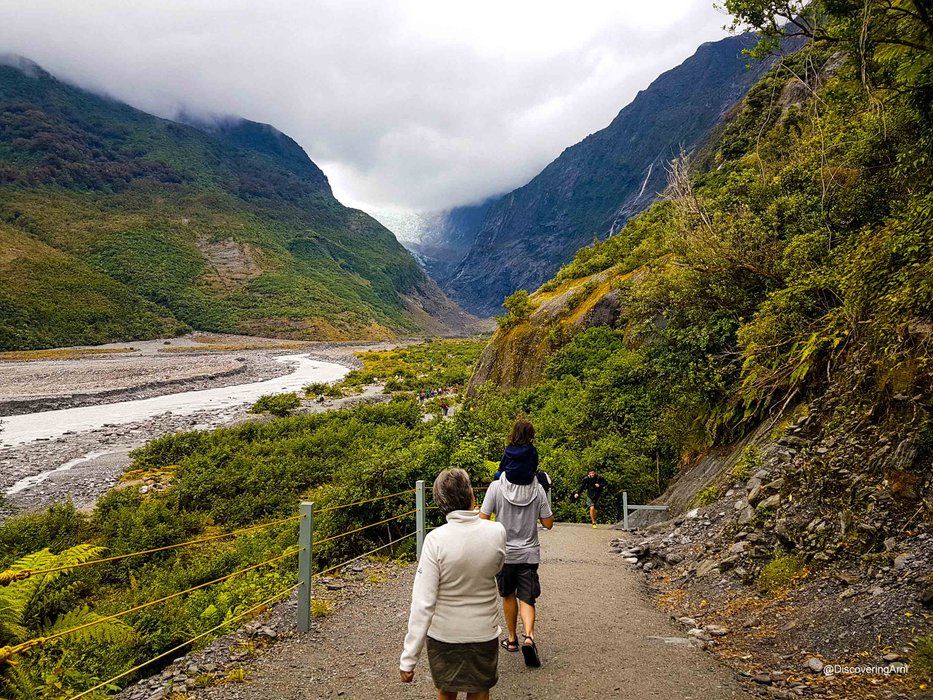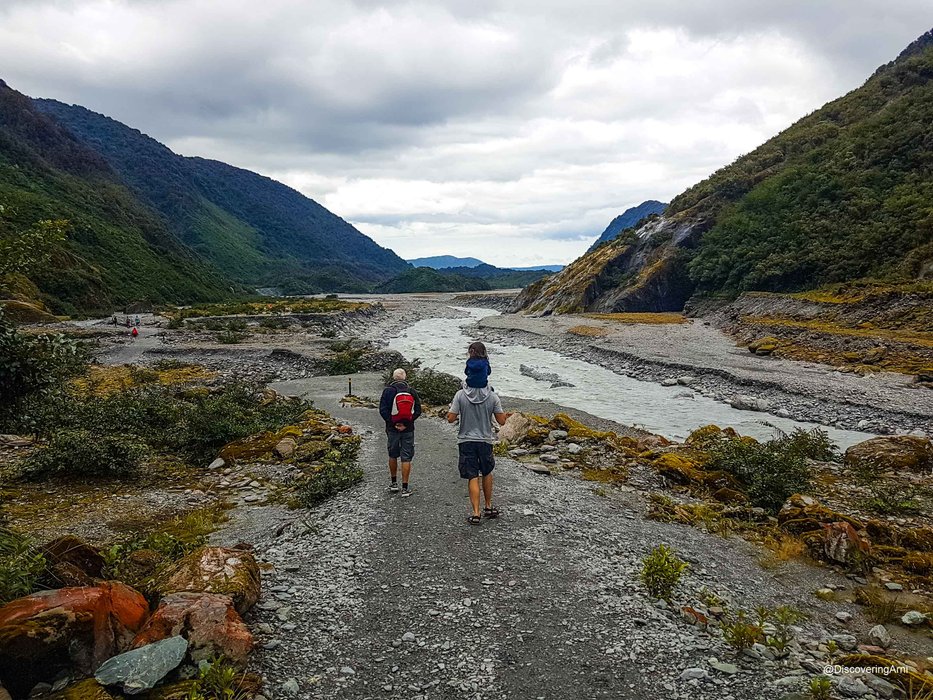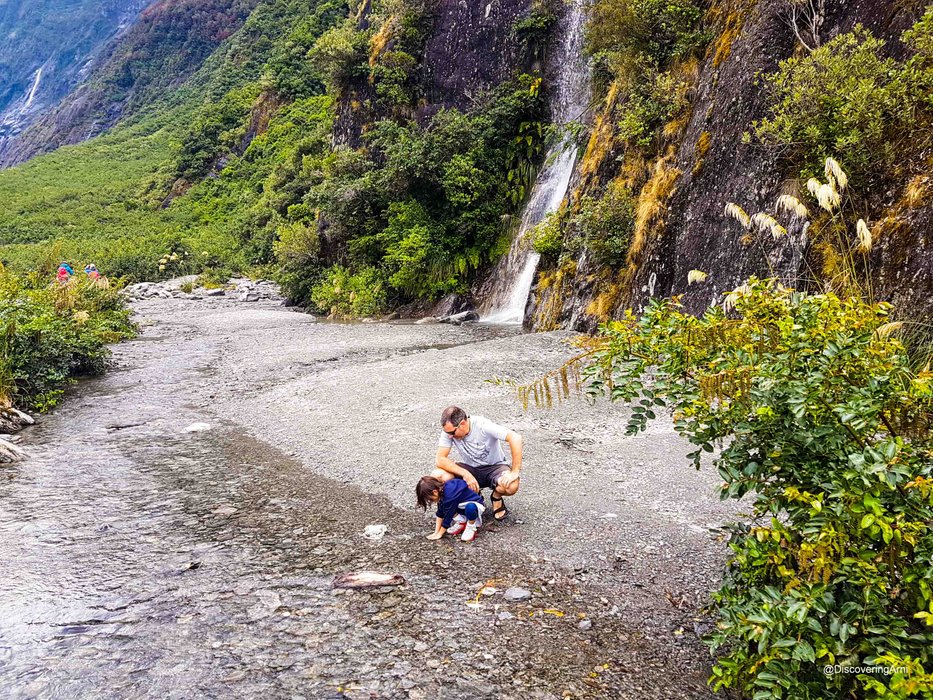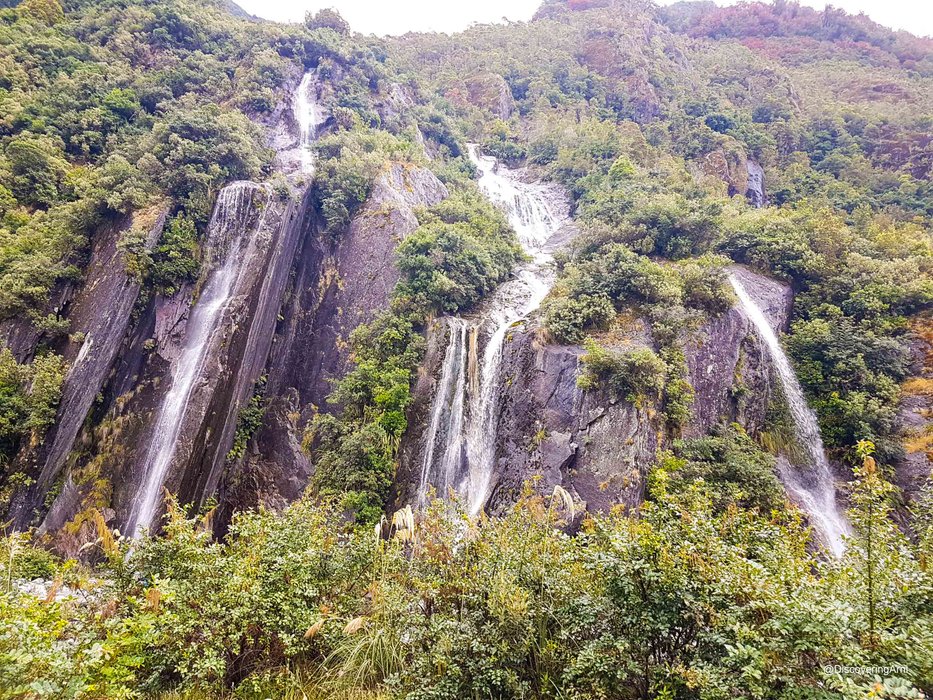 We may not be able to walk on ice, but at least we'll get a glimpse of the 12 kilometer glacier that is sadly rapidly receding. The valley is a hazardous environment as the glacier is constantly moving. The track is sometimes closed for visits due to rock falls, river surges and flooding. Moderate rain could affect a rise in water levels of the creek up to 1 meter.
---
It is wise to check the forecasts prior to your trip.
Bring a bottle of drinking water.
Bring waterproof and warm clothes for frequent weather changes
Apply Insect repellent and sun protection
Wear comfortable shoes
Note: No drones allowed.
---
It is categorized as an easy walking track following a rugged riverbed path. The first 15 minutes was an easy forest walk. During the hike, we spotted Trident Falls that led to walking on the rocky riverbed. The final part of the hike is a climb towards the barricaded viewing deck.
Each of us hiked at our own pace, so we had plenty of quiet reflective time.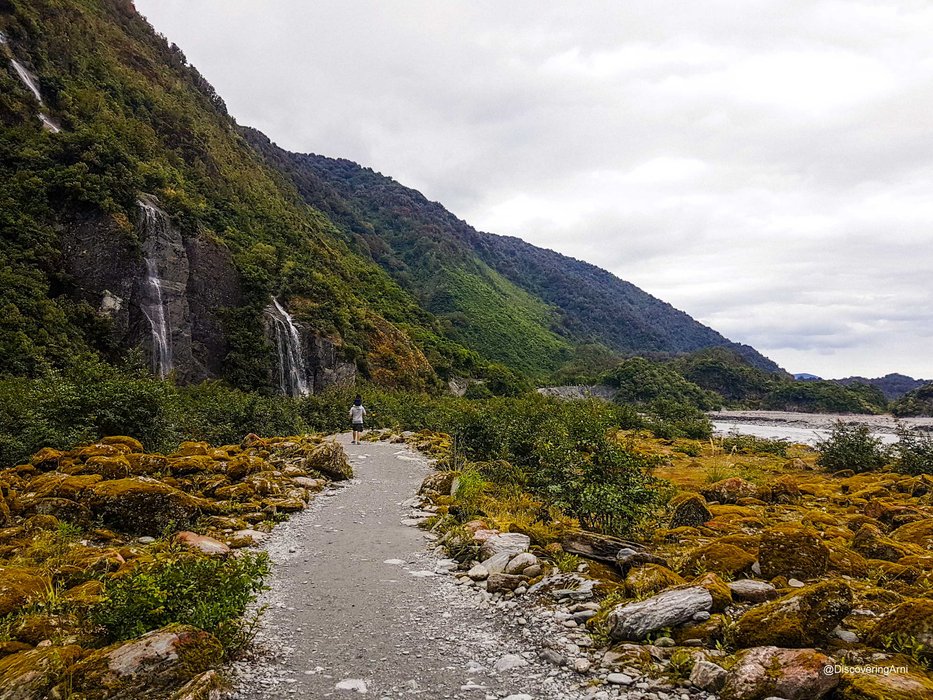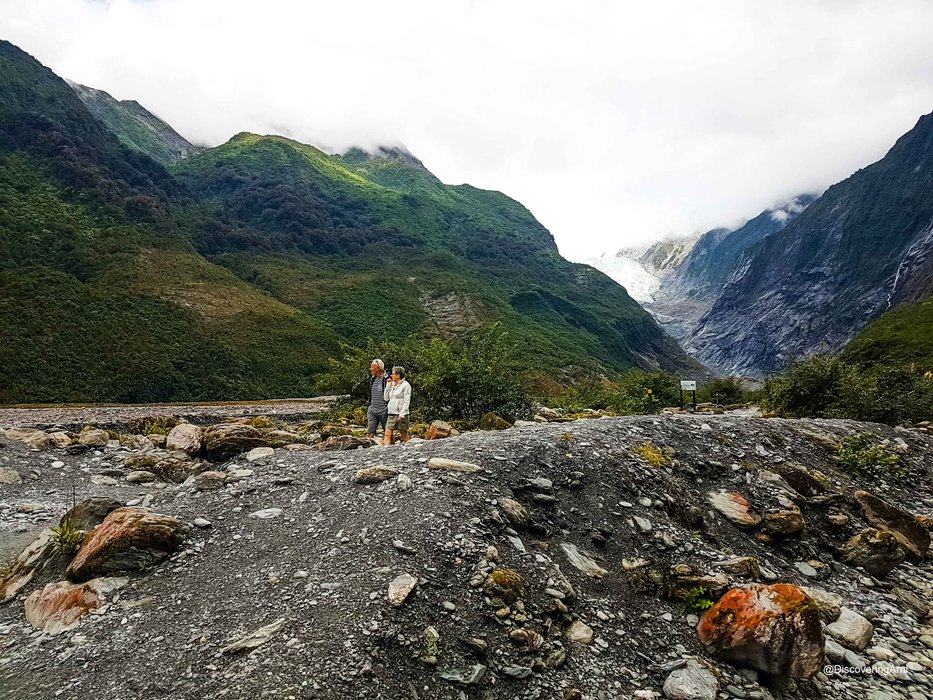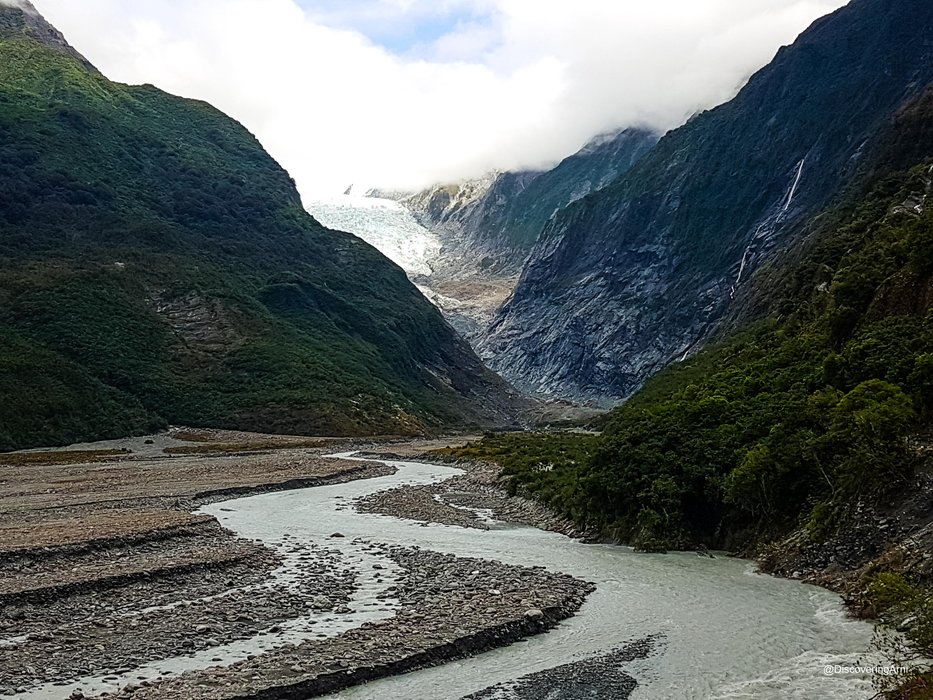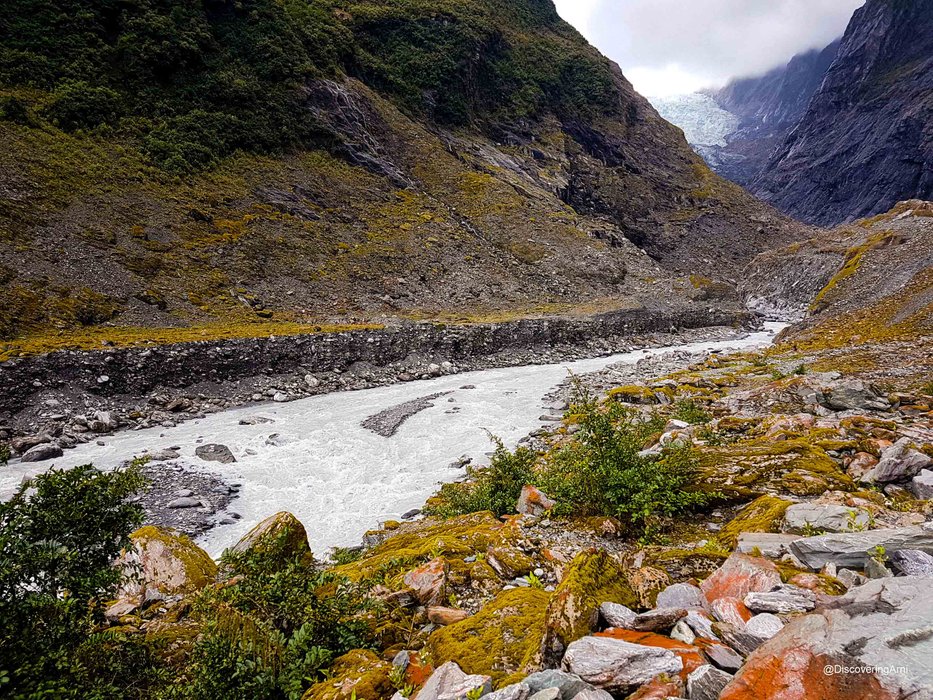 The track and the entire township were wrapped with this inexplicable eerie yet melancholic vibe. A feeling that my mother-in-law and I shared but couldn't find the words to explain why.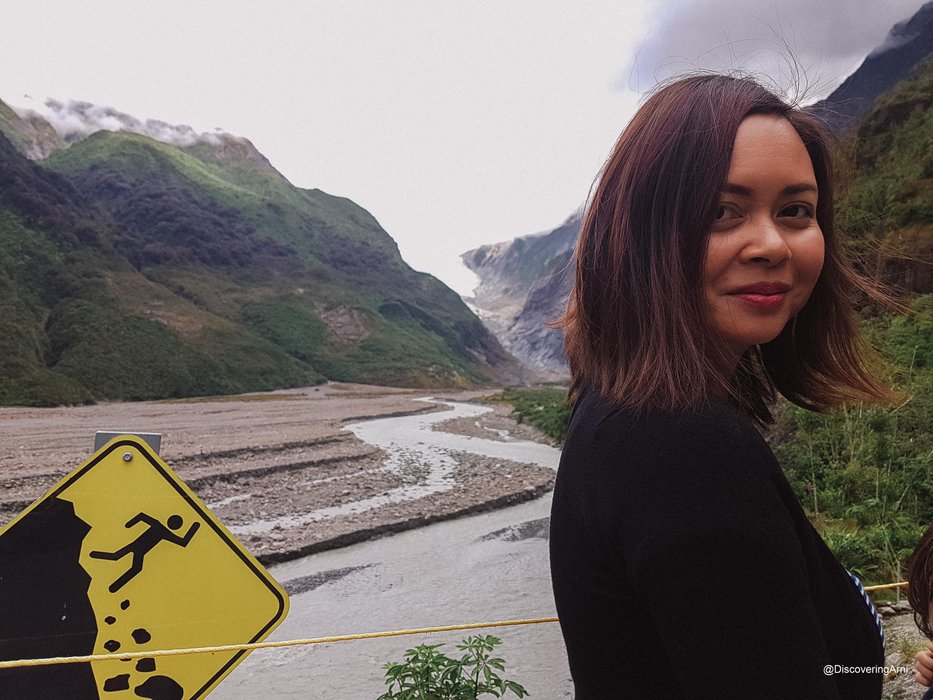 I Hiked Alone Back to Town
As soon as we returned to the almost empty car park, the family hopped in. Just like that, I decided to walk all the way back to the township on my own. I wanted more alone-time and this grey mood invited me to get wrapped up inside my thoughts while walking. I waved goodbye to them as I watched the car disappear in the distance.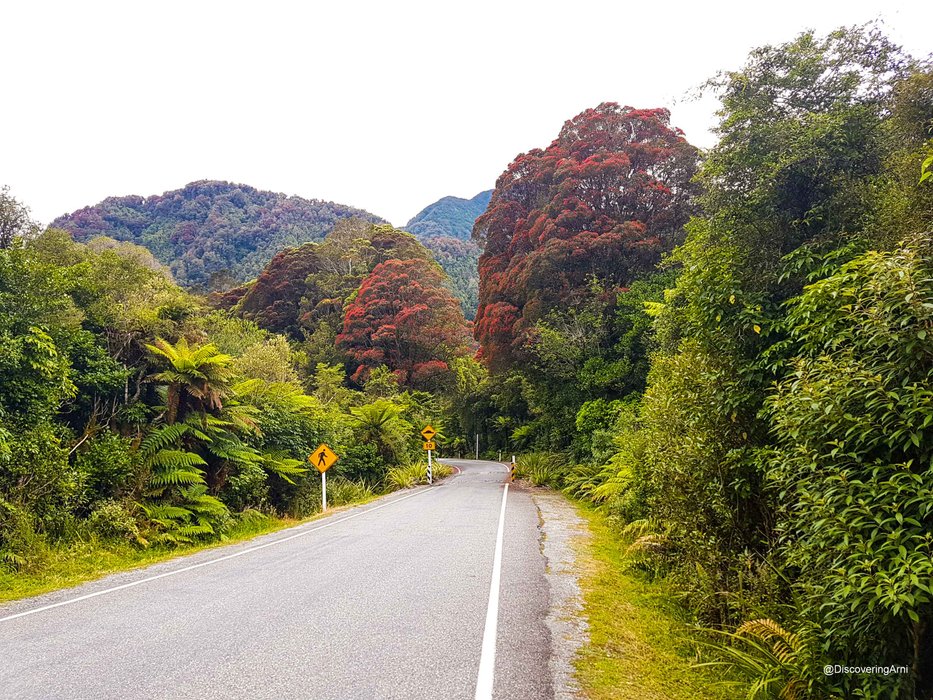 There was hardly any pavement for pedestrians during one- third of this 4.3 kilometer walk. I missed the sign that there is a cycleway **Te Ara a Waiau Walkway **parallel to the glacier access road. Later, I joined the walkway when it merged next to the access road along Waiho River. It was a pleasant walk. The tree colors stood out vividly.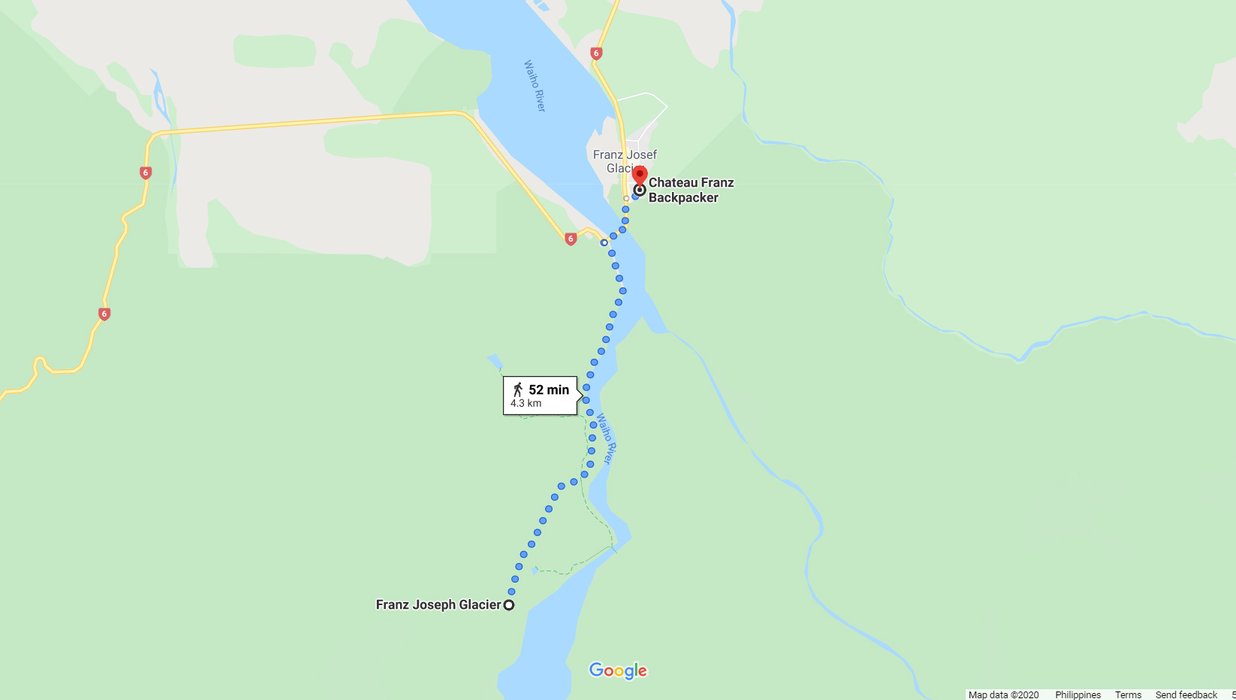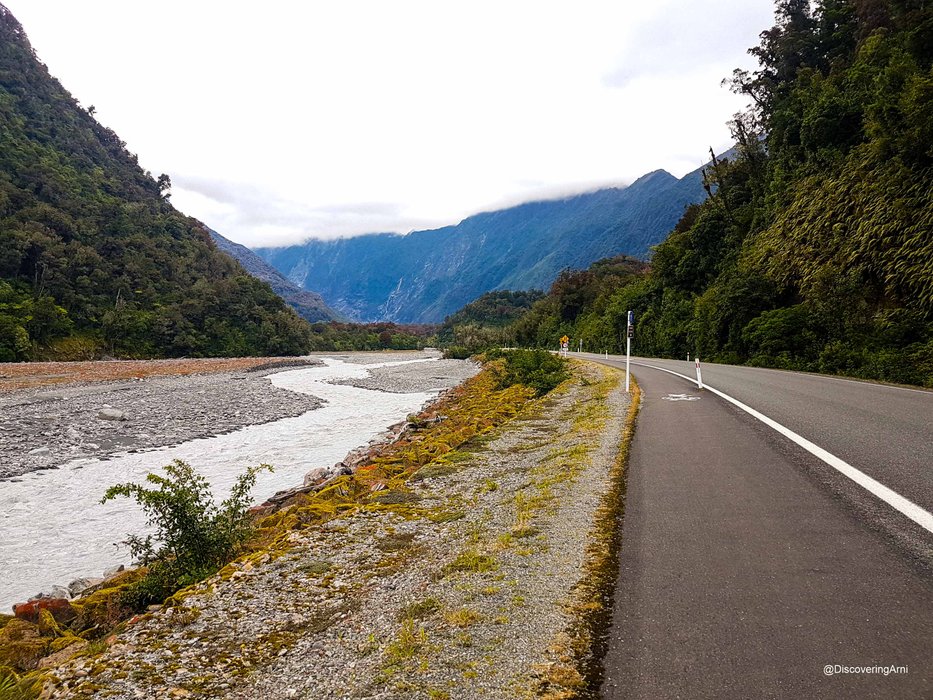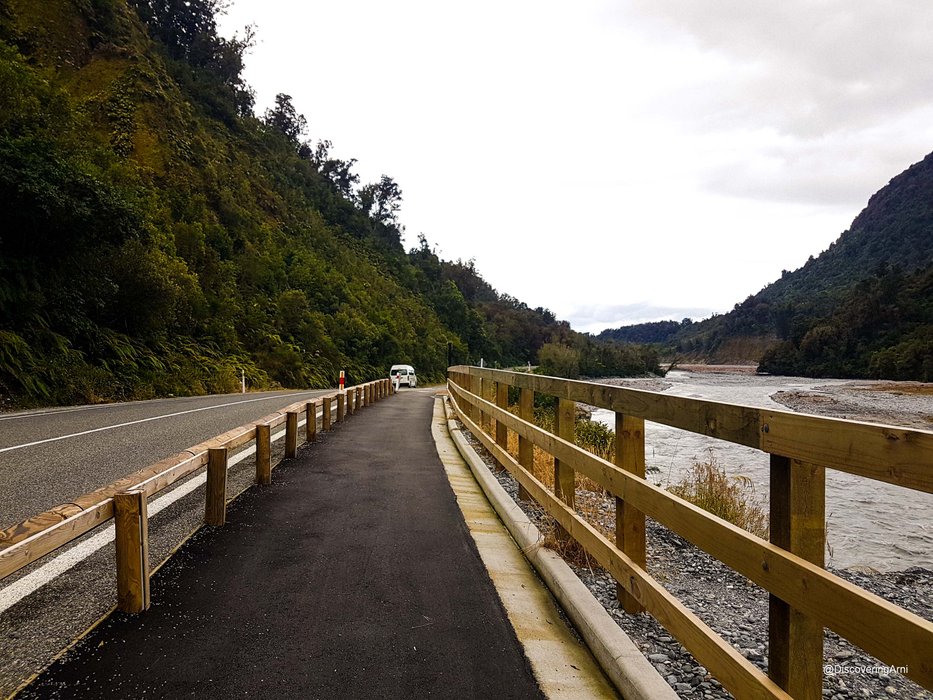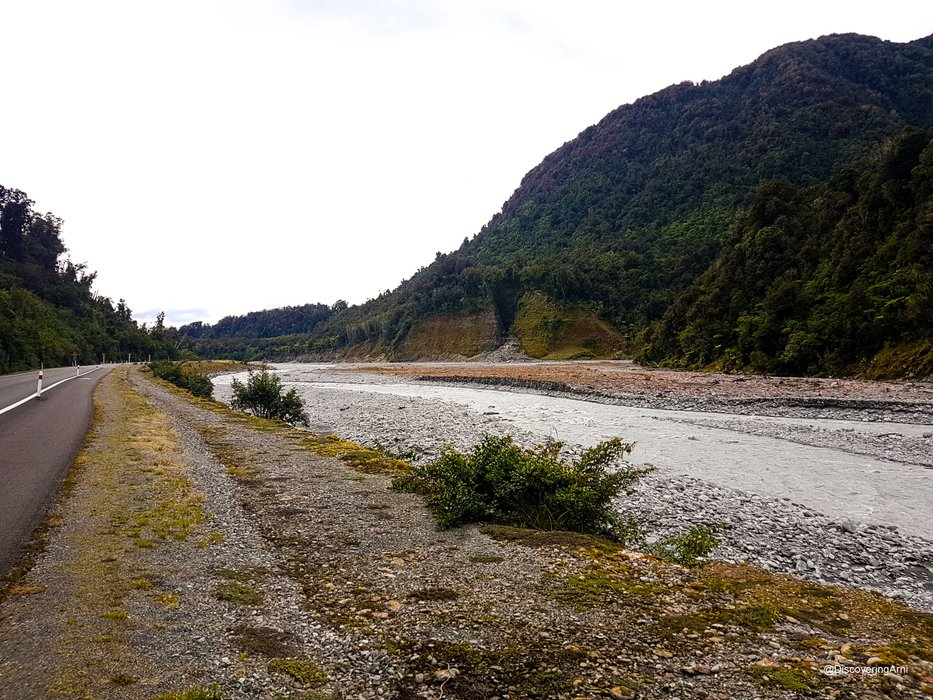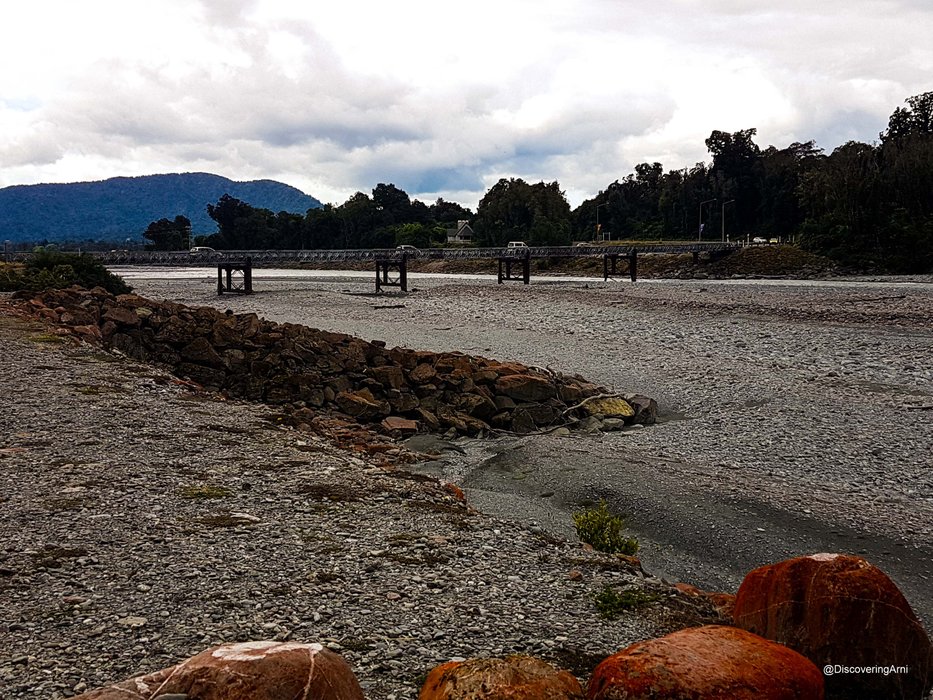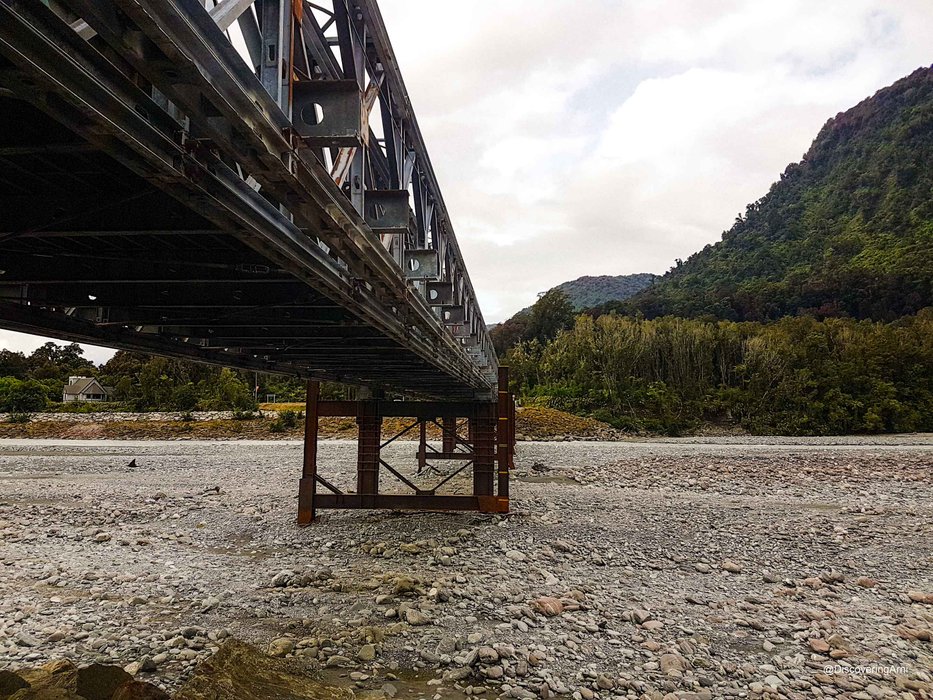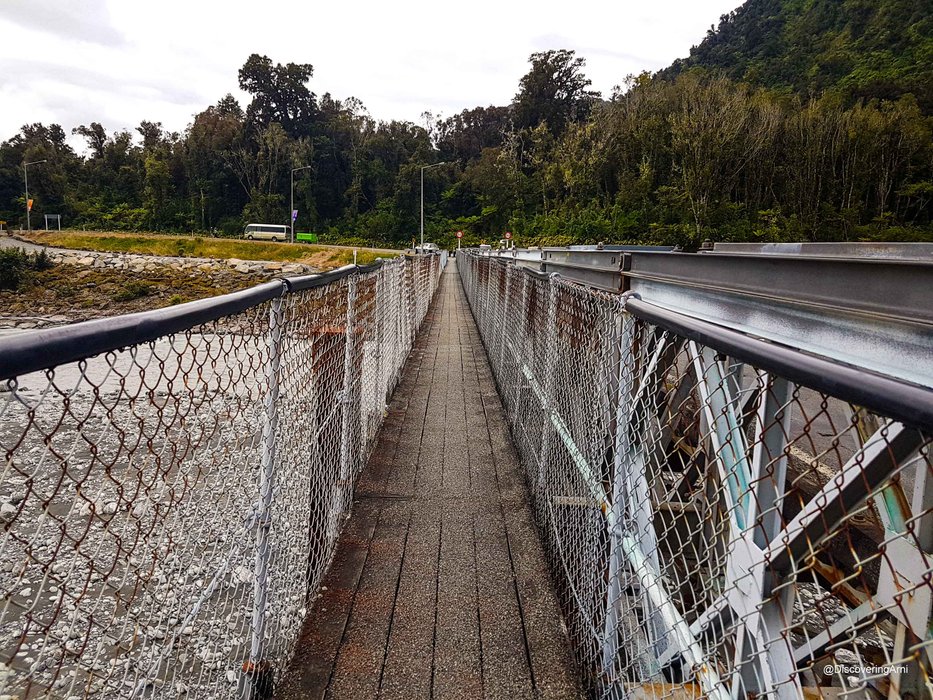 Content and happy to return to the lodge, we had the rest of the afternoon to wash and dry our clothes. It had been a physical day.
The rest of the evening was well spent to recharge for our next adventures the next day - The Fox Glacier Hike and Lake Matheson Walk.
To be continued..