4 Walks From Hotel Le Mahana - Part 3 - Walk To The Village Of Parea, Huahine
---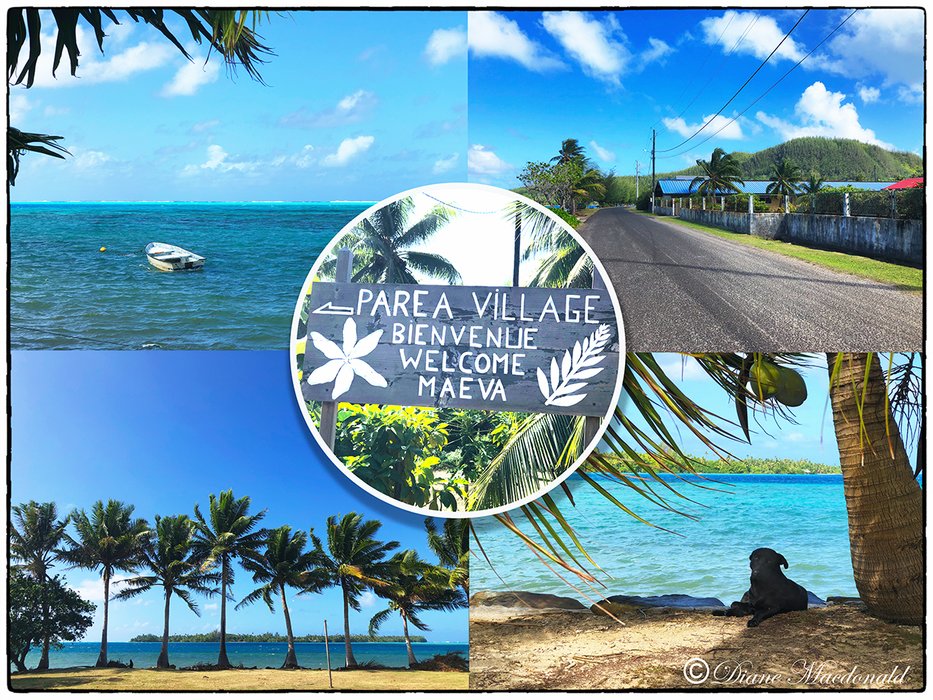 © Diane Macdonald - All Rights Reserved
---
If you are like me, and like to explore places that are "far from the madding crowd", then you will love Huahine, I promise you! Probably French Polynesia's best kept secret and known as The Garden Of Eden, the only bit of night life on Huahine is on Huahine-Nui
(Big Huahine - the northern island), but I will cover that in a future post! For the time being, I am still writing about our walks on Huahine-Iti (The Small Island), the southern and more remote of the two islands.
Huahine has a little over 6,000 people living there according to the 2017 census, spread out among the 8 villages (no cities) on all of Huahine: Faie, Fare (the largest village) , Fitii, Haapu, Maeva, Maroe, Parea, and Tefarerii. To put that in perspective, all the islands of French Polynesia combined have a total population of around 279,000!
---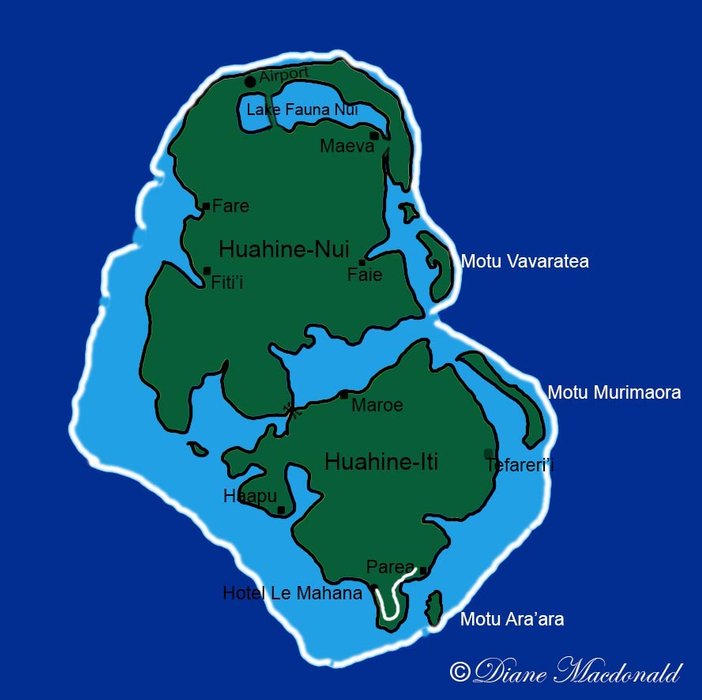 © Diane Macdonald - All Rights Reserved
---
The downtown area (if you could call it that) of the village of Parea was an easy walk on the main road from our resort (if you like walking.) The southern tip of Huahine-Iti looks a little like the shape of the state of Florida, but on a much, much smaller scale. Our resort Hotel Le Mahana was on what would be the equivalent of the gulf coast of Florida around Fort Myers, and our walk took us all the way to the southern tip (past The Everglades) hugging the coast all the way up to what would be the equivalent of Charleston, South Carolina on the US map! Of course our journey was not nearly that far, and the comparison ends with the shape of the peninsula. I have marked our walk on the above map.
Parea, (the main village on Huahine-Iti), like most of the villages of Huahine, was not quite what I expected of a village. It was spread out over about a kilometer, with gaps along the way. We didn't find a typical English, Scottish or European village with ancient architecture placed around a town square. Instead we found an eclectic mix of very modest homes with corrugated iron roofs, and some a little more upscale. We encountered gorgeous views of the lagoon and Motu Araara, a small islet on the barrier reef that surrounds Huahine. But let's begin our walk, shall we?
The first thing to grab my attention along the way (other than loads of flowers, which I'll be posting at a later date) was this very rural scene with 2 makeshift mailboxes.
---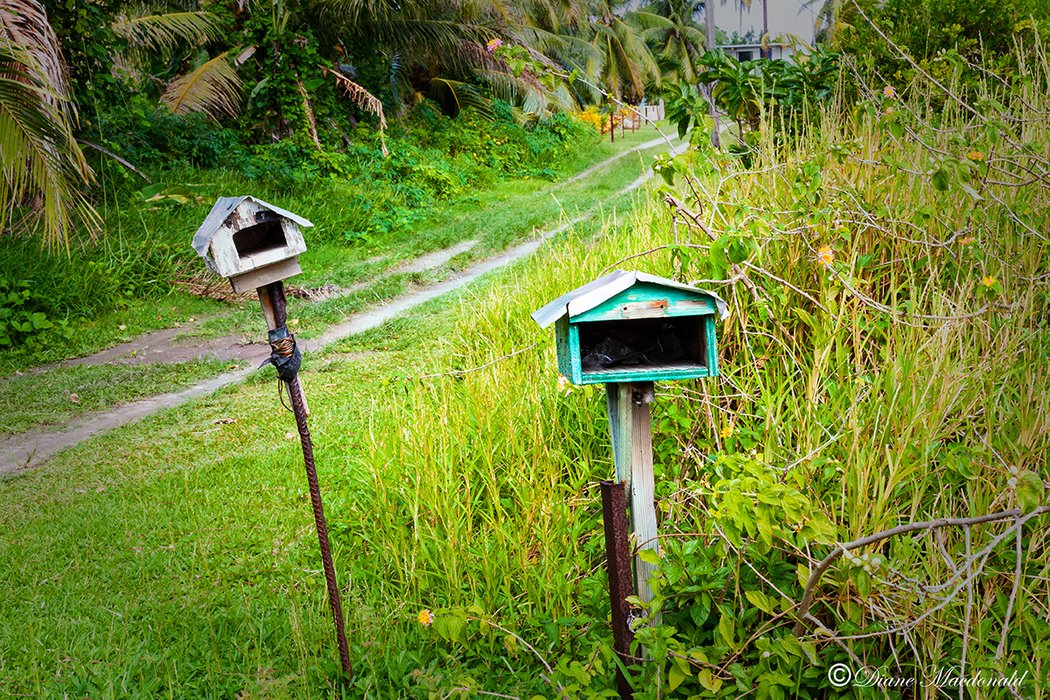 © Diane Macdonald - All Rights Reserved
---
Magasin Chez Hine (Hine's Shop) was a very welcome sight along the way and quite unexpected – a great place to purchase some drinks to place in the refrigerator at the resort. But for now, all we needed was a Magnum Bar (much better tasting than the American ones - the chocolate is more creamy) to cool us down. We made a point of stopping here on the way back to the resort later. This little store sold all the basics. It was here that I bought Genie, a small tube of imported gel for washing clothes – the best ever! If you live in the EU, you should be able to get it just about anywhere. The link I provided above is to a UK site.
---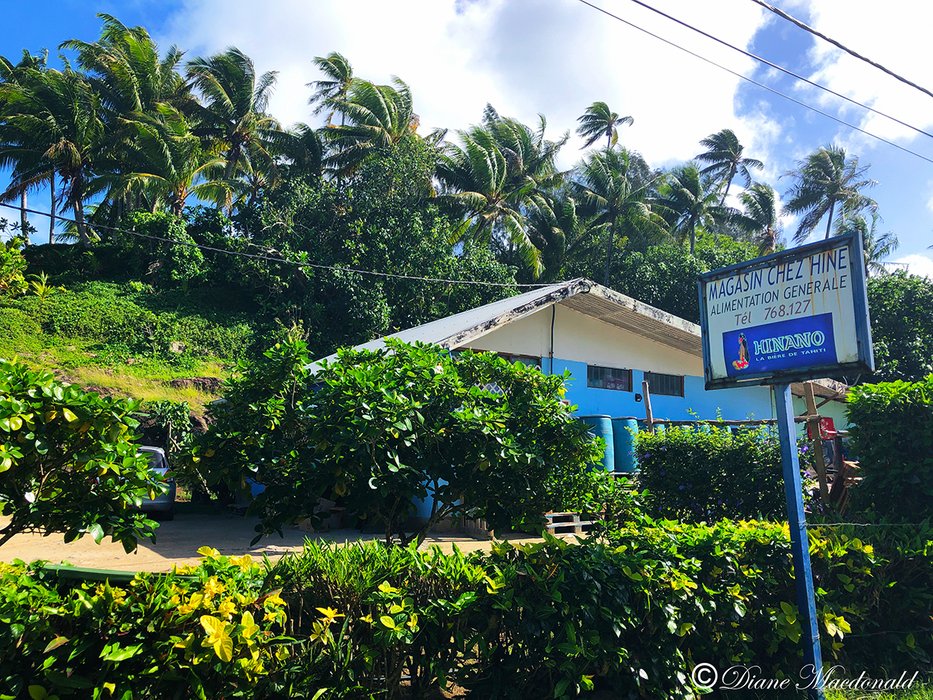 © Diane Macdonald - All Rights Reserved
---
And I would be remiss if I omitted the banner ad for Tahiti's national beer, Hinano with the world famous Hinano Girl, whose image is as much an Emblem of French Polynesia as is the Tahiti tiare, (also known as the tiare flower, or Tahitian gardenia)!
There is even a whole collection of men's and women's clothing with the Hinano Girl trademark! Check it out! Those items are available in the US, both online and at many surf shops in California and Florida. Do you recognize it? Not being a beer drinker, I didn't sample the beer, but had intended to – just to say that I did! Oh, well. There's another reason to go back. LOL!
---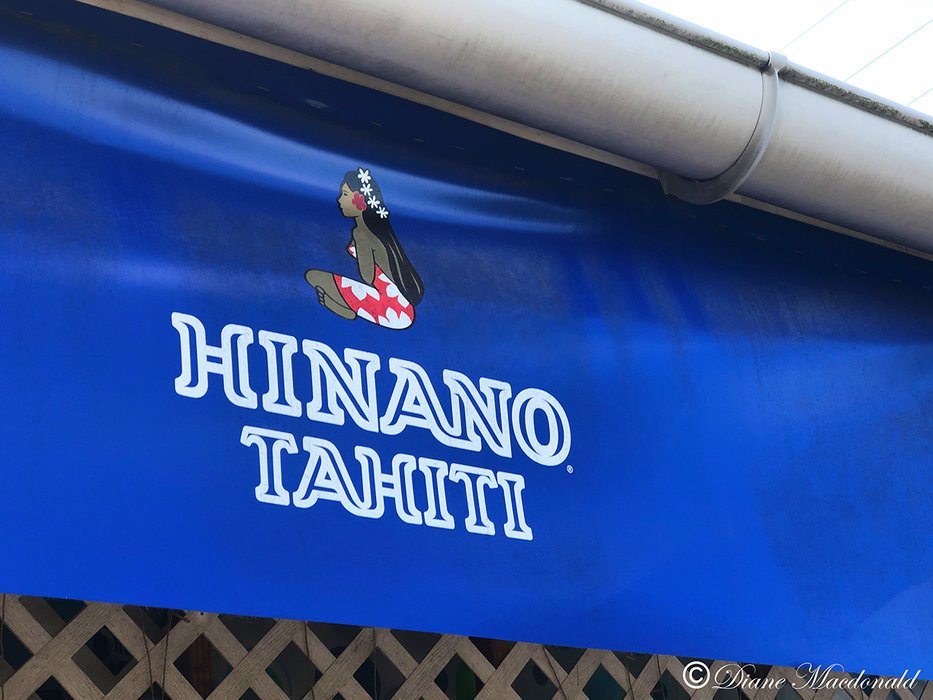 © Diane Macdonald - All Rights Reserved
---
The official welcome sign to Parea was nothing like we expected! It had not been manufactured at some factory in China or elsewhere! No! This welcome sign to the village had been lovingly created by a local artist – a reminder of simpler times in the rest of the world! The welcome is in 3 languages: French, English and the Tahitian Maeva.
---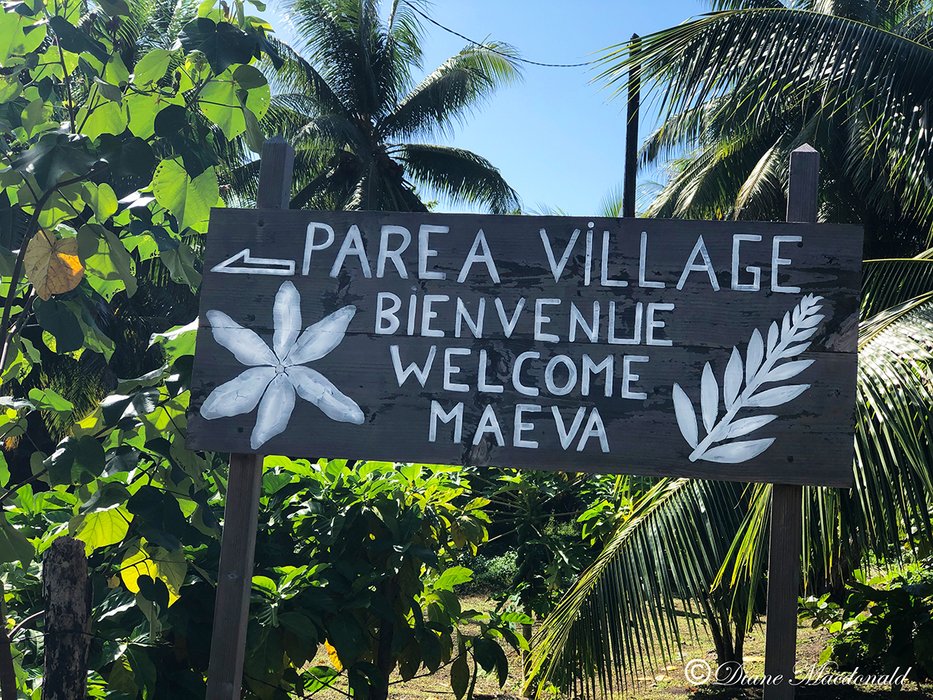 © Diane Macdonald - All Rights Reserved
---
I had never seen so many dogs roaming freely as I did in French Polynesia! Not all are strays, but many like this one guarding the bridge are well fed and obviously have owners. Again this to me is a reminder of simpler times before there were so many cars, when dogs did have the freedom to roam in most places anywhere.
---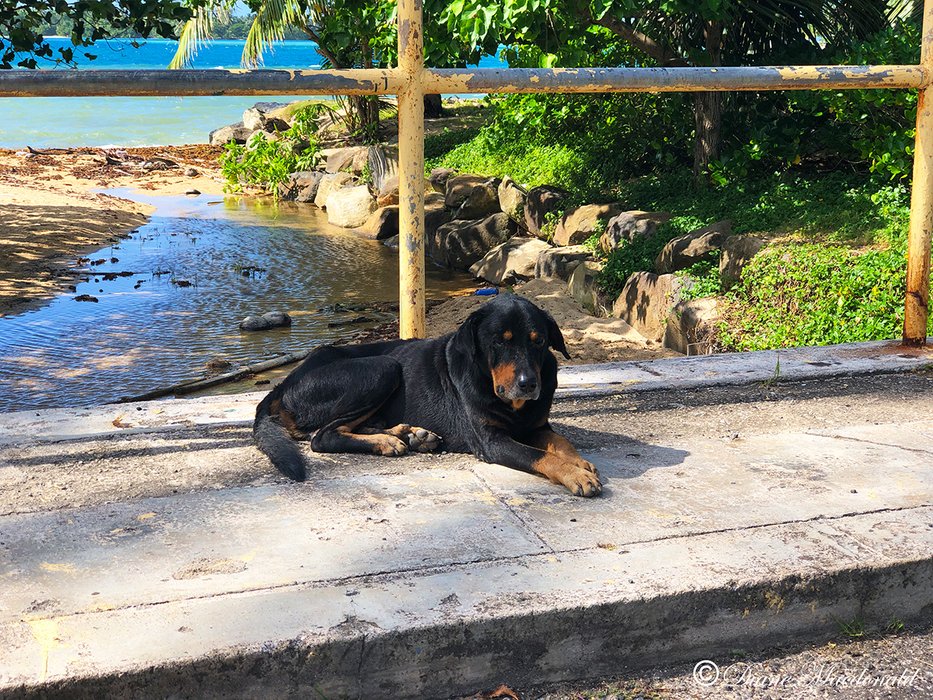 © Diane Macdonald - All Rights Reserved
---
Outrigger canoe racing is big on Huahine. In fact Hawaiki Nui Va'a, a very prestigious and grueling race, sometimes called The Tahitian Superbowl, starts every October from Huahine, then goes on to Raiatea, Taha'a, and Bora Bora. Perhaps this upturned outrigger canoe belongs to a team which is practicing for the event! During our stay in French Polynesia, it was not unusual for us to see an outrigger canoe or two speeding past whichever resort we were staying at - no doubt practicing for the big yearly event!
Also, all over French Polynesia we saw small motor boats stored above the water on these interesting boat lifts in order to protect them from the tides.
you can see Motu Ara'ara or Motu Araara across the lagoon!
---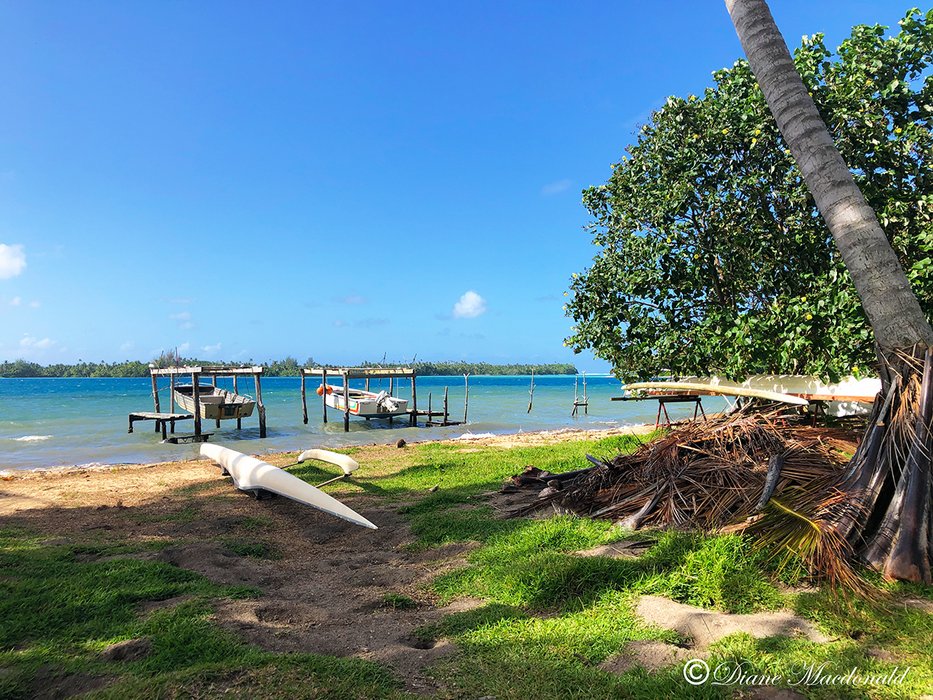 © Diane Macdonald - All Rights Reserved
---
Motu Araara, a tiny uninhabited island was never far from our view on the lagoon side of the road, and what better backdrop could we have for a row of coconut palm trees?
---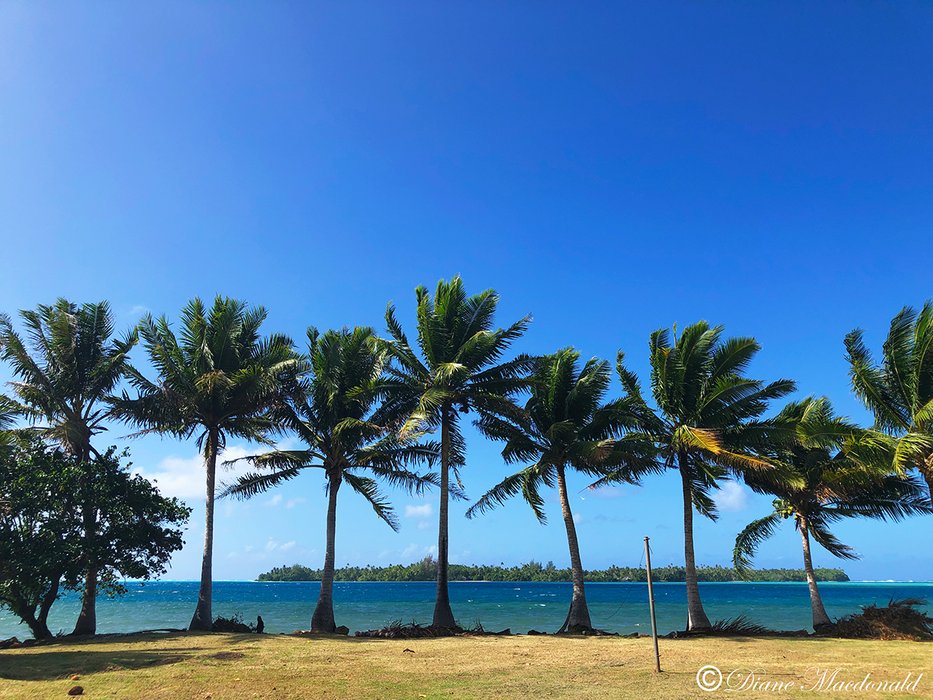 © Diane Macdonald - All Rights Reserved
---
Until European explorers came in the 1700s and introduced textiles to the Tahitians, their simple clothing had been made from many types of bark. At first, only ancient designs like the kind on their carvings were used on the pareo. Nowadays though, fern and flower patterns in bright colors have been added to this 2 yard long piece of fabric which is the national dress of Tahiti, the pareo. You can purchase one at any tourist shop on every French Polynesian island, but if you want a pareo that has a unique design, you can purchase a hand painted one from a local artist like this one in Parea.
---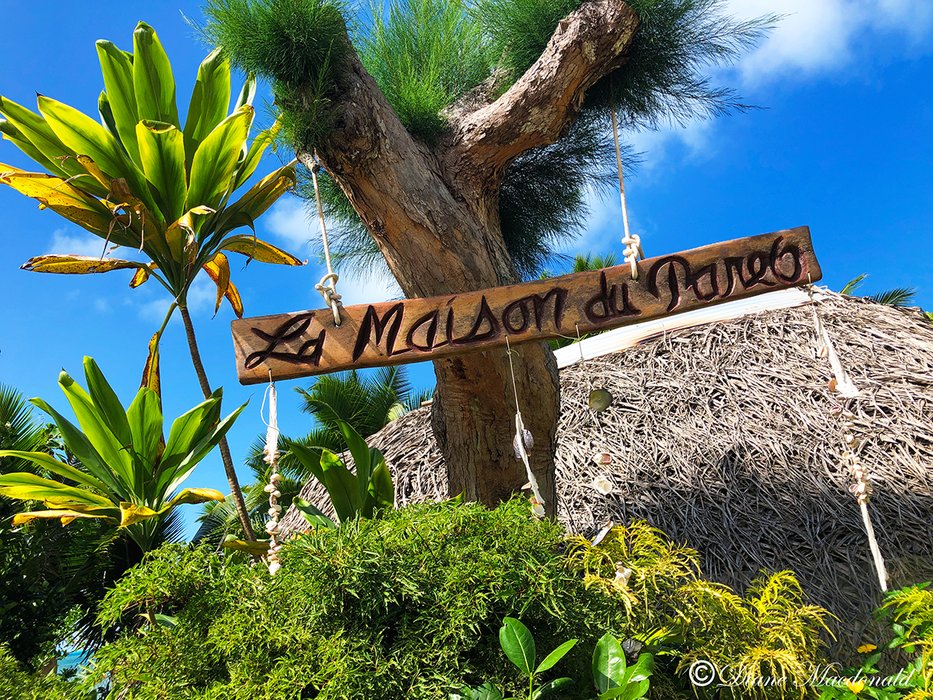 © Diane Macdonald - All Rights Reserved
---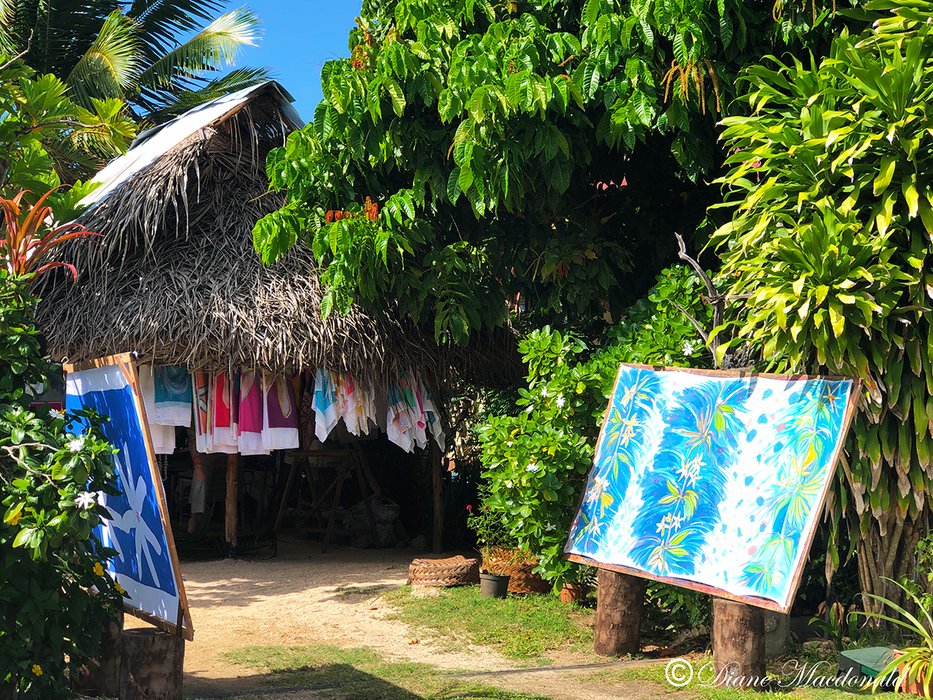 © Diane Macdonald - All Rights Reserved
---
As we crossed this bridge, we heard the most wonderful acapella singing drifting on the tropical island breeze. We had this beautiful view of the lagoon, so you can imagine how it gave us goosebumps to hear such music praising the Creator in such a gorgeous tropical setting. It was a Saturday morning, so we wondered why such a heavenly sounding choir would be singing on that day. It would be a few minutes before we rounded the bend and got our answer.
---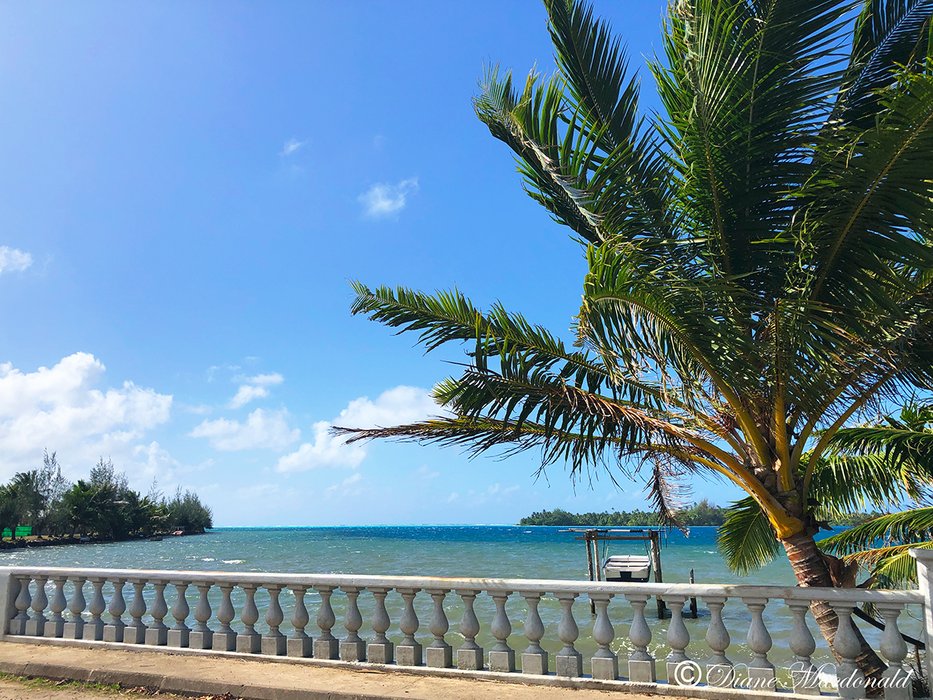 © Diane Macdonald - All Rights Reserved
---
In the meantime we came across this beautiful hand painted sign, but I'm not sure what it represented. I think perhaps it was another ad for La Maison Du Pareo or for another artist in the village.
---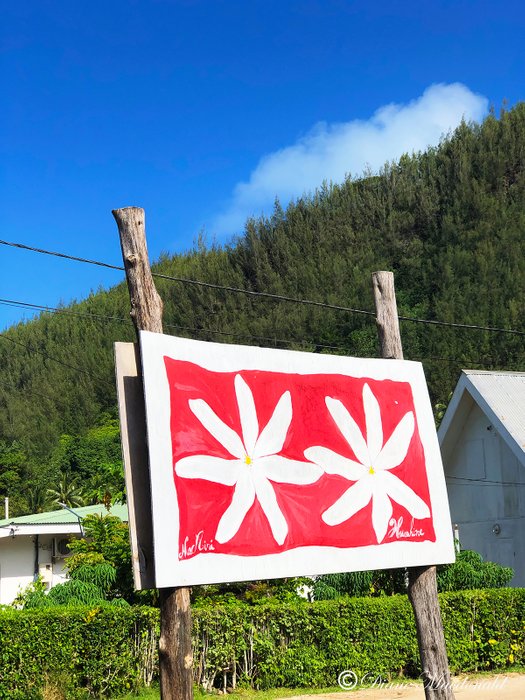 © Diane Macdonald - All Rights Reserved
---
Being surrounded by water, it's no surprise that the people of Huahine all seem to have boats, and there are always boats available for rent like these these kayaks. The little motor boat seems to belong to a private owner, although, I'm sure a trip around the lagoon could always be arranged!.
---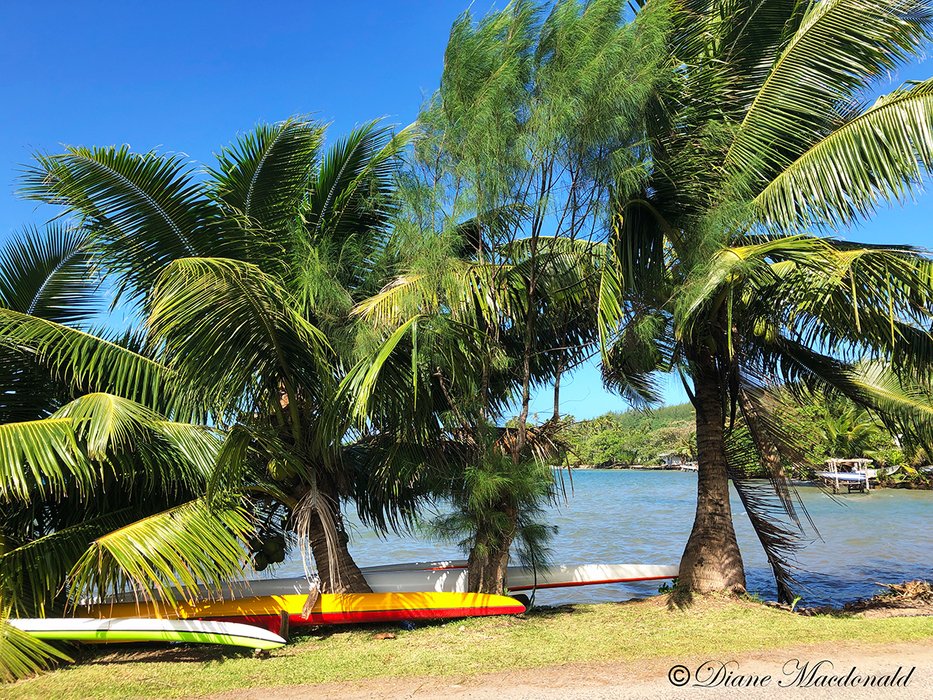 © Diane Macdonald - All Rights Reserved
---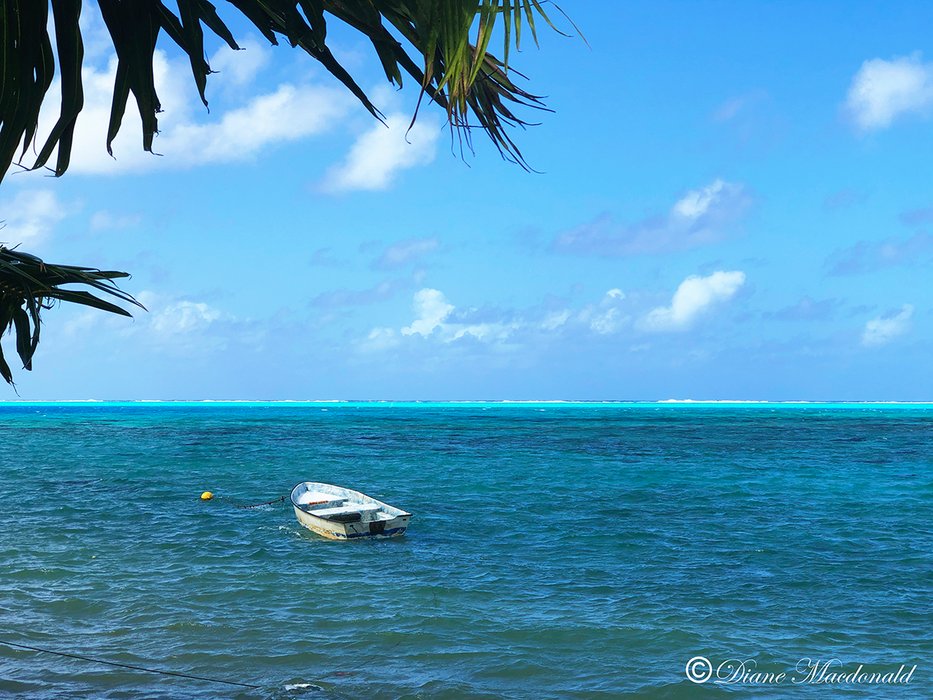 © Diane Macdonald - All Rights Reserved
---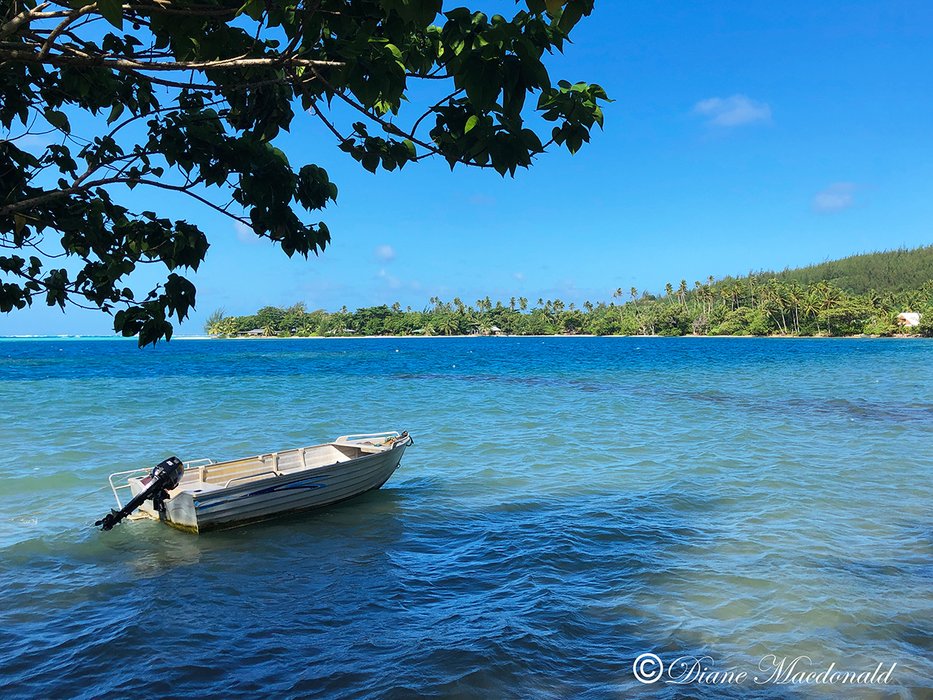 © Diane Macdonald - All Rights Reserved
---
When we finally arrived at the destination producing the heavenly music, we discovered that the singing was coming from the congregation of a Seventh Day Adventist church, whose members worship on a Saturday instead of the traditional Sunday in the rest of Christendom. Their thatched roof structure had no walls! And like all French Polynesians, they welcomed us in the most warm and friendly manner. A Tahitian lady who saw us walking by, came outside and invited us to join them, which we gladly did! The service and singing were in French, (apart from the odd Tahitian chorus now and again.) I could follow along quite happily, but Jim was left to smile and simple enjoy being there.
---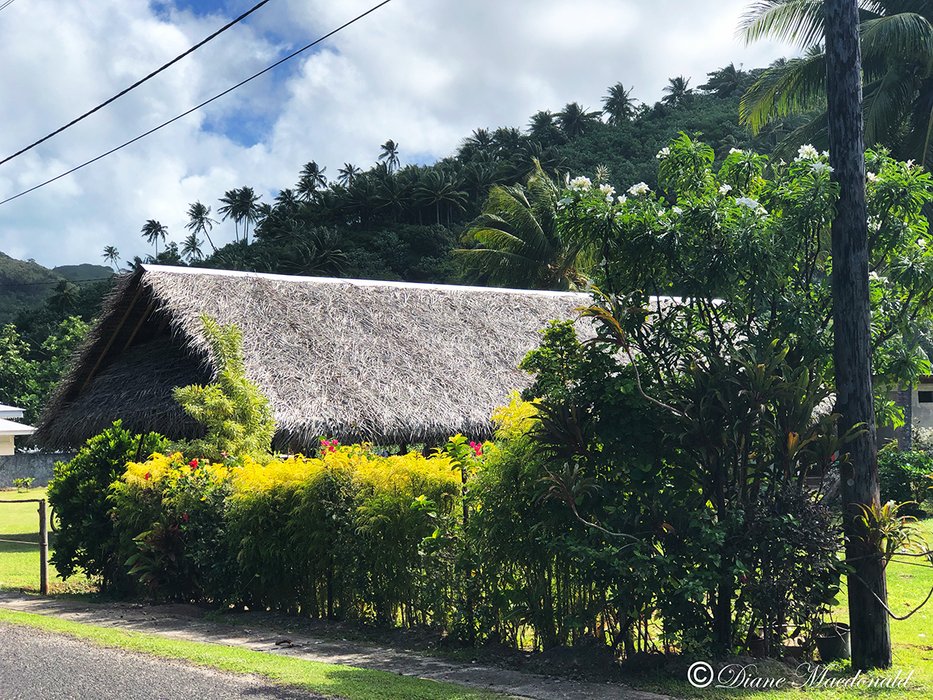 © Diane Macdonald - All Rights Reserved
---
There were no praise bands with fancy stage lighting, no padded individual seats, and no large screens with the lyrics projected from above. Things were much simpler here. There was no musical accompaniment whatsoever, we sat on old fashioned pews, and the lyrics were taped to the wall for all to read!
---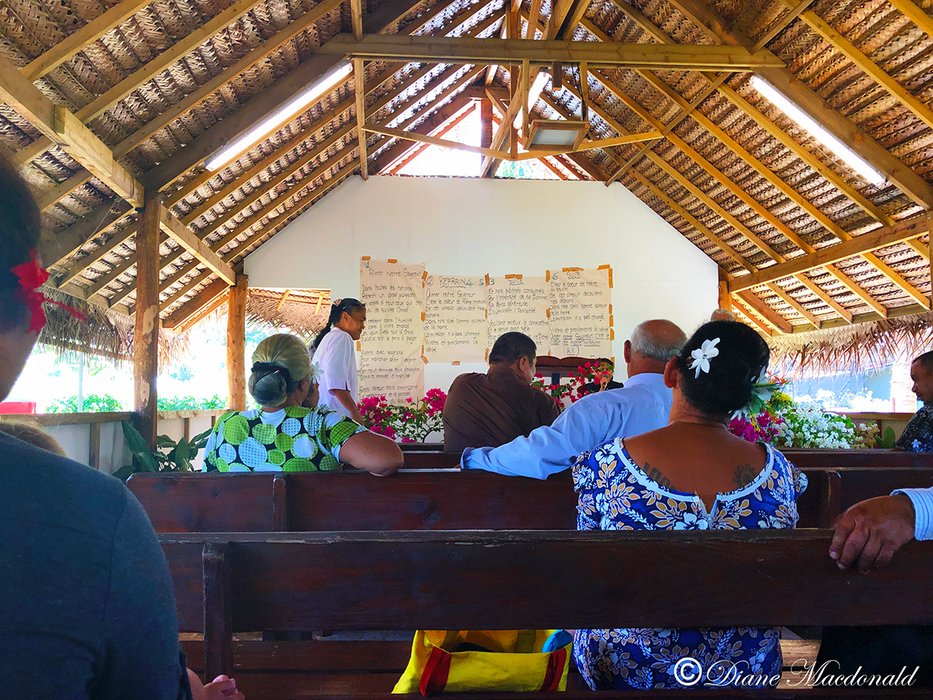 © Diane Macdonald - All Rights Reserved
And because the building was open like all the restaurants in the resorts we stayed at, and cafes and restaurants where we stopped in our travels, cats, dogs and wild chickens were free to come and go as they pleased! A little dog who was uncannily like Carlos our old dog who went to doggie heaven over 5 years ago, came and sat at my feet during the rest of the service! He even felt like Carlos when I petted him and even acted like him, but at the end of the service he just disappeared, so I got no better photograph of him.
It was at this church that we were told of a "secret" walk that only the villagers knew about because there are no signs leading to it. So guess what my next post will be about! Keep your eyes open for my next post featuring the "secret" walk, which involved climbing a small hill.
---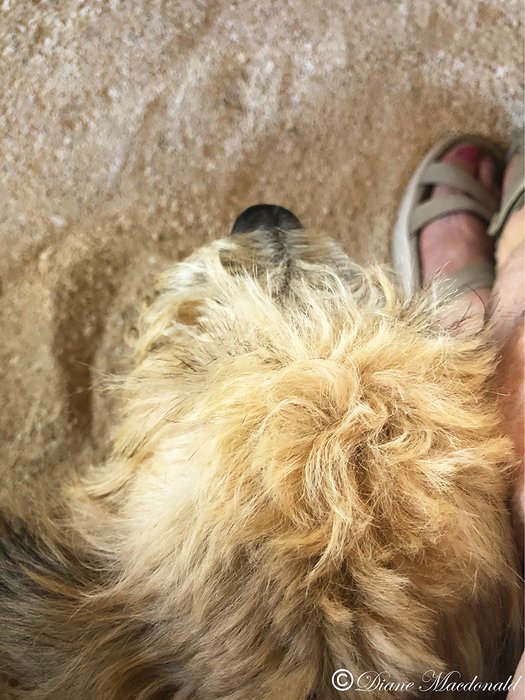 © Diane Macdonald - All Rights Reserved
---
Next door to this warm and inviting little church, was a white church (Protestant, but I'm not sure of the denomination). It was surrounded by a wall, so the best shot I could get of it was actually at the back of the church where there was a large grassy area, where I can imagine children playing and picnics being held.
---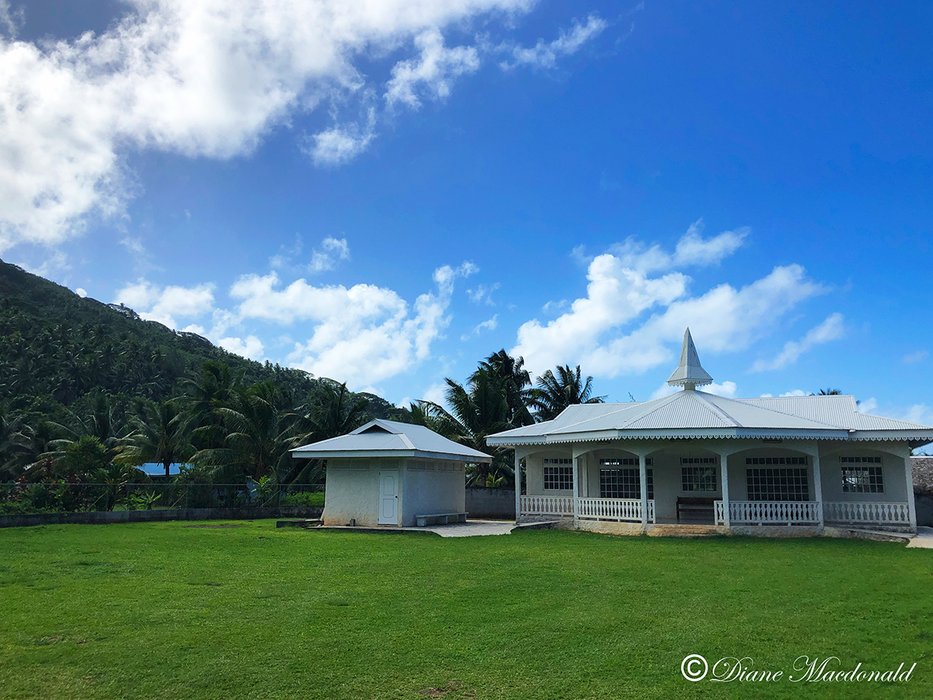 © Diane Macdonald - All Rights Reserved
---
It is not usually so windy in June, we were told, but at least it gave us the opportunity to see palm trees really swaying in the breeze. The lagoon water was choppy because of the wind, and out past Motu Araara on the horizon, you can see white surf, marking a favorite spot for surfers to the islands.
---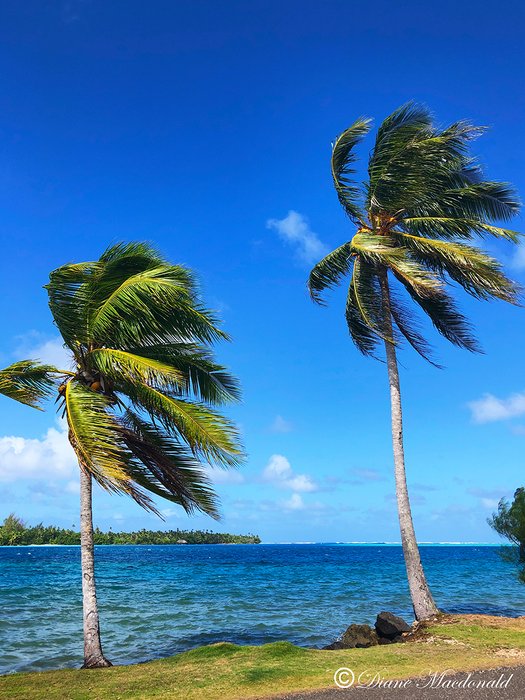 © Diane Macdonald - All Rights Reserved
---
It came as no surprise to encounter a seabird or two along the way. This sooty tern, or common tern was taking a break on a post next to an outrigger canoe, and of course Motu Araara is on the horizon.
---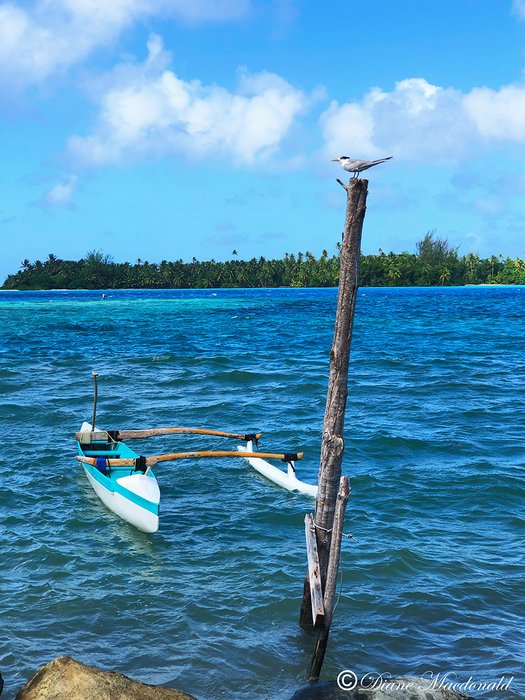 © Diane Macdonald - All Rights Reserved
---
Unfortunately, not every dog we encountered was well fed. This poor guy looks as if he could have used a square meal or two. Sometimes I would bring along a few scraps of cold cuts from our breakfast buffet, but this time I had nothing to offer. That look on his face is pitiful. I wish I could have fed him
---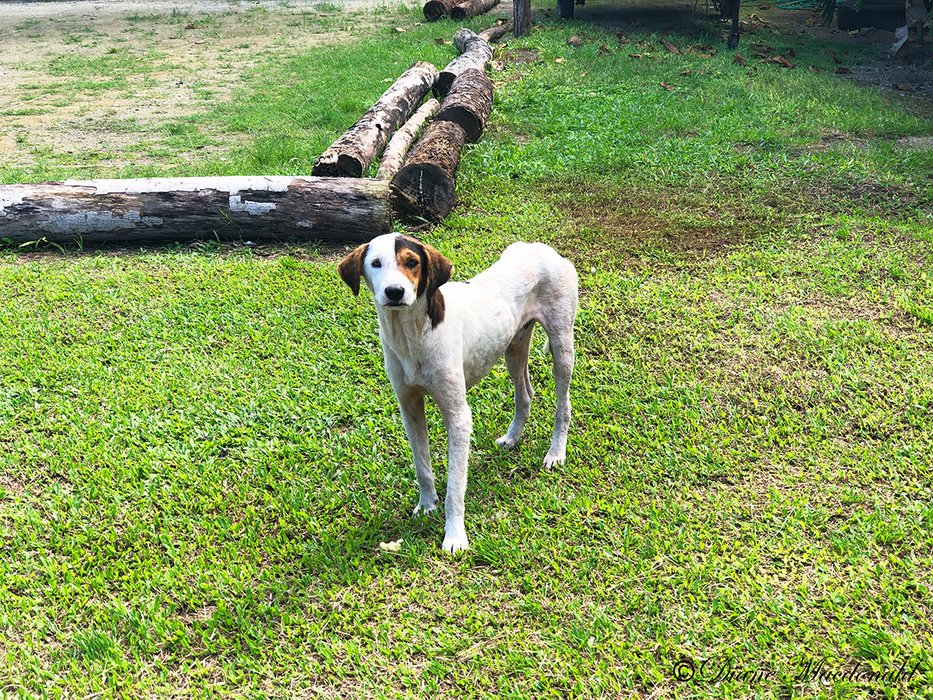 © Diane Macdonald - All Rights Reserved
---
In contrast, this black lab doesn't look as if he has missed a meal in his life, and is enjoying a little siesta under a shady tree by the lagoon. The life of Riley!
---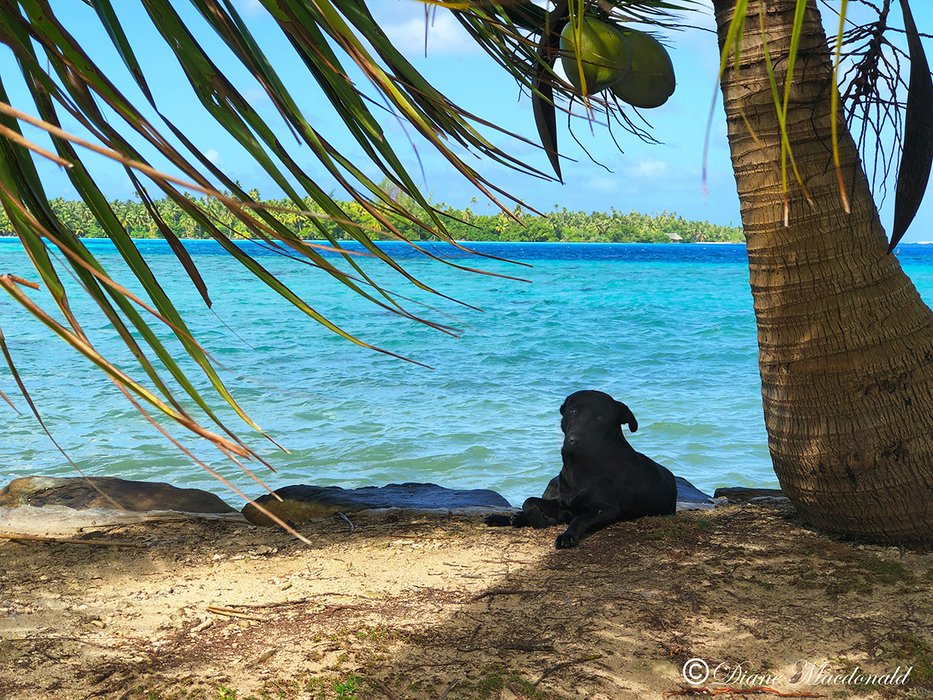 © Diane Macdonald - All Rights Reserved
---
On the way to the village, the lagoon was on our right and buildings were scattered here and there on the left. On the return route, of course it was reversed. Notice the long empty road once more. A car may have gone by every 5 minutes or so, but I don't really remember seeing any on this Saturday morning walk. The building with the long corrugated roof appeared to be a gathering place for the villagers. On that day, some were enjoying a picnic under the shelter of the roof. I imagine that at other times, it may serve as a market place.
---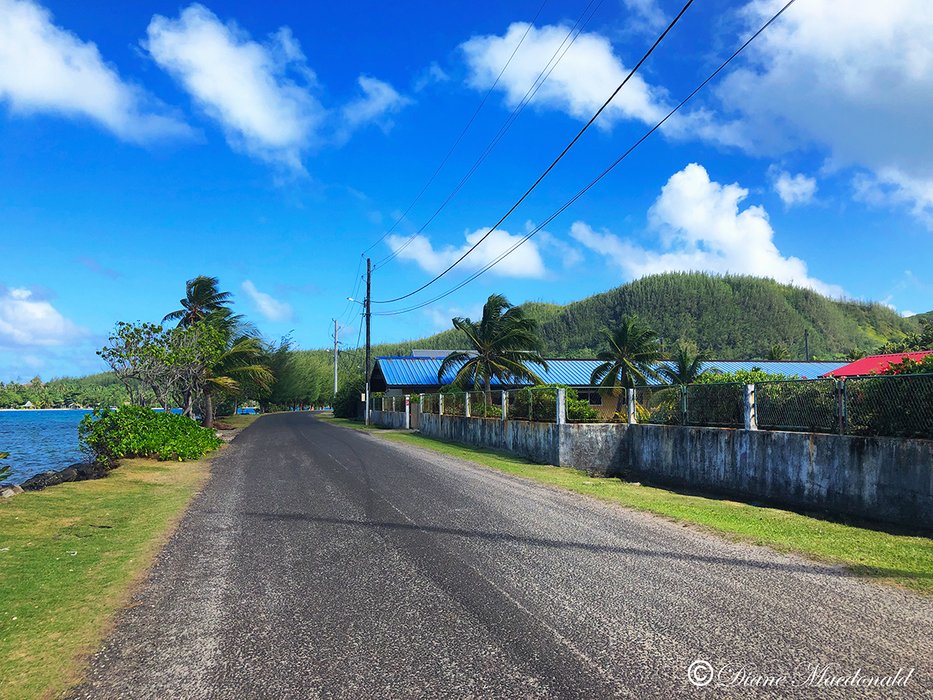 © Diane Macdonald - All Rights Reserved
---
I have had a fascination for photographing lone trees in the landscape for as long as I can remember. This gnarled tree looks like it has seen quite a few tropical breezes during its growing time. I have no idea what type of tree it is with its flowers that blend in with the foliage, but I had the inclination to create a B&W image from it, burning and dodging digitally, like I learned to do in the old fashioned darkroom so many years ago! Which one appeals to you the most, and why?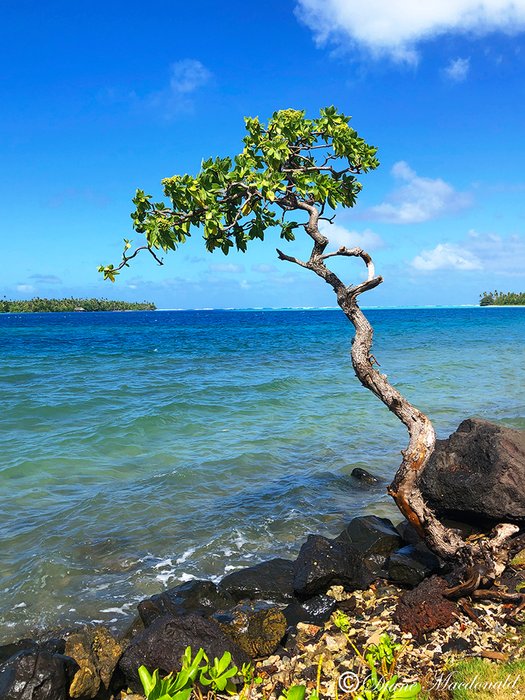 ---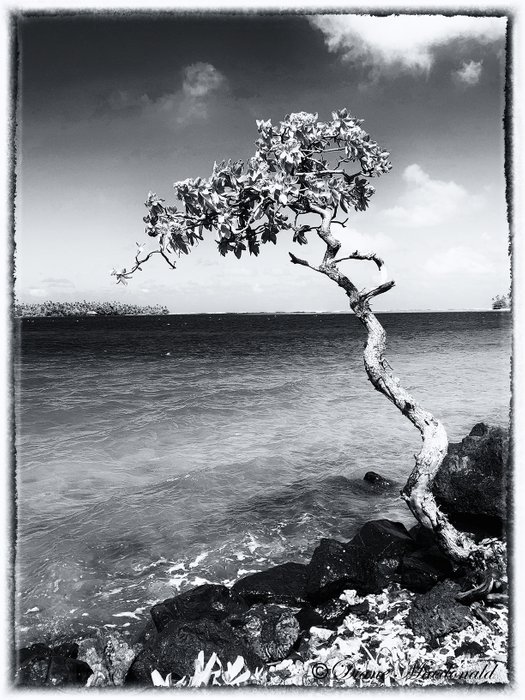 © Diane Macdonald - All Rights Reserved
---
There was certainly no shortage of coconut tress everywhere, but seeing these coconuts hanging so close to the water in the lagoon, I knew I had to get the shot.
---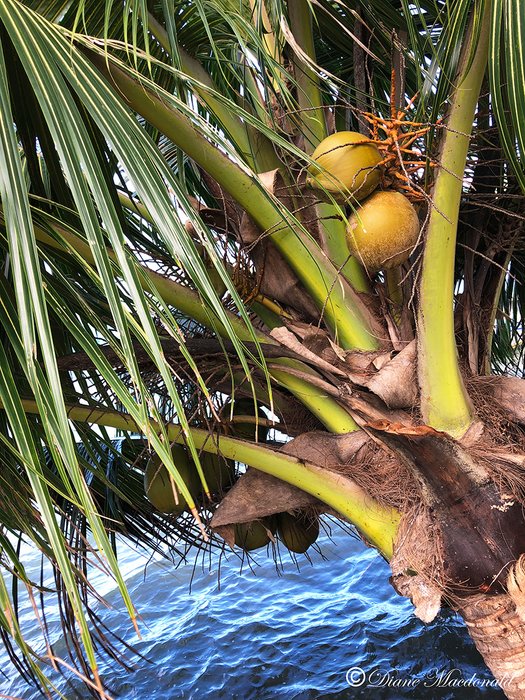 © Diane Macdonald - All Rights Reserved
---
It was on the return walk from the village that I paid more attention to the homes in Parea. As I mentioned before, all buildings were on the side of the road away from the lagoon, so they were on the right hand side on the way back to the resort.
This first image shows a very modest home with a tin roof and with washing blowing in the breeze on the clothes line. Note some colorful pareos on the right, and also a rug or pareo with a design of a lizard from a traditional carving.
---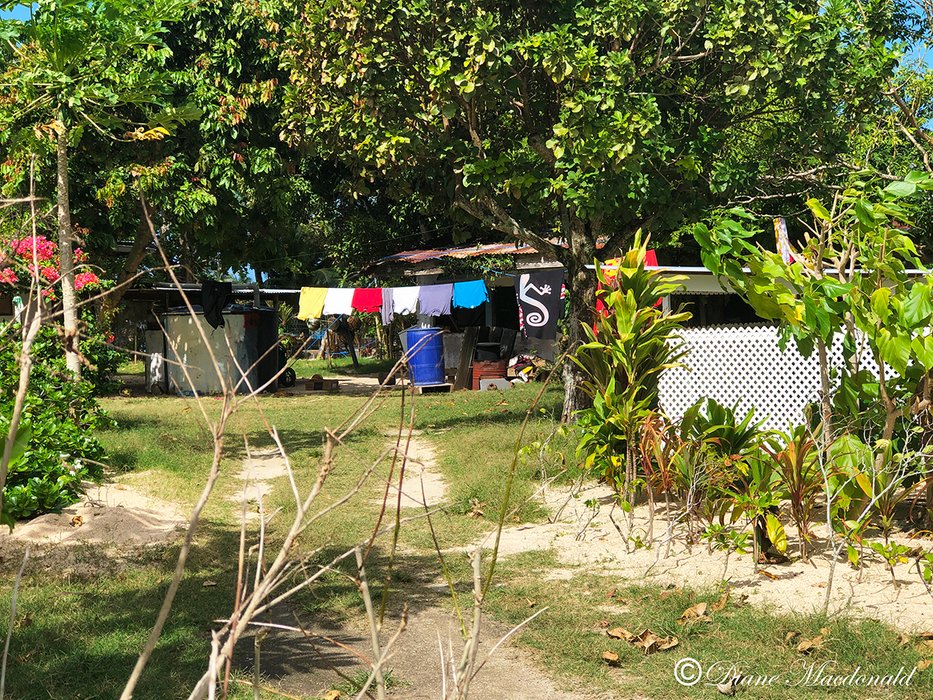 © Diane Macdonald - All Rights Reserved
---
This home backs onto a small stream, and appears from the very orderly landscape and more solid structure to be a bit more upscale. This image was photographed from one of the little bridges we crossed on the way, but I'm not sure now from which one.
---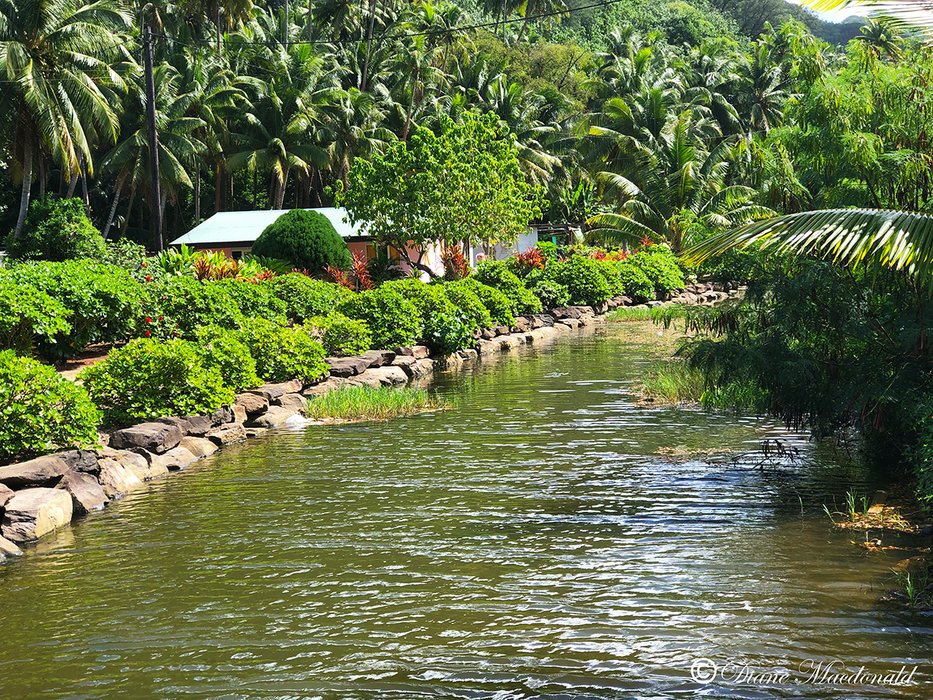 © Diane Macdonald - All Rights Reserved
---
Remember Hinano beer? Well, it happens to be named after the white flower, hinano on the male tropical pandanus or the pisonia plant, which is native to the South Pacific. As every part of the tree is used, it is one of the most common and useful plants in French Polynesia, and is easily recognized by its roots which are visible above the ground helping to keep the tree trunk stable. Although it looks a bit like a palm tree, it is not really related to the palm tree.
The flowers are often used to perfume Tahitian monoi oil, and are often added to flower garlands, and heis (crowns.) Its leaves are used to construct the thatched roofs of the resort bungalows, and probably the roof of that church we visited. Islanders also weave the leaves into hats and baskets. The wood of the pandanus is used as a building material and for making canoes etc., the roots are used in some traditional healing remedies and if all that is not enough, the fruit is edible!
---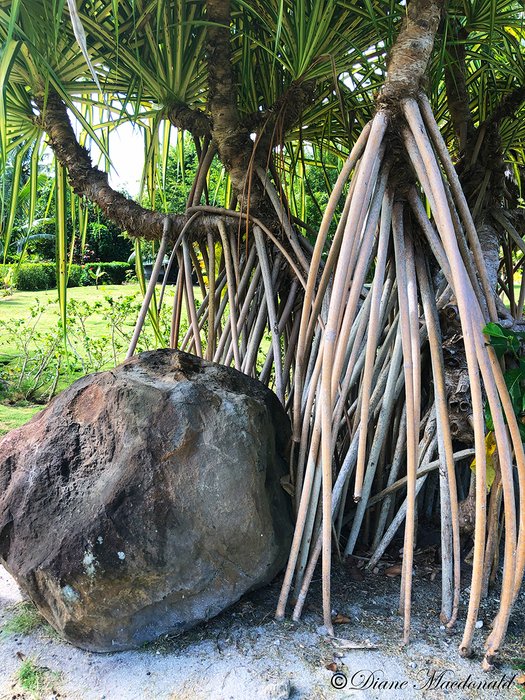 © Diane Macdonald - All Rights Reserved
---
We encountered no traffic on the stretch of the road back to Hotel le Mahana, so I stepped back to take this final shot of Jim striding ahead of me and enjoying the solitude of such an island paradise!
---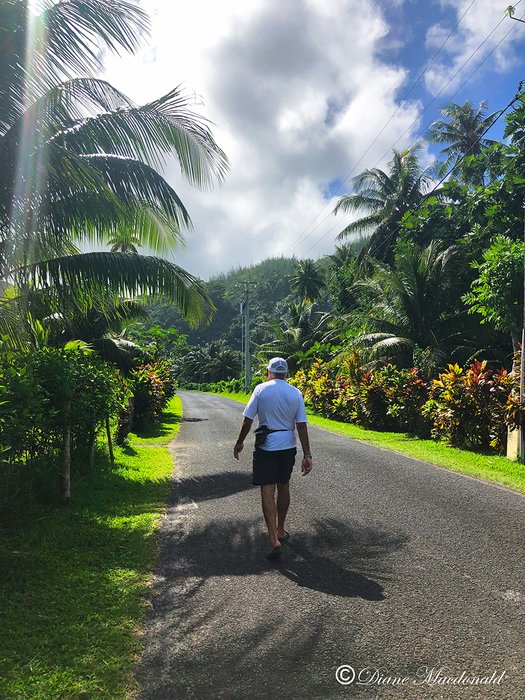 © Diane Macdonald - All Rights Reserved
---
---
I hope you enjoyed walking with me to the Parea on Huahine; if so, you may want to check out my other posts in this series:
---
---
(Thanks to @tattoodjay and for #wednesdaywalk. I have been meaning for ages to get a post ready on a Wednesday for it!)
---
---
I am a professional photographer, and many of my images are available as stock or as fine art on prints and on various products. Check out my portfolio website on Adobe and you will find links to all the places where my work is available. If you see something in any of my posts, but can't find it anywhere on the stock or art sites, please let me know. Thanks for reading!
---
---
---
---