Lights on the Playa
As the sun sets over the playa, the afternoon winds begin to settle. Small lights begin to appear throughout the vastness of the desert. Black Rock City has come alive.
The air becomes cooler. The music becomes louder. The laser light show begins from the sound camp that has been hidden a cloud of dust all day long.
Shortly after that, the neighbor camp to the north fired up their propane flamethrower attached to their art car. Now my burn was complete. Eventually, that camp took their art car over to the sound camp.

The Smoke Settles
Eventually, the wind stops altogether. The smoke from fires in California begins to settle in the playa valley. I soon learn that this does not make the best night photography conditions and finally put the camera away. 

Morning on the Playa
I hear The Rolling Stones, really loud. I hear a car engine, and then I hear a car door open. At this point, I lift my head and look out the window. I see the silhouette of a person finishing their bathroom break get back into the passenger side of a pickup truck. I watch the taillights disappear into the depths of the dark desert. So quintessentially Burning Man.

It's 4:30 a.m. I'm awake, I decided to get up and photograph the sunrise. At 5 a.m., the sound camp DJ closes the set with the Rage Against the Machine song "Killing In The Name," and then the playa goes silent.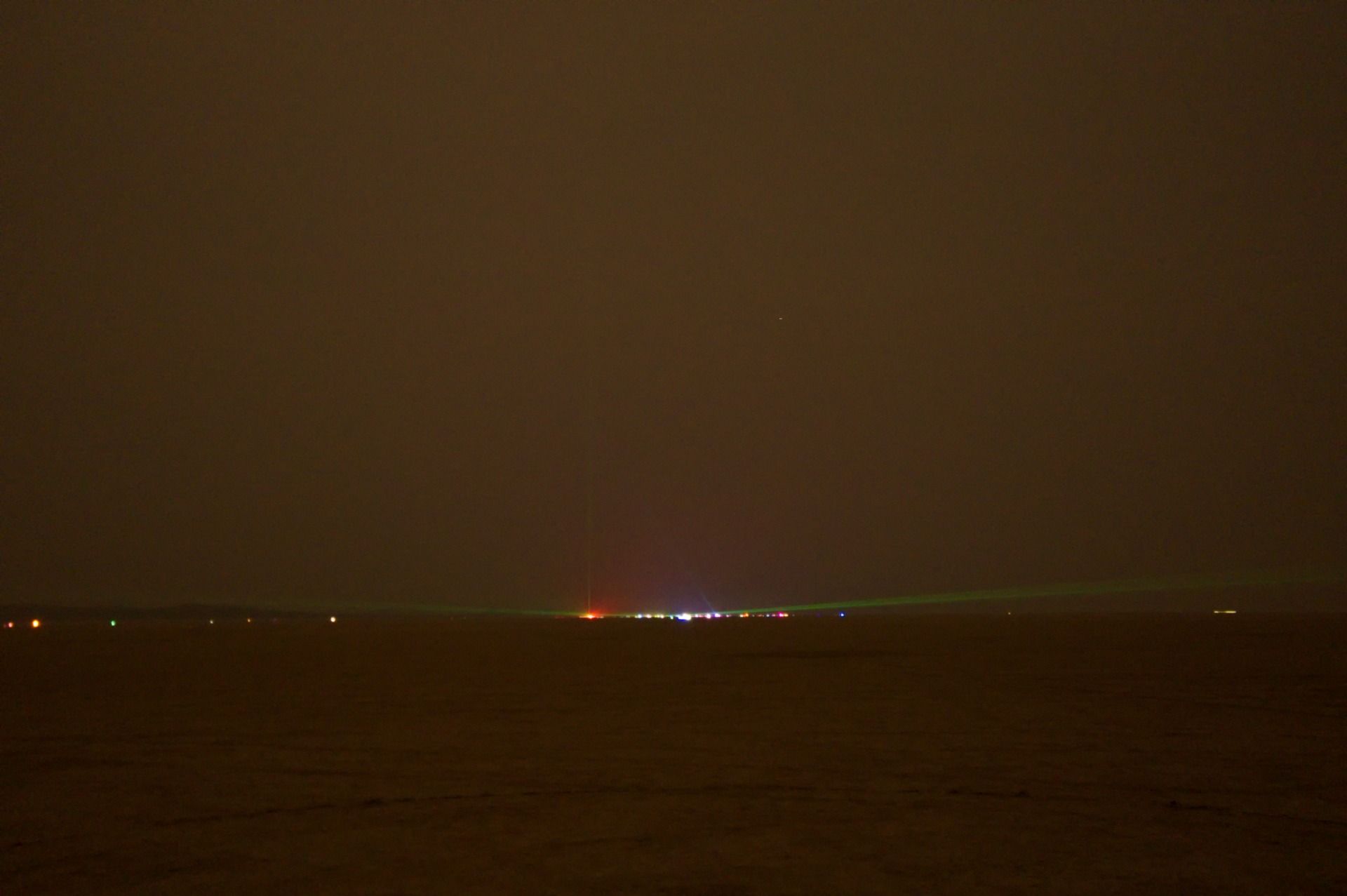 The Smoke Settles
Since the smoke from the forest fires moved in, I decide to leave. However, I wanted to check out an area on the north playa and go home differently. I cut across the playa until I come to the main track north (an old wagon road). I plan to cut left on a 4x4 access to Solider Meadow Road, head south, and see if I can find a good viewpoint overlooking the playa for photos.
Mad Max Returns
I glance in my rearview mirror and see a small passenger car. The car gains quickly and starts to pass me. Feeling very Tina Turner-Mad Max Thunderdome, I hit the gas. We jockey for position until about a mile from my turn-off, then I gun it, leaving them behind. As I slow for my turn, the car slows too. I hope that they do not follow me up this road; it is not for passenger cars. I put the truck in 4x4 and start climbing up to the main road. I look in the rear-view mirror, and it looks like the driver chooses wisely - no car.
Thank you much for reading about my little adventure on the Black Rock playa and hope to see you out there this year!
Part 1 - https://travelfeed.io/@eiafp/in-search-of-black-rock-city-part-1
Part 2 - https://travelfeed.io/@eiafp/in-search-of-black-rock-city-part-2