Lalbagh botanical garden is a land that is home to many special old trees and also has historical importance. It is built in the time of Hyder Ali, father of Tipu sultan who ruled over for a significant time in Karnataka. I think its better you look up to history books for those times or at least Wikipedia for a quick review, it might help connect a lot of dots about the things you find in this garden.
Before visiting Lalbagh with my parents, we had already covered a huge part of Cubbon Park, which is the largest park in Bangalore, right in the heart of the city. That being said, when I reached Lalbagh botanical garden after an early morning mass and walking around Cubbon park, I was pretty tired. It was a mission to show the city around to my parents, so, any gadget means you are not living the moment in their words. So, I didn't really bother to take many pictures thinking I would come back here, which I will for sure but not this time. Bangalore in 2019 is all about work.
So, coming back to the Lalbagh Botanical garden guided trip. I highly recommend you take the guided trip in this shared ride. They will take you all around the garden and it will cost you INR.100 in addition to the entry fee of INR. 25 for Indians ( and slightly different if you are a foreign national) and additional charges for still cameras and videos (it was INR.60 for the camera and INR 250 for video, if I remember correctly).
Why You Should Take The Guided Tour In Lalbagh Botanical Garden?
For the simple reason that it is easy to miss out the important and cool stuff if you are already not aware of everything about this place like I was. To say, this small red pigeon house can be well hidden in the bushes as a normal concrete birdhouse. In those times they used pigeons for delivering messages and so this was not just a pigeon house but a post office once upon a time. Or, to the younger generation, this small hut used to be a blog and block chain networks once upon a time kids!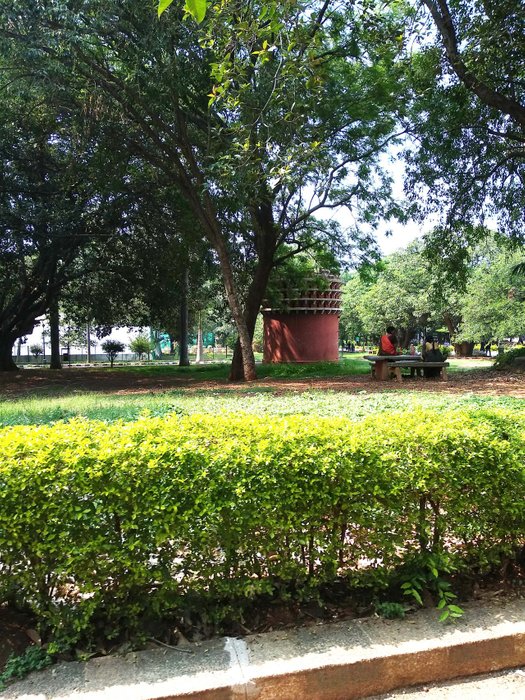 Lalbagh botanical garden has many trees, very old and many special ones. Walking through the lanes you might not understand you are under this 100-year-old Silk tree. Lalbagh garden has many white silk trees. They are all just gorgeous trees. But, this particular one has its roots and trunks all too thick with 100 years of existence, which is a great sight. I would have just passed by it thinking just another big beautiful tree if it was not for the guide explaining about it.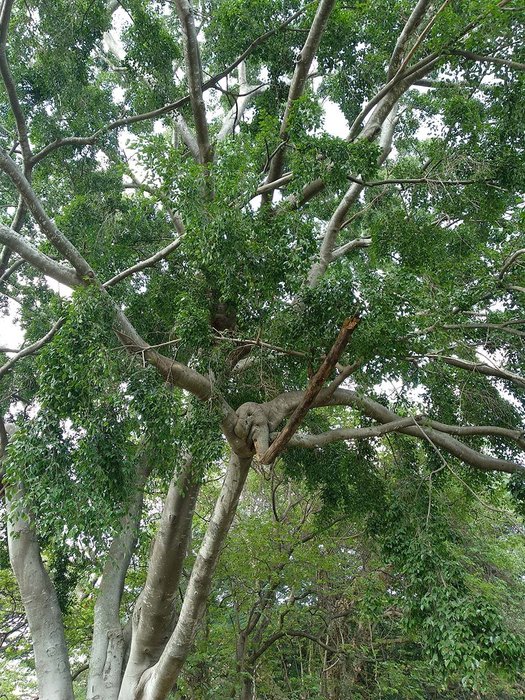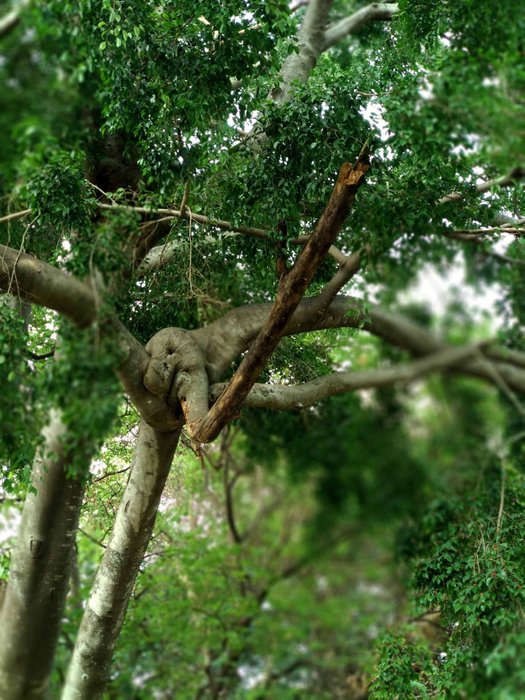 Now, look at the above picture, just another tree right? But, this one is also considered special for its branches formed this shape which resembles the elephant face of Lord Ganesha. With way too many trees, it would have been an easy miss, again thanks to the guide for pointing that out.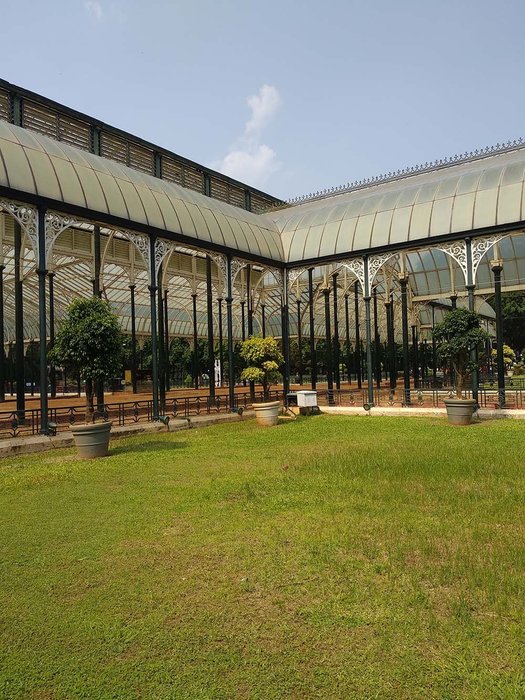 The ride stops at places to click pictures. One is this glass palace, which is inspired by the crystal palace in London. It was built to welcome someone [sorry for the ignorance] important during the British rule. There is biannual flower shows that happen within this glass palace. The flower show takes place on Republic Day (January 26th) and Independence Day (August 15th) every year.
Those are the best timings to visit too, the flower show is spectacular with many colors and structures like peacocks and other interesting things created using flowering plants. I have seen it during my childhood when we visited here but this time when we were there in the garden, it was just a metal framework of peacocks and those interesting things.
Moving on, there are many other good plants and trees with interesting facts. There are many eucalyptus trees, but, there are a few with black bark. It was another imported tree and the area where eucalyptus trees are smell very different and transport your mind to a different place.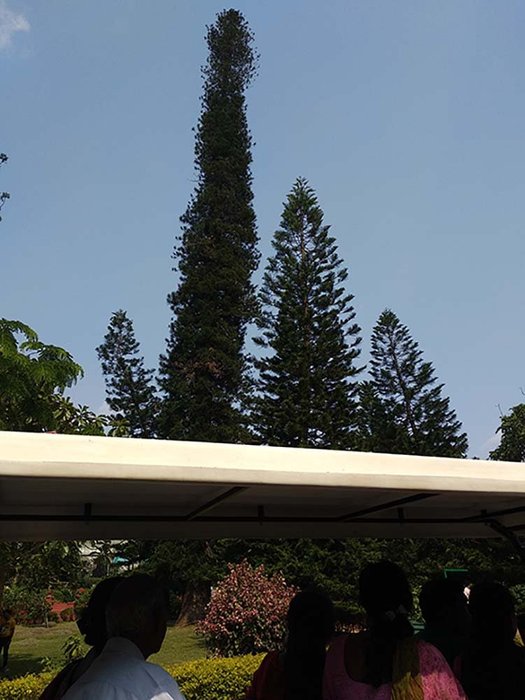 There are these trees with flowers that look like cherry blossom, which is imported from Indonesia during those times. This huge Christmas tree from Australia, which is 70 Meters tall now, planted by the Queen of England at that time. And to add to all of that, there is a tree that turned into a fossil figure. It doesn't look a tree now but a rock.
Like I have mentioned in the previous blogs about parks in Karnataka, these were and are a place for socialization too. In Lalbagh gardens also, there is a bandstand at the center of the garden. There are also libraries and other facilities for botanical studies which were built by the British during those times.
There is also a floral clock by HMT company with garden gnomes around it. They are from the snow white and seven dwarfs. Also, there is a lake inside the garden. The vehicle stops for 5-10 mins for climbing up the stairs and spend some time near the lake. There are benches there to sit and relax.
There are more to the garden like Bonsai garden. cacti and so much more. There is a huge rock on top of which there is which seemed to be a temple. We were pretty tired for exploring and much eager to get away from the heat.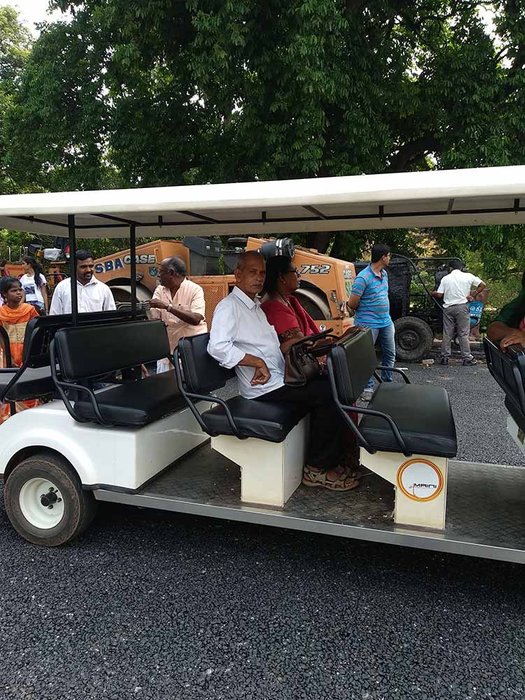 These are the few things I remember from the Garden, which I took so lightly thinking to visit some other day. Now, here are a few tips when you are visiting the Lalbagh garden, and what actually made our trip to the garden not so good.
You are not allowed to take inside anything in Plastic. No water bottles especially.
You get this guided trip in the vehicle only from one gate. If you enter through another gate, you'll have to walk the entire park to reach this spot where you can get the vehicle
During weekends and holidays, this place gets crowded. So, the waiting time for this guided tour can make you wait for hours.
When we went there, we already had a long walk in Cubbon Park and a few other places. So, we bought two bottles of 2L water just outside the Lalbagh garden. We had to leave them outside the gate and thought we'll get the ride and go out through this gate.
The cab left us at this main entrance gate, from there we asked everyone where to get the ride and they kept pointing go straight, which is straight through the whole of the park to reach the other side. Once we reached there, it was lunchtime and many people already in the queue.
The ride starts and finishes at the same point. There is a gate near that too. So, we didn't go back to the place where we had our water bottles because that meant walking a long way again. It was the summertime in May, which is not the best with the sun so bright.
So, this is what I would suggest, get to the gate that is near the Bonsai gardens. Take the ride from the gate itself, this comes with the guide. And buy the ice creams and food from inside the park. They will take away the plastic wrap before giving it to you.
Lalbagh is a great place to visit, relax and enjoy nature. I found the guided tour to be worth and comfortable. If not, you can check out the Google map to locate the important things inside the park and there are boards at most places that explain the importance.