In the previous blog I already mentioned about the toy train that runs in the Nilgiris. The famous heritage train is from Mettupalayam railway station to Ooty which offers a great view on a 5 hour train journey. Unfortunately, I didn't get a ticket from Mettupalayam to Ooty. But the toy train runs in between other stations.
From Ooty we, a few others met from the hostel, were going to Coonoor and we decided to take the toy train from Ooty to Coonoor. Getting ticket for the toy train offline is a lot difficult. When we reached the station there was this long queue and the counters were closed. But, we did get the ticket finally.
In the meantime, we managed to eat something from the restaurant close to the station and even the inside of that was so vintage.
Ooty railway station is called "Udagamangalam", I don't know if that's the real name of the place as I have never heard anyone mentioning that name except for the IRCTC site. The station was pretty packed with cars and other vehicles parked. Coonoor is a one day destination for those who come to Ooty as tourists.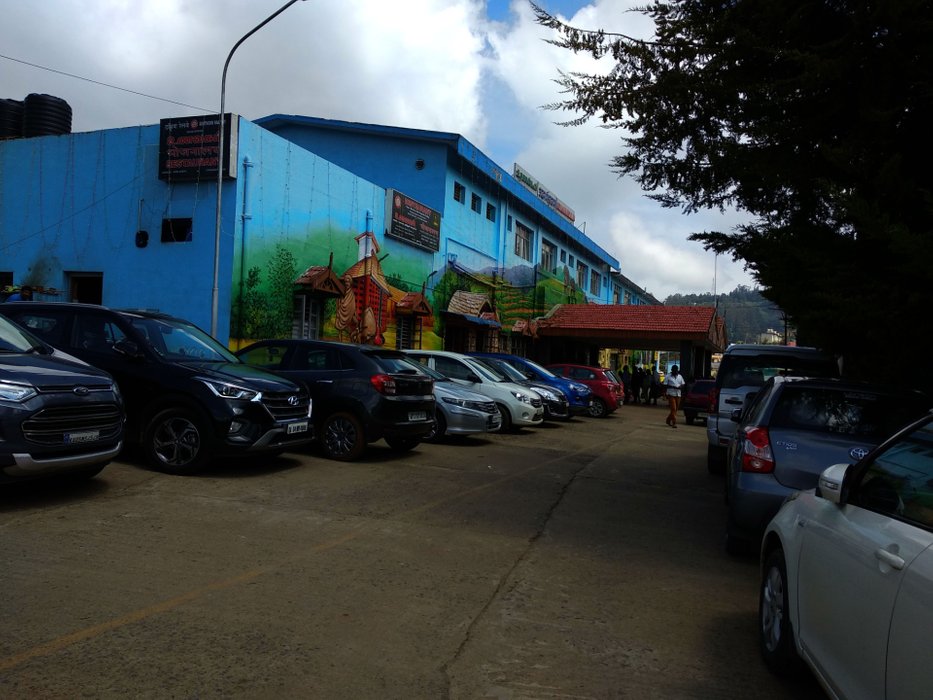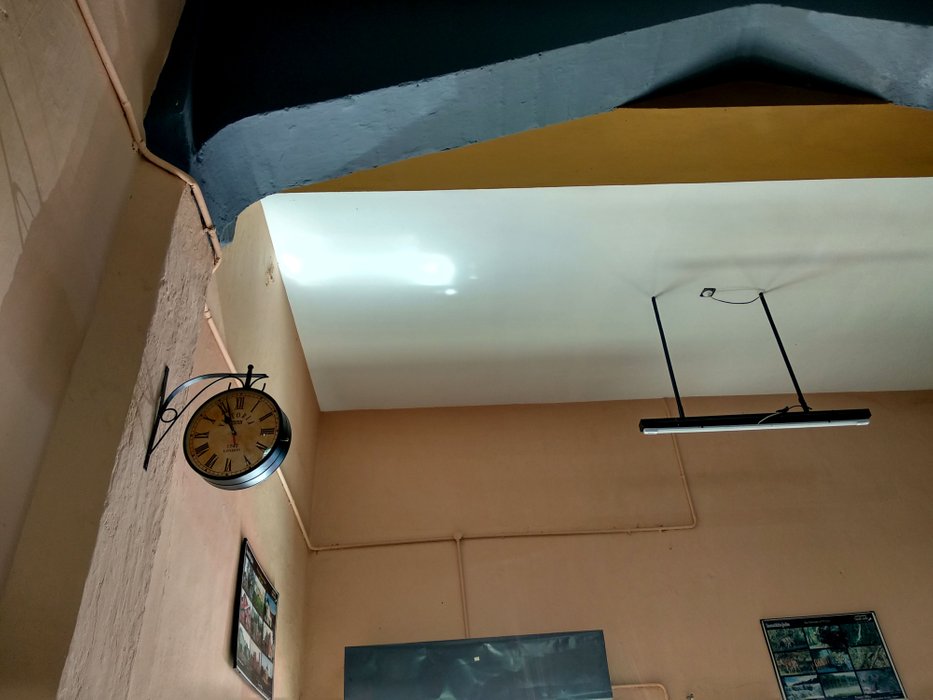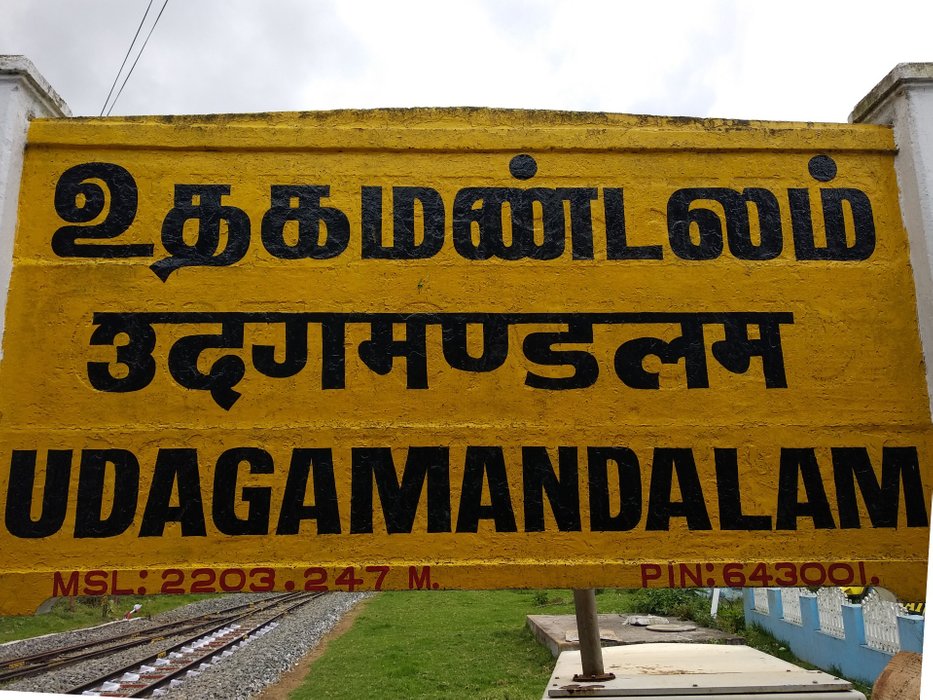 There are two types of tickets available for the toy train. A general class ticket and a first class ticket. We took the first class ticket and being travelled in first class, I can tell you it is not much different and you will not regret taking a normal ticket.
We waited at the railway station for sometime till the train arrived. There was a colourful train on display on the other side and we killed that waiting time by clicking pictures near that train and I did so by photographing this lucky fellow, who doesn't really care how the silly human beings get excited for a train ride. For him t was just another day dealing with crazy curious people and his favourite nap time.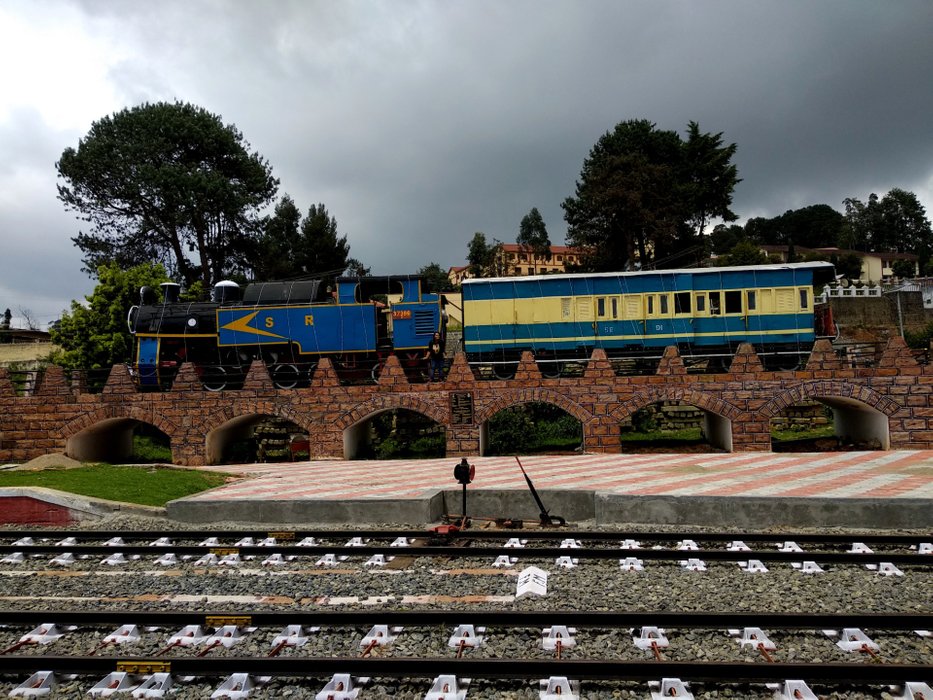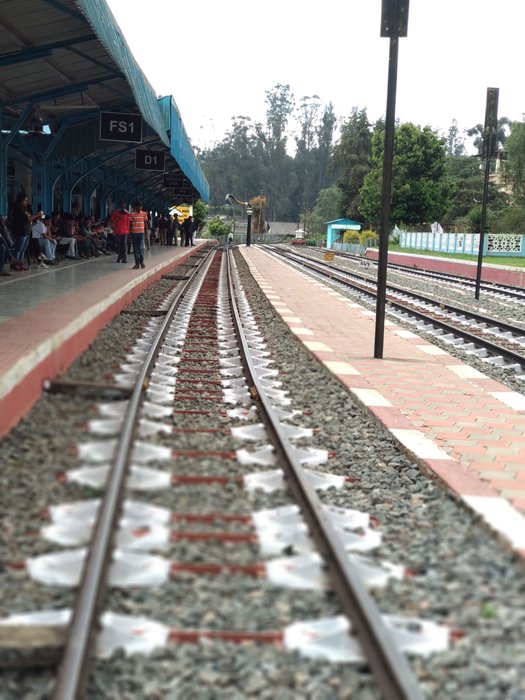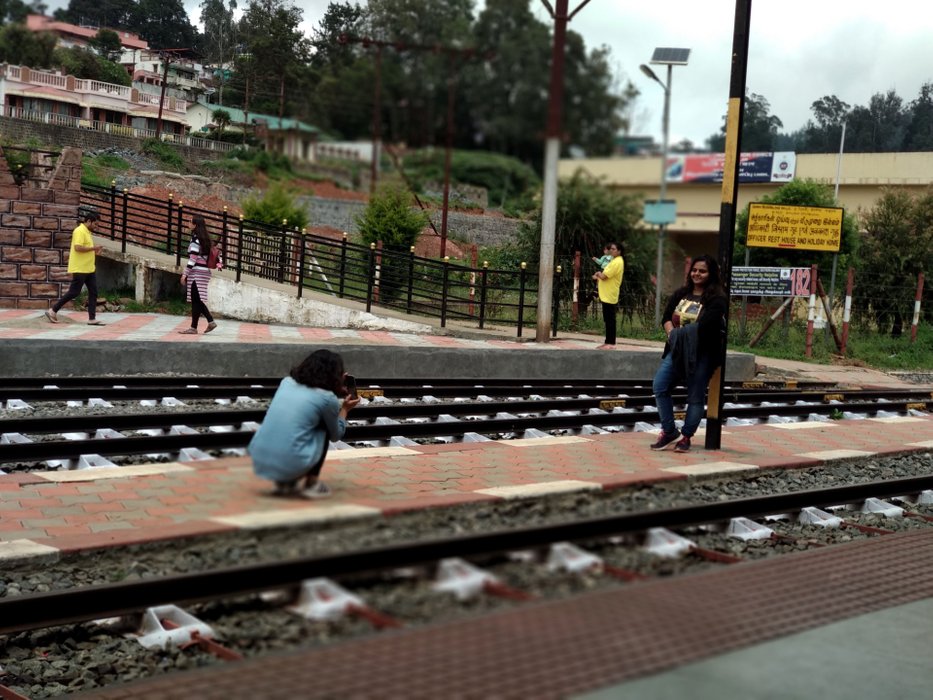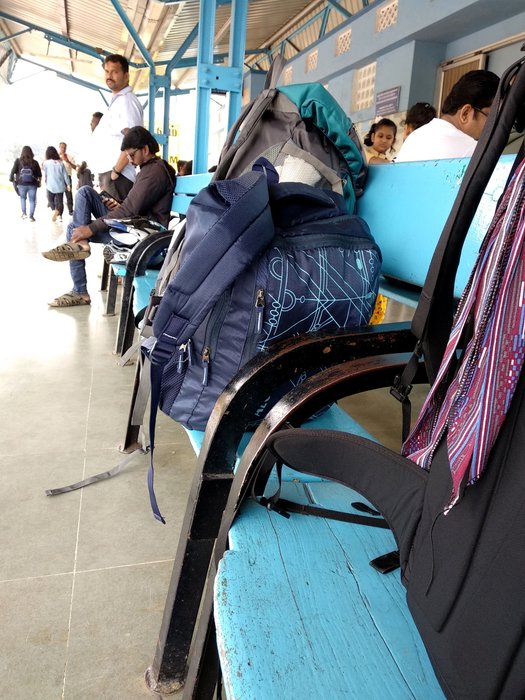 So, we sat in the station waiting for the train to arrive and once it did, we got into one of the seats which matched the numbers on the ticket. All those who with a general ticket waiting in line for the officials to check their tickets and fill the coaches one by one. We confirmed it with some guy in uniform before getting on the train and got confirmed we don't have to wait in queue with our first class tickets.
So, we got in, kept our bags up in those iron luggage carriers which looked really cool. And that is when another guy who came up to where we were sitting and asked us to get down. We showed him the ticket but he started shouting something I don't remember now. I remember the others getting angry and me just staring at my luggage that was in the upper iron cage. It was not easy putting that up there.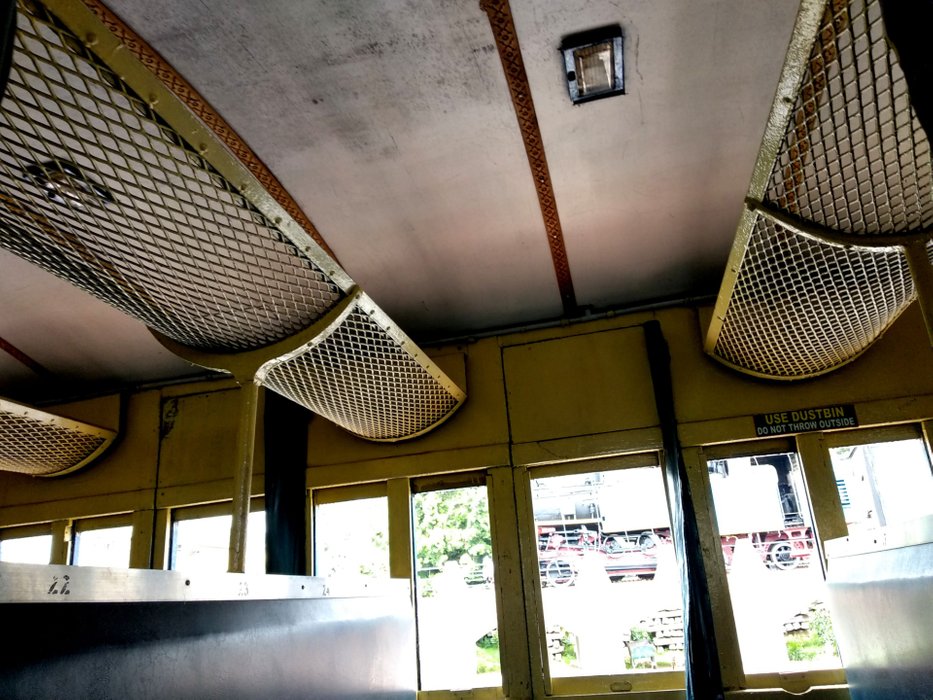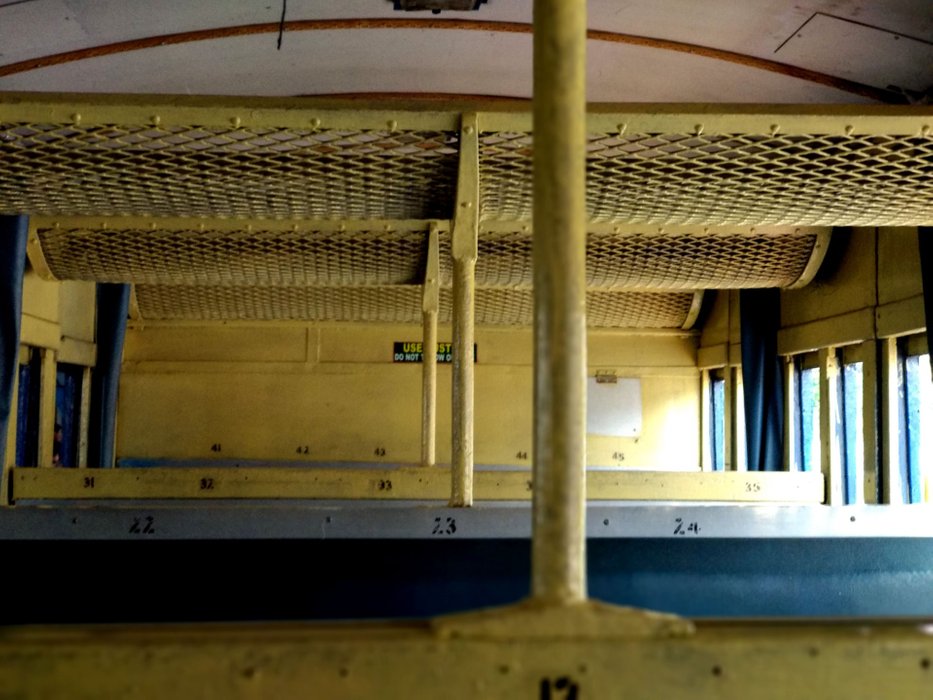 Well, it was almost like a misunderstanding. We actually got inside the general coach that matched the seat numbers on the ticket and the guy who came to us thought we were having fun inside the train. Anyway, we were asked to sit inside the first class seats, which is in the front part of the train and I can tell you there is no difference in the seating facilities. It is the same small coach. To make this a little bit difficult, there were children too.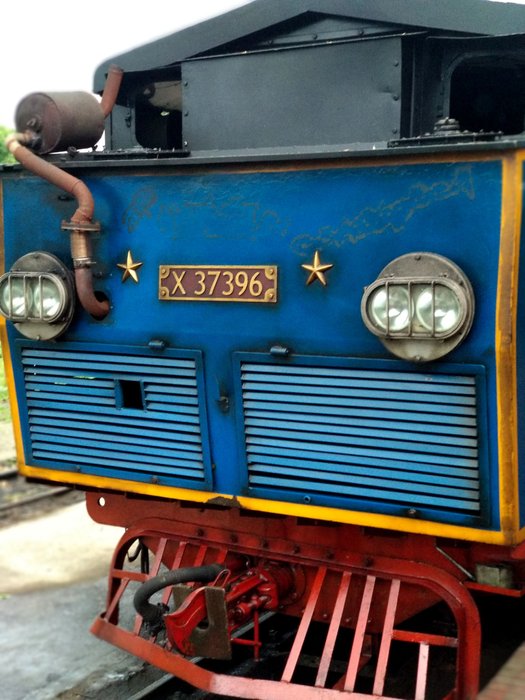 ![](https://img.travelfeed.io/elsaenroute%2F20191201T184013064Z-Ooty%20to%20Coonoor%20Toy%20Train%20(2.jpg)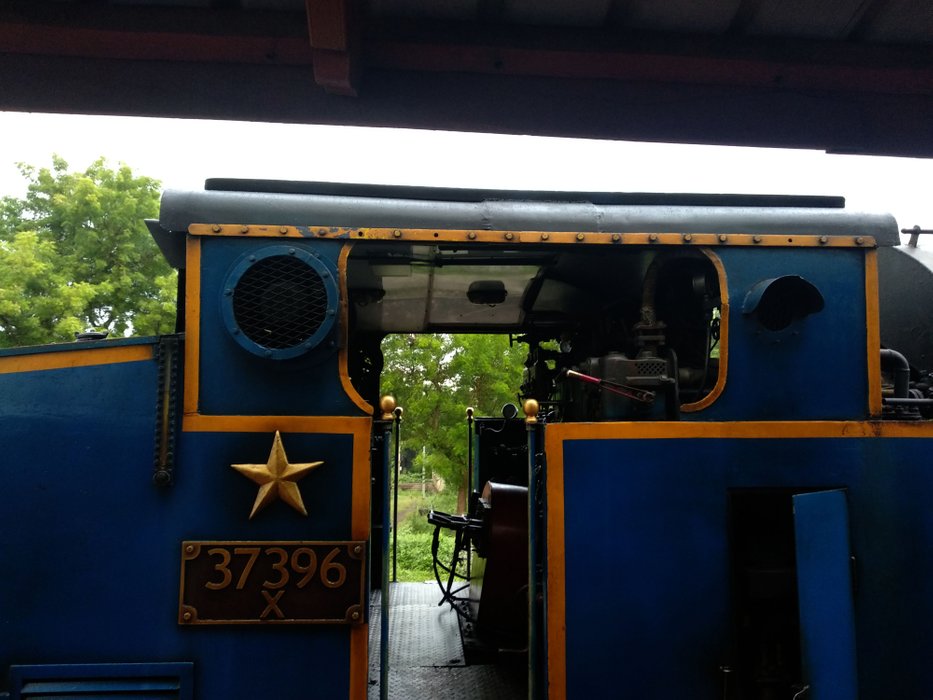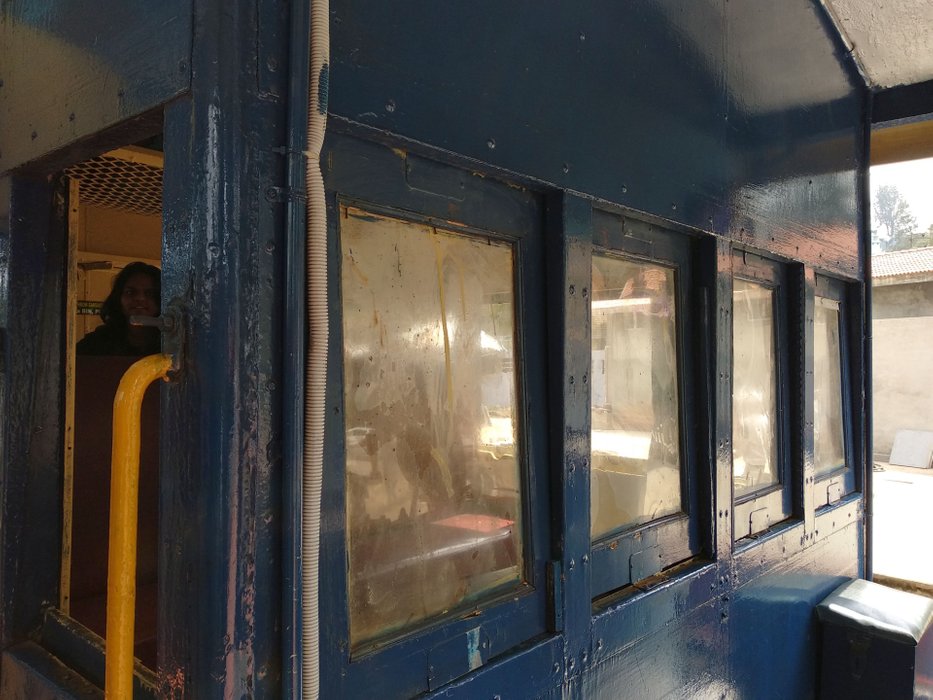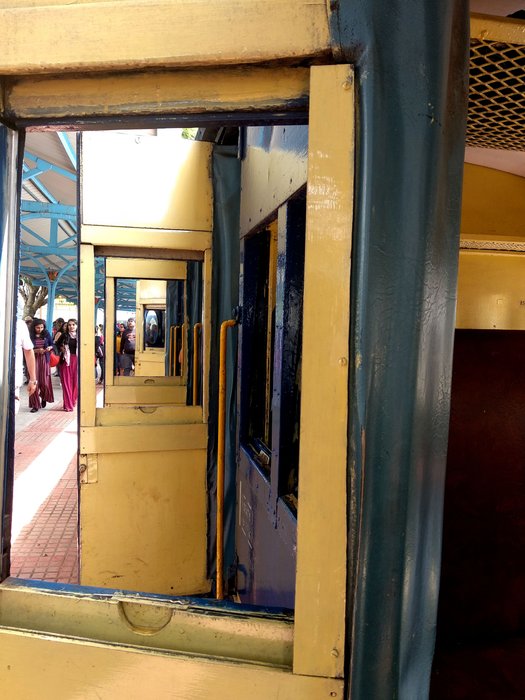 Each of compartments have seats that face each other. One of these blue doors opens to one of such parallael seating. There are windows on both sides and it slides down. Well, that was a little different since we lift up the windows in other normal trains, and the panels were a bit heavy too.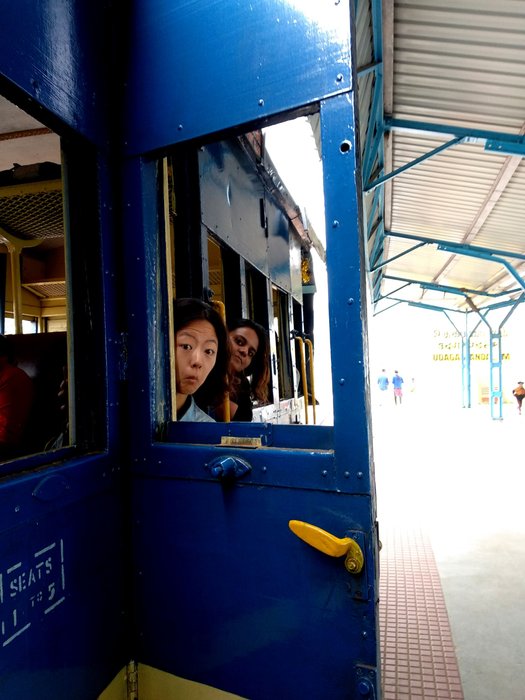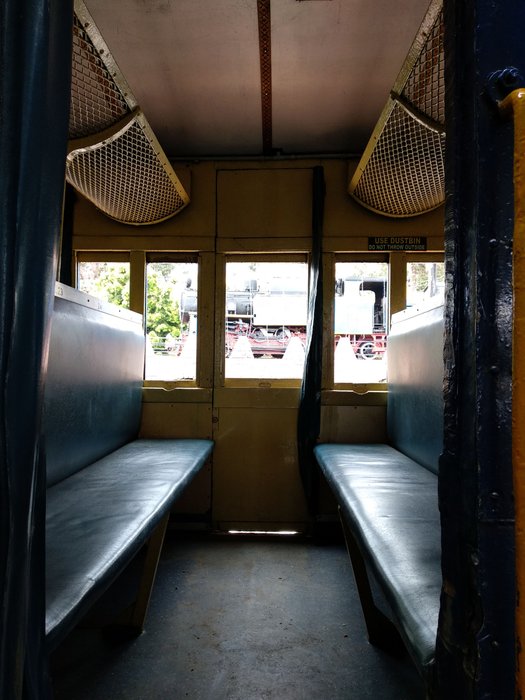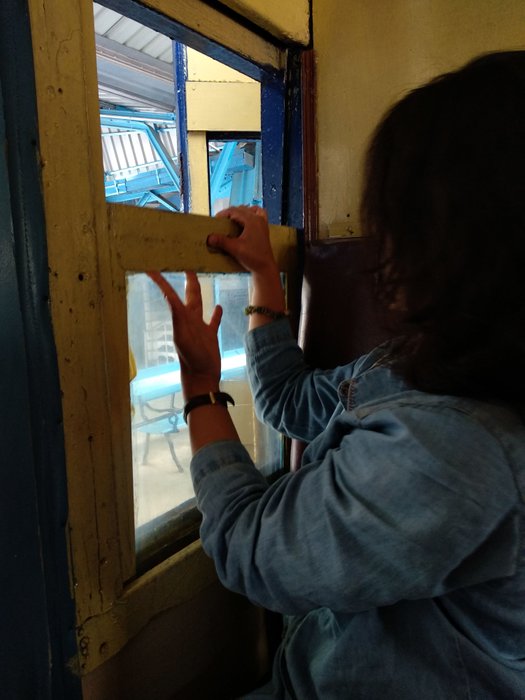 Well, everything settled, the train got full and we were off to Coonoor from Ooty. it was the only train route in the Nigiris and it was truly beautiful. But, I must say since I was already in Ooty for few days and going to spend a lot more days in Coonoor, I found the scene to be a normal for the Nilgiris but a great experience for those who are visiting for a day or two.
Both sides of the train has got two different scenes. I was sitting in the middle and that was not the best place you want to be. On the other side were two families with their kids. The kids occupied the window most of the time. And pretty soon after the train started it was a mess with everyone so excited about everything and trying to explain a lot of things to each other.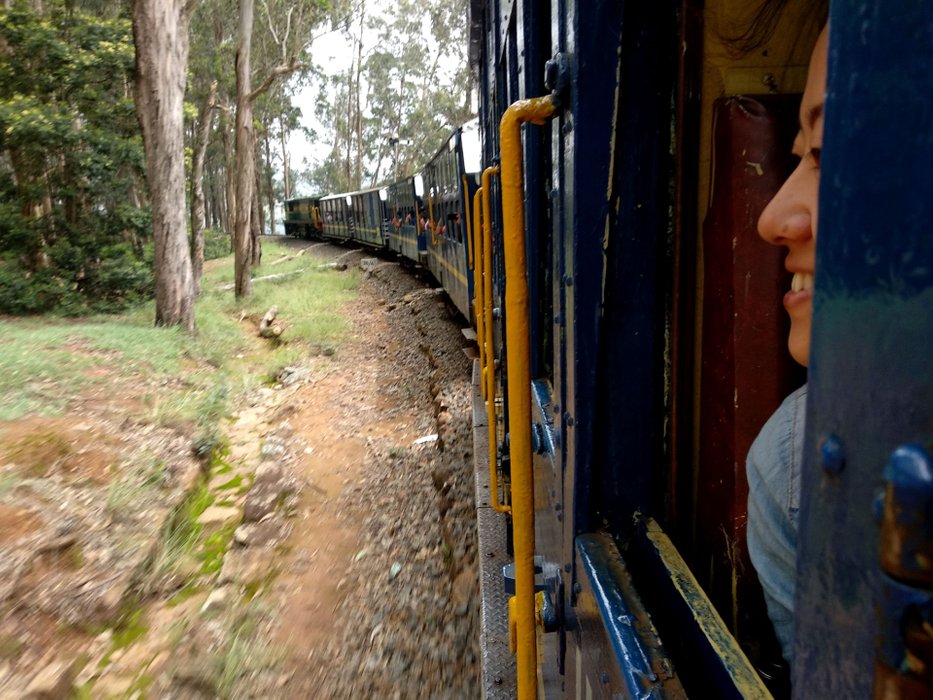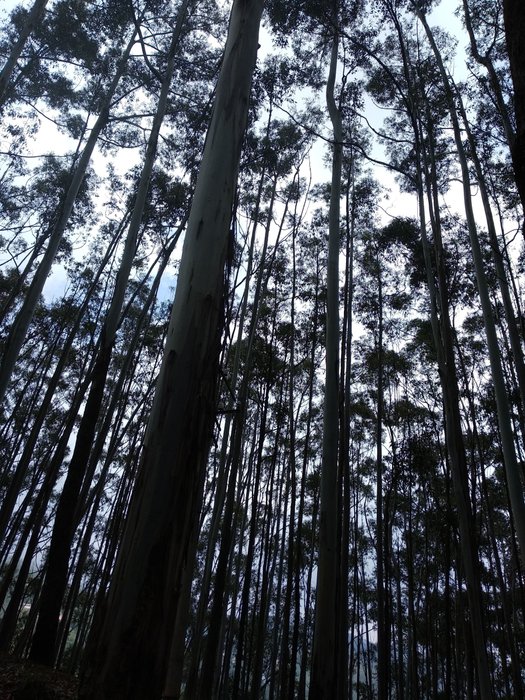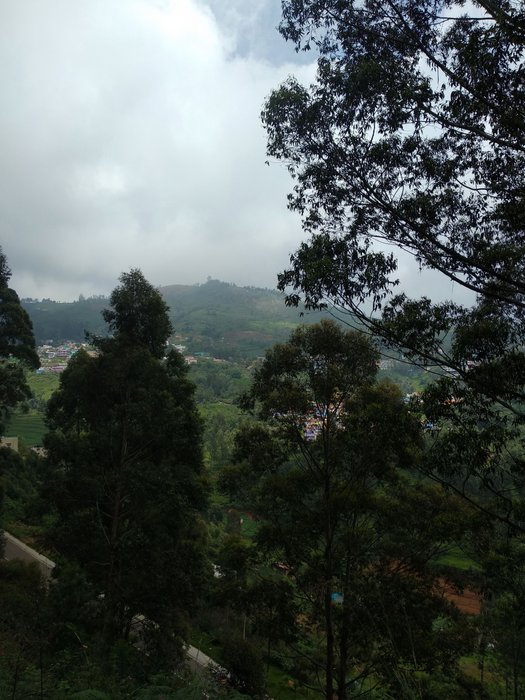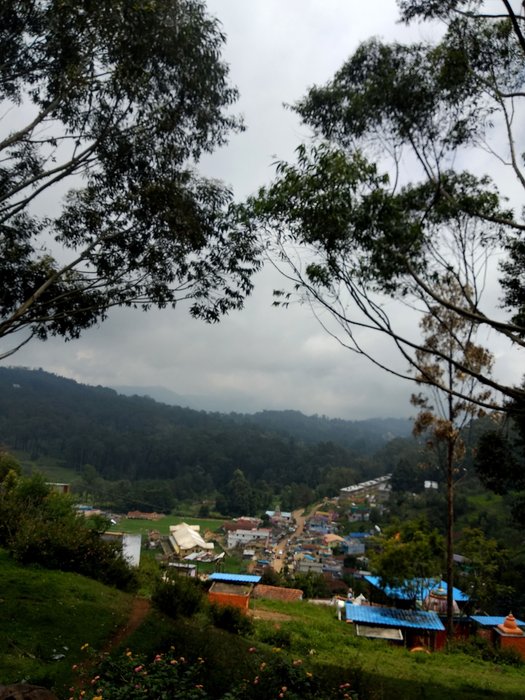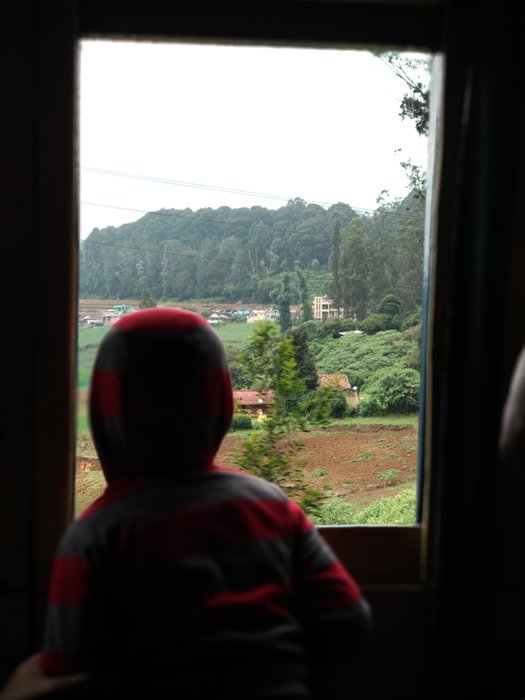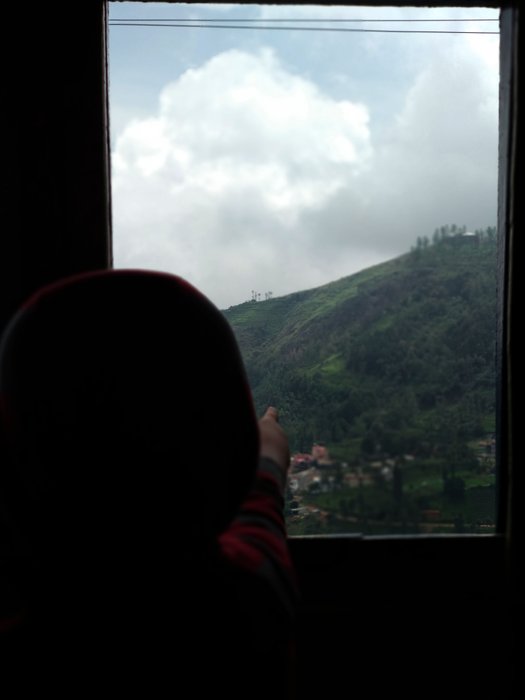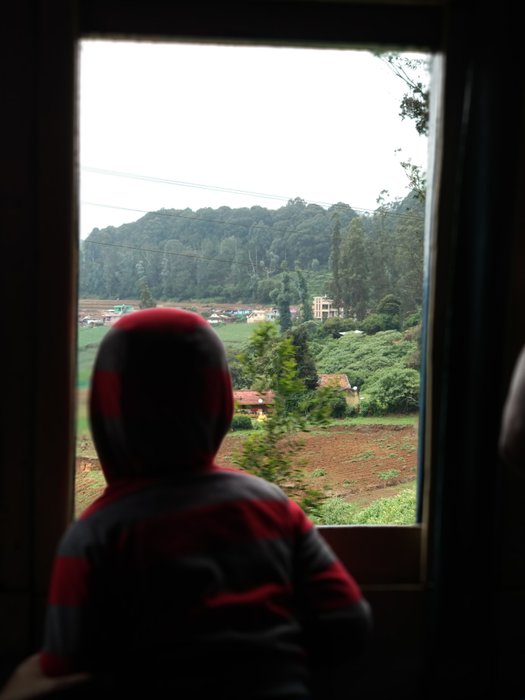 But if you have a window seat, it has to offer a little more different experience. It is then you can see the valley with the depth of it. There were colourful houses and more tea gardens on the way. Trees with many colourful flowers and few turns and tunnels.
Then came another station, Lovedale. A few got in the train and a few got down there. As the train was nearing the station, there were a few that were walking parallel to the rail. For them this route was an everyday routine and their life seemed a lot different.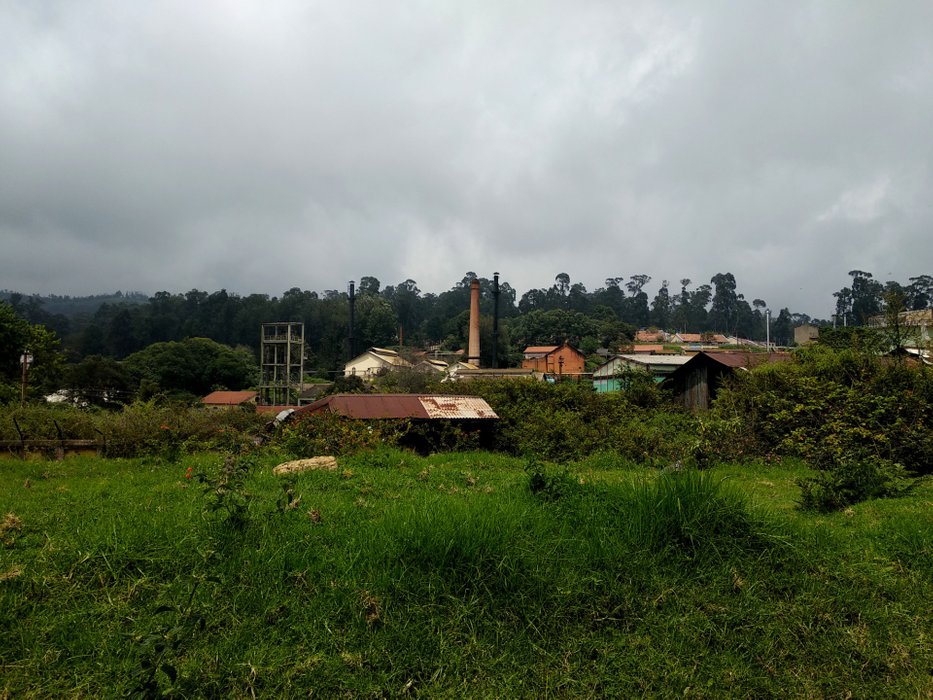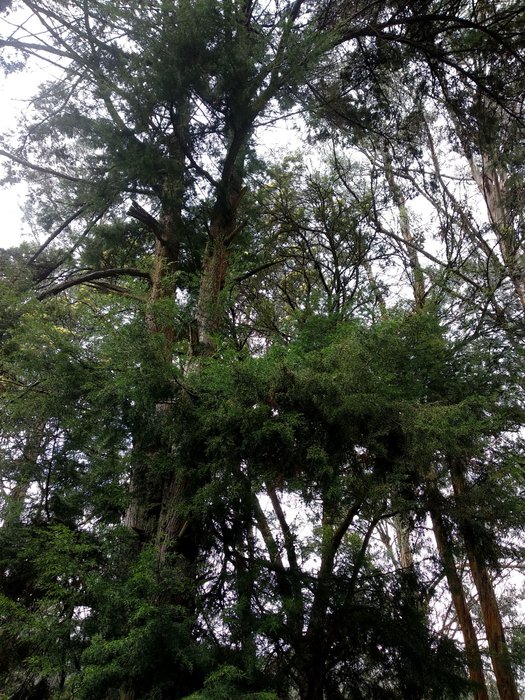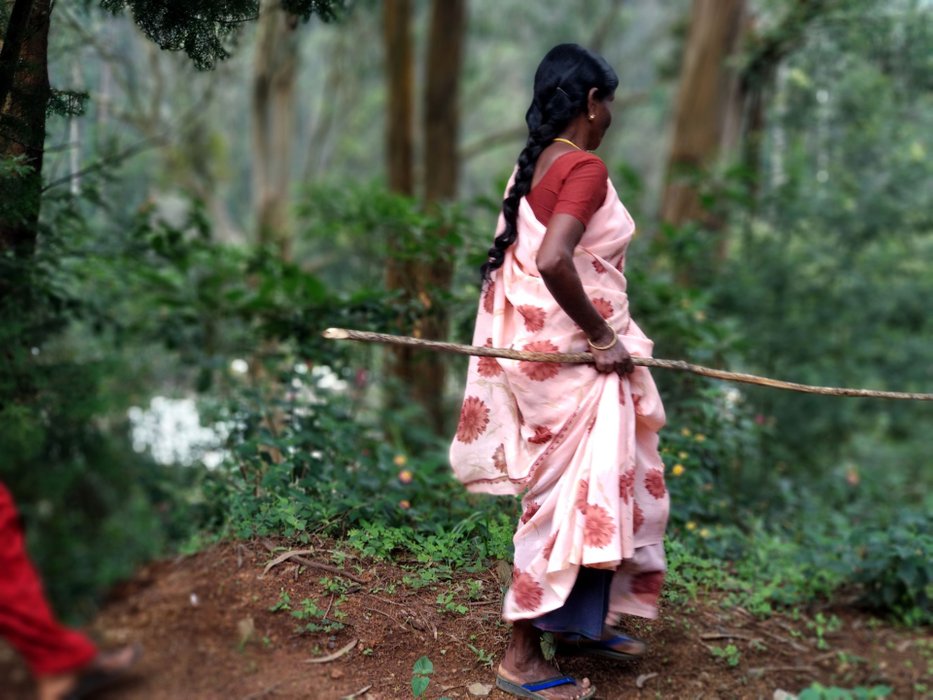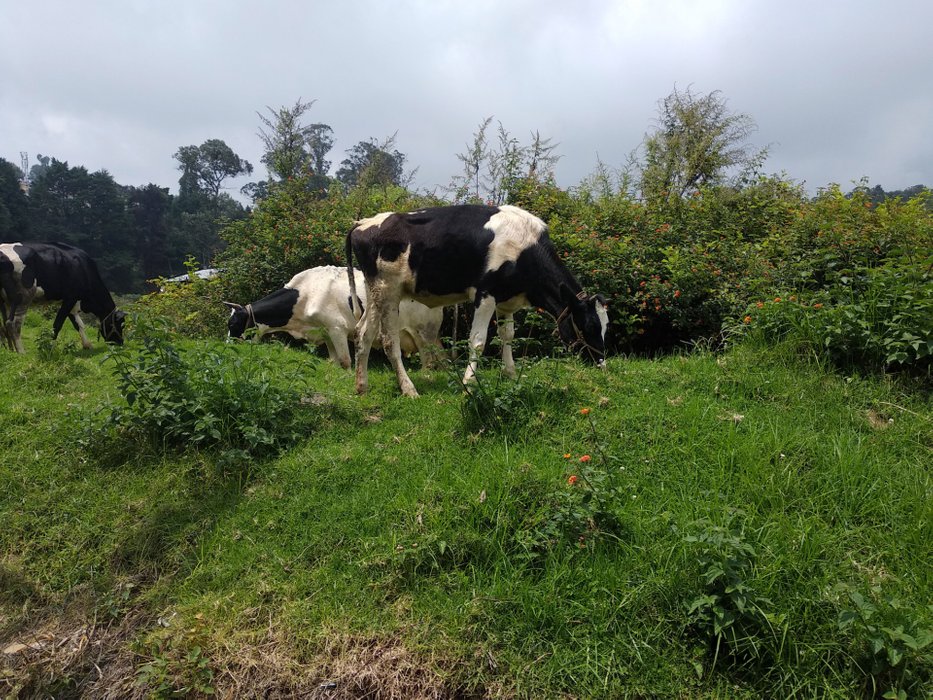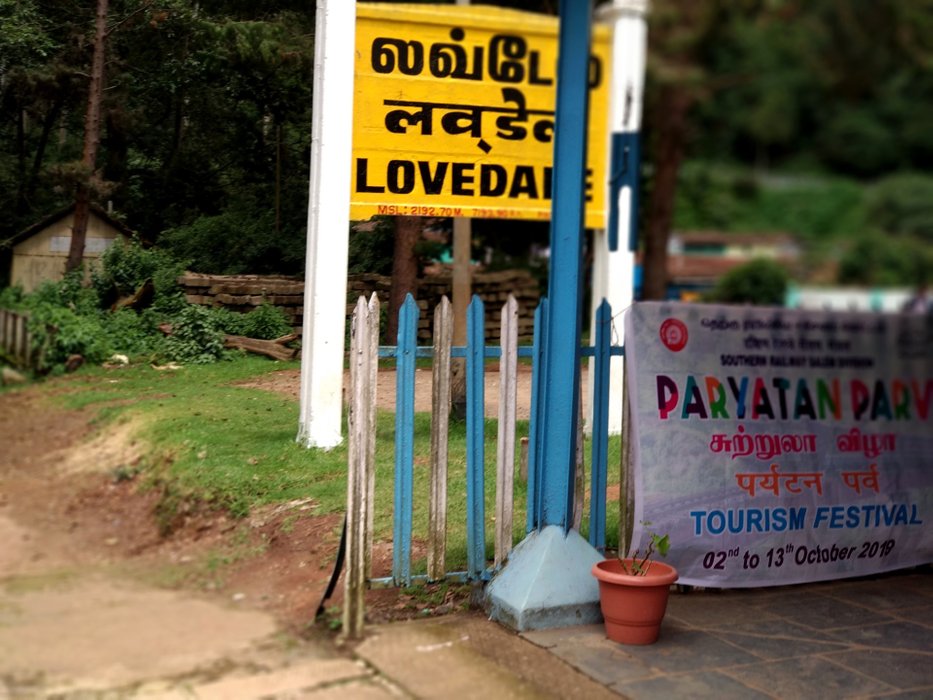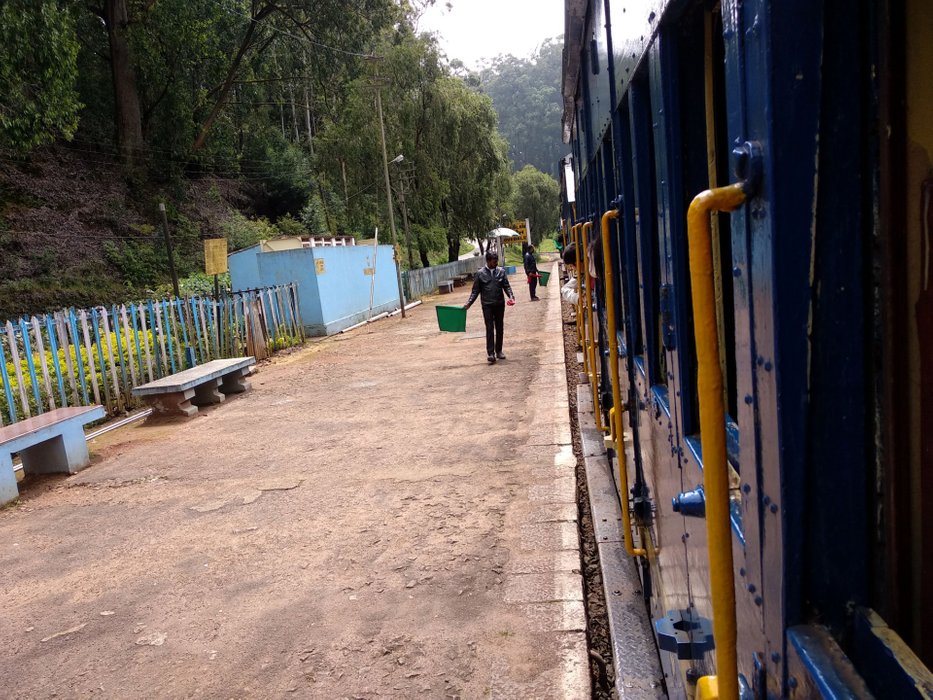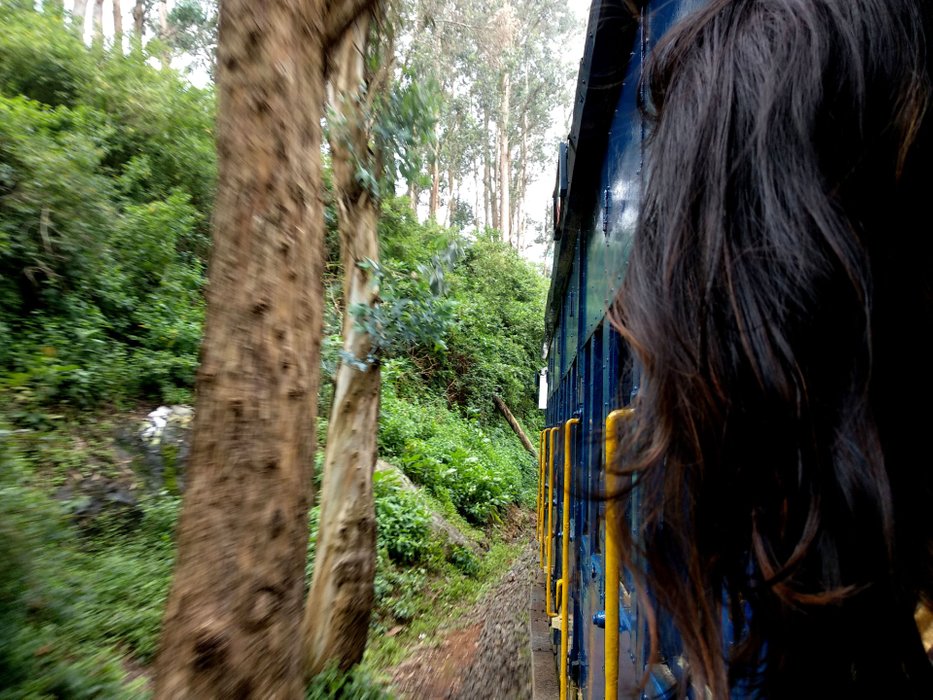 More eucalyptus, more tea gardens, more flowers and plants. Two hours of going through beautiful hill ranges. All I really wanted was to read a book in silence in the train. Since that was not happening with me having no book nor silence, as any normal person would do, I asked Chi to pose for a pic with the only book we had in someone's bag.
You see, it would be great to read something interesting near that window. Or, picture it a few decades back. I think those who travelled in the train used it for the official purposes and might have been checking official papers in those times. I mean it would be really boring to match the numbers of how many bags of tea got shipped that day or some boring stuff with this great weather and scenes passing by.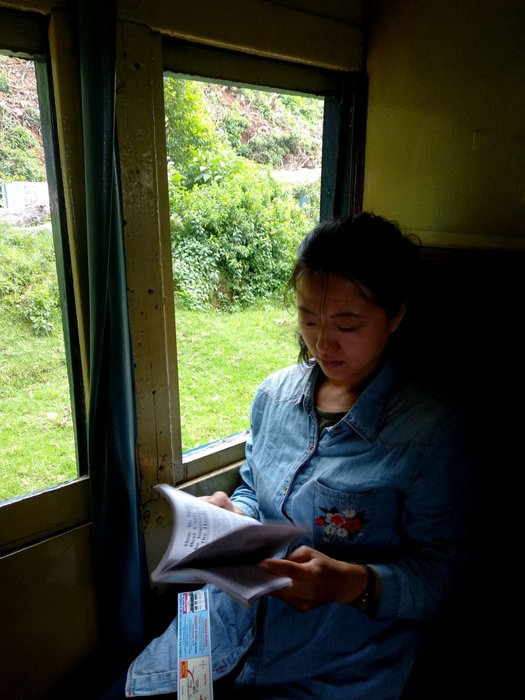 There was a funny incident int eh train. So, this family sitting beside us was new to the place. The lady aka wife was so excited to see the natural beauty of the place and he calls the husband to show him something. By now, everyone had enough of the nature for them. And he goes, "what?!, another leaf?!"!
You may have the same response for this blog too, like how is next picture of the same train and few leaves different than the previous one! That is why one has to travel to Ooty or the Nigliris to experience the place. It is just boring to be shown around or in pictures. But do you see the flags are different in those pictures?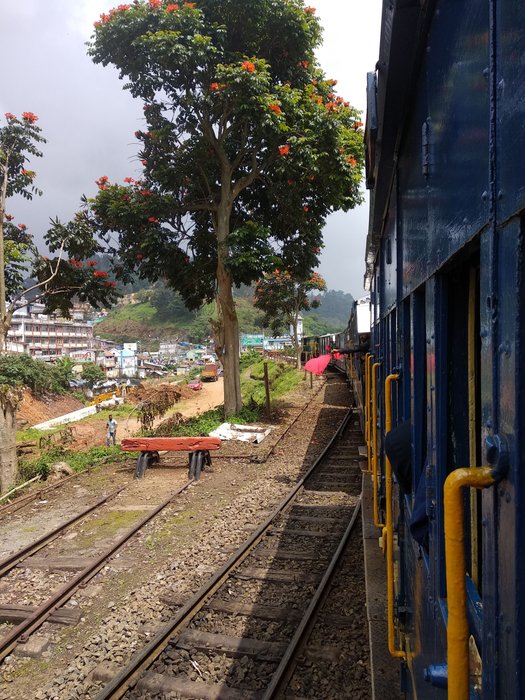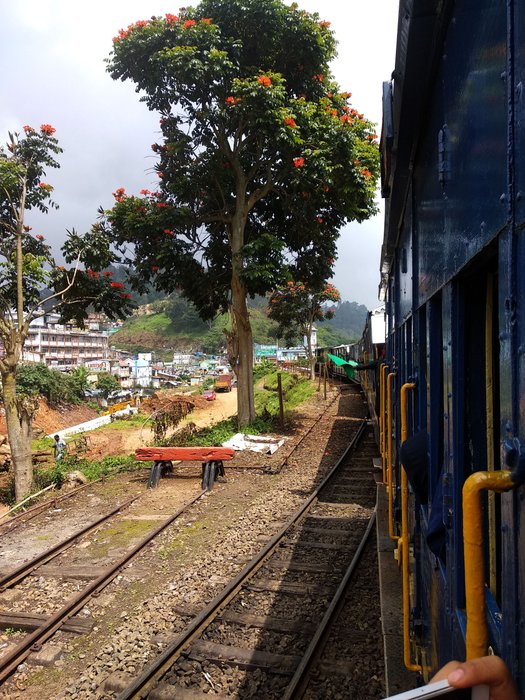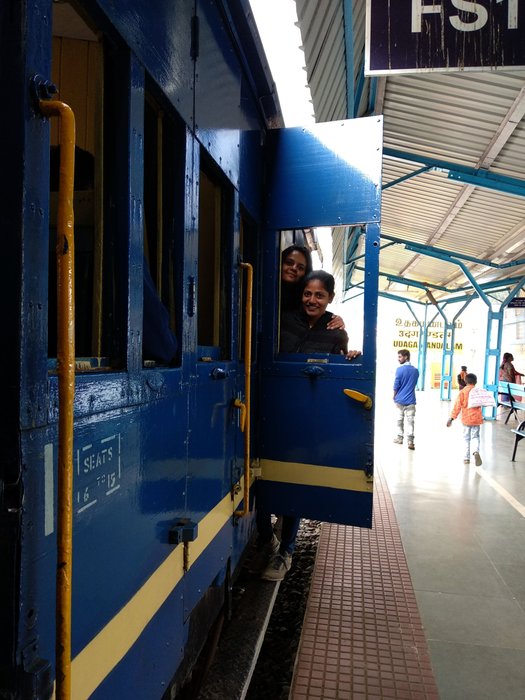 Two hours and I could see that blue building in the far. That was Coonoor :) The place I wanted to be for a long time. We got down and headed to take a rickshaw our accommodation. It was a reasonable price. There was no Uber or OLA service. But, the rickshaw ride was pretty reasonable.
Google showed only a few kilometers from the railway station to the accommodation but it was a hill. And I would have happily paid the driver double than what he asked if I knew that was the case. That was the very first impression of Coonoor I can say, people are just awesome and genuinely helpful unlike any other tourist destination.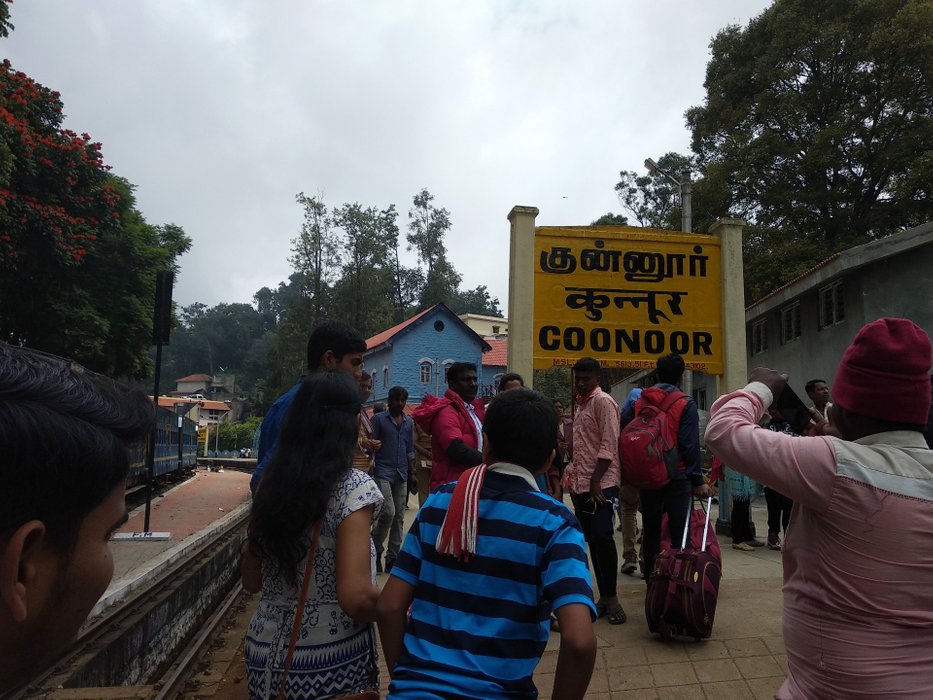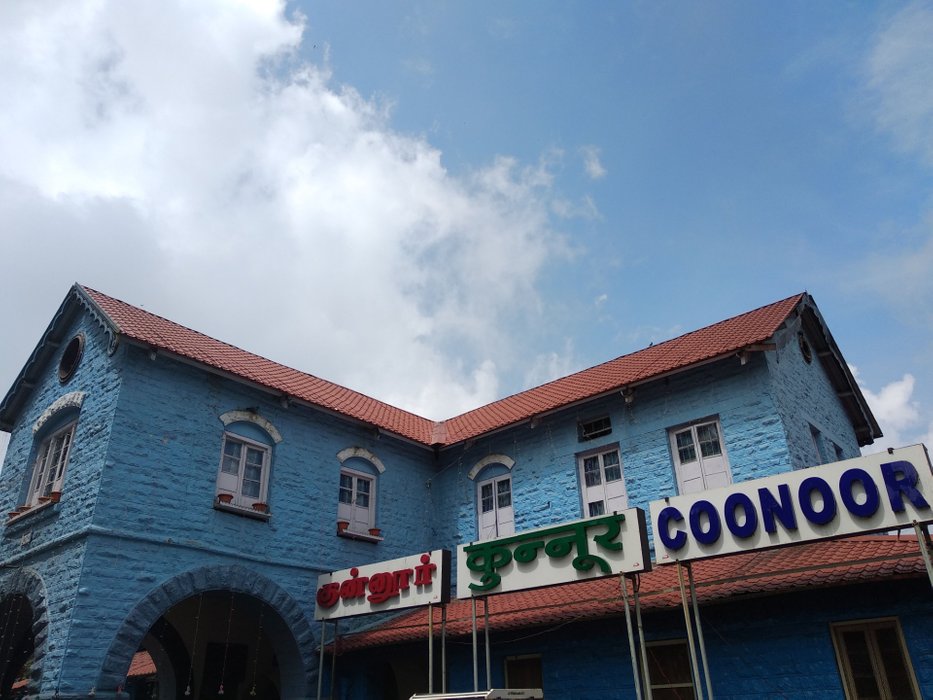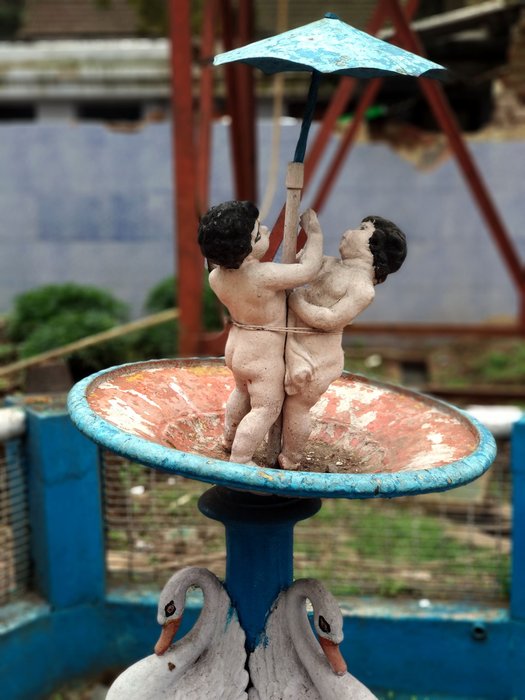 That was the toy train experience in Ooty and next blog is going to be from Coonoor :)