This happened a couple weeks back, but I wanted to share the experience since I collected some nice photos. We went to the botanical gardens in the Bronx with a group of friends. It was the last weekend to see their Orchid Show, and it was packed. The weather was a perfect clear sunny day and the park had lots of open space aside from that exhibit. All in all, my memory of the experience was positive.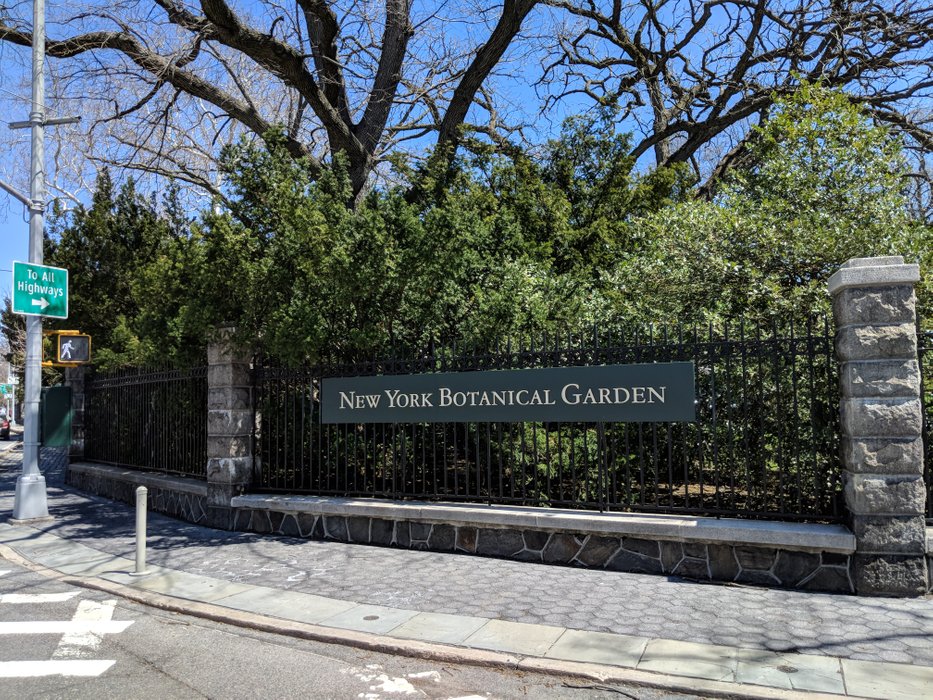 Right away on entering the park, it just felt open and free. Finally, some breathing room.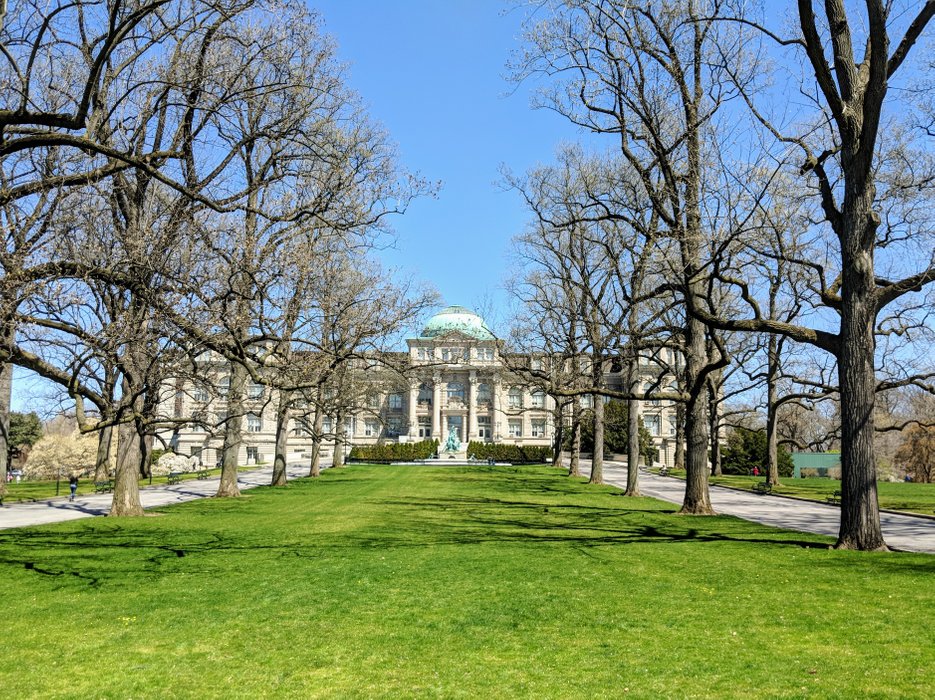 This building looks important. Look at all that space!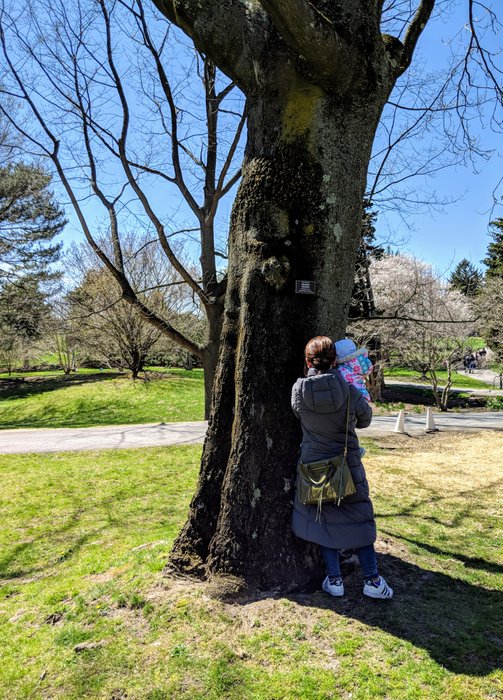 Took some time to commune with nature.
So we went, following the trickle of people heading to the orchid show. On the way there were some pretty sights from cherry blossom trees. And naturally, people.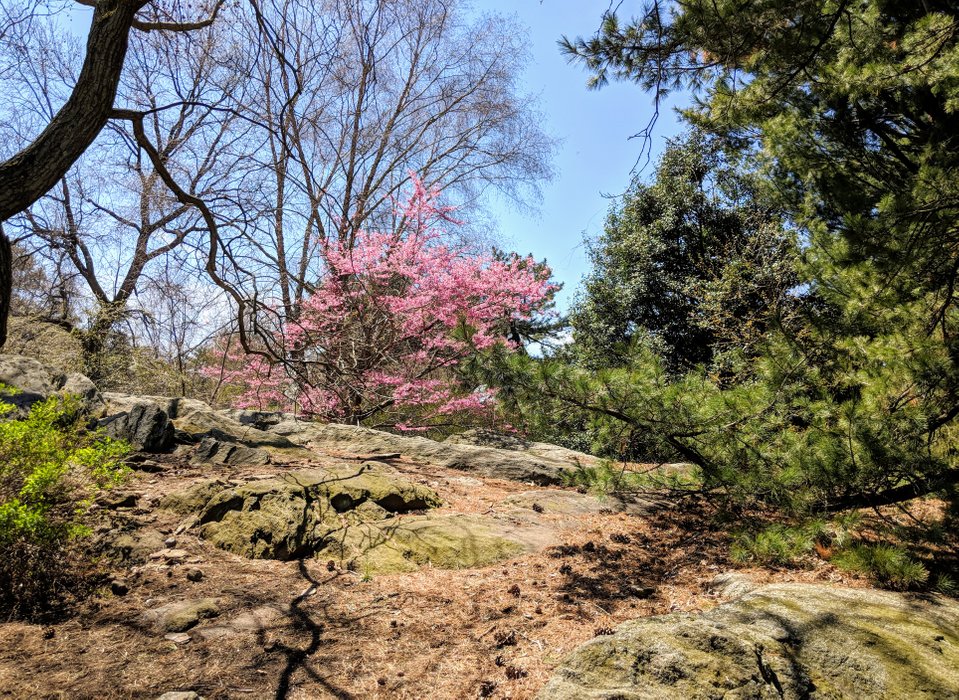 This pink one in the distance has some nice contrast.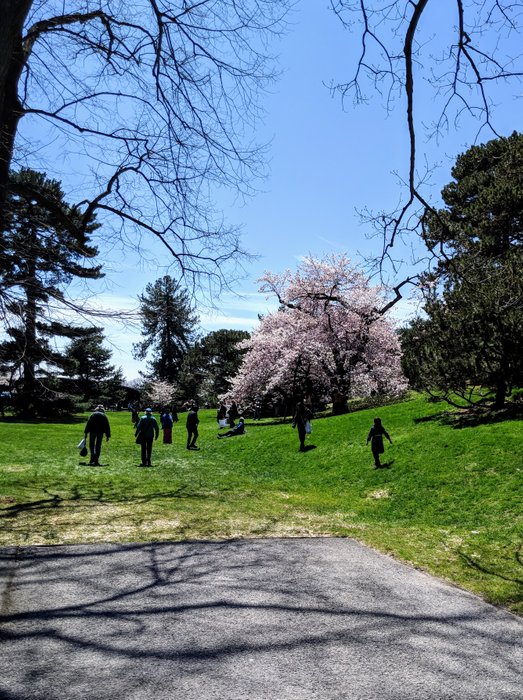 Follow the people... This particular tree was a popular photo opportunity.
We sat down near the tree to rest a bit and watch the people come and go. Even ran into a fellow coworker here which was a pleasant surprise. They told us they came from the orchid show and it was very beautiful. Looking forward to it!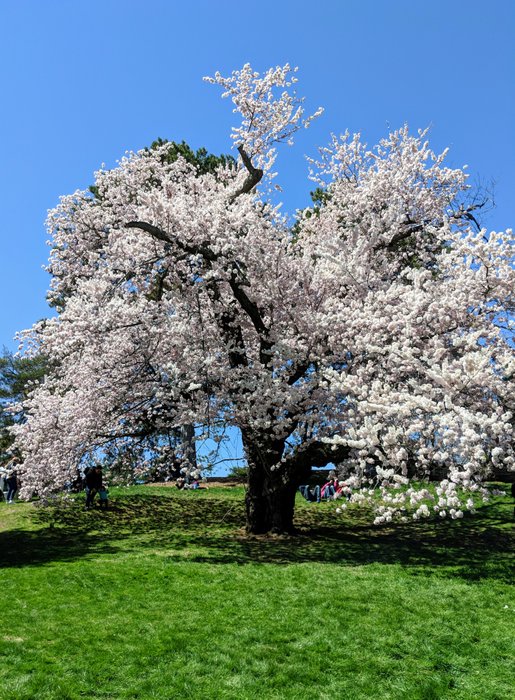 Here for your enjoyment, the people were hiding. Beautiful blossoms.
Before the orchids, we decided to take a slight detour to walk around more before braving the crowds.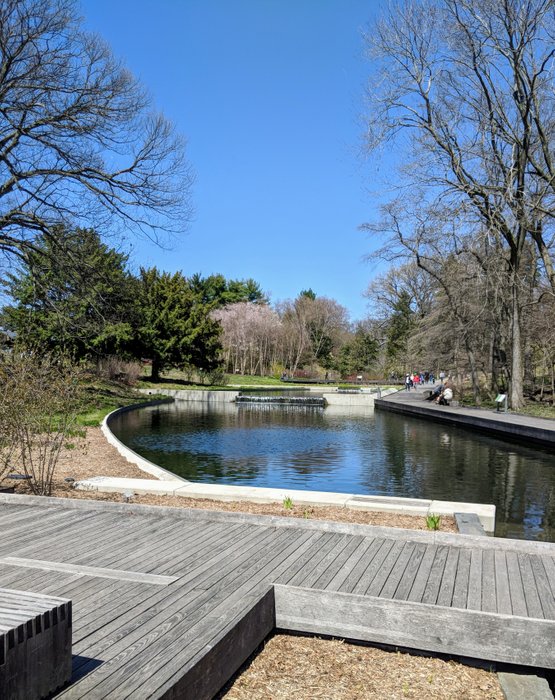 A nice wooden walkway surrounding a pond.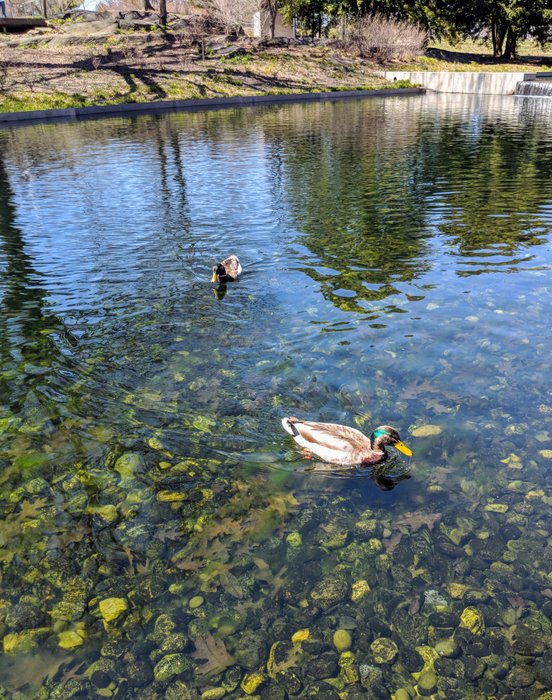 Look. Shiny ducks.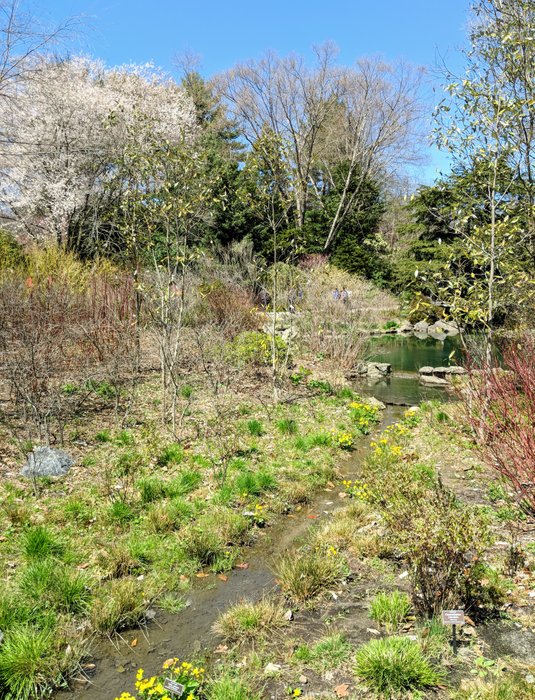 A stream opening up into a hidden pond. Lovely spring colors. And people hiding in the bushes. Gosh they are everywhere.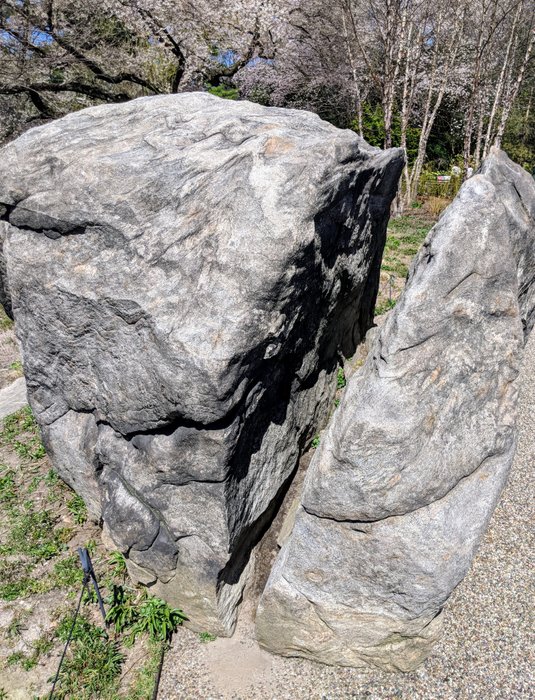 A split rock. Yeah I need to stop underestimating my own strength.
Orchids Start Here
After our little stroll we headed towards the show.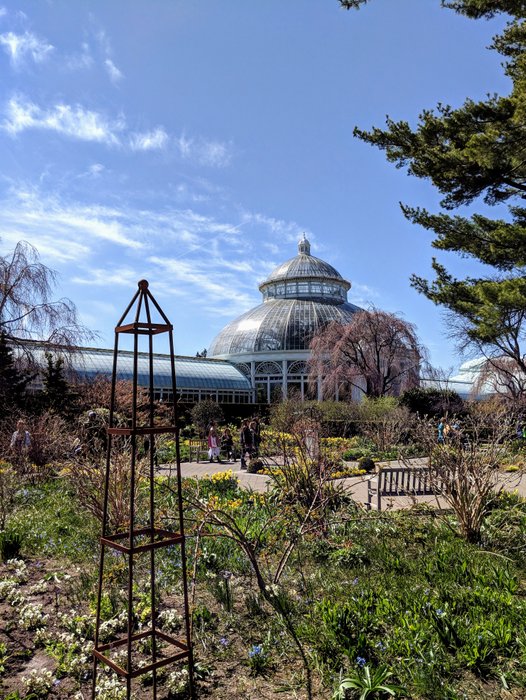 This is where the orchid show would be held. It has a tall glass dome.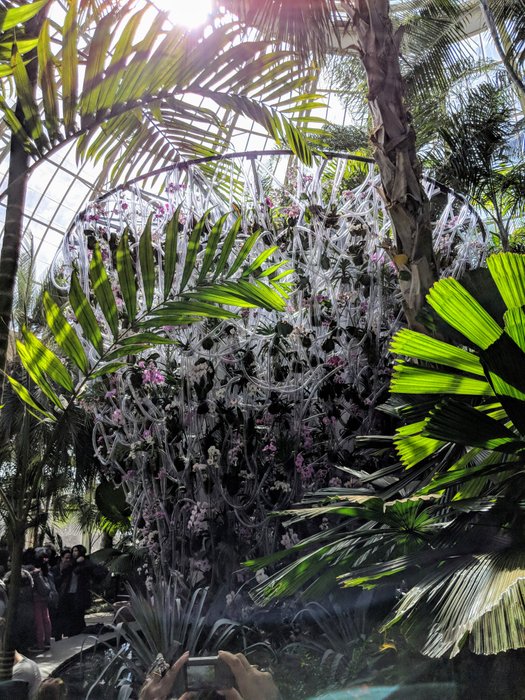 And this is what's in that room. What is all that plastic tubing? It's a mess. Artsy irrigation?
Everything in here is an orchid, and there's just so much variety of shapes, colors, and environments. A desert area even.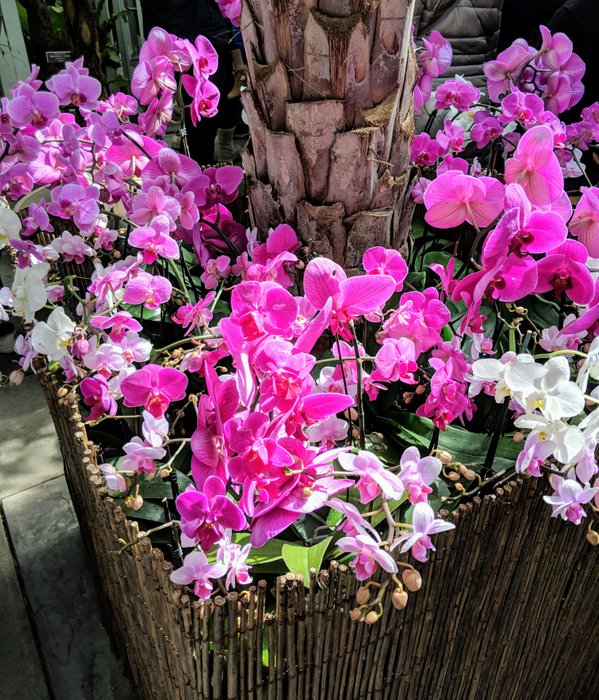 Orchid explosion!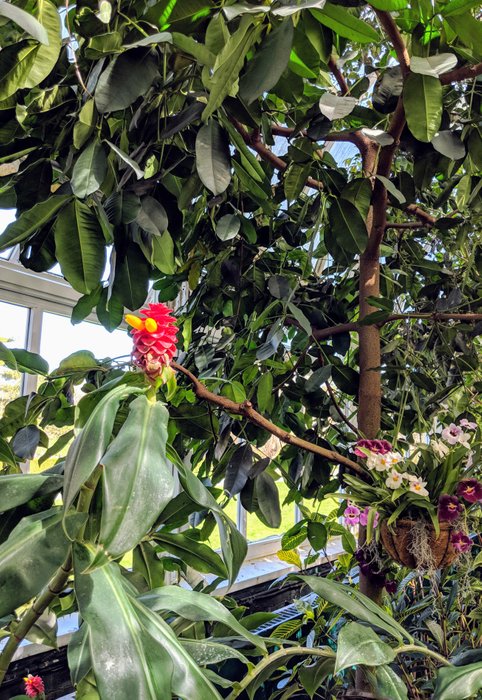 I call this one the yellow eyed pinecone.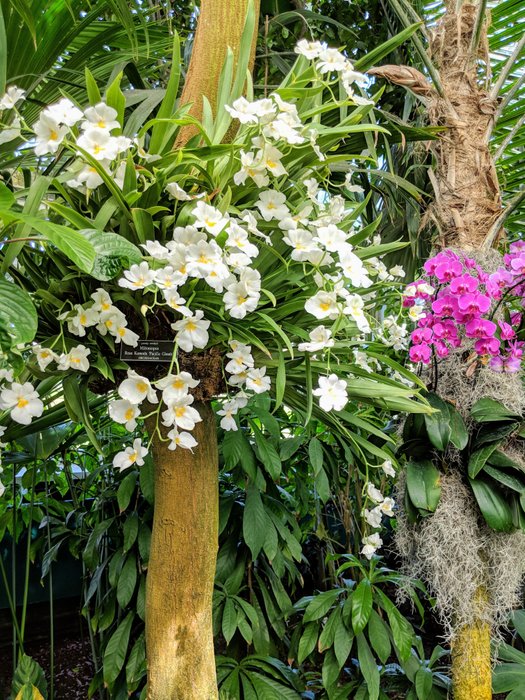 I like how these grow off the tree.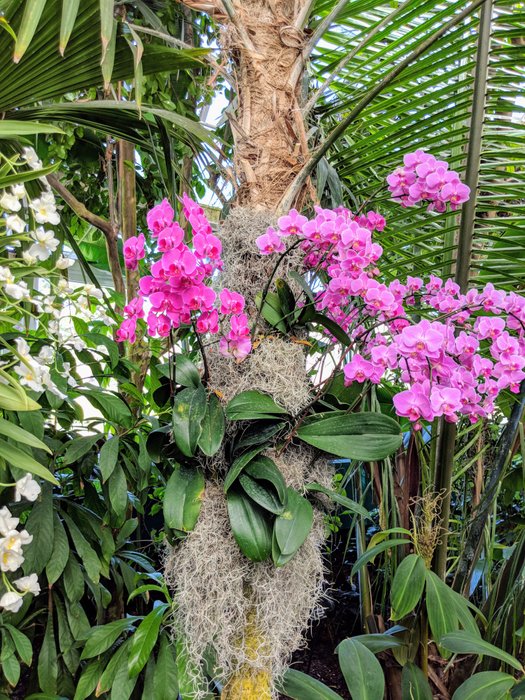 Petals like butterfly wings.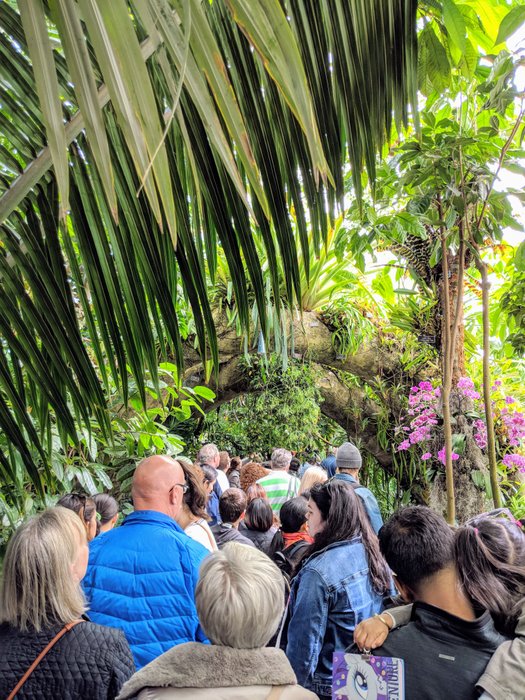 This is the long parade. I'll show you some highlights so you don't have to go through this.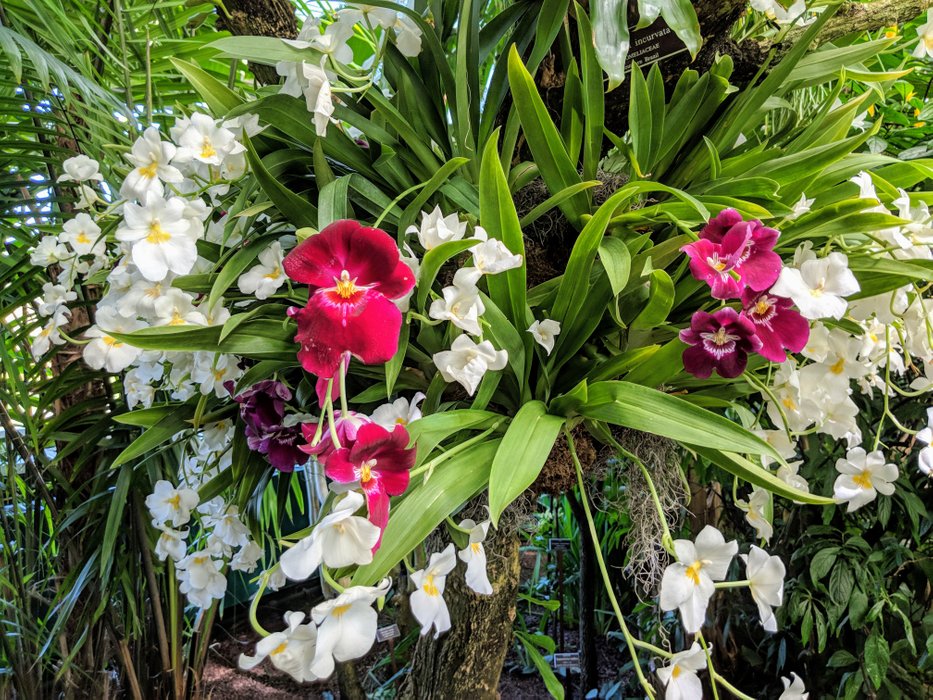 A deeper red, and reddish purple. In a bed of white.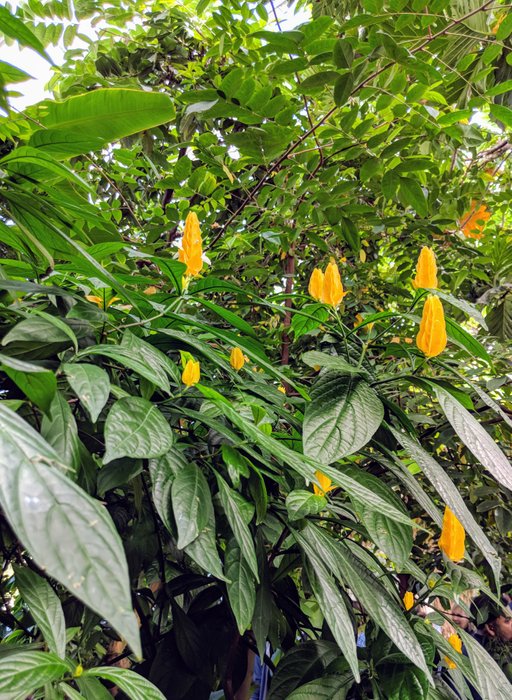 Yellow. They almost look like leaves that are changing color in fall.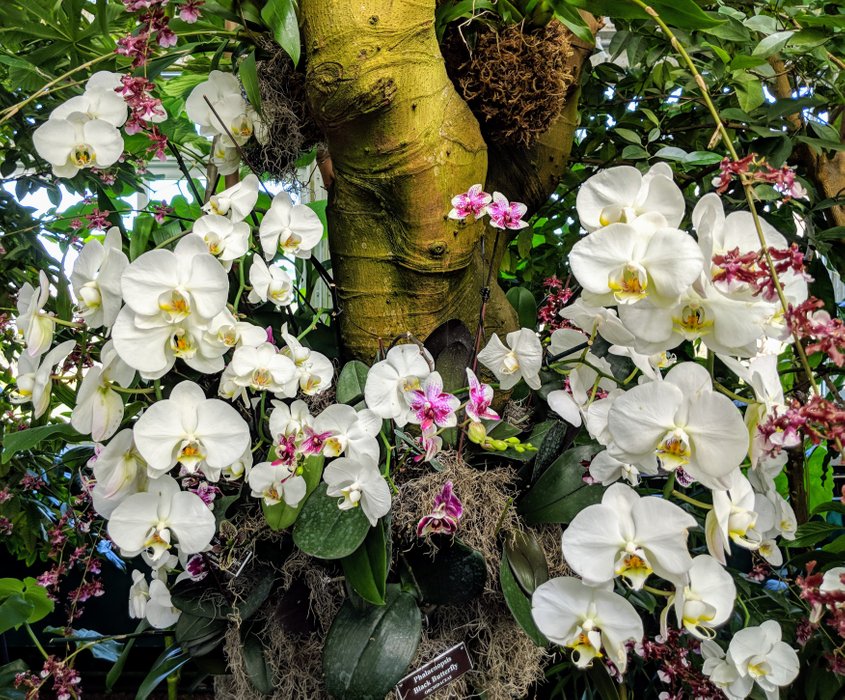 Pink spotted orchid. The sign says black butterfly. Is that it?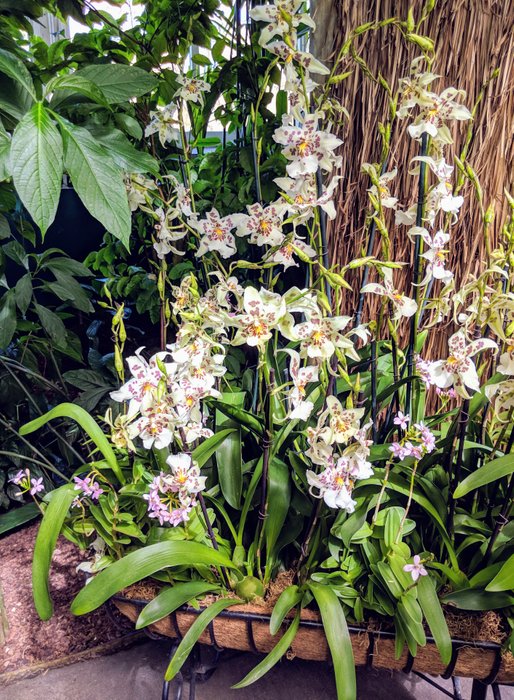 Check out the spots on this one. It's like a leopard.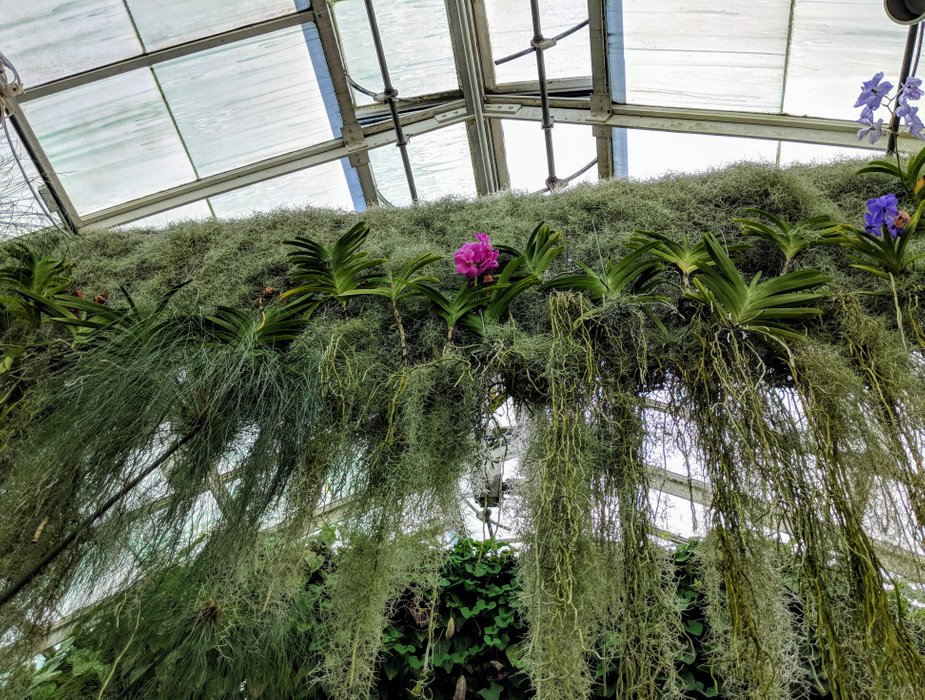 High in the sky! Sometimes looking up can be rewarding.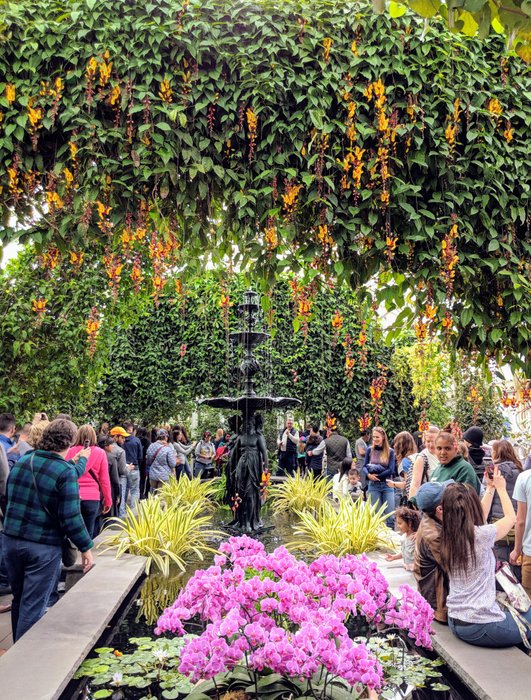 I really like the staging here in this brightly lit hall. Looks as if the yellow of the higher orchids are fireworks shooting from the fountain.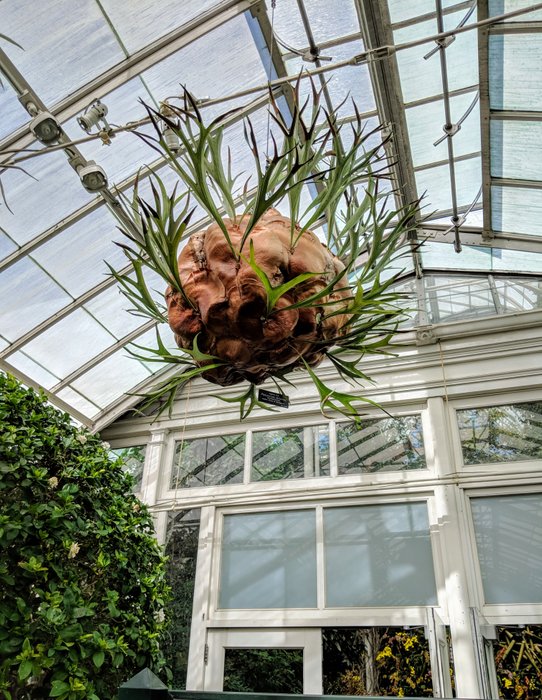 Desert time. This one hangs in the air. The sign there says "staghorn fern". No flowers. But very cool shape.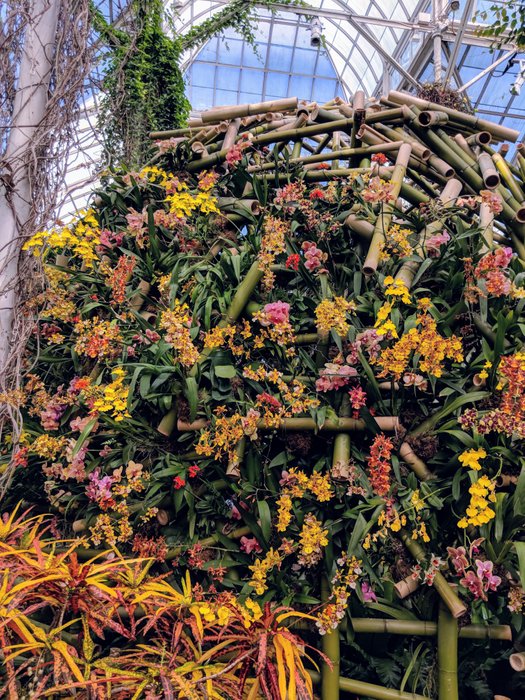 The fall orchid collection?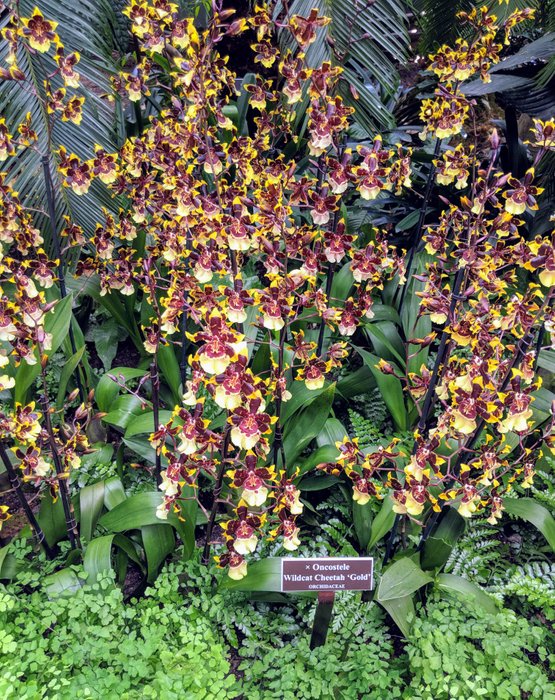 Cheetah gold. So many of them.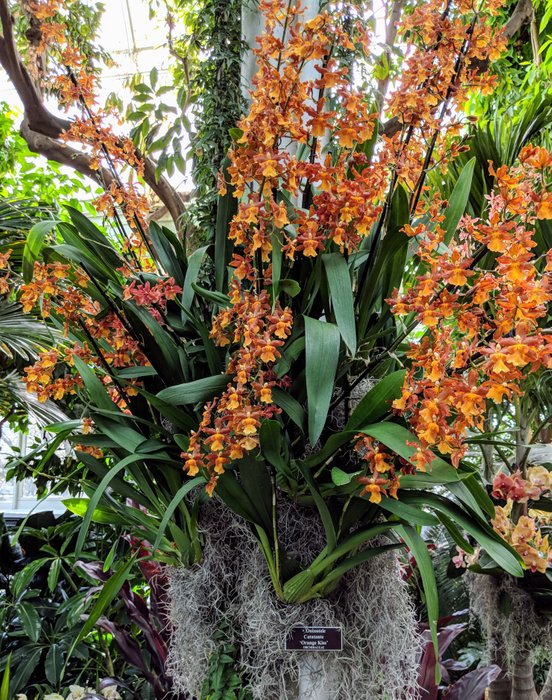 Orange kiss.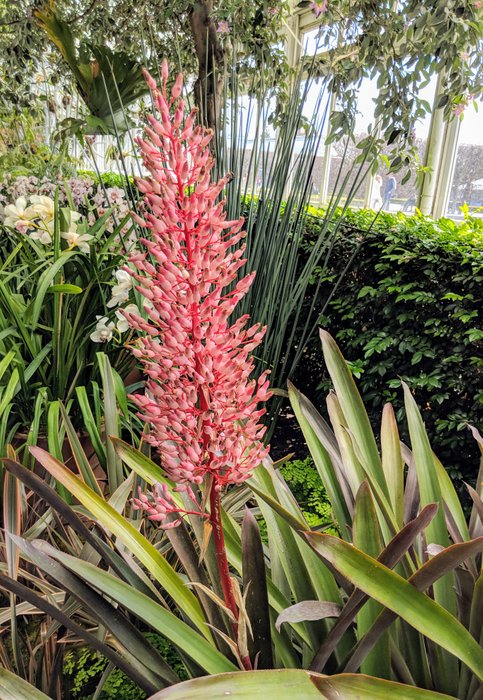 This one is also interesting. A lot of pink pods. Is that how they open?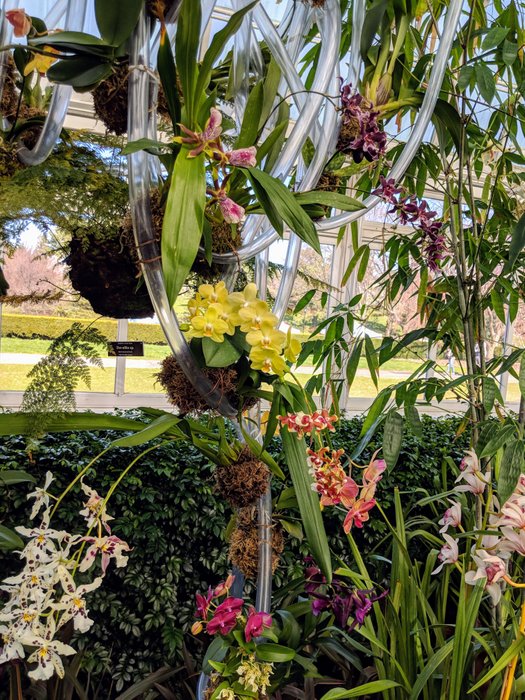 How many different flowers can you spot here?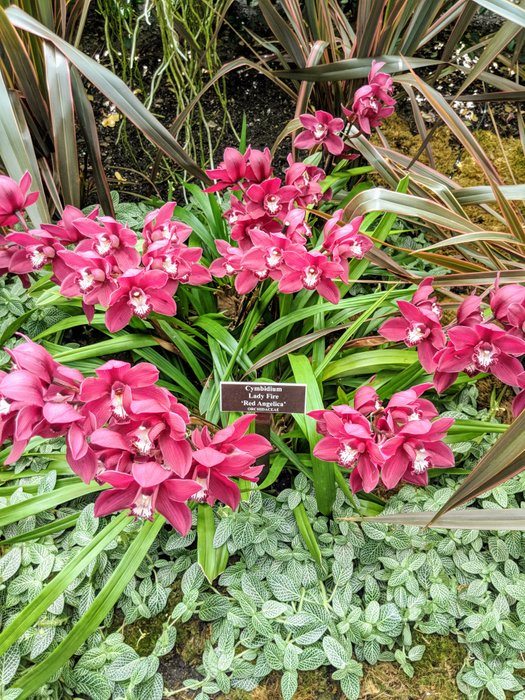 Lady Fire "Red Angelica". Looking sharp.
Close up on some other orchids. Interesting pattern and shape.
No More Orchids
But there was plenty more to our day. The botanical garden has so many more beautiful plants.
These look like candidates for plants to grow on Mars.
Right outside the orchid show was a grass area celebrating Earth day. There was a big blow up Earth on display, and many hula hoops. While waiting for everyone to come out, we took the chance to lie down for a nice grassy nap, looking up the great clear sky.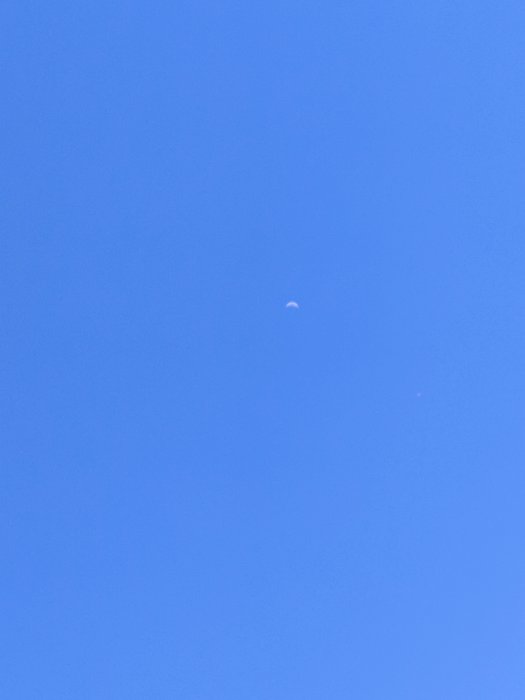 The moon.
After we all met up, we continued to wander the park. We stumbled upon a place labeled "A Million Daffodils".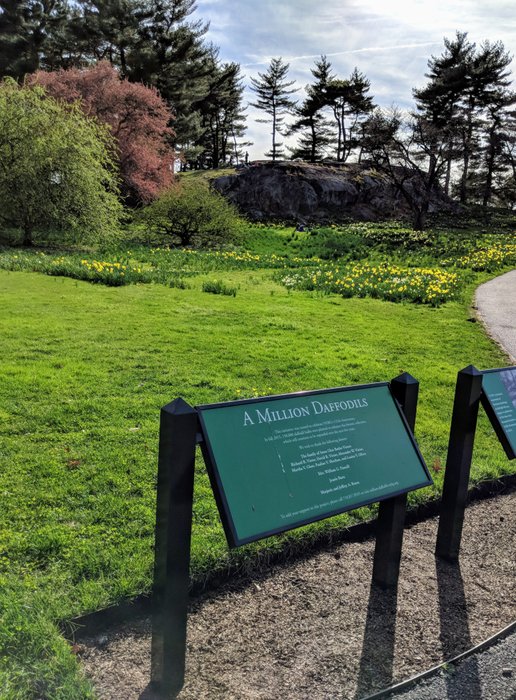 And just look at this area.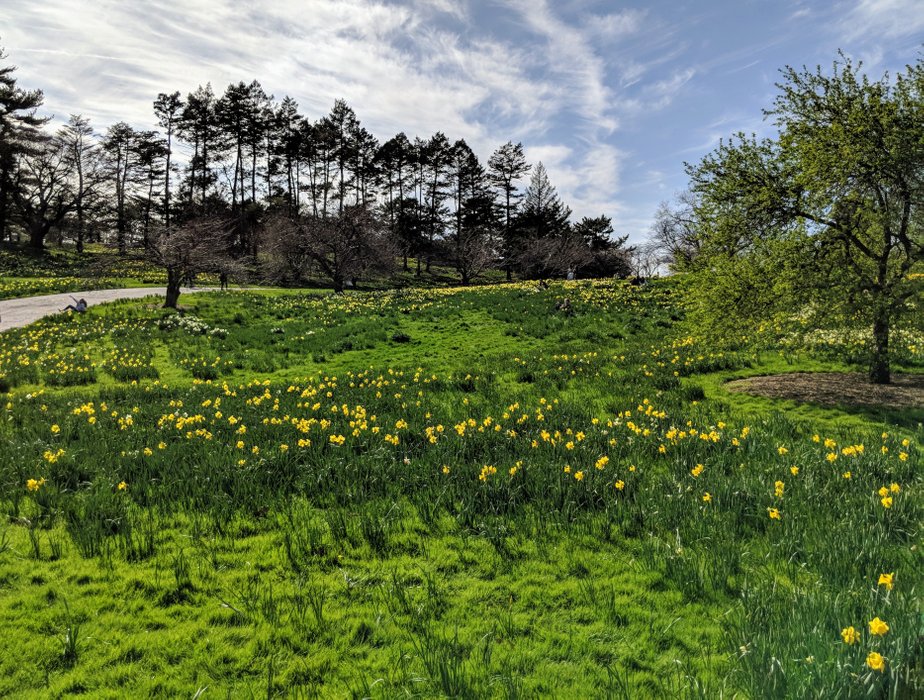 If you look close enough you'll see people sitting among them. What a nice place for a picnic or date.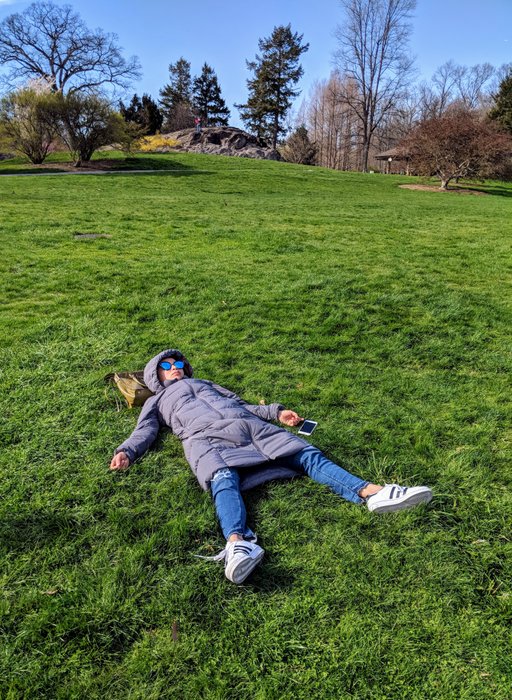 We took some time here to nap also.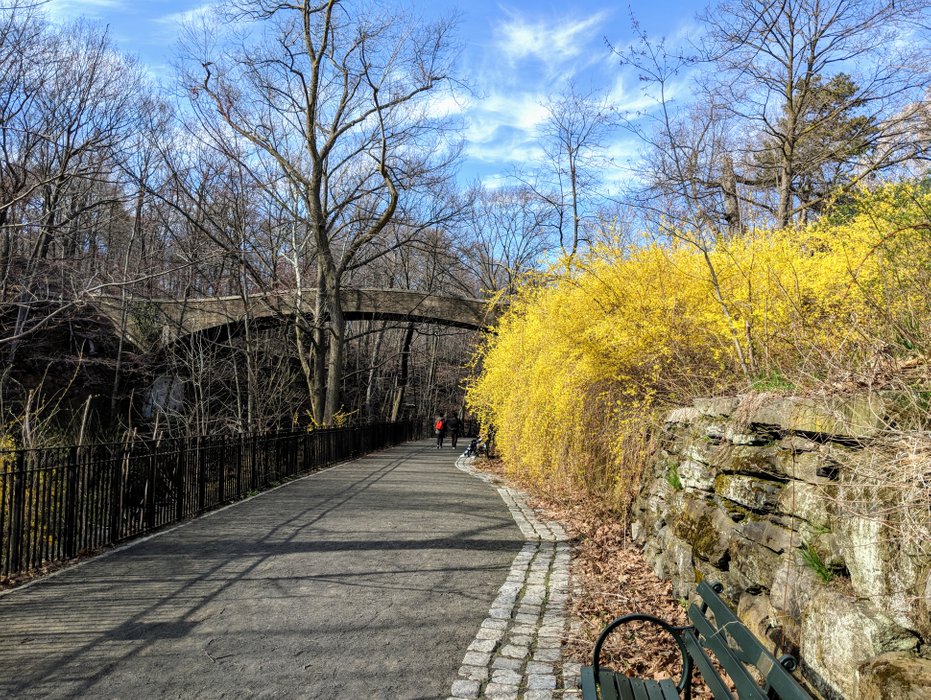 This day involved quite a bit of walking. Here's a nice area on the way to the next place. Golden leaves.
The last place we visited was the cherry blossom grove for more cherry blossom goodness.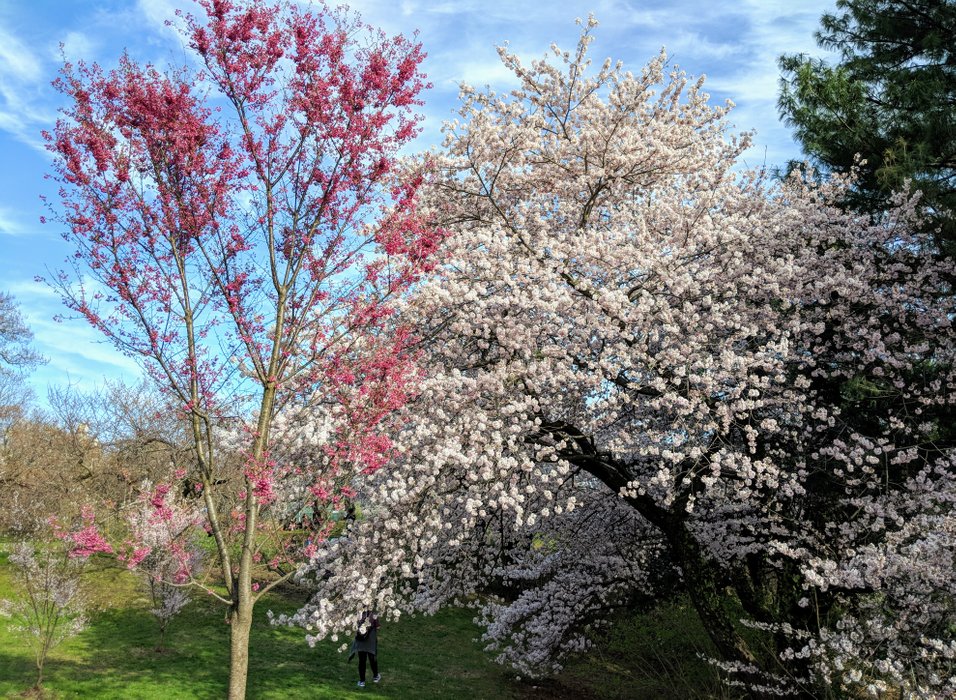 Such great colors. Hmm with the right angle...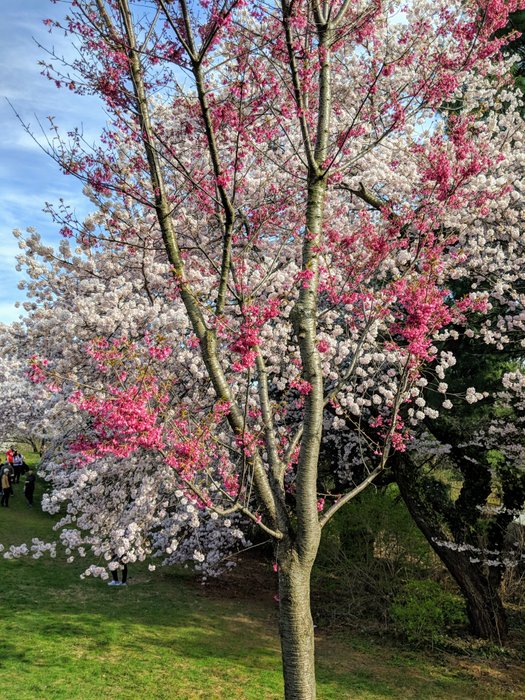 ... We can get them to mix!
Hmm. I ran out of pictures I wanted to share. Looking back at these pictures the experience looks a lot more fun than I remember. I think my favorite would have to be the daffodils. That was the most pleasant nap of the trip, anyway.
What about you? Got a favorite?