Maybe it was the light falling snow that day, but there was something magical about the Icelandic geyser that we visited that left such a good impression in my mind. The place is simply called Geysir.
This is in contrast to the Old Faithful geyser in Yellowstone National Park, USA, which is impressive but was somewhat of a let down in terms of expectations. Maybe it was the set up... Anyway... Moving on...
Let's start with the extreme variance in temperature, us tourists bundled up in many layers in the freezing weather alongside a flowing, steaming and scalding hot spring stream. (Try saying that five times fast.)
Hot stuff coming through!
And you can see a bit of green in this picture, thriving at the sweet spot in between the extreme temperatures.
And this is me amused at the falling snowflakes melting on my hand. Yes I'm from New York but experiencing this kind of snowfall is still a rare occurrence for me. What brittle and beautiful structure. Can't save any of them either!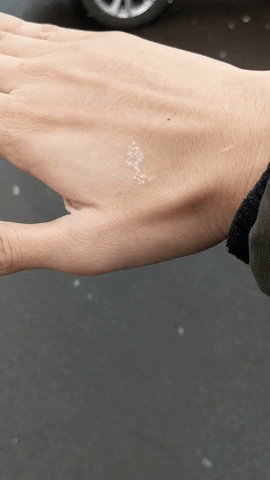 Absorbing Snowflake Powers
The central geyser is surrounded by tourists and are allowed to get quite close to it. If you didn't know any better you would be taken by surprise when the geyser erupts, which occurs roughly every 3 minutes or so. Me, being the completely uninformed tag-a-long traveler, was one such person. Added to the excitement for sure.
This shot shows a nearby steamy pool with central geyser in the back, surrounded by the people.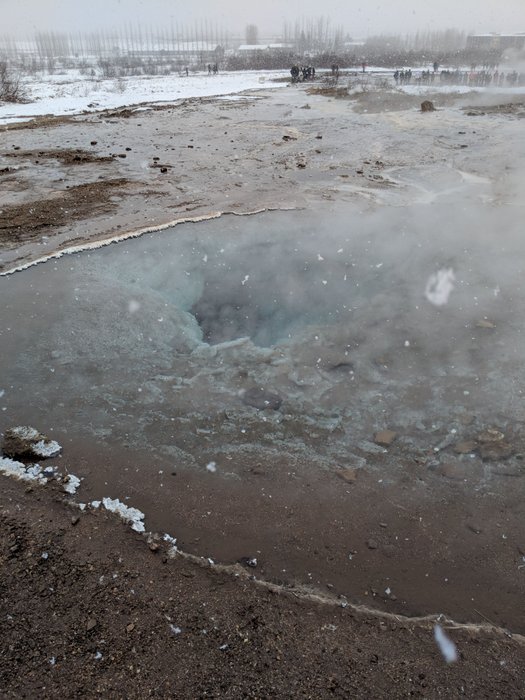 I like that this shows the blue color of the depths. Reminds me of similarly colored pools in Yellowstone. Here's one more picture with an amusing sign, for the sole purpose of making a joke: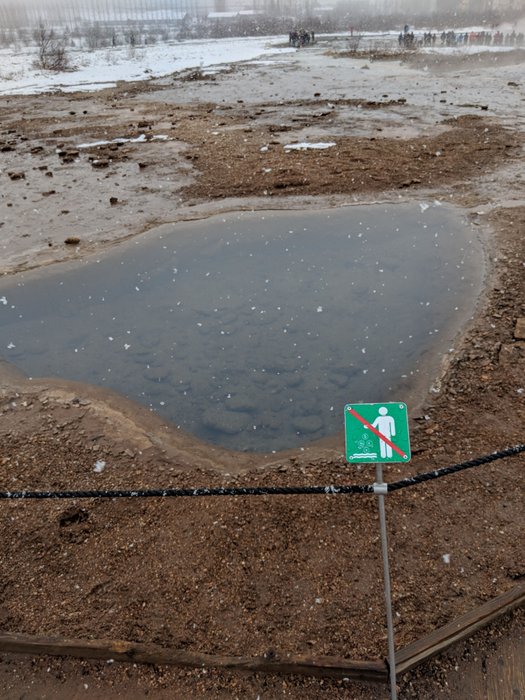 Don't throw your change! But feel free to throw in Steem or Bitcoin.
I took some videos of the geyser which I will place below, but you'll have to skip around to find when it happens. If you want to wait the same amount of time, you can go to the Full Playlist Sequence.
This is the second one in the sequence, which is one I took from farther away. The people in the distance that are right next to the geyser look like they are right on top of it!
If you were patient enough, you will have seen two bursts in that last one, which was definitely took us by surprise.
And this is the fifth in the sequence, which is one I took while a few feet away.
Took a bit of patience waiting for Earth to release.
It was well worth braving through the cold and snow to wander this area. I like this next picture of my wife as we were walking out, as it gives an idea of how cold and snowy it was.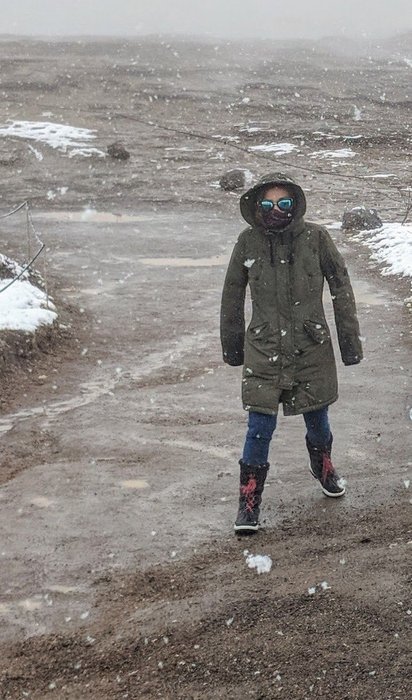 Cold... cold... cold...
You can see the trail was quite muddy and wet, which was not so pleasant. But anyway, off to the next location! Before that we stopped by the little store that was nearby, and it too had free bathrooms. Thankful for that.
If you want to see how it looks in different conditions, you can see from the Steemit World Map a few others tagging this geyser. Very cool to see. There's no direct link but you can search "Geysir, Iceland" to find them.
---
Click the banners to learn more about each community!
---