Oroszlány is most definitely not a tourist destination, we were forced to chose it being the closest place to out final destination. In this post, first I'm going to show you the town and then I'm going to share my experience about it.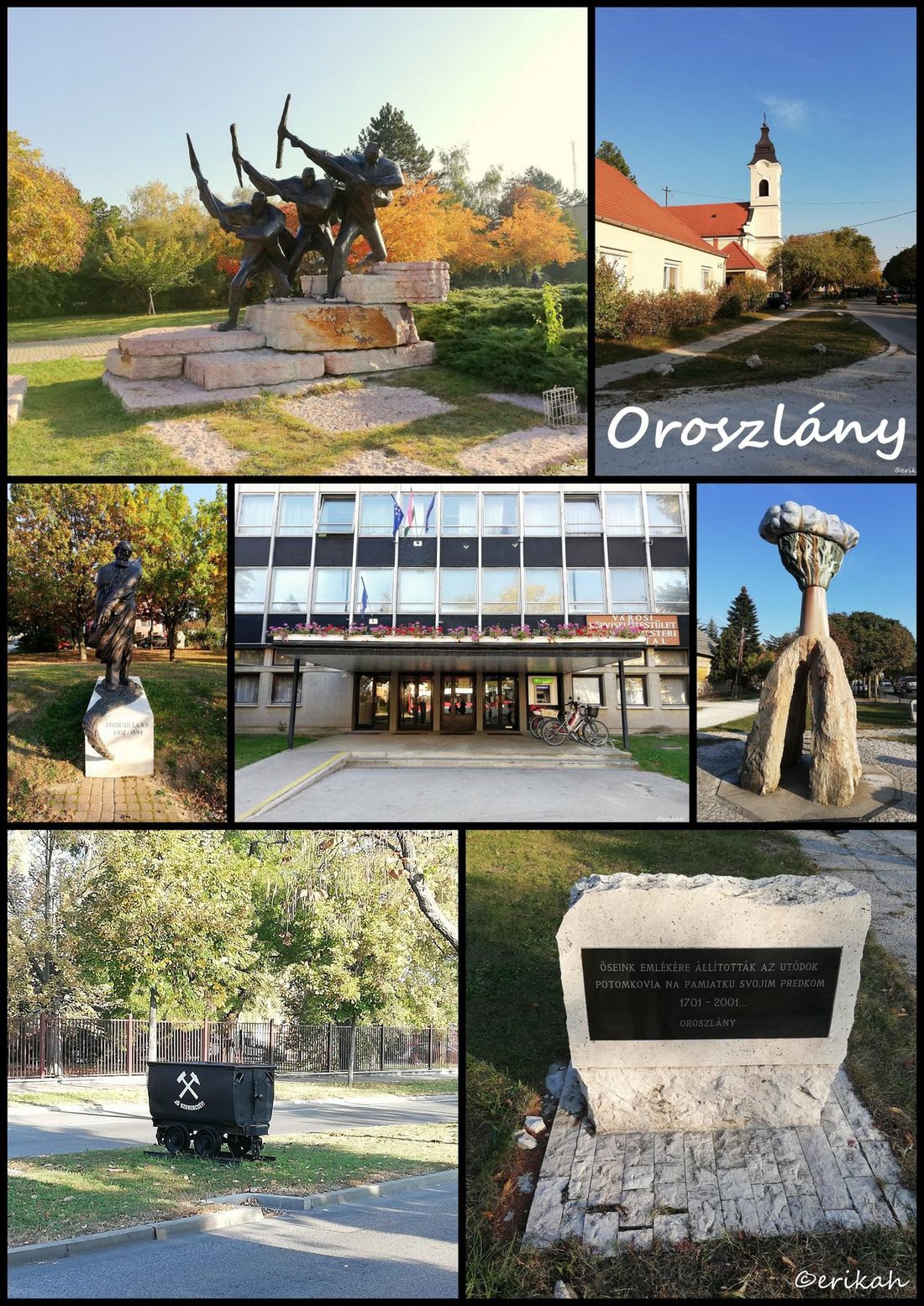 Oroszlány is a very small city in Komárom-Esztergom county, in Hungary. With its population of 20.487 inhabitants, I guess it's the smallest city I've ever been to. It's 75 km from Budapest and 45 km from the Slovakian border. Tatabánya, the closest city is 15 km from Oroszlány.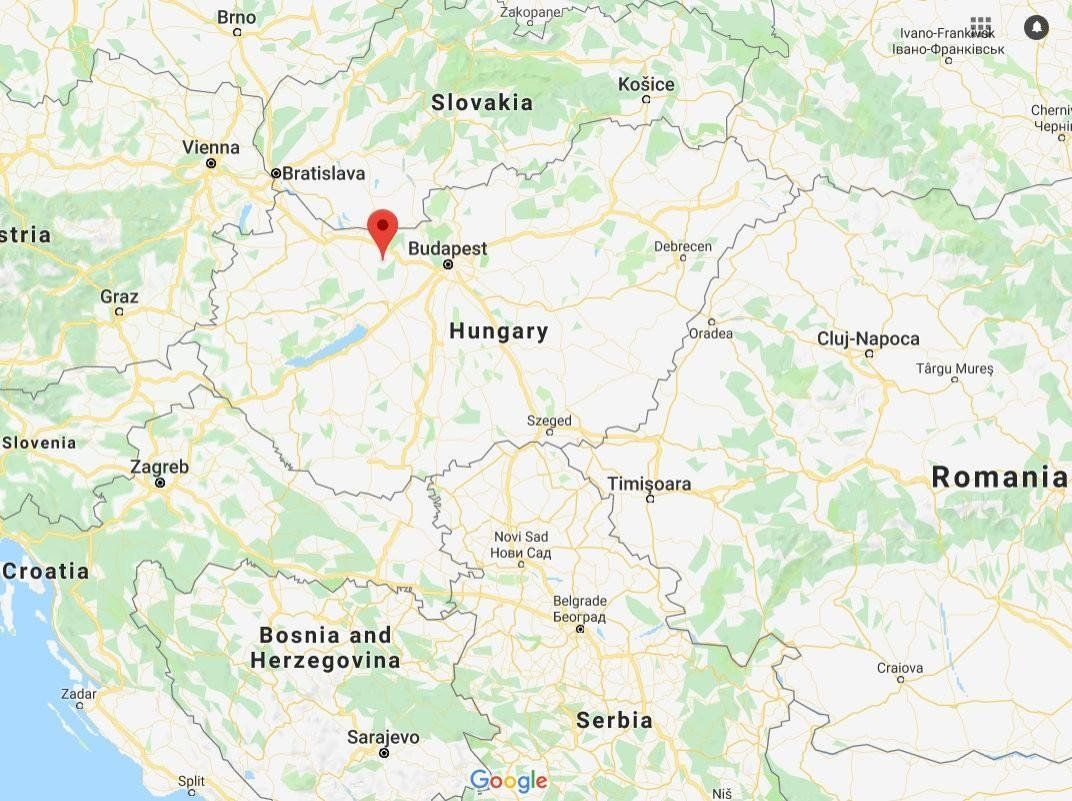 sourse
The first coal mine was open in 1937. In 1954, due to the industrial development and increasing population, Oroszlány became a city. Unfortunately the coal mines were closed in 2001 which meant a huge set back for the city.
The whole city center consists in a street 0.5 - 0.6 km long and to my surprise, this tiny city was full of statues, monuments and mining symbols. I find this very helpful, especially in case of a brand new city with no special tourist attraction. Otherwise what would I show you now, right? :)
A monument which told me nothing at first, except that this looked exactly like a monument created during communist times. All I saw was a huge stone, then I turned right and saw this.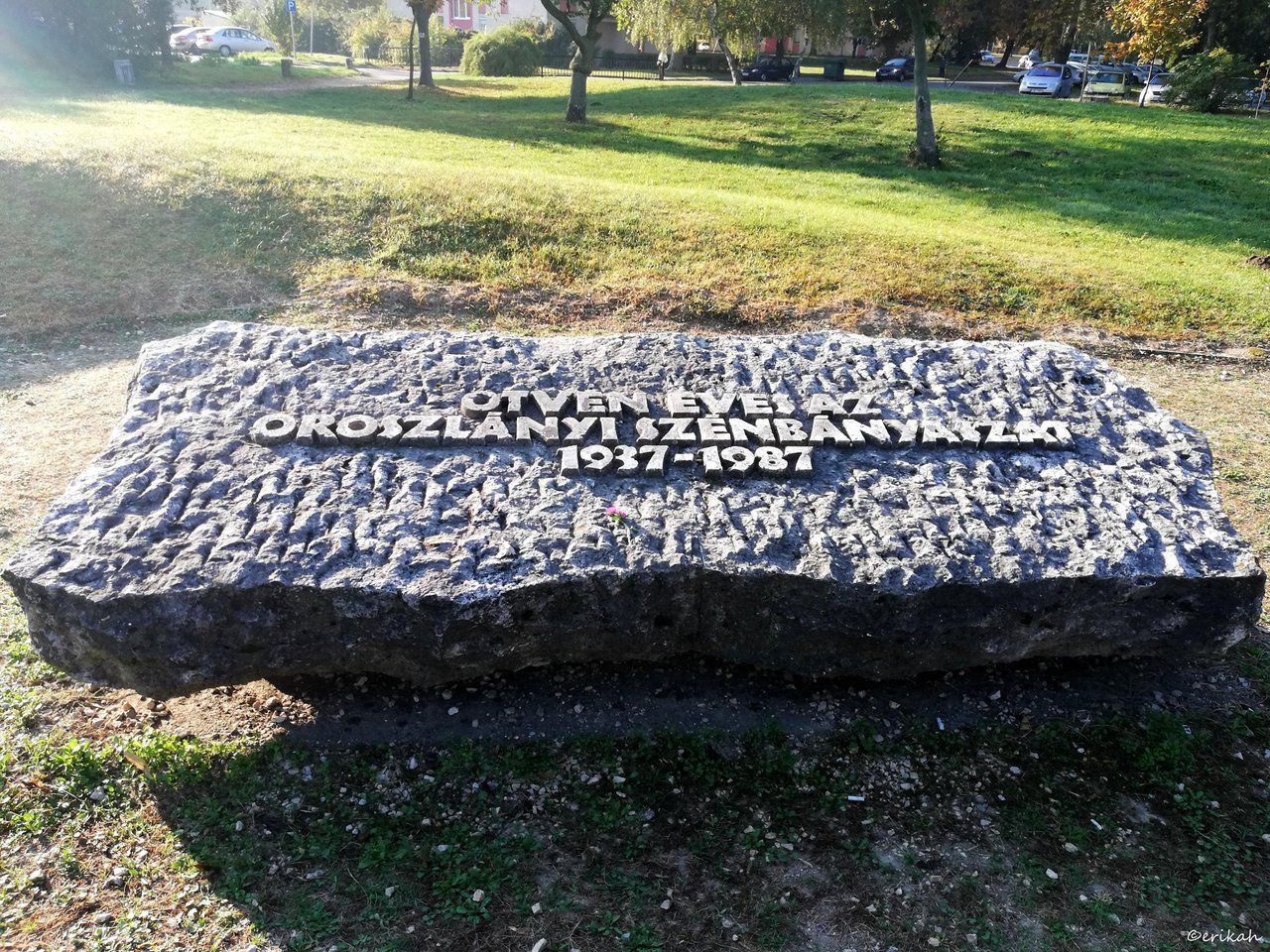 According to this stone, the monument was set in 1987 to celebrate 50 years of coal mining in Oroszlány. In 1987 there was still communism in Hungary, and my first impression was right.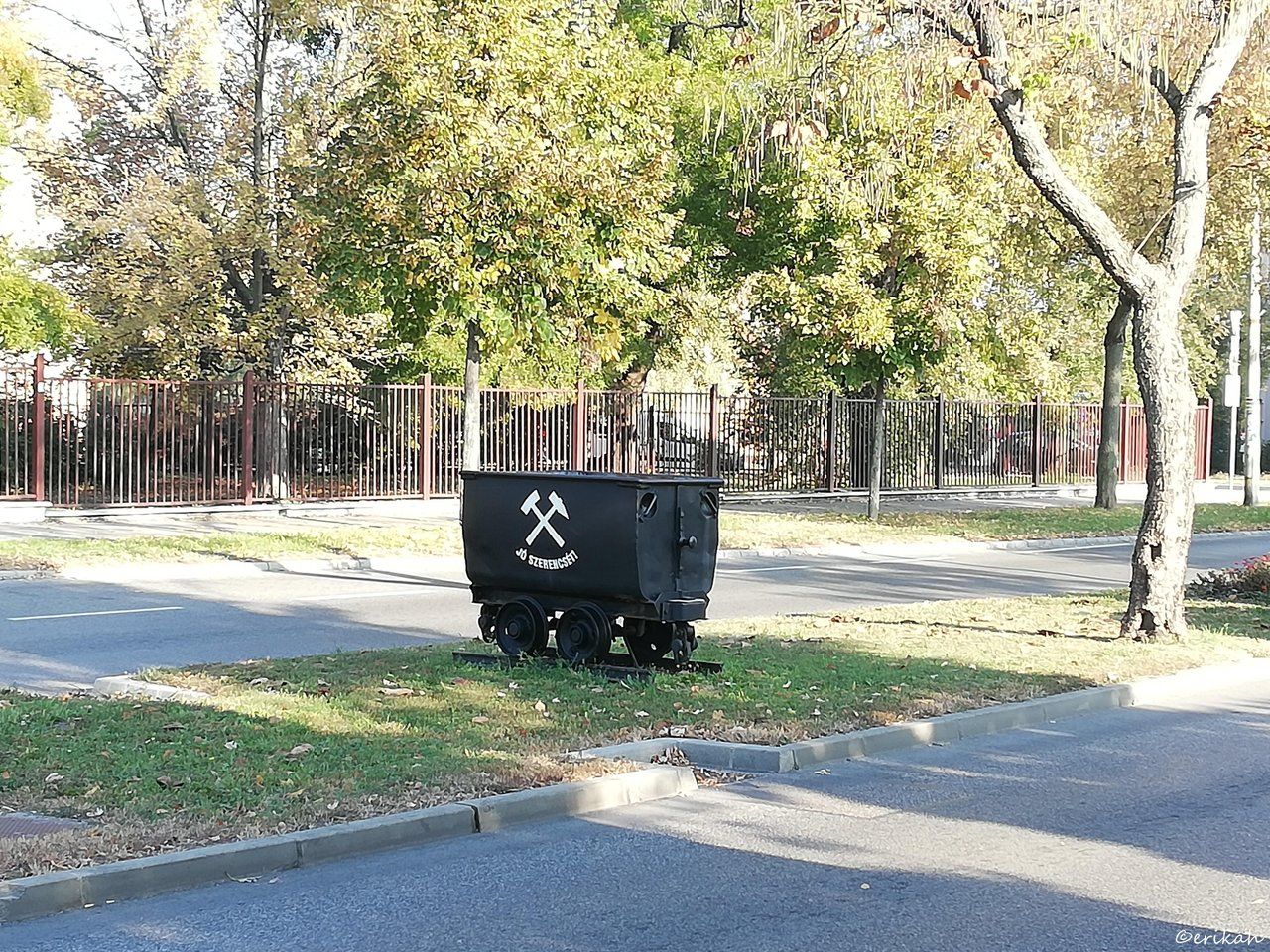 This was my favorite of all. It's a mining wagon used to transport coal out of the mine. The hammer and the pick are mining symbols and the text below is a miner greeting, "Jó szerencsét!" in Hungarian, which means "Good Luck!" in English. I guess this must be a universal greeting, since it's similar in Romanian. Miners were greeting each other with this "Good Luck!", meaning they hope everyone gets out of the mine safely at the end of the shift. Mining is not an easy or safe job. No matter how well equipped mines are, accidents still happen, miners are often blocked underground, many of them die down there.
A monument commemorating the Treaty of Trianon.
After this treaty Hungary was left with 36% of its population and had lost 72% of its territory.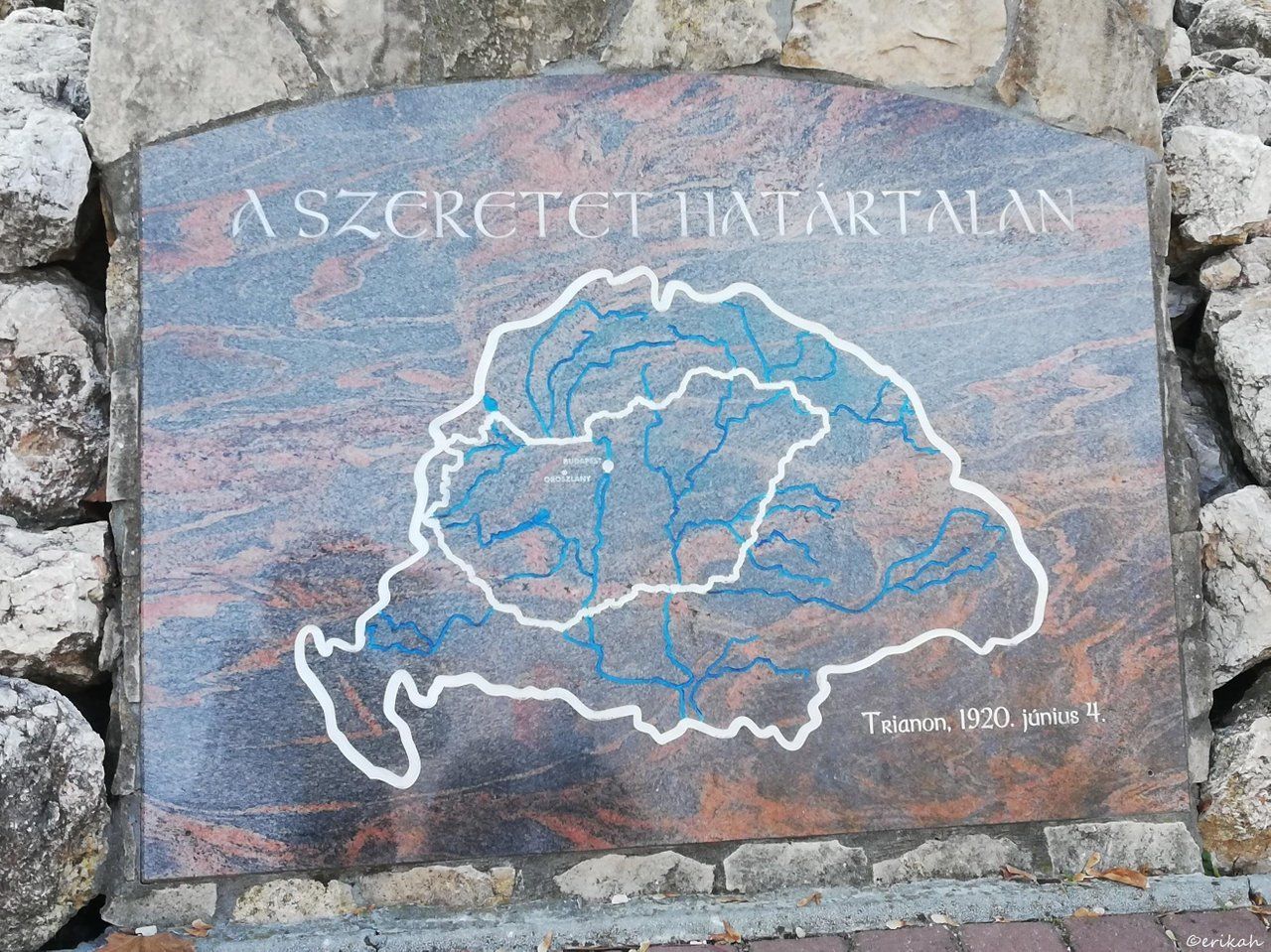 Map of Hungary before the Treaty of Trianon.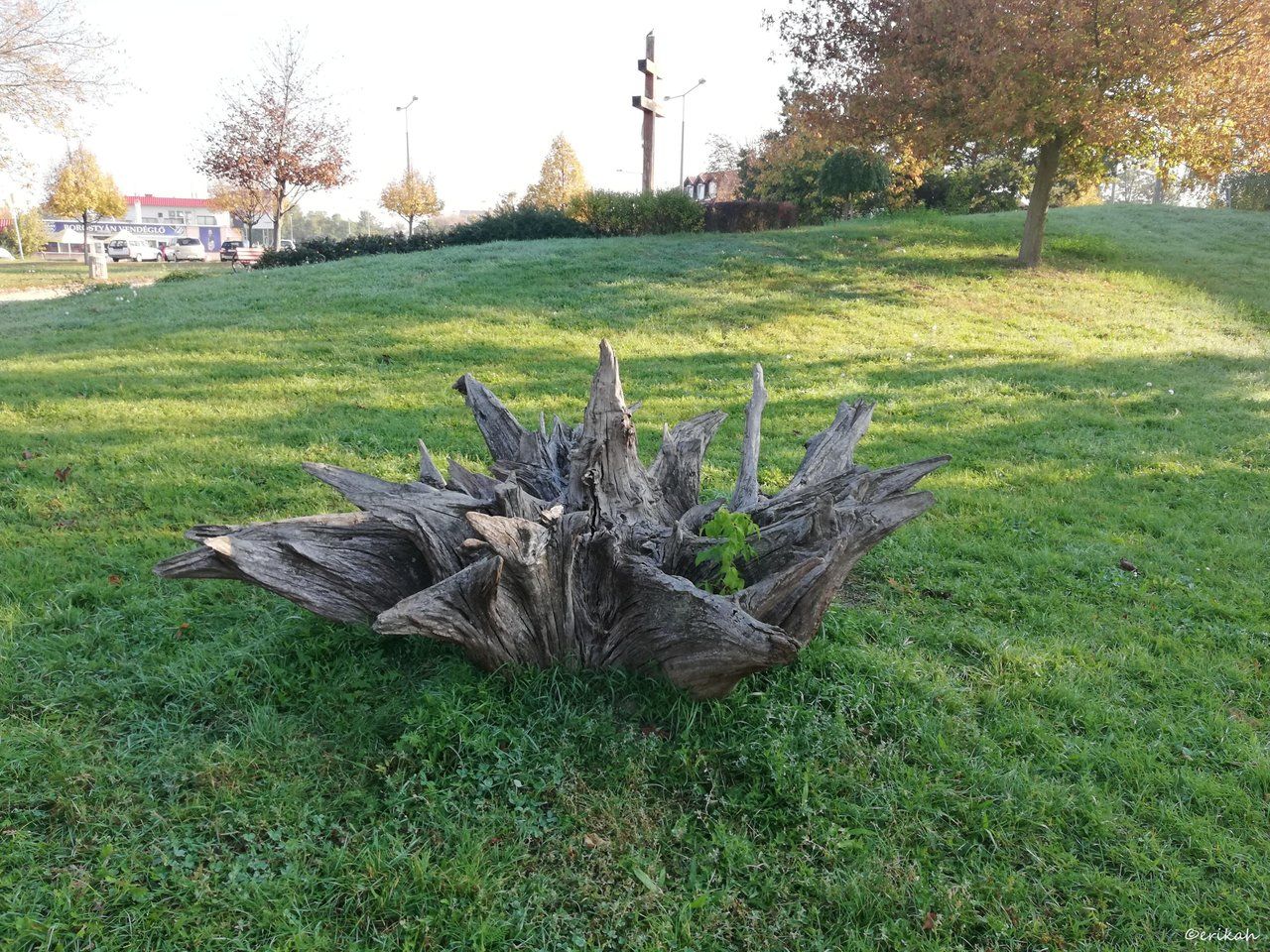 Next to the monument there was this piece of art created by nature. It's the root of an old three. I found it very interesting and beautiful in the same time. The park is mostly man made, so it's nice to see something created by nature.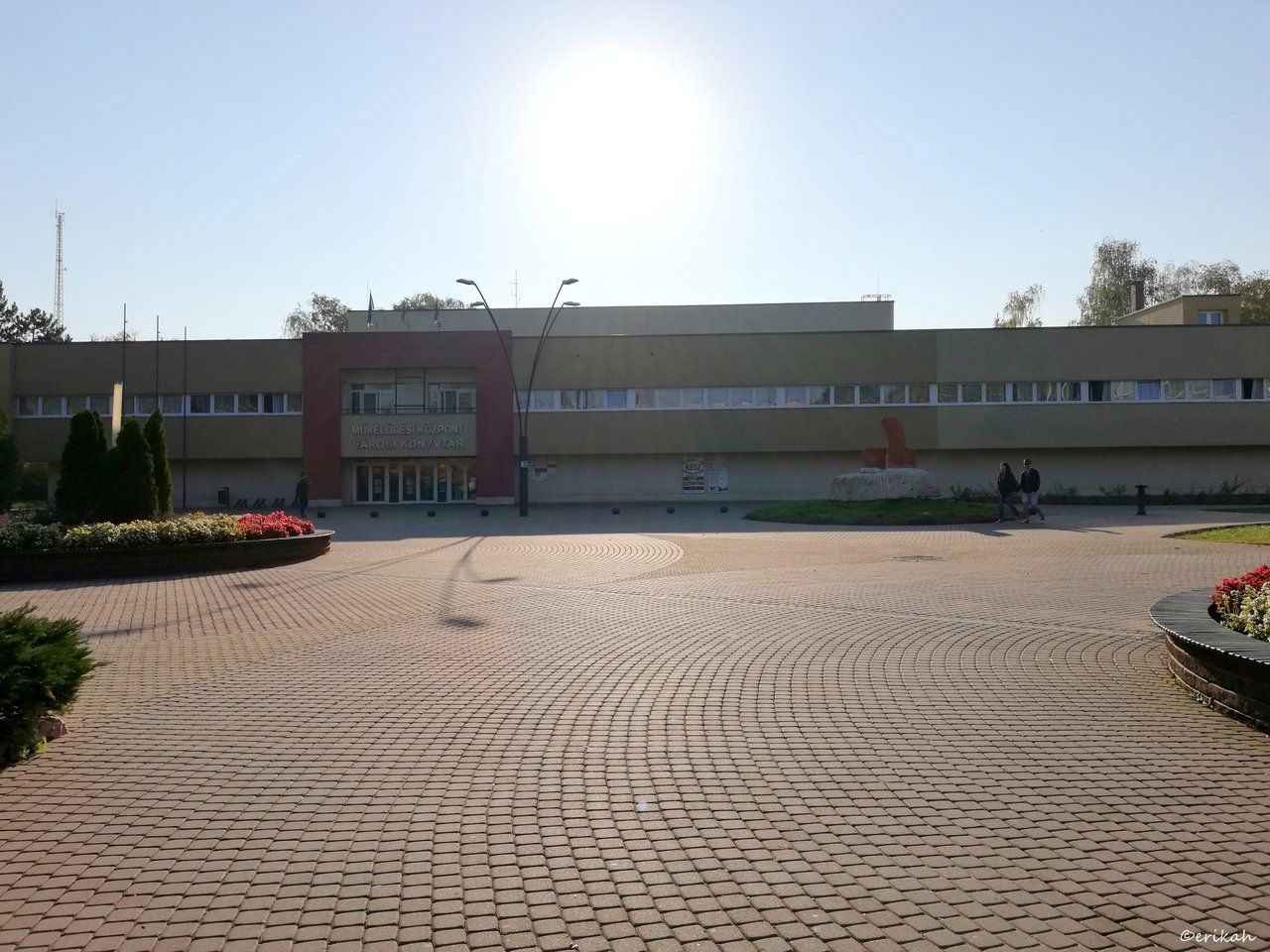 We are on the main road now and this is the cultural center and the building gives home to the city library as well. It was early in the morning and I couldn't get a better photo, sorry, the light was not exactly as I wanted.
Part of the park situated in front of the cultural center, these threes with yellow leaves gave the place a whole new and enjoyable look.
The other part of the park and you can see school kids in the back, preparing to enter the library or the cultural center.
The place is called the "Szent Borbála Square", named after Saint Barbara, the patron of miners and others who worked with cannon and explosives. As you can see, the city council made sure the town can be remembered as a miner town.
You can also find a map with some information about the town, unfortunately it's only in Hungarian.
On the other side of the board there's a map, which can be very helpful at times, however, in this case you can do just fine without a map. Look at the yellow line, that's the main road, the town center basically.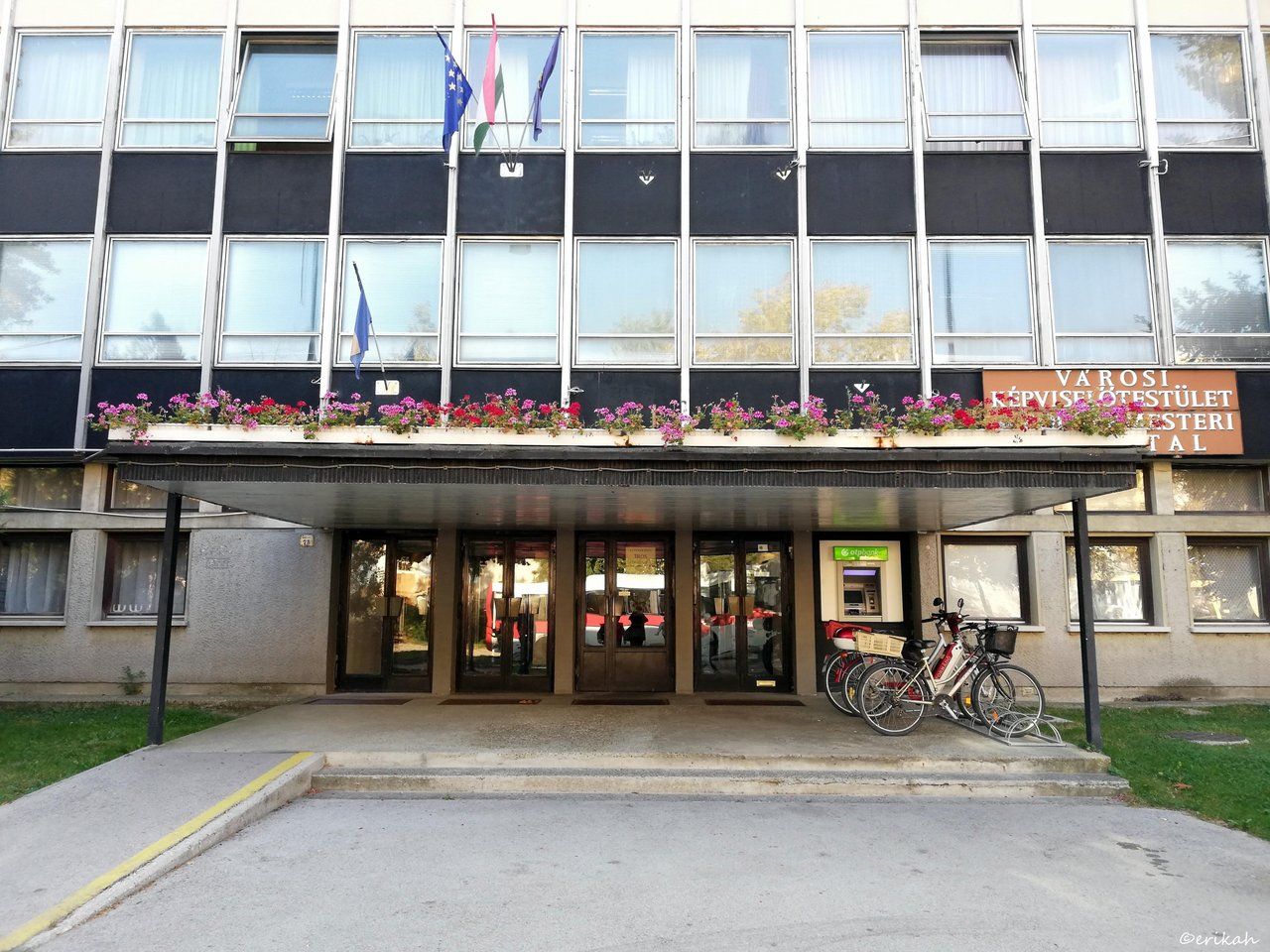 This was the building of the city council and the mayor's office.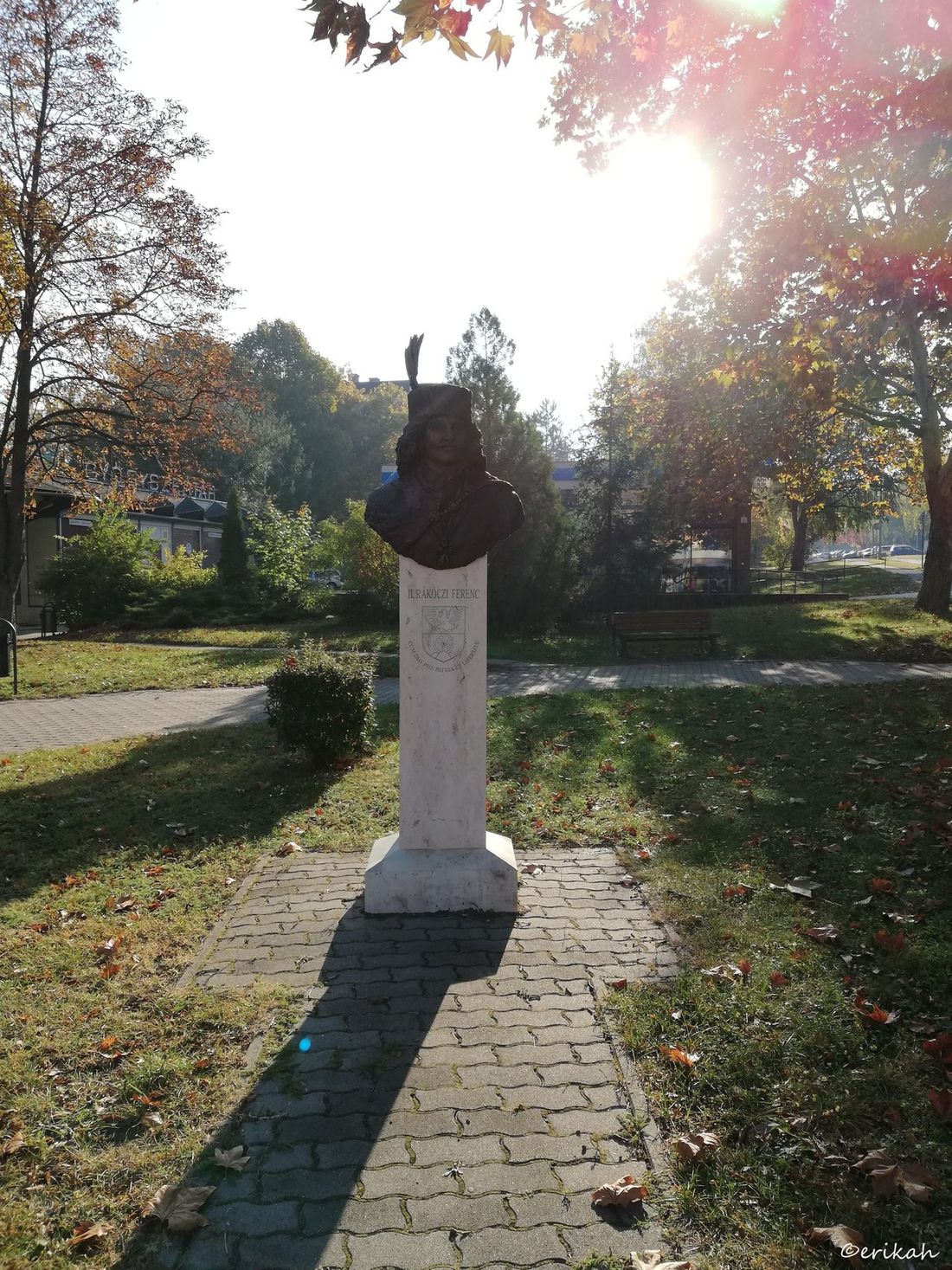 Statue of II. Rákóczi Ferenc (1676 – 1735), a nobleman and Prince of Transylvania.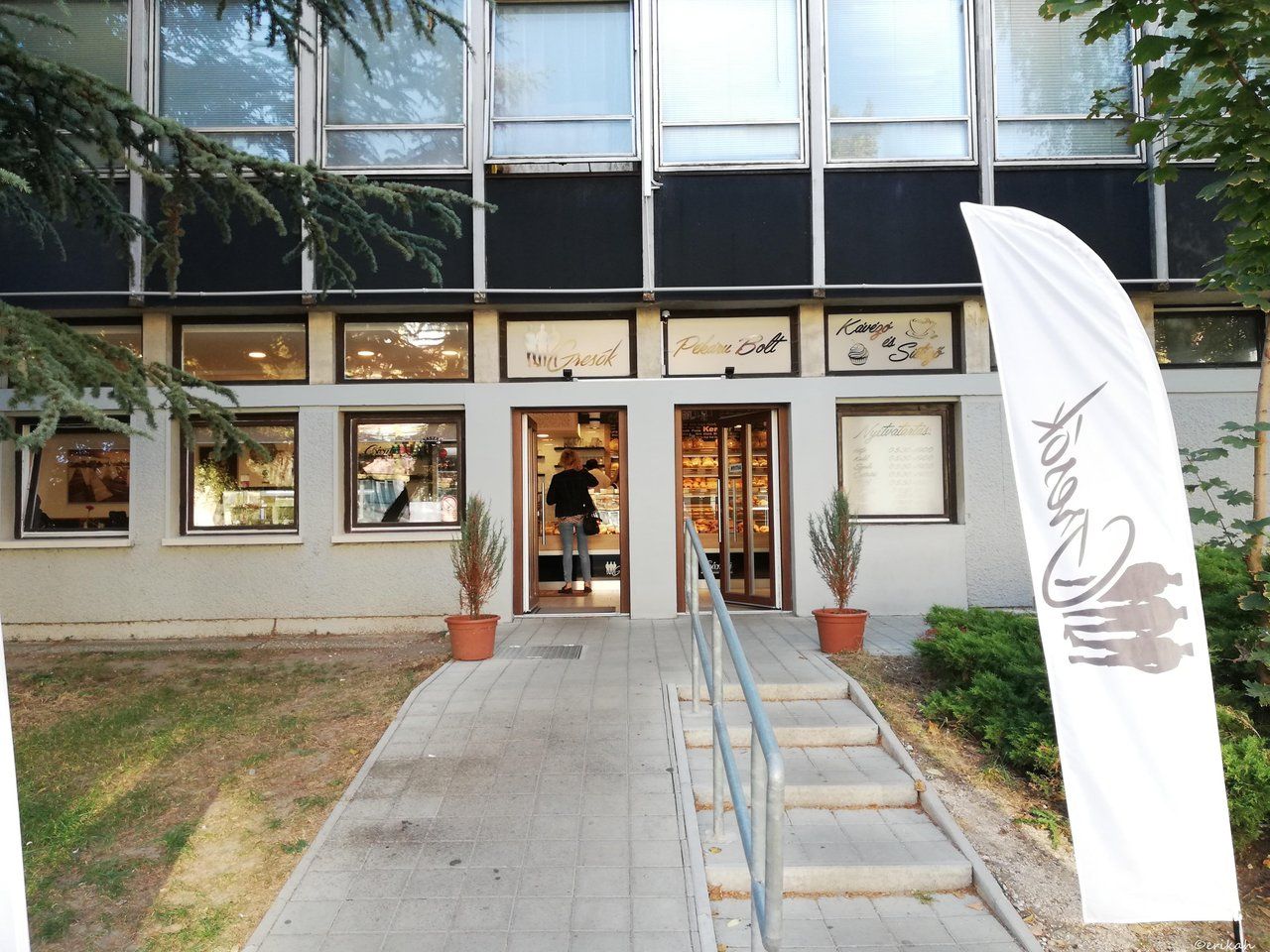 Next was a bakery where I bought some bread.
Déjà vu! :) I was wondering where have I seen paintings like this on the walls? I'm just kidding. We have similar paintings in Romania, made during communist times. These however look nice, well taken care of.
This building gives home to the mines club and there are two wooden headboards outside, probably commemorating those who had died in the mine.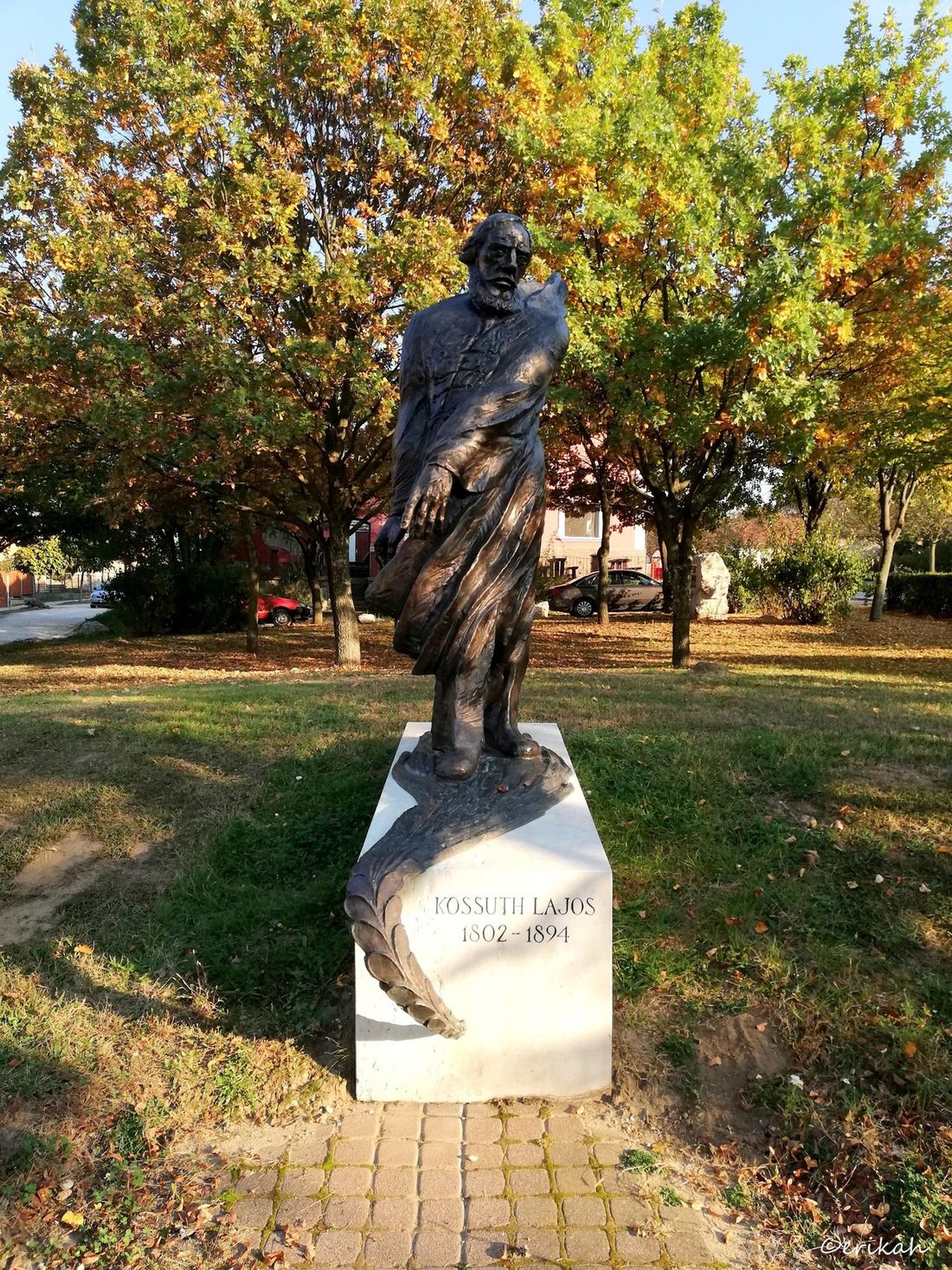 We took a walk at the old part of the town and found a lot of interesting statues and monuments along with a church.
Statue of Kossuth Lajos, also a nobleman, politician and lawyer.
A monument to commemorate Petőfi Sándor, the Hungarian poet and liberal revolutionary.
This is another strange monument. My best guess is that the wooden board is to commemorate the Slovak community, or those who died.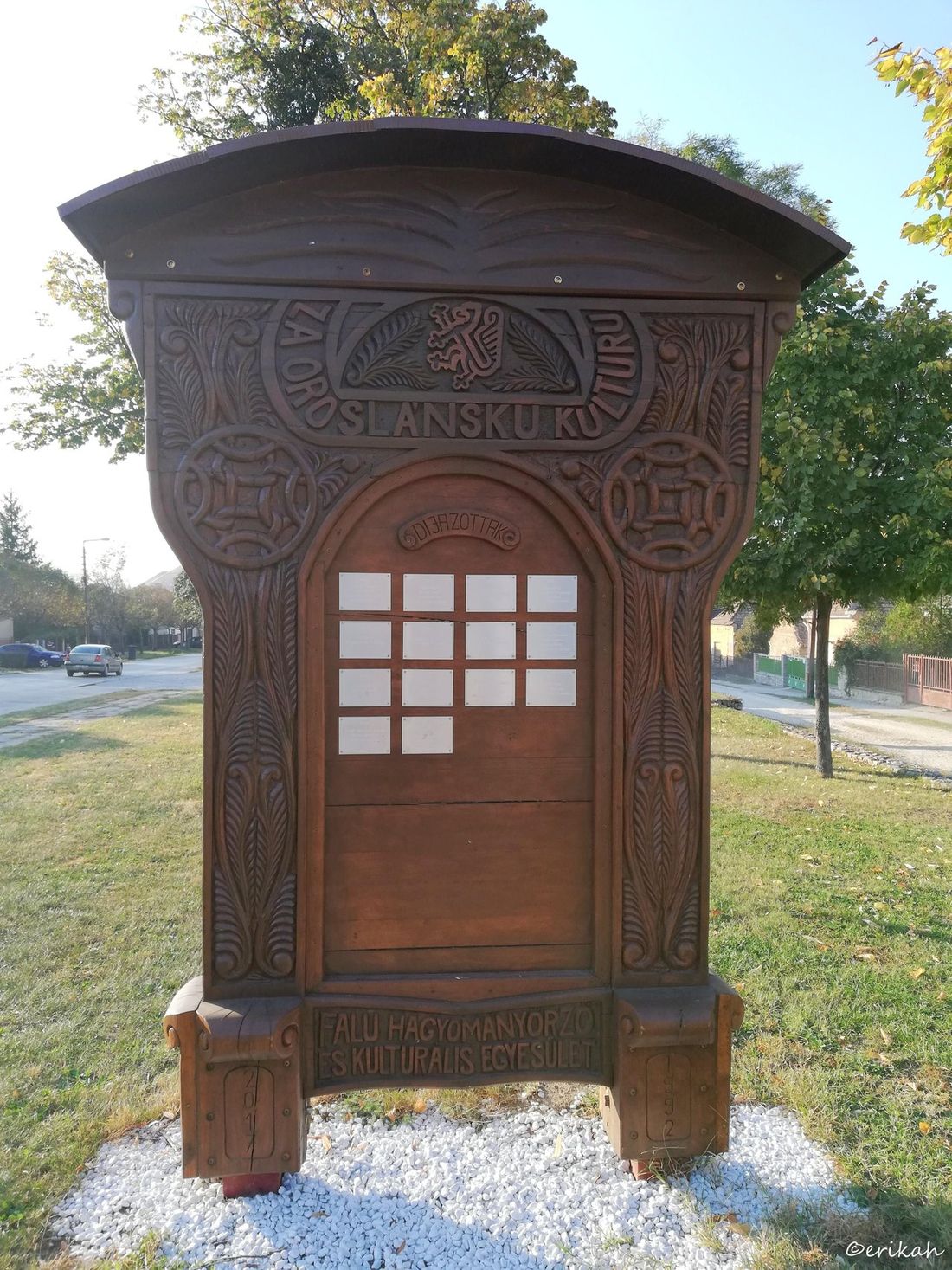 It's full of metal plates with names and dates.
This however is a mystery. I guess it's not finished, the top is wrapped in plastic and has no plate, no inscription on it.
Another monument to commemorate the ancestors, a bilingual plate, I guess the second language is Slovak.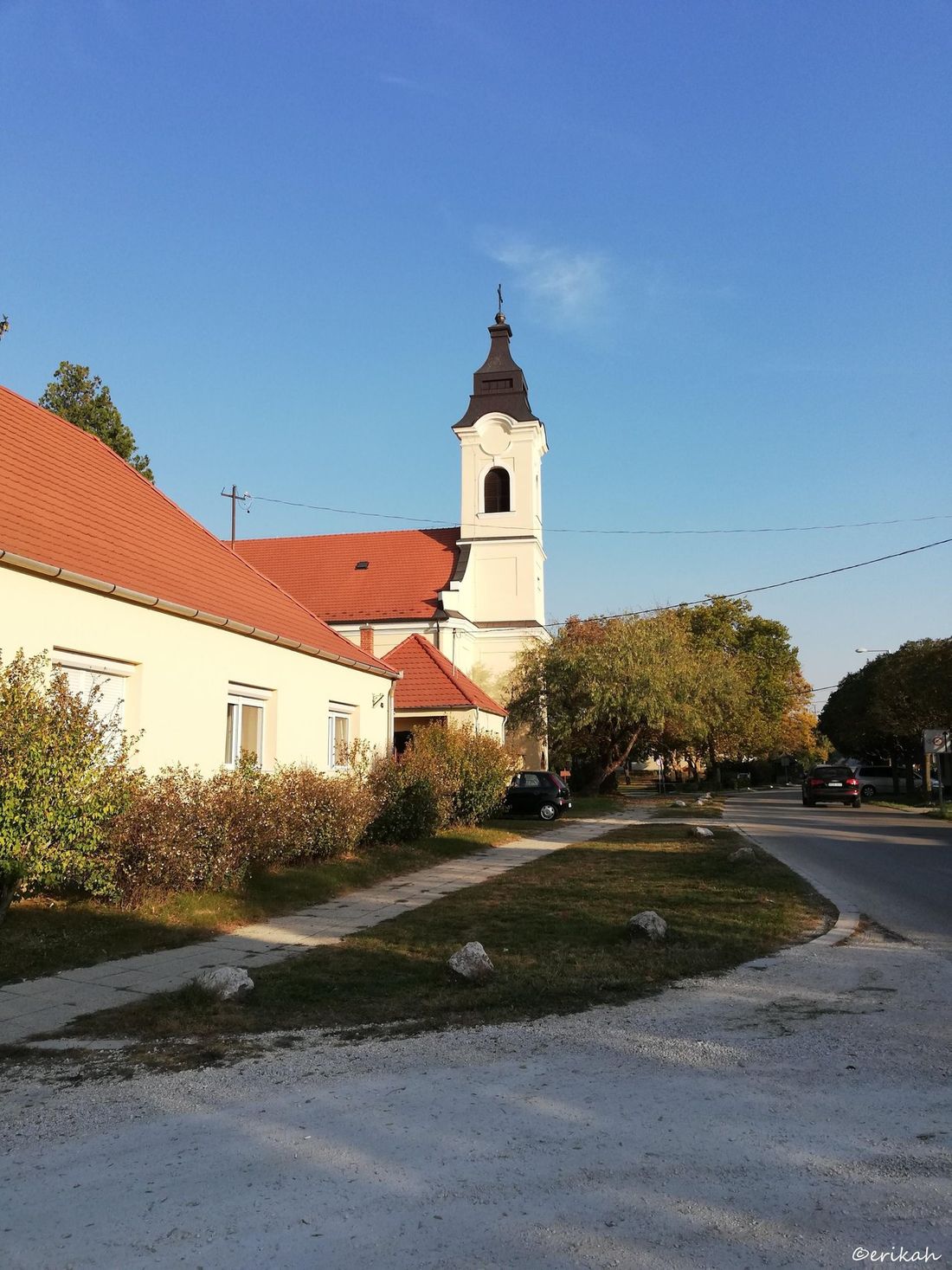 The Lutheran church of the town, unfortunately it was closed, we could not go in.
Must be nice inside, looks old. There are two marble plates on the wall of the church.
This one was set in 1997 and commemorates those who died in WW1.
This is the other marble plate for those who died in WW2.
This is the guesthouse were were staying. Before our trip I was looking for accommodation and was able to find two guesthouses in Oroszlány, in total. There is no hotel in town, now I know why.
It's definitely not Hilton but if you're just passing by, spending a couple of nights in town, it'll do.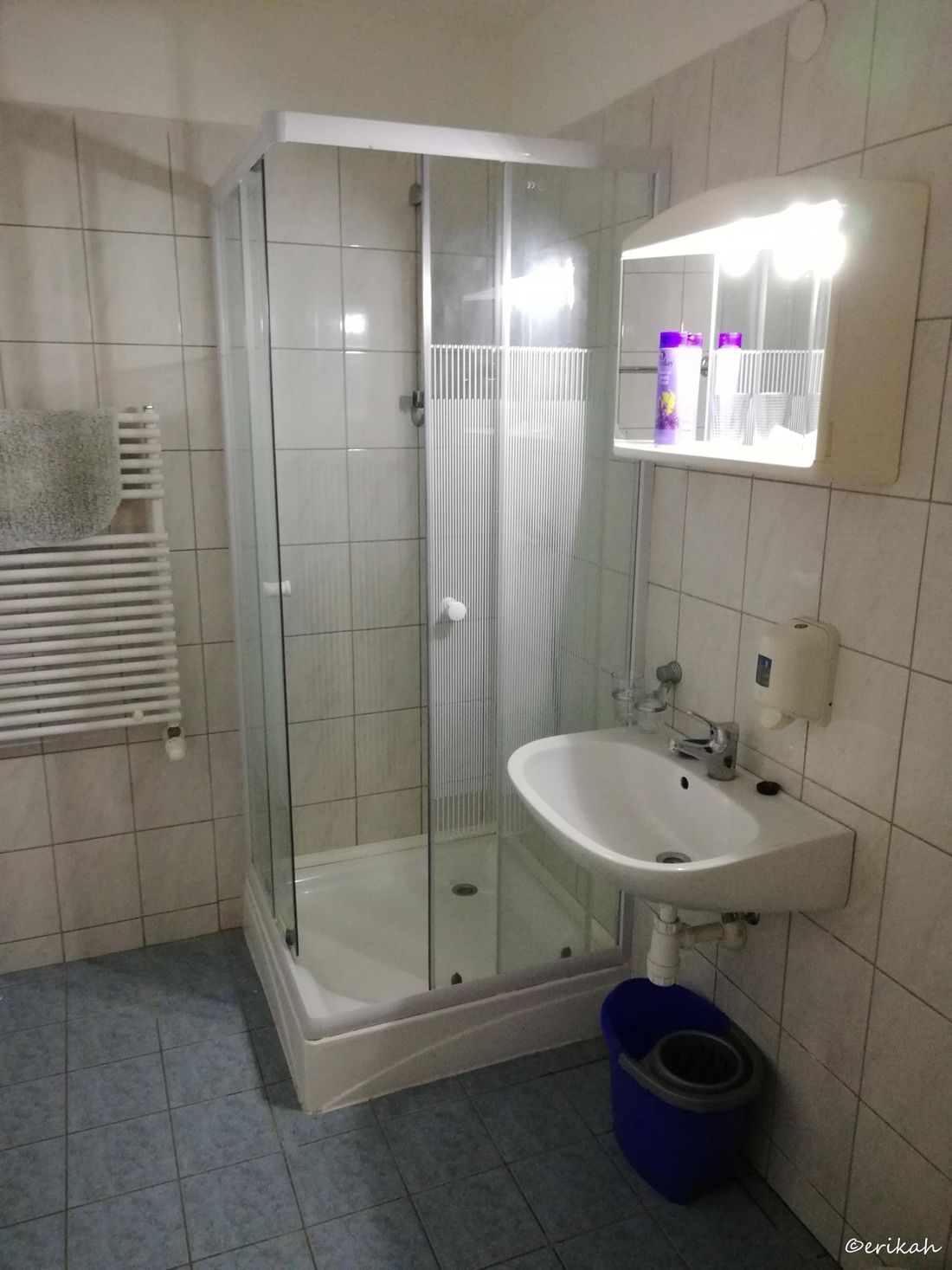 I'd give it a seven on a scale of one to ten.
The biggest problem is that the restaurant is closed, you can't eat in this guesthouse, which would not be a problem in most of the cases.
There is a restaurant nearby, two hundred meters away, it's basically next to the guesthouse so we went there to check it out. The place looked very suspicious from the beginning, it was completely empty, the design and decoration was dated.
I managed to take one photo, this is what you see when you enter the restaurant. It's crowded with old things like mining tools and all kind of other things like scales, irons, different type of coca cola bottles, Biedermeier furniture, politicians photos framed on the wall, in other words, and other kitschy things. Good thing they had takeaway menu, so we ordered soup, which was very poor by the way, and cold.
Next day we decided to look for another restaurant, a better one. At the other end of the town there was a diner, so we decided to eat there after we come back from the funeral. We arrived at 3:45 pm, local time and there was barely enough food for one serving. We were four! Cool!!! Let's go back to the other restaurant.
We went back, asked for the menu, got a printed piece of paper on which half of the dishes were not available. :D So we were forced to order french fries with Wiener schnitzel and cabbage salad. The food was pretty good and cheap.
There are four supermarkets in the town, all of them much more smaller than I'm used to, but we were able to buy what we needed.
Look what I found in the parking lot of a supermarket. Yes, It's a trabant!!!
3.7 million cars like this were produced was produced from 1957 to 1990 by a former East German car manufacturer. These were very popular back in the day in Eastern Europe, Hungary and Romania included.
This was all I could gather in such a short period of time. Would have loved to take some photos at the restaurant and shops but I've been thrown out from shops in the past, I couldn't risk it here, could I'? Where would have been we eating if I would have been thrown out from the only restaurant in town? :D
Do you use eSteem?
eSteem is a Mobile📱& PC💻 app. for Steem with great features. Also, you get Incentives posting through eSteem apps.
eSteem Spotlight; eSteem provides rewards for it top users in Leader Board with most Posts, Comments and Highest Earners.
Download eSteem for your Mobile📱
Android devices Google Play Store
IOS devices Apple Store
Download eSteem Surfer for your PC💻
Available for all OS Github
---
Proud to be a member of The Steemians Directory