In late October Tim and the Explore Adelaide team set off on a mission to raise money for Nature Foundation SA.
The plan was to walk from Flinders Chase visitor centre to Cape Willoughby lighthouse, following the south coast of the island over four days.
While the walk didn't go exactly to plan, we still made it across the length of Kangaroo Island, got to meet great people, and explore this fantastic place!
Day 1 - Flinders Chase Visitor Centre to Banksia Campsite - 39.3km
Remarkable Views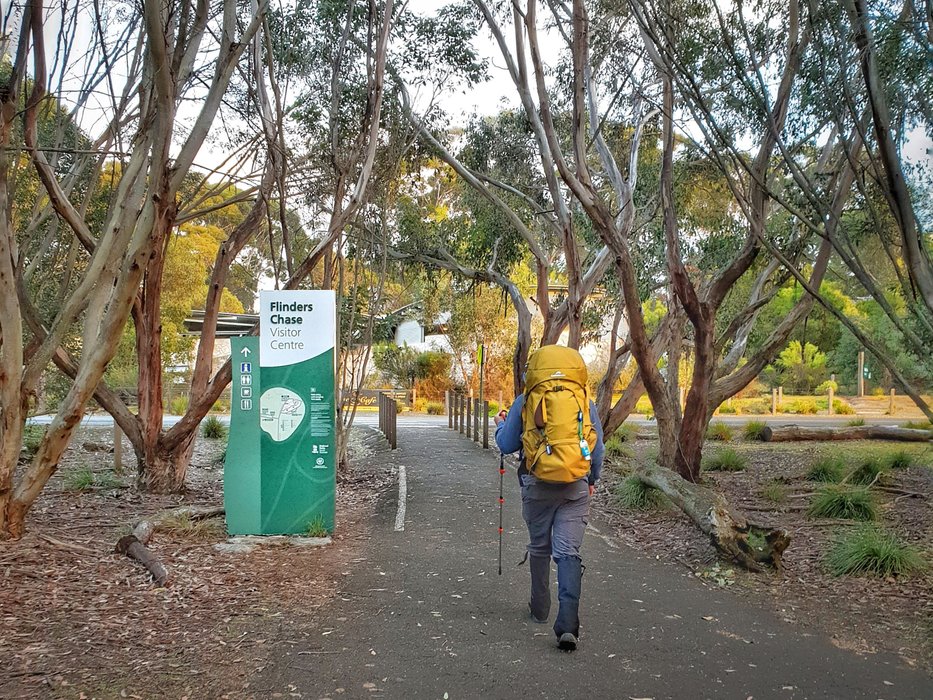 This has to be the highlight of the walk. Kangaroo Island Wilderness Trail was opened in late 2016, and shows off some of Kangaroo Island's best landmarks as it winds it's way through Flinders Chase National Park.
Setting off I was full of energy, leaving at 7am, ready to try and complete the whole trail in one day. I was carrying a fully loaded pack, just in case I needed to stay one of the camp sites overnight.
As I walked through the morning mist up to the Platypus Waterholes, I got to meet some of the locals. There were a few tammar wallabies, koalas, a kangaroo, but unfortunately no platypuses.
I pushed on, trying to keep a good pace as I followed Rocky River all the way out to Snake Lagoon. Before long it was time to cross the river and head towards the coast.
Next it was onto the beach. It was one of the most picturesque beaches I've ever seen. With waves crashing in the distance, calmer water close to shore, and beautiful, soft sand.
By the end of the beach section I was struggling. The soft sand was difficult to walk on, especially while carrying the extra weight, but I continued on.
I made my way up the dunes before following the clifftops where I saw a huge goanna soaking up the sun on the side of the track. I then hiked along the clifftop all the way to Hakea Campsite, where I stopped for a quick break.
After catching my breath, topping up my water, and re-applying sunscreen, it was time to keep moving. I followed the track, winding through the scrub before I started to see Remarkable Rocks, peeking over the horizon.
By the time I got to Remarkable Rocks it was 3:30pm, and I had walked 33km. It was here that I realised I wouldn't be able to make it all the way through KIWT that day.
I spent 30 minutes at Remarkable Rocks, admiring the truly remarkable granite boulders, and taking in the awesome views as I prepared myself for the next 10km up to the Banksia Campsite.


Remarkable Rocks - Flinders Chase National Park
It was a struggle to get back up after 8 hours of walking, but I made my way off of Remarkable Rocks, and back onto KIWT. The next part of the hike was amazing. The afternoon sun caught the cliffs surrounding Sanderson Bay as I followed the coast towards the campsite.
When I finally reached Banksia Campsite, I was greeted by two other hikers who were on their third day of the KIWT. It wasn't long before another couple made their way down the track and started setting up at the campsite too.
After setting up my tent, and eating dinner, I settled in for an early night. I still had 20km to go before the end of KIWT.
Day 2 - Banksia Campsite to Kelly Hill Caves - 19km
Kangaroo Island Wilderness Trail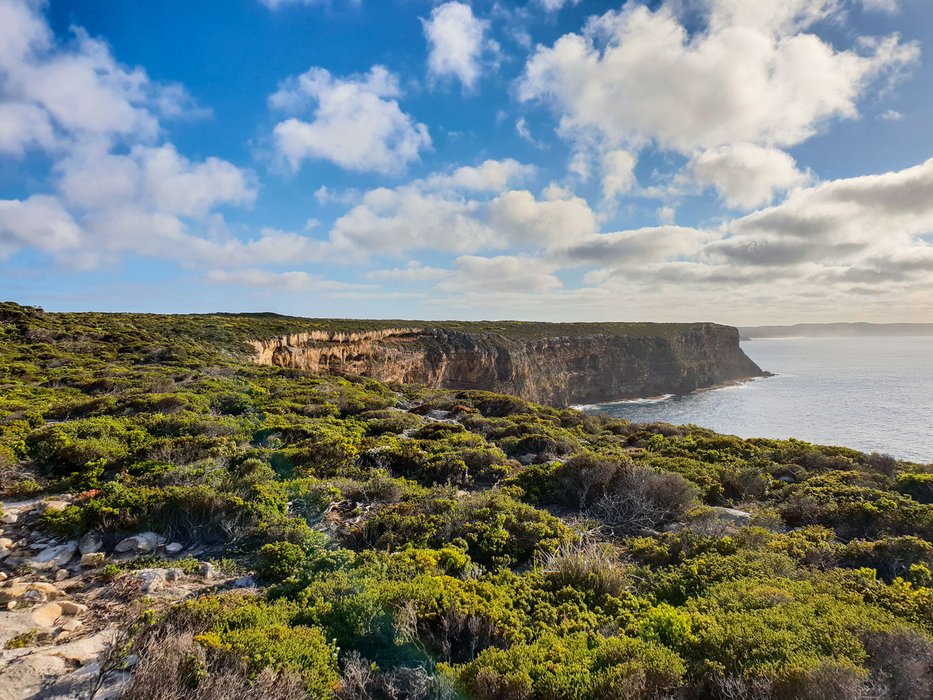 I was off to an early start this morning. After packing the tent, and a quick coffee, I was back on the track and feeling great. The views from the other side of Sanderson Bay were just as good as the day before.
The morning sun caught the shrubs as I walked though, revealing a sea of green. I headed further inland, and made it to the mallee scrub where I was able to enjoy the shade as the trail wound through to South West River.
When I reached the river, there was a boat on a pulley system, waiting for me to haul myself across. On the other side, the trail continued through the mallee scrub, before opening up to a glade with a mob of grazing kangaroos.
The end wasn't far now, just over 7km to go. I kept walking, passing the beautiful Grassdale Lagoon, before heading north towards Kelly Hill Caves.
The last stretch of Kangaroo Island Wilderness Trail was great, even after covering 50km in the past day and a half, the thought of reaching the end was enough to keep me going.
I slowly made my way up the last hill, following the winding track before seeing signage for Kelly Hill Caves, and the first 60km of my walk was done!
After reaching Kelly Hill Caves I called Vikki to come and get me. We spent the rest of the day exploring the island while I recovered before heading back to our camp site at Vivonne Bay.
Day 3 - Kelly Hill Caves to Vivonne Bay - 26.3km
The Hard Road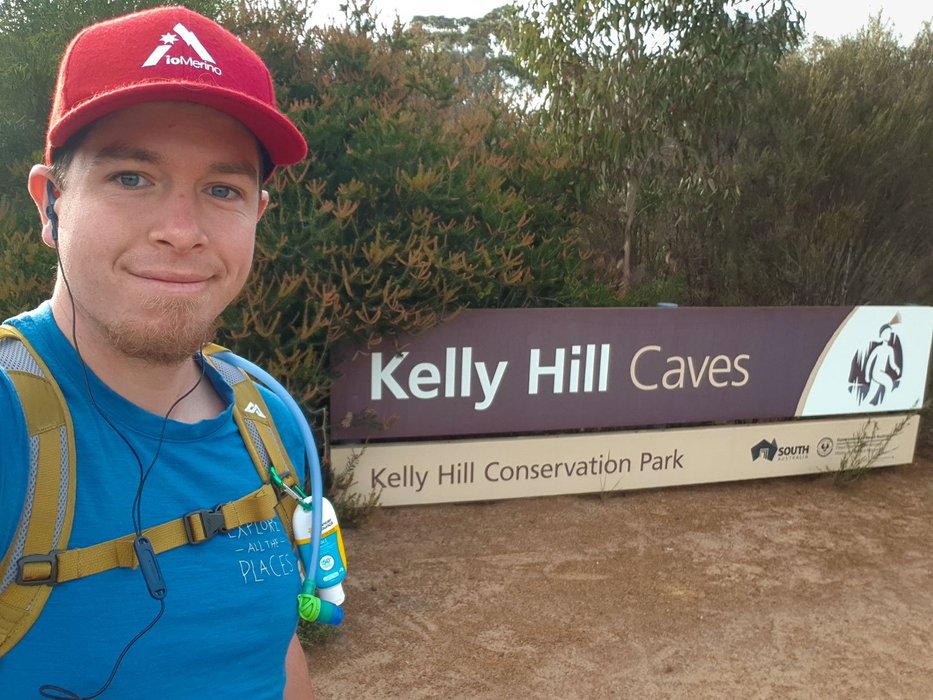 We started day three with a drive back out to Kelly Hill Caves so I could start off where I finished the wilderness trail.
As I started walking back down South Coast road toward Vivonne Bay, I noticed a lot of smaller details that just zip past when you're driving. Every few hundred metres along the road, there would be a clearing where the local wildlife scurries out to cross the road, leaving foot prints on the bitumen.
Following the road was a lot easier than the hike through Flinders Chase, but there was no where near as much to keep me occupied.
Despite being the main road to Flinders Chase, South Coast Road was surprisingly quiet. This gave me time to take in the beauty of the surrounding area.
After five hours of walking I had covered 26km, and I was back at our Vivonne Bay campsite.
Day 4 - Vivonne Bay to Seal Bay Road - 13.4km
Vikki's Hike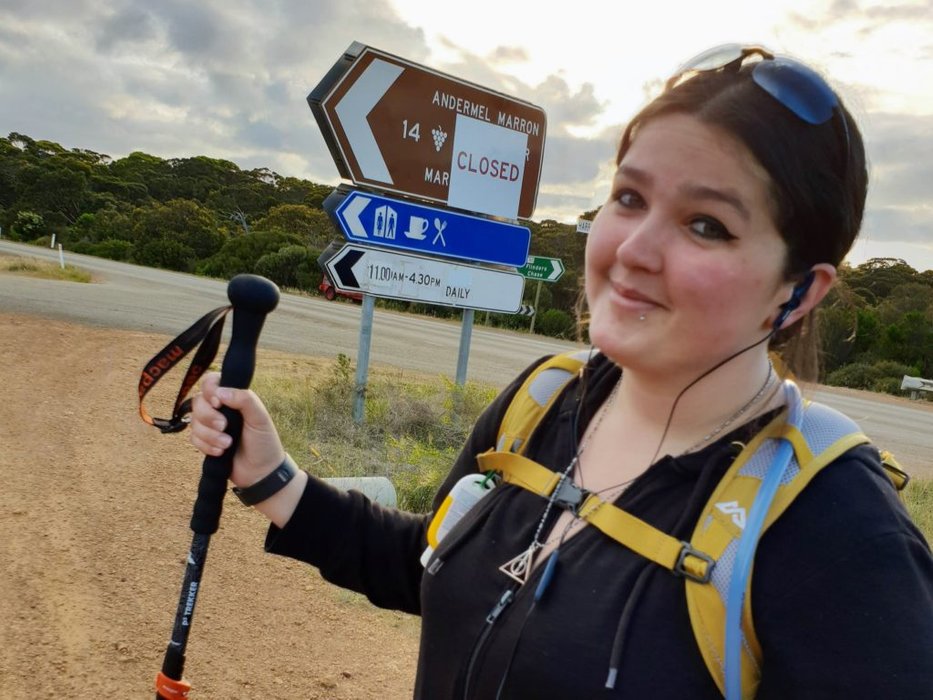 An early start to the day, as Vikki took over walking where I finished off the previous day. This part of the walk was along South Coast Road from Vivonne Bay, through to Seal Bay Road.
While the path Vikki took is along a main road, that didn't mean she didn't get to see some of Kangaroo Island's famous picturesque views. From the smallest lizards, to the predatory eagles soaring in the sky above, there was always native wildlife around, one of the reasons we need to work hard to preserve these areas.
Locals on the island were so friendly, always giving a wave as they drove past, or even stopping to make sure we didn't require any assistance. Just another thing that made Kangaroo Island feel so welcoming.
All up Vikki hiked 13.4 km for this part of the walk, listening to music and taking in the sights as she followed South Coast Road.
Day 5 - Seal Bay Road to Moores Road - 30.5km
A Joint Effort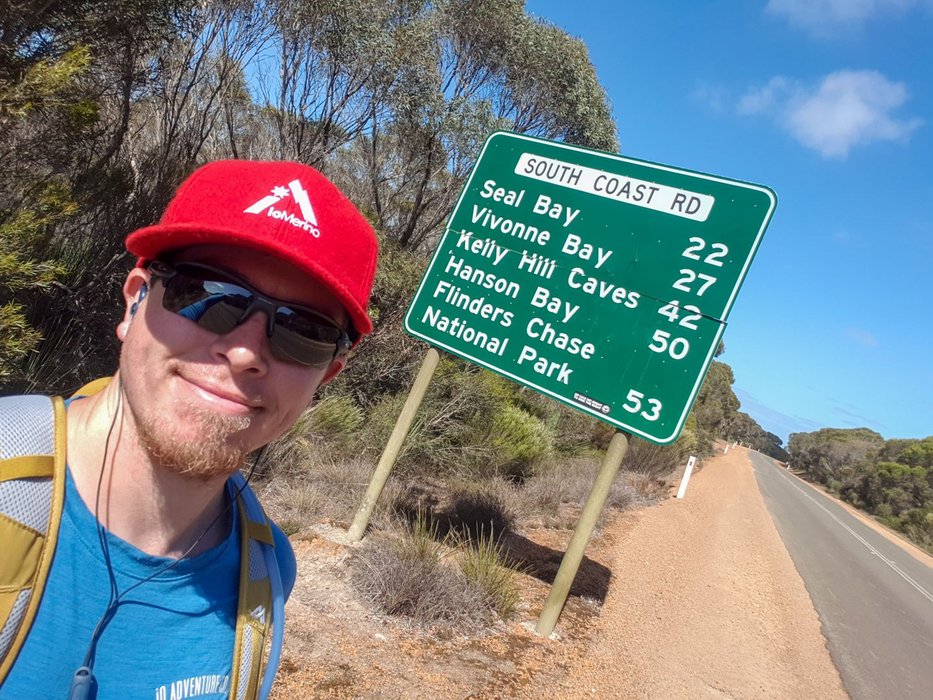 After a day of rest and exploring Kangaroo Island, I was back on the road. I began walking along South Coast Road from the spot Vikki had stopped at the day before. Following South Coast Road from here meant a change to a more rugged dirt road, scattered with native wildlife and vegetation.
I continued to walk as the temperature rose more and more, making it a bit more of a grind to continue walking. I kept going, trying to keep a good pace and take in the beauty around me.
As I began to become weary in the heat, Vikki offered to keep walking to help reach our target of 200km. She set off walking along South Coast Road, and weaving her way through Veitchs Road, Wattle Grove, Elsegood Road, and finally onto Moores Road.
Taking these roads meant a change in scenery. The red dirt suddenly became breath-taking green fields, littered with flowers, livestock and charming farmhouses.
By the time we made it back to our camp it became apparent that we would not make it all the way across Kangaroo Island before we had to get back on the ferry. This meant I had to think of another way to complete my journey.
Later that night, I put a post up on the Kangaroo Island community Facebook page asking if anyone had a bike I could borrow. Within minutes I had people making offers. After a bit of messaging, I had a bike ready to pick up from Kingscote.
Day 6 - Kingscote to Cape Willoughby - 74.7km
On The Bike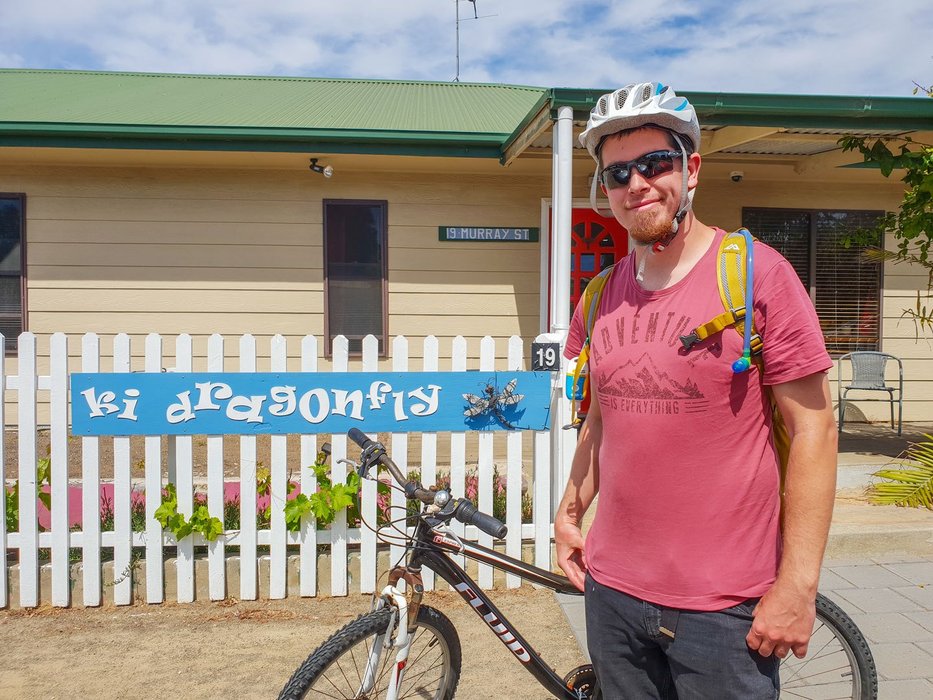 We started the day by packing up our camp at Vivonne Bay, to move everything to the other side of the island. Once everything was in the car, we started driving, back on South Coast Road for the last time as we headed to Kingscote.
Once in Kingscote we stopped at Island Beehive for breakfast, and then we were off to KI Dragonfly Guesthouse who had kindly lent me a bike to complete my adventure.
It wasn't long before I was cruising down Hog Bay road, towards Cape Willoughby. While on the bike I definitely felt the hills more, but being able to coast back down was definitely an advantage.
Everything was going great. I was making good time, but the closer I got to Cape Willoughby, the hillier it seemed to get. When I turned off of Hog Bay Road, onto East West road, I was faced with a hill climb up a dirt road which seemed to go on forever.
After conquering the first hill with a combination of walking the bike and cycling, I was able to cruise back down the other side. I knew this wasn't the last of it. I still had to get back up to the highest point, just before Cape Willoughby Lighthouse.
My pace slowed as I pushed on, cycling down Wilson River Road until I reached Cape Willoughby Road, where I was faced with another massive hill.
I took my time ascending the hill, walking the bike as I admired the scenery below. As I got closer to the top of the hill, I got a peek back across to the mainland, this meant I was close to the end. I got back on the bike and pedaled as hard as I could.
As I reached the top of Cape Willoughby Road, I could see the lighthouse off in the distance at the bottom of the hill.
From here all that was left to do was ride straight down to Cape Willoughby Lighthouse, where Vikki was already waiting. I rode down as fast as I could, dodging the corrugation in the road.
I had done it! Covering 130km on foot, and riding the remaining 75km, my journey had finally come to an end.
---
It wasn't what I had originally planned when I first set off on this adventure, but it brought back memories of exploring National Parks around where I grew up. Which brings me back to the main reason I decided to do this in the first place.
It's important that we work towards preserving our natural treasures, and native wildlife. The Nature Foundation SA does excellent work to ensure that people for many generations to come are able to experience this natural wonder, just as I did. Their tireless efforts help to give our struggling native species the best chance they can get at the survival of their species.
I'm glad I was able to do this walk to help promote the need for conservation, and to raise money for a worthy organisation.
I'd like to thank Sealink for their support in getting us over to Kangaroo Island and back. Without their sponsorship, this fund-raising event wouldn't have been possible. And a big thank you to iO Merino, who supplied hiking clothing to get me through my trip.
Last of all, a very special thanks to the locals of Kangaroo Island, for being helpful, caring, and making us feel welcome.

Bringing you the best of South Australia
www.adelaideexplorer.com
Facebook | Twitter | Instagram
Follow @exploreadelaide for more 'heaps good' South Australian content.