In my previous Food Blog at One & Only Royal Mirage, Dubai, I said everything in the United Arab Emirates is bigger, better, and more luxurious. Well, I have to correct myself that that's an understatement. Everything there is just full of surprises where you can see a diverse of innovations and creativities are applied to everything. While in Dubai, you'll be overwhelmed by the opulence atmosphere, grandeur fashion style, and the eye-opening architecture. From the luxury hotels to the restaurants, you'll name it, you'll get it.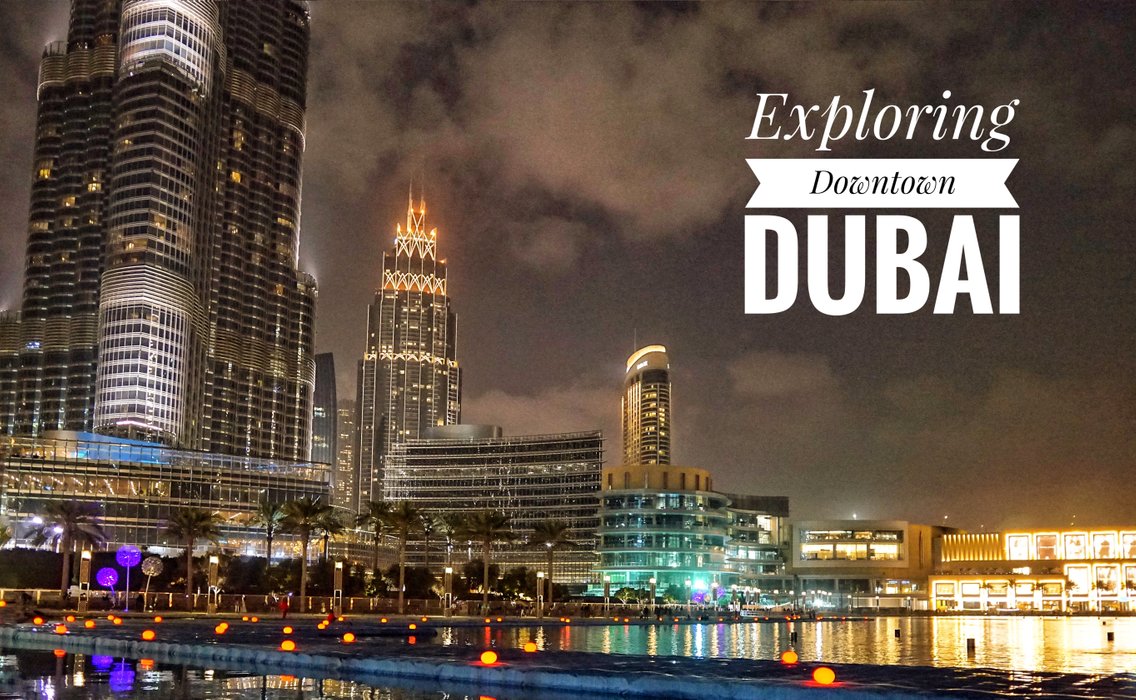 With all that said, downtown Dubai is a must-visit area. It's a crime to leave this dazzling city without visiting the enormous Dubai mall, prodigious Burj Khalifa, and to enjoy the breathtaking Dubai's fountain performance. Be prepared to board on an eye-opening journey with me to the city of Dubai.
The last time I check, it was my first time being on a hop-on-hop-off bus in Dubai. I am very skeptical of being at these touristy places, but, I have to admit that boarding onto this bus in Dubai is totally worth every penny! There are just so much for you to feast for your eye. Always get your camera ready, every corner is a perfect photograph that you need to capture.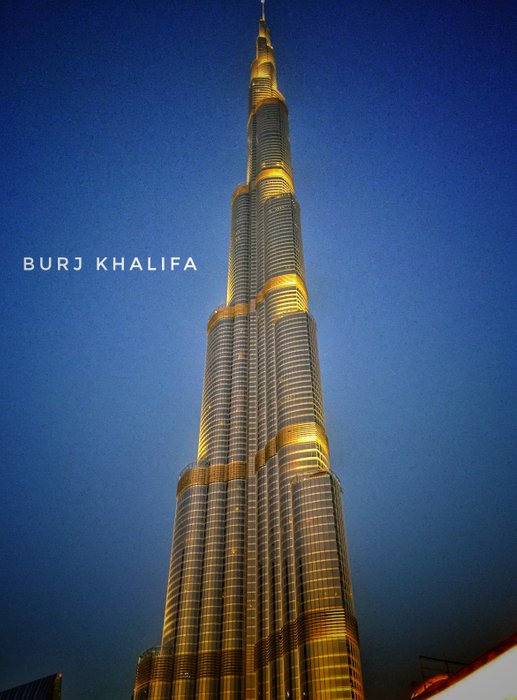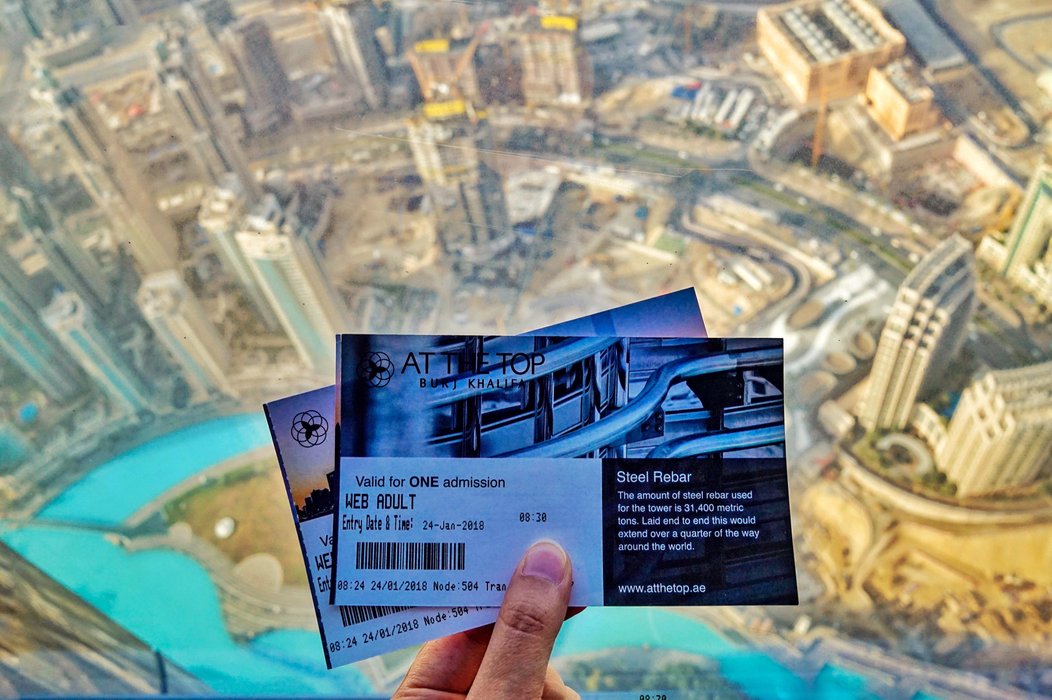 However, the first thing to do here in Dubai is to get yourself a ticket to the Burj Khalifa observatory deck in advance. Since we did some research beforehand, we knew that the platform is always extremely crowded at any time of the day. If you love the sunset, especially enjoying it over the skyscrapers, Burj Khalifa is where you need to go. Since we knew that it's going to be overly crowded during this golden hour in the evening, we decided to go early in the morning.
Upon arriving, there is already a big crowd lining up at the entrance. After the security check, we boarded onto one of the fastest travel time elevators to the observatory deck. It travels with the speed of 36 km/h, or 600m/min where it takes merely a minute to reach the top.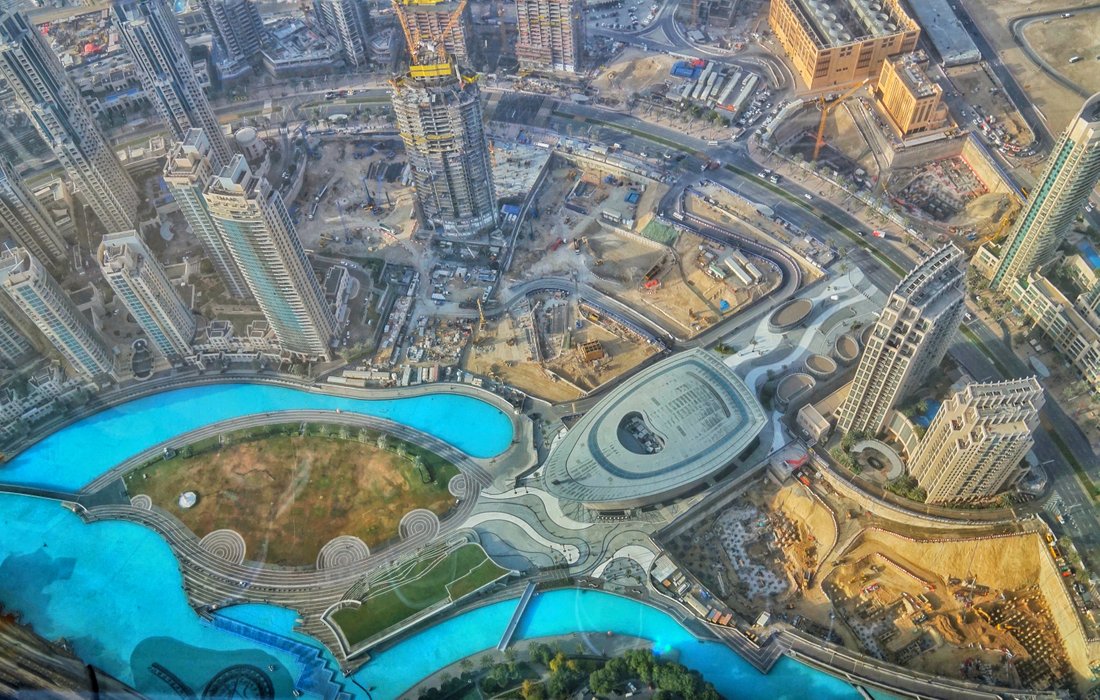 Here's a little fact that you need to know about Burj Khalifa. This tower soars at 828-meter high that supports by 55,000 tons of steel rebar and more than a 100 thousand tonnes of concrete. This is almost three times the size of the Eiffel Tower in Paris. Besides, this tower surrounds by the 30-acre Burj Khalifa Lake where it incorporates the largest and most sophisticated choreographed system to put on a fountain show every day in the evening.
Since this is a hotspot for tourists, it's a must to be there as early as possible to avoid the crowd. To have a spot for the breathtaking view, the open-air observation deck offers a panoramic view over the skyscrapers. You can seriously feel the breeze brushing through your face and give you a real thrill standing high-on-top of the world. Since the glasses are transparent, you'll feel like you're about to fly off the tower when the wind blast on your face. However, if you're visiting during the summer. Stay under the air-conditioned observatory area to enjoy the magnificent view.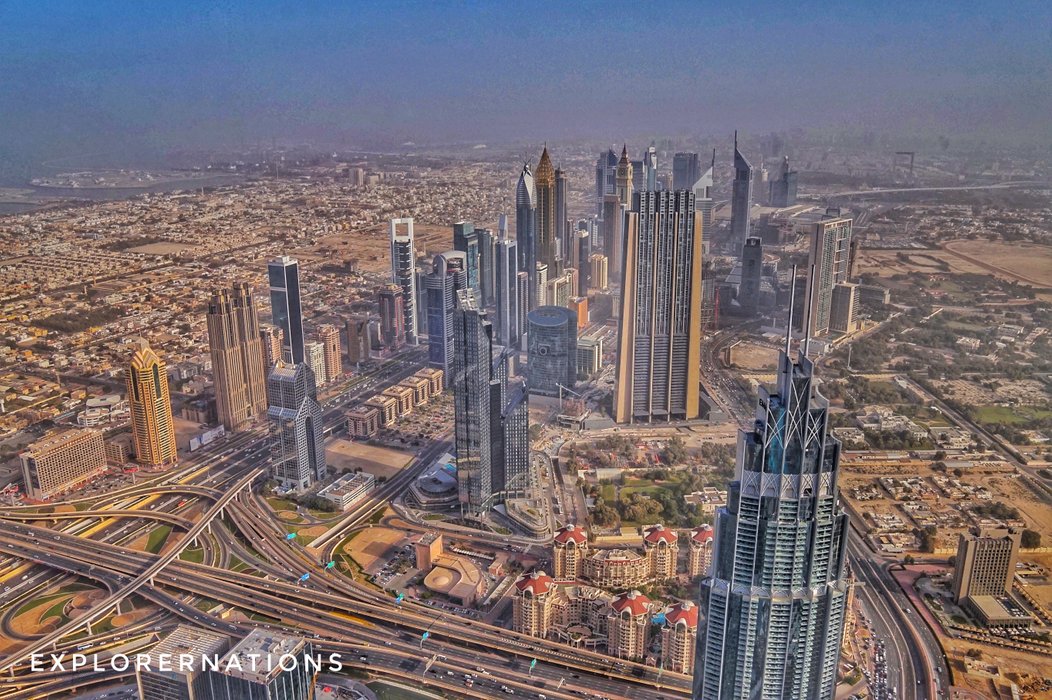 At every corner this tower, you'll see a different side of Dubai. From the skyline view, developing area or the ocean view, it'll definitely blow you away. Knowing the tremendous development and growth happened in Dubai will have you stunned silence. It's impressive to see how this piece of desert and once a fisherman based country had grown so gloriously into a modern financial hub globally.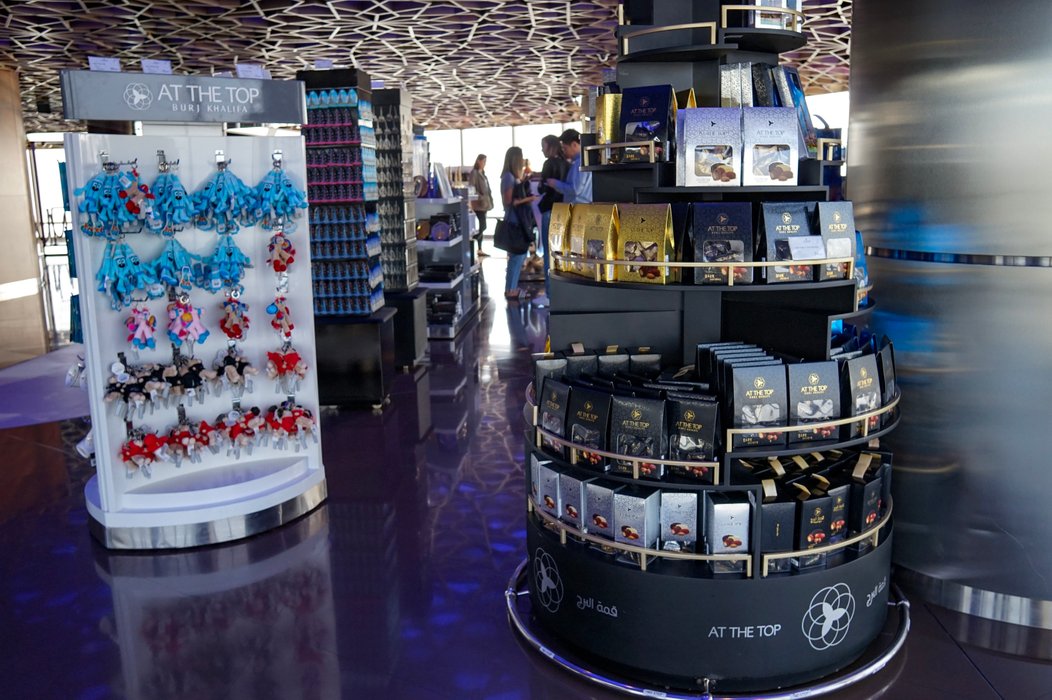 If you're fancy to get some quality souvenirs like a Burj Khalifa magnet. Here's the right place to get some high-quality products to bring home for your friends and families. Also, never leave here without taking a mandatory photo to prove that you made it to this tower.
Here's my shot, while I was trying very hard to look cool.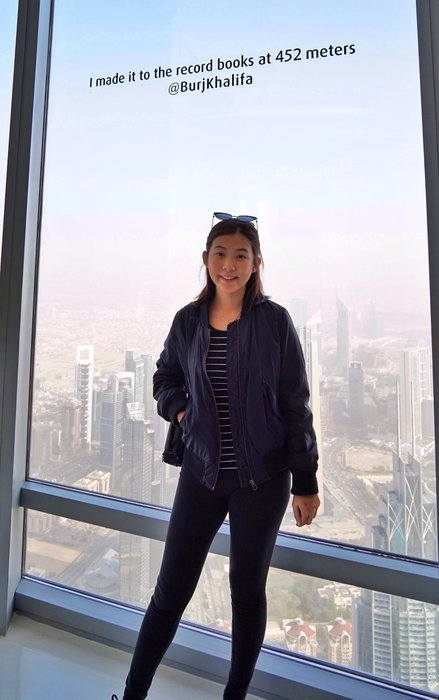 In the evening, we look for a spot to catch the beautiful sunset at the Dubai's lake and to the fountain show when the sky turns dark. Even though it's crowded but the view is just stunning. All these man-made architecture is no less attractive than the natural landscape. They are equally beautiful with different vibes and atmosphere.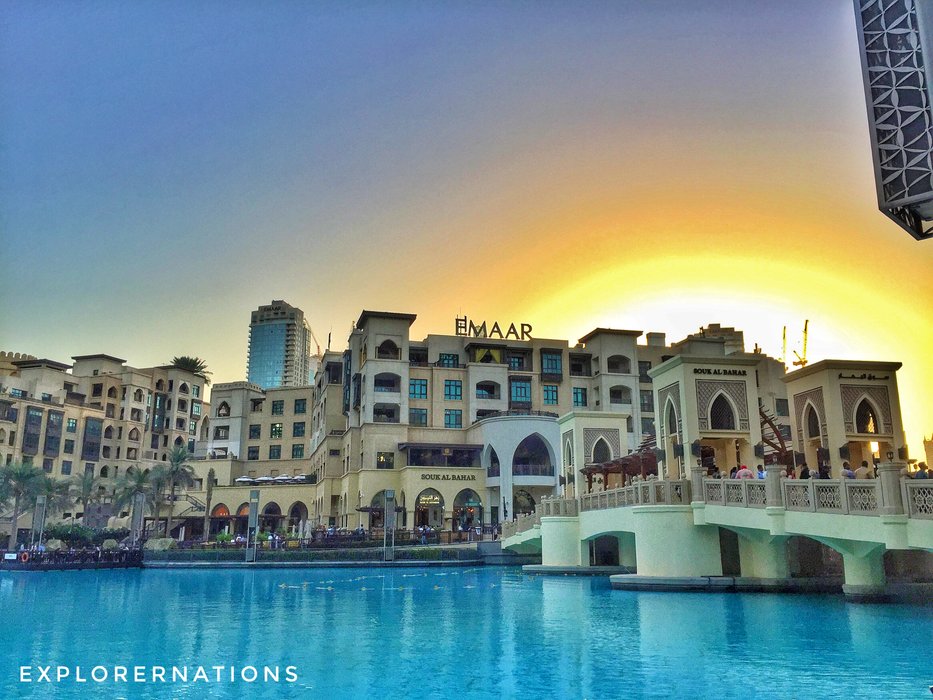 This area is perfect for anyone who would like to take a break from shopping at the mall. To relax and enjoy the great view of the area. However, don't be surprised to see many professional photographers are setting up their camera gadgets to capture the perfect shot of the fountain show. Honestly, we were pretty lucky to have found a perfect spot to capture some nice photograph and even a video of the fountain show.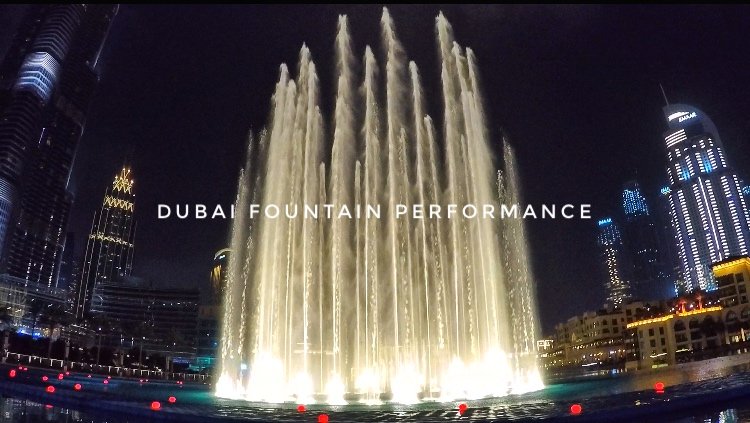 Here's what you need to know about the Dubai Fountain performance. This fountain show is the World's largest choreographed fountain system illuminated by 6,600 of different laser lights, and a plethora of colored projectors. In order to put on a show, the 22,000 gallons of water is being shot up high into the sky in different directions and pattern according to the music. A distinctive playlist is played differently at every hour of the show, accompanied by the amazingly choreographed fountain system. While the best part for this show is it's free of charge. So, just drop by anytime you want. I promise that you won't regret it.
Here's the video of the fountain show!
Check out some of my recent posts at the links below:
Food Blog: Dinner at One & Only Royal Mirage Palace, Dubai
Travel Hack: This Is How You Plan For A Stress-Free Vacation
Travel Blog 38: Travel With Me To World's Famous Landmark in Abu Dhabi
Travel Hack 7: The Ultimate Guide To Dubai For First-Timer
Travel Blog 36: Cheers At A Chemistry Laboratory?
Travel Blog 35: Barbecue Restaurant at JW Marriott Phu Quoc, Vietnam
#6 Travel Hack: Packing Your Luggage Is Not As Hard As You Think
Travel Blog 33: Is Paris Your Dream City To Visit Too? (Part 2)
Travel Blog 31: Is Paris Your Dream City To Visit Too?
Travel Blog 30: The 8 Authentic Street Eats in Bangkok That No One Tells You
Do share me some love if you like the article, follow me for more travel and food posts :D
Resteem & Upvote, this could encourage & support me to continue making good articles for you
Fellow steemit friends, do check out Steemit Bloggers which is a community to help Steemians to build a better empire on Steemit!


Animated Banner Created By @zord189