I lived in Bangkok for a couple of years and stayed in a monthly hotel in a Thai neighborhood for just over a year of that time. I pretty much just sit and work at my desk all day, but this does not mean I did not see anything while there.
The broom seller is down below my balcony with a lady passing by She works at the hospital next door and is returning home from her shift. Out of my ten photos of this guy, I made sure to choose the one with a cone for @janton who loves them lol.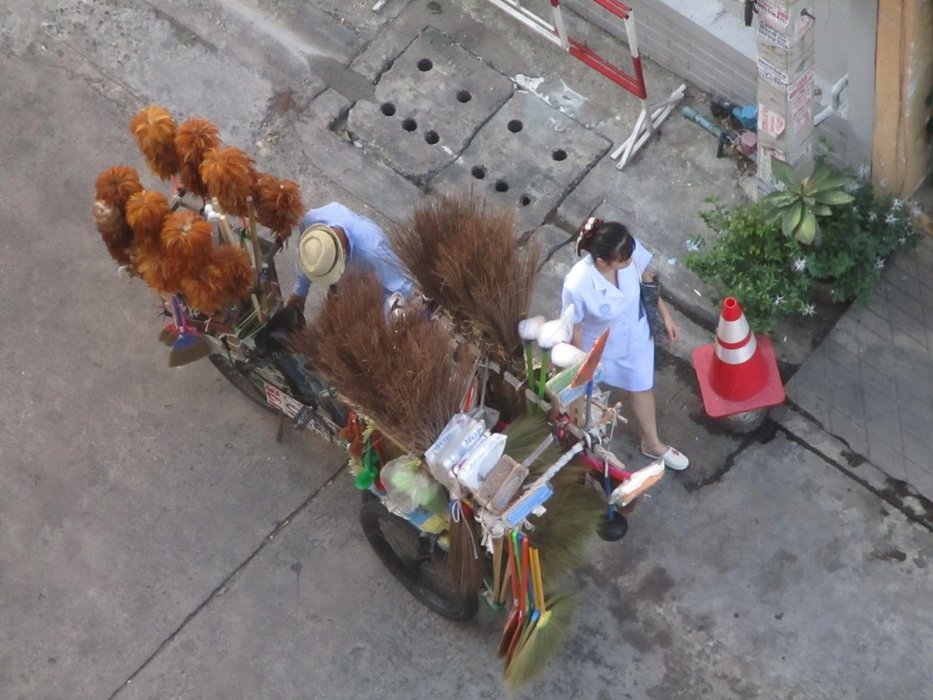 The street out front in my view always had action. I had trouble stopping once I started taking photos of it at any given moment.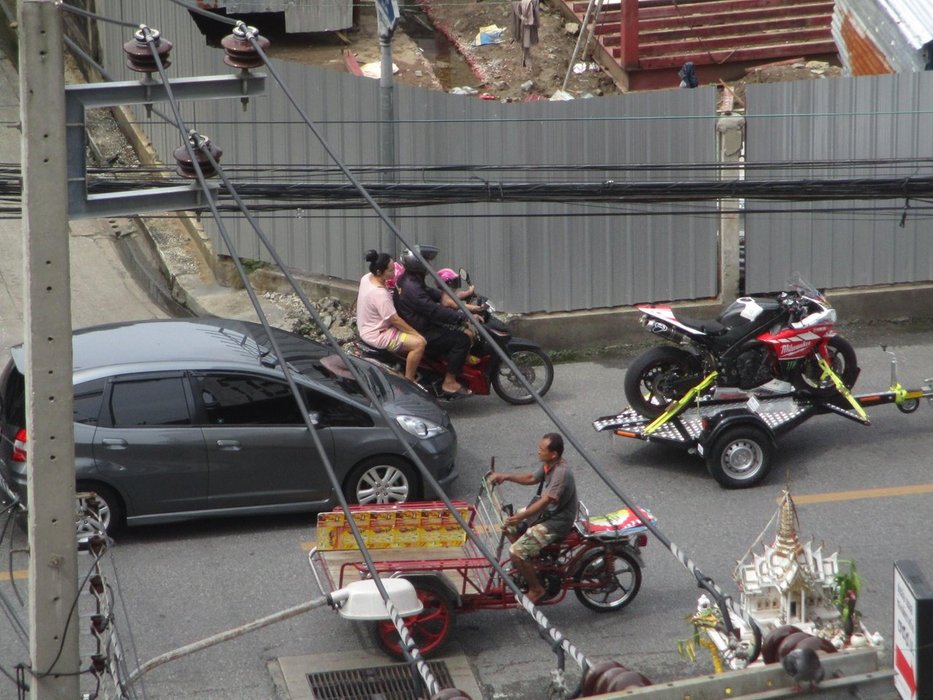 Behind me was a small soi (alley) with a canal in front. This photo is taken just after a big flood from the canal, and you can see some of the wreckage of one of the homes just torn down.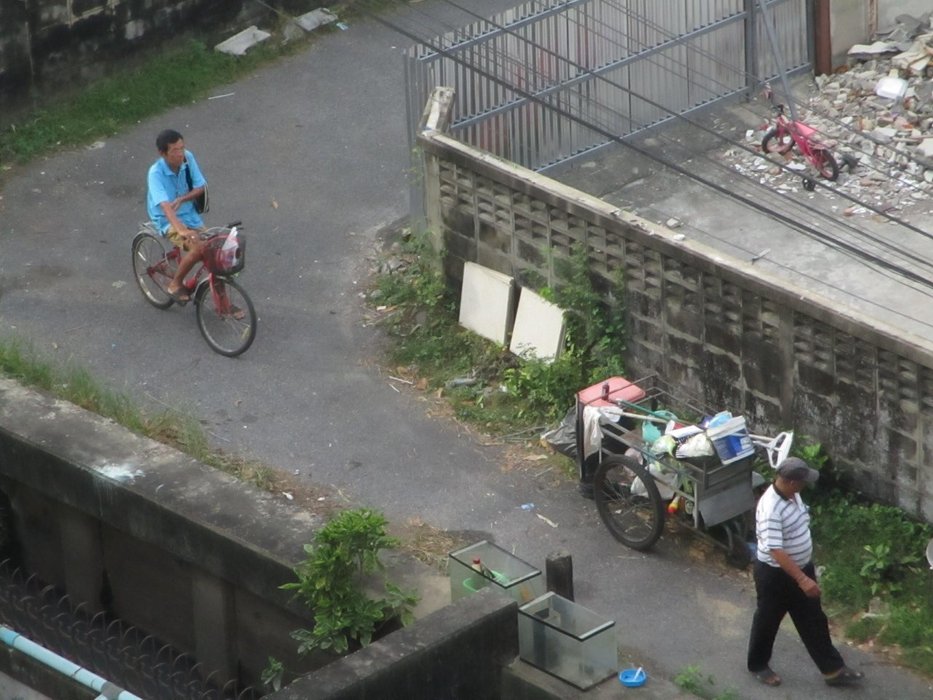 The soi is very small, so carts are used various goods being sold.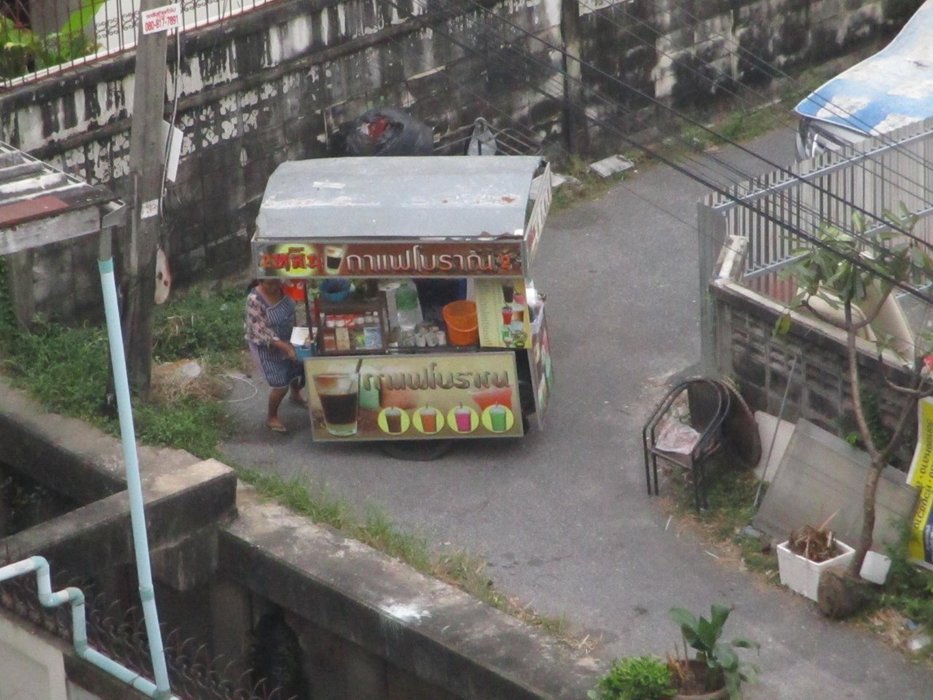 But it could fit a backhoe to finally clean the canal so it would not flood again.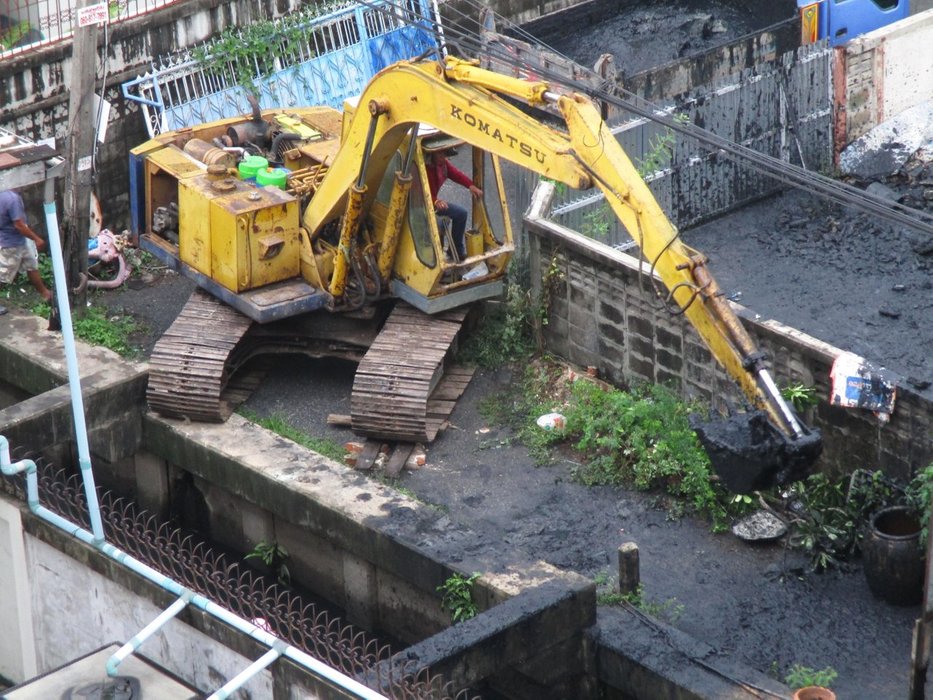 This dirty job went on for weeks. There are more people in the drained canal and buckets on ropes are the main tool.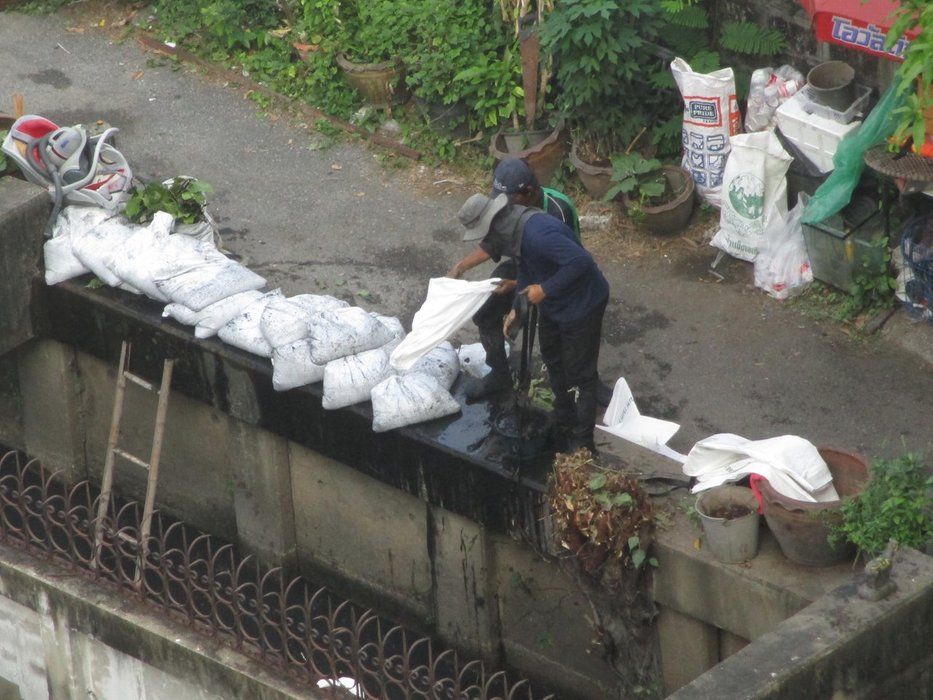 I did not go out much, but this is the morning rush a block away from my hotel. I had to go to the mall to change money that day.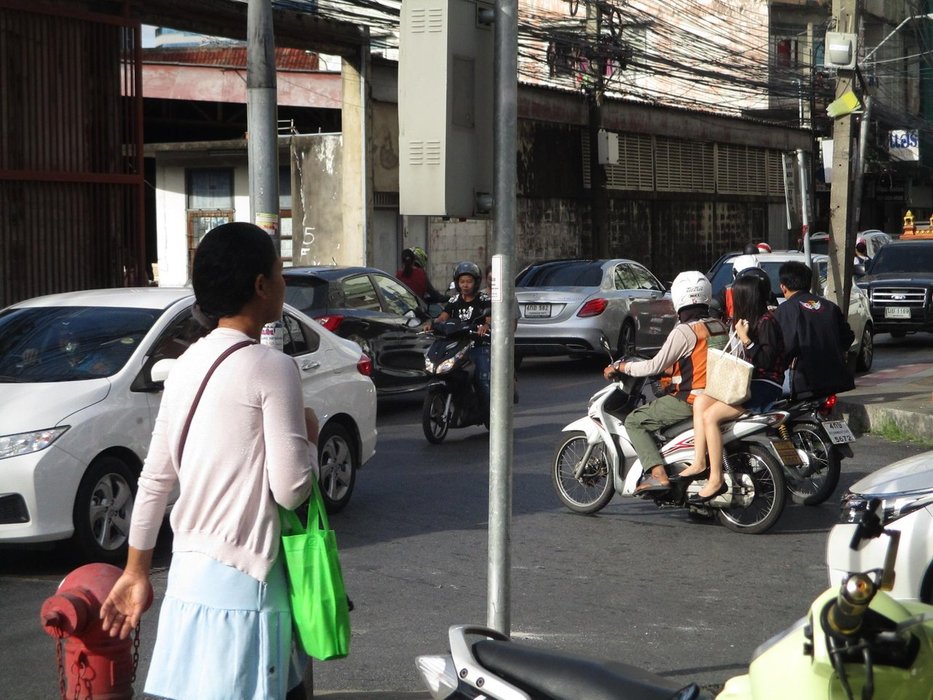 The crowded MRT subway train arrives as we all line up properly. The lady to the left will let you get away with nothing, so follow the rules.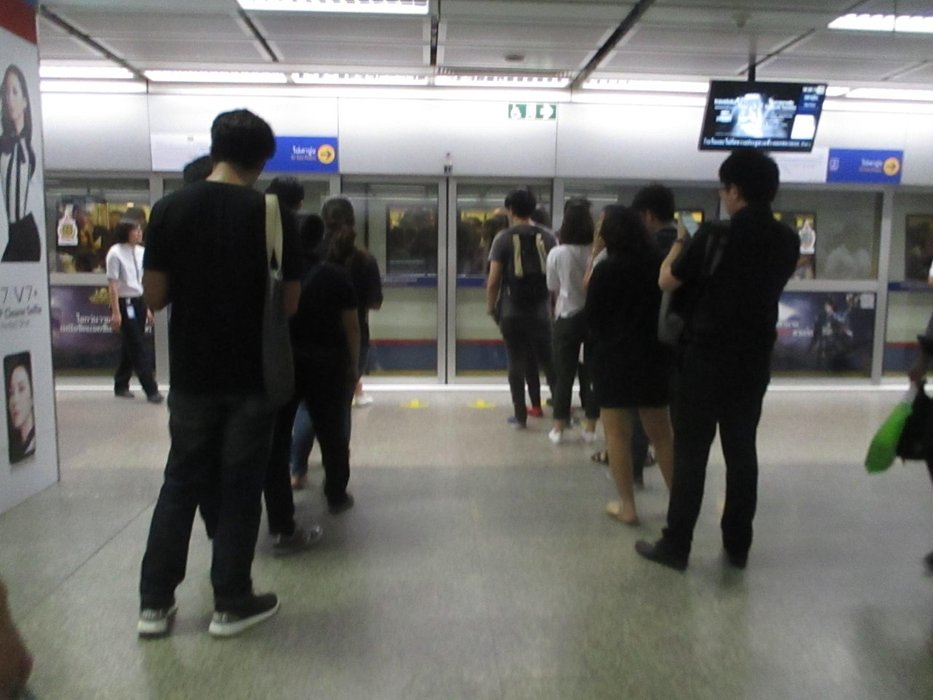 And now I have emerged from the subway four stops away in a busier part of town.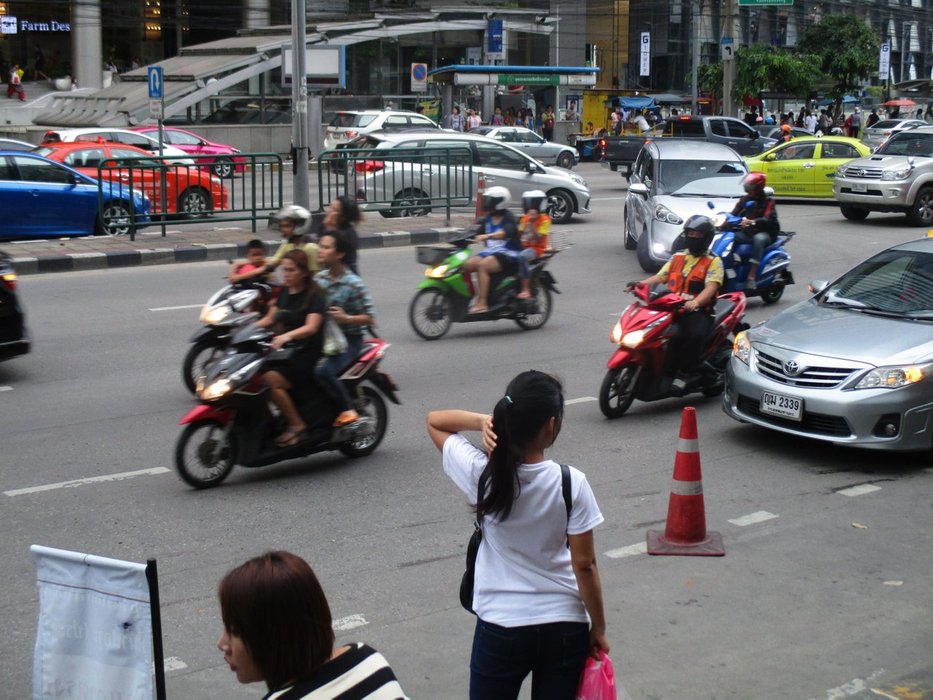 I need to go that way, and I am catching my breath to go on.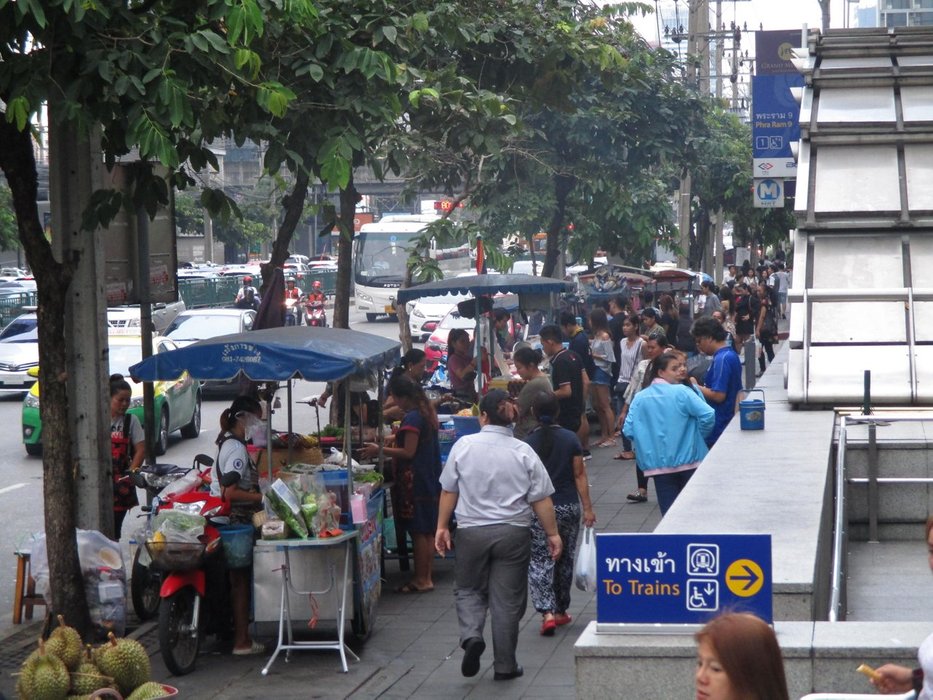 I used a Canon ELPH160 point and shoot camera for my photos. Due to my limited wifi plan, my limited finances, my limited time, and my limited sanity, I did not process these photos in Canva and they are straight out of the camera with no watermark. OCD, stay down!
This is my entry for the Street Photography Contest by @the1ramp.
Apparently 1ramp is some type of dapp for the STEEM blockchain. I found out about this while commenting for the @curie comment contest when I saw a wonderful entry for a nature contest 1ramp recently held.
This iramp place is now on my list to look into. They have it for the web and for android now, so I will take a look. Other than that. I know nothing about it, but I am glad they have a contest, and it looks like they run a few a week. Including food! This is great news for my @fitinfunfood account. I am so happy now!
So this post is made up of many of the minnow tips I have been giving recently, summarized by:
Do what you can, from where you are, with what you have. And just keep posting.
And in this case, the tips that helped my were:
comment, comment, comment.
comment for @curie each week.
look at the posts curied so you can improve your own.
click links to find out what the people are doing.
post what you can yourself based on what you learn.
Where else but STEEM can you post crappy photos from a bad camera, while sick as a dog and get paid real money for doing it? Nowhere, my friends, and this is why I am here.
= =
Please Help Me Keep Helping at STEEM
Recent events have not been easy, and you can read about them here:
Situation Critical – My rent and wifi are not paid and now are both overdue
UPDATE: I am so happy and relieved to tell you that:
my rent and a wifi top up have been paid.
the money sent to my US paypal account is on its way and will be here next week.
A bigger post describing this will be posted soon, but I want to let anyone checking on me know that the first part of the situation is solved and that at least I will not be cut off from the world without a roof over my head.
I am so grateful to you all.
I am dedicated to STEEM and trying hard to carry on with your help. Here are some ways you can help and I would love to hear of any suggestion you may have for me.
Send any amount of STEEM or SBD to @fitinfun
I live in the 3rd world - yes, one STEEM will help me.
Here is what you can also do to help:
Follow my blogs:
@fitinfun
@bxlphabet
@fitinfunfood
We post on Busy most days, where their upvote for us is based on the collective SP of our followers. We follow back, because we love you.
Put my blogs on your curation trail
@fitinfun
@bxlphabet
@fitinfunfood
Delegate SP to any of us
Upvote any of our older posts which are close to payout.
If you can "only" vote some posts - It is enough.
If you can "only" send 1 STEEM - It is enough.
If you can "only" offer advice for how I can do better - It is enough.
If you can "only" offer encouragement and good wishes - It is enough.
If you can do more and think my presence here has value, I hope and pray you will.
This is the power of STEEM.
= =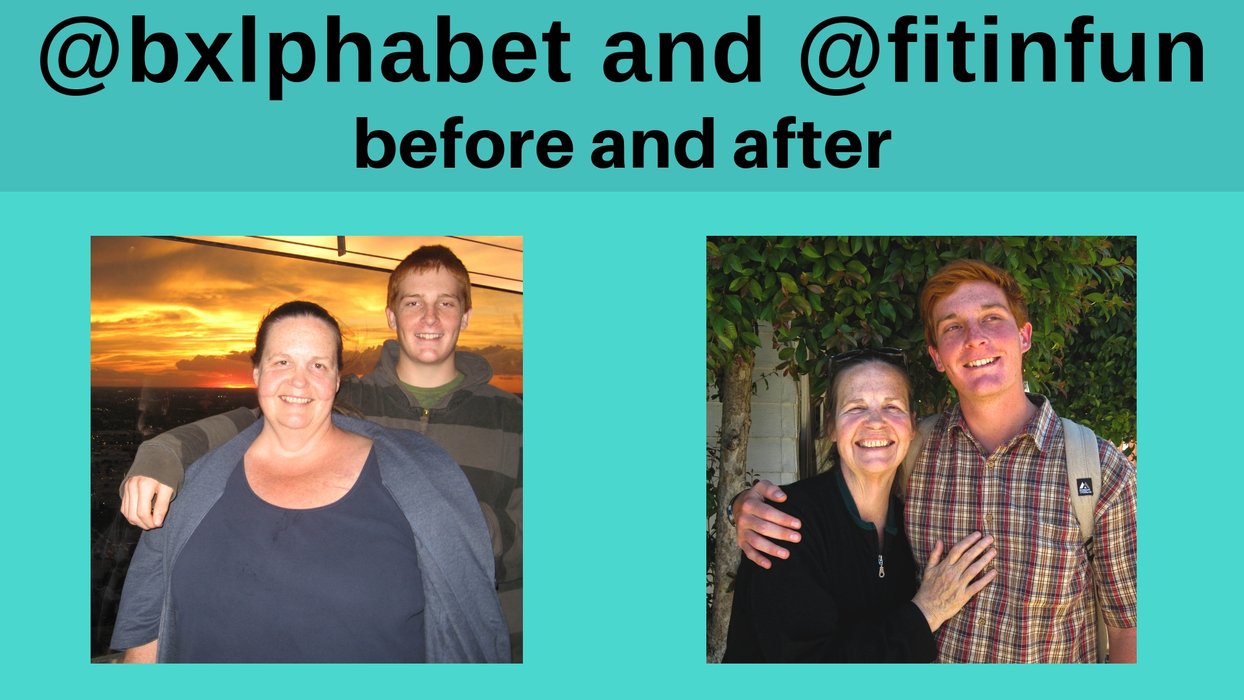 It is that time of year when the fitness equipment is out and the diet books are being read. I lost "Half My Size" eight years ago by using natural methods, and you can too!
This is Sharon @fitinfun. I am posting:
Please follow along or contact me directly if you would like some individual help with weight loss and health. Anyone can do this if I did.