Banner Peak at Sunrise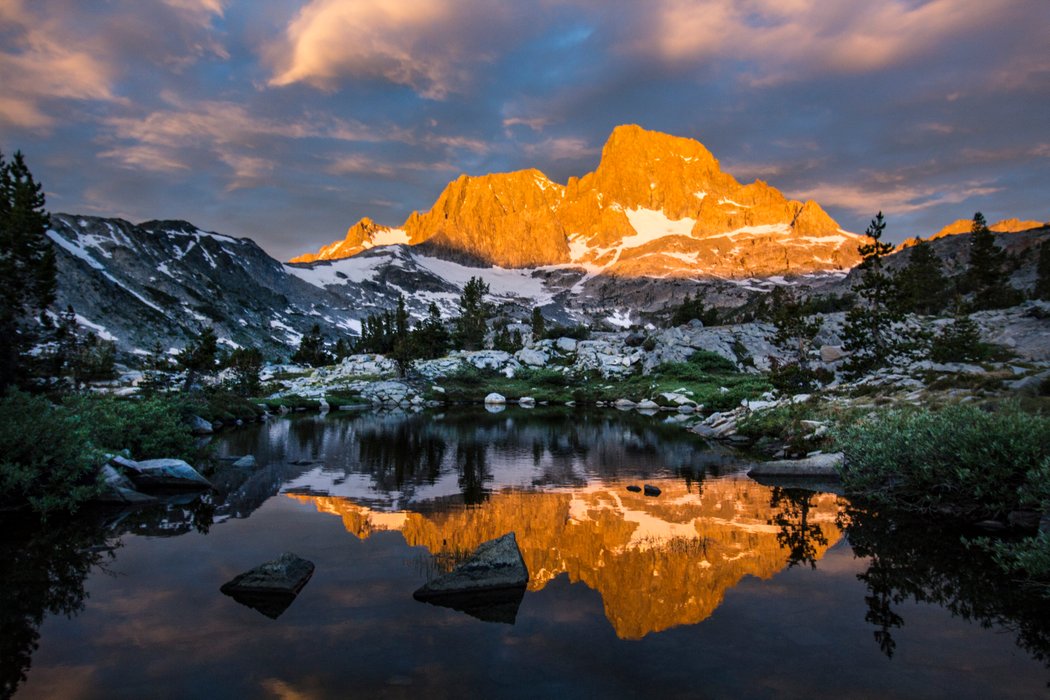 Canon T5, 10mm, 1/50, f/6.3, ISO 200 [5184x3456]
Click on image for full size
---
I spent the past few days hiking around the Ansel Adams Wilderness area in California. I started from the Rush Creek Trailhead just off the June Lakes loop. The climb out of the valley and into the backcountry was intense but well worth it. You could get to the same area with a lot less elevation gain/loss if you start at Agnew Meadows. I picked this route however because it made for a good loop and brought me past more lakes and viewpoints.
My Route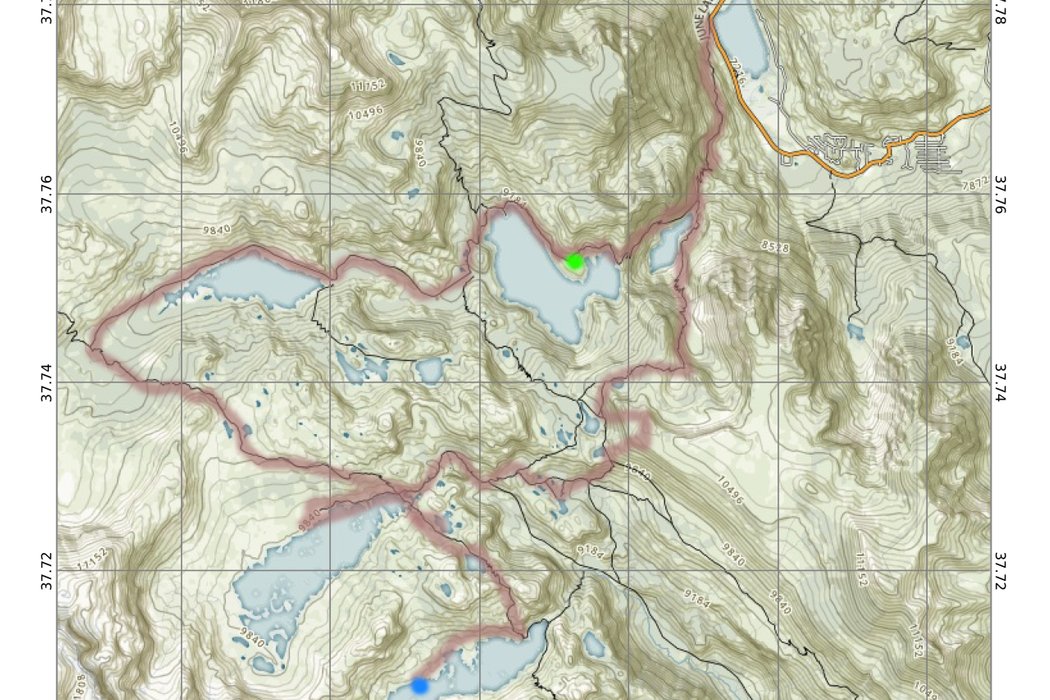 I did the loop counter clockwise, the green dot is where I camped on the first night and the blue dot is where I camped on the second night. I went off trail near Clark Lakes to get a good viewpoint. When I got up to the top of that cliff I could see Thousand Island Lake and Mono Lake from the same spot. It was impressive from up there but getting down was a bit sketchy, more on that later.
I started the hike at 5:30PM so I was not planing on getting a lot of miles in that night, just wanted to get into the backcountry and find a good camping spot. When I saw this nice opening on a peninsula overlooking Gem Lake I knew I found my spot. I setup my tent, ate some food and went to sleep soon after sunset.
Camping by Gem Lake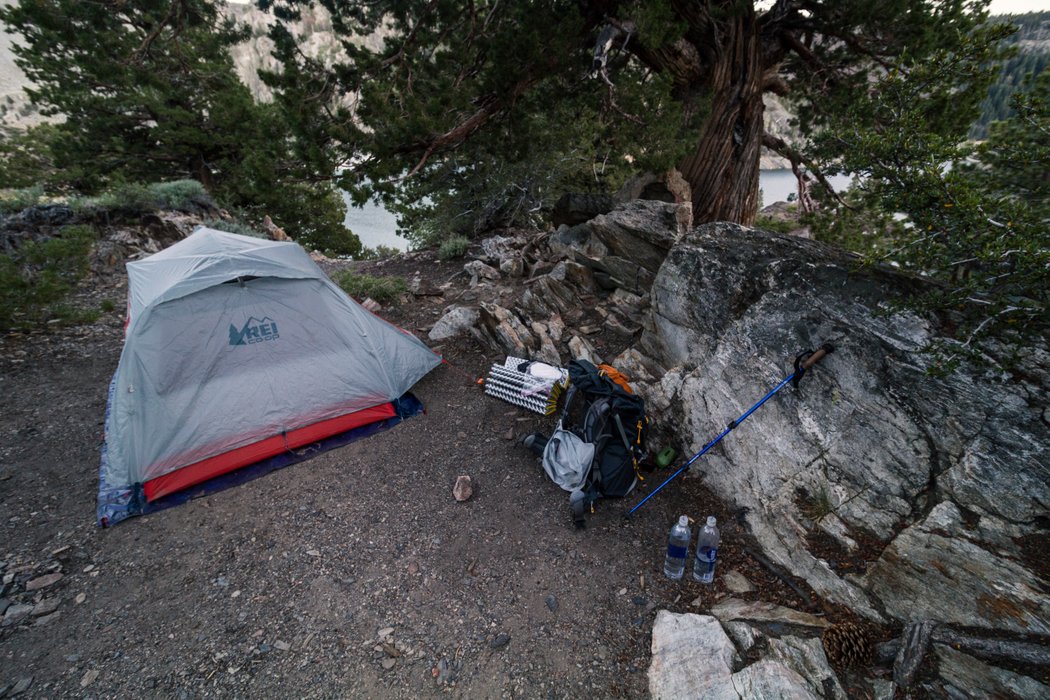 Canon T5, 10mm, 1/40, f/5, ISO 400 [5184x3456]
Click on image for full size
I woke up early, broke camp and got to walking. I did not take many pictures from the first half of this journey because it was mostly forested and I was holding out for the rigid cliffs covered in glaciers standing tall above the tree line that were to come deeper into the backcountry. After many steps I made it to the PCT/JMT and went over Island Pass. There was a couple beautiful small ponds on top of Island Pass with some great mountain backdrops but since I was there mid-day the light was pretty harsh, I could have waited but I knew there was a lot more of this to come and I wanted to see as much as possible. When I got to the south side of Island Pass and got a clear look at Banner Peak looming over Thousand Island Lake, the camera came out. The light was still pretty bad at this point, but I could not keep walking without snapping at least one shot of the scene.
Thousand Island Lake and Banner Peak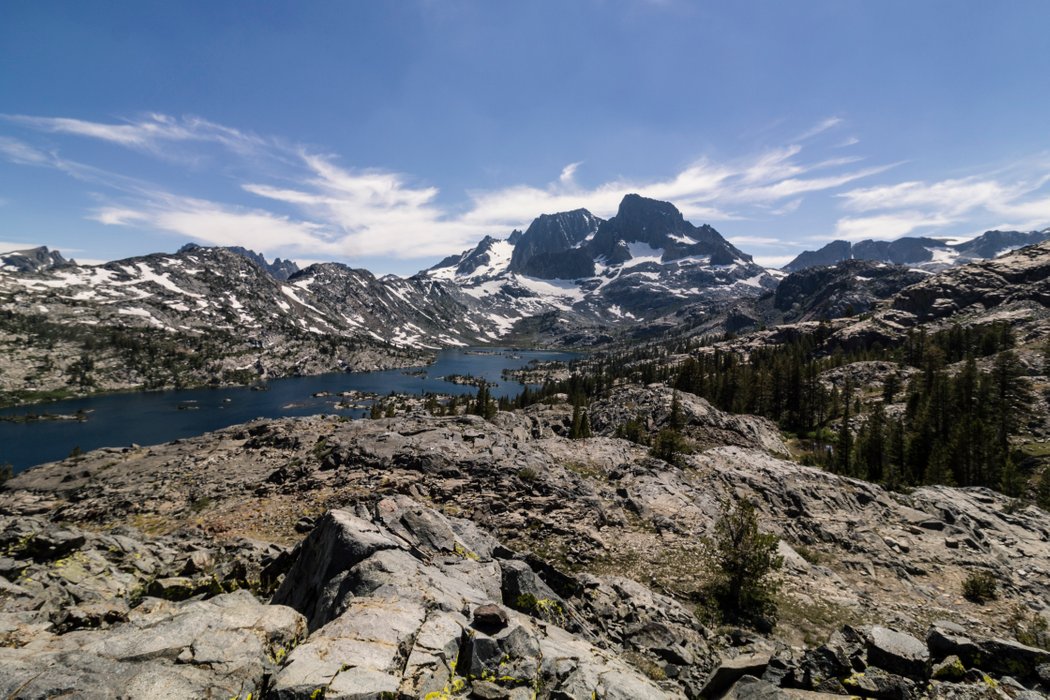 Canon T5, 10mm, 1/200, f/9, ISO 100 [5184x3456]
Click on image for full size
I thought about seeking out a camping spot near this lake, but there was so much daylight left I decided to proceed. I figured if the next lake wasn't as good I could always back track. There was no need for that however because just over the next pass was Garnet Lake, and it delivered. By this time I noticed a few other backpackers starting to setup camp at choice viewpoints so I decided it was best not to wait and to claim a spot of my own on this amazing lake. This lake had some nice small ponds and back channels that stayed mostly still so it was perfect for photography. Even if Garnet refused to stand still, I would still be able to get epic reflections of Banner Peak.
Banner Peak reflected in a small pond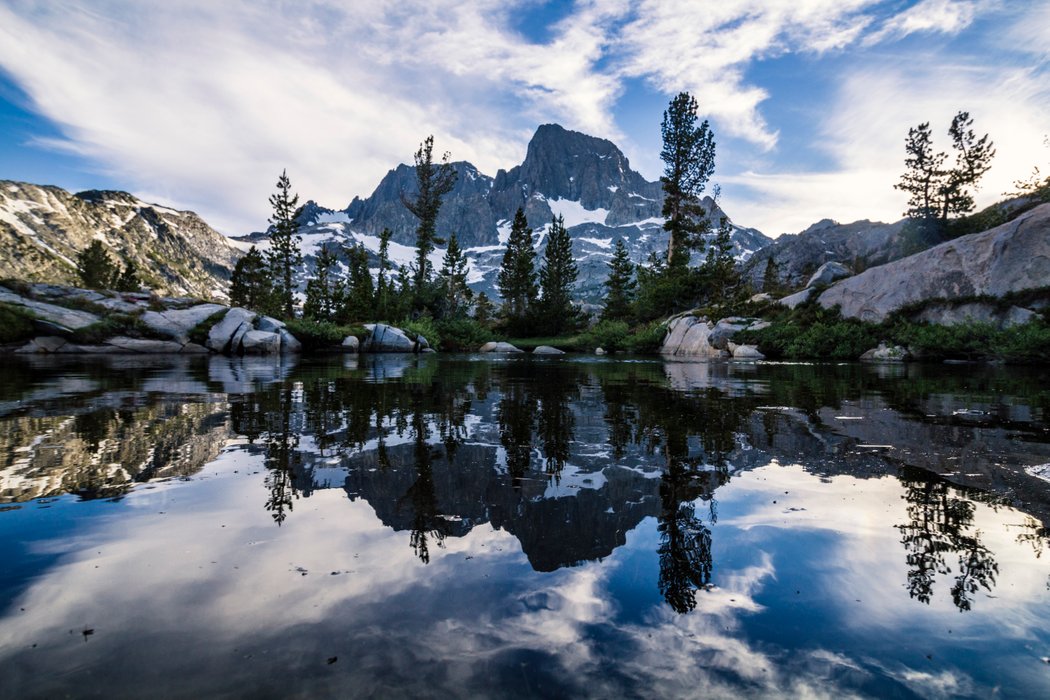 Canon T5, 14mm, 1/80, f/9, ISO 100 [5184x3456]
Click on image for full size
I walked around a bit checking out the area and looking for that perfect spot to pitch my tent. I ended up choosing what was technically a small island just off the north shore of the lake. It was only disconnected from the mainland by a few feet, but none the less it was an island and it was mine for the night.
Camping on an island at Garnet Lake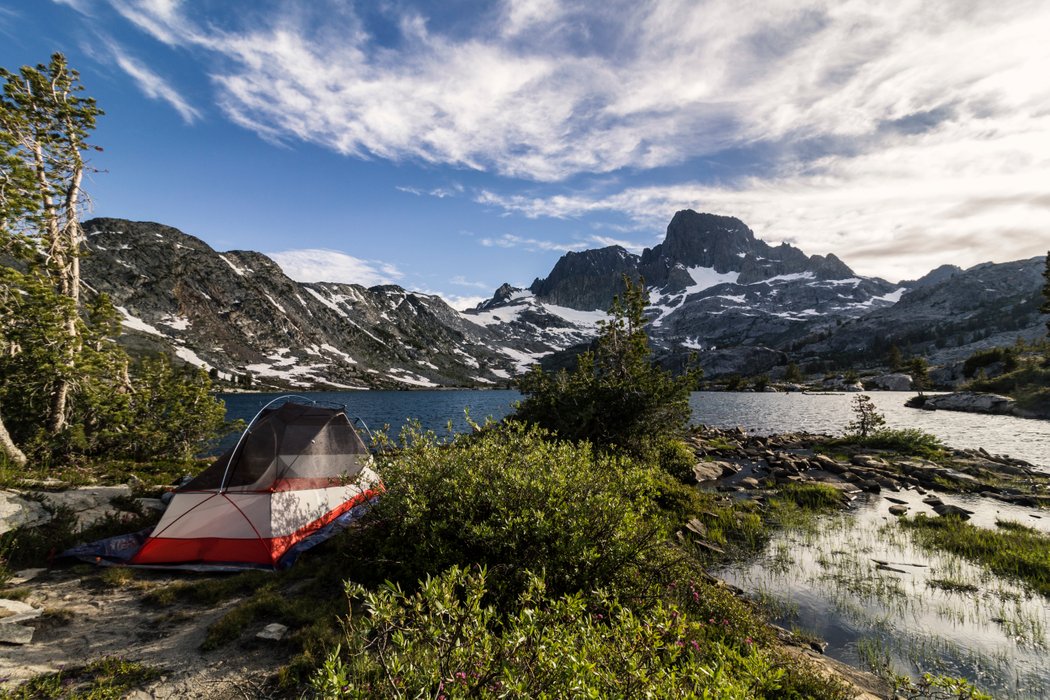 Canon T5, 10mm, 1/100, f/9, ISO 100 [5184x3456]
Click on image for full size
I ate dinner, filtered water, and waited for the sun to do it's magic. The cloudscape looked very sunset friendly so I had a feeling I was in for a treat. It started with a magnificent orange-yellow cloud burn just above where the sun was setting.
Banner Peak Sunset Phase 1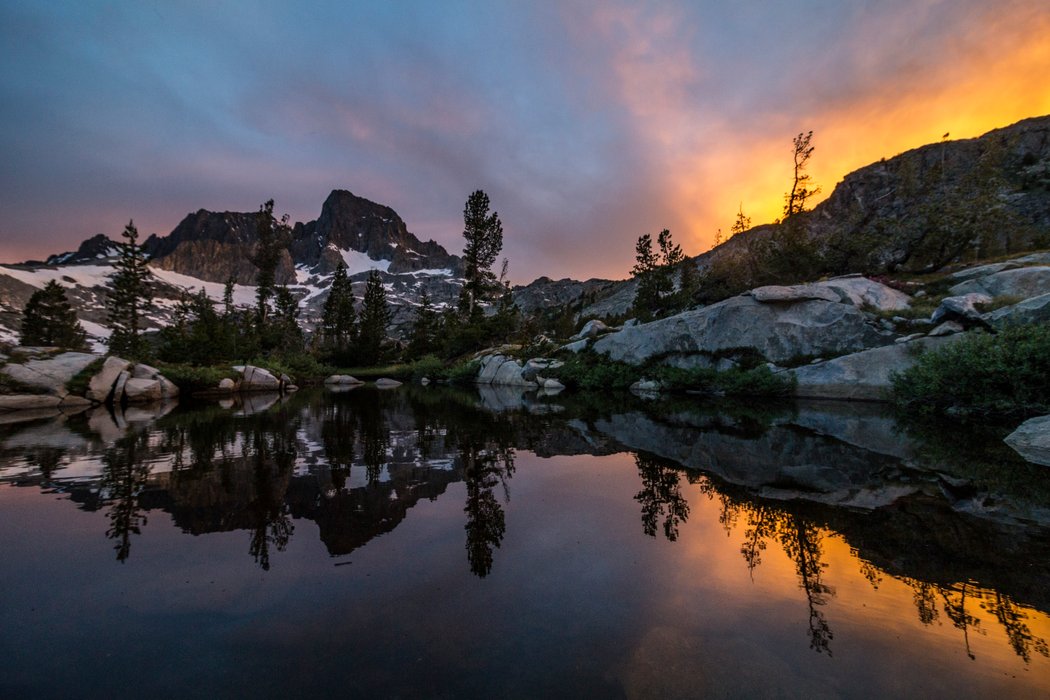 Canon T5, 10mm, 1/40, f/7.1, ISO 400 [5184x3456]
Click on image for full size
As the sun set further the cloud burn turned into a bright pink-meganta with a fade to blue just beyond the mountain. I'm pretty sure I was being eaten alive by mosquitoes at this point but I really did not care. The images coming from my camera where making me grin from ear to ear. Garnet Lake was still choppy but the ponds I scouted earlier delivered the reflections I was seeking.
Banner Peak Sunset Phase 2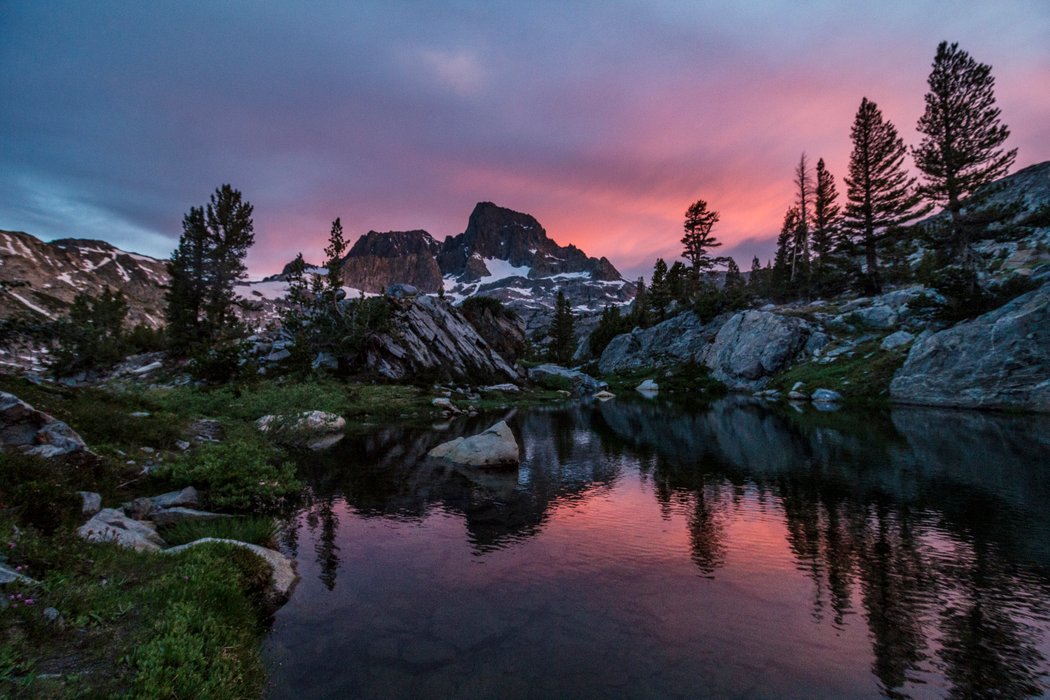 Canon T5, 10mm, 1/40, f/7.1, ISO 800 [5184x3456]
Click on image for full size
I went to bed soon after sunset. I woke up in the middle of the night to pee, and I noticed Garnet Lake was finally still. Not only that but the moon wasn't fully out yet so there was a perfectly reflected milky way on the lake right in front of the mountain. I was in disbelief at how perfectly this was lined up. Unfortunately I did not have a tripod on me, I was attempting to use a hiking pole with a camera attachment at the top but at this point I still hadn't figured out how to use it. I was cursing at the whole concept of a monopod of any type, wondering what the point was and feeling stupid for thinking this was somehow going to replace my tripod. That combined with the fact that it was bitterly cold I gave up on trying to capture it. I retreated to my tent which had no rainfly and a great view of the scene. I just sat there for a moment in my sleeping bag, staring out at the lake while satisfying a late night hunger pain with some beef jerky. I soon laid back down and fell asleep under the stars.
I woke up and realized golden hour was in full effect. The moon was also out so the lake was already choppy, back to the small ponds. I got low and started taking shots. The mosquitoes were back out in full force, but again I was too distracted to care. I knew this was pure magic hitting my lens and nothing was going to stop me from getting my frames right. My face and hands are now covered in red dots, next time I'm going to bring some bug spray.
Banner Peak Golden Hour Reflection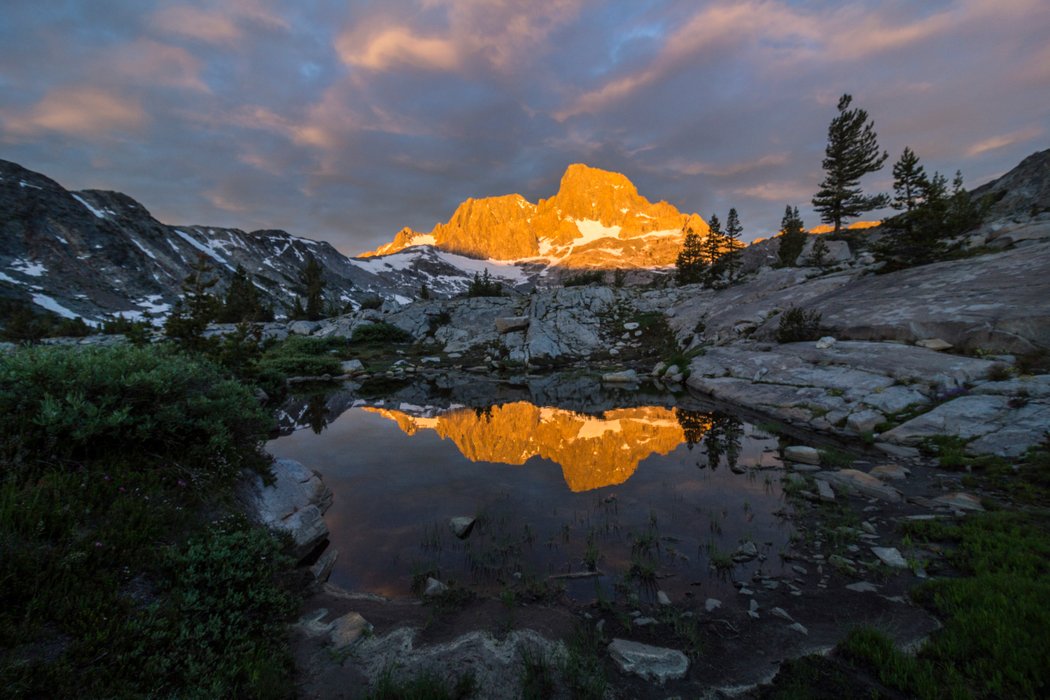 Canon T5, 10mm, 1/50, f/6.3, ISO 200 [5184x3456]
Click on image for full size
After the golden light wore off I quickly packed up and started to move. I knew I had a couple hours of good light in before it was going to be super harsh and I wanted to cover as much ground as possible during this time. I took off up the hill going back towards Thousand Islands Lake. When I got towards the top I turned around and hiked out on the boulders to get the shot below. I managed to wedge my hiking pole in between some boulders and this selfi was my first successful use of the monopod hiking pole.
Overlooking Garnet Lake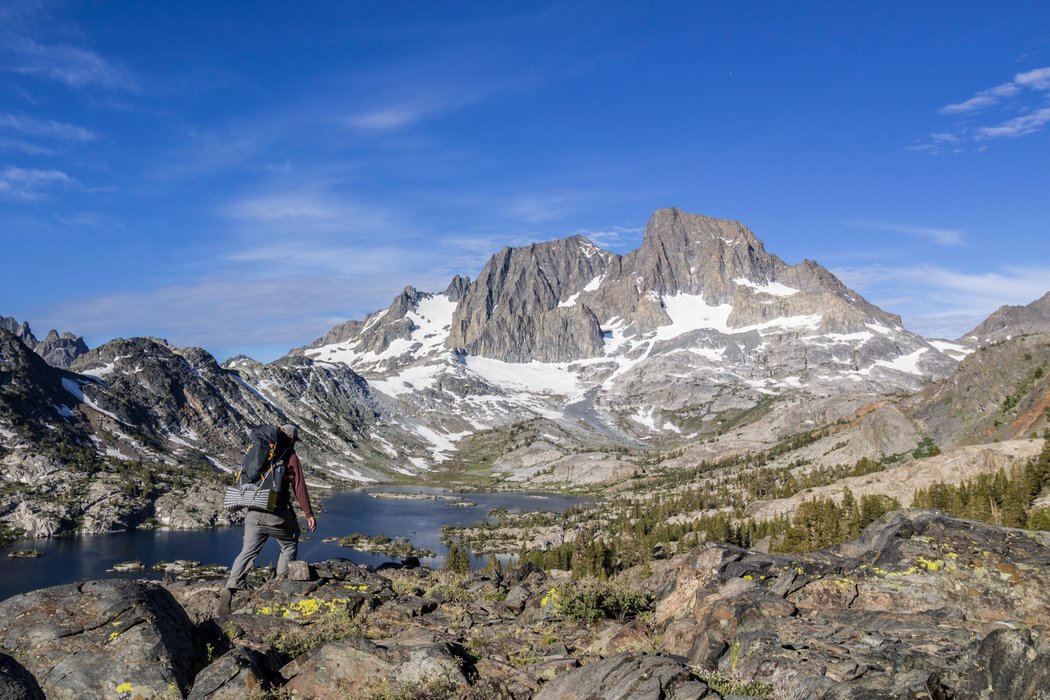 Canon T5, 10mm, 1/200, f/8, ISO 100 [5184x3456]
Click on image for full size
Thousand Island Lakes was also very choppy and I wasn't really feeling the composures so I proceeded to hike my loop leg to see what else was in store. Immediately I was really feeling the river that was going out of Thousand Island Lakes and took a few shots. The composures were feeling really good here. It's an odd thing for me to explain but I actually compose my shots based on feelings more so then any type of word based thoughts.
River coming out of Thousand Islands Lake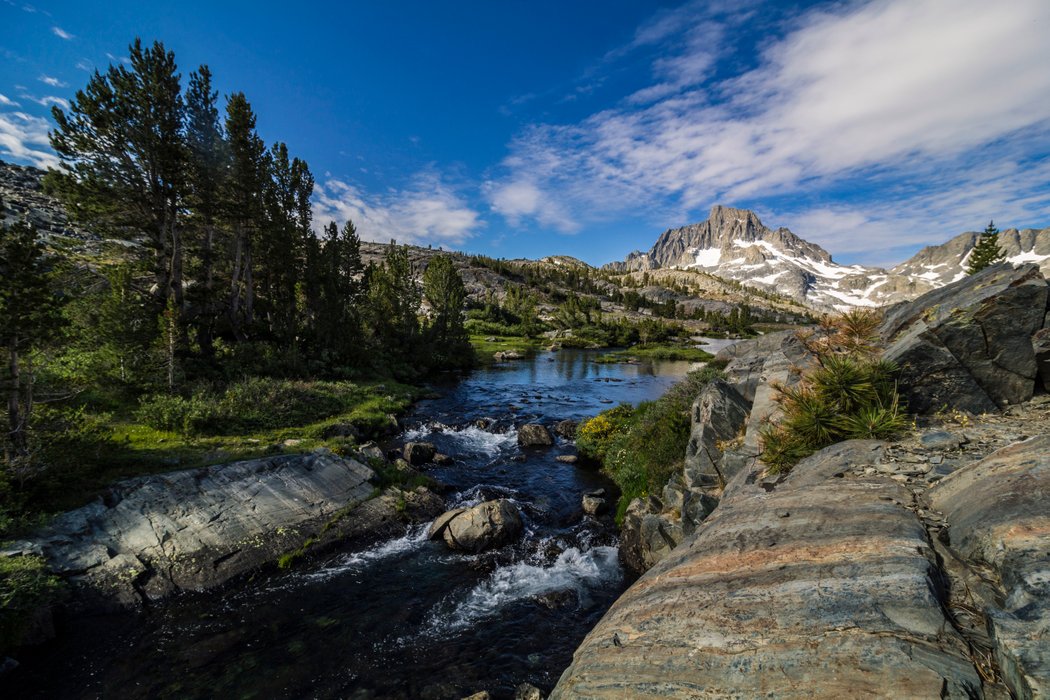 Canon T5, 10mm, 1/160, f/8, ISO 100 [5184x3456]
Click on image for full size
Hiker on the log bridge in the distance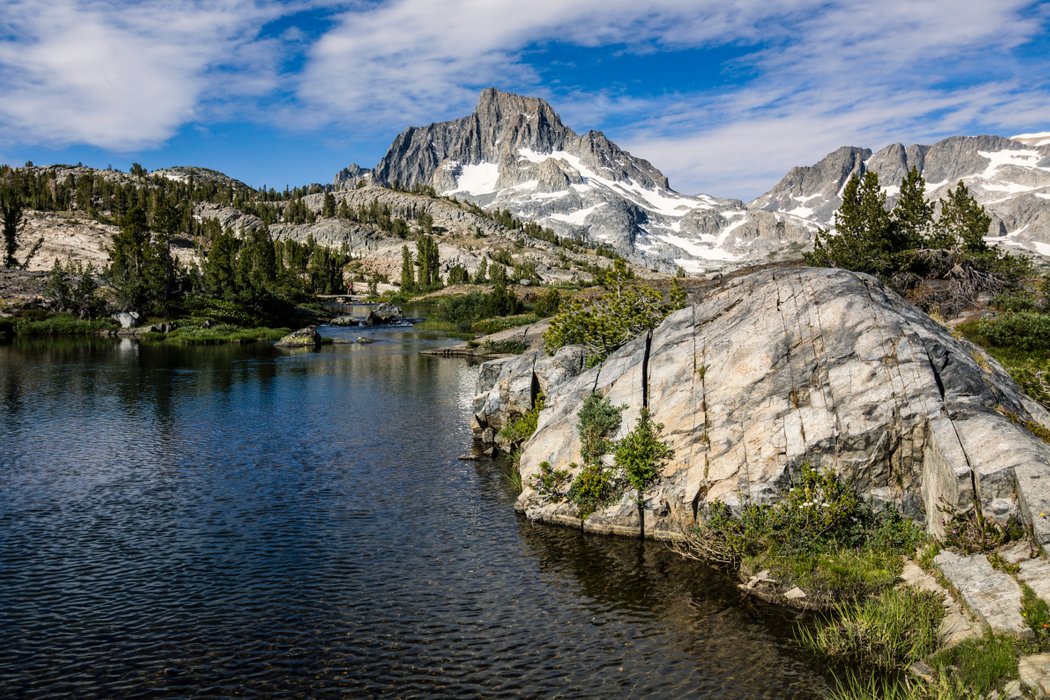 Canon T5, 18mm, 1/250, f/8, ISO 100 [5184x3456]
Click on image for full size
I proceeded along my loop and climbed the very steep hill going up to Clark Lakes. Behind the lake where these red volcanic looking rock cliffs sticking out of the hillside. I couldn't resist but to climb up to one for a better view.
One of the Clark Lakes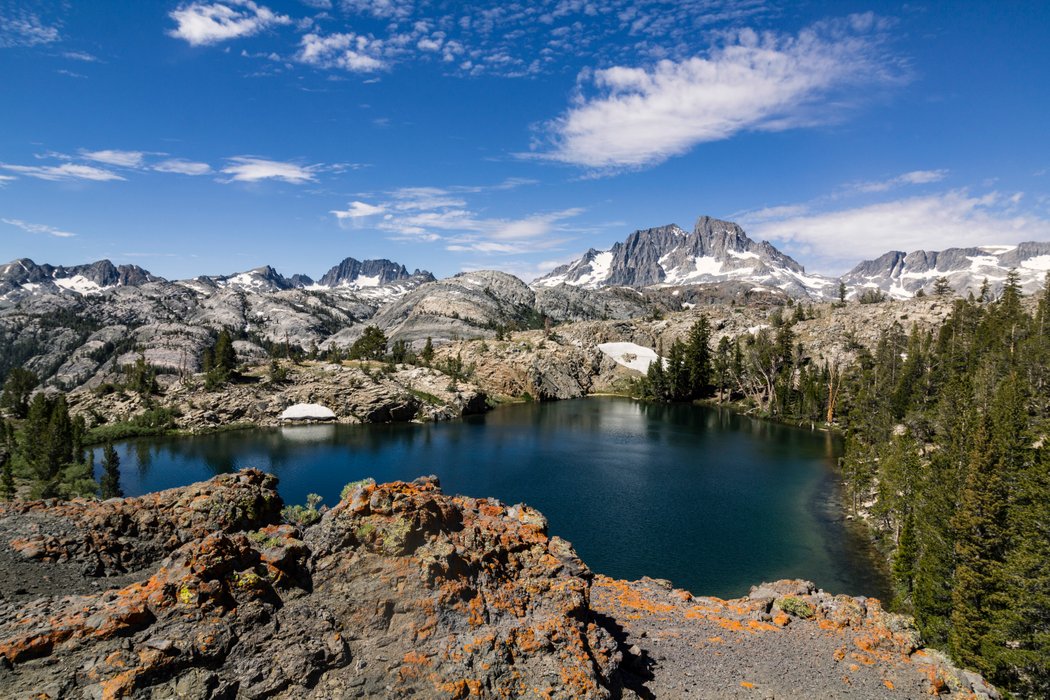 Canon T5, 14mm, 1/250, f/8, ISO 100 [5184x3456]
Click on image for full size
I looked behind me and saw similar cliffs spotting the hill going all the way up. It appeared that I could zig zag around them and make it to the top so I went for it. This is the part of my loop where I went off trail a bit. It was up on top of this cliff when I finally figured out the trick to making the monopod work, I used my backpack as a base and used the straps to keep it tight. It actually stood up to a surprising amount of wind and I wish I would have figured this trick out earlier.
Phone shot of my monopod/hiking pole in use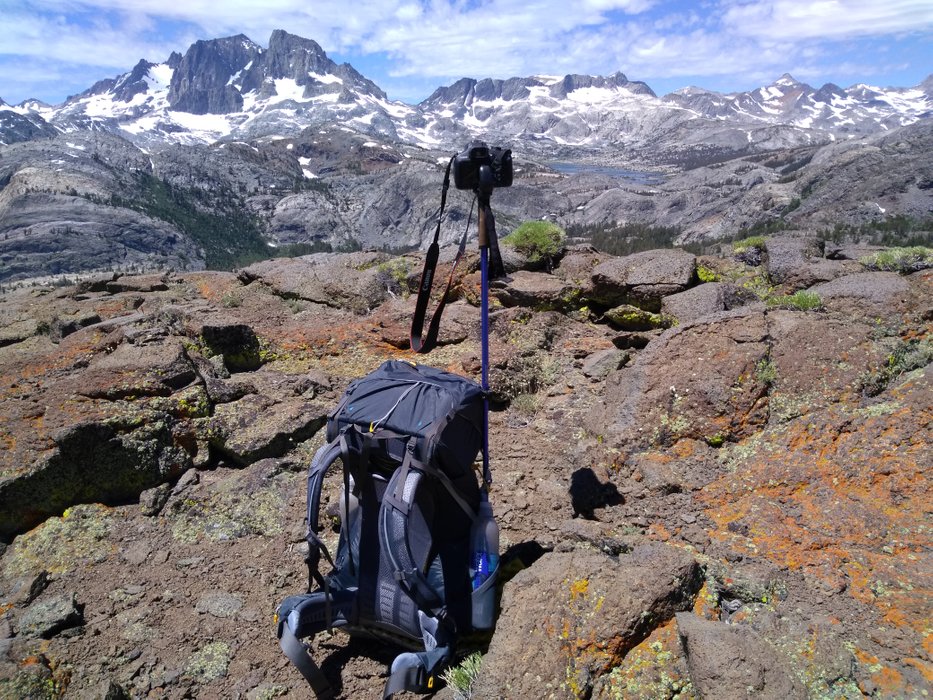 I took a bunch of shots from up here but since this is getting a bit long I am just going to just going to pick one to include here. This one shows Thousand Island Lake which I find interesting because I was just there a couple hours prior to shooting this.
Looking at Thousand Island lake from a distant peak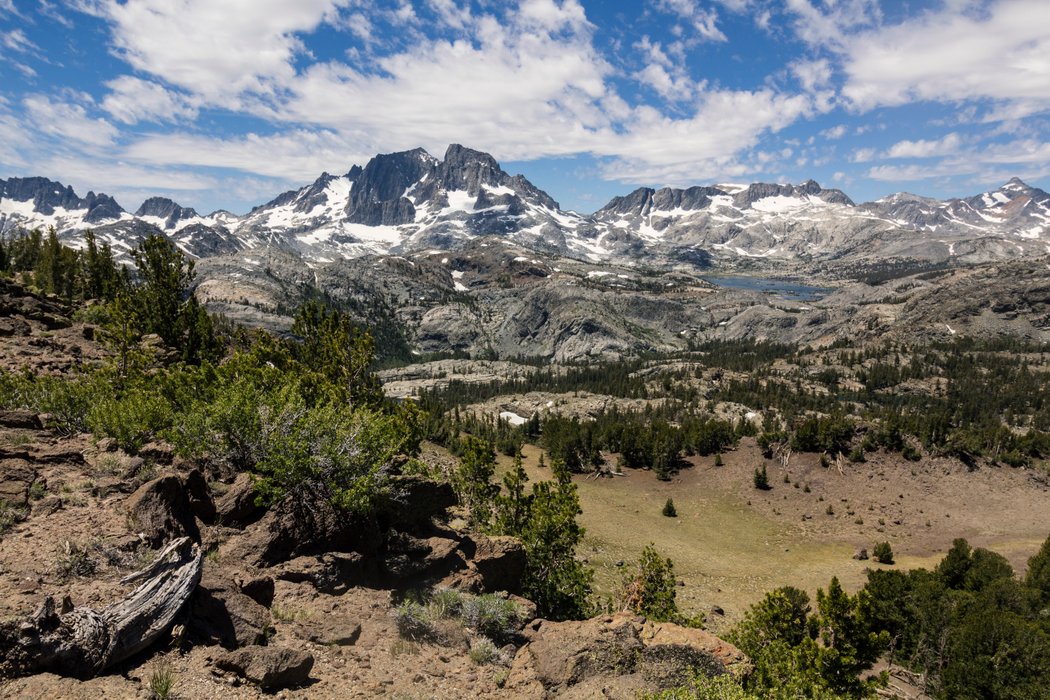 Canon T5, 18mm, 1/400, f/8, ISO 100 [5184x3456]
Click on image for full size
It was now time to get off that cliff, I should have back tracked the way I came however I opted for a more direct route. It was a very steep and loose small rock slide and it wasn't the best decision. I ended up sliding on my feet and just kind of carved back and forth, going sideways and flipping 180 every few feet. I made it the whole way without falling, but there were a couple moments where I almost lost my balance. I eventually got back down to the Clark Lakes, filtered some water and then headed out, back down to my car 3000+ feet below.