One of the biggest days of San Mateo is September 19th, the Día de América, when Oviedo celebrates its relationship with the New World. The immigrants who've moved to Spain, Asturians who went abroad, and the mixture of cultures are all represented in a big parade that shuts down the city.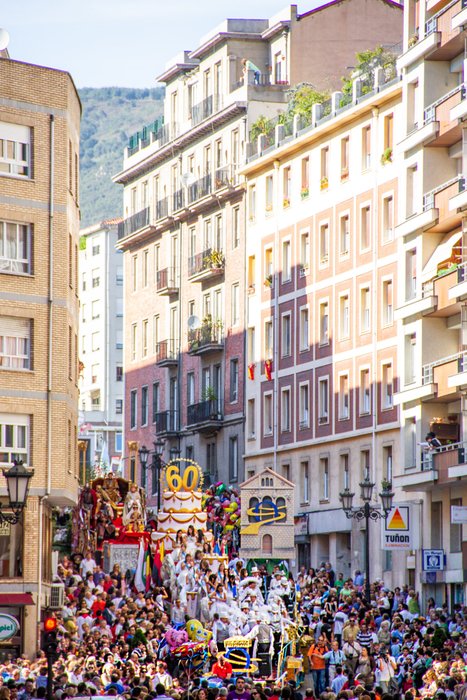 We had the chance to see the 60th annual parade. It was a lively affair, featuring both the traditional music of Asturian bagpipes and flutes, and the more buoyant rhythms of the Caribbean and Latin America. There were about twenty floats, each with a different theme, from life at Catholic missions abroad, to scantily clad Caribbean beauties jiggling their lady parts.
The weather was perfect and the both the spectators and participants clearly had a lot of fun, except for the guy in front of us who got a face-full of foam. Definitely one of the most colorful days of the year in Oviedo.
To be honest this parade was just overwhelming, we didn't know where to look. Giant Harlekin there, followed by sexy Samba dancers and look over there, this guy got sprayed with foam. Then still no break, on the next float this guy is pouring Asturian Sidra the traditional way and handing the glass to the crowed. Wait, now there is a giant hot air balloon flying over our heads.
A lot to take in and a lot to photograph. This was such a great day out, we had so much fun and we even learned a bit about the history of Asturias.
From our Oviedo Travel Blog.
More Day Of America / San Mateo Photos: