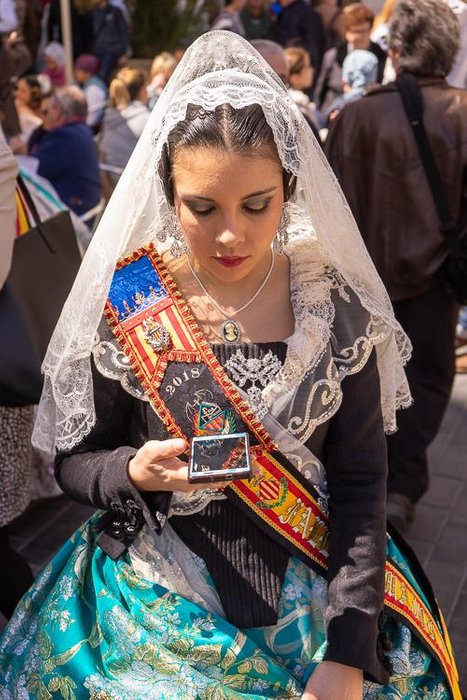 Within a month, Valencia has celebrated Fallas, Semana Santa and now the Day of San Vicente Ferrer. And the Day of the Virgin is right around the corner. But let's not get ahead of ourselves, and first read about San Vincente: Valencia's Patron. This article was first published on our Valencia Travel Blog a while back but the pictures and the video are from TODAY.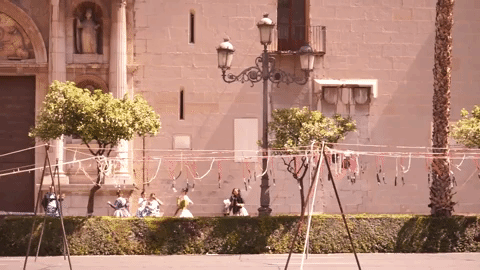 San Vicente Ferrer led a happier life. He was born in 1350 in the center of Valencia, the son of a prominent notary, and was a devout Christian from a young age. He rose quickly within the church, and was soon a figure of considerable influence. He traveled widely in Europe, spreading the gospel from Scotland to Switzerland. Although he only spoke Valencian, he was said to have the "gift of tongues," allowing people from any country to understand him without difficulty.
Hundreds of miracles are attributed to San Vicente Ferrer, who would usually raise his index finger when about to work his wonders — this is the pose in which he's seen most frequently in paintings and sculpture. He's attributed with miracles like healing the lame, saving Barcelona from famine, and even raising the dead. (Catholic priests who raise the dead are canonized… when I try it, I'm called a necromancer and chased out of town.)
San Vicente Ferrer's big festive day in Valencia is tied to Easter, so it's always different — this year, the holiday fell on April 13th. To commemorate the saint, groups throughout the city set up altars, and children portray his miraculous acts on stage. There's an altar at the Plaza de la Virgen, but the most popular is at Plaza Tossal. The kids speak in Valencian, but even if you can't understand them, it's great fun to watch the little thespians ply their trade. There's also a procession leading from the Ayuntamiento to his birth house, near Plaza Tetuán, ending with a mascletà.
Some More Pictures Of Today's Parade AND a Video at the end!
We curate - use our TravelFeed Tag!