Day 1 KUL - BUS - Gamcheon Cultural Village - Taejongdae
0830 ETA at Gimhae International Airport & quick breakfast
1030 Leave luggage at hotel
1100 Gamcheon Cultural Village & quick lunch
1500 Taejongdae
1800 Dinner and return to hotel
Believe it Or Not was the tune playing on my mind but at that time I couldn't remember the words nor the title. The song is so apt. You know how a song sticks to an event or a memory? Yeah, like that. When I was in the plane looking out the window onto the wing of the plane, it was a 'believe it or not' moment that I was on a plane for our anniversary trip after like 10 years. Felt free the very moment the plane took off. Interestingly, my name Frances actually means 'free' or the 'free one'. As in freedom.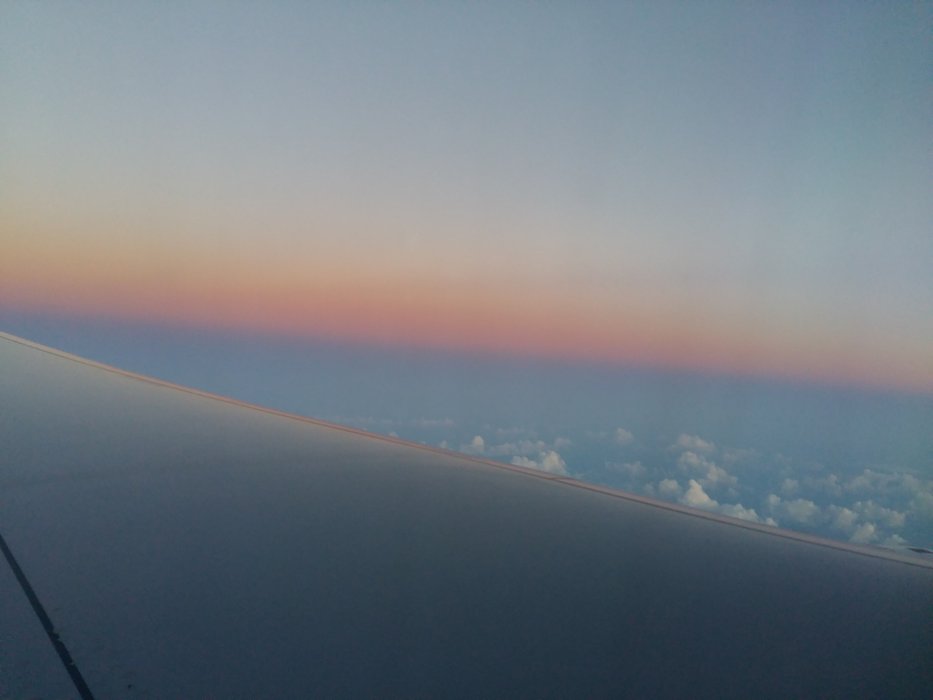 Anyoung haseyo! Busan Korea, here I come!
Flying worries me a little. What if the plane crashed? Haiz.... If want to travel, then cannot worry too much now, can I? Nevertheless, I said my prayers in church and before I left home, passed all my important documents which included my will and insurance policies and important passwords to my mom. A small peace of mind while I travel as I know if anything happens, my kids will be taken care of with as little headache as possible.
Worries set aside, onward and forward to Busan on Air Asia X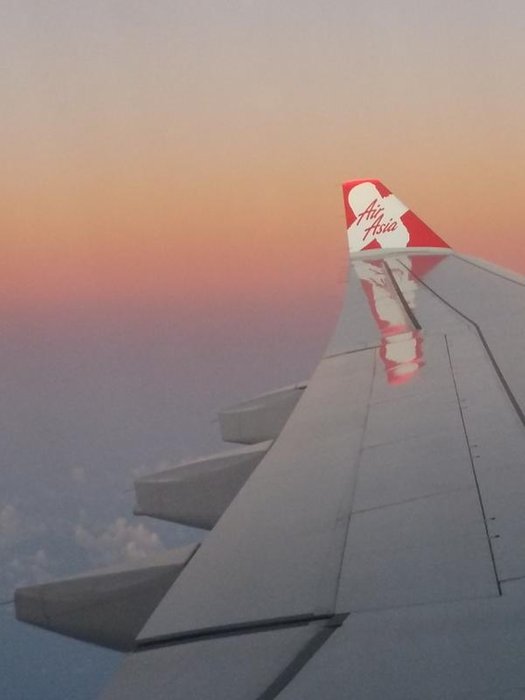 Flight landed early on the morning of 25th May 2018. While waiting for our luggages, I made a nature call. OMG, super clean toilets! Now that's how you make a first impression on your foreign guests lah. Tsk tsk!
Passport stamped and cleared by customs with no problems. I always wished customs officers are more friendly because they're the first persons we meet upon arriving in a foreign country. I've not met one so far. The moment we cleared customs, we took out our rented wifi router from Travel Recommends which was recommended by Korean Tourism Organisation Malaysia (KTO). You can read my earlier post about KTO and how beneficial it was for my trip. We had unlimited wifi the entire trip for about RM 180 including delivery, taxes and insurance. We did switch to free wifi at hotels and restaurants to conserve battery.
Food
Despite having had a scone and latte before boarding and an onboard meal, I arrived feeling like a hungry ghost. Airplane food was edible but not satisfying at all. Check out what
@davidke20
thinks of Air Asia and the food in his
post
. But before we went to find food to feed one hungry wife, we went to check which counter we would check in at for our departure flight on 1st June, 2018. The Gimhae International airport customer service staff spoke passable English. We located the counter, committed to memory and went looking for what would appeal to my growling stomach.
Aha!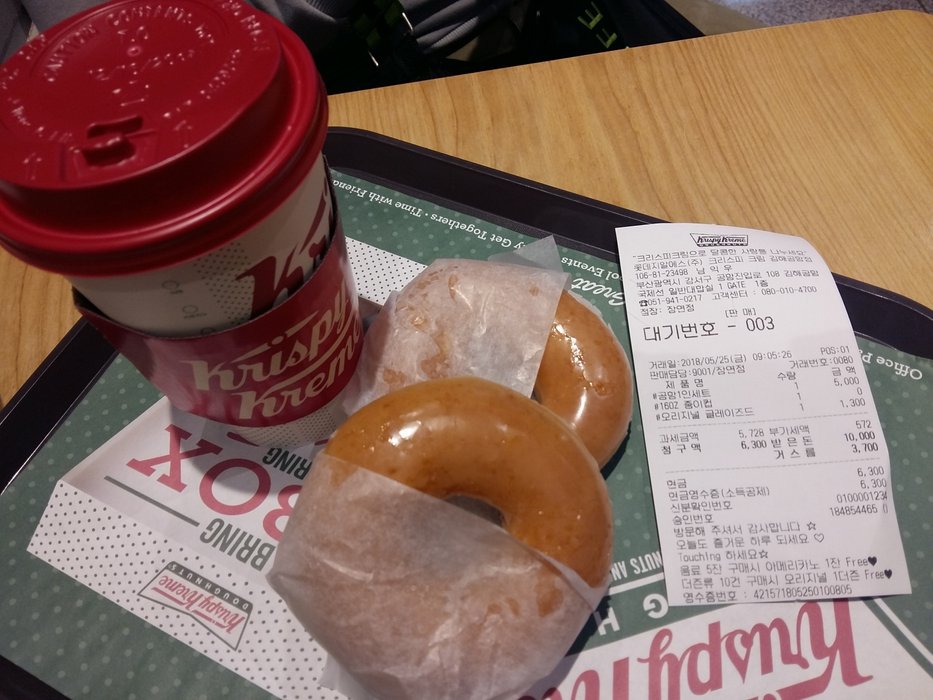 Warm and nice on a chilly morning. How'd it taste? Their original glaze is sweeter and their coffee is similar in taste.
After fueling up, we walked out the airport into clean fresh air and cool temperature looking for the LRT station, same name as the airport so no confusion there. Luckily, we already have the Korean T-Card (like the Malaysian Touch & Go). Not knowing how much it would cost us to take the train and not knowing where we can top up next, we topped up our cards at the first convenience store we spotted.
What would be the odds of having someone wear the exact same shirt as you in another country? Well, we had it in Busan.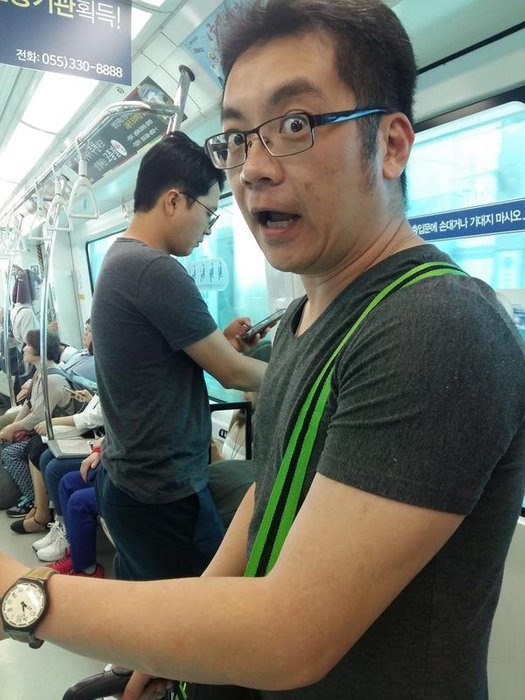 @davidke20 wearing the same T as the guy at the back
Sasang Max Motel was where we stayed the first 3 nights. Motels in Malaysia don't carry a good image I know. It's different in other countries. This one have very good reviews on Agoda.com and we're really happy staying here because the location is simply superb. Close to the metro and loads of eateries. My main criteria matched.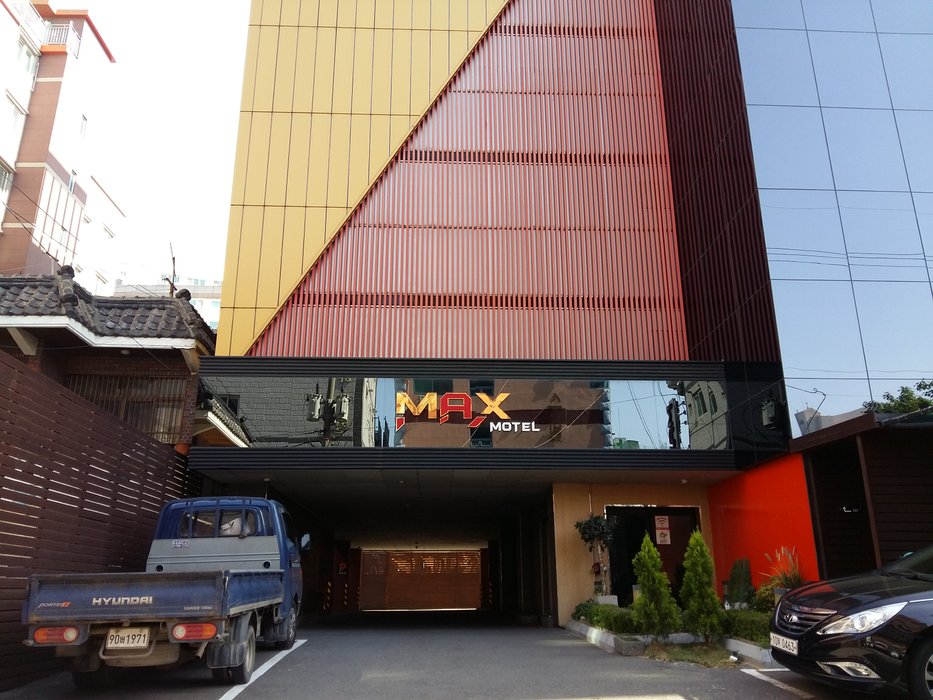 Enough ramblings about our morning, let's have more photos from our 1st day sightseeing.
Attraction #1: Gamcheon Cultural Village
From Max Motel, we walked about 5 minutes to exit/entrance 5 of Sasang Metro Station. As mentioned before, Sasang Metro station is huge. It has a lot of exits/entrances. It's best to know for sure which side of the road you want to come up on before deciding the exit that will be nearest to the place you want to go, so less walking. Burger King was our landmark there. Using the pre-loaded T-Card, we took the train to Seomyeon Station (pronounced as 'sum yahn') which is an exchange station between metro line 1 & line 2. This station has an underground shopping mall where one can get lost in due to shopping for shoes, cloths and bags or just get lost in translation because everything is in Korean. From Seomyeon, we switched train to Toseong Station. This is where the Kakao Metro app came in handy because we couldn't afford to lose time taking the wrong train. From Toseong station, we went on a bus that took us right up to Gamcheon Cultural Village. We relied heavily on Google Map because it shows the route indicating which metro station, which bus, distance, etc.
Beware of photo diarrhea here onwards with little or no caption. Starting to be lazy typing at this point 😅. But hey, you can read all about it here, written by hubby. Save you the trouble to read the same thing twice. But first, watch my video taken while on the bus going uphill to the cultural village entrance.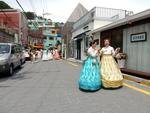 Watch it

The spot where we alighted from the bus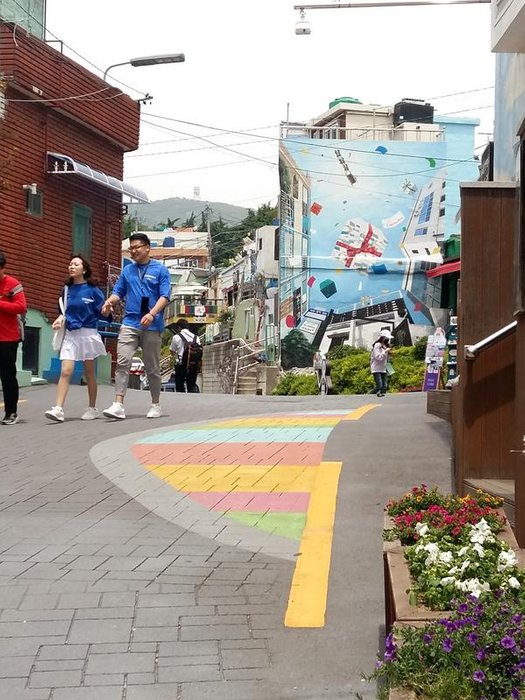 Inside Gamcheon Cultural Village Museum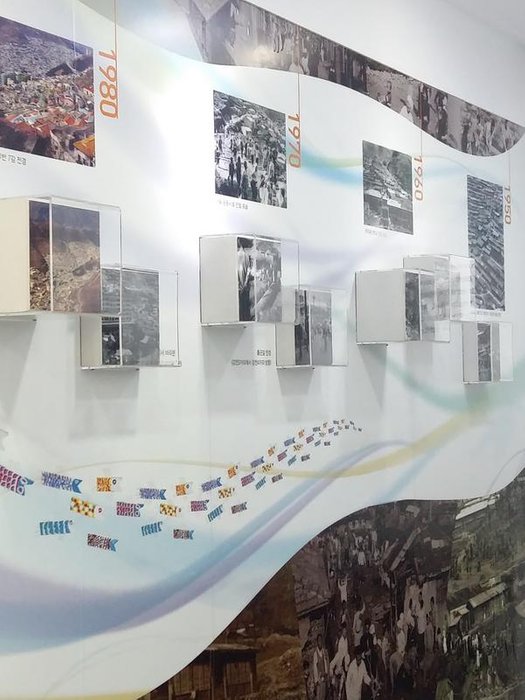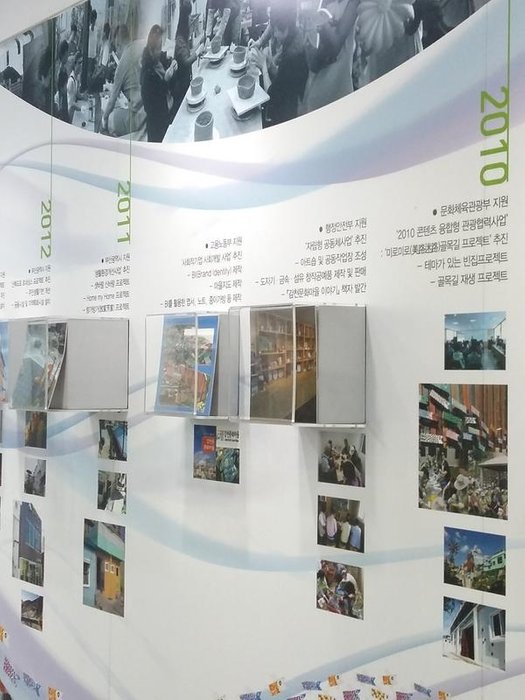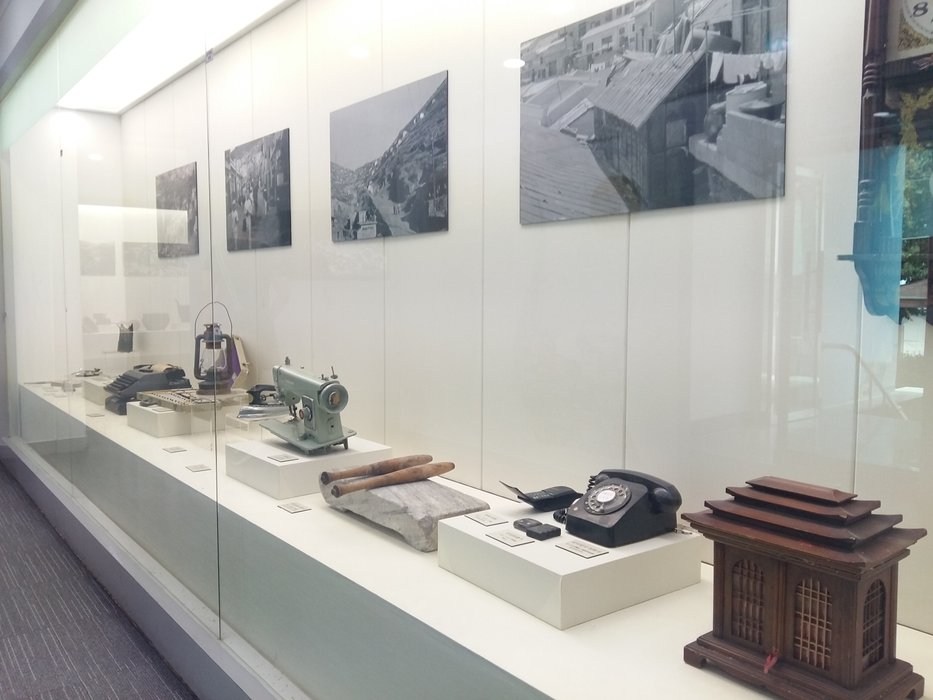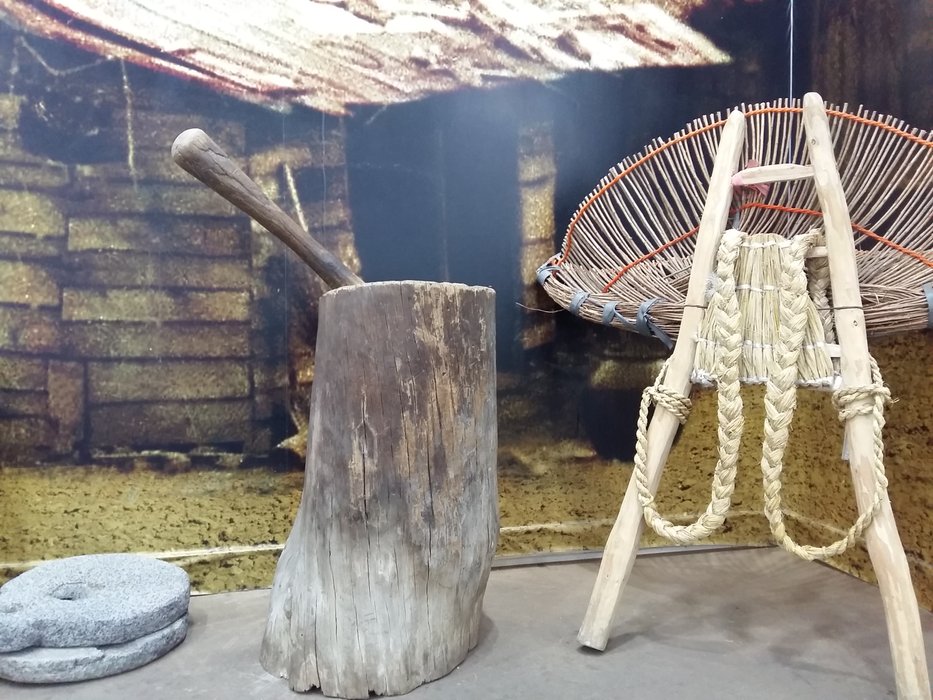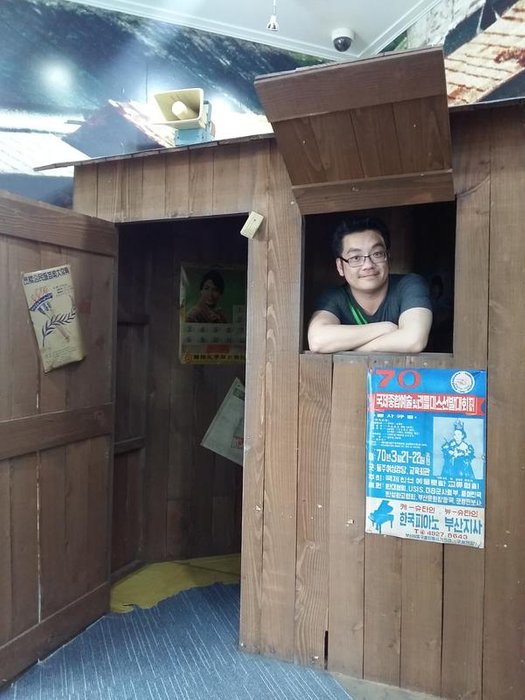 Out on the village road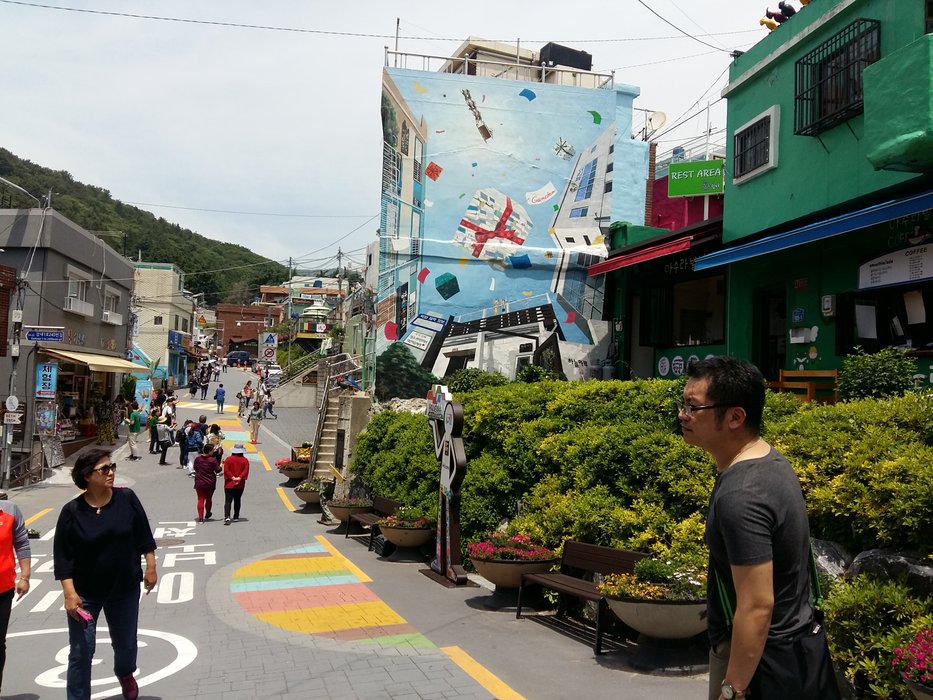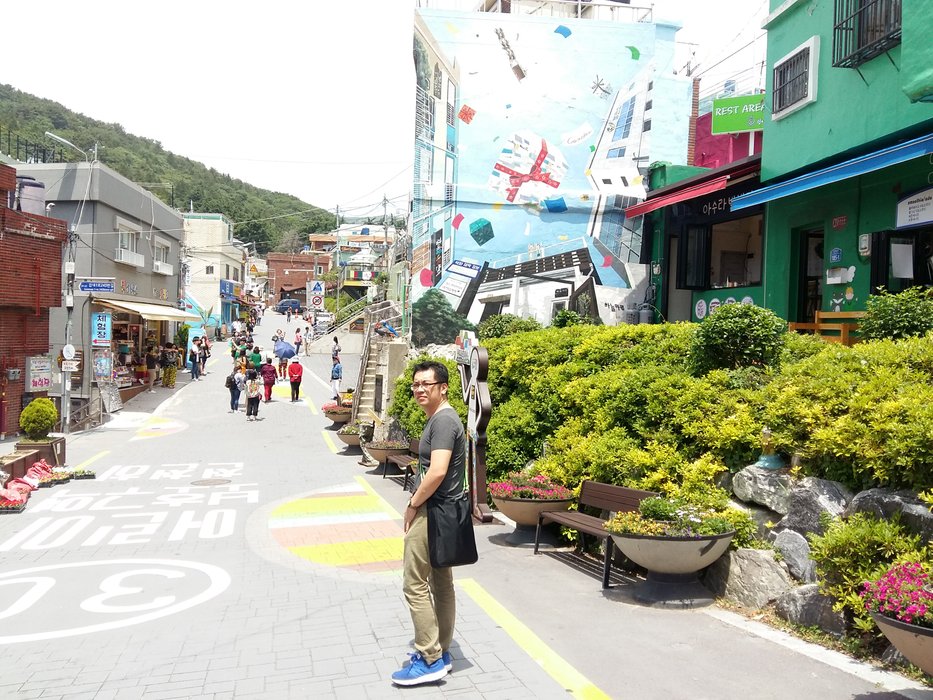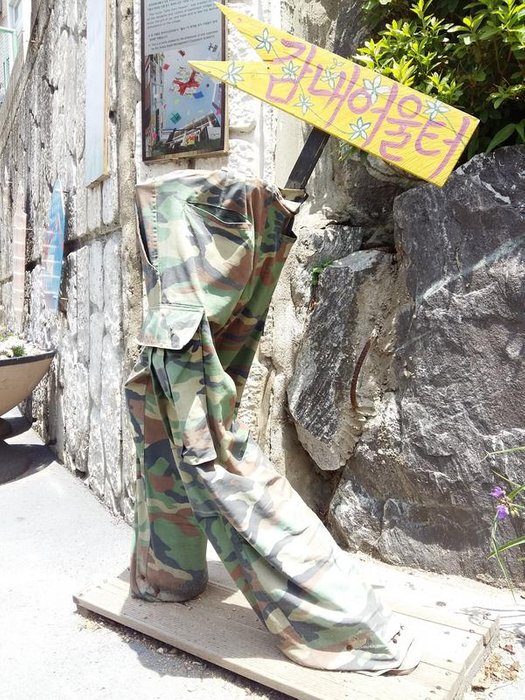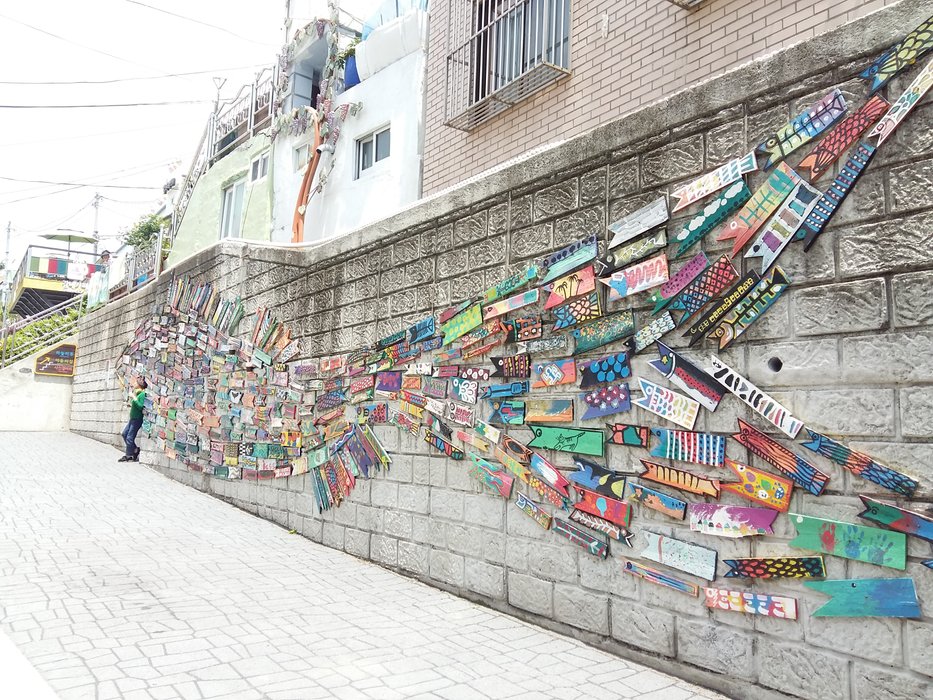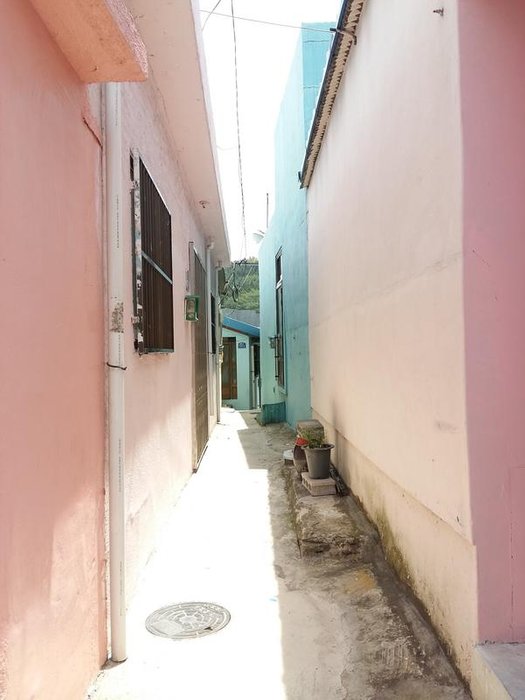 Decorations on the gate of a village home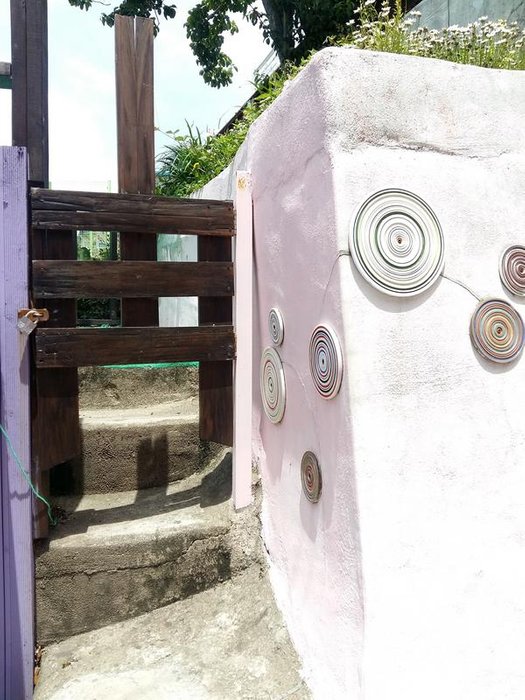 This explains why every village home is decorated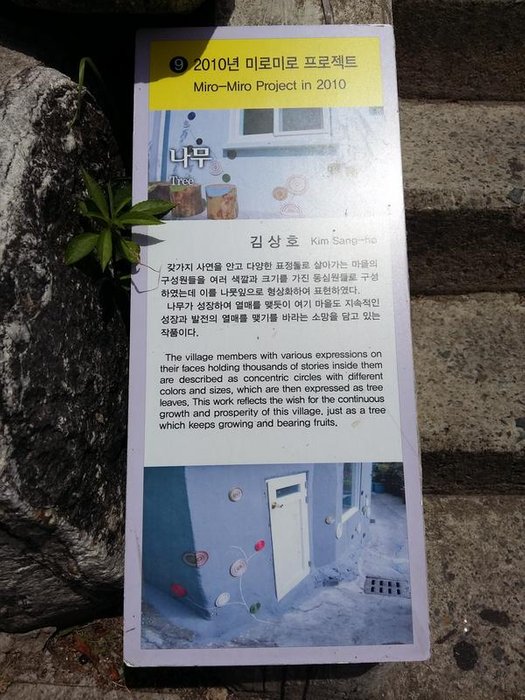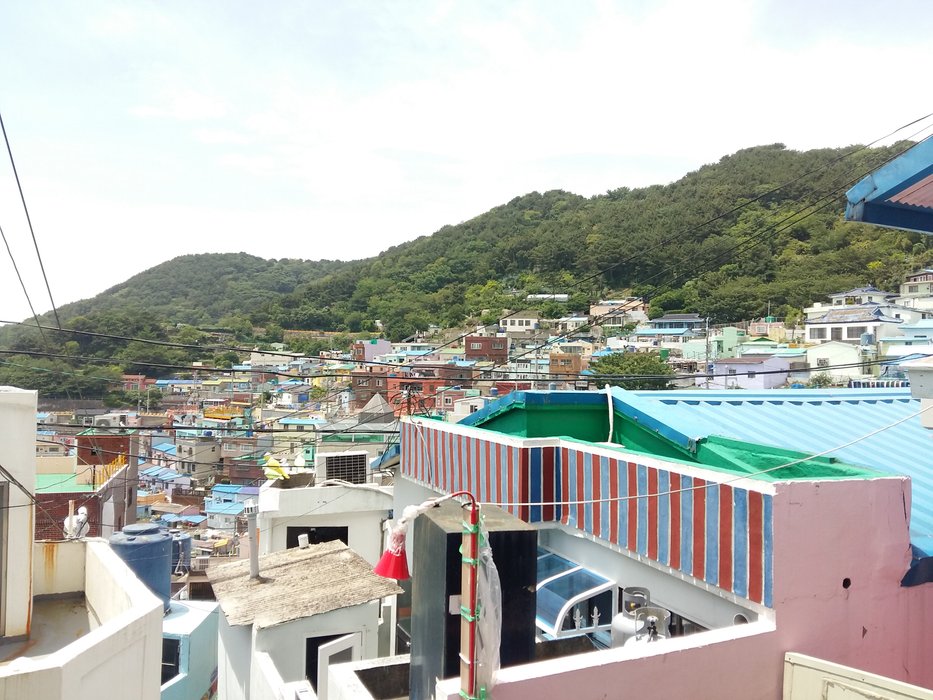 We mailed a postcard back to ourselves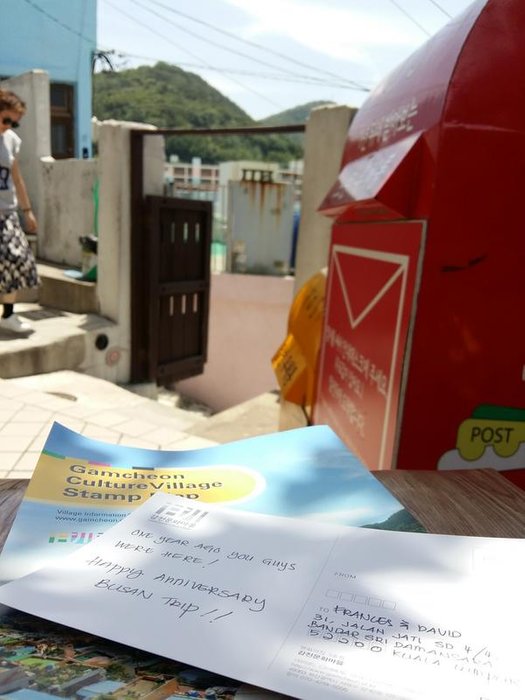 This is the view everybody came to see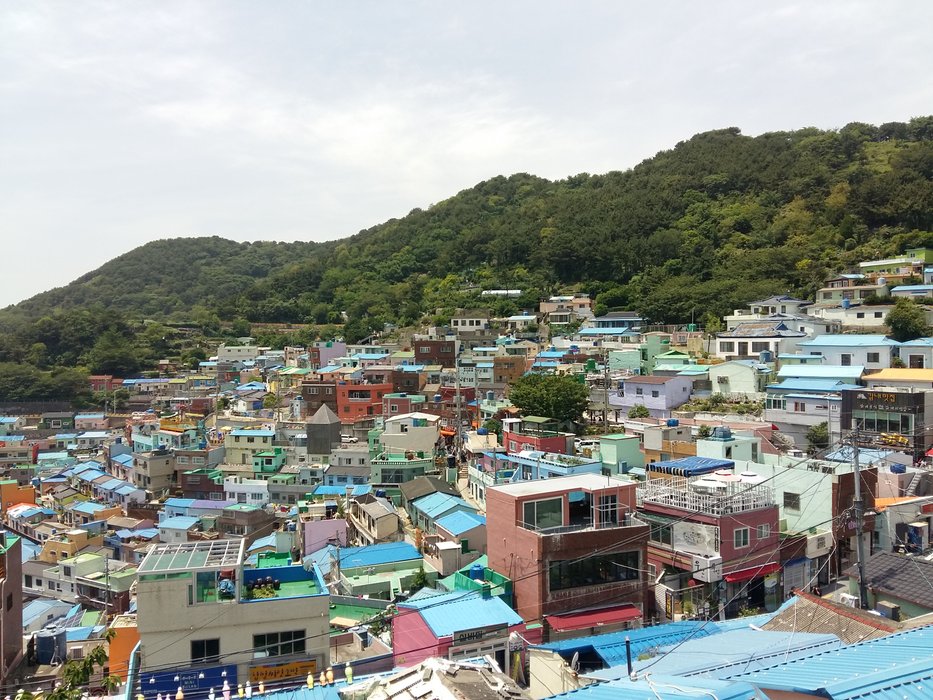 A panaromic view
Ouch!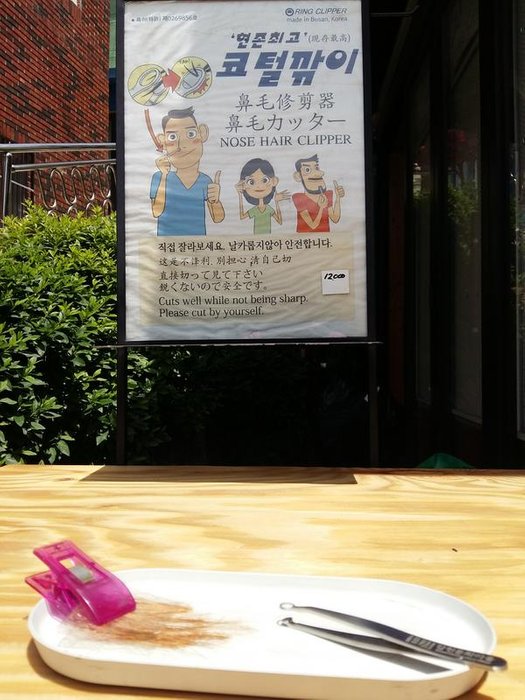 Korean Street Food - Sweet Crispy Fried Chicken called Dakgangjeong.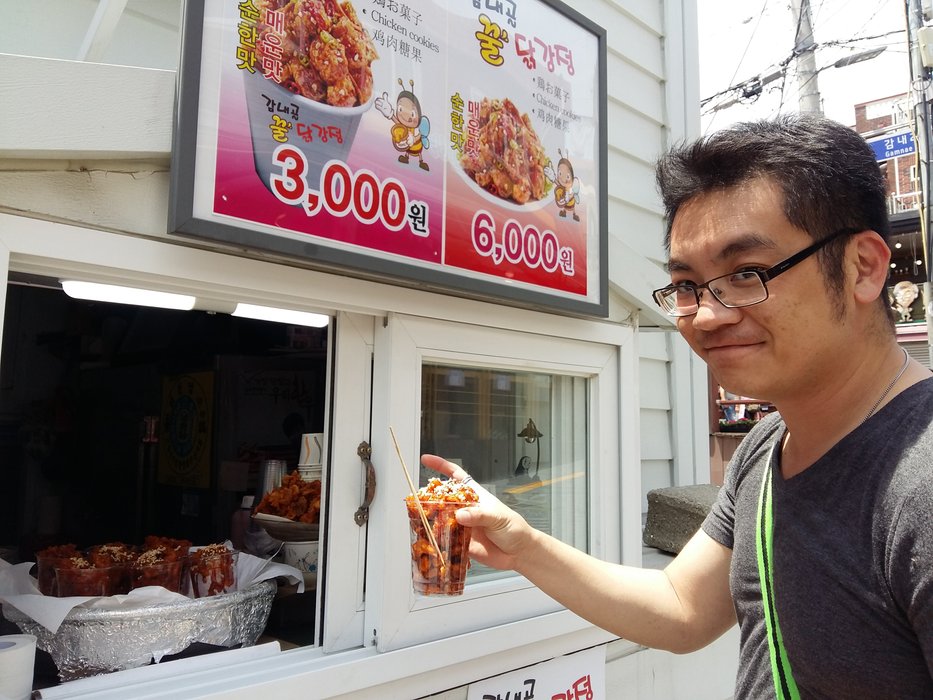 This one inside the village was not crispy at all and cold. Oh well....tourist places.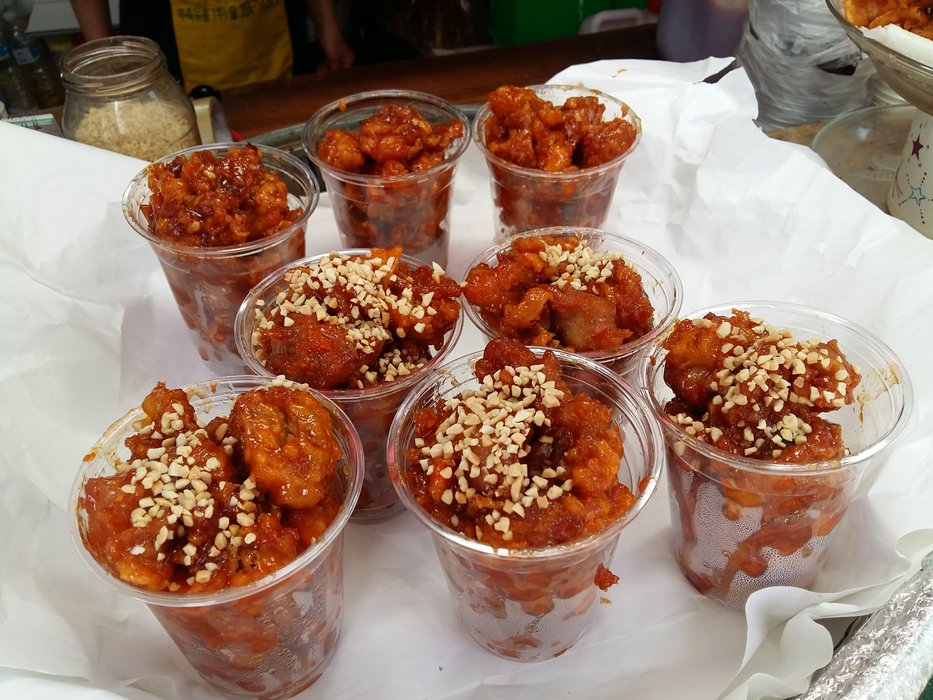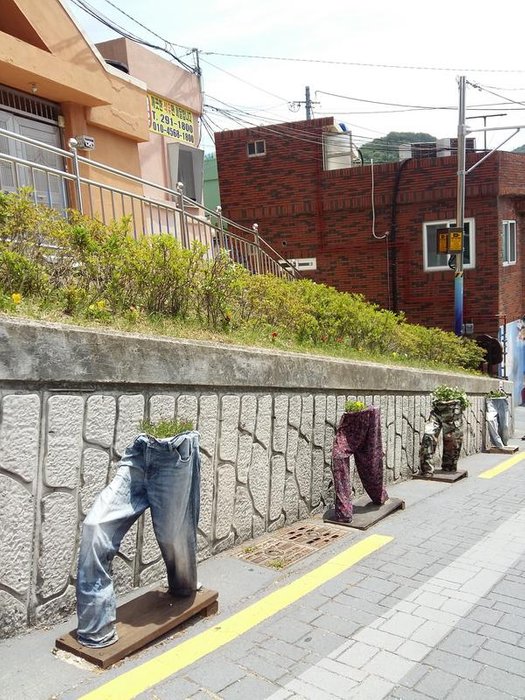 Korean Street Food - Fish Cake is famous in Busan. This is Goraesa Eomuk. It has pork bacon bits inside. Now this was delicious. But not cheap. Can easily buy another bowl of noodle or a plate of dumplings.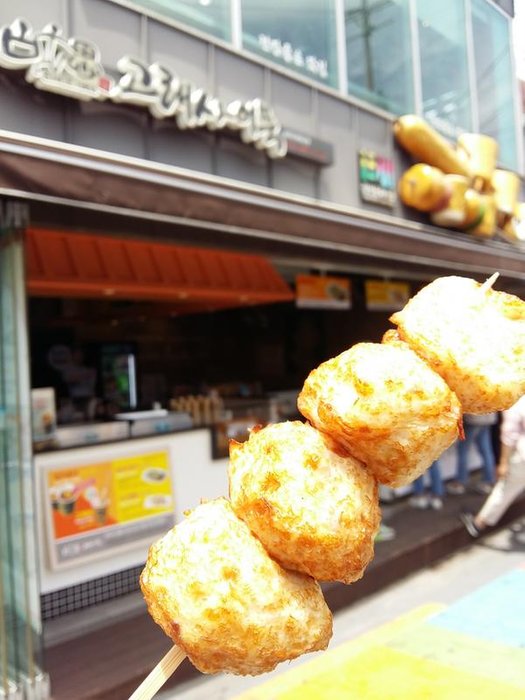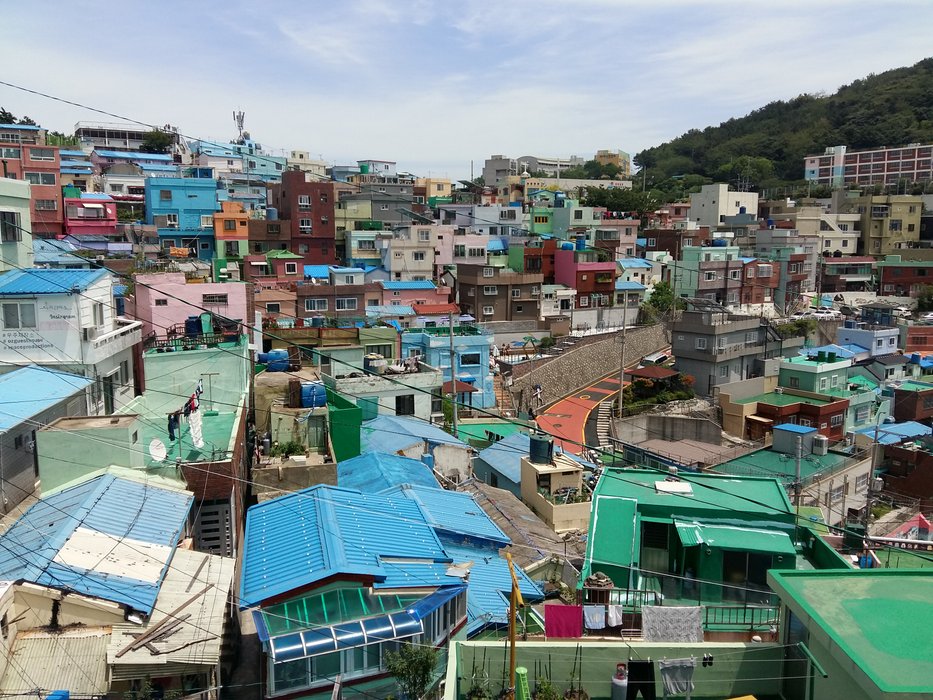 The whole village is very colourful from the front to the back of each house.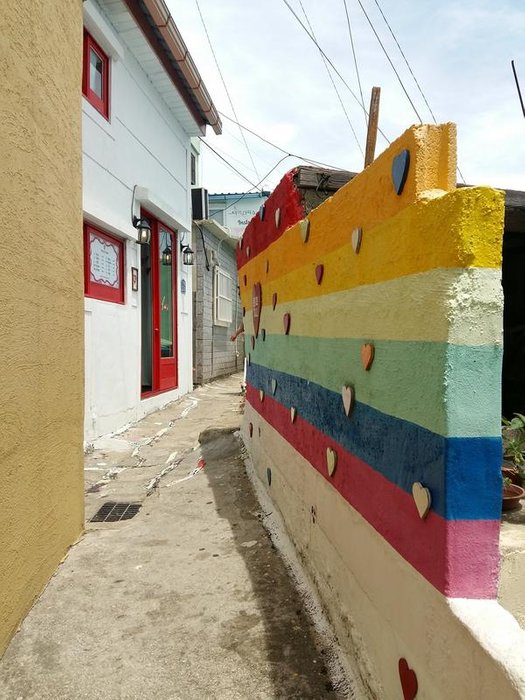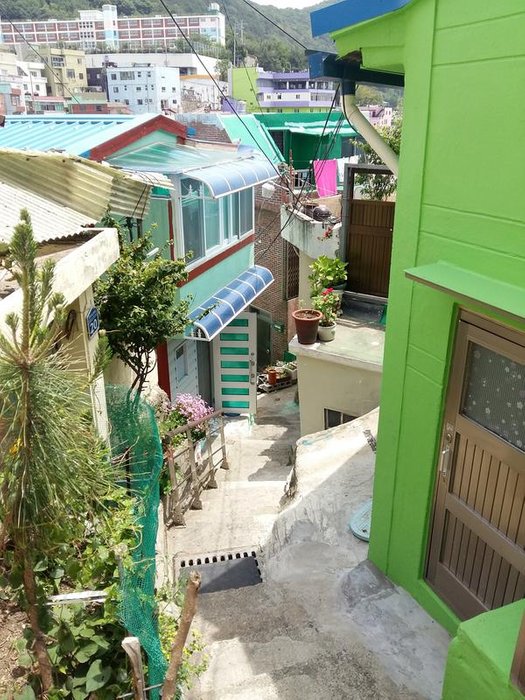 You can rent a costume and walk in the village like a local Korean girl.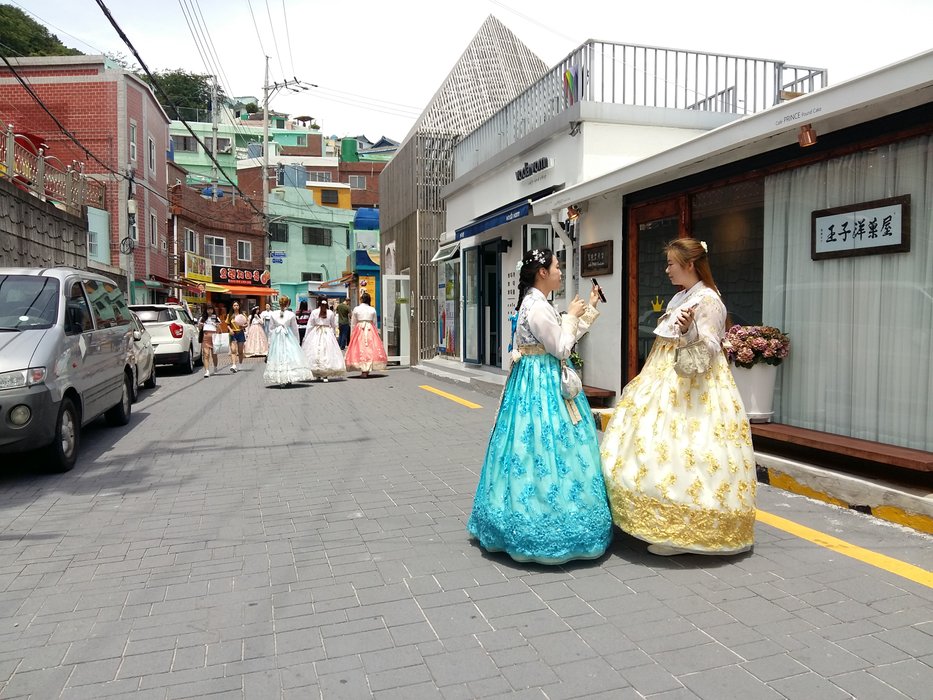 There are many photography, wefie & selfie spots marked in the village.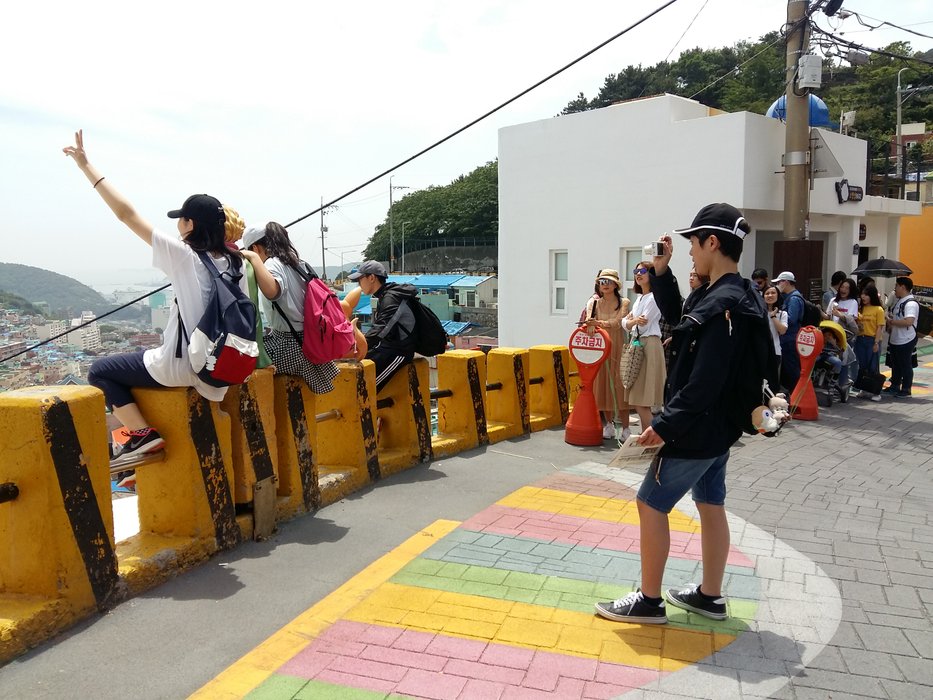 This is like a treasure hunt map. Hunting for stamps. After 3 stamps, I was already tired. After the 5th stamp I gave up because I missed one and was too lazy to retrace my steps.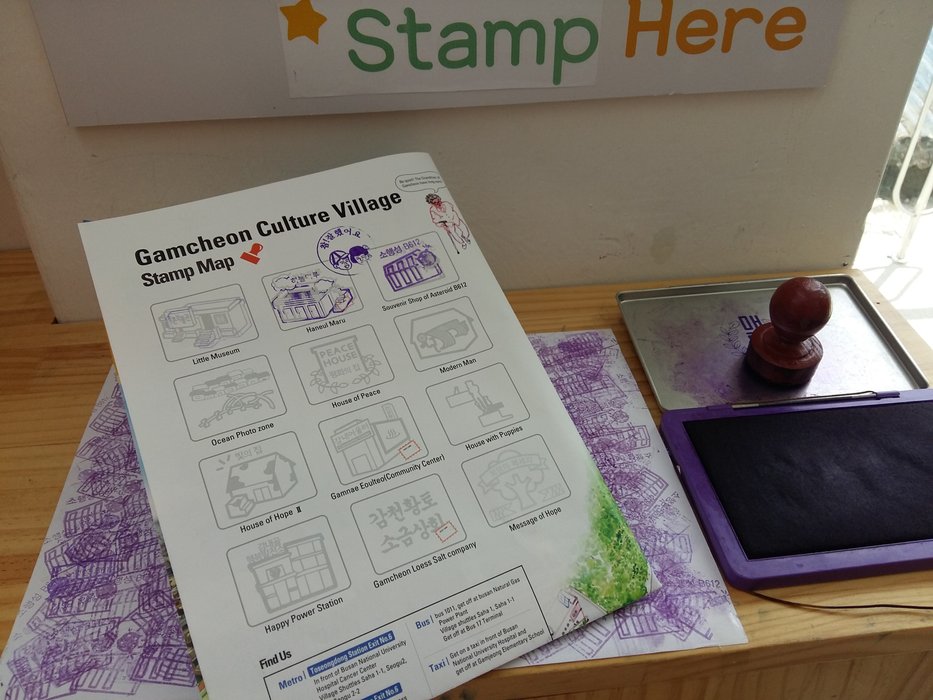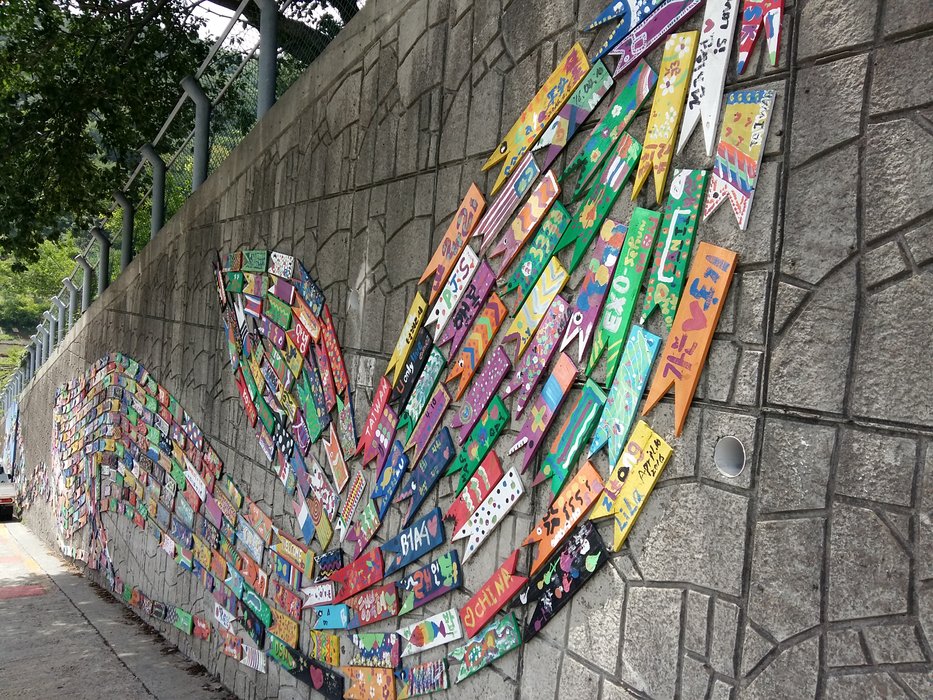 Beautiful weather makes for beautiful blooms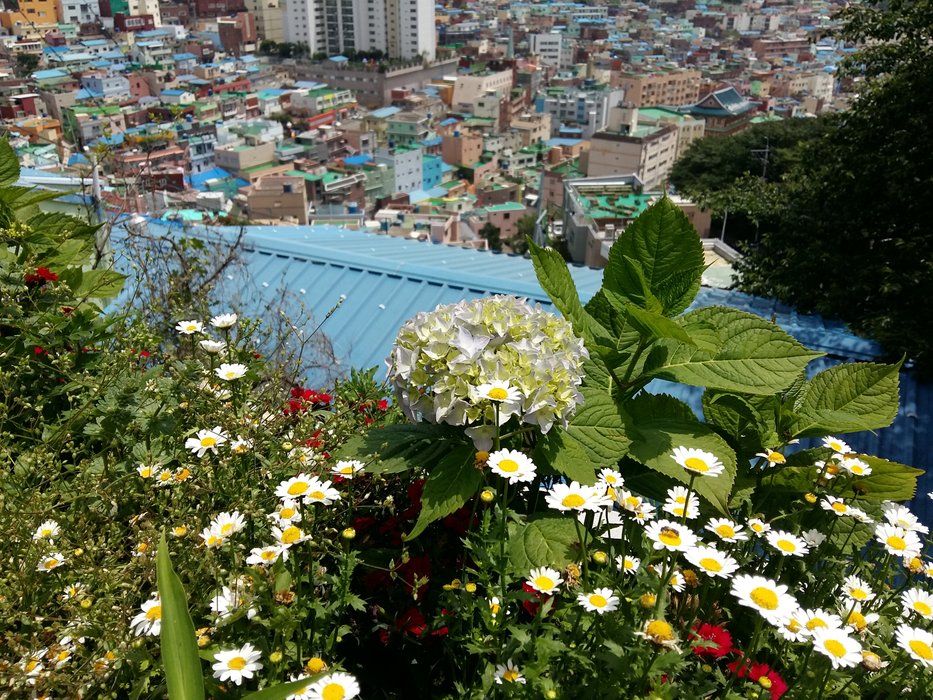 Art pieces displayed in one of the houses. All the houses are very small with narrow staircases, low ceilings and narrow doorways. Koreans must have been real small in size in the olden days.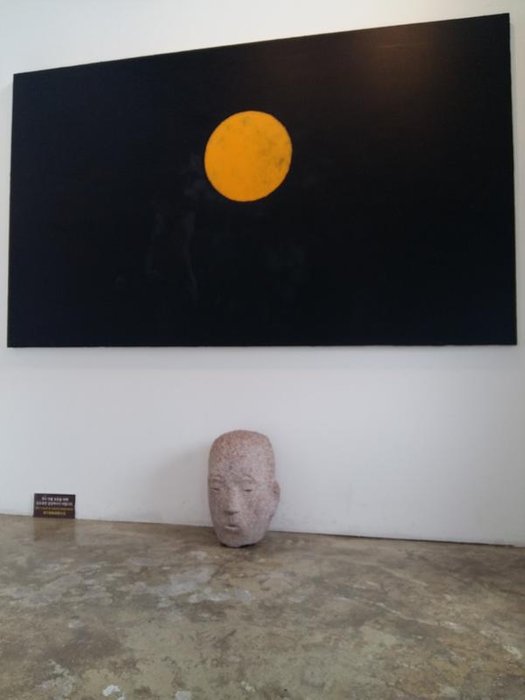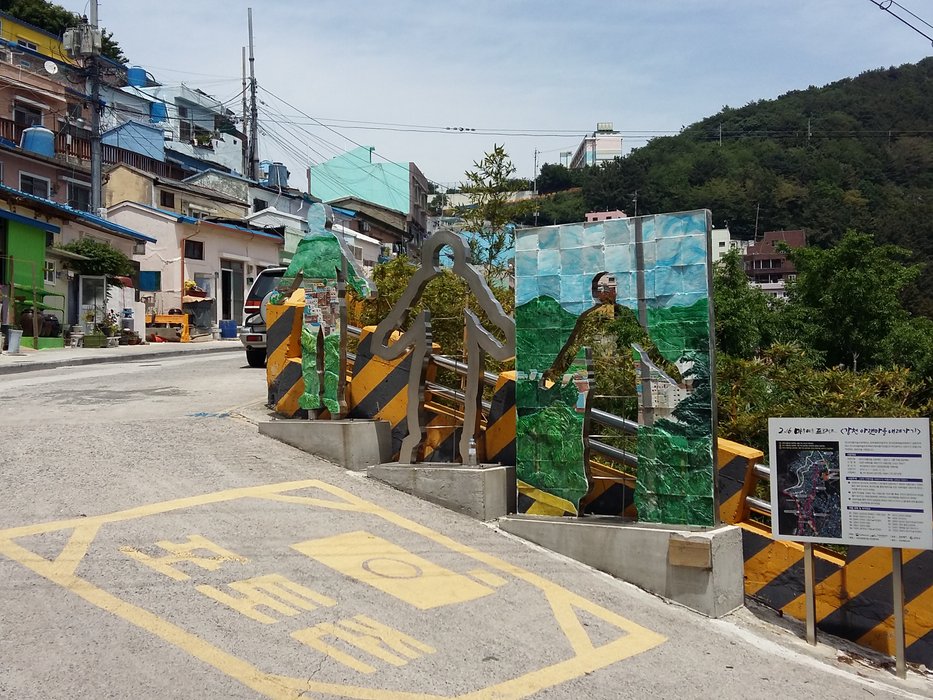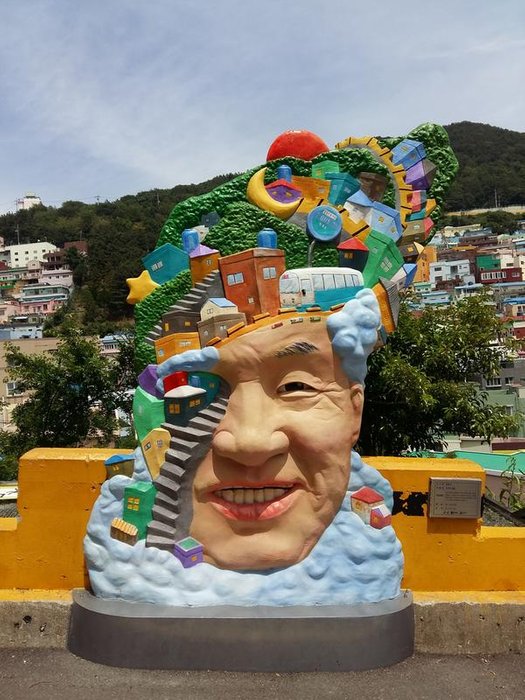 Walking down the hill towards the exit. Catching up on time to visit our next attraction.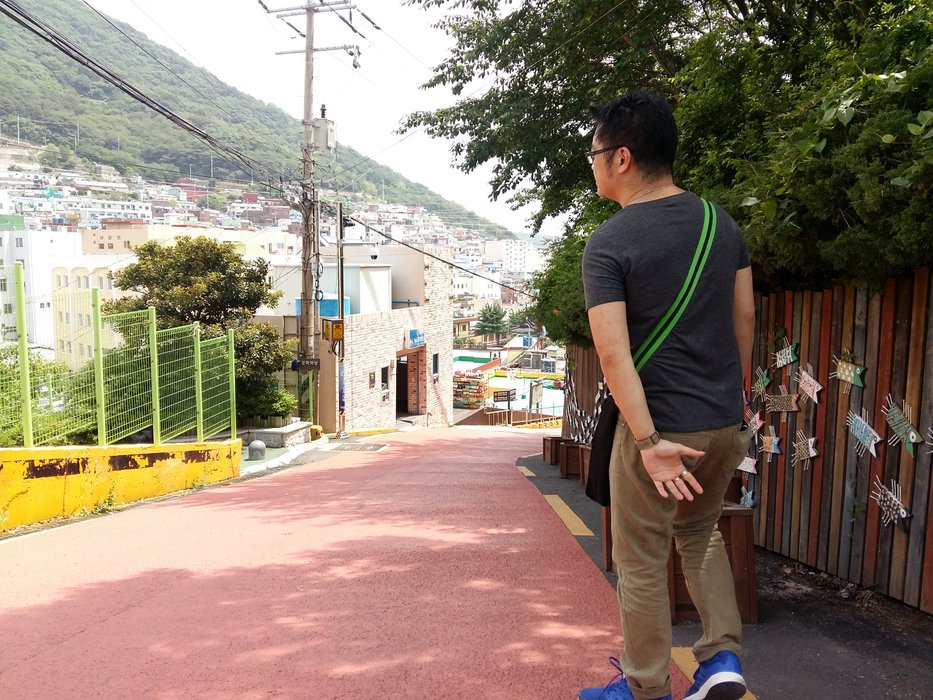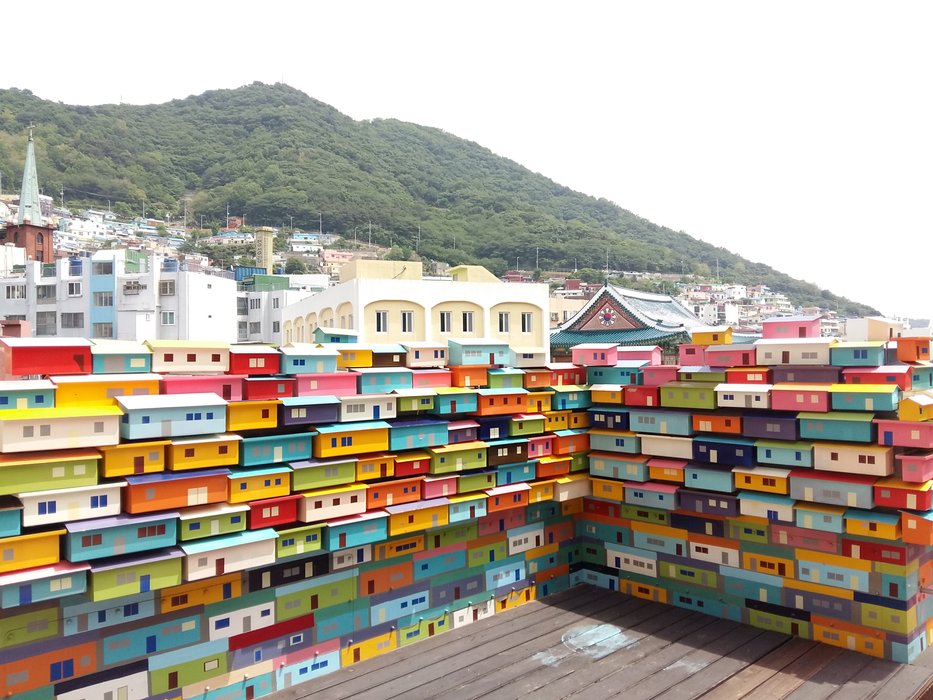 To fully experience the entire Gamcheon Village will take minimum half a day, if you walk fast and not linger too long at one place. And must have proper walking shoes or sport shoes because there is A LOT of walking to do!
Attraction #2: Taejongdae

In my google calendar visit to Taejongdae is scheduled at 3pm. So by 2pm, we left Gamcheon Village without lunch as the street food was enough. After all that walking in the hill, we still had to walk back to the bus stop, then to Toseong metro station and walked some more from Nampo Station to a bus stop to catch bus either 8, 30, 66, 88 or 186).
At Taejongdae, where the bus stopped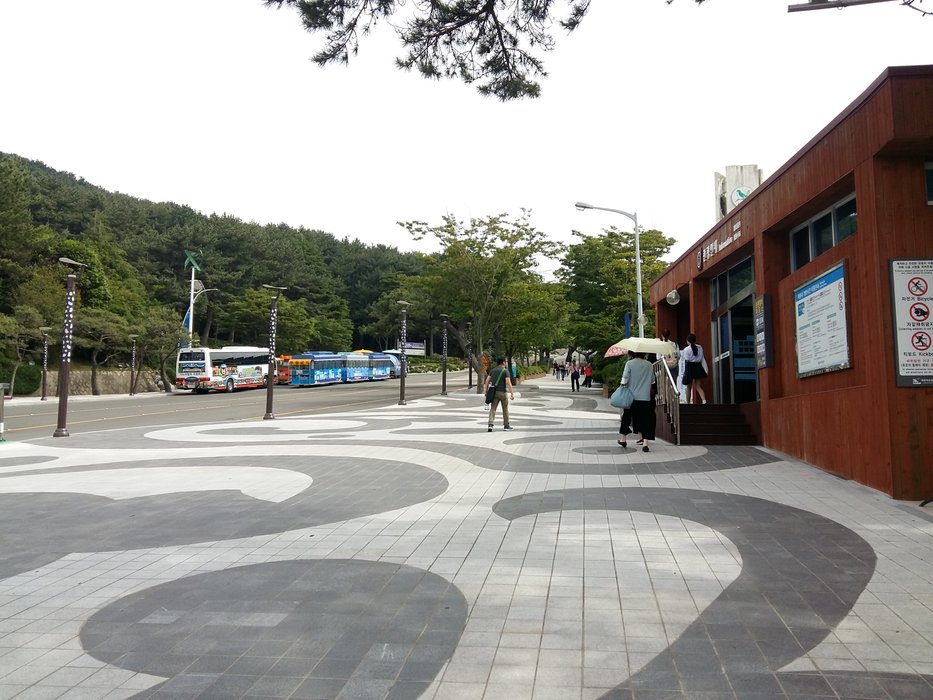 Walked across the road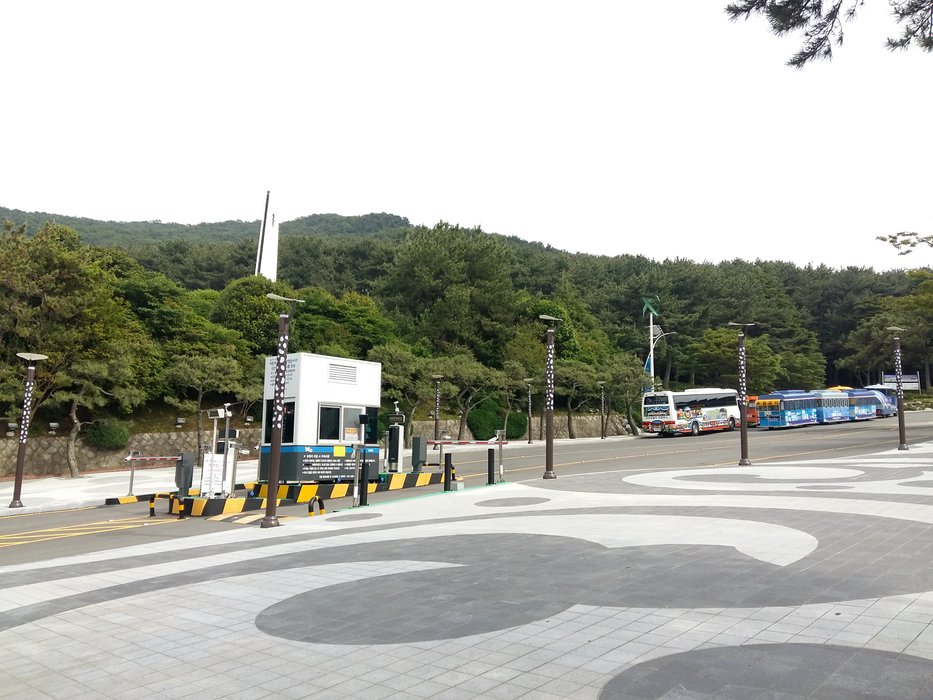 Took the Danubi Train ride as advised by most travel blogs. Cost KRW 2000 each (about RM 7)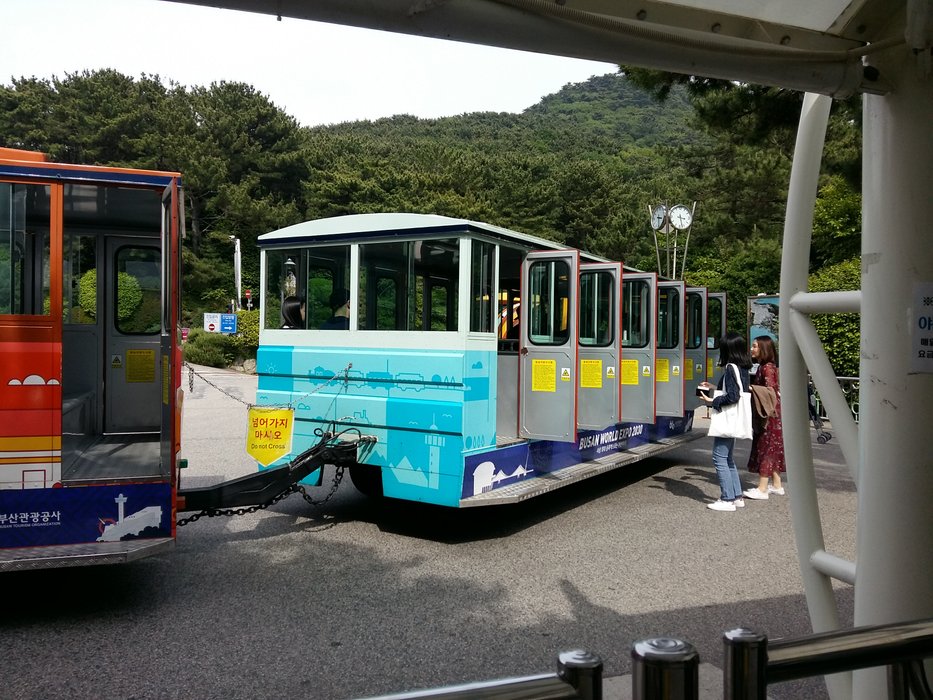 The train makes several stops. First one is at Taejongsa Temple, then the 2nd at Yeongdo Lighthouse but we didn't get down because we were happily seated in the train after so much walking.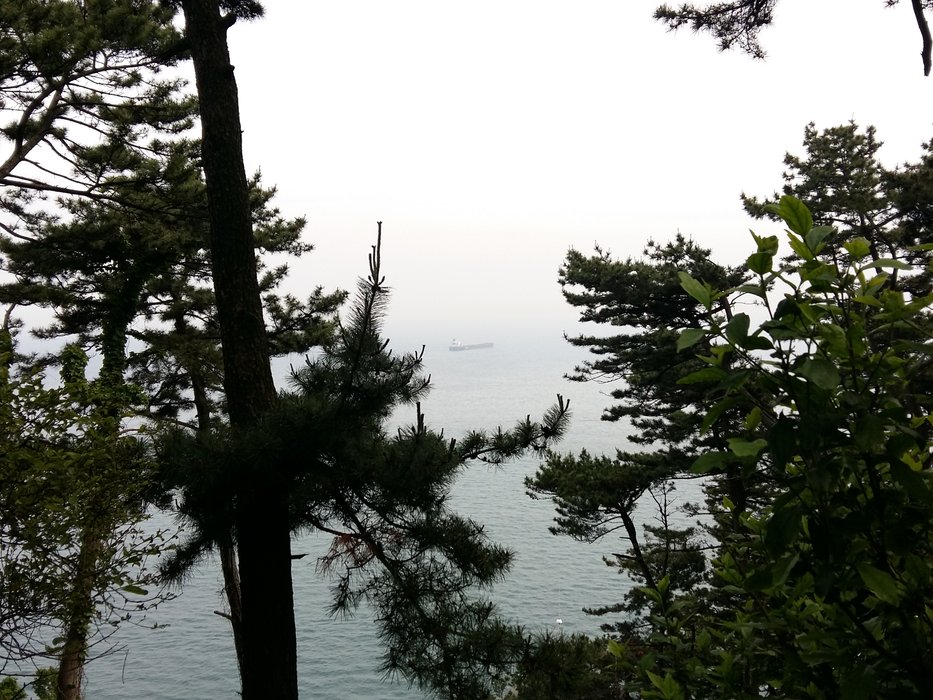 We got down at Taejongdae Observatory because everyone else was getting down, so we followed.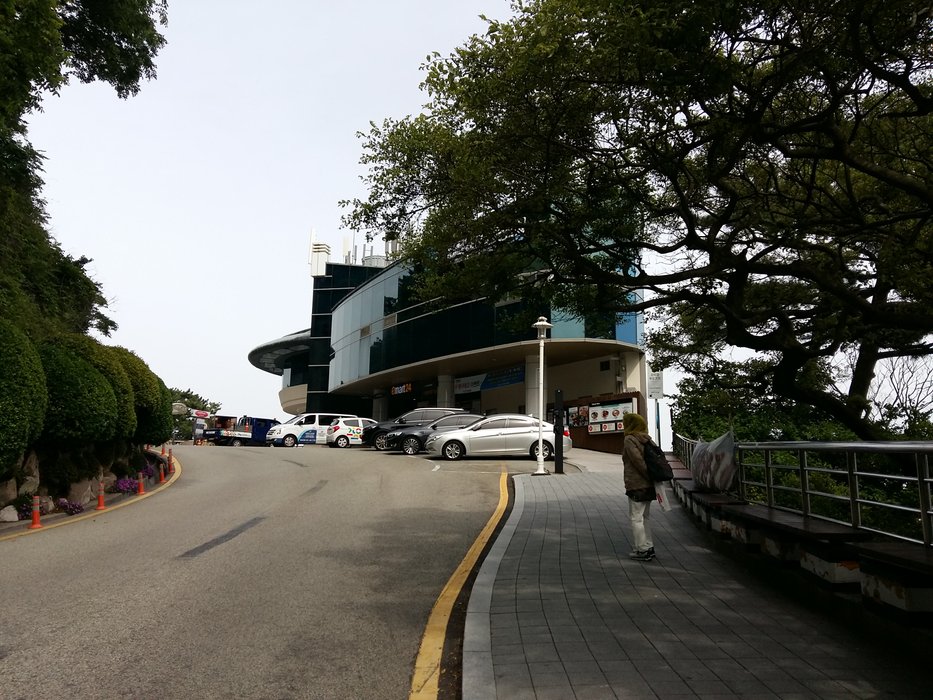 Statue of The Mother and Children - to remind suicidal people of their mother's unconditional love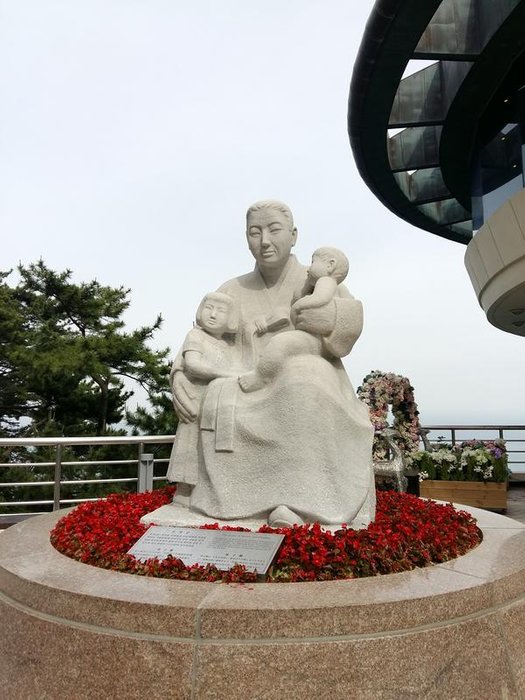 A closer look at what was written on the plaque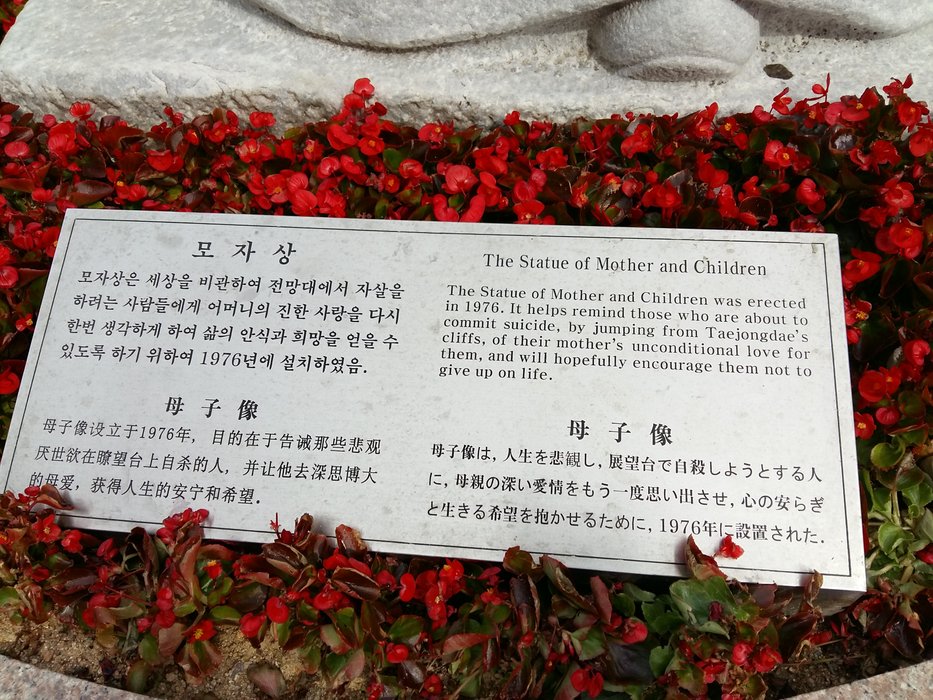 After the observatory, we were really tired. The weather up in Taejongdae was cold for me as the wind was blowing. The temperature dropped as the sun fell from the sky. On our first day, I decided not to push it further and headed back to our motel. Luckily at the bus stop in Taejongdae, there is one bus that goes straight to Sasang. I catnapped during the bus ride back which was about an hour's journey.
At the bus stop where we got off, which is just in front of Sasang Metro Station there is still about 10 minutes walk back to the motel. We stopped for dinner first. It took us some time to find the restaurant I wanted to go because of the different name displayed on their signboard against what I copied from Tripadvisor.
More Food
At every meal in Korea there is always kimchi and other pickled appetisers.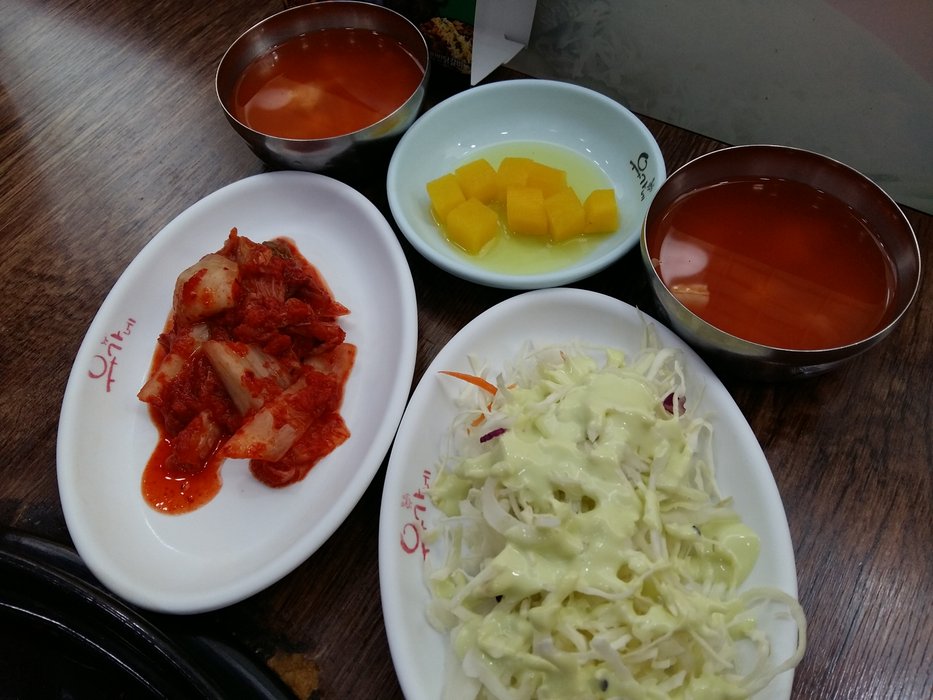 Dinner is cooked before our eyes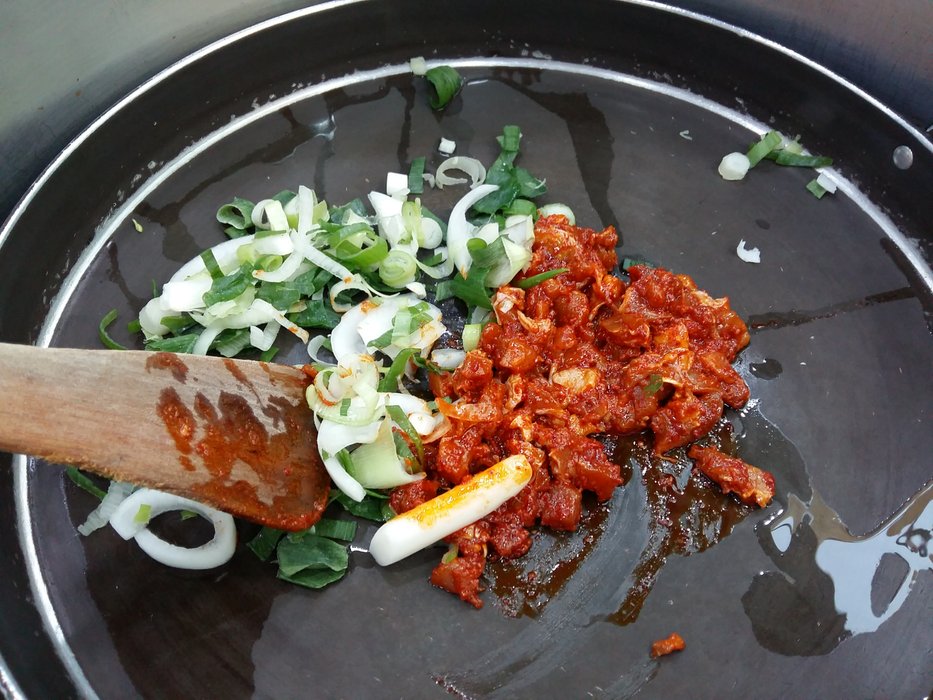 Chicken Galbi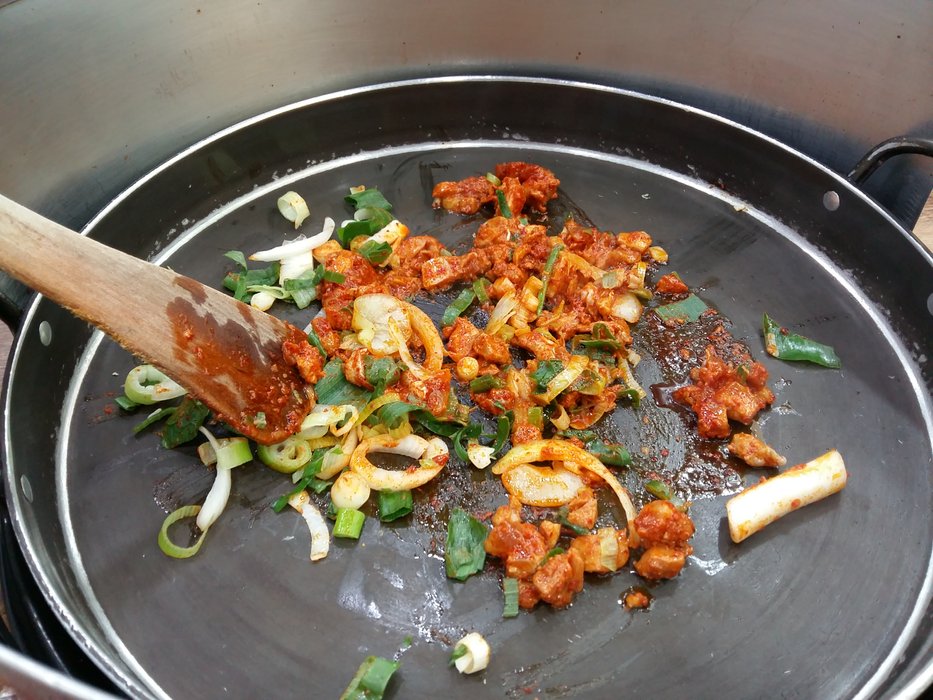 It's a chilli. It looks like a chilli. But it doesn't taste like a chilli. More like a fruit. It's crunchy and sweet.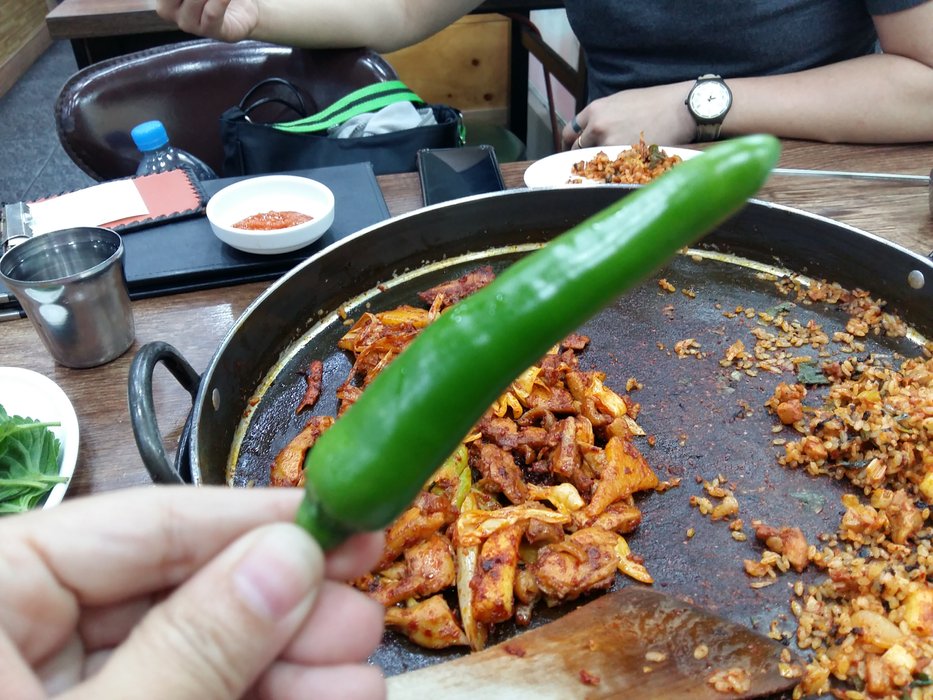 You eat it fresh with a sweet dipping sauce.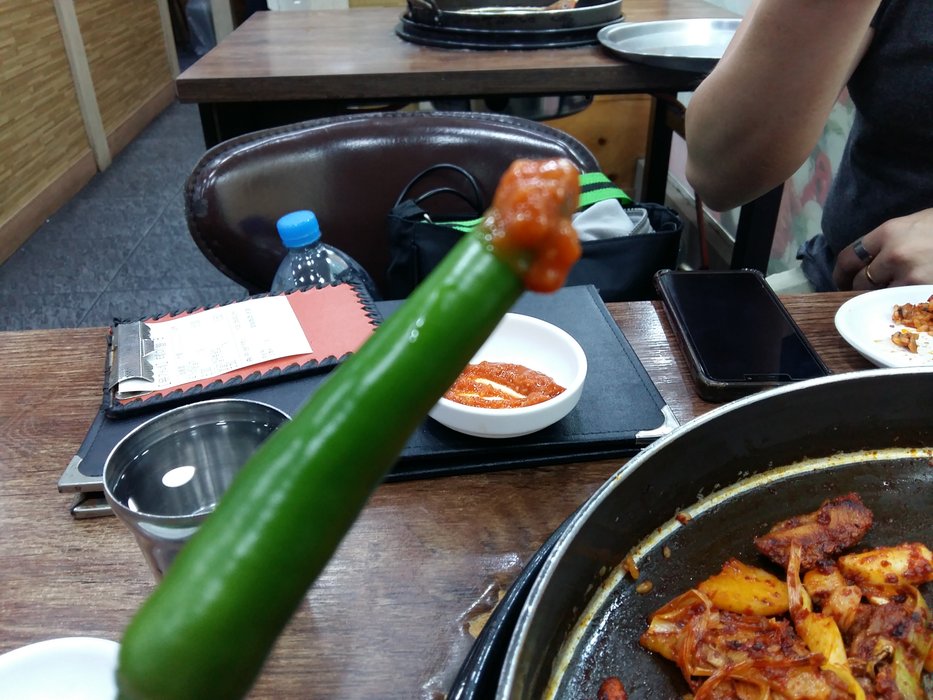 This is how you eat chicken galbi in Korea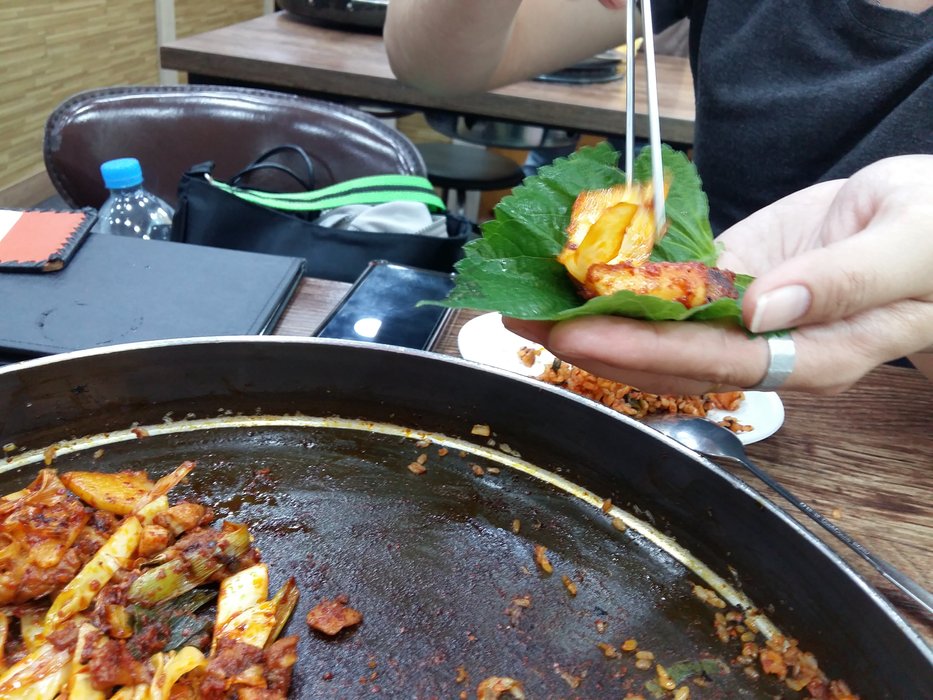 Looks delicious? It was awesome! A good meal at the end of a long day.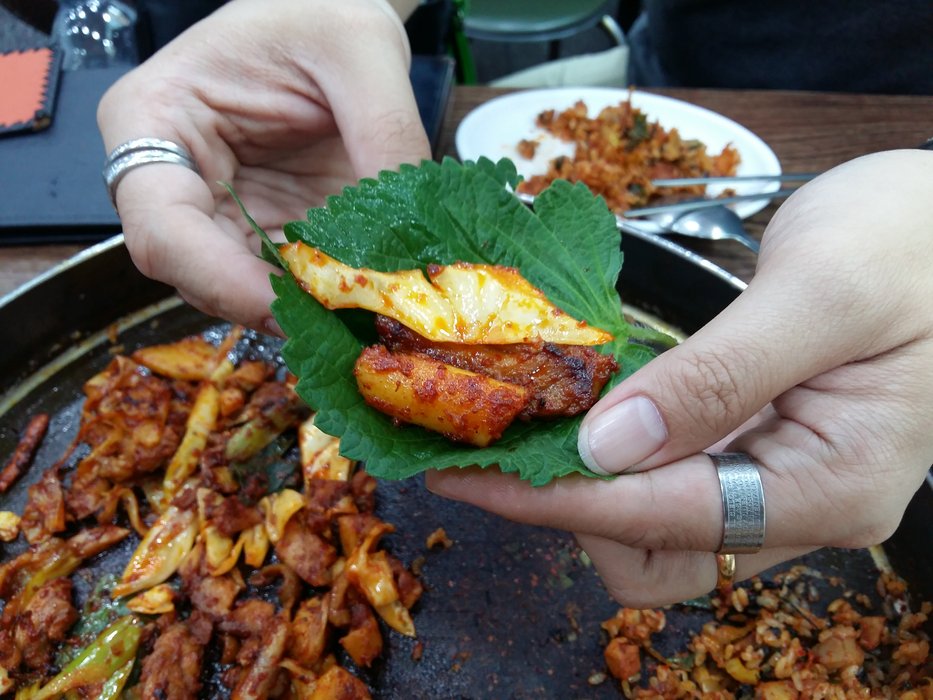 Took a video while our dinner was being prepared.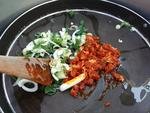 Watch
Yugane Dakgalbi Sasang (super yummy)
Address : 526-7 Gwaebeop-dong, Sasang-gu, Busan, South Korea
Yoogane Dakgalbi 1 Utama (we have not tried before but it doesn't look the same)
http://www.vkeong.com/eat/korean-food/yoogane-dak-galbi-1-utama/
In Busan, we found that if a restaurant serves dakgalbi, it only serves dakgalbi and nothing else. No 'rojaking' several Korean dishes together under the same roof like they do here in Malaysia.
Somethings are the same everywhere you go. The side street just outside the restaurant.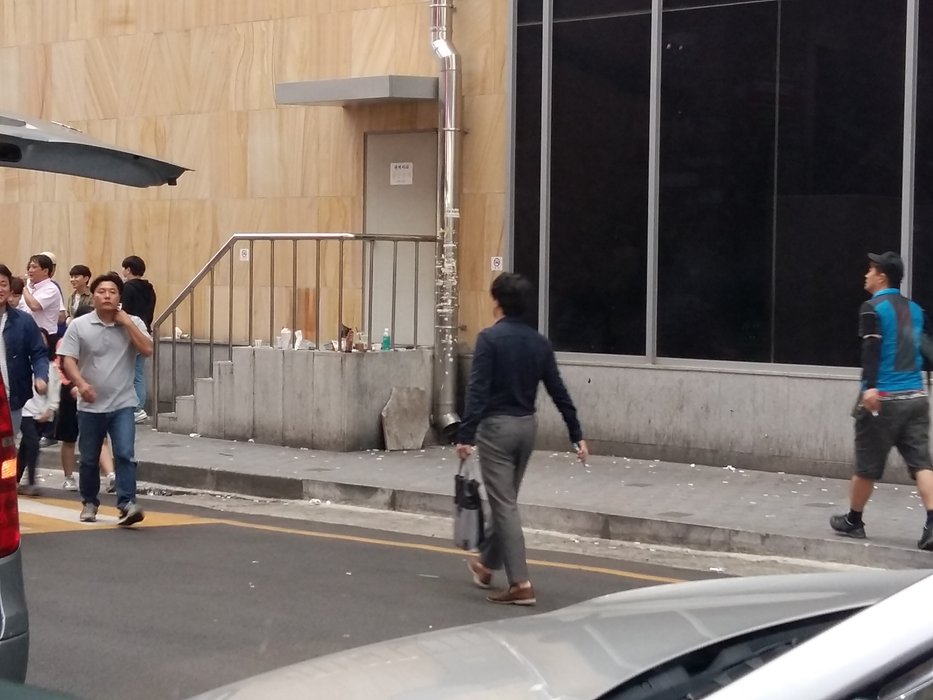 Stomachs filled as night fell and we walked back to Max Motel leisurely. There were no zombies.


Resources:
Stay tuned for #lazymom Travels To Busan Korea-7 Days Itinerary:Day 2
Read about Lazymom Travels To Busan Korea - Preparations For The Trip


Disclaimer : Unless stated otherwise, all photographs posted in this blog are owned exclusively by Frances Aw.

#lazymom travels



"upvote, resteem & follow"
Together, we Steem on.
https://steemit.com/introduceyourself/@francesaw/apa-khabar-steemit-community
I'm a member of Steem Malaysia - TeamMalaysia on the Steem Blockchain
FB Page : https://web.facebook.com/groups/Steem.Malaysia/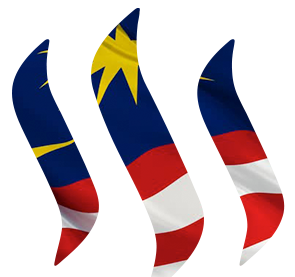 Team Malaysia