In the third part of the Kuala Lumpur series, we explore the city and make a stop in China Town, Little India, and the Petronas Towers. You shouldn`t miss that so have fun with today's article.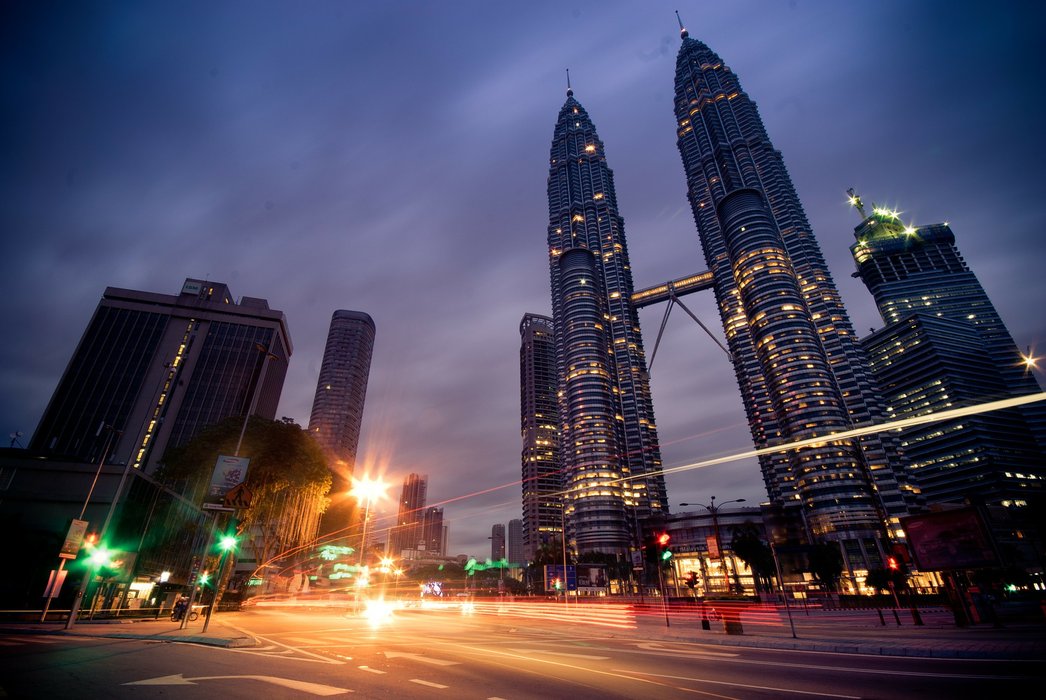 source
Also today we start with a hearty breakfast, which consists exclusively of the fruits of yesterday's market visit. Delicious, except for the stinking fruit (Durian). They live up to its name, and the taste is not much better. We dispose of the Durian on the way to the Metro and drove towards the city.
Brickfield (Little India)
Close to KL Sentral is this small colorful district, which also marked our first stay. Countless restaurants, textile and spice shops line up there. Especially the fans of Indian cuisine should stop by here. If you want to get your food served in a banana leaf, this is the place to go, because little India is known for that. Otherwise, you will find many shops with fabrics, flower garlands and Bollywood music. In contrast, there are also temples and mosques, such as the Thean Hou Temple, one of the oldest temples in Southeast Asia. You can explore this district by foot which I would recommend to you.
China Town
From Brickfield we went on to China Town. Not quite as colorful but just as full of life like Little India. The first stop was Petaling Street, the hub for all shopping enthusiasts. At least for those who have no problems with counterfeit goods. But you get everything your heart desires.
In addition to many markets and modern hotels, there are also the old townhouses from the 18th century. You can feel the history of the neighborhood. For a small or significant hunger, you should taste the street food which you can get at every corner or in the "street food court." Typical Chinese duck, noodles or other delicacies like chicken satay are waiting for you at meager prices.
In the early evening, the roads are very crowded, and so it was time to go to the next destination for today. However, we came back later in the evening to pay a visit to the night market, and it was worth it. I can highly recommend this.
Die Petronas Tower
I had read it so many times that they are a must for a visit in KL and yes they are! Even without going into the towers, because we did not want to buy tickets, apart from the fact that there were no more available. They shall always be sold out very early in the morning. I can, unfortunately, tell you nothing about the view from the inside of the towers, but therefore what happens at dusk at the foot of them, because at this time, we arrived there.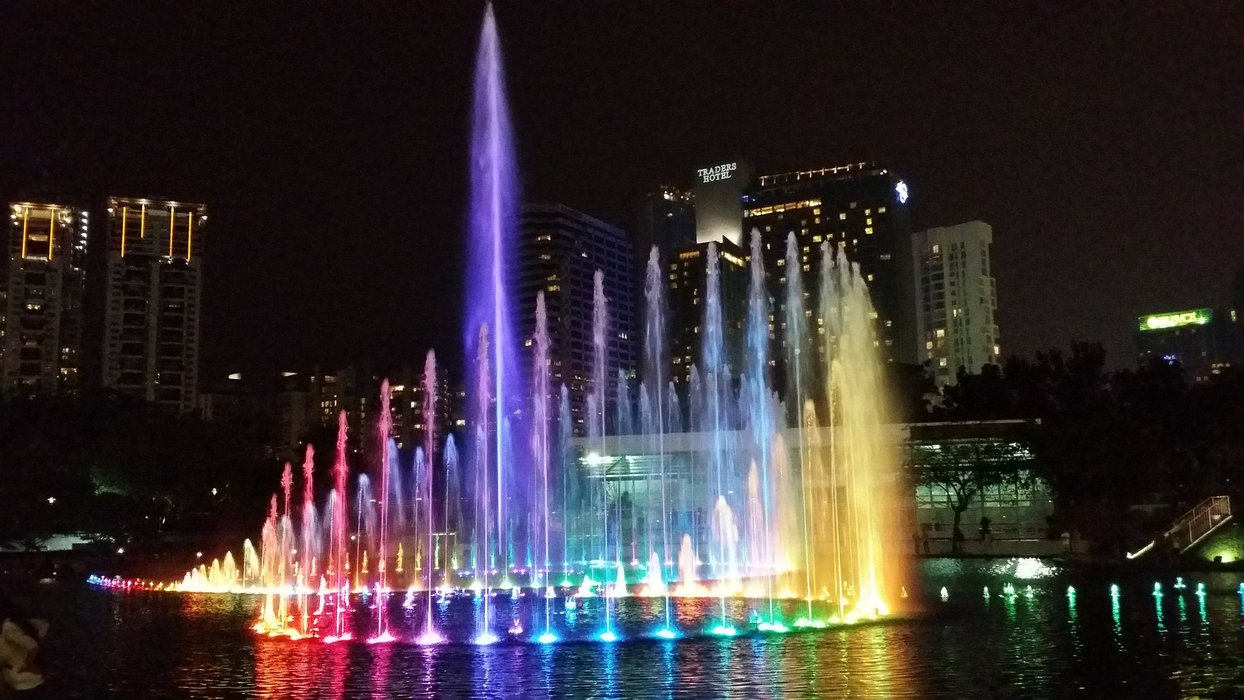 source
At the foot of the Petronas Towers, you will find the KLCC, a vast shopping center in which you can probably spend several hours. I'm just beginning to notice that the word shopping is quite common in this article, but it's also ubiquitous in this city.
Anyway, we just threw in a quick look and got a little something to eat and then take a seat in the small park in front of the "Lake Symphony." Because every hour from 8:00 p.m. there is a water show. Approximately for 5 minutes, water fountains spray high into the air. The show is of course rehearsed with music and packed in a choreography. Everything takes place in front of the KLCC with the Petronas Towers in the background. It is dark and yet everything is brightly lit and oversized. Hard to describe, you have to see it by yourself. Just a great atmosphere that you can enjoy even more intense with your loved one. I think we spent about two hours here and were very happy even without tickets for the towers.- to be happy doesn`t depend on money!
Later on, we moved to the night market in Chinatown as already described. Once again I tasted some street food here and there while we sauntered through the alleys until the market closed. The way home we then took a taxi, because the Metro already closed.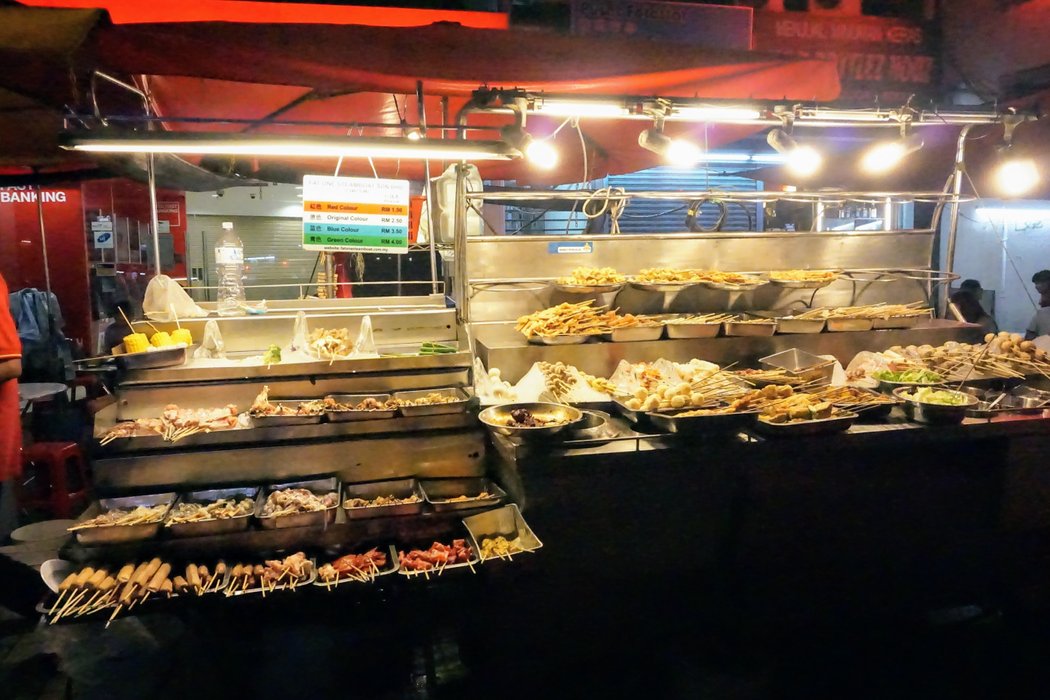 Nice to know
Markets: As everywhere in KL you should negotiate at the markets because the prices for tourists are round about 20 - 50% higher. So do not agree at the supposed bargain, the 20% should always be possible.
Metro: The KTM Komuter train has a wagon exclusively for women. You should respect it.
Generally there is no tip expected, but of course, you are free to give some extra money.
The tap water is not drinkable because of the high ratio of chlorine.
Prices for taxi rides should be negotiated before departure.
The possession of drugs is punishable by high prison sentences or even the death penalty.
We felt very safe in Kuala Lumpur. There is no need to worry.
In the next article, we will go to the Batu Caves, in the north of the city. I hope you will stay tuned.

Other articles from the Kuala Lumpur series:

Kuala Lumpur Part 1
Kuala Lumpur Part 2
Instagram

@steemitworldmap -
| Camera Streetfood Image | HTC Nova |

Sunny greetings