Due to the beautiful number #70 that we reached on our
Let's Travel Together
series, I thought that I will also make a special post which is more dedicated to animal lovers but also to those of you who like to explore places that are not so known by people.
So today I have the pleasure to invite you into a WILD but also WONDERFUL adventure.

Neamtului Glade is a beautiful place hidden in the heart of the Fagaras Mountains, on just 15km away from Avrig.
The glade is barely known by people because it doesn't represents a touristic attraction but most likely a farm of deers and reindeers which belongs to the guest house which is right next to it, having the same name Neamtului Glade Guest House (RO: Pensiunea Poiana Neamtului).
I've decided to visit this place as a continuation of my previous trip at Hotel Of Ice from Balea Lake, so if you wish to also have some fun while feeding the gorgeous animals you see in pictures but also touch them, I totally recommend you to drive 15km more until you get to the Neamtului Glade.
Even though the farm was created a few years ago, this place tends to attract more and more families which bring their children to have some memorable times spent close to the wild animals while spending a night (or more) at the guest house, far away from traffic and people but more likely connected with nature, animals and the silence of the mountains.
Located on a altitude of 700m, the guest house represents also a spot from where many mountain trails are starting.
Such as:
Barcaciului Chalet (~2h 30m);
Avrig Lake;
Balea Lake;
"Badea Cartan" Museum;
etc.
It's also important to know that the farm of deers and reindeers is very well maintained, which can be noticed every year when the number of the animals is rising due to quick accommodation in the glade.
If you decide to visit this place and possibly spend a night at the guest house, you don't need to worry about water as nearby is a spring with fresh water coming from the mountains.
If you are an active person and would also like to enjoy some other activities, the guest house have some offers for you, such as:
football field;
ping-pong;
trout farm;
horse riding;
carriage rides;
billiard.
Even though it's a guest house, the owners let you place the tent and camp, for a tax of 50 RON (10.72EUR) - for the tent and a tax of 5 RON (1.07EUR) - for the car.
"Neamtului Glade" Guest House have around 13 rooms offered to the tourists which wish to spend a night there, the taxes being around 130RON (27.88EUR) for two persons.
To visit the farm of deers and reindeers is completely free, but you need to firstly talk with the owners. If you wish to also feed the animals, keep in mind that they would love to get some fresh corns from you.
The address of the Neamtului Glade (and guest house) is: Avrig, Valea Avrigului, Str. Poienii nr. 1

SEE YOU IN THE NEXT TRIP! 🏕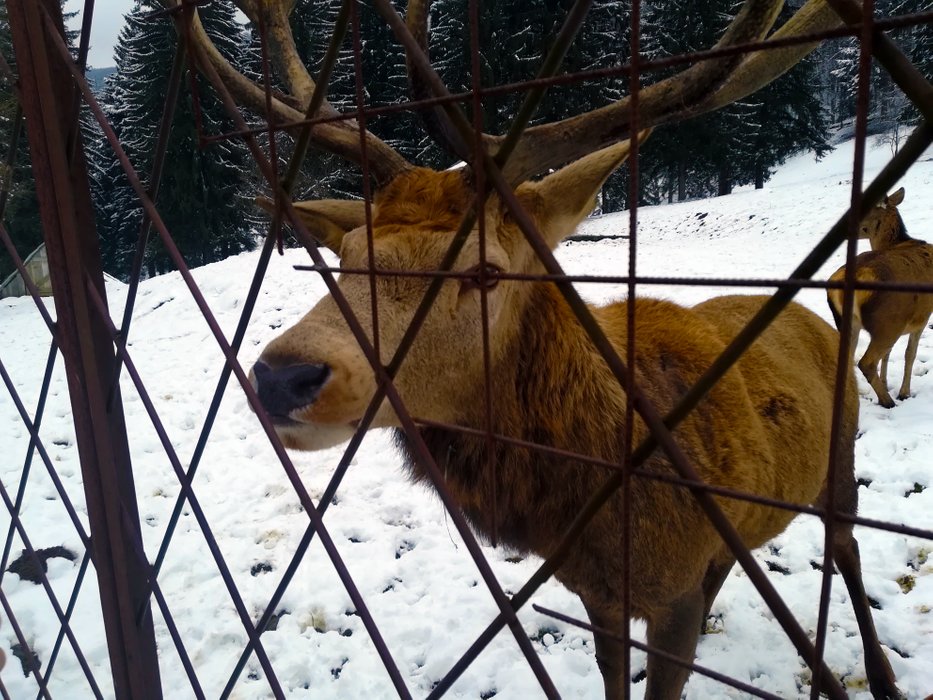 All rights reserved.

You can find me on:
↪ Patreon: https://www.patreon.com/GabrielaTravels
↪ Facebook: https://www.facebook.com/gabrielaistraveling/
↪ YouTube: https://www.youtube.com/gabiivdesign
↪ Instagram: https://www.instagram.com/gabriela.tv/
↪ Blog: https://steemit.com/@gabrielatravels
↪ PayPal: [email protected]