It has been an incredible journey posting all the stuff I saw and experienced on the land of ice and fire. Only to think that I traveled to Iceland a little less than a year ago but still only now making my last post, I never thought it takes so much time. After all this time you have seen almost all the photos I post-processed and I think it totals around 1 thousand. Today Is time to make this last post which is going to be on a longer side.
So, this is the day before we were scheduled to fly back to Estonia on the day after. Conjointly it was the last day we had time to do anything and we saved this hike for the last. During the drive to the starting point of the trail, I was already starting to worry about the time. Fortunately days were long and basically, it didn't get too dark at all. The bigger worry was actually the weather, it had been raining on and off. This just makes a hard hike even harder.
About The Glymur Waterfall
Glymur is located in Hvalfjordur fjord in West Iceland and it is around an hours drive from Reykjavik. For a long time, it was considered the highest waterfall in Iceland (192 meters) until recently. Now the highest is 7 years ago discovered and measured Morsarfoss which is 228 meters in height. So Glymur dropped to the second place. There is no easy way up to this waterfall and if you really want to see this majestic waterfall which falls into massive moss covered canyon, you have to get your serious hiking mood on. There is also no way of seeing it from far away on the road somewhere because Glymur is pretty much in the middle of the wild nature and view to the fall is blocked by nearby hills.
Hike up and down is around 12 kilometers long and the road goes up 300 meters in height.
Hiking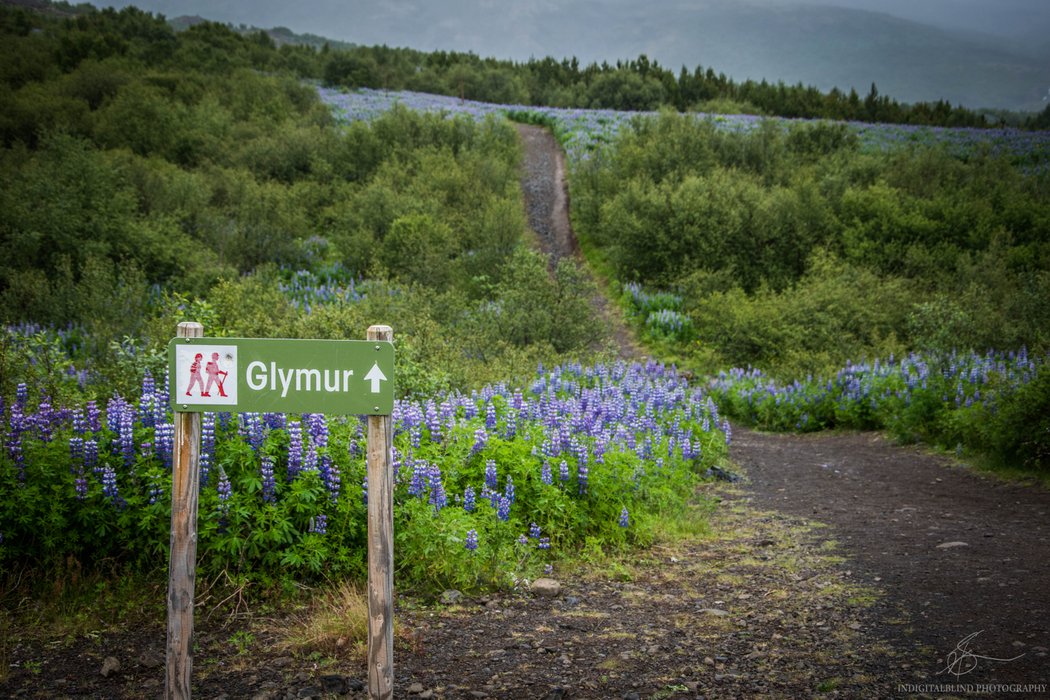 When we arrived at the start of the trail, I and my girlfriend packed only necessary items with us because there really is no reason to overpack and feel the tiredness and back pain on your hike. I only packed a waterproof clothing, camera, couple of energy chocolate food bars and a small bottle of water. Water really isn't too necessary because you come across several rivers and streams on your way.
At the start of the path, you could see a sign that indicates your way of going. I read before that some people get a little lost on the way because there are several footpaths and they are not signed everywhere. First 2 kilometers of the walk was easy, no rough trail or anything. Just going smoothly uphill and crossing a couple of small streams.
Finally, we reached our first milestone. There is a huge cave on the road and you have to pass it in order to progress in your hike. From that point the road got more hard to walk, some places of steep drops where you don't want to fall and path overall goit moire challenging to move but nothing we couldn't do. It may also be a little confusing where the road goes from his point but if you have an okay sense of your surroundings and direction, you are fine.
Couple of cave shots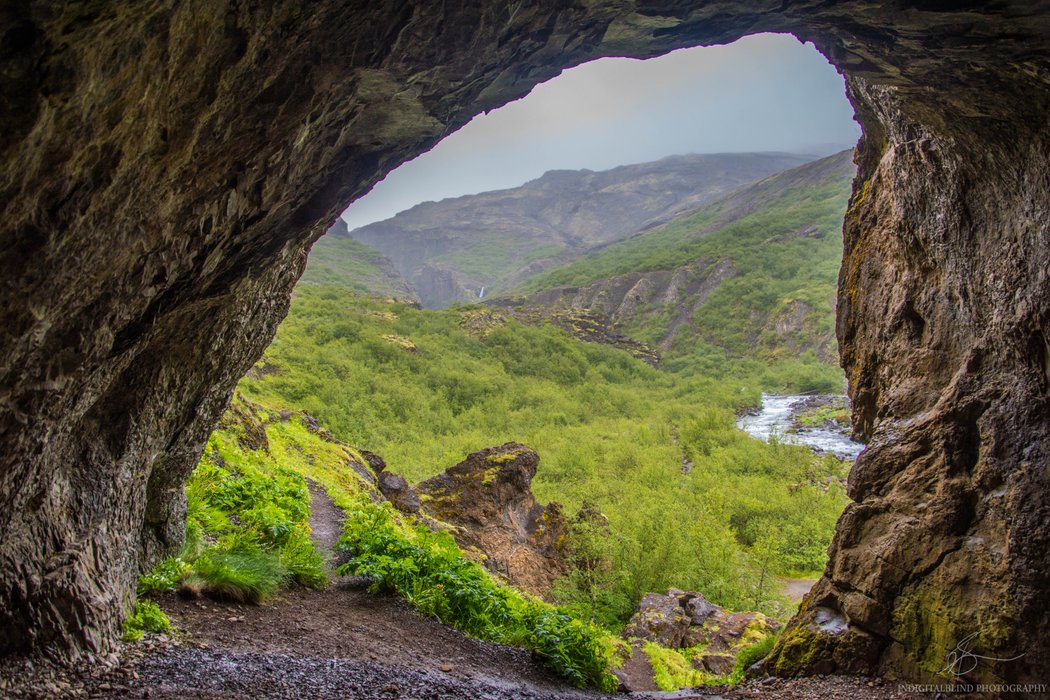 ---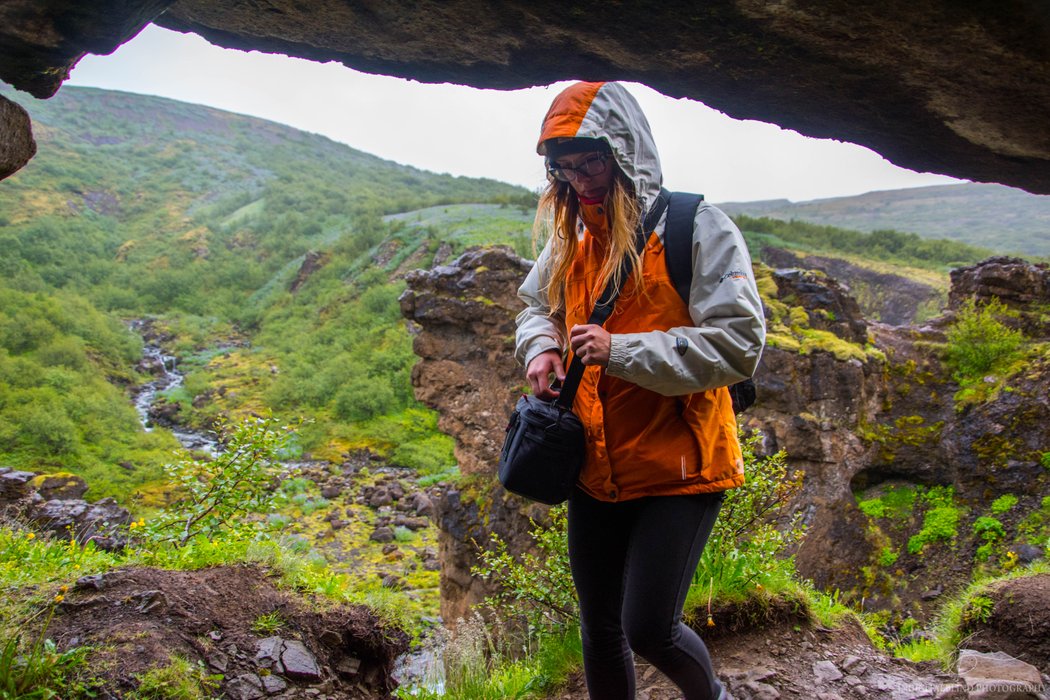 ---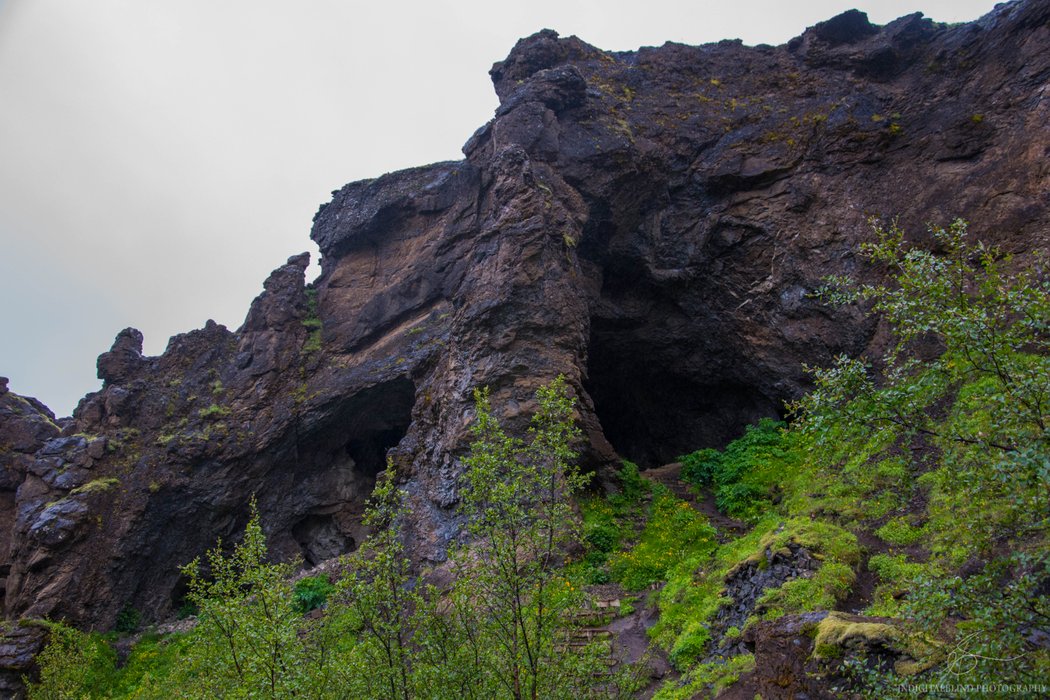 Soon we arrived at the location where we had to cross a high-speed river. There is a log going over the river with a supporting line you can hold onto but there was a huge problem. At the time water level was high and the rocky part leading to the log was underwater. We thought about removing our hiking boots and go barefooted but the water was around zero degrees and we were a little worried about slipping and falling. The last thing we needed was to fall into cold, fast-moving water. We decided not to take this risk and move forward on the same side we were but we knew this is going to be even more challenging due to rough cliffsides than the main trail.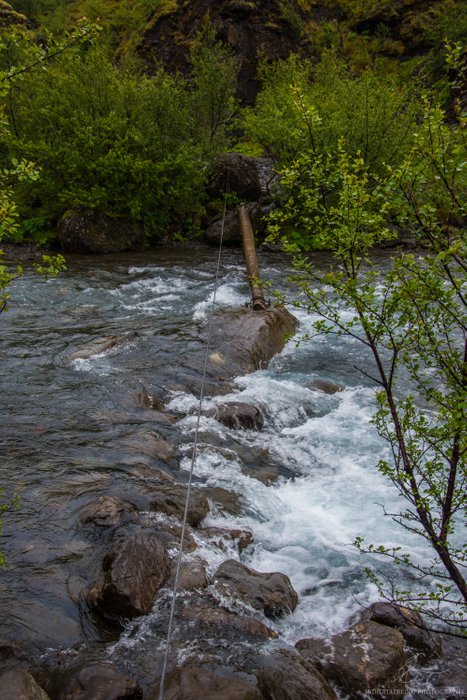 Unfortunately for us, it started pouring heavily and this made conditions pretty unpleasant, especially operating my camera. Nevertheless, we pushed forward and soon enough the rain came to an end. From there on out mountain climb really started and when we arrived on top of the first cliff, the first epic view to the canyon appeared.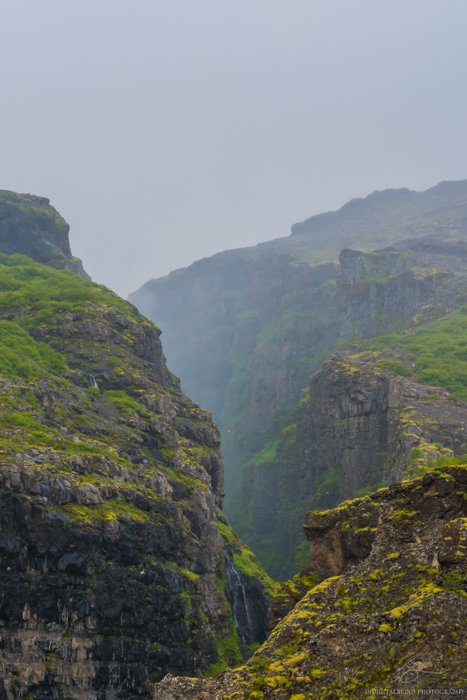 The Glymur river down below.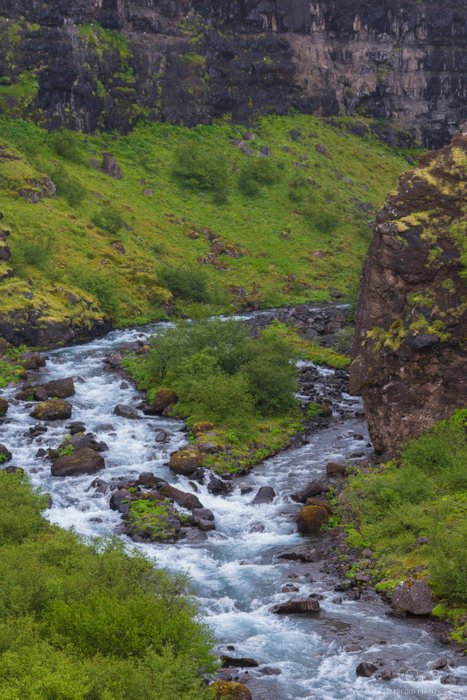 As we were getting higher we could see more and more the landscape of the area.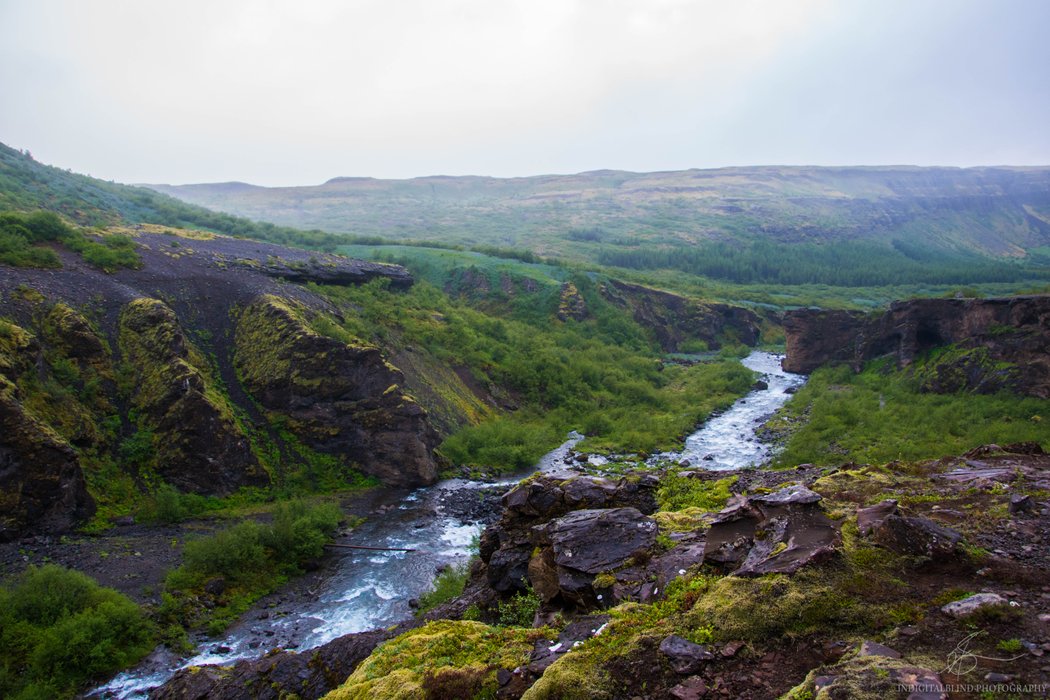 At this point, we were a little over halfway through our way up but the hard hike was tiring a little so we took 15 min just sit down. Wind gusts were pretty strong there.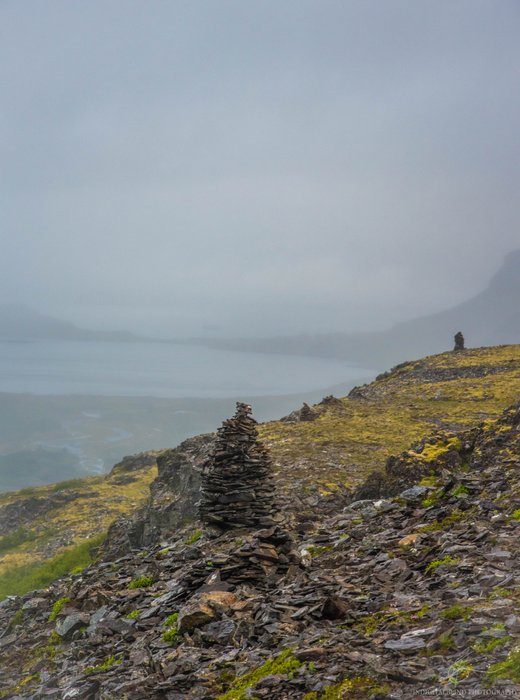 After some more time moving up we were able to see the top of the waterfall and it really was amazing.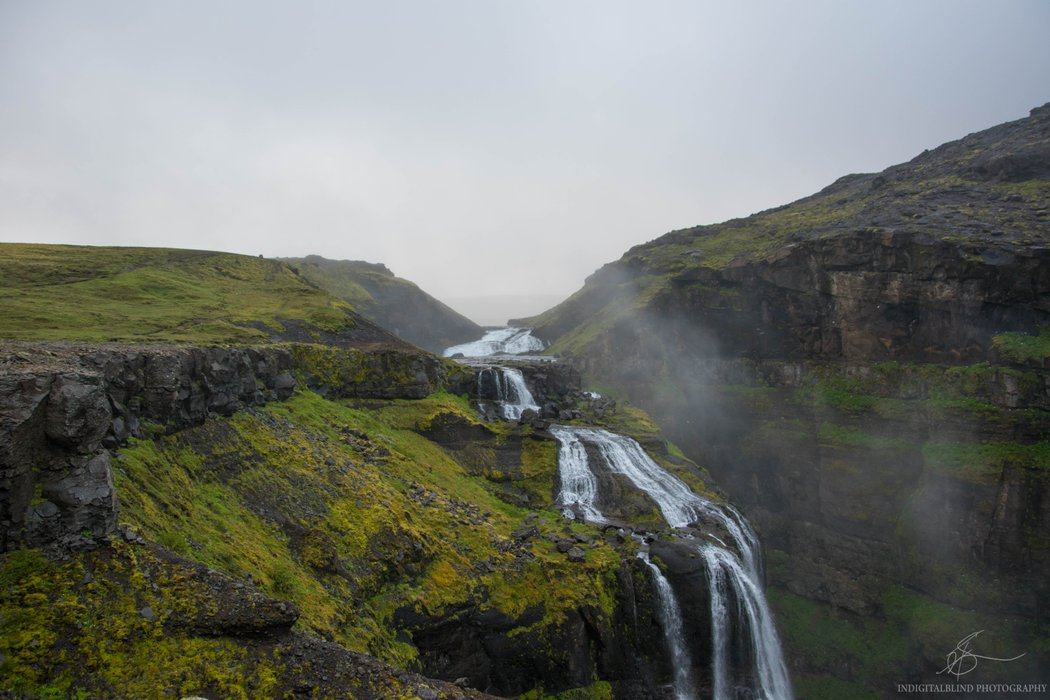 ---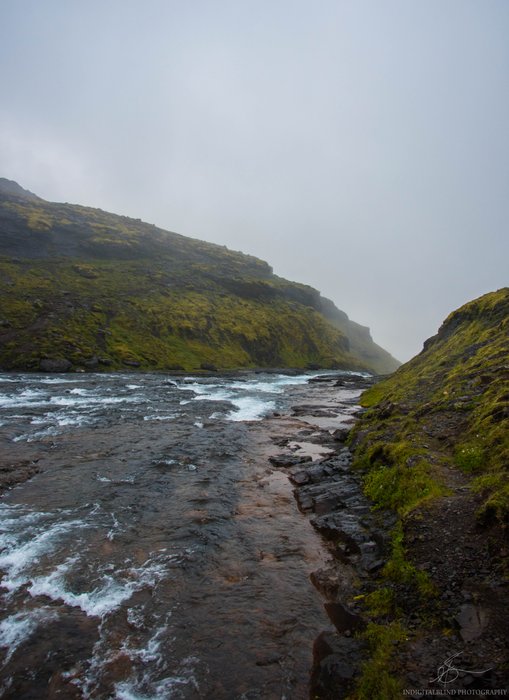 This is it, we were up!! What we saw there was absolutely breathtaking. Photos I took are not giving a glimpse of what it is when seen with your pure eyes.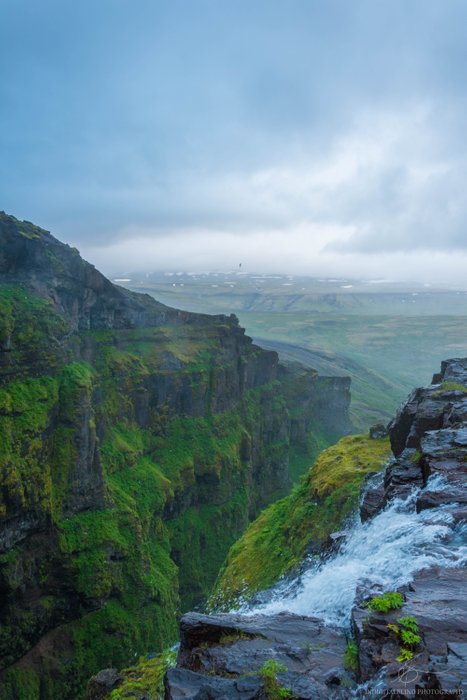 A straight drop of 198 meters. I had to be really cautious to not step on a loose rock and not to slip. I tried to get as close as I could.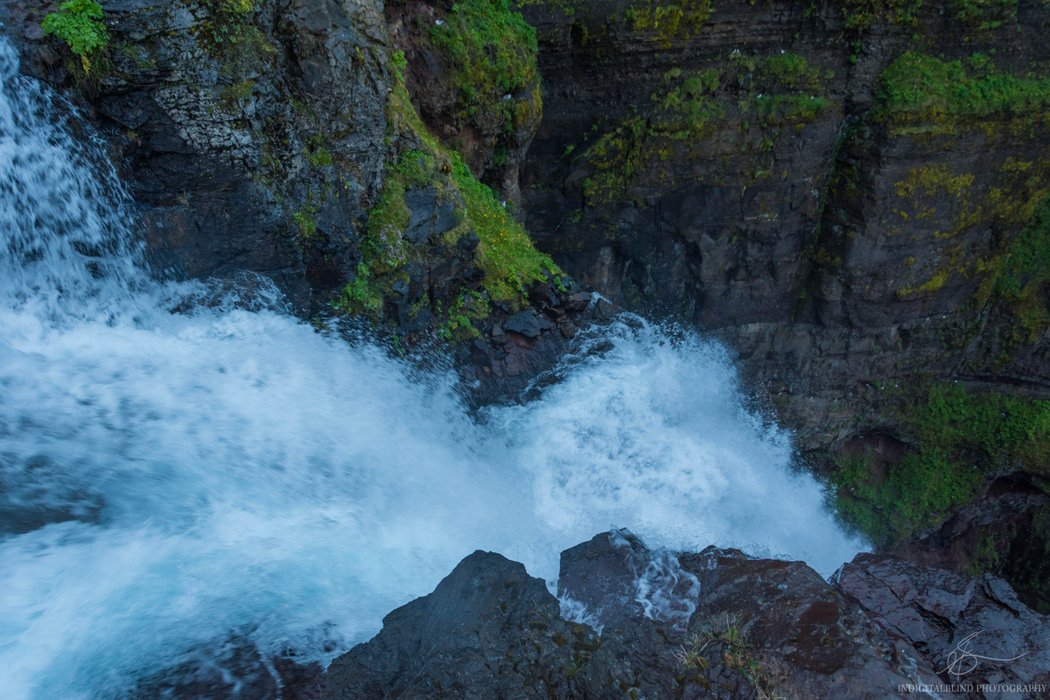 This green, moss-covered deep canyon is just indescribable. So we just sat there, ate energy bars and talked. I loved this feeling being in nature, in the wild, pretty much in the middle of nowhere and no other people in sight nor anywhere near us. Just us and nature.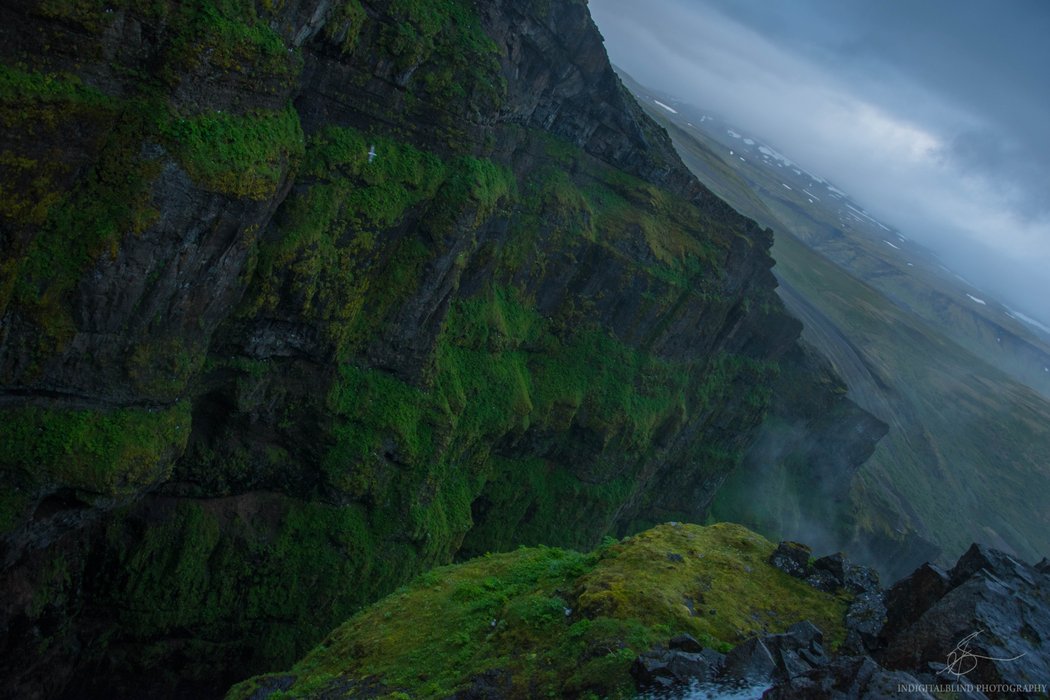 ---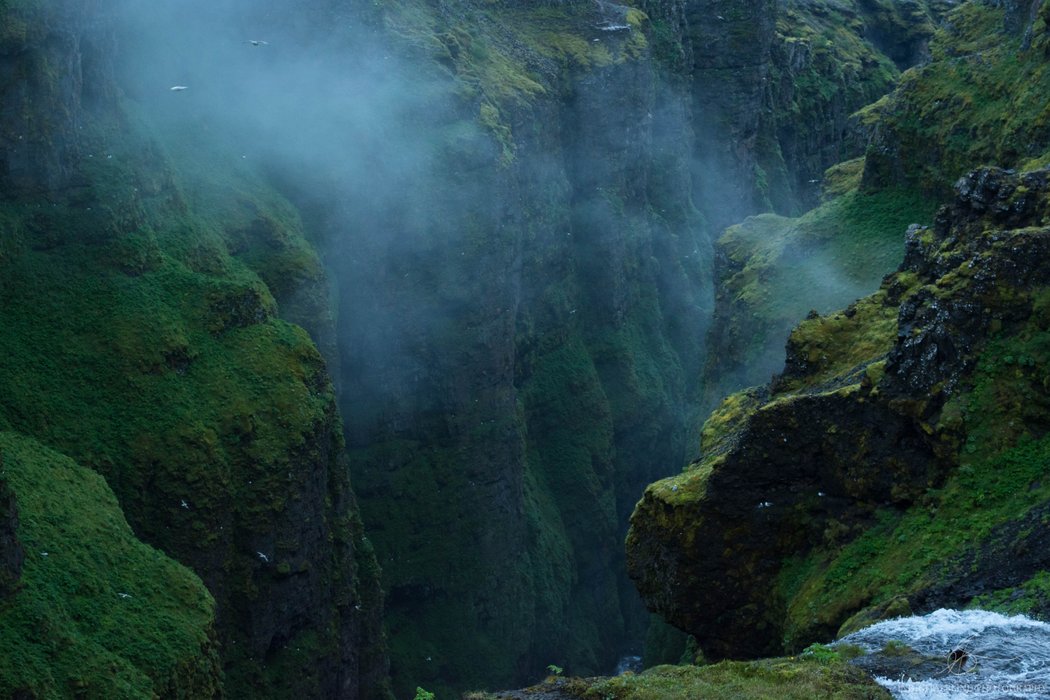 ---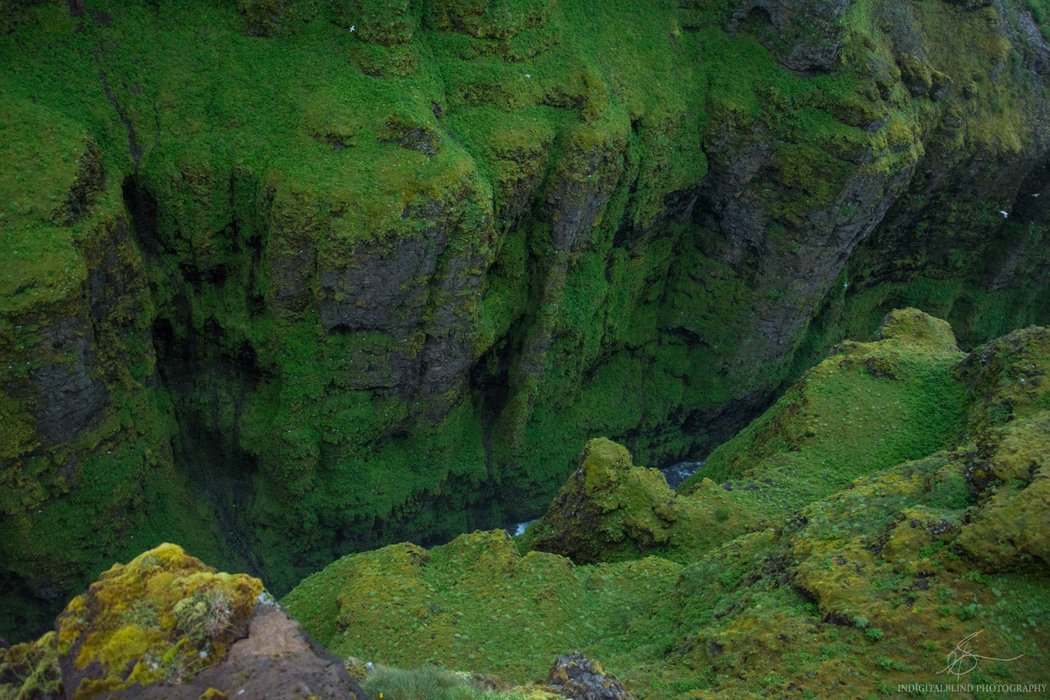 ---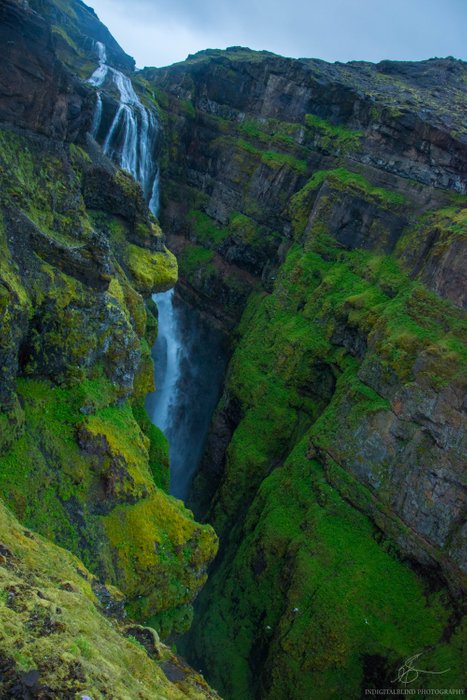 Since we were close to the clouds, visibility was near zero at times then we just waited a couple of minutes till clouds cleared and I could also take a landscape shot into the far reaches.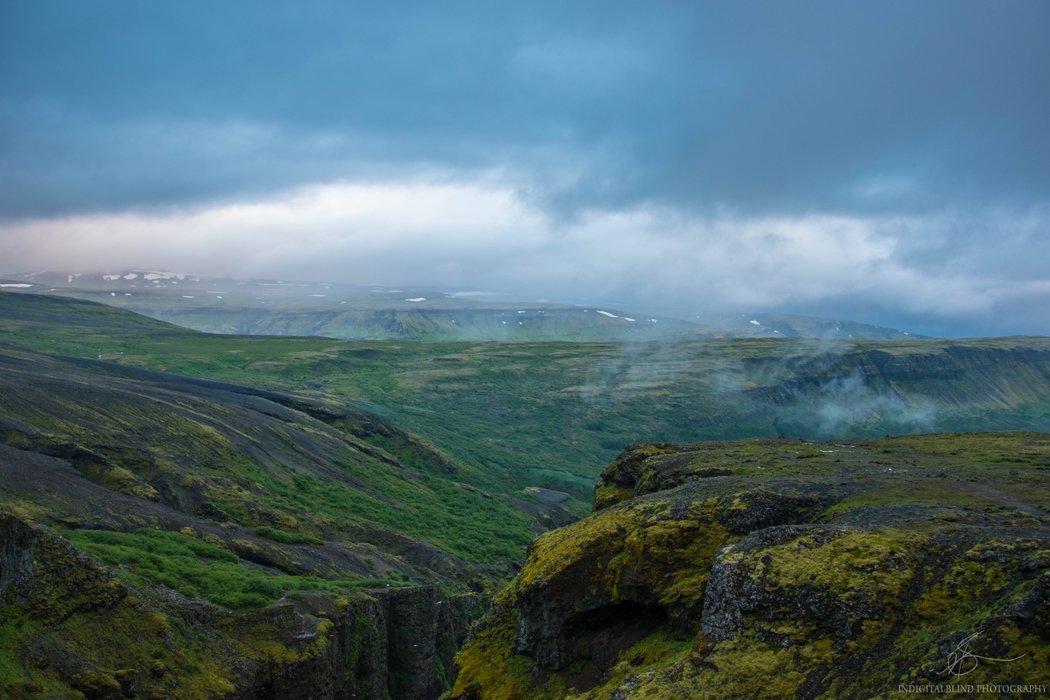 After enjoying some more time there It was time for us to start moving down. I didn't take any more shots on our way because everything I wanted to capture I already got. Way down wasn't easy either all the steep rocky slopes we had to pass and there was no room for error or slippage. Once again we got covered by clouds and fog which limited our visibility greatly.
I have one shot which is screenshotted from my Icelandic video. This shows how steep and dangerous it really was.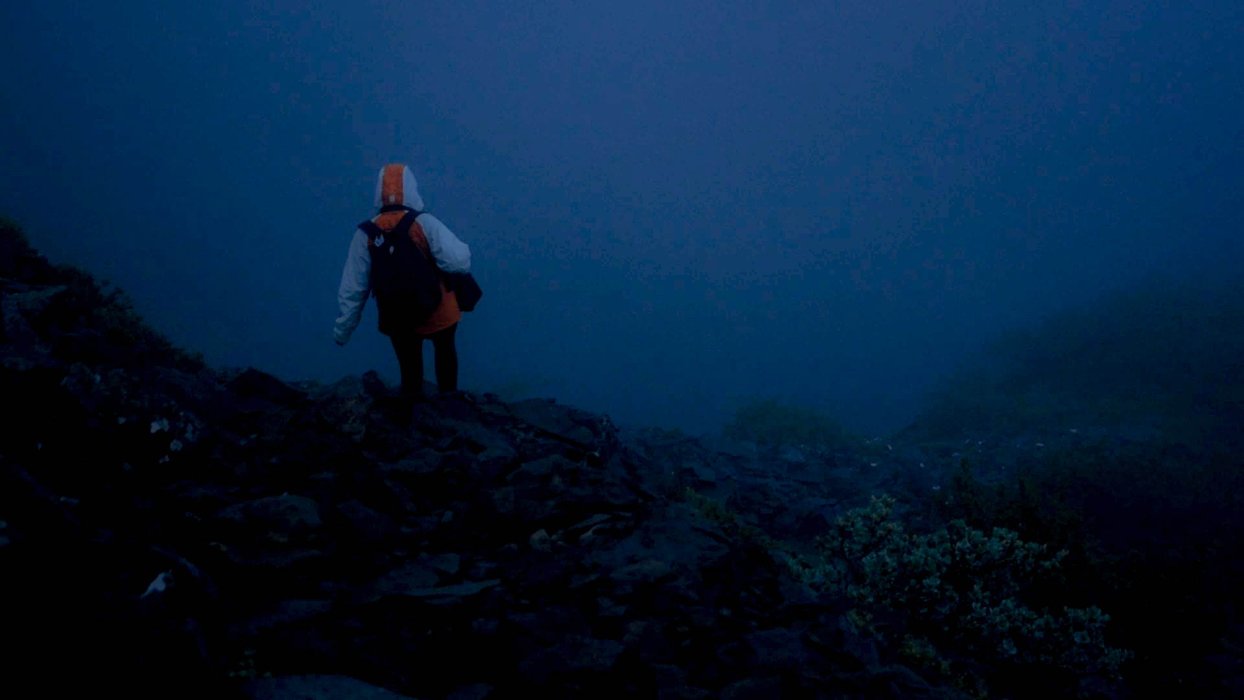 Soon we were down and back in the car. In total it took us a little over 4 hours to go up and come back down.
Conclusion Of The Hike
Hands down, the best hike I have ever done. For everyone who has in mind to do it, you have to know that this is not easy. You don't have to be an extremely skilled rock climber but you have to be in shape, it is not for soft-minded people and you really have to LOVE hiking. It involves walking 12 kilometers, half of it going uphill, going over the rivers and at times lopes can be dangerous and steep. Additionally, weather can be unpredictable as the cloud cover which can block your view. If it would be your first hike in the mountains then you better do some more not that challenging hike before to get a taste. Then you are good to go. Some people have said that it is a little hard to find paths and orientate but I had no problems with it.
If you are traveling on Iceland and you are ready to take on some more challenging hike, Glymur waterfall is your choice. You can be sure to see breathtaking and epic sights on your way. You can also get a lasting memory which you won't forget anytime soon.
Whenever I visit Iceland again, I want to do this hike again and hopefully be able to use the other side as well.
---
As an extra, I decided to also include a short movie of the hike. This is taken out of my original Icelandic 50 min movie. Don't worry this is not so long here, just a 3-minute long overview of Glymur hike.
Use 1080p 60fps

Let me know in the comments what you think of this adventure, your much-appreciated feedback is important.
---
---
---