Yes, eventual we also ended up in France, Luxembourg and Belgium!
But first the German part of the trip!
I wanted to go to the Black Forest for a long time now just because of the name! I didn't really do my research yet but it sounded cool and it was almost within range of my VW camper van! 
And every forests is best viewed in autumn so I started to plan my trip. We don't  have any waterfalls in the Netherlands so I wanted to shoot some somewhere els. I Googled black forest and waterfall and that made me really happy!  
VW 1992 camper van!
A couple of years ago I bought my VW van and i loved it. It's an old one and it has got no air conditioning and cruise control but I didn't had much to spend that time! My previous car was a new car that I got from my work so I was pretty spoiled. Driving an old car like this wen you are alone is like hard work! But this trip I found some one to join me (Joyce) and that's why we decided to go a little further away so we could switch drivers!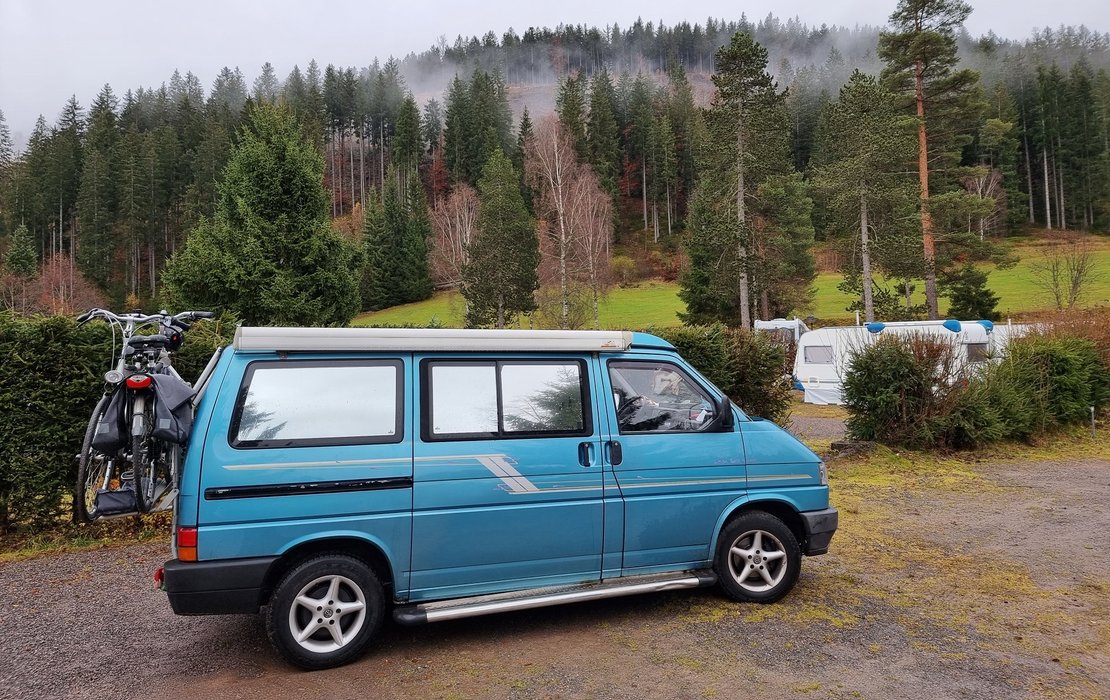 The first stop
I discovered a wooden walking path trough the woods trough out one picture on Instagram! I also saw there was a free camping spot for camper van's close by and the drive to there was about 6 hours! That looked doable with 2 drivers and that was the way i decided to go there. The place was called the Lotharpfad so off we went! The trip went very well and after 6 hours and 560 kilometres we arrived one hour before the sunset at the location. There we discovered the path was just one kilometres long but that was OK for us. We have entered the golden hour and the sunlight was beautiful so walked quickly to a location where we thought there was some kind of view. 
The view was pretty awesome and we were so happy we decided to go here! Those mountains and the fog and sun made us very very happy. After sunset we got back to the van for some dinner and waited for the night to fall so we could make some milky way pictures. We tough about doing that on the spot! It was a clear sky but the moon was pretty big. I haven't got many experience with photographing the milky way but we just tried it.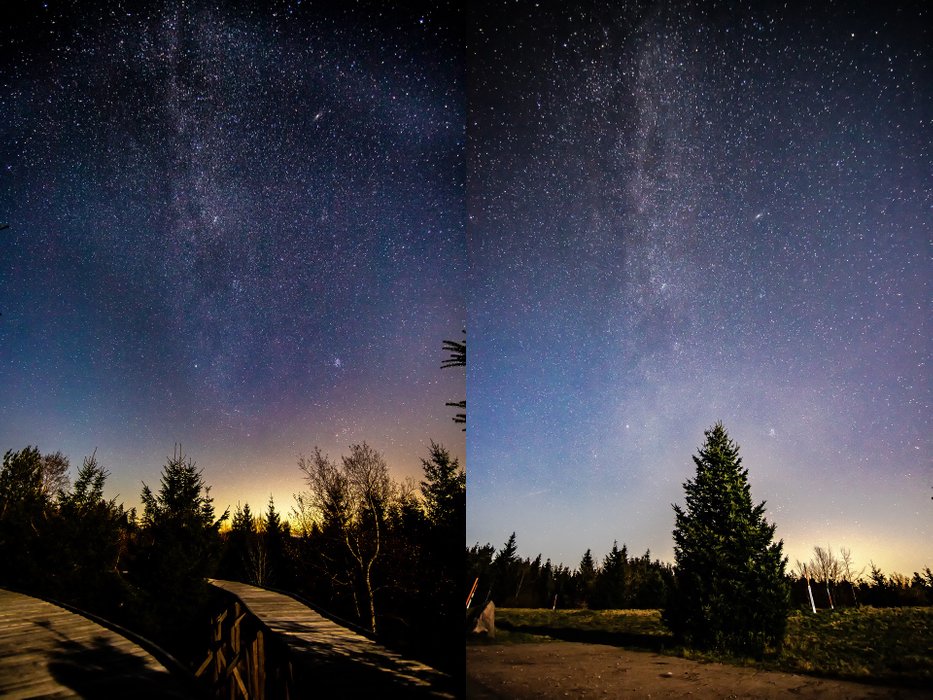 It is still difficult to find a place without light pollution! Ore is there an astro photographer here who has got a trick to get rid of this light pollution true lightroom ore Photoshop? I did get some of it away but not all! 
Day 2, the first waterfall!
But first they were building a new road so we could not take the direct route to the waterfall. And our German is not so good so I misread the signs for the detour route and that's how we got lost. Another problem is cellphone reception! In the Netherlands every where you go there is a 4G signal and that's very convenient if you travel a lot! in Germany that's not so good. After a while when we got some cellphone reception again i saw that we had took the wrong road, but close by us there was a reservoir of some sort! So we parked the van and took the bikes for a tour around the lake!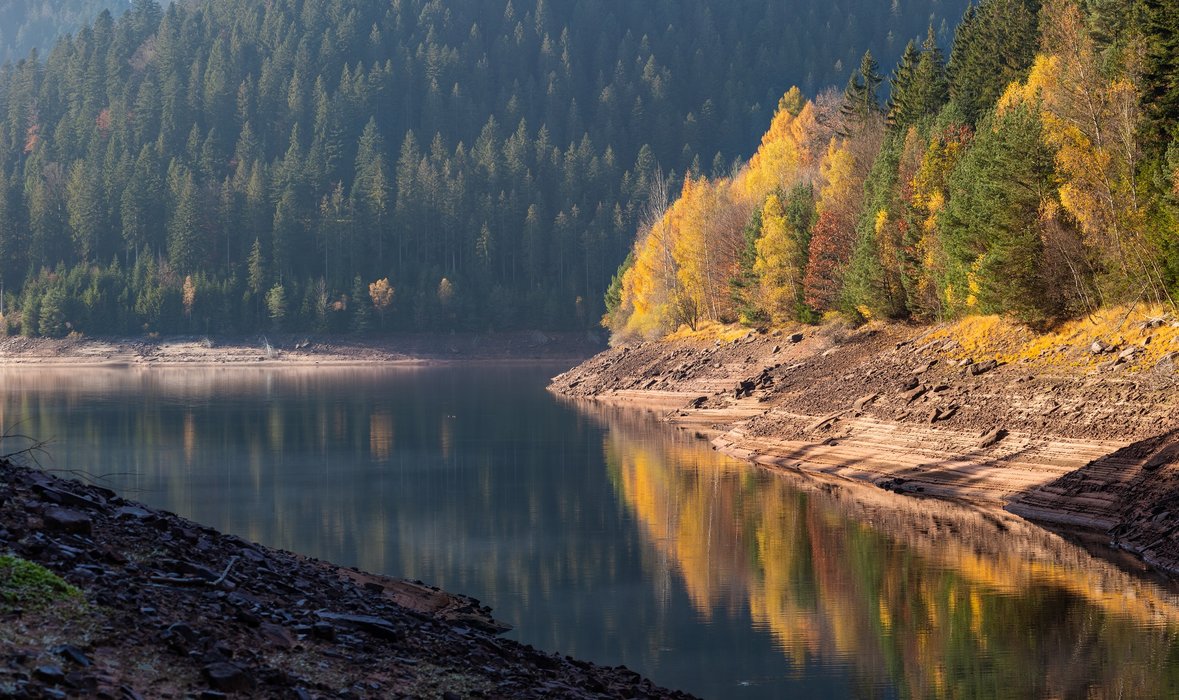 That was a nice discovery. And I was happy that we took bicycles wit us. The trip around the lake was about 6 km but when we were alost at the half of the route a car drove up to us and asked us if the van parked in the beginning was ours. Of course I parked it somewhere illegal... I saw a barrier who was up and dove past it. Didn't saw the sign that said we where not aloud in :p So we had to leaf immediately. But I did got this cool shot!
Burgbach Wasserfall
After that encounter we drove to the waterfall of Burgbachfelsen. At that parking you could walk a route of about 8 kilometres around but sunset was already 2 hours away so we just hiked up the mountain to the waterfall and the lookout point. I imaged a waterfall in autumn would be nice of all the autumn colors. But that was the only disappointment. Everything was still green there. A lot of moss and ferns grow there and they have plenty of water so not many autumn colors there. But the waterfall was amazing! The hike up was a little hard, at least for someone from the flattest country on earth!
Because it already was getting dark there was not many light to shoot inside the forest on the trail to the waterfall! But the hike up was good for the muscles and the view was pretty nice!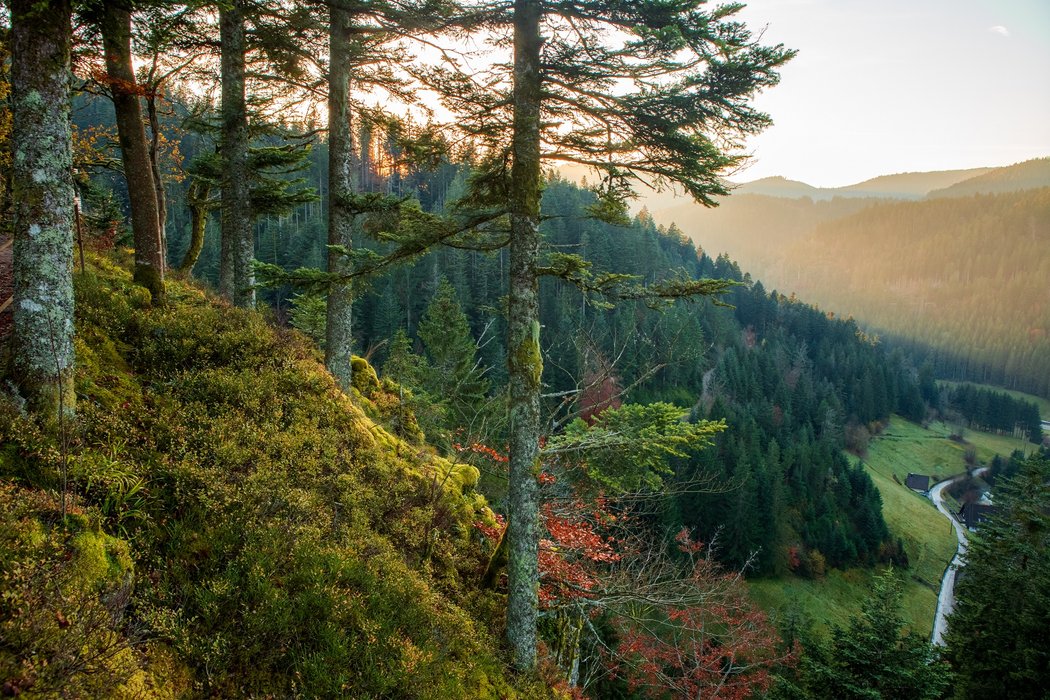 Next week I will tell more about this trip that took us to France and Luxembourg! Thank you for your support and have a great weekend!