Namsan Park is actually the whole mountain, having on its top the N Seoul Tower which has been shown in plenty of dramas, movies, TV shows,... then being considered as the ideally romantic place for lovebirds in Seoul.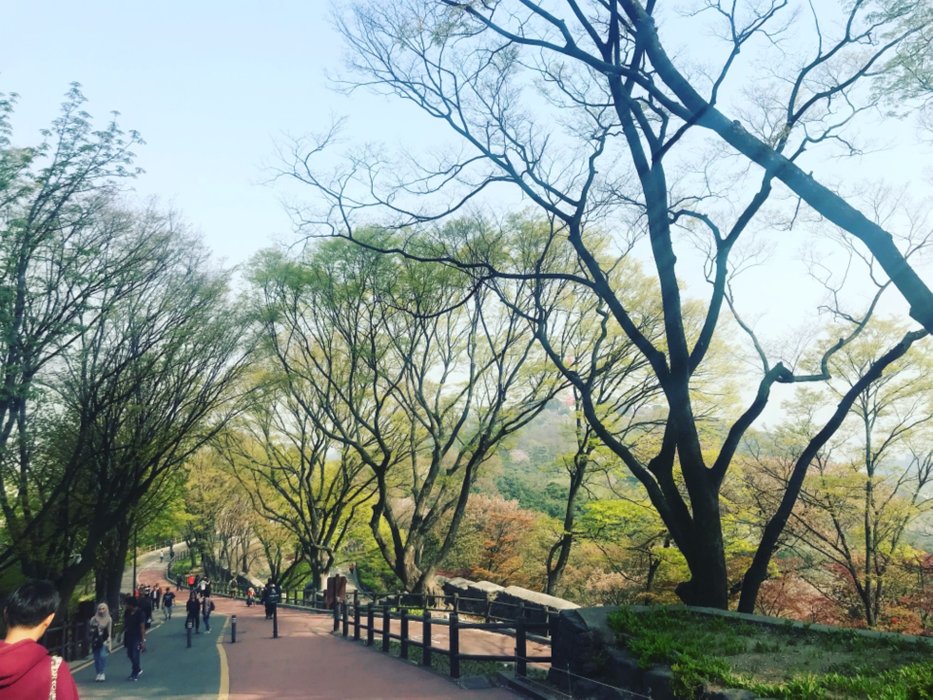 While the tower is way too famous with tourists especially Korean Drama lovers, the park there seems to get much less attention. However, personally I think that the tower itself doesn't make the entire place be that romantic but the park where it located does. Without the whole scene around with various spectacular views, the beautifully paved road uphill with relaxing foliage and the pleasant atmosphere of the park, who gonna come here to date if there is just a tower?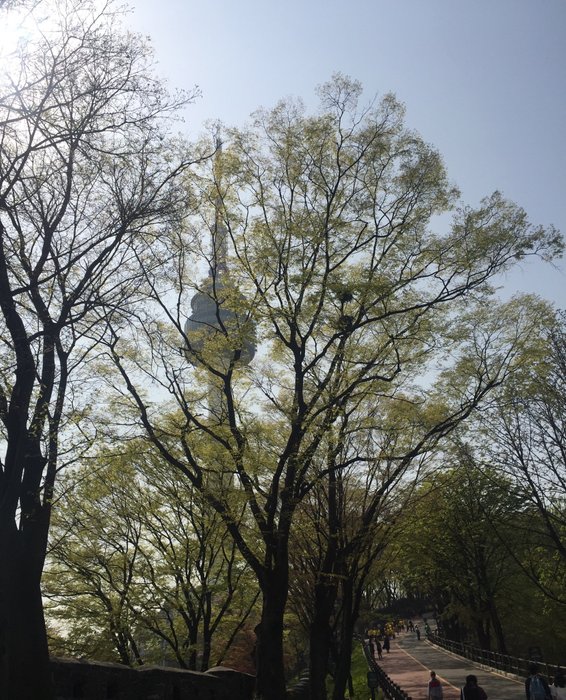 How to get there?
"Nam" means South, "San" means mountain. I heard that before this place was kind of southern landmark of Seoul territory, but now, along with the urban expansion, Namsan is getting much closer to the heart of the city day by day.
Located very near to the most bustling shopping area - Myeongdong, Namsan Park become more accessible place for tourists. The most common route is firstly spending a shopping spree in Myeongdong then going up Namsan Park to take break away from the busy town, or the reverse.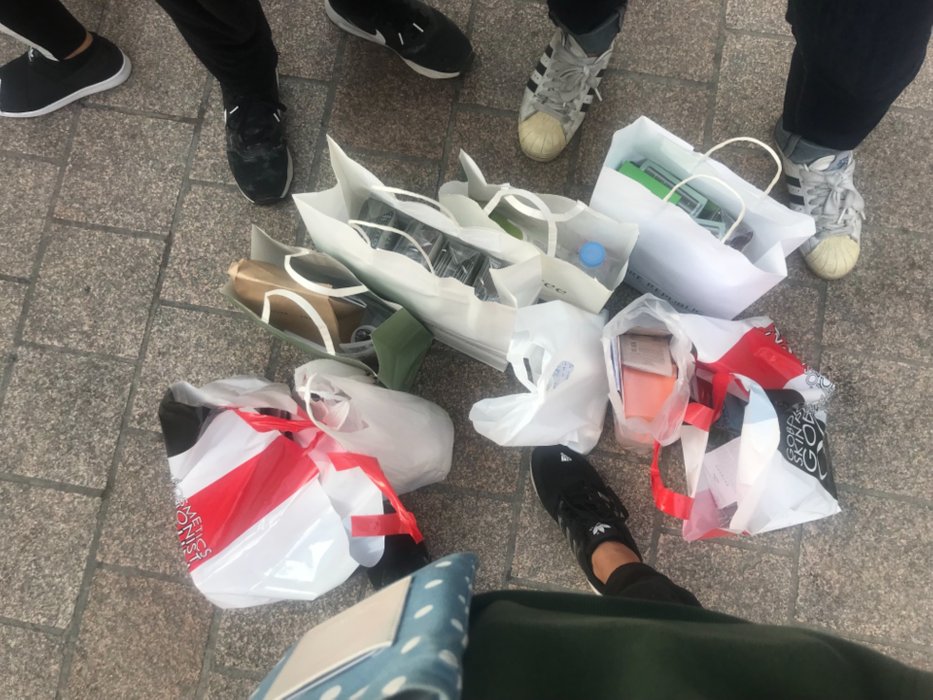 The park is reachable by cable car, foot and motor vehicle (both local and tourist buses). The cable car is the most recommended one as the best way for saving your time and providing an overlook on the way going uphill. It's real fast, although sometimes you may need to spend much more time queing up for cable car than the time it actually takes you to go up. However, if you are on a budget travel like me, taking bus is preferrable. KRW9500 for round way cable car ticket is not expensive but still costly compared to bus which is around KRW1100 as I remember.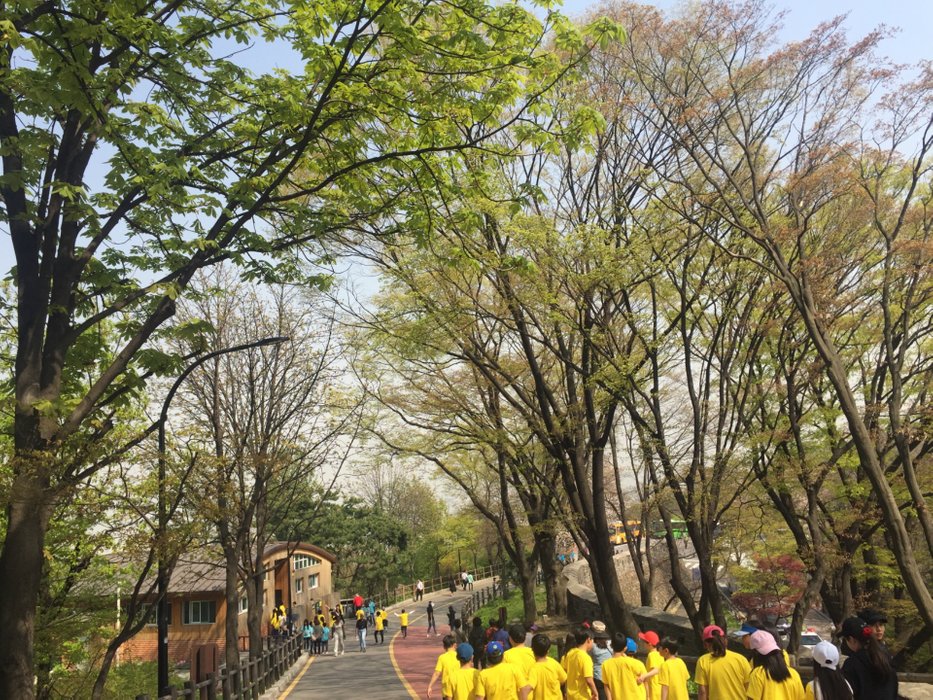 There are also fit people who choose to walk to the top as the mountain offers many hiking trails for them to experience. But please be noted that there are so much time and walk to take, so don't try to go by foot if you are not in good physical condition.
---
Leisurely slow walk uphill
Except cable car which brings you directly to the tower, all other transportations regardless what type you choose, it all terminates at the base of the hill and leaves you a short steep to climb up from the bus stop to the tower. It sounds tired but in fact, it turned out to be the best part of my visit. Yes. It is not about the city views, tower, conventional performance or love lock deck, but 10 minutes of walking to the top of Namsan was the most beautiful memory of mine.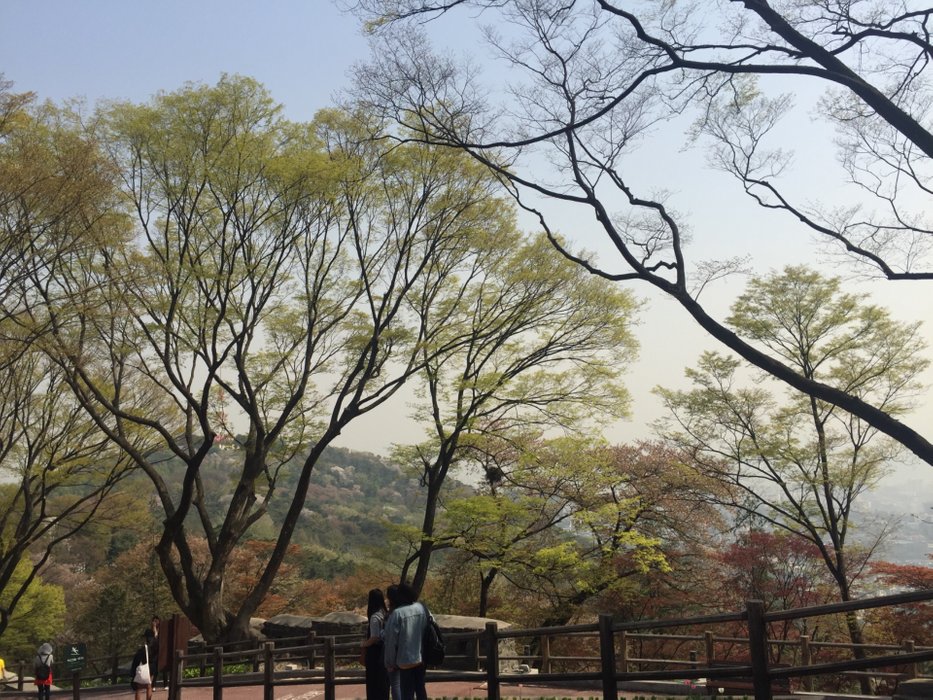 Coming here in spring was the best choice ever. People claim that autumn is the best season to visit with the foliage turnning yellow and red in full force. But for me, the spring with the rows of greenery, the paved road full of cherry blossom petals falling in the spring breeze and the flowers blooming along the way is not any less amazing either. Weather was so cooperated and the scene going uphill was awesome. For a second I believed that I had just walked into those romatic movies I had seen and dreamt of.
---
Most of people going for the Tower, I'm just here for the park. 
After taking a leisurely slow walk uphill, it was about 3pm and there were a lot of people already. As a famous attraction of Seoul, it seems that this place is very popular spot for both locals and tourists to visit on a regular basis throughout the year.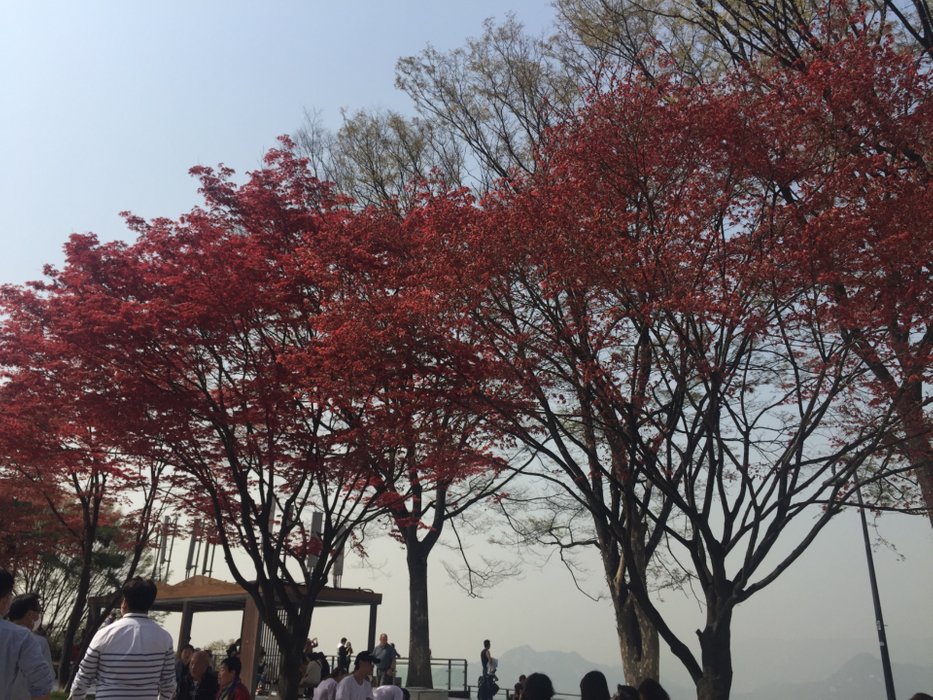 I was not the only one that visitted Namsan Park without entering and going upper in the Tower. I skipped the iconic spot to avoid queing up spend more time walking and exploring around. Of course it has more to offer up there and observatory of the tower will provide you a panoramic view of the whole city. But there are also various of viewing areas for you to see right in the base of tower and around it so if you are on budget, you can skip the tower. It also help you to save time from queuing up as there are always bunch of people waiting.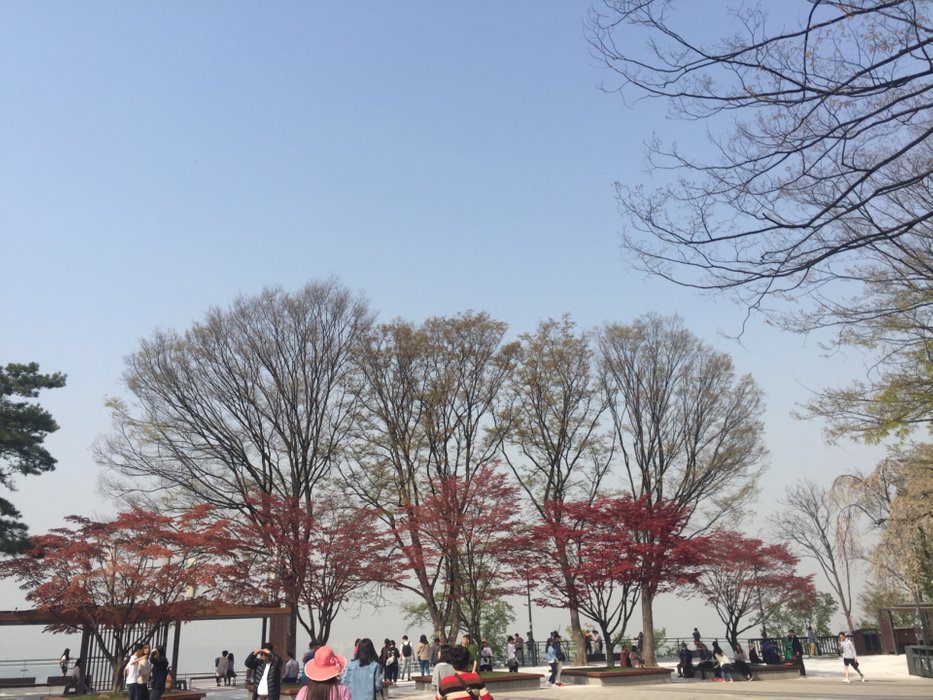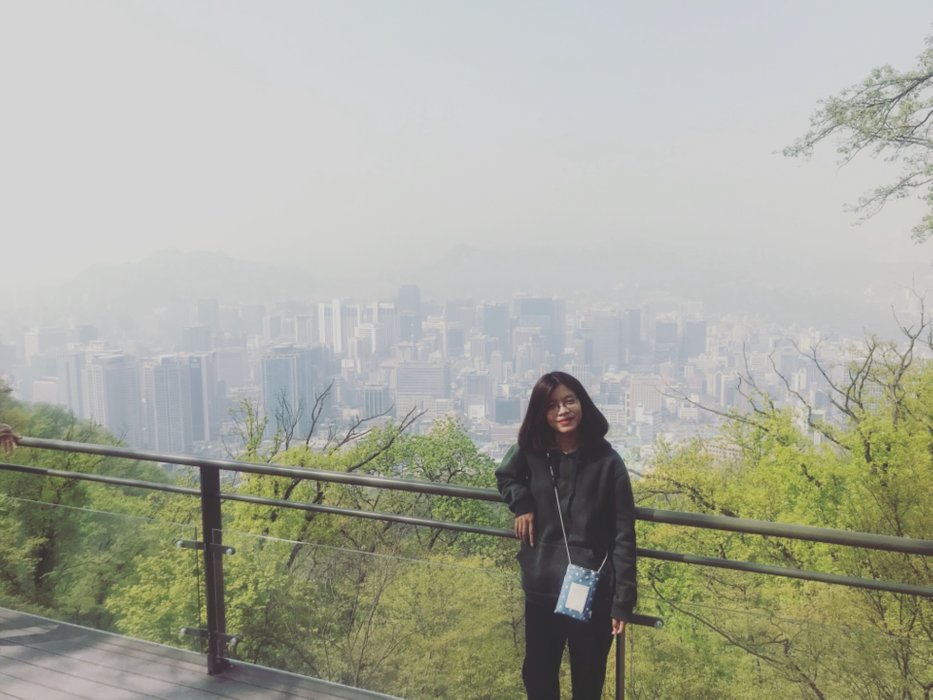 From the park, you can have an overlook of the whole city below. The clearer weather is, the more gorgeous the vitas is. The city view depends much in the visibility. In my visit, Seoul was in bad weather and low air quality due to the yellow sand coming from China, so the view was not that great. But in clearer day, it would be definitely better.
Choosing to not visit the tower actually helped me to save a lot of time from lining up and had more time wandering around and taking plenty of pictures of the lovely scene.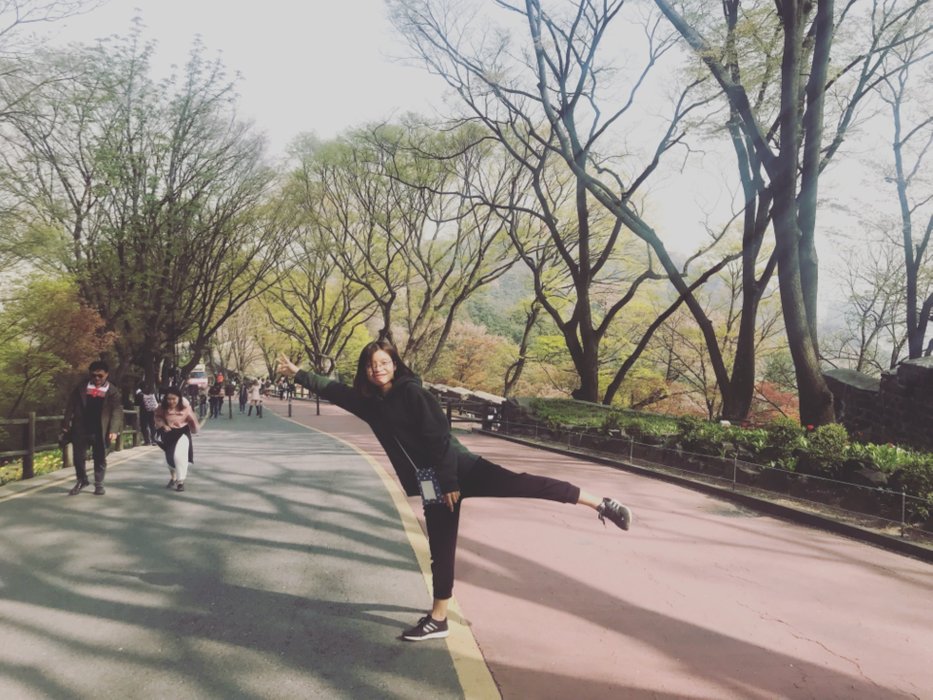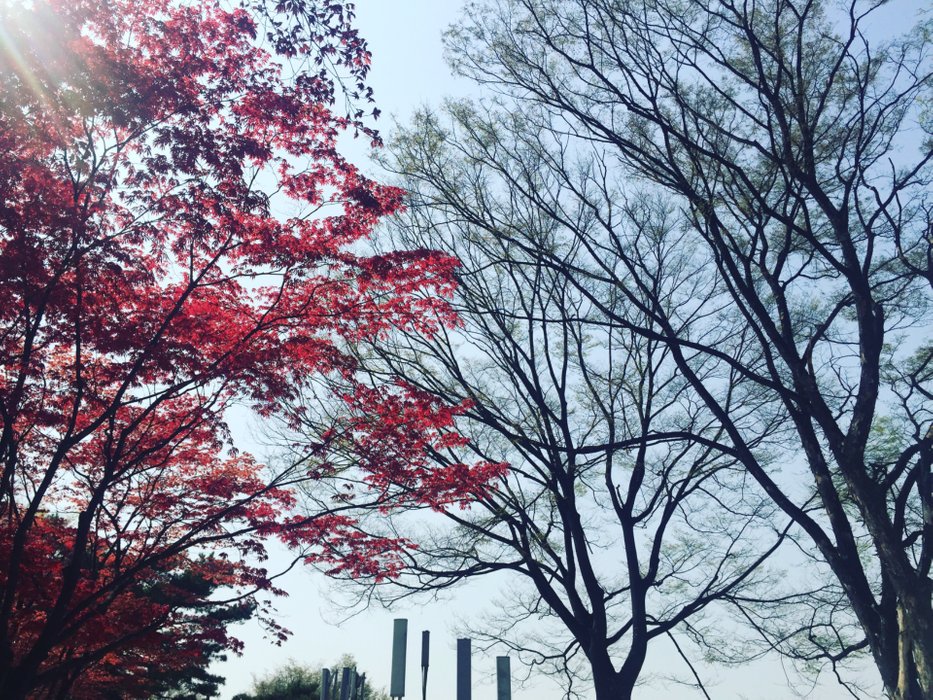 ---
Being here at 3pm, I happened to catch Korean conventional art performances such as traditional instruments and martial arts which were taking the place in the open space near ticket booth. The performances were really impressive and attracted the huge crowd of tourist. It is held at 3pm everyday except monday, so arrange your schedule to come in right time to not miss this facinating show.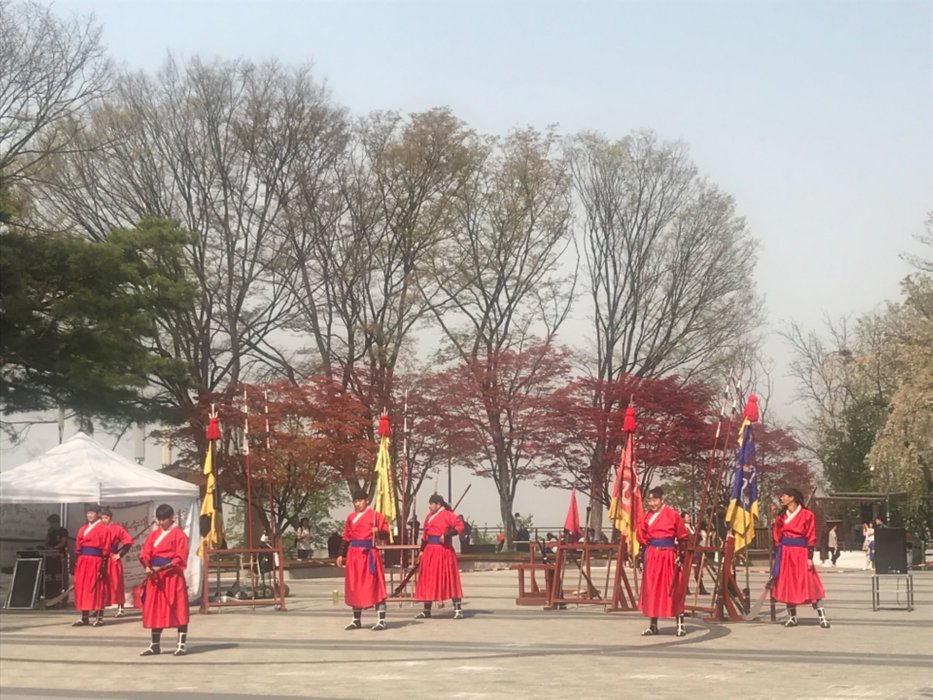 ---
Thousands of love padlocks
If you are a true fan of Korean dramas, this place must be no stranger to you. By appearing many times in movies as well as TV shows, Namsan Park is known as a romantic and ideal dating place for young couples in Seoul. If Europe has a love bridge in France, Asia also has Namsan Park in Korea.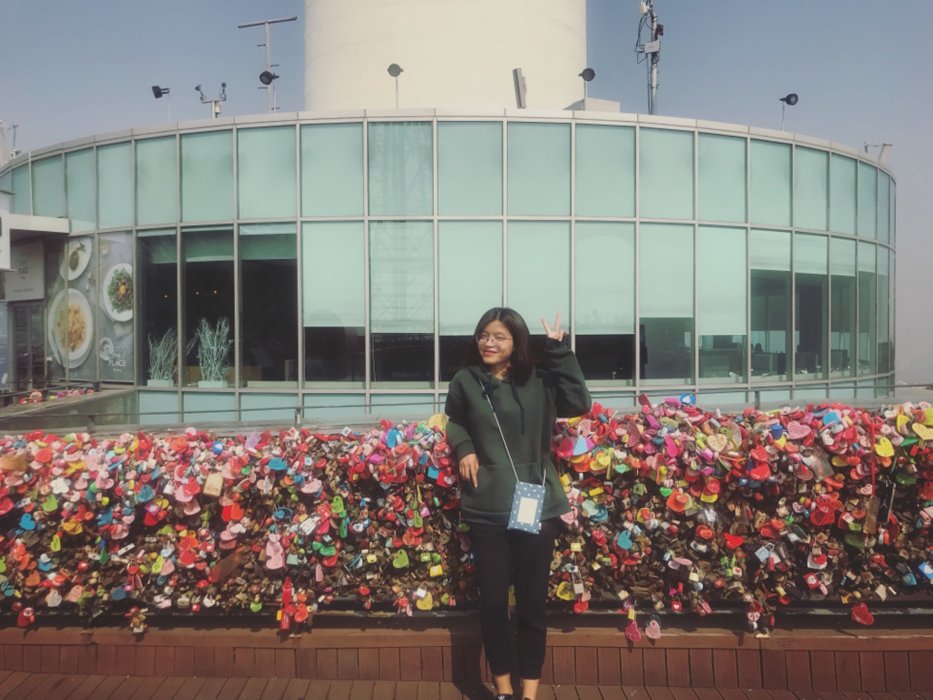 The entire area of wooden deck in the base of the tower is full with thousands of enternity locks fastened together on the fence with no keys to open any of them. Every lockpad has the names, love messages, wishes and hopes written with permanent ink on it as if to solidify and symbolize unbreakable bonds of their everlasting love to each other.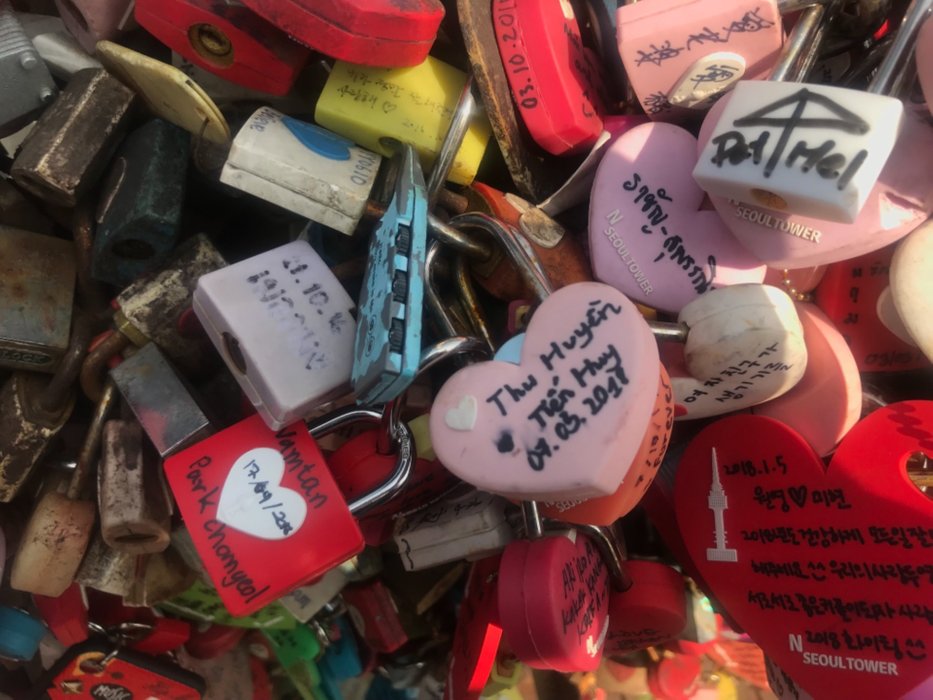 If you come here with your lover, it is kind of traditional thing to leave a padlocks or an endearing note written on whatever you can leave (i.e phone case), your love will last forever as people believe. There are lockpads available for sale in the souvenir shops at the base of the tower in case you want to buy one, of course it's quite pricey.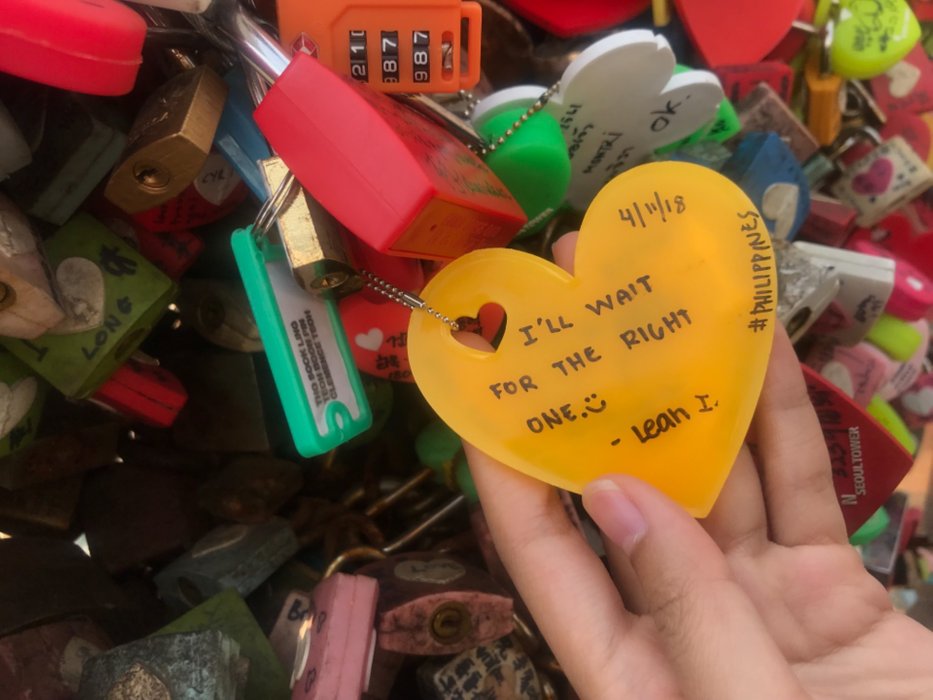 I actually spent so much time here to run around and read what written on those padlocks. How funny to read all promises of lovebirds and imagine how many of them have been broken up. Haha. Sorry, I couldnt help thinking about that. How mean I was. Lol.
---
People said that the best view would be at night rather than day time. But for the photo purpose, you better come here before the sun goes down then stay until the tower lightened up. I didnt get a chance but I'm sure it would be briliant.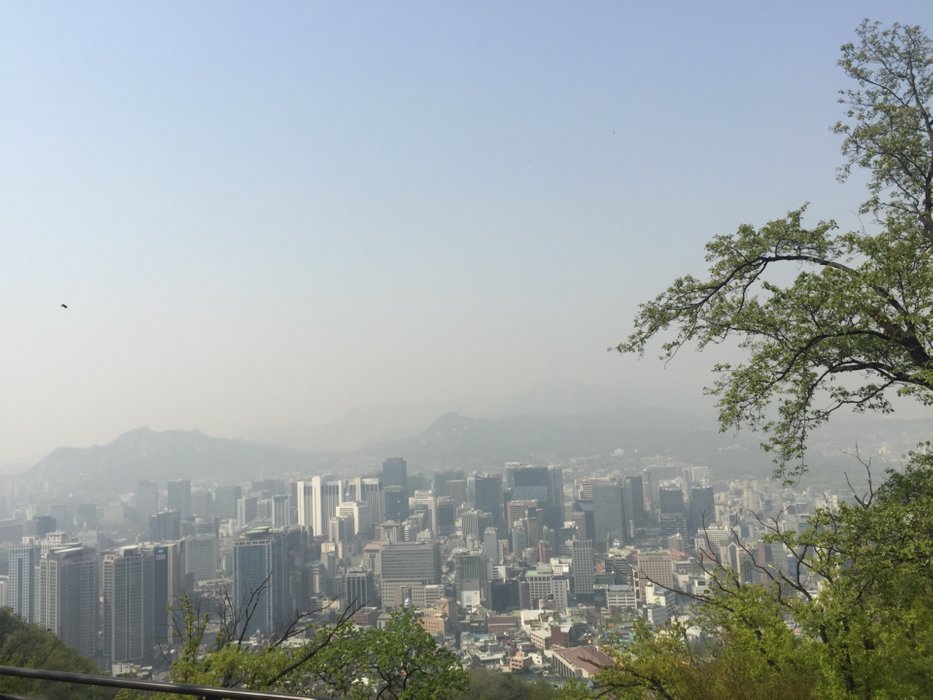 I don't think Namsan Park is the place offering kind of breathtaking views or stunning vistas but for me, it is very pleasant to visit and spend some time here, just wandering around, may be do some hiking, take some photos. Although I was not amazed by the place, I cant help but falling in love with it. It was one of things that made my Korea trip became the most memorable one.
---
📍105, Namsangongwon-gil, Yongsan-gu, Seoul
💲Free.
🚌Transportation: Bus, cable car, foot.
Cable car: 9500/roundtrip ticket/adult
Shutlle bus: 1,200 Won in cash / 1,100 Won with transportation card (transfers possible).
🍭 What to expect: city views, beautiful scene, pleasant vibe, conventional performance, etc
❤️ For who: friends, families, lovers,... everyone.