...this place is hands down a good place to spend a night in Bangkok.
---
What is coming to Bangkok without having to experience a night market?
Although you are not a big shopper, local markets are still something that cant be missed when you in Bangkok as there is not just merchandise but also the food, the good vibe, the lively atmostphere, etc. There is no shortage of markets in Bangkok that you may feel hard to choose one, such as Chatuchak, Srinakarin, Ratchada, Pratunam, etc.
While Chatuchak is way too famous, Ratchada, for me, probably earns a spot in a must-visit list, too, for its foods, vibrate ambiance. It is not as vast as Chatuchak but Ratchada is still distinct and unique in its own things. I'm not so sure Ratchada and Chatuchak which one is more crowded but if you don't mind the crowd, Ratchada is hands down a good place to spend a night in Bangkok.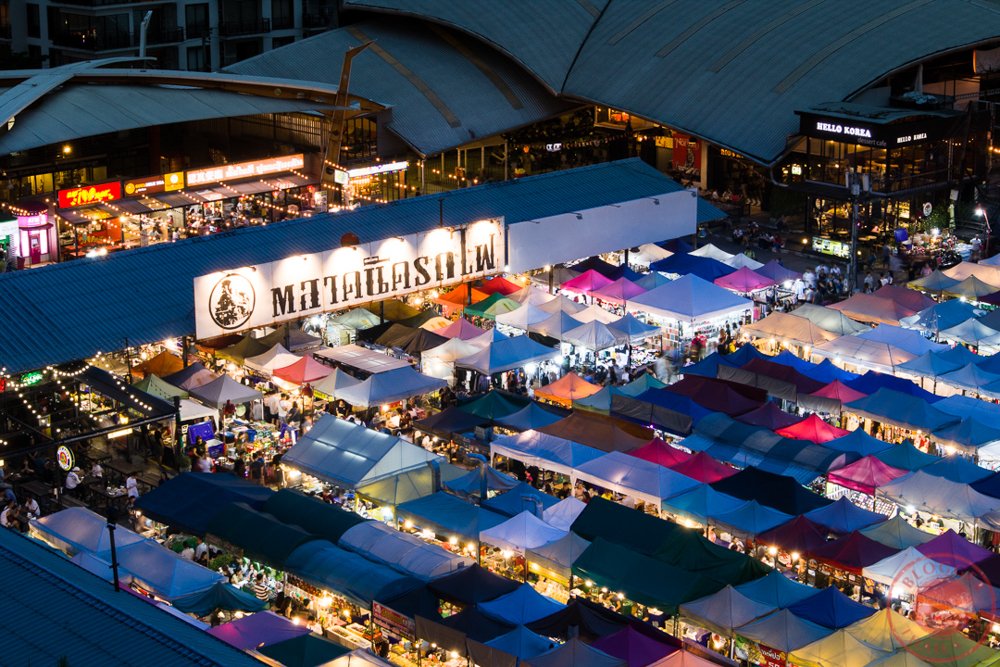 Image source: https://www.bloggerstales.com/attractions-and-places/markets-in-thailand-10-night-markets-in-bangkok-you-should-not-miss/
---
The easy-to-go market
The whole purpose of my Thailand trip this time was for Laeng Saeb - the famous spicy ribs. I have been told that the best Laeng Saeb is sold at Ratchada, then I defenitely go for it.
The market is easily accessible as it is 2 minutes of walking from MRT station. The MRT and BTS systems in Bangkok are quite simple and easy to follow. Google Map will guide you step by step to get there. Remember the name of the station (Thailand Cultural Centre) to get off.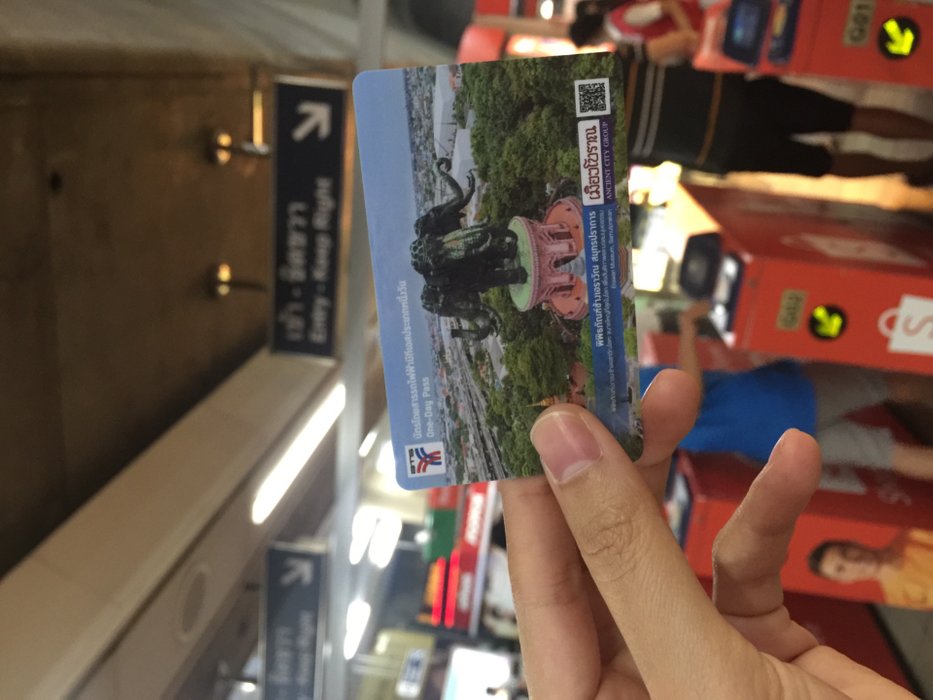 People said that it might be hard to find at the first time of visit since it is located behind a Esplanade mall, so you can not see it right from the road. But trust me, it is not that hard to find while there is bunch of people walking from the metro to the market and approx 10 flags of tour operators keep waving. The crowd will lead you to the right place.
---
The bustling market
I felt kind of regret when I first saw the main entrance totally clogged by Chinese tourists. It was definitely not a good sign. I even questioned myself why I chose to come here at the first place.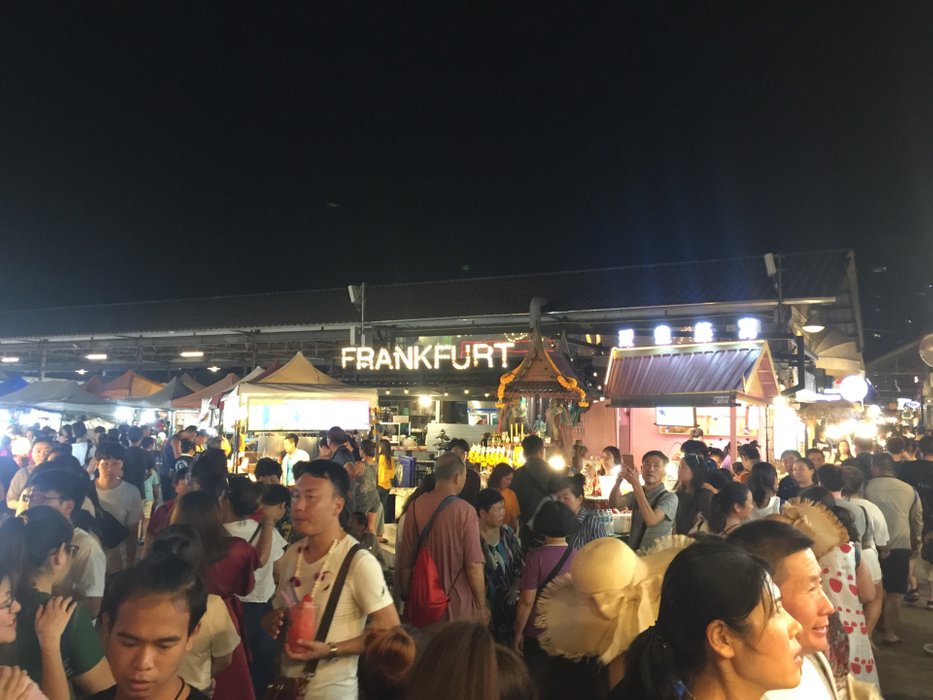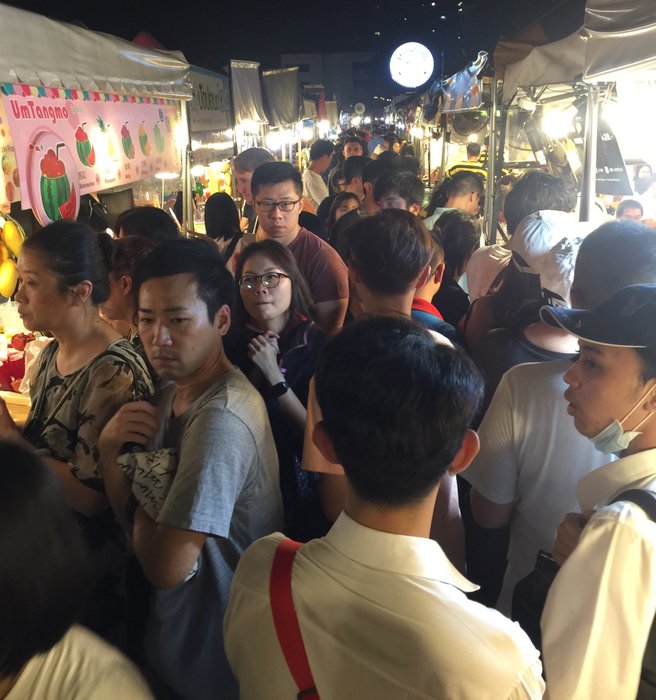 Narrow walkways between rows of stalls stucked with hundreds or even thousands of tourists. I was totally packed and it was extremely hard to walk through, not to mention those tourist groups keep stopping in the middle of the way whenever they see something good. For a moment I thought I was not in Bangkok at all as Chinese was spoken loudly every where. It is the most upset thing for me in this place actually.
---
The ambiance it has for itself.
As Chinese tourists almost ruined my mood, Ratchada initially seemed to be listed down in my blacklist, then suddenly boosted up to be my favourite one with its outstanding food and ambiance.
Yeah. As I said, if you don't mind the crowd...
After hard time of walking through the truckloads of tourists in the entrance, I headed to the conner to stay away from chinese tour groups, then it definitely got much better. I finally can enjoy the lively atmostphere of the market freely (without someone pushing me from behind).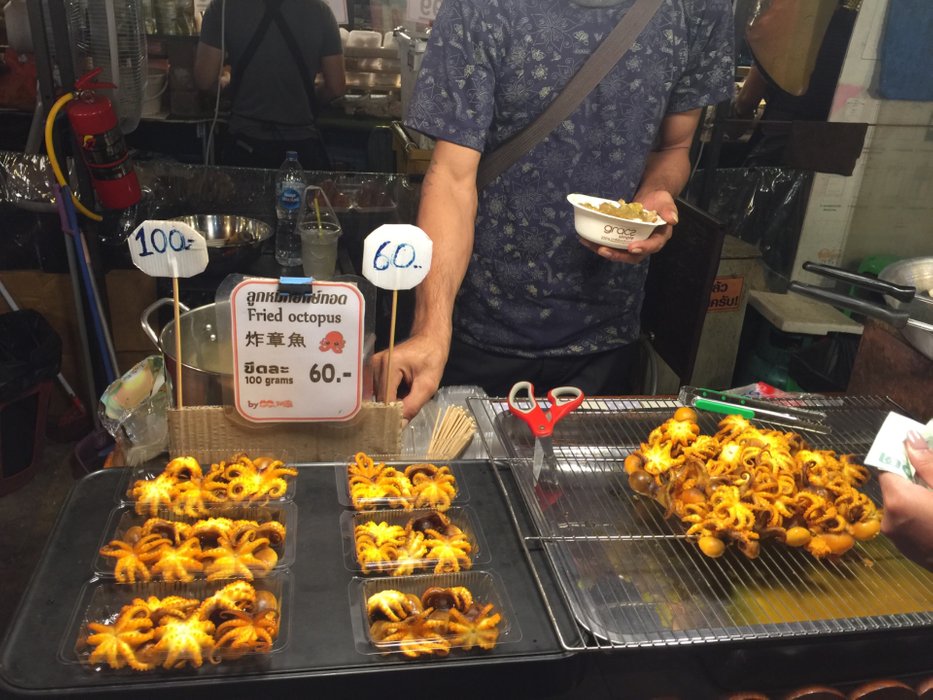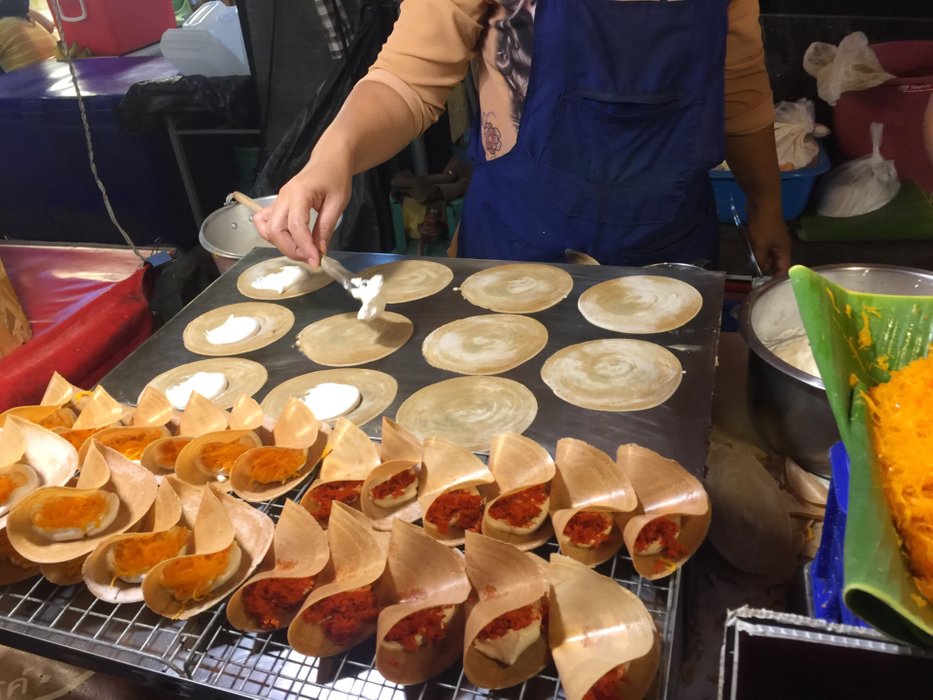 There are abundance of stalls offering various good for sale such as food, clothes, accessories, souvenir, decorations, thai stuffs, other merchandise.
I am not a big shopper, I dont care about any thing but food. Food stalls here are amazing and plentiful. The huge selection of food is to the point that it is impossible to try everything. Many varieties to meet the need of eyes and stomachs.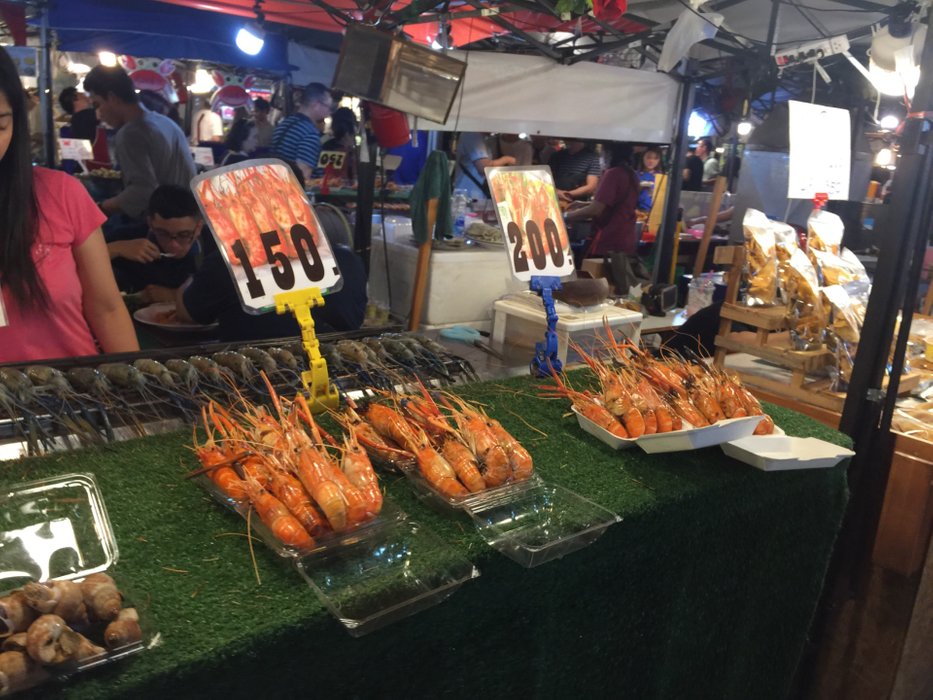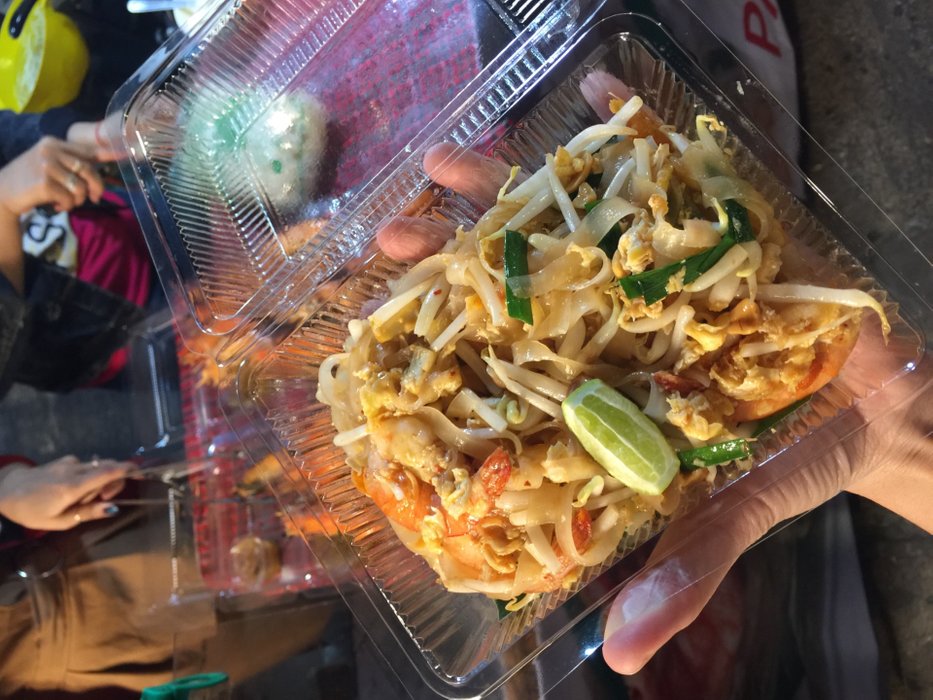 Scorpions, larva, insects, etc are available. It is not my things but if you into it, you can go for it.
Even though It is kind of overwhelmed by Chinese tourists, it's undeniable that there is still a good vibe that Ratchada has for itself. Its diversity of foods can satisfy every foodie like me.
---
Finally, I got my thing
I came here with small amount of cash but huge appetite for Laeng Saeb. I was craving for it all the way coming here and seemed not be able to wait longer to get it.
Took a seat in the corner, I finally had my dream Laeng Saeb. Seeing all the giant ribs are put up as a mountain can make everyone craving for it. There are a lot of size for you to choose from small to XXL. I was going to go for XXL but the waiter stopped me from doing that. :D. So XL was chosen.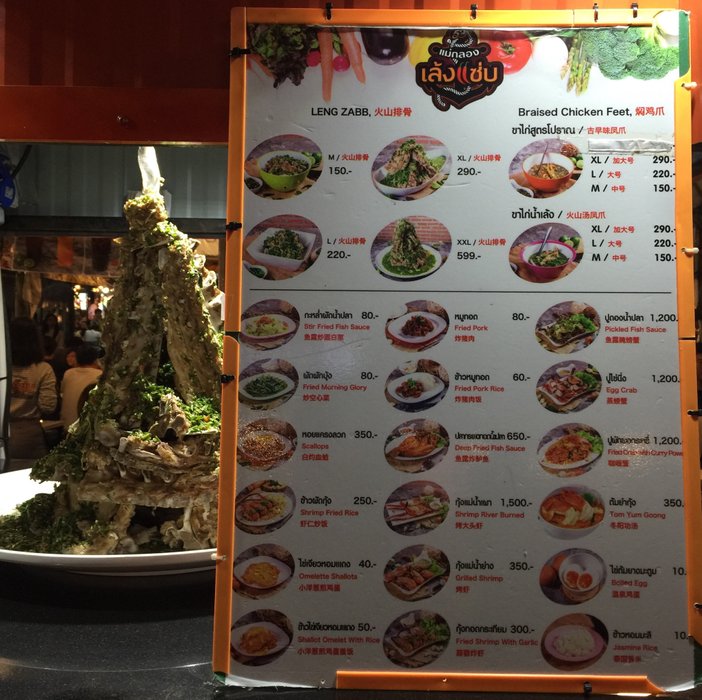 The ribs were stewed long enough to have the meat well done then seasonned with Thai chilli to make the taste spicy, sour and salty too. Take out the meat with your hands, serve with hot rice. This tender, juicy ribs is hands down the most brilliant thing of this market. It's totally worth visit even though I had to go through nightmare of chinese tourists. :D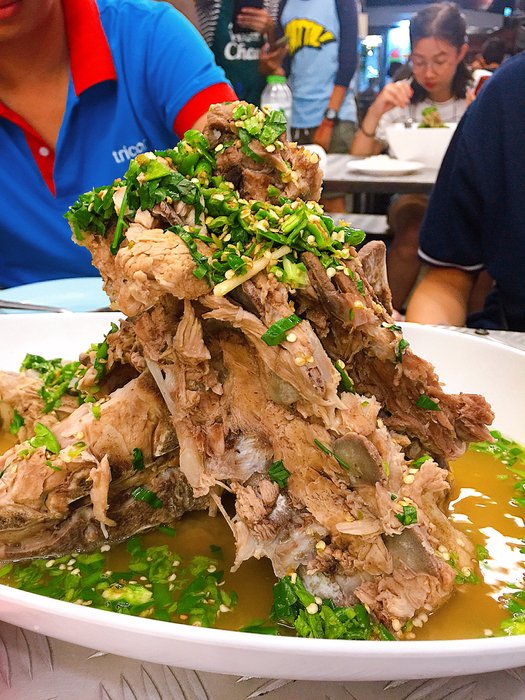 Being around the conner or going deeper inside will give you better space to see how festive and delightful Ratchada is. Dont try to take your place with the crowd, most of stalls are repeated, you can find the same one down the way but less crowded.
When the tour groups started to leave, Ratchada also began to be itself. Instead of Chinese spoken over, I started to hear the music from the live bands in the bar. How good it is to be just festive enough and not too overcrowded.
The bustle and hustle feeling is something cant be avoided in most of famous market in Bangkok. So if you mind the crowd and avoid to be in these markets, you are going to miss the chance to have the most lively experience here, too.
---
Tips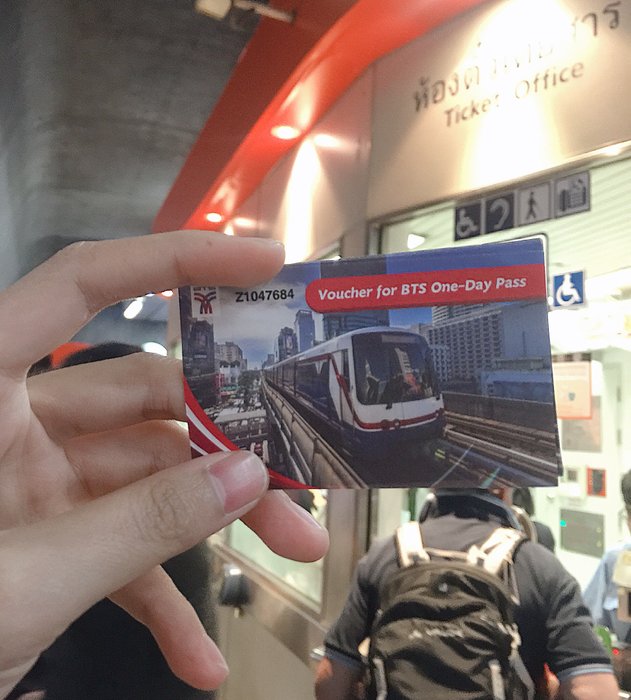 The market is open from 5pm to midnight. Come here earlier or later at night to avoid being packed with tourist groups. 
The MRT and BTS systems in Bangkok are quite simple and easy to follow. Google Map will guide you to the right place. Remember the name of the station (Thailand Cultural Centre) to get off. 
Tips for Vietnamese who plans to visit Bangkok this time, there is Voucher BTS one day pass for Vietnamese citizens. You can get it right in the airport after check out. It will help you to save quite a lot of money for transportation in Bangkok. 
Buy simchip and keep your internet accessible, you will never be lost. 
Pay attention on your belongings as the pickpockets are quite popular in this kind of crowded place. 
Remember to bring wet tissue, it will come in handy.
There is no trash bin. You gonna need to keep your trash until you get the subway station or you can exchange your trash with the seller whenever you buy new one.
---
🕠 Time: everyday from 5pm to 12pm.
📍Address: Ratchadaphisek Rd, Din Daeng, Bangkok 10400, Thailand
🚆How to get there: MRT and/or BTS to avoid traffic jam. Tuktuk is way more expensive than Grab. Grab is bad choice as Bangkok is known for "great" traffic.
🍭 What to expect: food (especially Laeng Saeb, BBQ pork ribs), etc.
[//]:# ( d3scr)