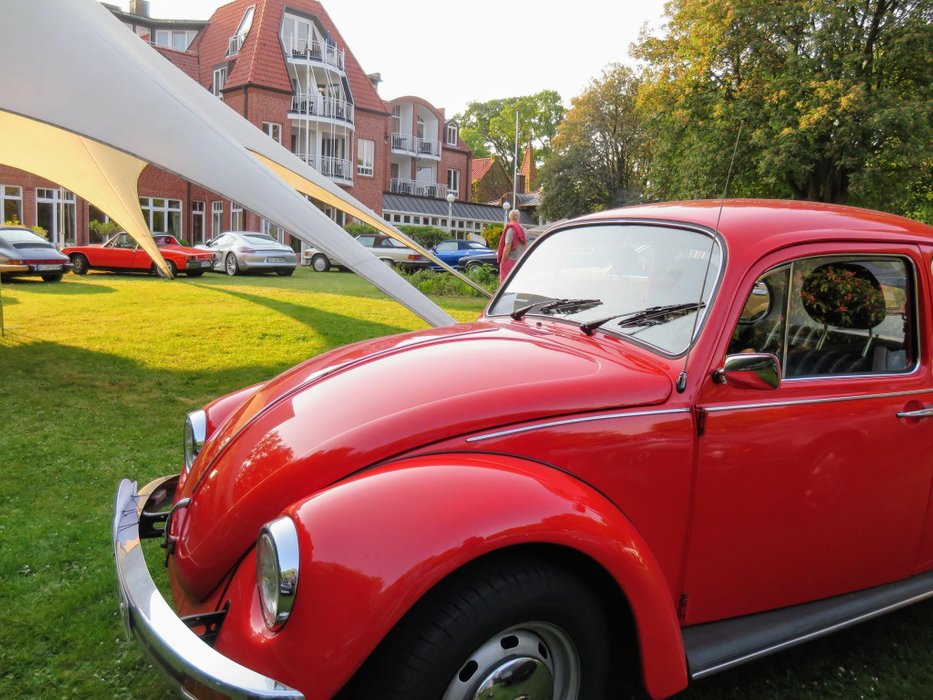 It is summer and we have a nice vacation in our own country in Germany. Excactly we are in Hohwacht, a resort area in the middle of nature at Baltic Sea.
It is an organized vacation. Normally we don't take a part on any organized traveling, we like to traveling on our way, but we take this one every year.
As i wrote in my previous post, we are (or only Thomas, i just accompany him) members of a classic car group in Germany, and this group has annual roadtrip through Germany from west to east and from south to the north of Germany, you can read about this group here: https://steemit.com/travel/@haristourist/gay-and-car-my-traveling-through-germany
This year our destination is Baltic Sea and of course i will write my travel story here. As you know i am new on Steemit and still figuring out how this actually works, but actually i am a existing blogger and have a food blog in Deutsch, just click link on my profile if you want to see my delicious recipes :)
This is a first part of my travel story at Baltic sea, and will be continue. Fist i would like to review a hotel where we stay during our vacation. This review based on my own experience and i don't have any affiliate to that hotel nor accepting rewards.
4 Stars Superior Hotel Hohe Wacht at Baltic Sea
This hotel located in the middle of nature. There is a large Kurpark (Garden) just in front of it. In another side, there is nice and long white sandy beach formed a bay. There you can see that magnificient blue and calm Baltic Sea. It is near from Zentrum where people go for shopping, food hunting, cafe and bar but not close enough, so there is no noise from there at all, only birds chirping and waves.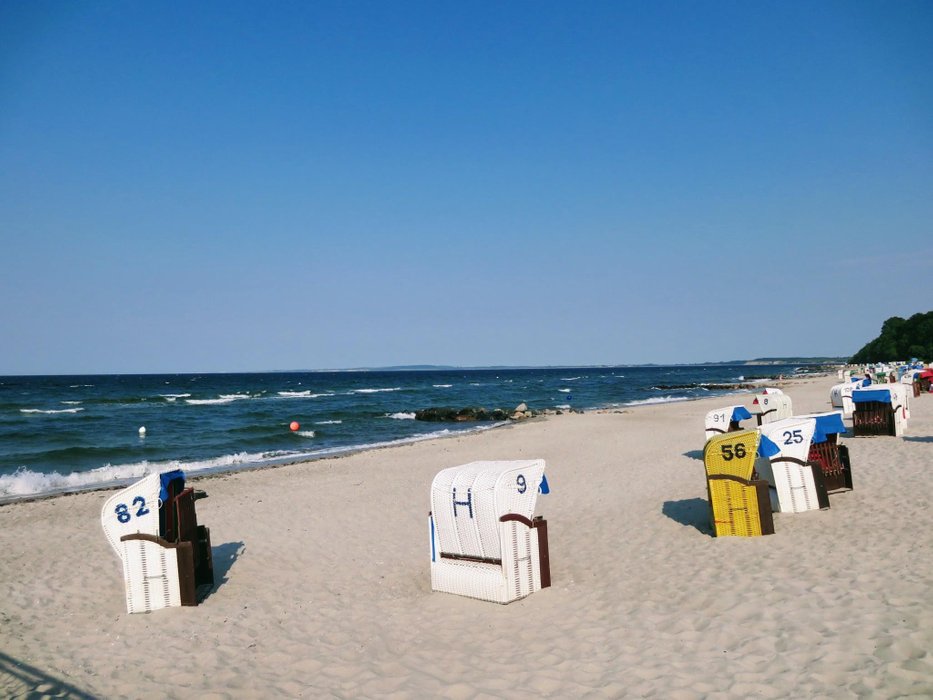 We stayed in an appartemen on side building next to the beach. Everything is clean and comfortable. Our bedroom is spacious. There is a wide kitchen though we never use it. In living room we have a sofa set, tv and cd player. There is also a dining table with four chairs, everything is arranged nicely. This apartment has large windows.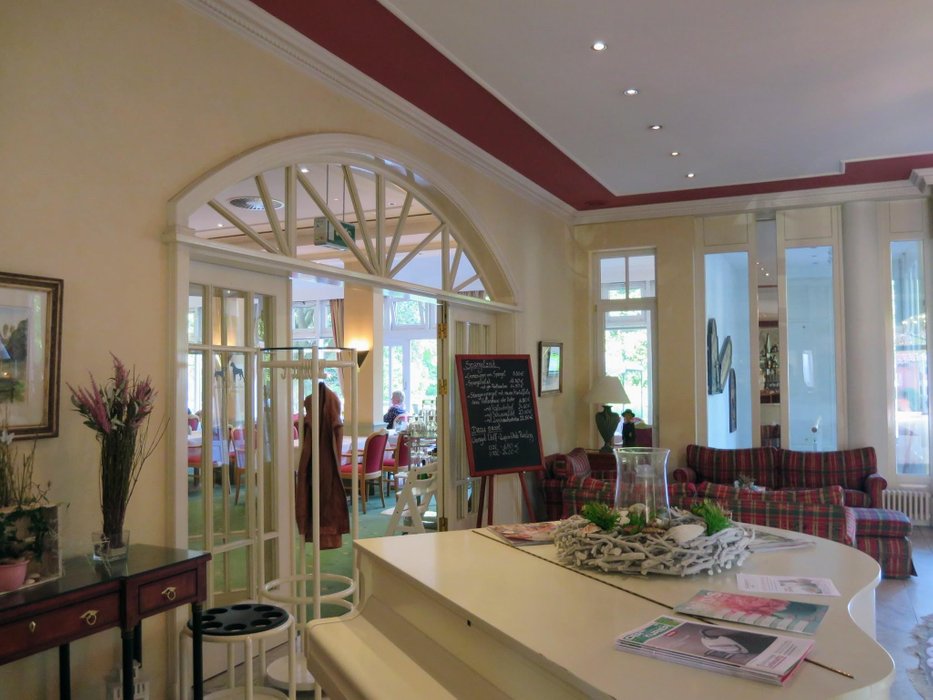 Bathroom was comfortable and also very clean although I saw one single hair on the floor when we came (actually this is unacceptable for quality of four-star hotel in Germany).
This hotel has a large swimming pool with two saunas, and spa services. We did not swim in the pool, of course. Swimming on the beach is much better in hot summer like this.
It is All About Delicious Food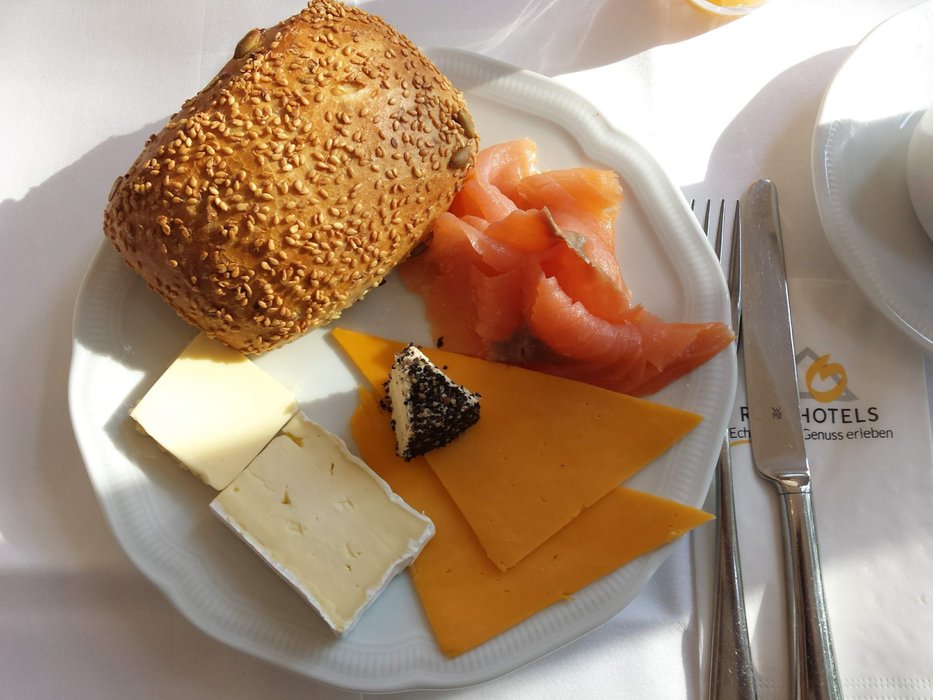 Park-Restaurant in this hotel is a delightful place. They have fast, friendly and helpful waitress. A typical German service.
The foods are always excellent. Here only served foods with BIO labels. And this restaurant belongs to FEINHEIMISCH network. FEINHEIMISCH stands for fresh, high quality food without additives from Schleswig-Holstein, it preserve Schleswig-Holstein cuisine and develop it carefully. It's all about food quality and fine cuisine.
On a warm evening, our group was served with barbecue in the garden. There are so many choices barbeque; kind of meats, wurst and vegetable and I was unable to try them all.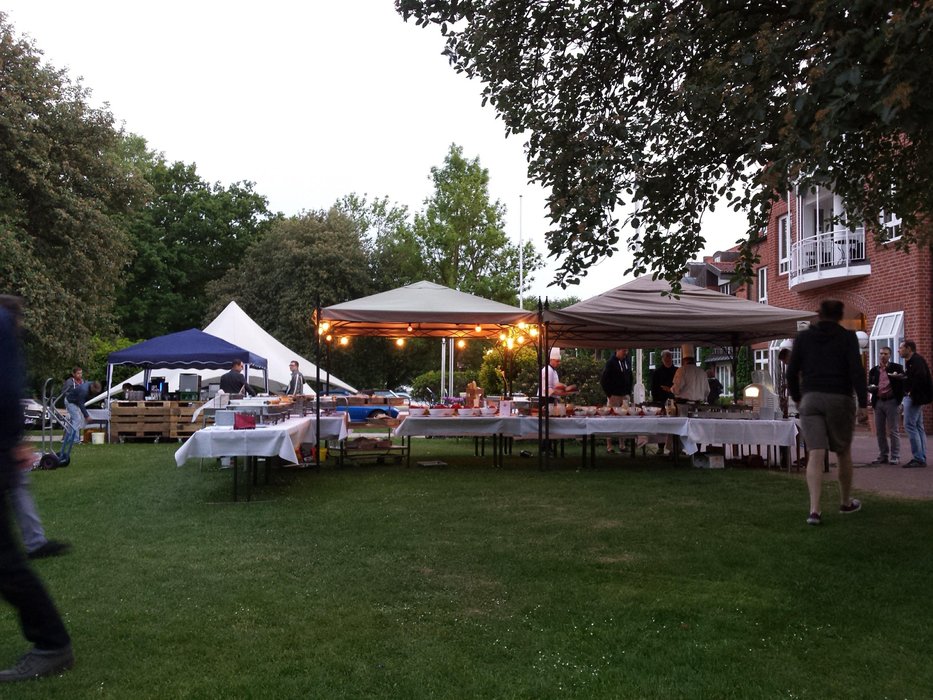 We also get fine dining on a warm evening. The restaurant is very nice decorated and spacious, piano played during dinner.... There are various fish served as appetizers. Also fresh salads. We ordered a bottle of good white wine during dinner.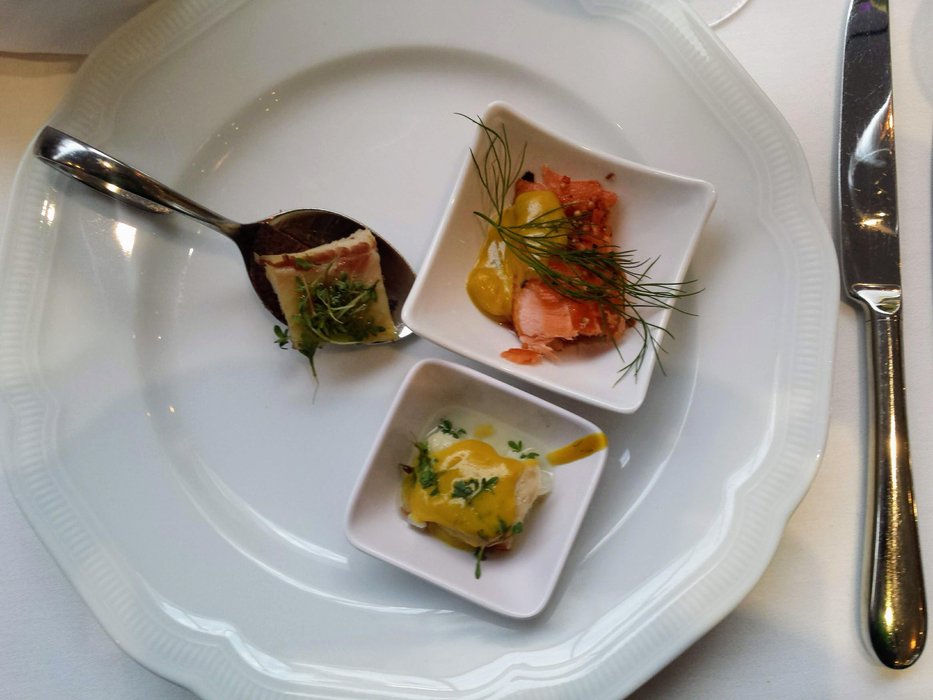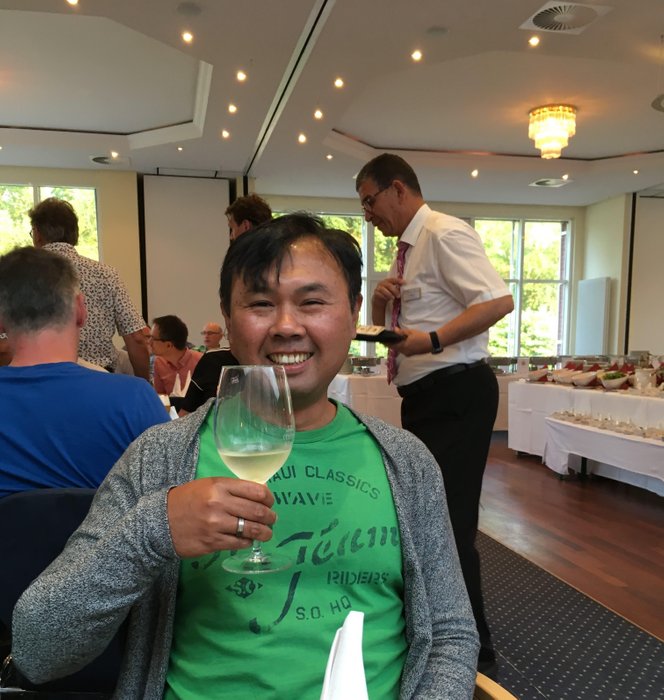 There are so many variations of main menu served. I always take a small portion for each, so I can try all the food, but with so many kinds of menus, I can not able to try them all. Everything is delicious and fine. I am very satisfied.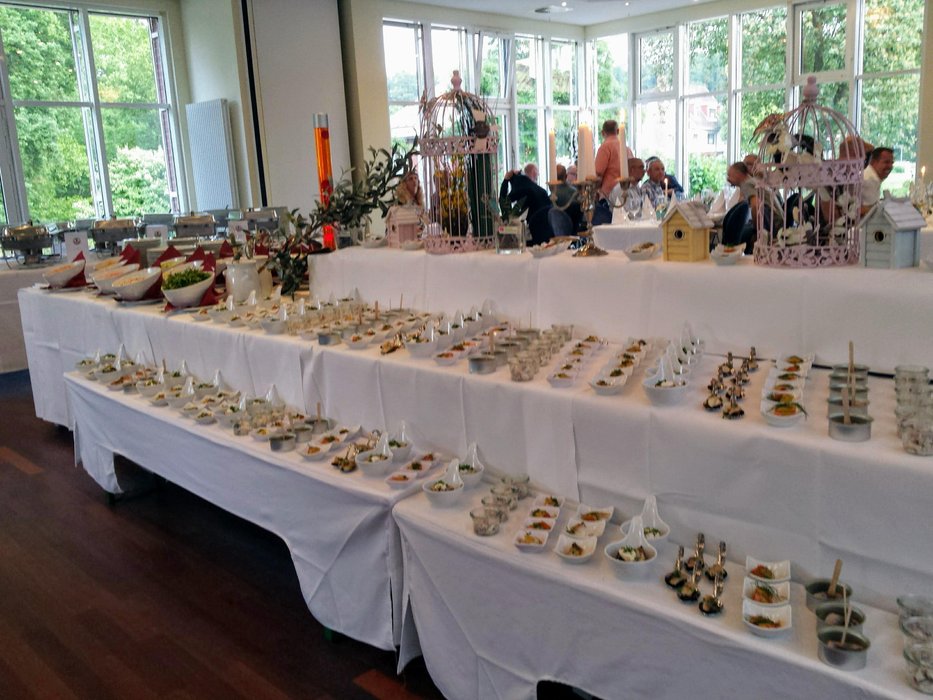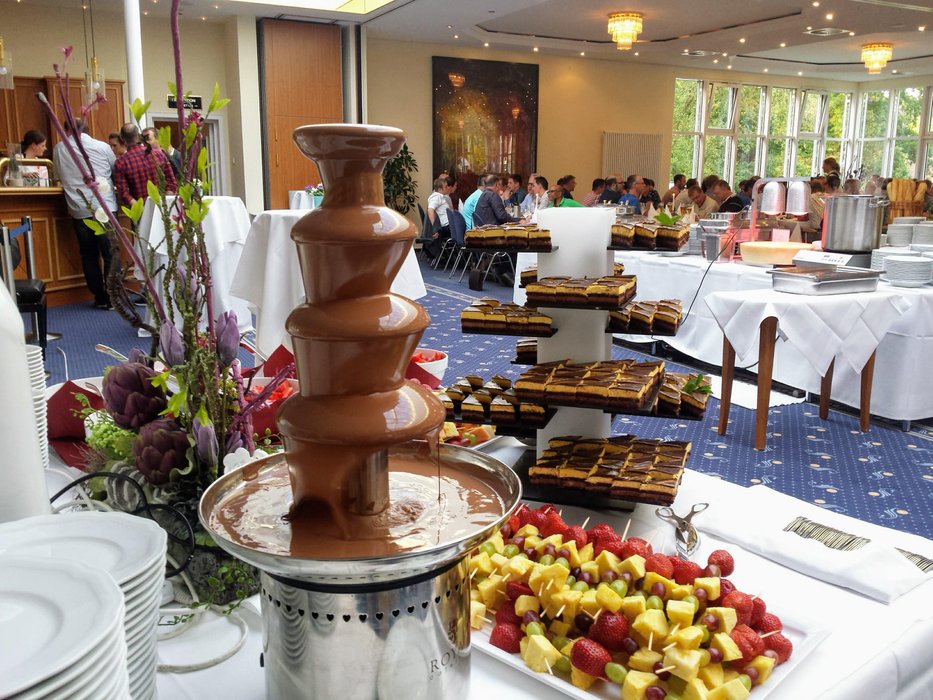 The desserts are a variety of fresh fruit, various ice cream, cakes and creams, then there is a chocolate fountain as a sauce.
I hope you are impressed with this hotel and satisfied with delicious foods like us 😉😉😉😏
See you later on my next travel story.
---
*Hotel, Resort und Spa Hohe Wacht Ostseering 5 - 24321 Hohwacht / Ostsee Germany
https://www.hohe-wacht.de/hotel-ostseeurlaub*
See this hotel on map: