Join us on our epic hike to the summit of Ryten (543 m). A beautiful hike that starts at sea level, climbs to around 80 meters and then drops to sea level again. Once at the beach you'll start a steep and long ascent towards the summit. The hike offers spectacular views with the final reward lying at the summit. Together with Peter, Jurre Jan & Melvin, we set off to hike to the beautiful vantage point on the summit of Ryten. Follow us on our epic journey towards the summit!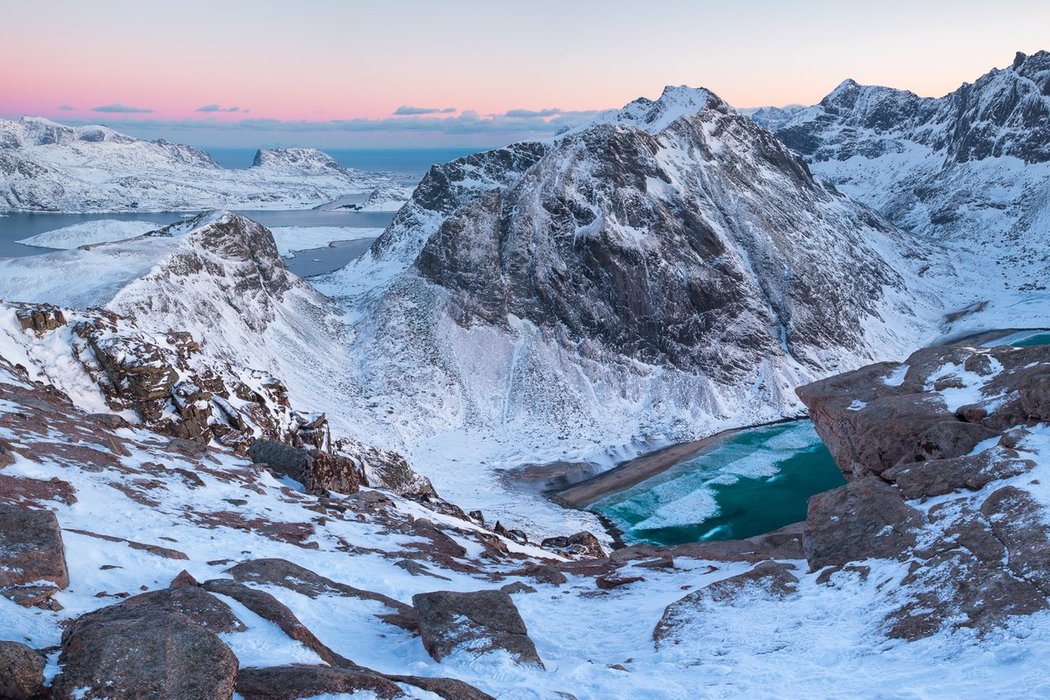 The view at the summit is beyond imagination! It is worth all the effort! Tamron SP 24-70 F/2.8 G2 @ 27 mm | f/11 | 1 sec | ISO 100 with NiSi Landscape CPL.
AT THE SUMMIT
It was a beautiful but though hike and even though the view at the summit is spectacular, the blistering cold made it nearly impossible to take any pictures. After I had taken one shot, the sun disappeared behind a band of clouds close to the horizon. Therefore I packed away the camera and flew the drone. This was one of the scariest flights I've done. There was so much wind, and thanks to a battery problem, my controller (which is now at DJI for replacement) depleted super fast and my phone was only at one percent because of filming with it. And to add to this, because of the extreme cold, my gloves were frozen solid. This ment that moving the sticks was a bit more crude than normally, but still I am super excited about the drone footage. I really hope you enjoy this video!
Exif: 3 shot Panoramic Image: Tamron SP 24-70 F/2.8 G2 @ 27 mm | f/11 | 1 sec | ISO 100 with NiSi Landscape CPL.
Music:
Tragic Story – Myuu
To weather a storm – Dan Lebowitz
Ocean Beach – Dan Lebowitz
Plenty Step – Freedom Trail Studio
Scapes – Silent Partner
Overcome – Ugonna Onyekwe
I hope you liked this video and enjoyed watching it! If you do so, please hit the like button. When you have any tips or advice, you can let me know in the comment section. And if you like my photography, please follow me on Instagram @harmenpiekema and Facebook. Please check out my YouTube channel to see behind the scene vlogs, learn how to use certain gear and follow me on my adventures. If you want you can check out my webshop. Your support means a lot!