ENGLISH VERSION BELOW
Hallo zusammen,
wie hier bereits beschrieben sind wir in Sardinien unterwegs und haben ein paar Artikel zum Land und zu den Ausflügen geschrieben, die wir gemacht haben.
Heute wollen wir euch die Nuraghe Osalla vorstellen, die an einem ganz zauberhaften Ort liegt und gleichzeitig eine Besonderheit darstellt. Sie ist die einzige Nuraghe in ganz Sardinien, die so nah am Meer gebaut wurde.
Wer mit dem Begriff der Nuraghen nichts anfangen kann, dem sei hier geholfen: https://de.wikipedia.org/wiki/Nuraghe
Die Nuraghe liegt an der Spitze von Cala Osalla und kann über den Ort Orosei erreicht werden.
Link: https://goo.gl/maps/QQ1ejP5goJU2
Nachdem wir uns in Orosei erkundigt haben, sind wir also mit losgefahren und haben nach ein paar Kilometern den Strand und den Hafen erreicht. Hier war erst mal Ende der Straße. Die Straße zum Hafen läuft parallel zu einem kleinen Fluß der dort am Hafen ins Meer mündet.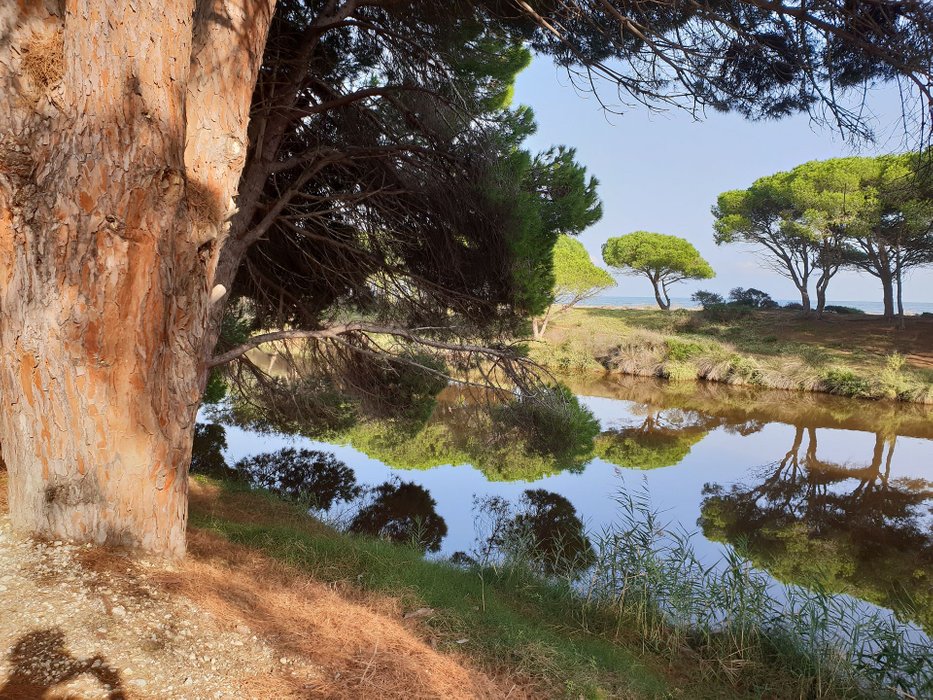 Vom Porto Turistico geht's also ein Stück den Fluß entlang zurück und man biegt links in eine steile Straße ab, die bergauf führt. Der Weg hinauf ist bei uns ganz angenehm gewesen, da die Temperaturen auch erträglich waren. Im Hochsommer kommen untrainierte Leute hier sicherlich erst mal an ihre Grenzen. Aber ein bisschen Wasser eingepackt und dann geht's auch gemütlich.
Auf halber Höhe wird man dann schon mit einem tollen Blick auf die Küste (Golfo d´Orosei) belohnt.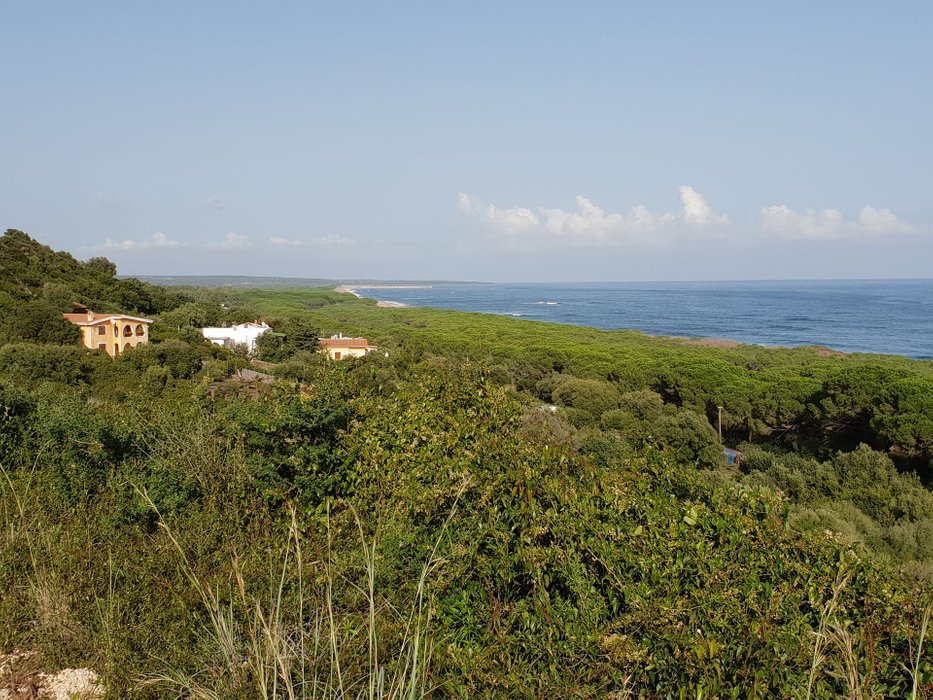 Die Straße weiter entlang hält man sich dann links und kommt auf ein Gelände auf dem man dann einem ausgewaschenen Weg folgt. Dann steht man vor einem kleinen halbhohen Tor und fragt sich, wo die Nuraghe denn jetzt sein soll. Und wo man hinlaufen soll…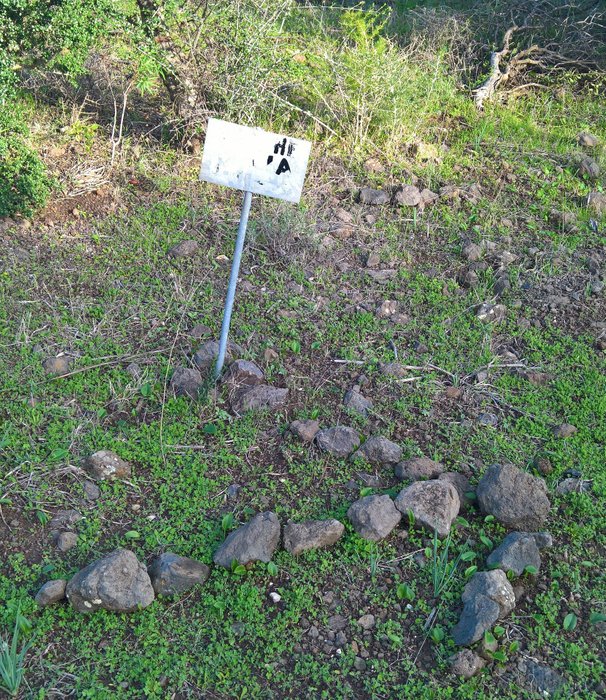 Wenn man etwas genauer hinschaut, dann findet man einen Hinweis
An der Nuraghe angekommen sieht man diese erst nur von hinten und so eröffnet sich der Blick auf die Nuraghe erst vollständig, wenn man diese einmal umrundet und sich damit auf die Spitze der Anhöhe bewegt, die direkt ins Meer ragt.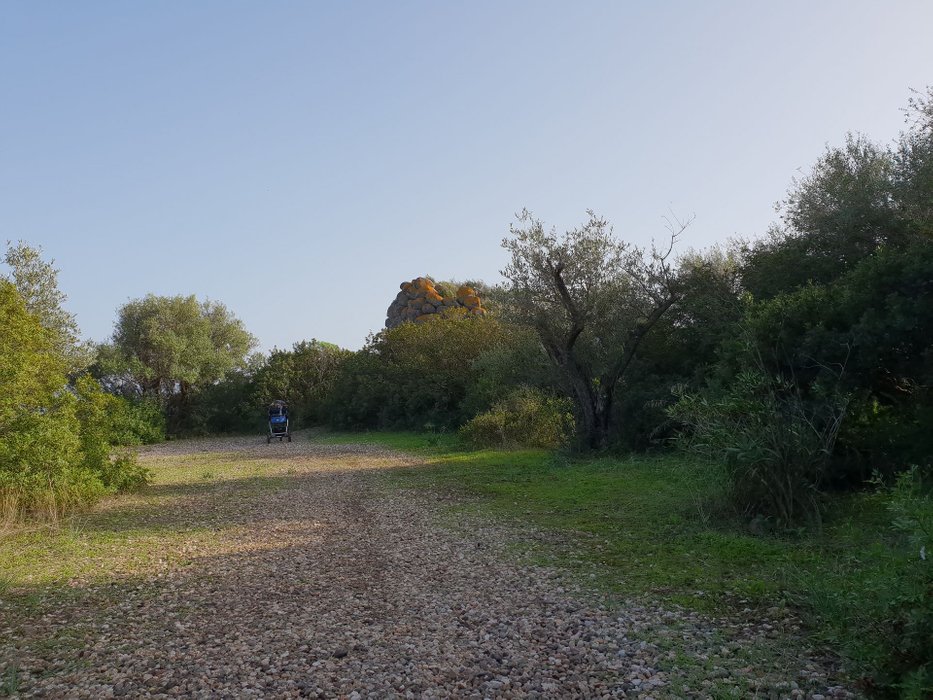 Hier steht man dann am äußersten Punkt der Anhöhe (ja man kann noch etwas weiter klettern wenn man mutig ist) und sieht den Eingang und die Nuraghe in ihrem aktuellen Zustand.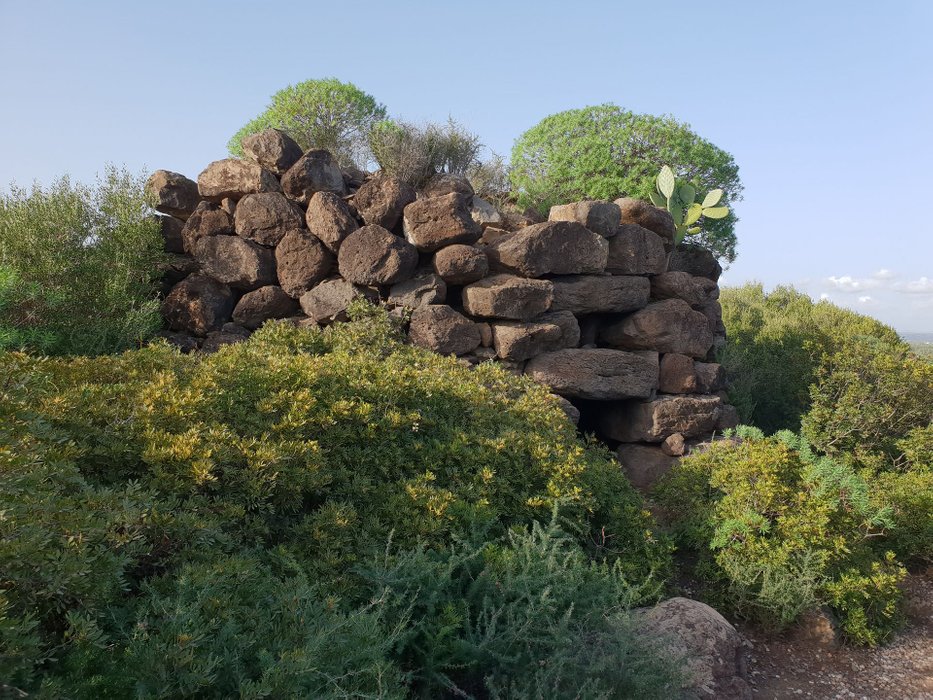 Leider ist das Dach mittlerweile eingestürzt und so würden in komplettem Zustand noch ein Meter oder mehr dazu kommen. Ein Blick in den Eingang zeigt, dass damals bereits mit Türsturz und anderen architektonischen Kniffen gearbeitet wurde.
Die Steine im Inneren gehören eigentlich zum Dach.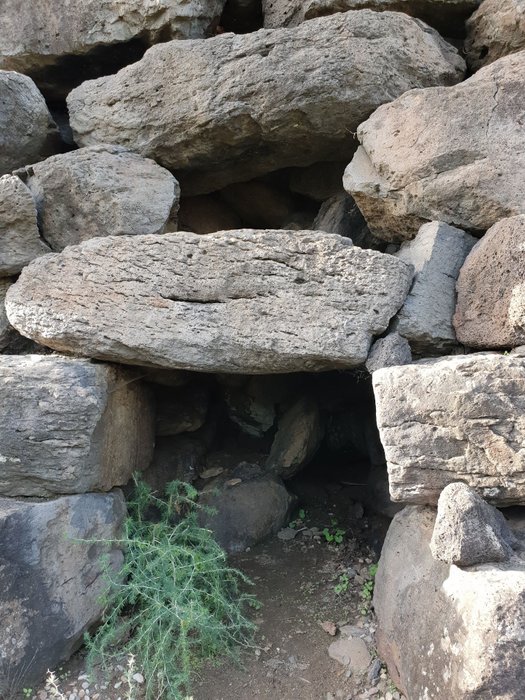 Hier noch ein kleines Panorama um den perfekten Standort besser zeigen zu können.
Dabei geht der Blick rechts an der Nuraghe vorbei.

bitte in separatem Tab öffnen - dann kommt das Panorama besser raus
Links davon liegt die Cala Osalla. Eine wunderschöne Bucht die umgeben von hohen Felsen ein ganz spezieller und ruhiger Ort ist. Das Land im hinteren Teil der Bucht ist grün und dicht bewachsen und wird von einem schon fast kitschig wirkenden Fluss durchquert.
bitte in separatem Tab öffnen - dann kommt das Panorama besser raus
Und so kam der Gedanke, dass wir dort unbedingt mal übernachten sollten wenn wir mit dem Wohnmobil hin kommen würden. Der weg dahin war noch nicht ganz klar und wir waren uns auch nicht sicher ob der Weg hinunter überhaupt befahrbar wäre. Die paar Autos die man auf den Fotos sieht zeigen zwar, dass man da runter fahren kann. Aber ein 3,5t Wohnmobil ist nochmal eine andere Sache.
Gesagt getan, so sind wir dann ein paar Tage später hinunter gefahren und kamen nach ein paar bangen Minuten auf einem engen und steilen Weg unten mit dem Wohnmobil an.
Ausser uns waren zu diesem Zeitpunkt nur noch eine Familie und zwei schweizer Bergsteiger anwesend.
Absolute Ruhe und Friede und ein Blick in die Landschaft und die Berge hinauf, dass es schon fast wie auf einer Postkarte aussieht.
Die Übernachtung und die Fotos die uns dabei gelungen sind, zeigen wir euch im nächsten Post.
Viele Grüße,
Hasenmann
---
ENGLISH VERSION
Hello everybody,
as already described here we are travelling in Sardinia and have written a few articles about the country and the excursions we have made.
Today we would like to introduce you to the Nuraghe Osalla, which is located in a very magical place and at the same time represents a speciality. It is the only nuraghe in Sardinia that has been built so close to the sea.
If you can't understand the term nuraghic, we can help you:
https://de.wikipedia.org/wiki/Nuraghe
The Nuraghe is located at the top of Cala Osalla and can be reached via the village of Orosei.
Link: https://goo.gl/maps/QQ1ejP5goJU2
After we had asked in Orosei, we drove along and after a few kilometres we reached the beach and the harbour. This was the end of the road. The road to the harbour runs parallel to a small river that flows into the sea at the harbour.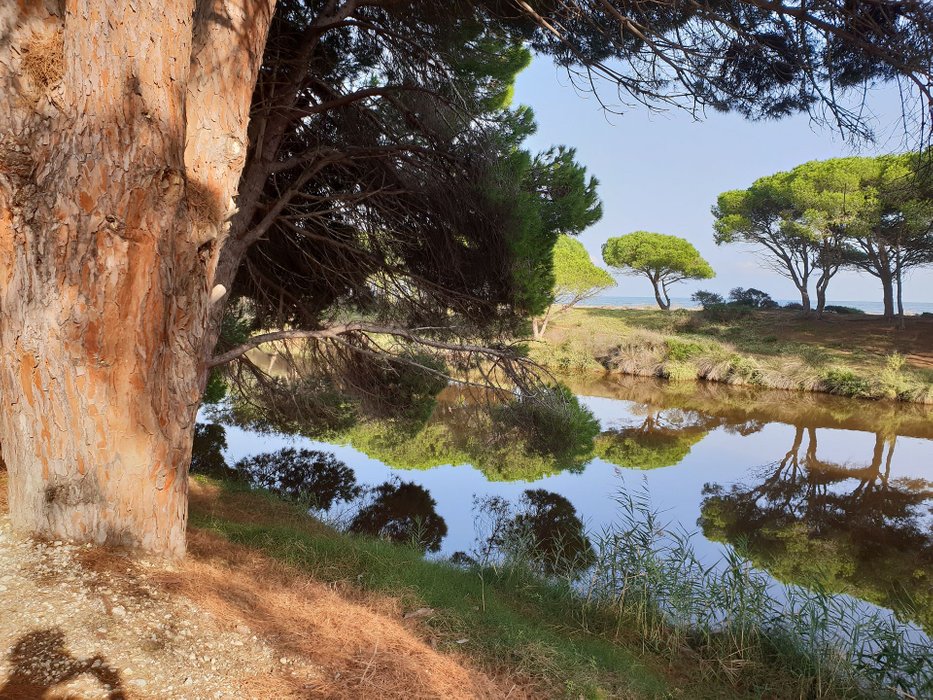 From Porto Turistico it goes back a bit along the river and one turns left into a steep road that leads uphill. The way up was quite pleasant for us, as the temperatures were also bearable. In midsummer, untrained people certainly reach their limits here. But a little water wrapped up and then it's comfortable.
Halfway up you are rewarded with a great view of the coast (Golfo d´Orosei).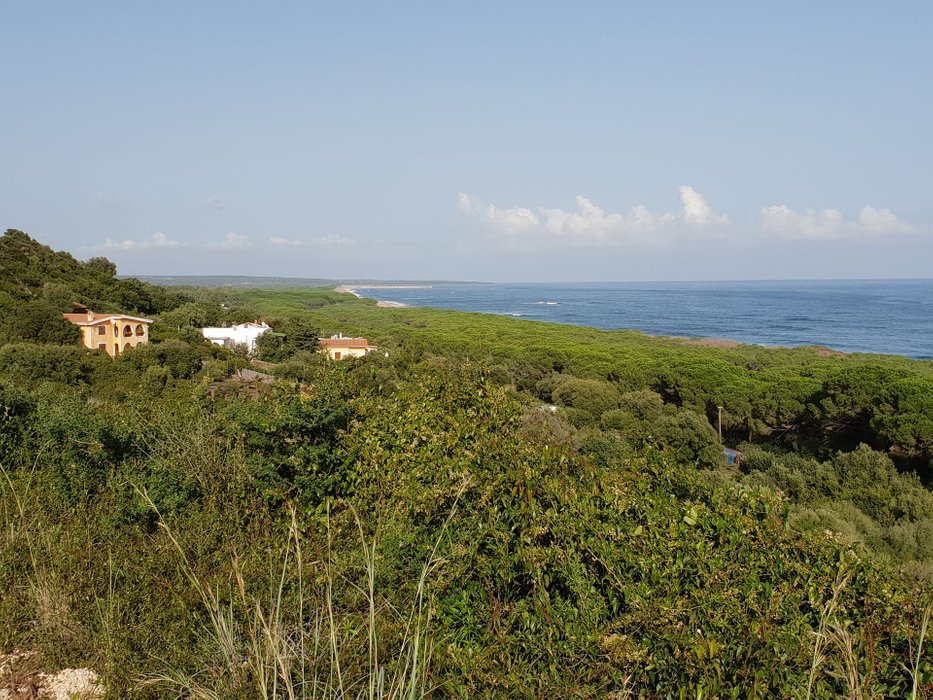 Continuing along the road, keep left and you will come to an area where you follow a washed-out path. Then you stand in front of a small half-high gate and wonder where the nuraghe is supposed to be now. And where to run to...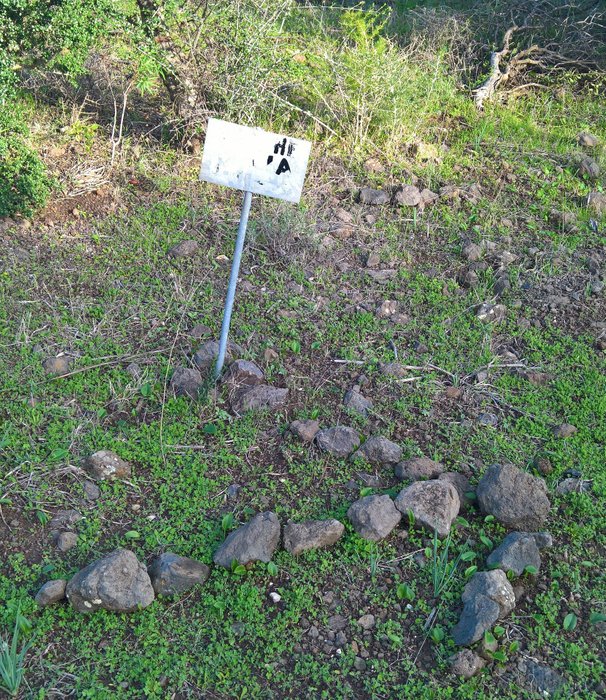 If you take a closer look, you will find a hint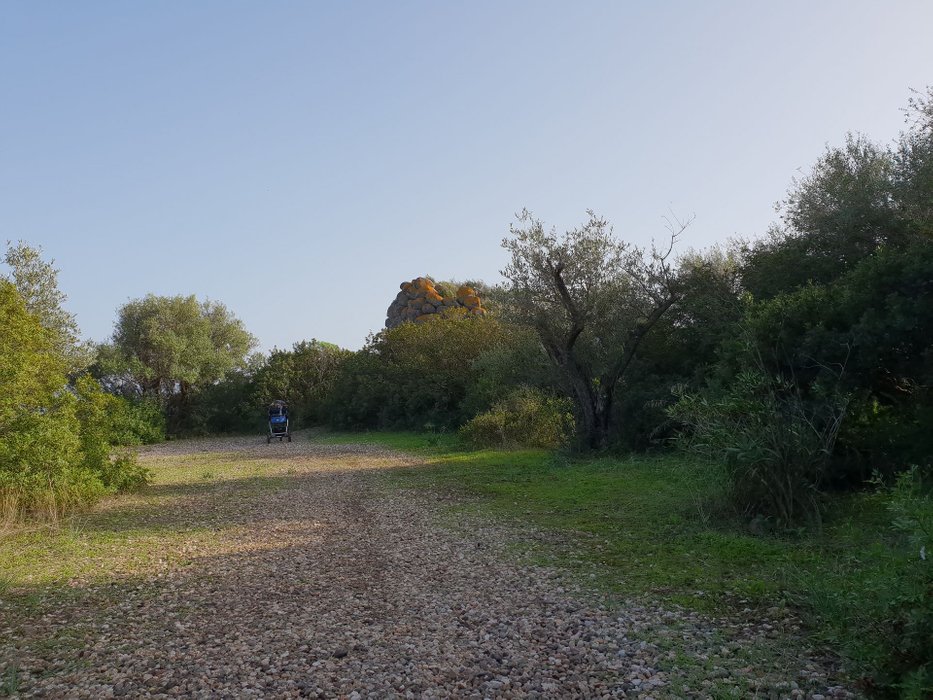 Arrived at the nuraghe, one only sees it from behind and thus the view to the nuraghe opens up completely only if one circumnavigates it once and thus moves to the top of the hill that protrudes directly into the sea.
Here you stand at the outermost point of the hill (yes you can climb a bit further if you are brave) and see the entrance and the nuraghe in its current state.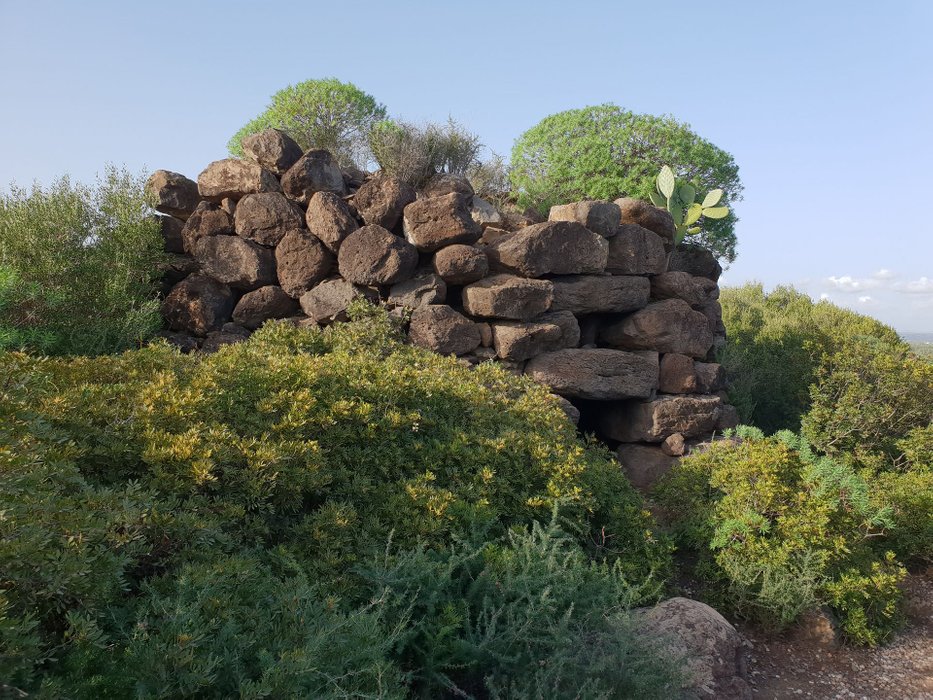 Unfortunately the roof has collapsed in the meantime and so in complete condition there would be another meter or more to go. A look into the entrance shows that the lintel and other architectural tricks were used at that time.
The stones inside actually belong to the roof.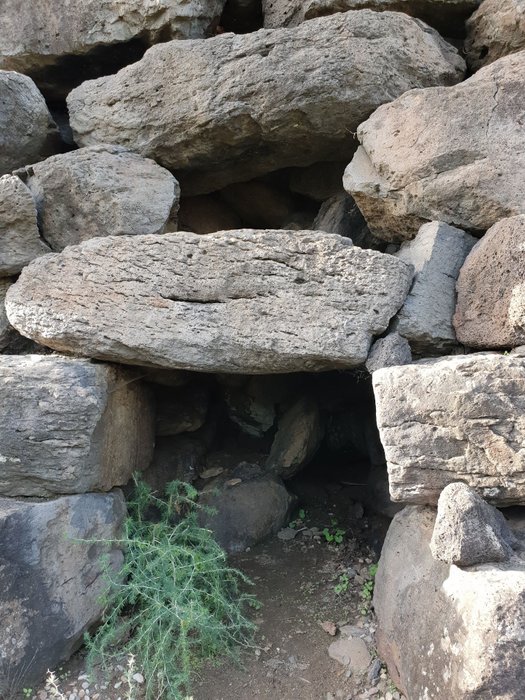 Here a small panorama to show the perfect location better.
The view goes right past the Nuraghe.

please open in a new tab - so you can enjoy the panaroma
To the left is Cala Osalla. A beautiful bay surrounded by high rocks is a very special and quiet place. The land at the back of the bay is green and densely overgrown and is crossed by an almost kitschy river.
please open in a new tab - so you can enjoy the panaroma
And so the thought came that we should spend the night there if we would come with the motorhome. The way there was not yet clear and we were not sure if the way down would be passable at all. The few cars you can see on the photos show that you can drive down there. But a 3,5t motorhome is another thing.
As said, we drove down a few days later and arrived after a few anxious minutes on a narrow and steep way down with the motorhome.
Apart from us there was only one family and two Swiss mountaineers present.
Absolute peace and quiet and a view into the landscape and the mountains that it almost looks like on a postcard.
We will show you the overnight stay and the photos we succeeded in taking in the next post.
Best regards,
Hasenmann
PS: Would love to see a resteem. Thank you all!