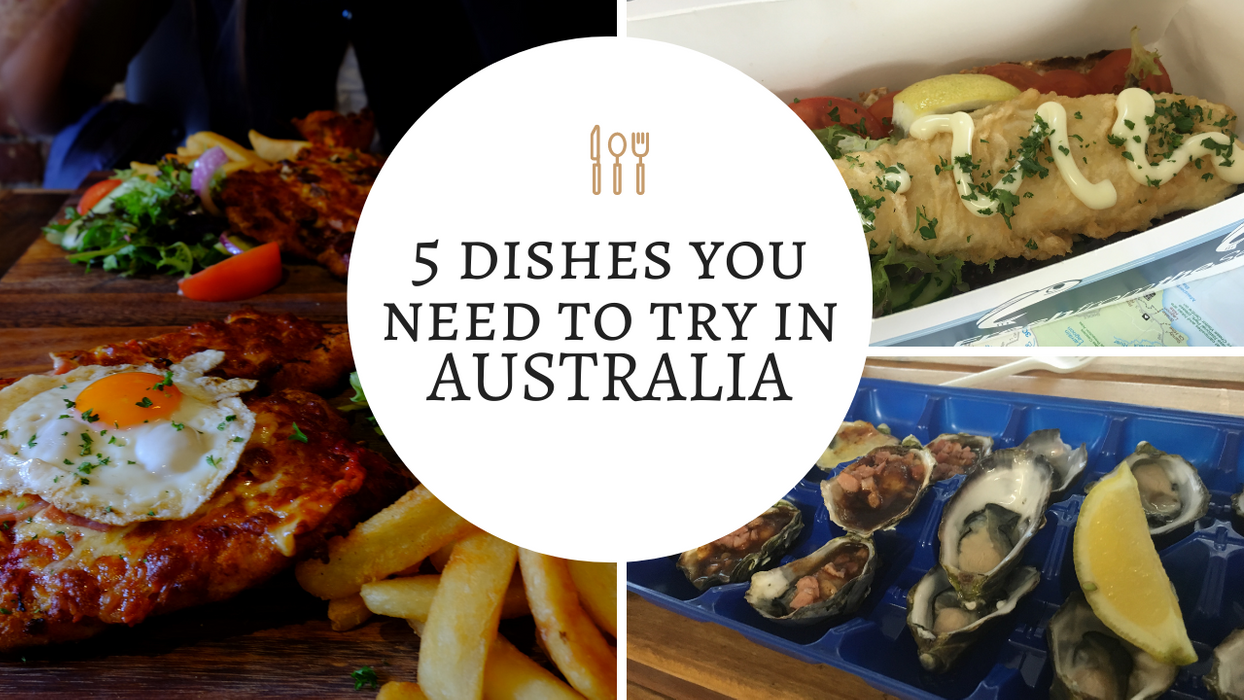 Take staple British recipes, European and Asian culinary traditions, add some indigenous cooking practices, blend everything together and you'll get Australian cuisine. Australian food is indeed a mix of the familiar and the original, born out of the traditions of the various populations that immigrated to the country in the past centuries and the local products that are unique to this country the size of a continent. It is as much about a crunchy meat pie than about a kangaroo pizza.
Whether in a fancy pub, in a family-owned restaurant in a town lost in the middle of the outback or fresh off the barbie, Australians like their food fresh and generous. So grab a glass of Barossa Valley wine or a bottle of Tasmanian cider and discover the five staple dishes you need to try on a trip down under.
Aussie meat pie
If there ever were a staple Australian dish, this would be the Aussie meat pie. Even if New Zealand could also claim the recipe as its own national dish, the meat pie remains the ultimate Aussie takeaway food, available in fancy downtown bakeries as much as gas stations in the middle of nowhere. Bob Carr, former New South Wales Premier, furthered bolstered this claim in 2003 when he called it Australia's national dish.
Traditionally served with minced meat and gravy and topped with tomato sauce, the meat pie has gradually evolved to include whatever ingredient available. The only limit being the baker's imagination, even the most gourmet combinations are not unusual to find. If you want to taste some chicken satay or a beef bourguignon in a crusty pie, Australia's got you covered. Meat pies without any meat at all have also become a trend and vegetarian options are aplenty, from spinach and feta to ratatouille.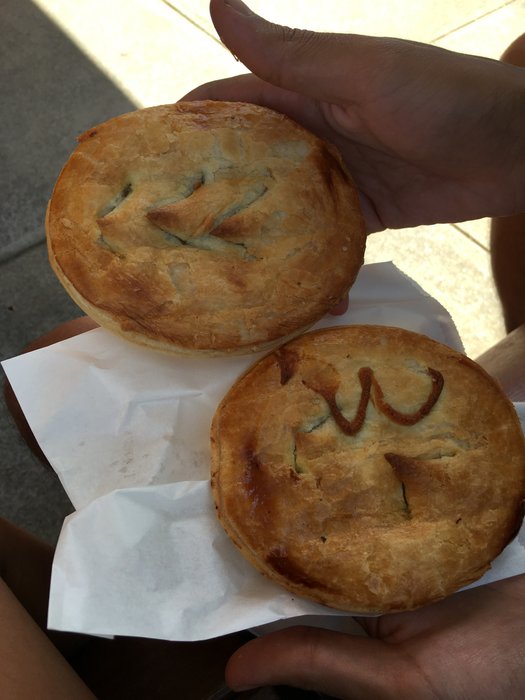 Where: Pies are available across the country but the best ones are usually found in traditional bakeries, such as the Perrymans Bakery in Adelaide. Known for its range of tasty pies, this bakery also offers the iconic Aussie meat pie for the ones craving a crunchy pie with the smoothest gravy. If you're looking for some seafood sophistication, the ride to the seaside town of Bicheno in Tasmania will be worth your time to taste the melt-in-the-mouth scallop pies at the Blue Edge Bakery.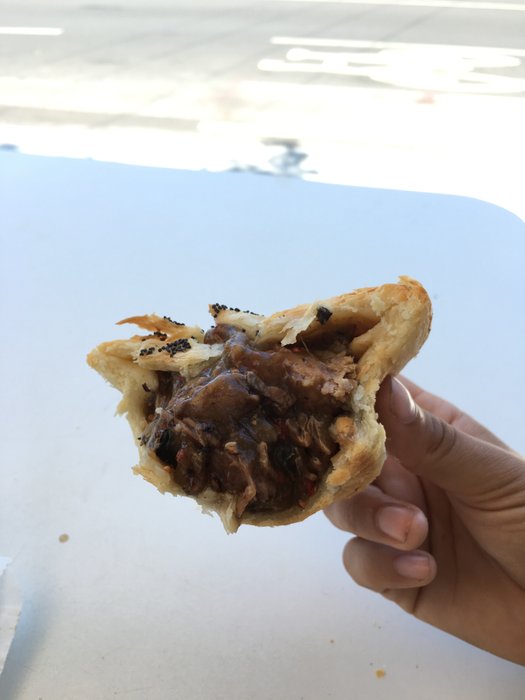 Fish and Chips
British invented fish and chips and, arguably, Aussies perfected it. Always served with thick potato fries, this dish made of deep-fried battered fish is another iconic takeaway dish. Fish and chips is cheap, filling and a popular dish in every seaside town worth its salt throughout the country. In the UK, cod is usually the fish of choice but Australia does it differently.
Traditionally, the best fried fish choices are white fish, ranging from flake, derived from a type of gummy shark, to flathead. However many fish and chips joints tend to resort to lower quality fish such as a Mekong Delta catfish called basa or New Zealand hoki. The perfect fish and chips should be crunchy and fresh nonetheless and it is worth looking for the best fish quality, even if the price might be slightly higher. If you can enjoy it on a pier with a view or on the beach, that's all the better.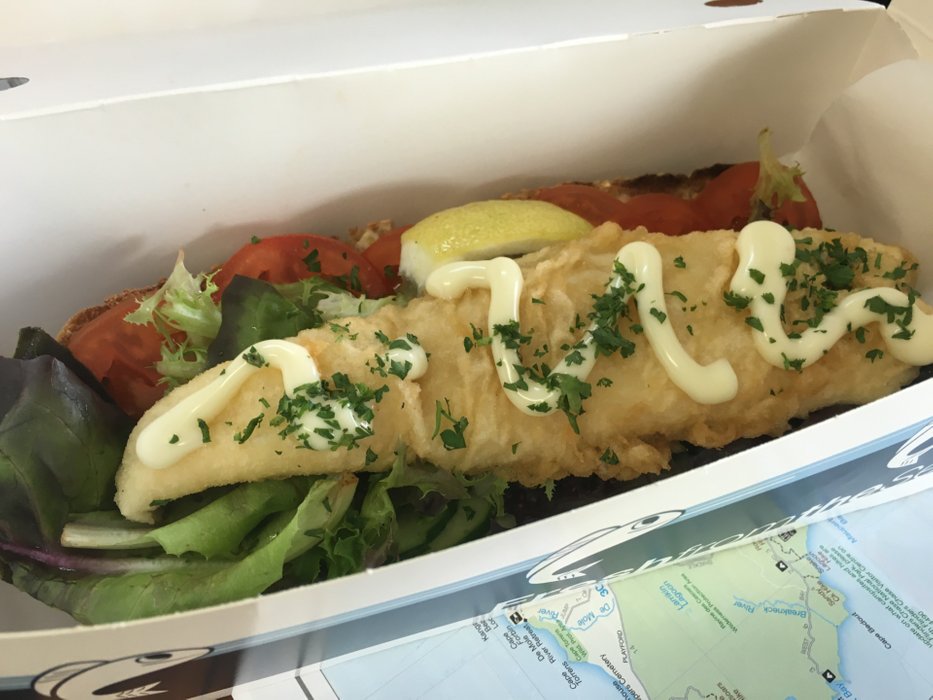 Where: Driving along the Great Ocean Road offers many fantastic views but also some pretty solid stops for foodies. Located in the small seaside of Apollo Bay, the Apollo Bay Seafood Café is one such stop. On the menu you'll find some delicious bites of fish and chips as well as a variety of fresh catches of the day.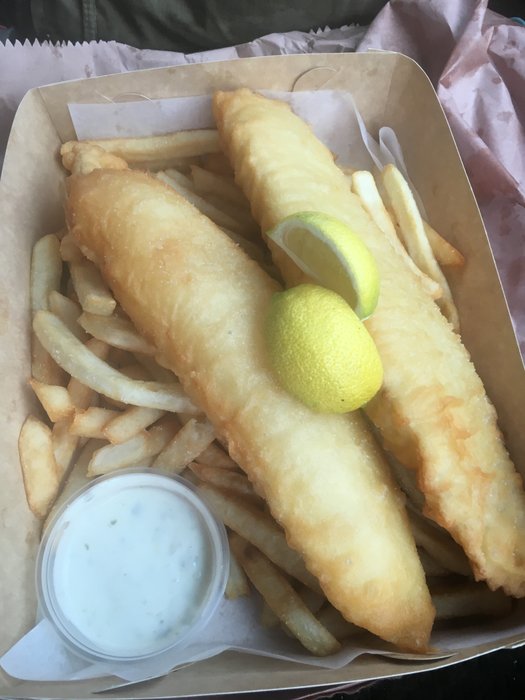 Chicken parmigiana
If you ever hear of a chicken parmigiana when you're in Australia, you might be confused as to what exactly this dish might be. Colloquially referred to as a parmi or a parma, this staple of pub food is best described as a pizza on breaded chicken. At this point, you might be weirded out but know that you're in for a treat.
The chicken parmigiana is believed to have originated from the Italian diaspora during the 20th century, which explains why it can also be found in the United States under the name chicken parm. First, a slice of breaded chicken breast is covered in tomato sauce and mozzarella and parmesan cheese. Then, a slice of ham or bacon is added. Finally, the dish is served with some fries, salad and the occasional fried egg to top it all off. There you have it, the best of both worlds for pizza and chicken lovers.
Where: Chicken parmigiana is usually considered to be a pub food. It was served as early as 1953 in Adelaide but has then spread to every other town in Australia, Melbourne being the country's undisputed specialist. It is no surprise then that one of the best parmis in the country is served at the Birmingham Hotel in the quirky and artsy district of Fitzroy.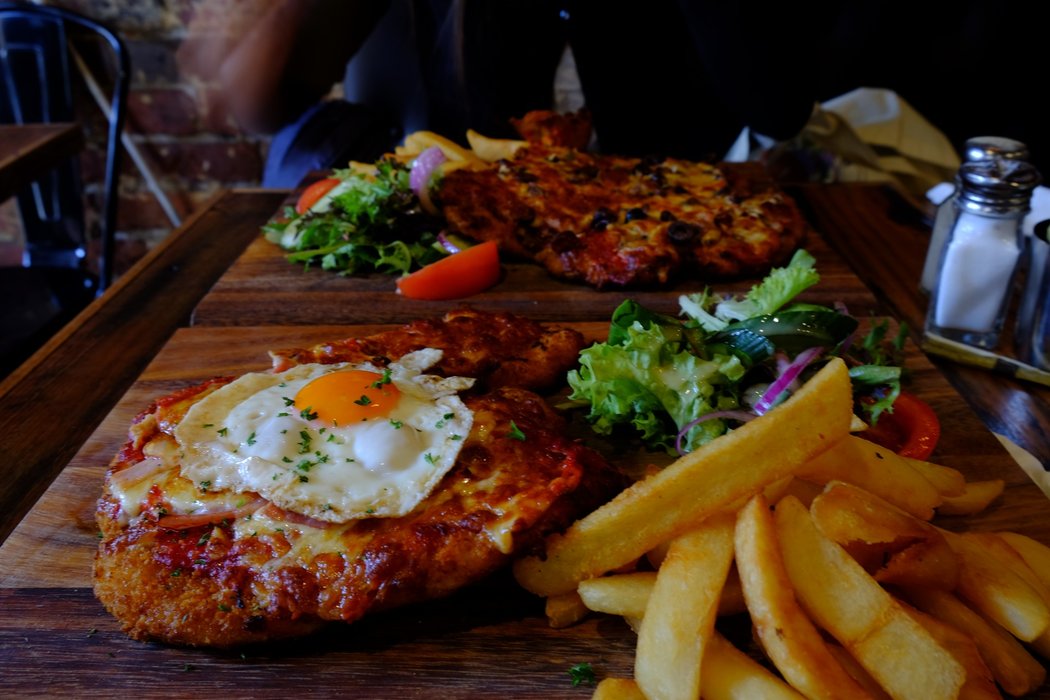 Game meat
If you're ever tired of your conventional pork sausage and beef steak, if you want to taste new flavors, Australian game meat might just be what you need. The country is home to some of the most mysterious species on the planet, some of which are uniquely Australian. As a consequence, Australian game meat is a once in a lifetime experience. 
Of course, you won't be indulging in a koala sandwich or a wombat steak any time soon but kangaroo sausages and emu pizzas are very much an option. Produced from wild animals as a measure of population control, kangaroo meat is high in protein and pretty strong in flavor. It must never be eaten raw however and is therefore never served rare. Emu meat is another popular type of game meat with a taste that is close to goose or ostrich meat. Crocodile meat can also be found in some places across the country, although it remains a rare occurrence. Taste-wise, crocodile meat is nothing extraordinary but its unusual texture, half-way between chicken and fish, is worth trying once.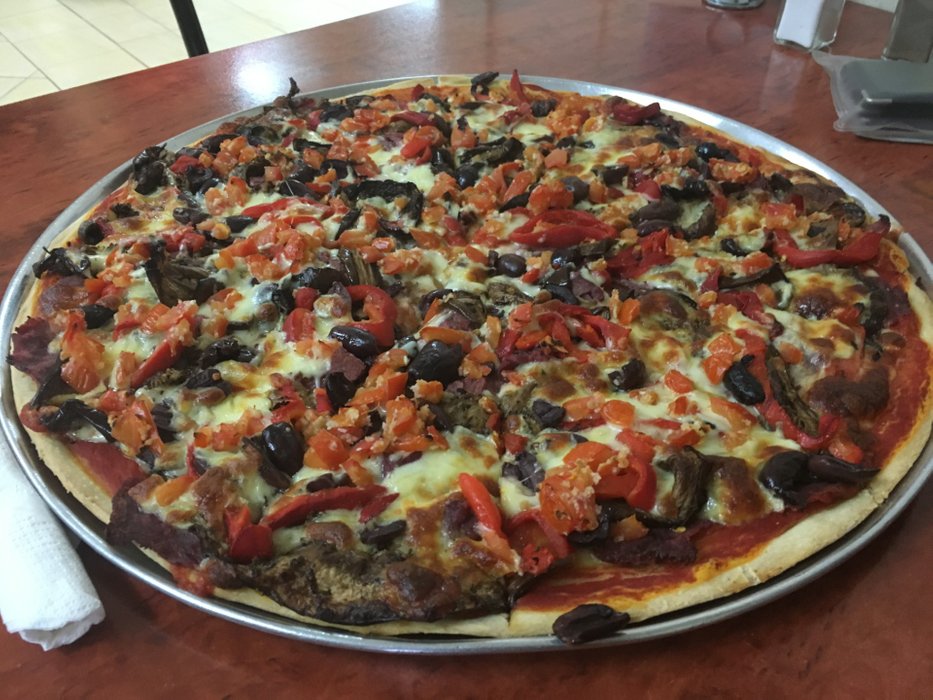 Where: Game meat can be served on its own but its usually strong flavor isn't always suitable for all palates, which is why it is often quite popular in pizzas or hamburgers. John's Pizza in Coober Pedy offers the best bang for your bucks with a huge, and delicious, kangaroo pizza while the Authentic Heritage Hotel in Sydney is well-known for its emu, kangaroo and crocodile pizzas. As far as hamburgers are concerned, the kangaroo burger offered at the Red Ochre Grill in Alice Springs is the perfect Aussie dish on the way to the iconic Ayers Rock.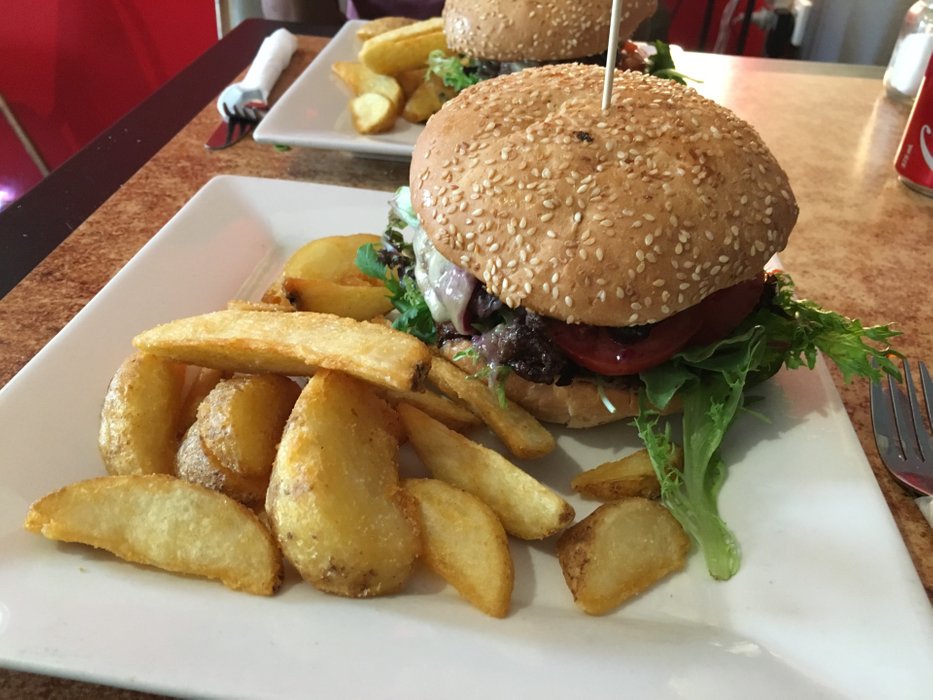 Seafood
Seafood has a long way to go to become as popular as poultry and beef in Australia. Yet, the sheer quality of seafood in the country is enough to entice foodies from all around the world. One of the largest producers of abalone and rock lobsters, Australia is also famed for its Moreton Bay bugs, mud crabs and freshwater yabbys. Many restaurants specialize in fresh seafood platters as well as deep-fried seafood, such as fried scallops. The aquaculture industry is also prevalent in Australia. The most common species are salmon, prawns, tuna and oysters.
Where: The freshest seafood comes straight from the producers and the Oyster Farm Shop on Kangaroo Island is proof of that. The farm shop serves oysters that are harvested daily, either fresh or grilled, natural or with a surprising topping such as garlic butter and cheese or wasabi mayo. As for salmon lover, they might want to pay a visit to the 41 South Tasmania farm in Deloraine to taste the most melt-in-the-mouth hot-smoked salmon fillet and salmon rillettes out there.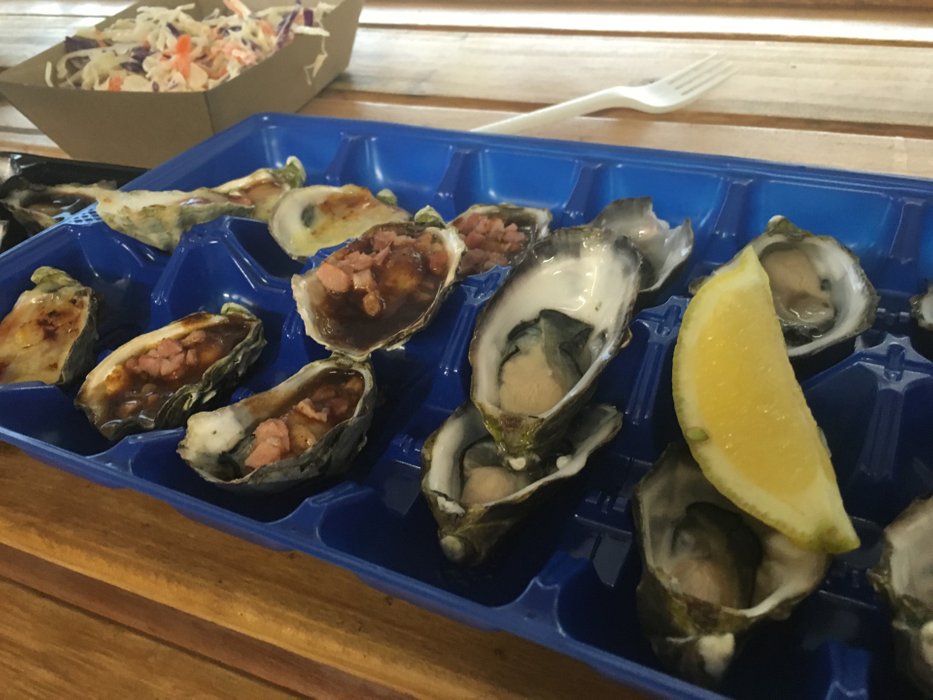 From savory game meat and fresh seafood to veggie pies, Australian cuisine caters to all taste buds and the variety of its local food is one more reason to add the country to your bucket-list.