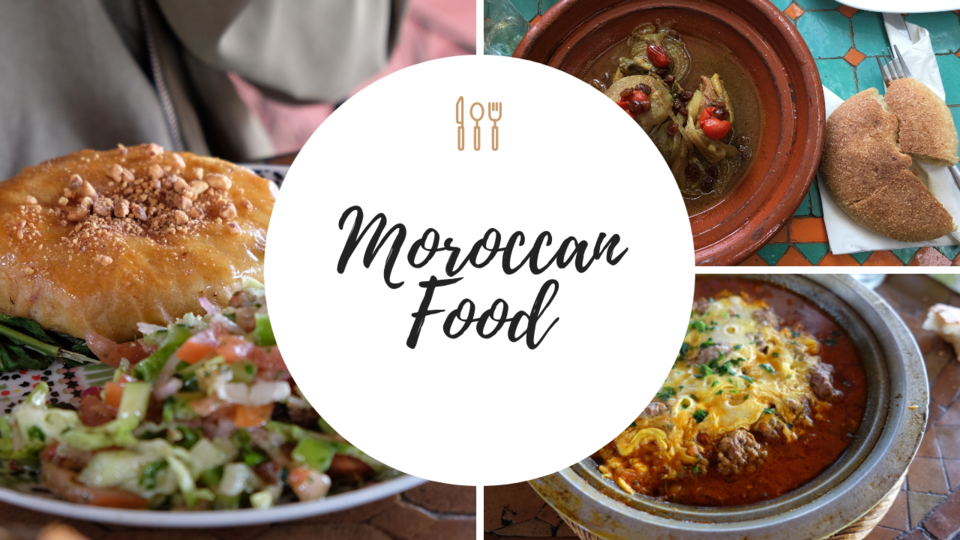 Anyone who's been to Morocco would say that the cuisine was one of the highlights of their trip. There is no denying the sheer diversity of the local food scene but most importantly, Moroccan recipes are hard to replicate.
Cooking is an art there that requires time and efforts. It is also extremely creative, blending all kinds of spices and herbs without ever being too hot. The key could be summed up as putting all the right amount of everything in order to bring the flavours out of the ingredients and take a simple dish to the next level. Because let's face it, freshness is good, but freshness with a Moroccan twist is even better.
Here's a list of the dishes we most enjoyed during our time in the Moroccan Kingdom.
1. Couscous
This traditional recipe has to top the list because it is simply too iconic. Even though it can be found in different versions across North Africa, the Moroccan's is said to be one of the best. The Couscous Royal is especially famed as it combines a variety of meat, from lamb to hot sausage, and tasty veggies complimented by a flavourful sauce.
Originally, the couscous was a holiday dish bringing families together on Fridays, the Muslim day of prayer. Nowadays, it can be found in most tourist restaurants but it does taste ten times better if you can manage to get yourself invited at a traditional home.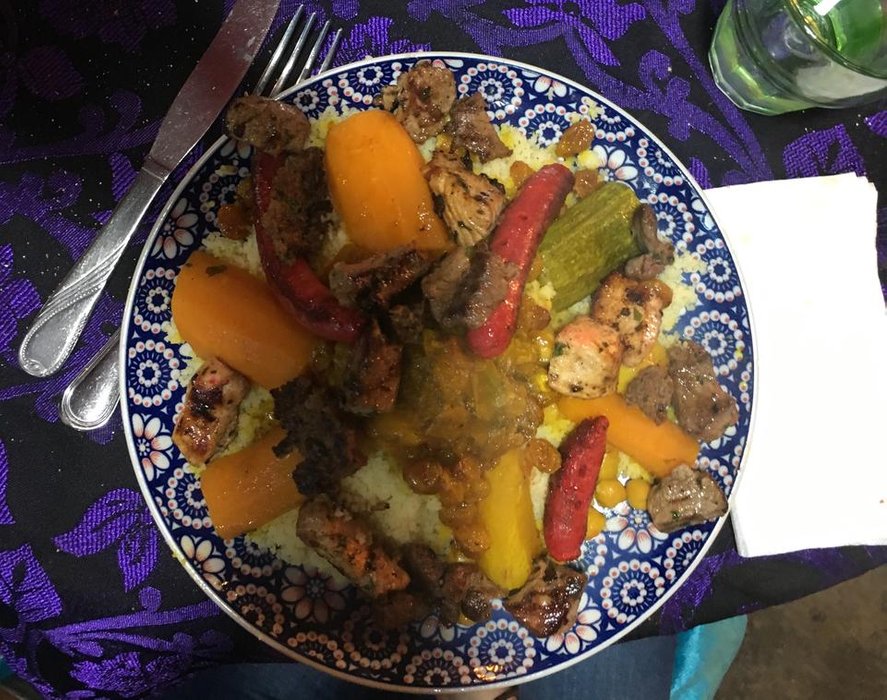 WHERE: Chez Said, not too far from the Bab Boujloud and within the Fes medina, is a very touristy spot but still delivers a pretty solid couscous royal, contrary to many other places that water down the sauce to render a very bland version of an otherwise tasty dish (approx.. 45DH).
2. Tajine
Tajine comes a close second since it is almost as iconic as the couscous. After seeing hundreds of small, medium and big tajine pots all around the country's flea markets, you will definitely crave to try it on a bigger scale. It is truly satisfying to see the waiter bring the clay tajine pot to your table but what's even more satisfying is the first whiff you will get out of it: a blend of cumin, cinnamon and other delicate seasoning.
The first bite into the piece of lamb or fish you've ordered will also be a treat, since the key to a good tajine is its slow cooking method, meaning that all ingredients have time to deliver on all their flavours. Popular tajines can come with an endless list of side ingredients: olives and lemon confit, eggs, not to forget the Holy Grail of tajines that is the lamb with prunes and almonds.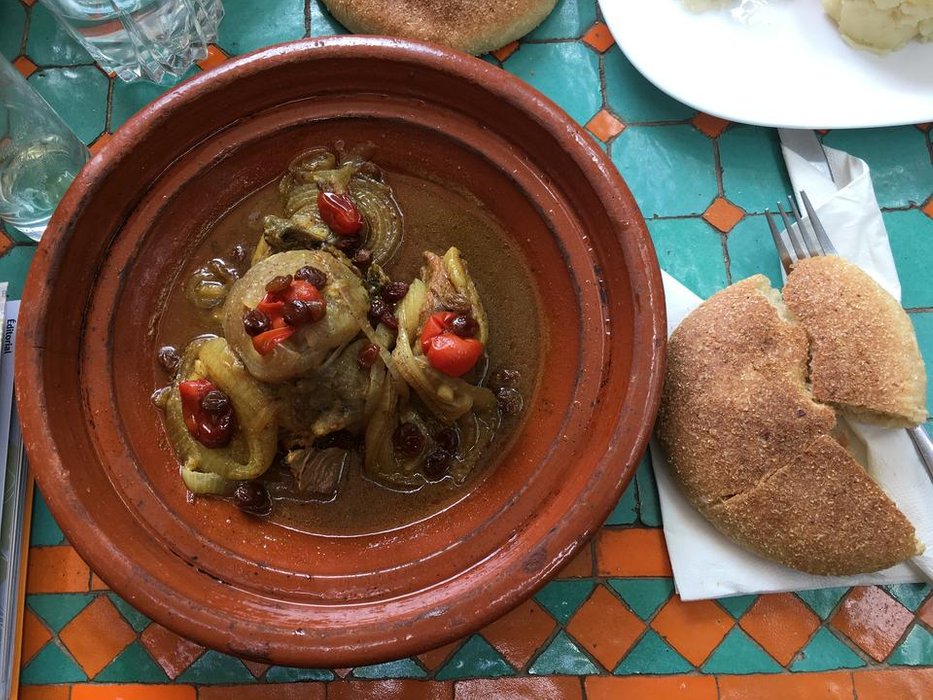 WHERE: Being a dish that requires time to cook, a tajine is typically the kind of dish that can be ordered at a ryad. However, there are a few restaurants that do it right and the Amal Center in Marrakesh is one of them. This non-profit association gives disadvantaged women an opportunity to thrive through cooking and the end result is incredible (approx. 150DH).
3. Pastilla
If you're looking for a dish that bursts with flavour at every bite, stop looking and have a pastilla, especially if you're an almond and cinnamon lover. This traditional pie has no counterpart in that it is sweet and savoury at the same time, blending spices that you would expect to find in a dessert with the distinctive taste of chicken, or pigeon in its birthplace of Fes.
To top it off, pastilla comes in crispy layers of dough that perfectly enhance its rich and intense aromas. It is a dish of champions that will fill you up pretty fast though, and it usually comes with some salad on the side, so you can expect to share it if you think your stomach won't take it.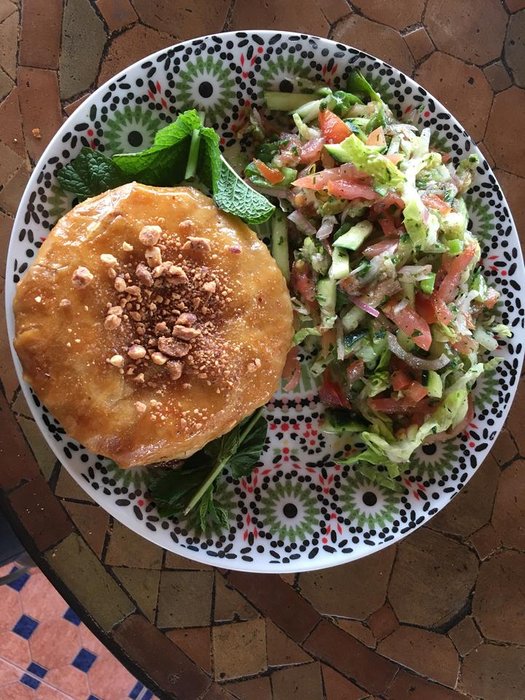 WHERE: The Nid'cigogne restaurant in Marrakesh probably doesn't serve the most traditional version of the pastilla, since it first originated in Fes, but it still does a good job. Plus, you will get to enjoy a superb view on the Moulay Al Yazid Mosque and catch a glimpse on a family of storks living nearby (95DH).
4. Msemen
Having said that Moroccan cuisine takes time to cook it to perfection, it is fair to assume that street food isn't huge in the country. There are some exceptions though, and the msemen are one of them. These local crepes may look unassuming, not to mention the fact that they're sold in tiny stalls with no tourist in a five-mile radius, but they're the ideal snack for lunch time. You can buy them raw, without any topping, as they're tasty enough on their own. Yet, it would be a pity not to try them with cream cheese for another level of awesome.
This dish will take you far away from the intricate spices of tajines and pastillas but there are enough sorts of msemen to give you a nice change of pace, from red spicy ones to thick buttery ones.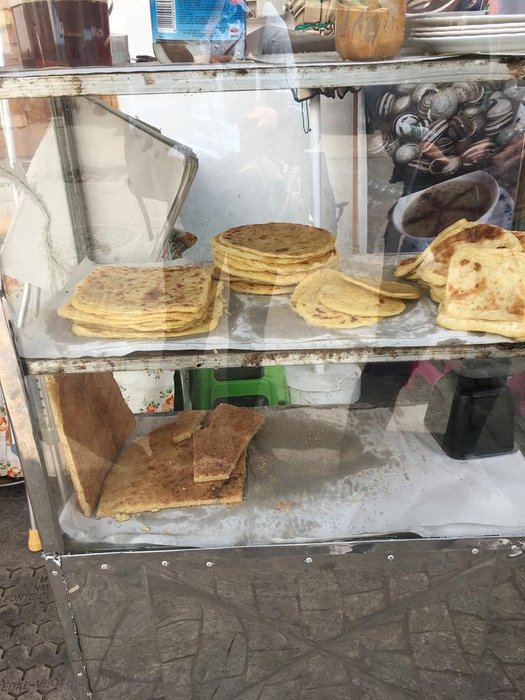 WHERE: Most markets will have a stall selling these inexpensive snacks but you will also find a variety of msemen stalls on the Avenue Mohamed V in Rabat(approx. 3DH per msemen with cheese).
5. Harira
Let's keep exploring the Moroccan street food scene and delve into a healthy soup widely consumed in the Maghreb region. The harira is a tasty concoction of lentils, tomatoes, herbs like parsley and coriander, spices like saffron and ginger, with some olive oil or lemon to blend everything together. It can be served as a starter but also as a main dish, since you can ask for a refill practically anywhere. This hearty soup makes for an enjoyable comfort dish and a rather light one too, which can give a break to your stomach after eating a couple tajines in a row.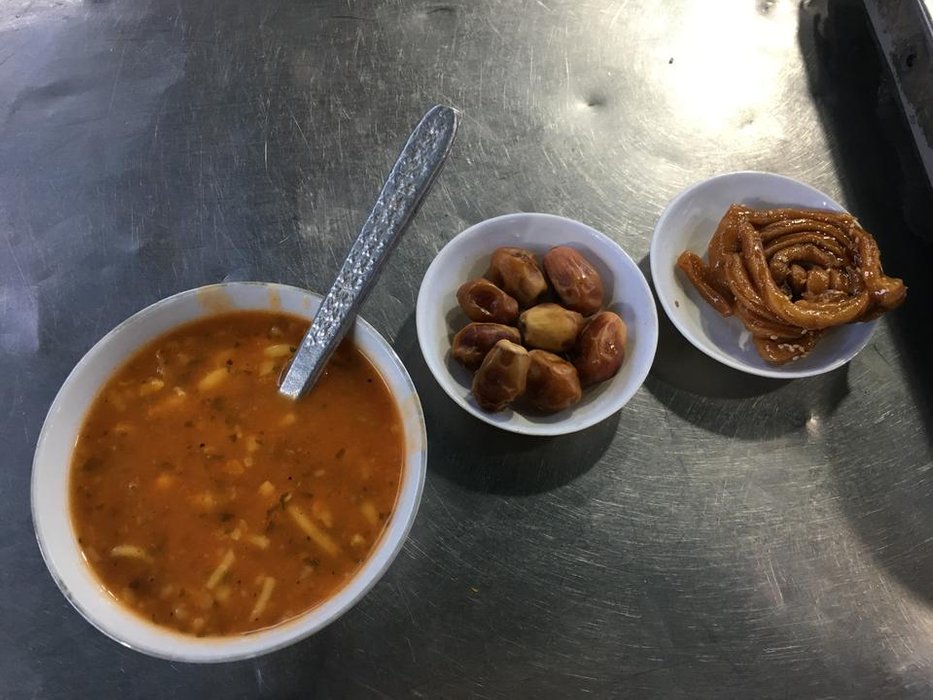 WHERE: Go to the stall 75 on Plaza Jemaa el Fna in Marrakesh to get some savoury harira along with fresh dates and pastry. Given that everything is overpriced on this very (extremely) touristy spot, this is about your only chance to eat something local with the locals. Plus, you will pay a reasonable price which is in itself a true achievement there (approx. 5DH).
6. Moroccan pastries
No proper Moroccan food list would be complete without mentioning the local pastries. Beware if you're not a sweets person since the sugar overload is real. Honey, almonds, cinnamon, orange blossom water, are some of the key ingredients and they taste so good put together that it would be a shame to skip dessert, even if you're not usually into sweets.
Sure, you'll have to eat these pastries with a lot of moderation as one bite will be enough to melt your body into a gigantic piece of sugar. Fat is also on the menu as most pastries are made of fried dough, such as the briouats and chebakya, but you cannot leave Morocco without trying them.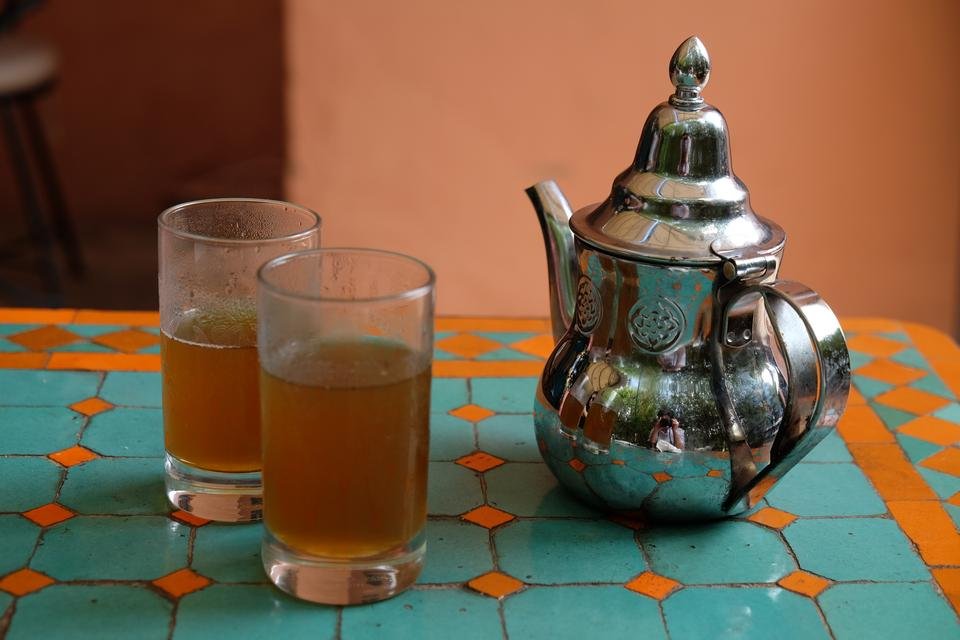 WHERE: Pastries are sold in every market and you'll even be able to watch the whole process as they are usually being cooked right in front of you. There is an array of great pastries for a fair price at the entrance of the Fes medina. Don't forget to sip a cup of mint tea while you're at it!
---

---
Check our other posts
We try our best to bring quality content. All feedback is welcome so please comment on what you like and dislike so we can get better :)