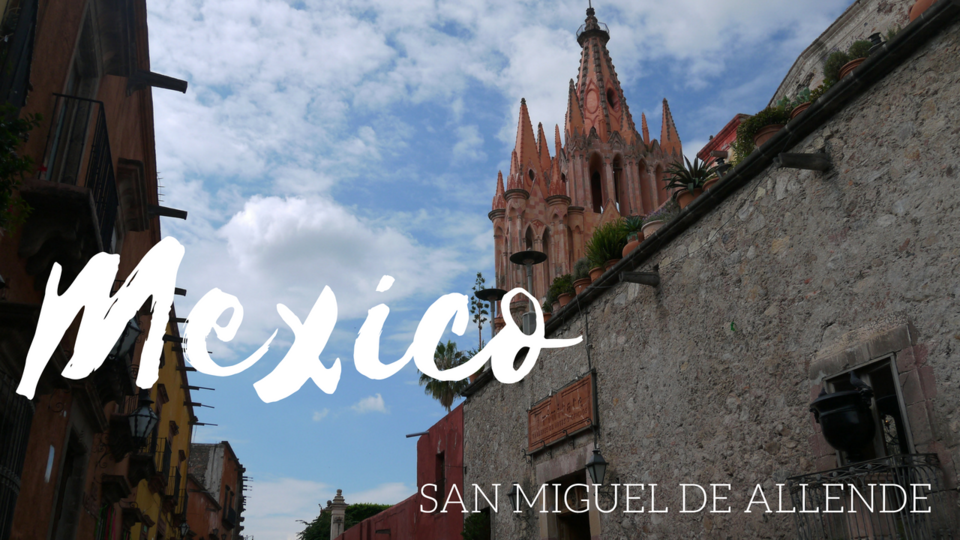 Clouds were piling up above the roof of the Parroquia de San Miguel Arcangel when I finally decided to leave the comforting nest I had found an hour earlier after wandering in the streets of tourist favourite San Miguel de Allende in central Mexico.
I had arrived in the late morning at the edge of the city, travelling on a surprisingly enjoyable 1-hour bus trip from Guanajuato with the local company Primera Plus. Rain had been pouring all morning but the concrete pavements were dry when I set foot in front of the reasonably sized San Miguel bus station along with a couple of other foreigners. Determined not to follow their footsteps, I denied every taxi driver's offer and made my way into the city on a fairly long straight road occupied by a range of food stalls and local restaurants on each side, teasing my rumbling stomach.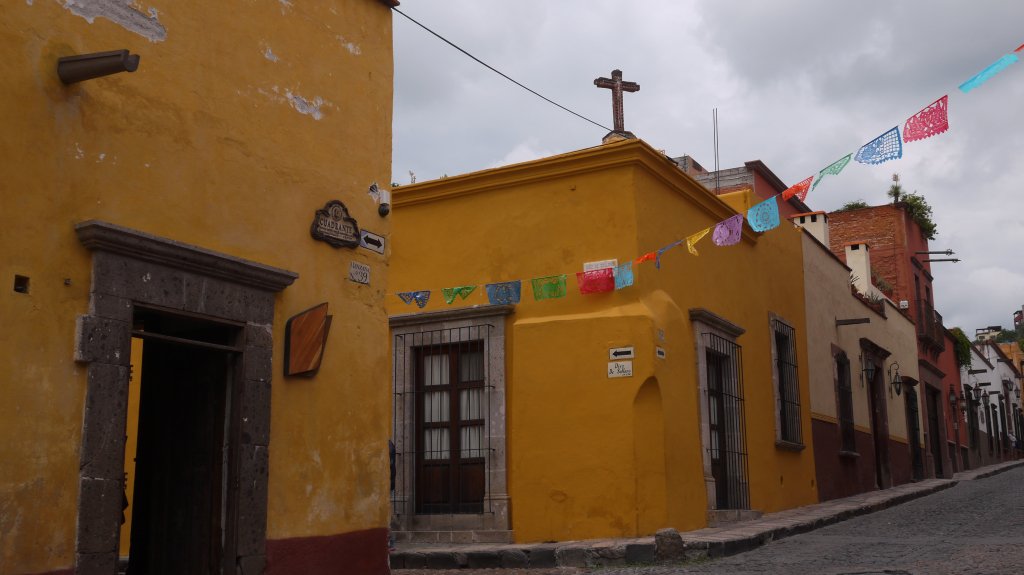 Upon entering the city though, I forgot all about my previous hunger to immerge myself into an atmosphere that instantly struck my imagination. Walking from the gate of the city towards its iconic Parroquia de San Miguel Arcangel could have been enough to convince me that this place would fulfil my every expectation. I had read articles about San Miguel, seen pictures, but I realized while walking up its steep streets surrounded by vivid homes, from which garlands made of colourful flags came running, that they had all fallen short when it came to describing what made the city so special.
It was not just its historic fountains scattered at every corner that were so appealing and much less its countless handcraft -or so it was sold- gift shops, not even the attractiveness of its iconic landmark with its daunting pink silhouette that seemed to come straight out of a classic fairy tale. Rather, it was a lingering feeling of peace, an enticing charm fuelled by a sense of beauty all around, a never-ending discovery of architectural gems. San Miguel de Allende was the epitome of a Mexican colonial town but it had a personality of its own.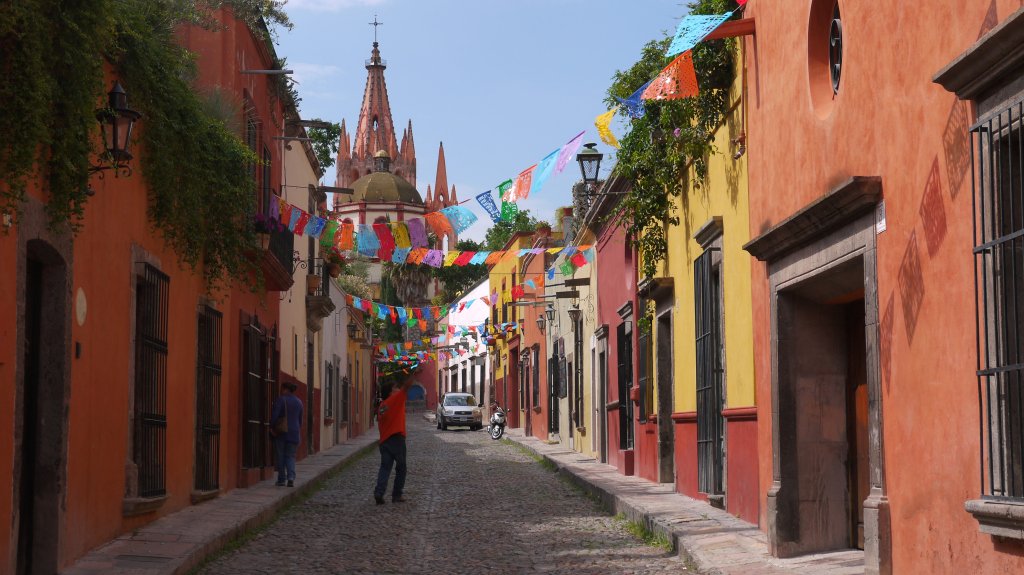 San Miguel de Allende was packed with tourists everywhere in its city center but it did not affect its lyric charisma that could be felt every step of the way, pervading the atmosphere.
However, I hadn't come to the heart of Mexico to find myself surrounded with tourists of my own kind and somehow, my stubborn and rather vain pride of travelling like a local to the best of my abilities could not take hearing English everywhere anymore . So I fled, neaking through the first street I could find that seemed to lead to nowhere in particular.
It took me a long time before finally achieving the kind of loneliness I had been longing for, yet I had gotten lost in the process -the ragtag long grass growing along the mud path I was walking on did send this message very clearly. There was no-one in sight when I turned back and resurfaced next to a bright red building adorned with a statue of the Virgin, facing a fountain supplied by two ancient stone taps.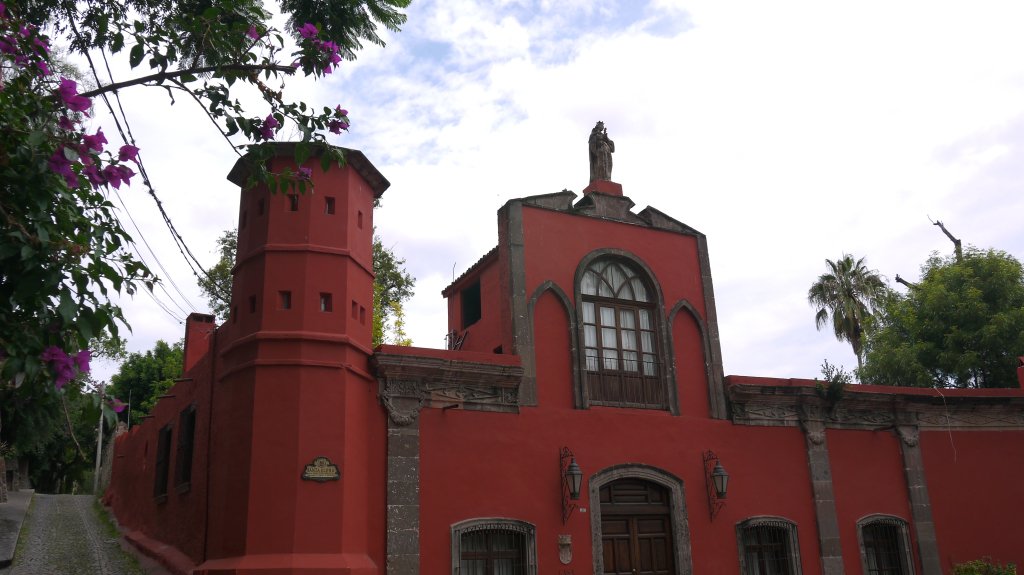 A group of construction workers descended upon me down a long flight of stairs showing the way to what looked like a balcony covered in a tangle of branches and ivy, hiding a massive building behind its luxuriance. My legs were shamefully shaking when I reached the top of the stairs and discovered a church built in light grey stones that would have been inconsequential were its vicinity not so quiet and appeasing. Cobblestones and branches graced with flaming red flowers led the way to the church with its semi-damaged pillars on the front and its small bell tower gentling pointing towards the sky.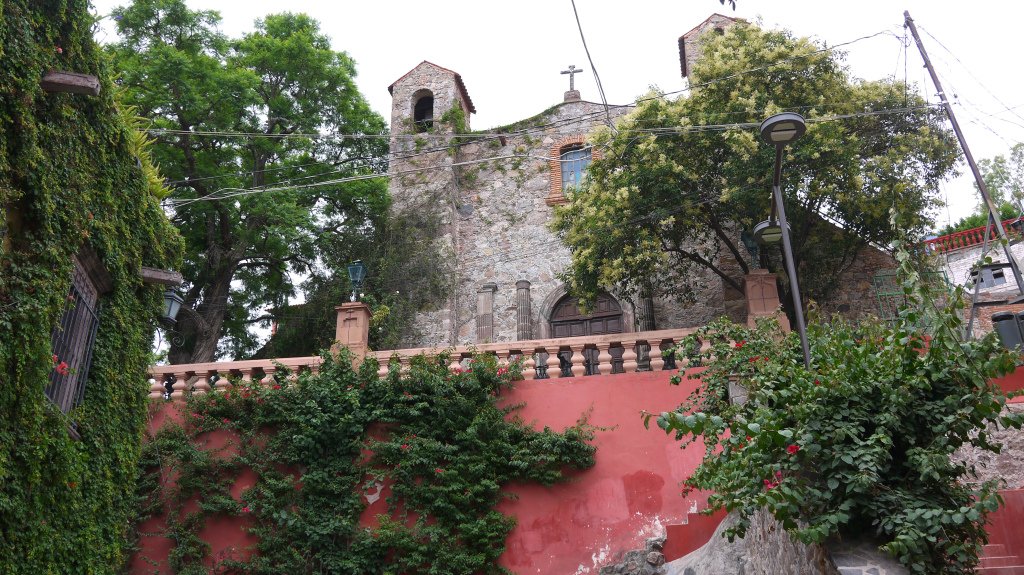 St-Paul's Church seemed like it had been painted into reality by a storyteller of old, breathing their whimsical soul onto the place. A few meters on the right of the building, a narrow pebbled staircase could definitely be a source of endless daydreaming for whoever was in a quest for inspiration or for a shy couple seeking the perfect hideaway. But there was no eccentric poet and no timid teenager around when I sat on one of the steps and turned towards where I had come from.
No-one but a family of squawking birds flying away from their nest could see my eyes widen in awe and a smile blossom on my face as San Miguel offered one of its best sights to me, sitting alone in the shadow of one of the simplest-looking places of worship in Mexico and yet one that had left the greatest impression.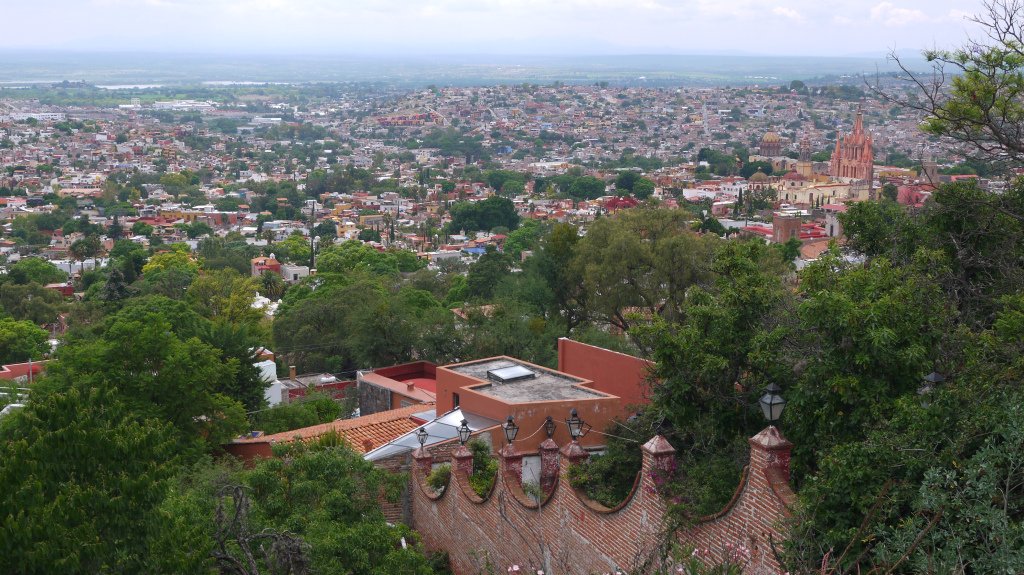 After a long contemplative stare, I was forced to move out of the way as locals were going down what I later figured was a convenient shortcut between the upper and lower sections of the city. I followed their example and smoothly climbed the stairs to a street where the smell of gas along with the sound of motors raging made me feel even more grateful for the time I had spent in my little haven.
Trying to trust my sense of orientation, I branched off the left and walked past descending streets offering newer views on the city and more diverse angles on the convoluted Baroque roof of the Parroquia facing San Miguel's zocalo – the city's main square and its neatly-maintained bushes. My feet took me to a large plaza where a bunch of parked buses seemed to be the clear indication of a tourist invasion to come and indeed the place was packed, loud and lost to a sea of selfie sticks.
I took a peek at the view from where I was standing and it would be a lie to say that it wasn't stunning, yet there was something lacking. As people rushed all around me to trap the panorama inside their camera as quickly as they could, I slowly walked down to the lower part of the city and found an isolated bench within an empty park to savour the spicy corn on the cob I had just bought at a puesto.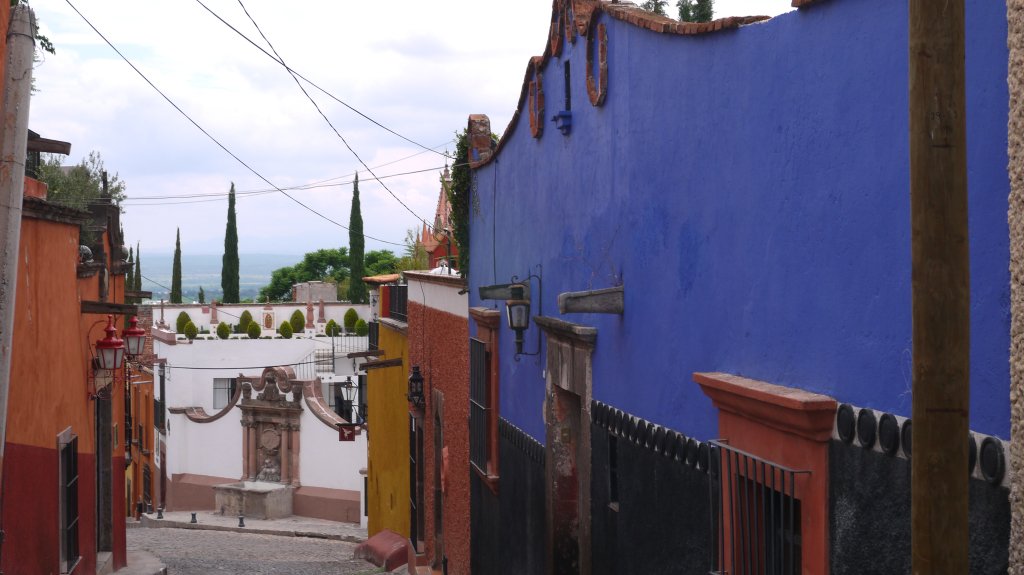 On my way back to the station, I got lost again and enjoyed some unexpected stops that were more telling of what made me fall in love with San Miguel de Allende than its attractive description on paper would ever be.
Signed: Clémentine
---

---
Check our other posts
We try our best to bring quality content. All feedback is welcome so please comment on what you like and dislike so we can get better :)