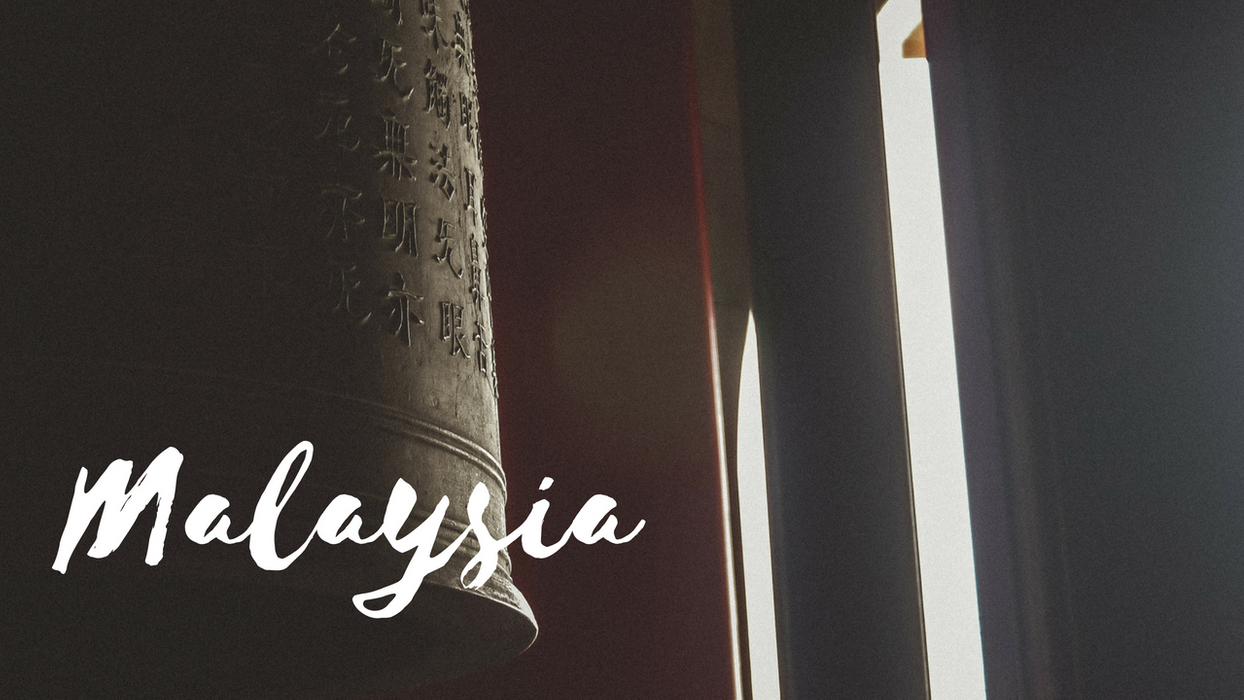 Malacca in south-western Malaysia is one of the first destinations to come to mind for tourists wishing to enjoy some fine colonial heritage as well as typical Malaysian features. For us though, it seemed more like an open-air museum faking the looks of a city, until we found Jalan Tokong.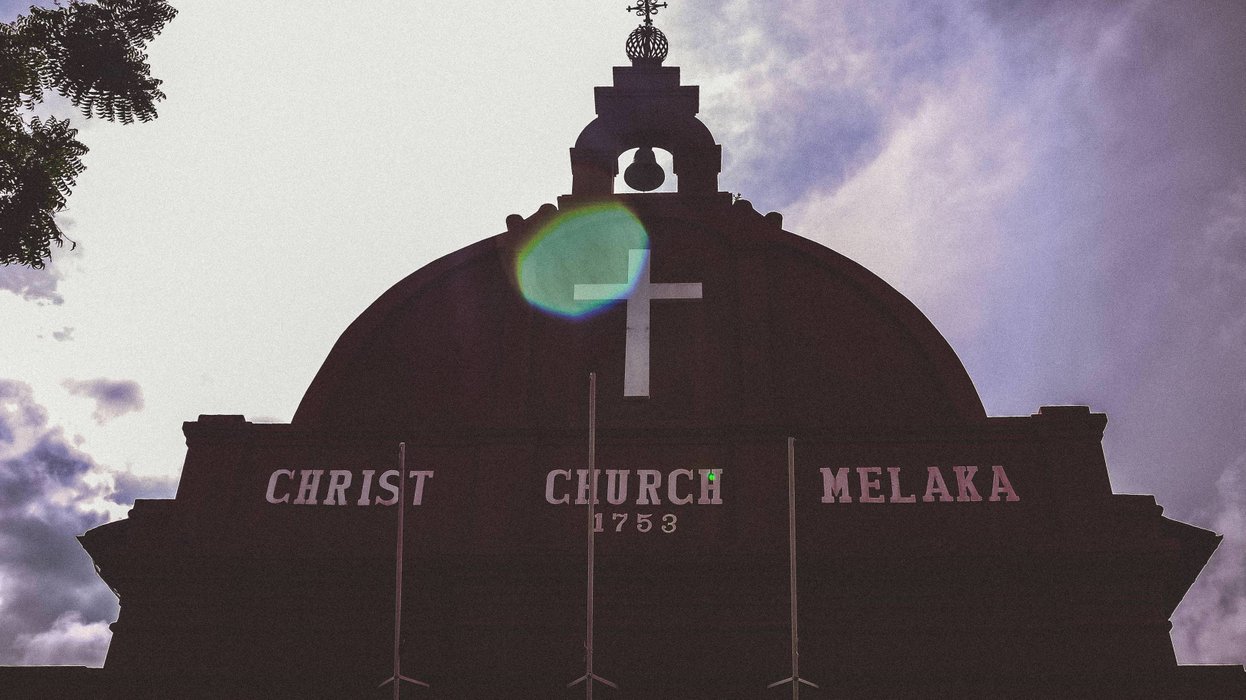 Christ Church in Malacca, an 18th-century Anglican Church turned tourist magnet in the heart of the city.
It was around lunch time and the Chinatown district in Malacca was as busy as ever. Unsurprisingly, this sunny Sunday afternoon in early August had drawn a massive crowd, visitors coming from Kuala Lumpur like us and looking for a vibrant day trip, or arriving from further south, crossing the border from Singapore.
None of us had been mistaken: Malacca was a delightful little city that ticked all the right boxes in a tourist map with its distinctively Dutch town hall, the iconic ochre Stadthuys, its ancient Portuguese fortress whose ruins dominated the city from a hilltop and a majestic Sultanate Palace Museum, all brown roofs and golden ornaments. It was definitely the place to be for a day visitor – a true postcard! But everything looked too neat, too well-maintained, and a little too arranged for our taste, as if every night the city was wrapped in paper to preserve it before the package were to be reopened the next morning.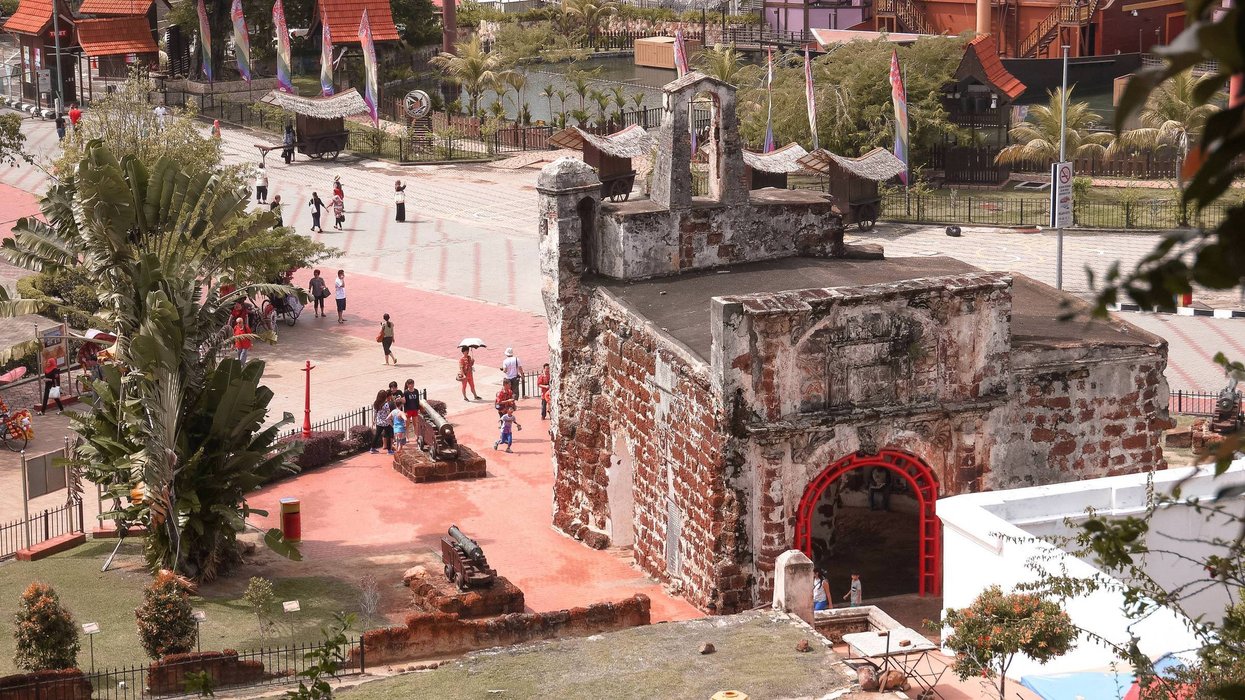 View of A Famosa, a fortress whose surviving gate dates back to the 16th century Portuguese rule of the city, and the iconic taking tourists around in a deluge of kitsch, flakes and loud music. (which included Gangnam Style in 2014)
We were mulling these thoughts over, sitting on an unstable chair inside the huge, and rather impersonal, room of the Hoe Kee restaurant. Both our plates were now empty of the tasty Hainanese chicken rice that had graced them with its presence a moment earlier and we did not regret our choice, despite the rude service and excessively loud atmosphere. Conversing happily right next to us was a couple of French people, who caught our attention before it was finally drawn to the guide book they had left on their table for all to see. We had the same exact book and it was not the first time we had seen them this day but the fourth. Not that their mere presence irked us, but we felt it was time to put our book back in our bag where it belonged to try and explore what was around without our nose constantly stuck on a map, following the trail of every unimaginative tourist in a three-mile radius.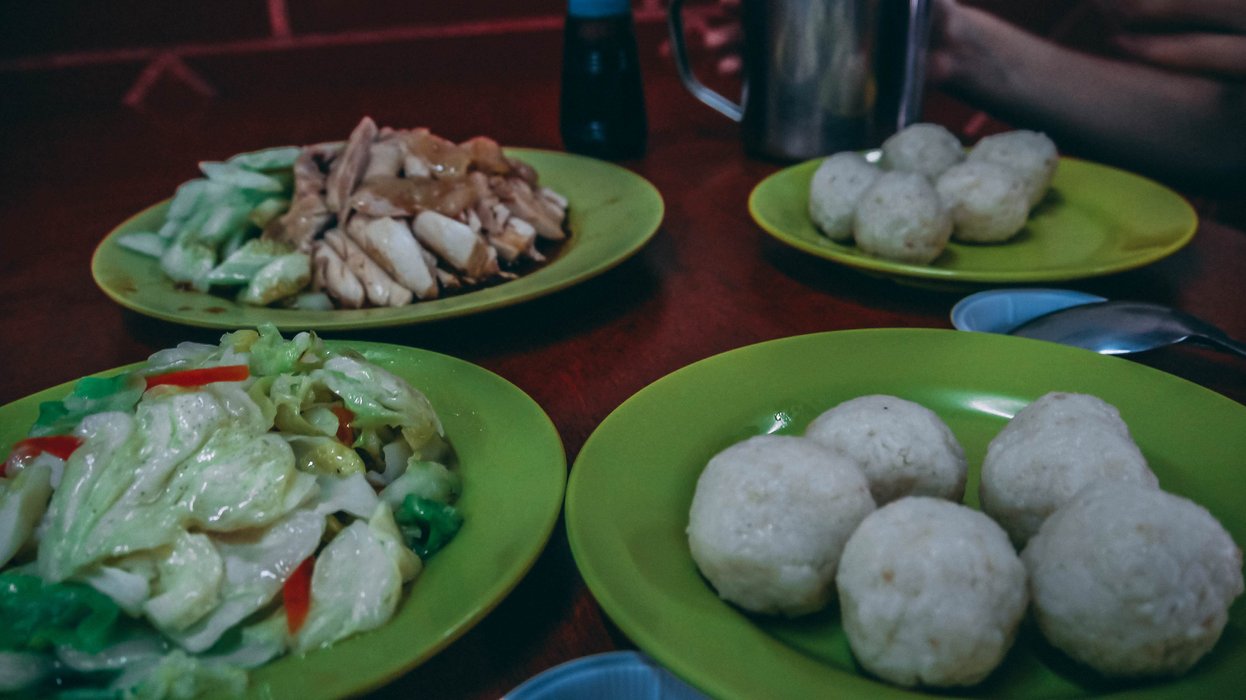 Super non-photogenic chicken rice at the Hoe Kee: a place that tastes like a real restaurant but feels like a canteen when you are only authorized to order once.
Despite our interest, we purposefully avoided the Baba and Nyonya Heritage Museum located in the nearby street and went the other way. The chant of a muezzin suddenly resonated somewhere close, the muezzin sounding a tad less confident than usual. His tremulous voice honestly sounded terrible but it felt like the first real thing we had seen or heard all day so we stopped at the gate of the mosque and just listened to it. That was it, the first flaw in this all too perfect city. We stood in front of the Masjid Kampung Kling, an evocative white building with an architecture visibly influenced by Javanese and Oriental styles, but could not cross the threshold as it was praying time. Yet there was something here that would make us come back eventually and we walked away keeping this promise to ourselves in mind.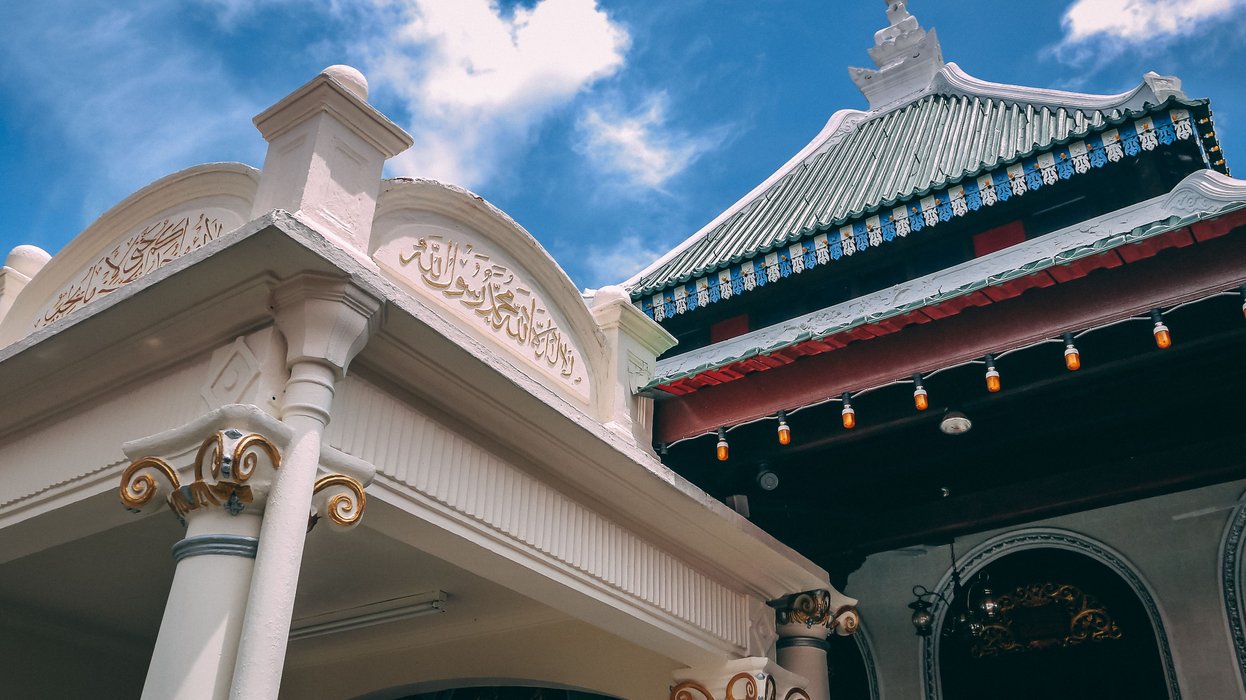 It took us a few seconds before accessing Jalan Tokong.
Strangely enough, the street was only a few blocks away from the entrance to the Chinatown district and tourists had had no difficulty to venture this far but their presence was scarcer, primarily because they did not seem all over the place like they were everywhere else. It crossed our mind that there were fewer groups around, which probably added to this false impression of outlying quietude. Still, we could feel this street was somehow growing on us.
The pungent smell of incense brought us to the gates of the Cheng Hoon Teng Temple, an instantly recognizable Chinese place of worship. Beyond its black marble doors engraved with Chinese characters emerged its silhouette, richly decorated with lacquered crimson mythical creatures, guarding the back of the temple where elders were gathering, sitting on floor cushions. The crimson creatures were befriended by brilliantly executed depictions of tigers and deer whose relief design made them look like they could spring from the wall at any time. Locals were lighting incense in a large iron pot full of the ashes of a thousand burnt sticks that had conveyed the hopes and prayers of others before them and again, it felt real. Perhaps it was just an idealized projection but at least it felt genuine to finally find a place where locals would meet, not just a well-restored colonial gem on the other side of the city where locals would only go to sell some cheap souvenirs.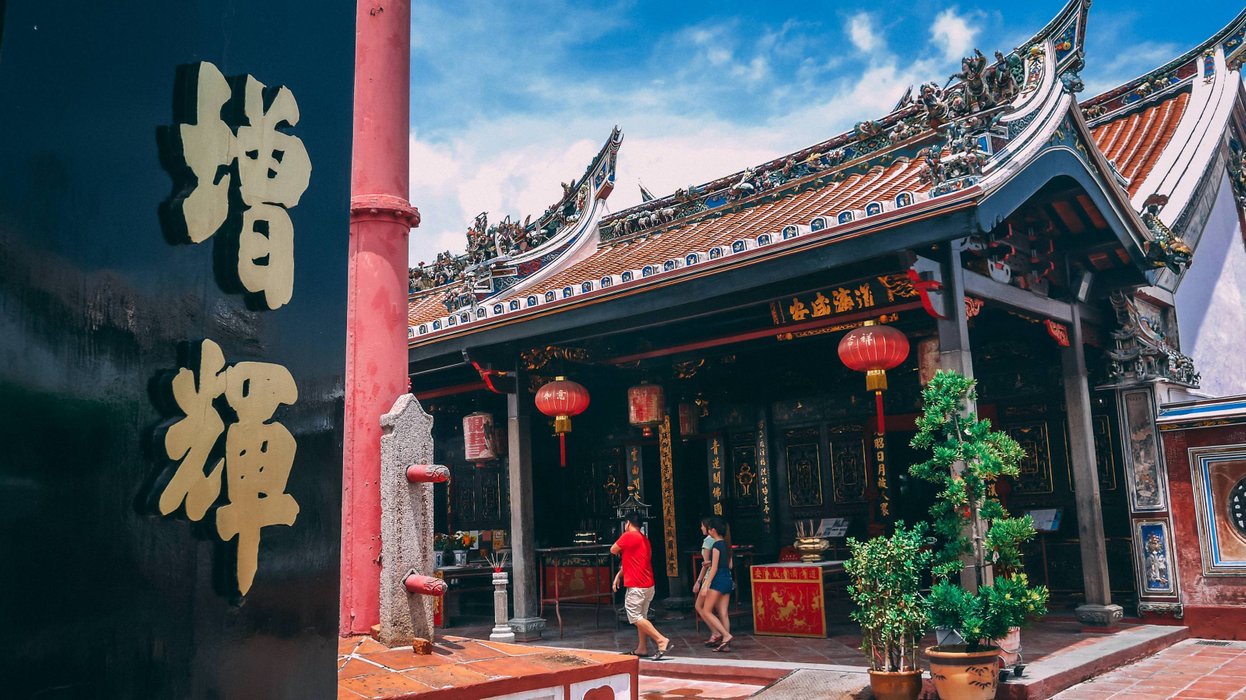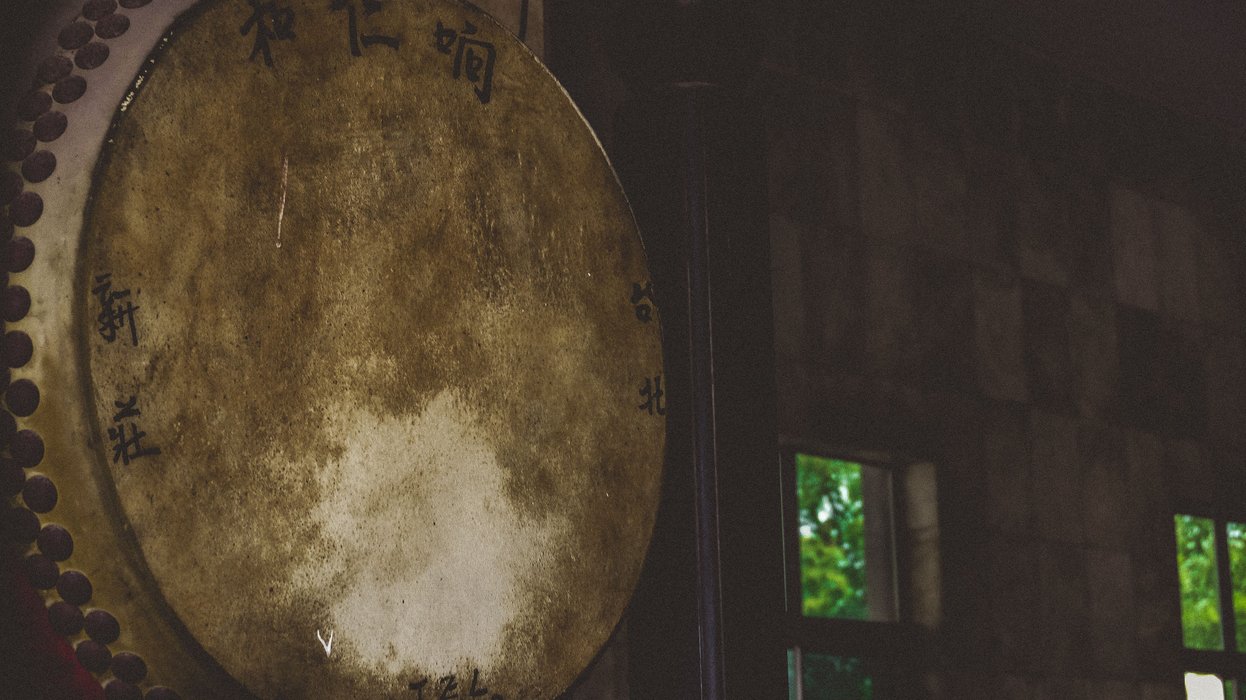 We took one last look at the Cheng Hoon Teng temple before crossing the street and climbing stairs towards another Buddhist place of worship, the Xiang Lin Si Temple. In this slightly more austere temple, there were fewer blushing red lanterns, and the legendary dragons ready to jump at the visitor looked a tad stern in their pale yellow skins. But in its vast, empty hall, an old drum gave an appearance of majesty.
We went down on the street and pushed our walk a little further, until we arrived in front of a secluded courtyard where an unusual statue caught our eye. We learnt upon closing down on it that the smiling boy exposing his prominent muscles was none other than Malaccan-born Datuk Wira Dr. Gan Boon Leong, the father of bodybuilding in Malaysia and former Mister Universe.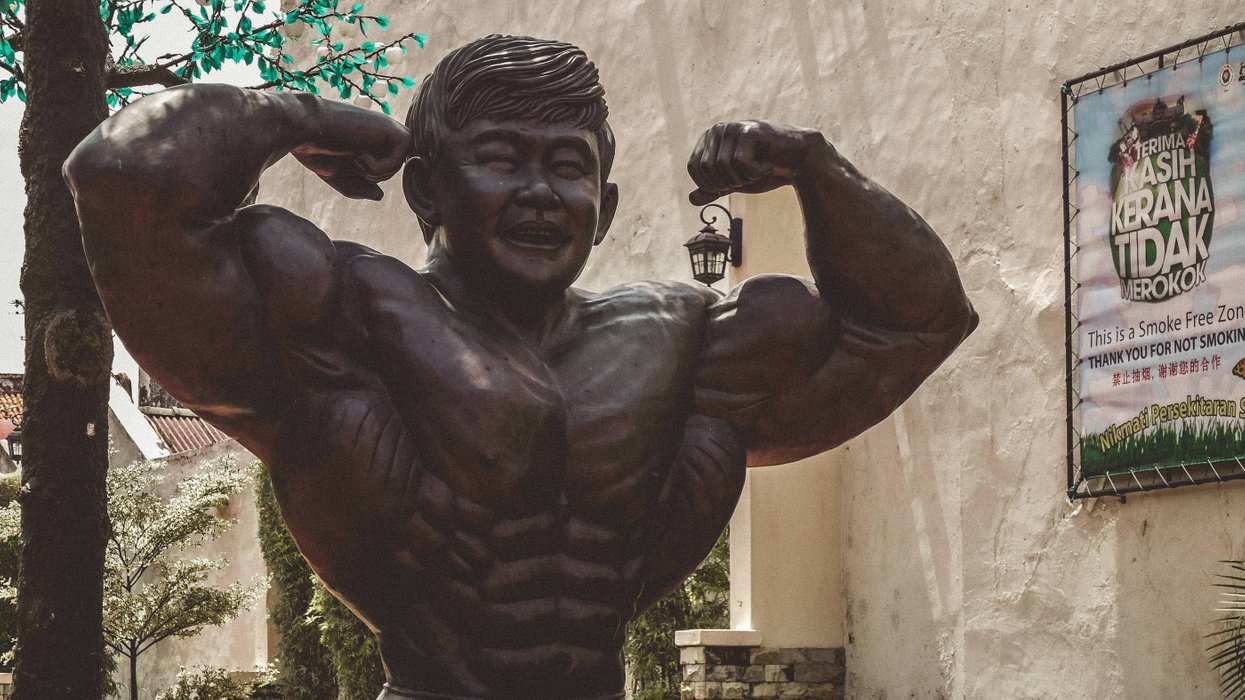 The contrast between this hilariously out of the place statue and the spiritually charged places we had just left was sharp, even almost laughable. However, it represented perfectly the quintessential charm of Jalan Tokong.


On our way back, we fulfilled our self-promise and timidly entered the Kampung Kling Mosque, where we were greeted by a lovely old lady eager to show us around her mosque. A moment later, as Jalan Tokong had given up its name to become Jalan Tukang Besi up until the river, the luxuriously embroidered dark blue carpets of the Islamic place of worship had been replaced by a large, gentle-looking orang-utan painted all over the façade of an ancient house, supervised by an odd little figure monitoring the street from behind a barred window. Its peculiarity yet gave the best definition of Jalan Tokong we could ever find: a street where faith and street art, spirituality and non-conformity, had found a way to blend in harmony.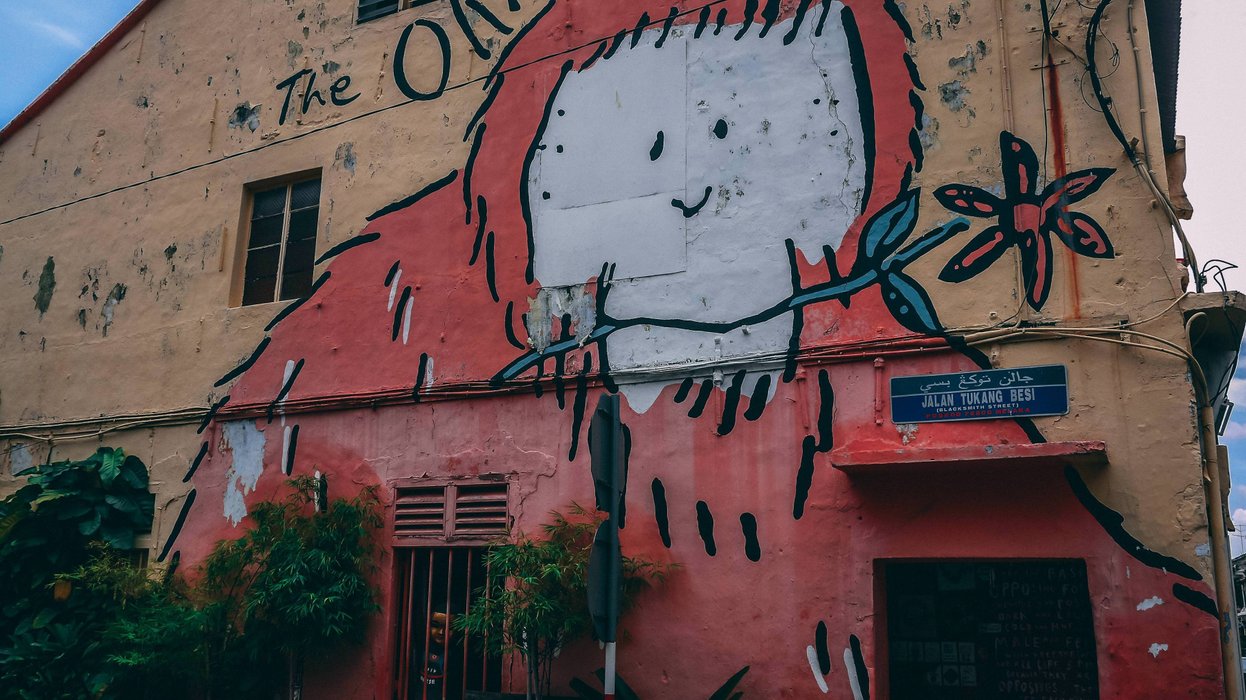 Can you spot in the picture the guardian of the street: the boy with the golden Buddha head ?
It seemed like this one street had given us a much clearer idea of Malacca than its much advertised touristy spots.
All pictures were taken with a Fuji X-T1 and a 18 - 55 fujinon lens
---

---
Check our other posts
We try our best to bring quality content. All feedback is welcome so please comment on what you like and dislike so we can get better :)
This article was posted on our blog first sekaivox