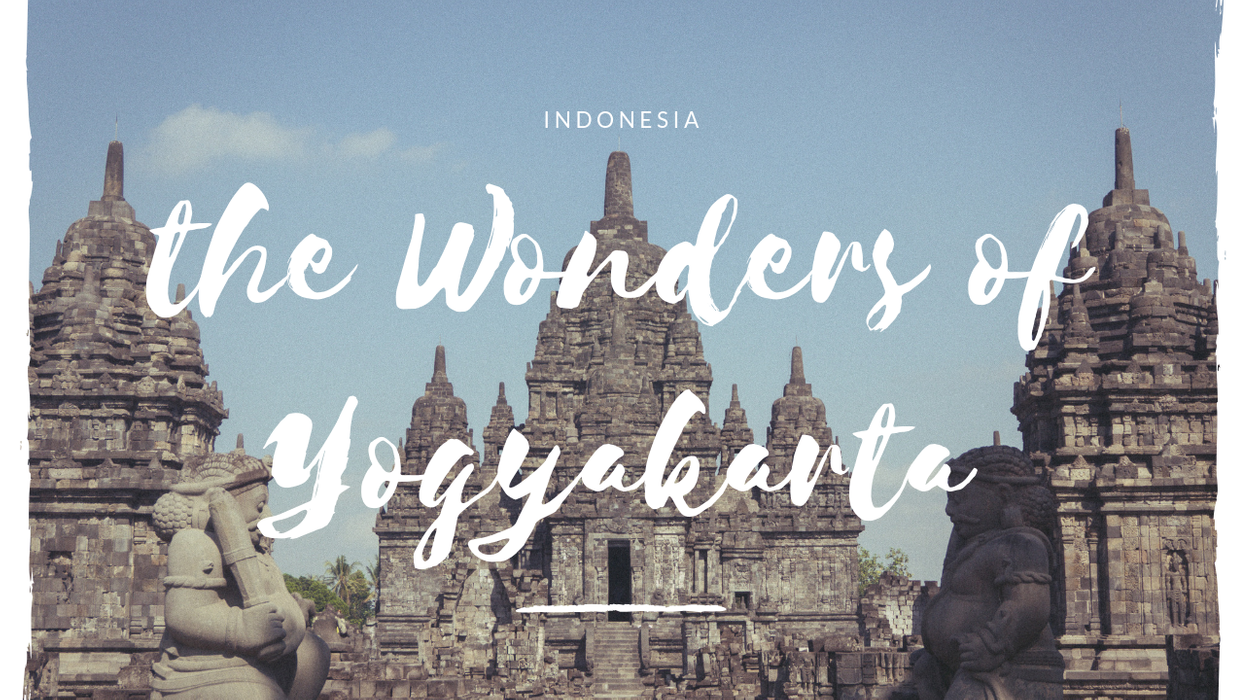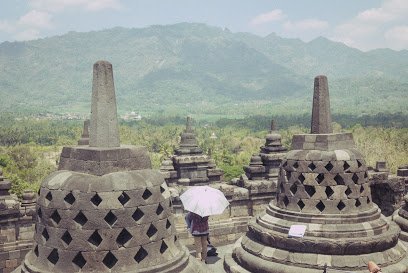 Well, that wasn't too bad. That was a decent conclusion. Even our legs agreed that this 8-hour long train trip between Jakarta and Yogyakarta could have been much worse. The lush landscapes that had unfolded for 8 hours, from tiny villages to terraced rice fields, had shown us a face of Indonesia that was far from the hustle of Jakarta.
Yogyakarta, from what we could see, was a much smaller city but it started off as loud and overwhelming as the capital city we had just left. Local canvassers had seen us coming and were already trying to lure us into one of their hostels which seemed below our already low standards.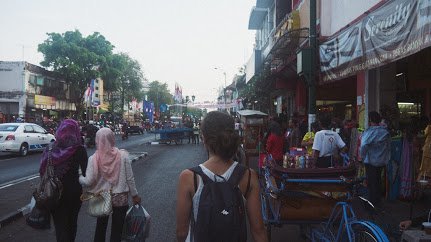 We kept walking until one guy finally managed to convince us and took us to a place called la Javanaise Guest House. The name sounded familiar and it turned out the owner was a fan of the French singer Serge Gainsbourg. His enthusiasm had even led him to start learning French and he practiced a bit with us. Whether he truly was fond of France or whether he had realized that was a catchy sales gimmick to draw in French tourists, we didn't know. Either way, it worked out.
The guesthouse was conveniently located near a motorbike rental store, which was exactly what we needed. Yogyakarta was a beautiful city but what had really brought us here were the two temples of Prambanan and Borobudur, one Hindu and the other Buddhist. Those two were the real poster children of Indonesia's rich cultural heritage and we just didn't want to miss them out.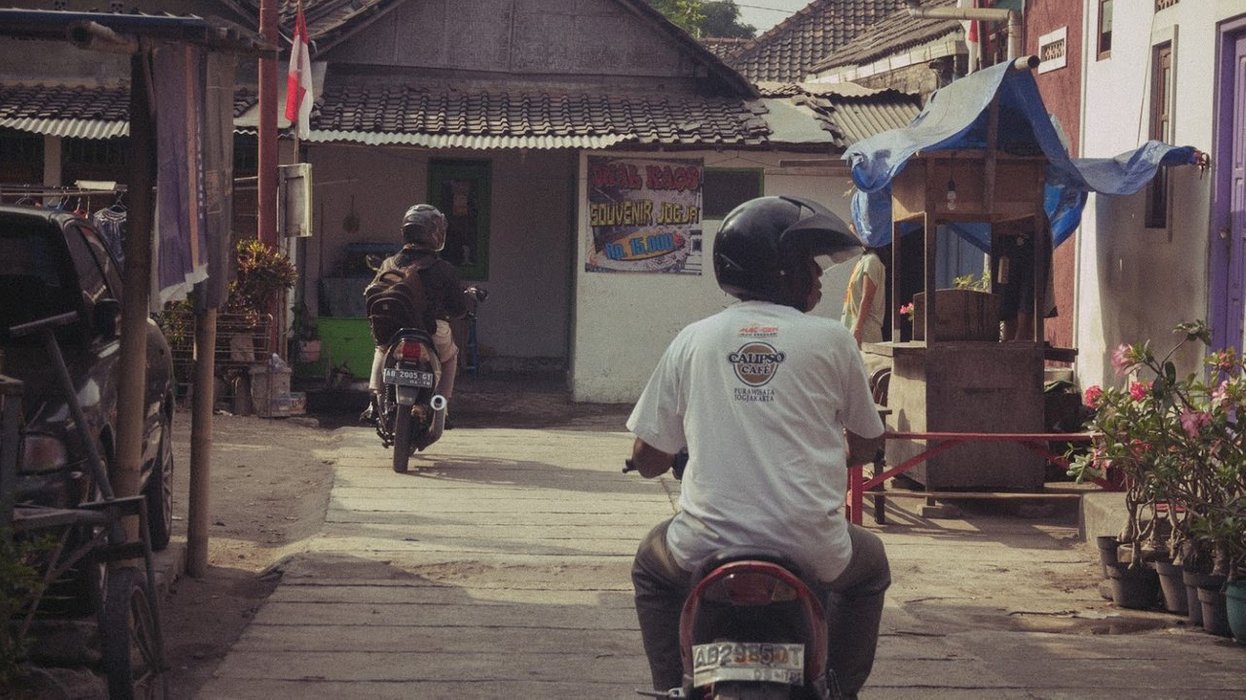 Setting out our clock early the next day, we jumped on our motorbike and headed to Prambanan first. The journey on a bike took twice as long as expected but we still managed to get to the entrance gate on time, where I bought a 30-dollar combined ticket for both temples. Love did cost a thing and so did preserving heritage sites! Hedi wasn't in such a prodigal mood though and he settled for Prambanan only.
We needed no sign to know in which direction to go, since all tourists seemed to follow the same path leading to the inner zone of the compound. There stood the three main temples dedicated to Vishnu,Shiva and Brahma, massive and a tad too well-preserved not to have been reconstructed. The reconstruction seemed genuine enough not to prevent us tourists to enjoy their magnetism though.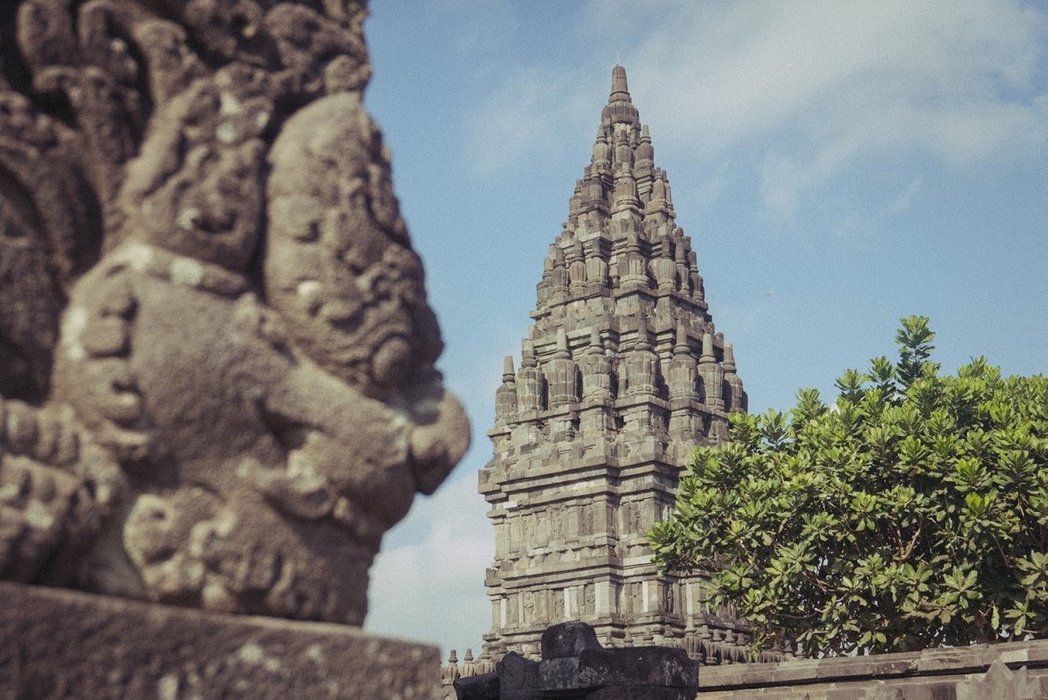 All temples were adorned with vivid bas-reliefs depicting the epic Hindu story of the Ramayana. On one shrine was Sita, wife of Rama, seventh avatar of the god Vishnu, being kidnapped by Ravana and then rescued by the army of monkey king Hanuman. As we progressed, each shrine continued to tell its own legendary narrative, connecting one building with all others like an open book.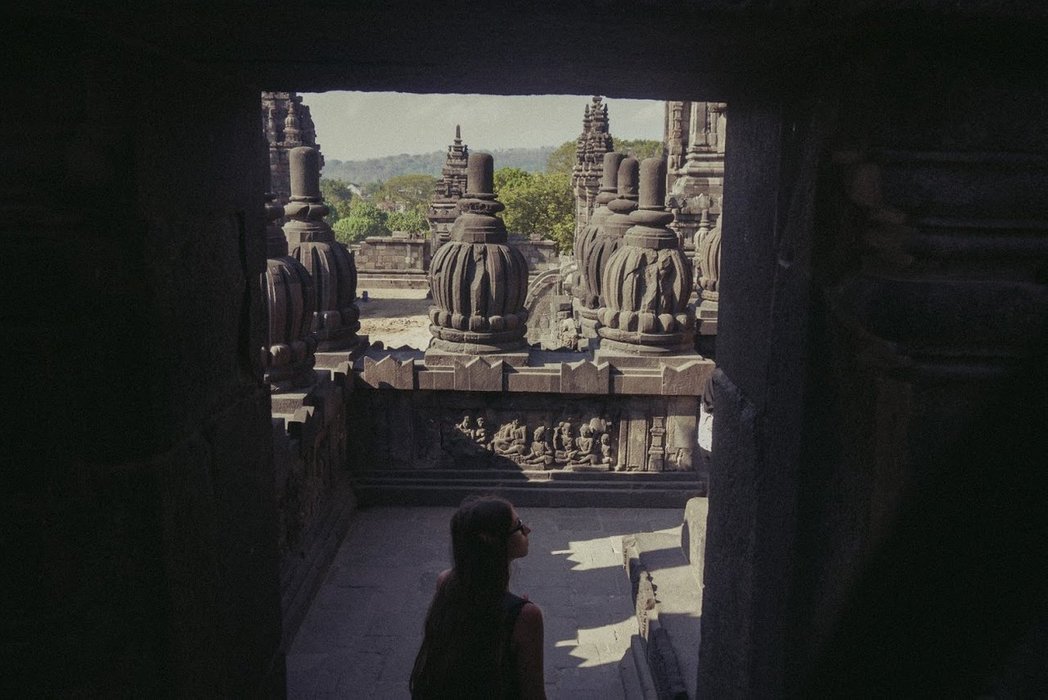 Yet, the further we walked from the inner zone, the more dilapidated the buildings started to look. The tourists were a lot scarcer too and we soon realized there was no one else around us anymore as we advanced from well-maintained buildings to bits and pieces of stone statues and remains of stone walls scattered on the ground. In the outer zone of the compound, it seemed for a moment that we had Prambanan all to ourselves.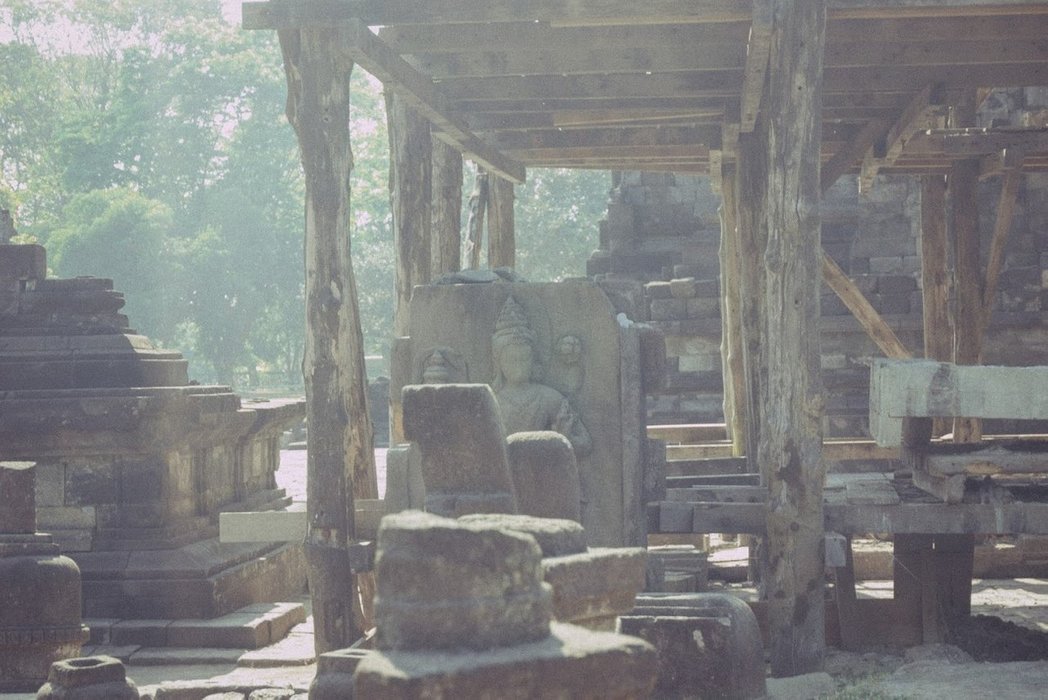 We shot the smaller-scaled temples from every angle, explored them from the outside and from within until we reached the end of the park. Going back to the main entrance, we took a few more pictures of the iconic main temples of the compound before we'd hit the road towards Borobudur.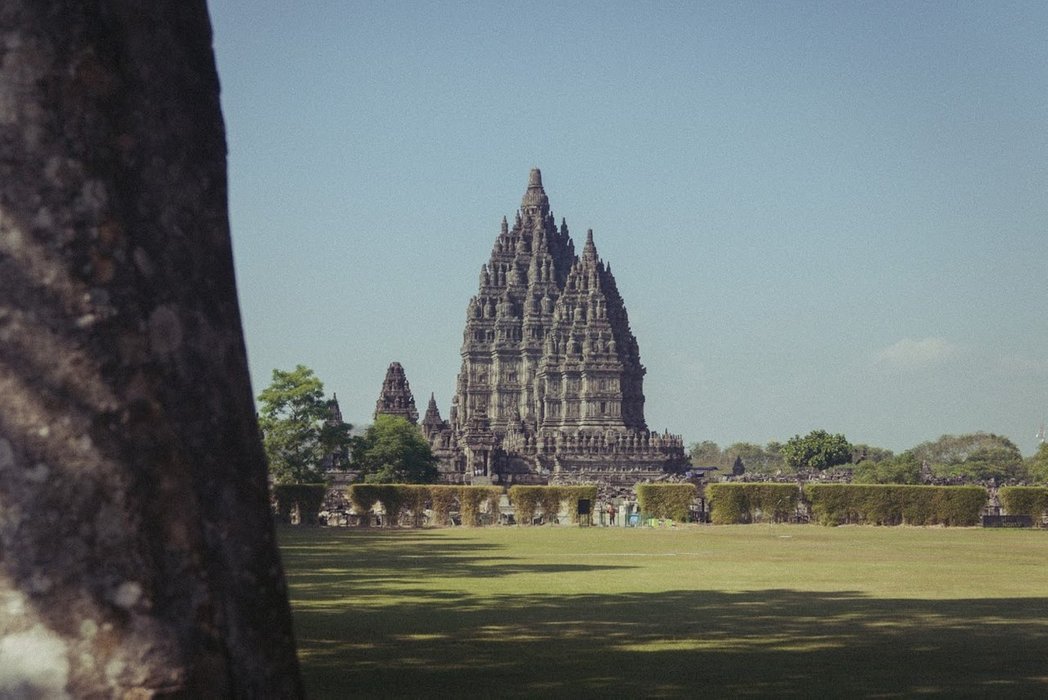 Driving across the Indonesian countryside all the way to Borobudur was a long one. At the time we reached our final stop, we knew it wouldn't as quiet as Prambanan. As remote as it was, the 9th-century compound that claimed to be the world's largest Buddhist temple lived up to its reputation. Hedi couldn't care less, as he was roaming the countryside on his motorbike, but I found myself surrounded by a crowd of tourists as soon as I set foot on the premises.
Borobudur wasn't the single most visited monument in Indonesia for nothing. The closer I got to the actual temple, the more people I saw. Almost all of them were waving an umbrella to try and escape the heat and most groups were stopping right before the site, some among them taking selfies while some were listening to their guides under the shadow of a tree.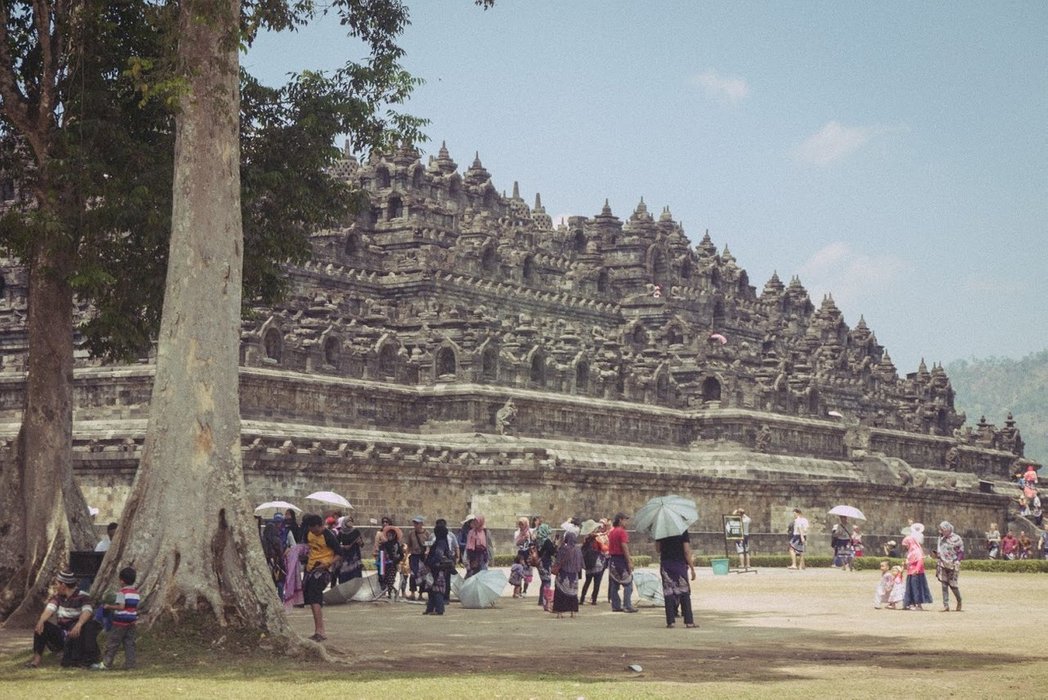 Others were just standing still, struck by the magnitude of the building. Just like them, I knew fully well that a picture couldn't pay tribute to what I had in front of me. Instead, I took my shot and sneaked my way to the base of the monument where stairs were leading to the temple's upper parts.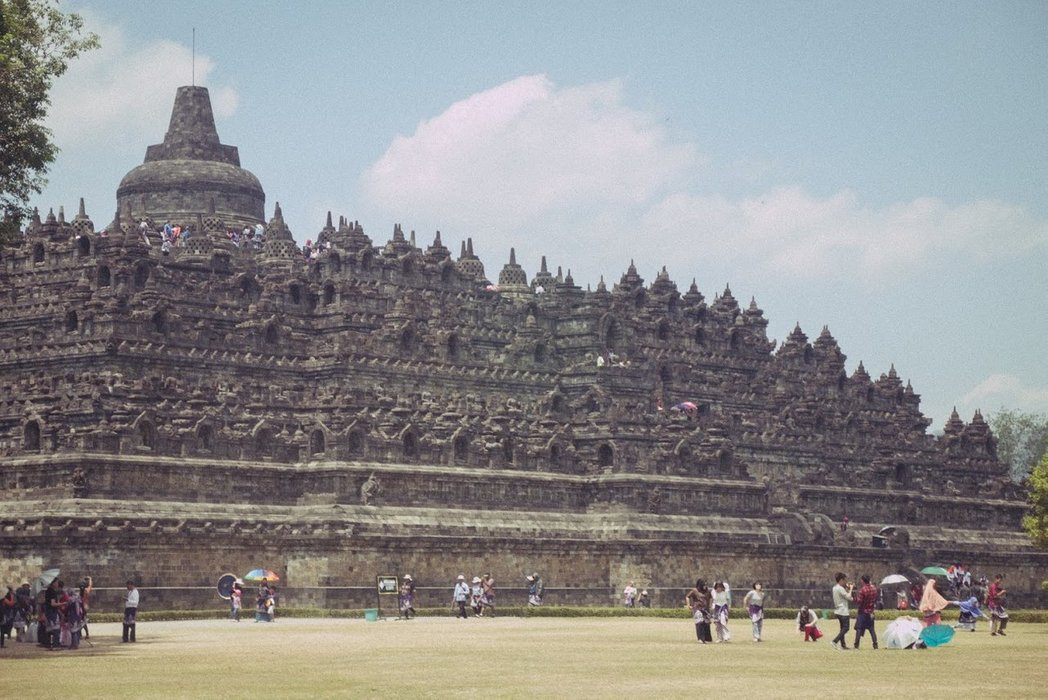 The inside of the temple was a maze of stairways and corridors, all adorned with statues and intricate bas reliefs carved on the walls. Each ten level of that labyrinthine path was meant to represent a phase in a spiritual journey, offering a different teaching at every step to free the soul from the cycle of endless suffering that is the cycle of rebirth. The end of the journey and the final stage of enlightenment culminated in the platforms on the top floors of the temple in the shape of 72 bell-shaped stupas, many containing a statue of the Buddha.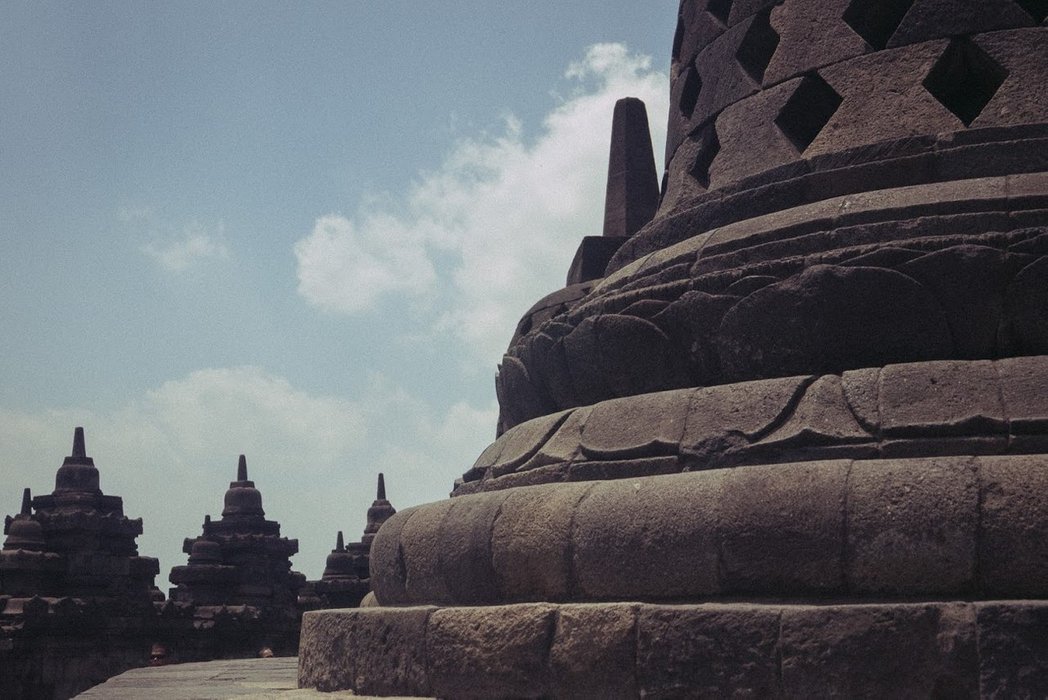 I wasn't there yet when I noticed a guy and his mother were staring at me. It seemed they had been paying attention to me for a while as I was alone so I smiled at them, which seemed to be the cue they had been waiting for. The guy, a young adult living nearby, started asking questions about me before he finally confessed how proud he was that foreigners were visiting his home country. His mother didn't understand English so she nodded shyly at everything he said, until she somehow took part in the conversation by hanging her umbrella over my head to protect me from the heat.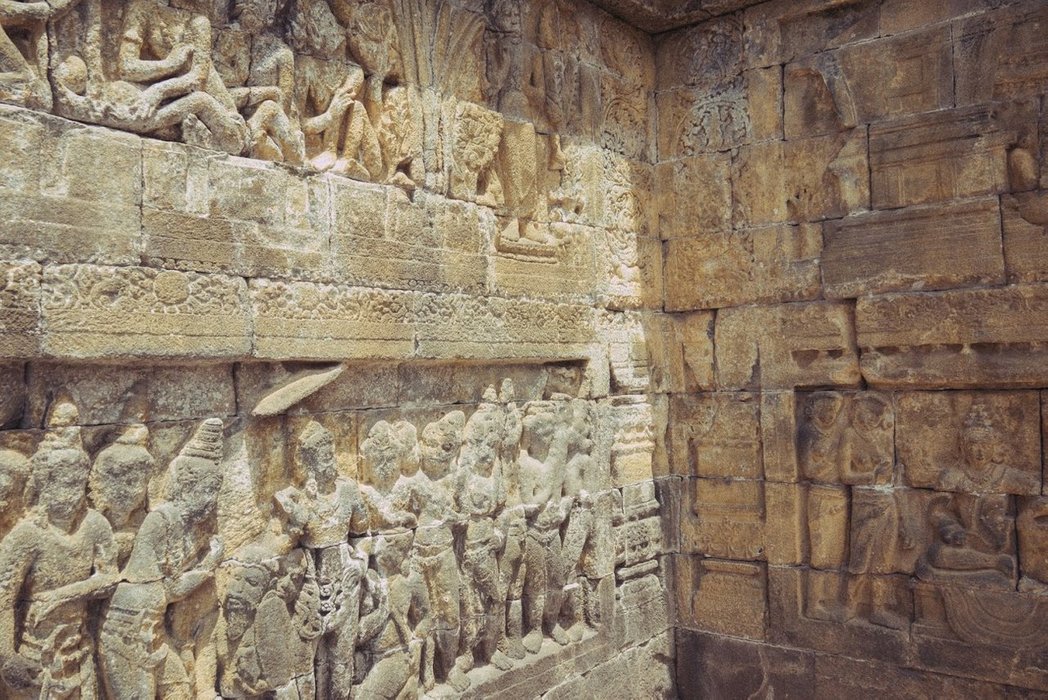 His pride was not misplaced and I left Borobudur thinking that Indonesia was bound to keep wowing tourists for a long time, not only because of its unique heritage but also thanks to the candid friendliness of its people.